Celebrities And Their Barking Fur Babies
By Iulia P May 16, 2021
---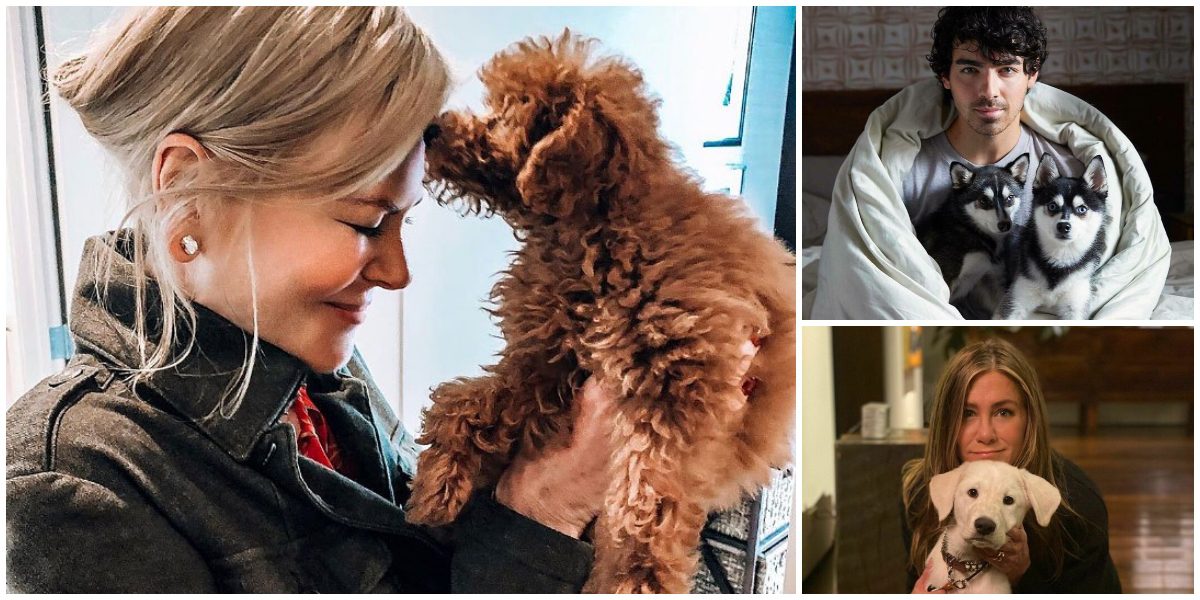 Being a good human to a dog is probably one of the best things life has to offer. Not only do you receive love, attention, and a loyal companion to kill time with. But, if you are the dog, you also get treats, toys, fun trips to the park, and cool new beds. All for free! All you need to do is look and act cute and sometimes give your human puppy eyes to make sure you get what you want. Now, imagine being the pup of a very important person; a celebrity. The spoiling goes to another level: thousand dollar beds, diamond collars, and personal chefs to cook your dog food. These dogs are the definition of spoiled and blessed, and we personally are jealous. Here are some celebs and their four-legged furry friends that will make you smile.
Patrick Stewart
Or, as the majority of us know him: Professor Charles Xavier, from the X-Men series. If in the series, he plays the role of a solemn person who barely smiles. However, in real life, Patrick Stewart is all smiles and giggles.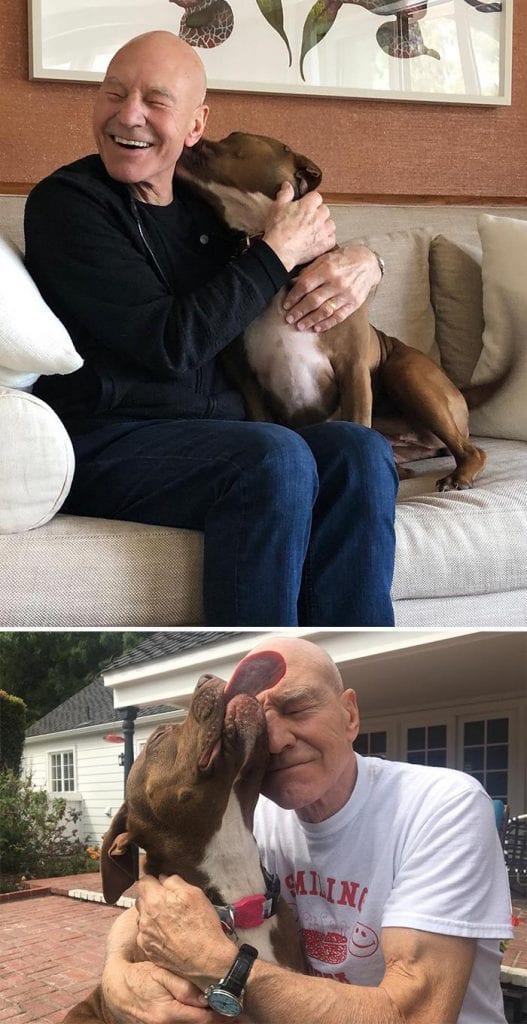 Meet Ginger! She is a foster Pitbull who Stewart fell in love with. The connection between the two was so strong that Steward decided to adopt her despite his busy agenda, but he couldn't. It turns out that the U.K, the country where the actor lives part of the year, has a very strict policy when it comes to Pitbulls. They are forbidden there.
Hugh Jackman
It looks like the X-Men are really huge dog lovers. The Aussie actor, Hugh Jackman, known for playing Wolverine, is the happy "father" to two doggos called Allegra, who is a poodle and terrier mix, and Dali the French bulldog.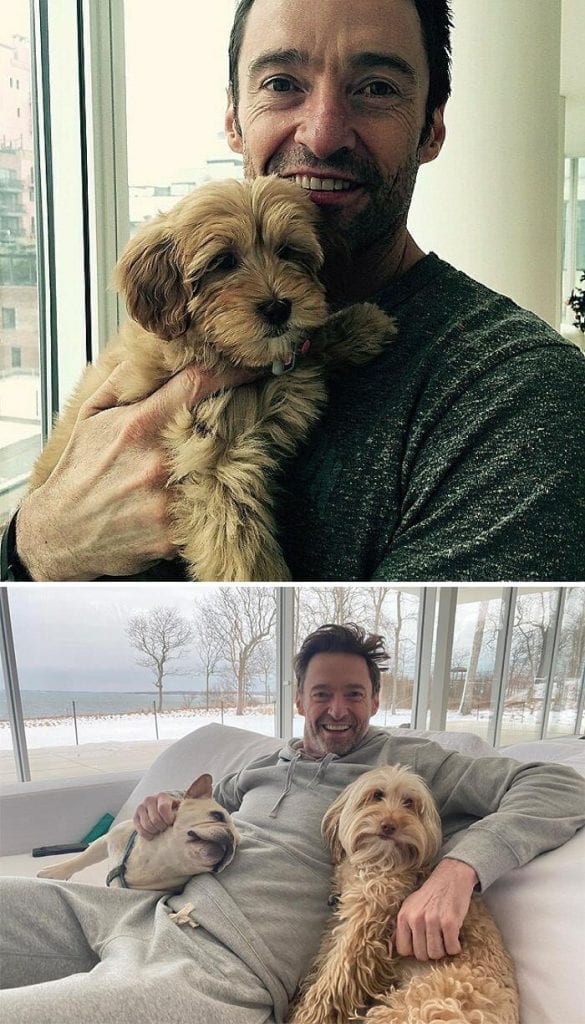 Even if Jackman is most of the time in the USA filming movies, he always makes sure to stay in touch with his family. And, yes! This includes his beloved fur babies, who he always asks to be put on the phone.
Amanda Seyfriend
The beautiful American decided she would love to have a four-legged partner. So she got herself the best dog the US (yes, the US!) has to offer, and that is the Australian Shepherd. His name is Finn, and the two are inseparable.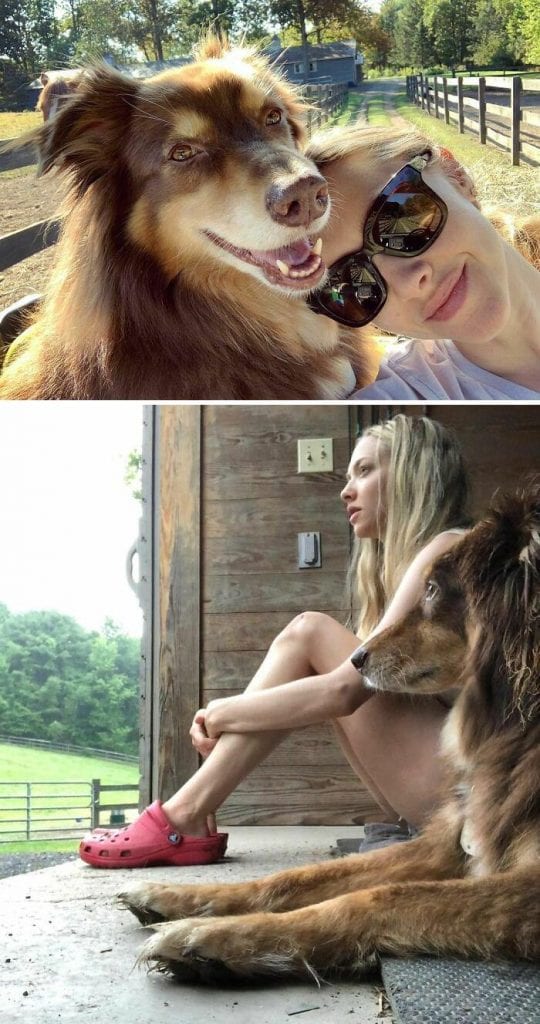 Finn is a rescue pup, and the actress considers him to be her salvation. It turns out Seyfried has dealt with anxiety for a long time before getting Finn, and he actually helped her out with this issue. If dogs are not angels sent from above, then we don't know who is.
Henry Cavill
The actor Henry Cavill, or how most of us know him, Superman, is the proud dad of a very big yet very calm and docile American Akita called Kal. Just by looking at the picture, you can actually see how awesome the actor's bestie really is.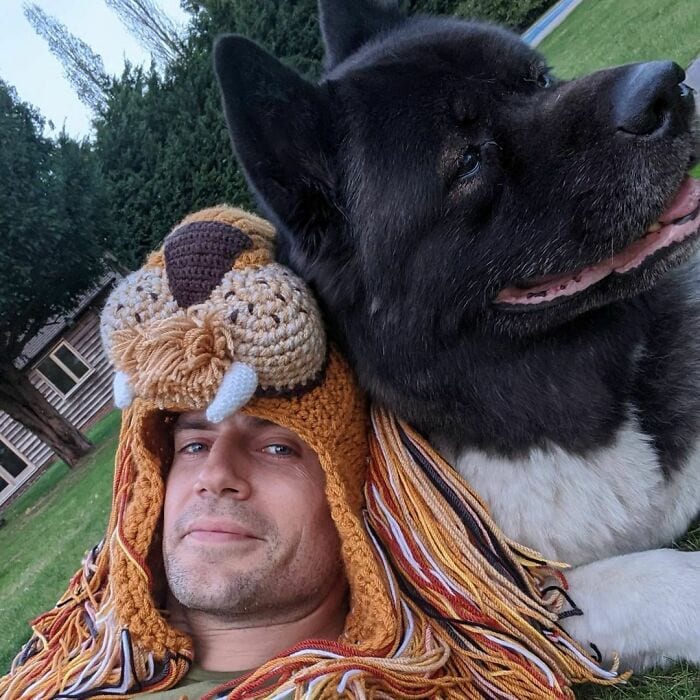 Cavill usually steals the limelight in all the pictures snapped on the red carpet, but this time is different. When we first look at the picture we barely noticed that the actor was there too. His dog is cuteness overload.
The Rock
When you look at The Rock and see how fit and strong he is, you would be forgiven if you are inclined to think that he would own a Dobberman or a Rottweiler or that he is the owner of another dog breed that somehow resembles him in stature. We jumped to conclusions too soon and were wrong because it turns out that the actor and wrestler is the father of a Frenchie.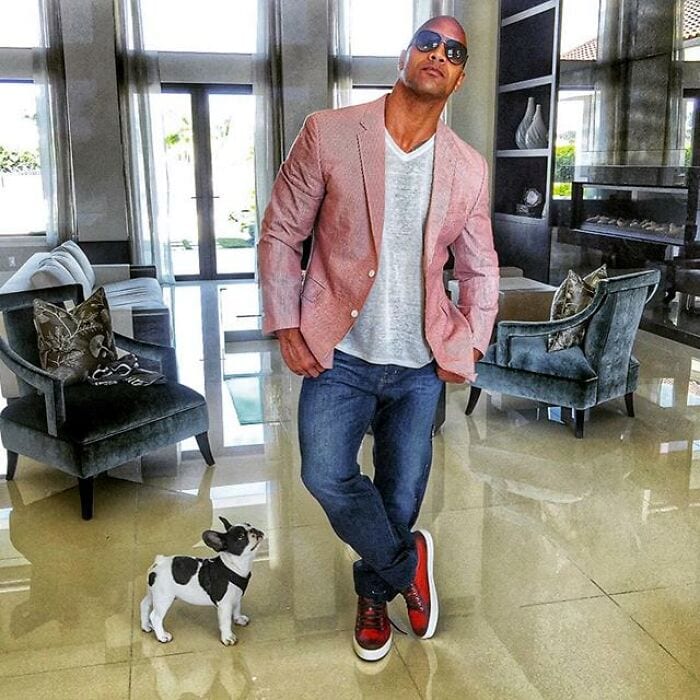 The French bulldog is a medium-sized dog breed that, despite his name, comes from England. They are known for their short muzzles and for being loud snorers, just like their cousins, the English Bulldog. They are loving dogs, and now we understand why The Rock chose to share his life with one.
Tom Hardy
It turns out that actor and producer, Tom Hardy, is also the proud owner of a French bulldog pup. If you ask us, it is impossible not to fall in love with this breed. Frenchies are such amazing dogs.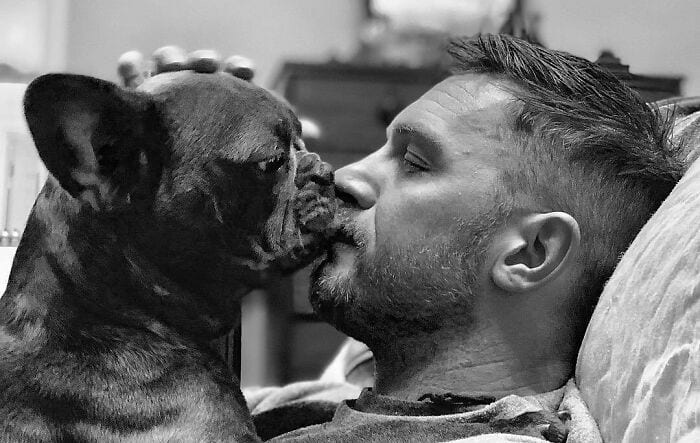 Hardy was also the human father of a rescue dog named Woody (short for Woodstock). Woody was rescued in 2011 and unfortunately passed 8 years later. The sorrow of Woody's passing was obvious in the long tribute the actor posted on his Instagram page.
Billie Eilish
The singer and songwriter is the proud and loving owner of two pups, Pepper- which is more like a family dog, and Shark. Shark is a rescue Pitbull pup, and he is more her dog than a family dog, with the two being inseparable.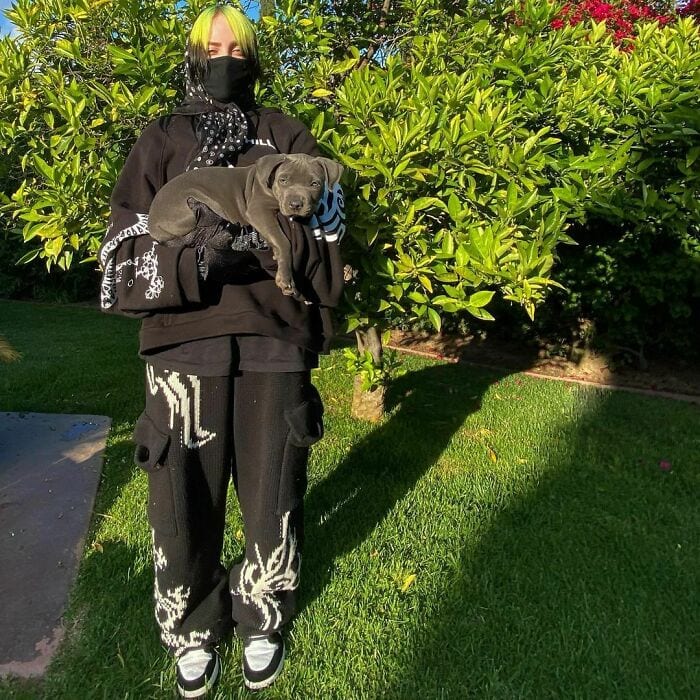 Last year, in December, her Shark, who she says can be a bit naughty at times, managed to swallow a pretty big chewy toy. He ended up needing to have emergency surgery to take it out. Lucky for Shark, everything went well, and he has recovered pretty well after his operation.
Chris Evans
Not only is actor Chris Evans a total hottie, but it turns out he is also a big dog person. If this has not convinced you that Evans is the best, there is this: he adopted his Boxer mix dog.
And he considers his relationship with his beloved Dodgers "the purest relationship of them all." And if you still have doubts when it comes to his guy, he loves his doggo so much he has gotten a tattoo in his honor.
Ryan Reynolds
Just by looking at the picture below, you can tell how much Ryan Reynolds loves his dog, Baxter. We see so much love and so much pride in this picture, but despite that, the poor pup looks like he is tired of his human staring at him.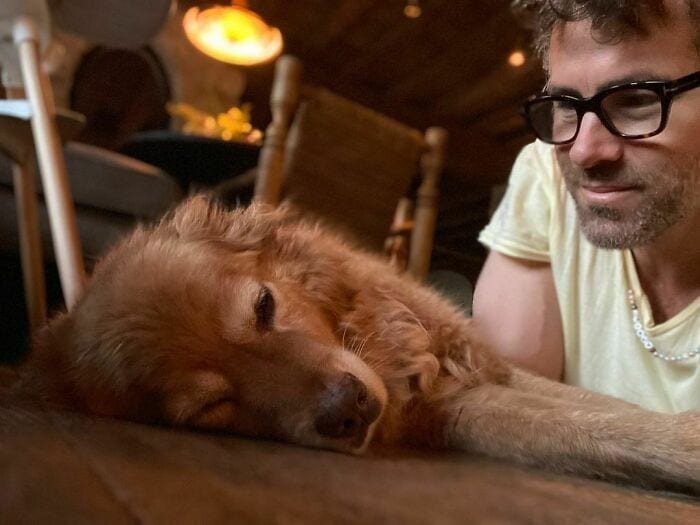 When asked about Baxter's breed, the actor, who is definitely a very good dog dad, did not know what answer to give. He told PEOPLE magazine that his dog is " half golden retriever, half collie, half of some other little chunk of something in there."
Liam Hemsworth
The Australian actor is the dad of no more than 15 dogs. Amongst the 15 fur babies, there is a Goldendoodle, a Beagle, a Pitbull, a Border Collie, and many others. It must be nice having so many balls of fur to get wet smooches from.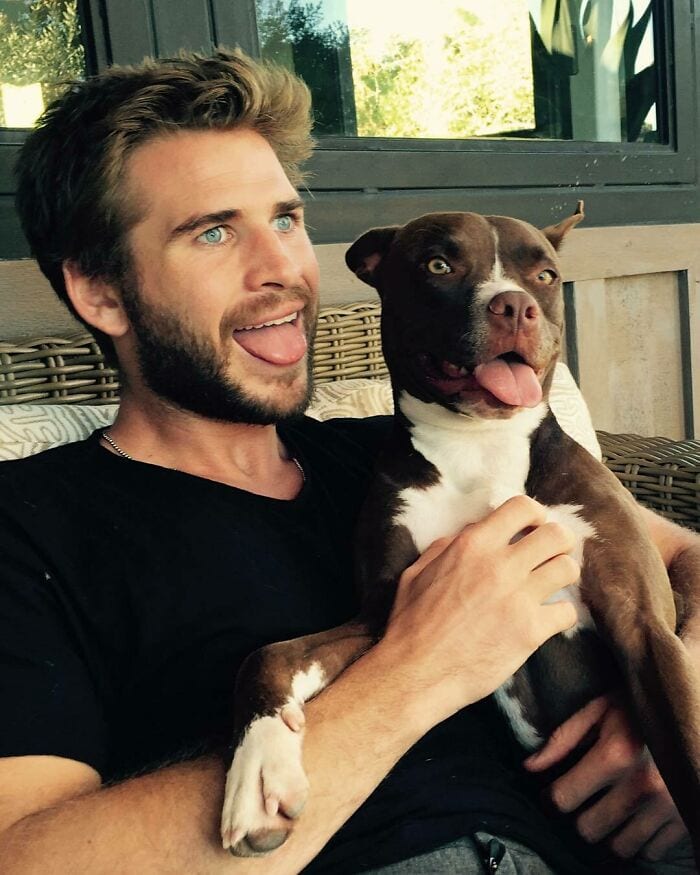 In 2019, after he divorced his wife, songstress Miley Cyrus, the two went to court again to reach a settlement when it came to the 15 dogs they got together. The actor decided to leave all the dogs with Cyrus but asked for visitation rights.
Carrie Fisher
The beautiful Star Wars actress, who unfortunately passed in December 2016, was a huge French bulldog lover. ( Aren't we all? ) So obviously, she had to have one. Meet Garry, one of the most spoiled Frenchies that has ever existed.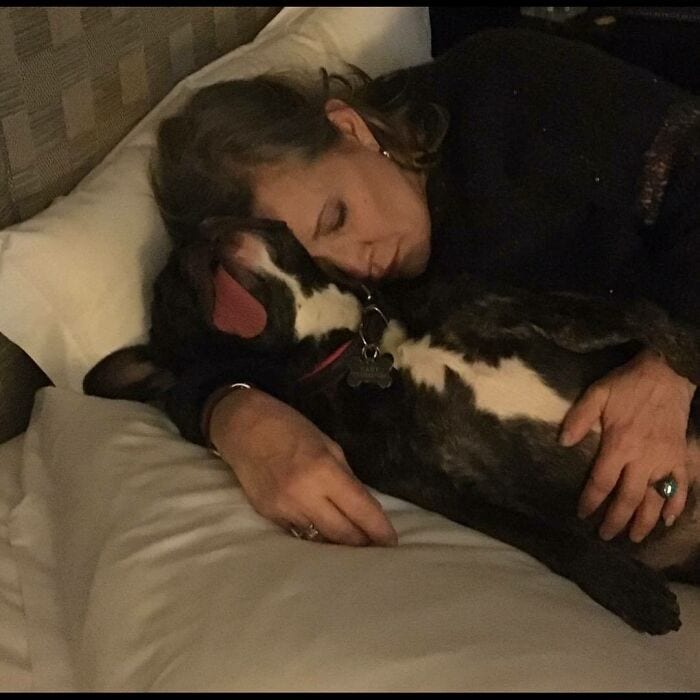 After the sudden passing of his owner, Garry, who was always with his human wherever she would go, went to live with Carrie's assistant in Miami. According to Carrie's sister, Garry still whines and cries for her, which is the saddest thing we have ever heard.
Orlando Bloom
The very talented and handsome actor is most obviously, a huge fan of Poodles. There is surely no other person in Hollywood that loves these little balls of fluff more than Bloom. And if you don't believe us, take a look at the picture below.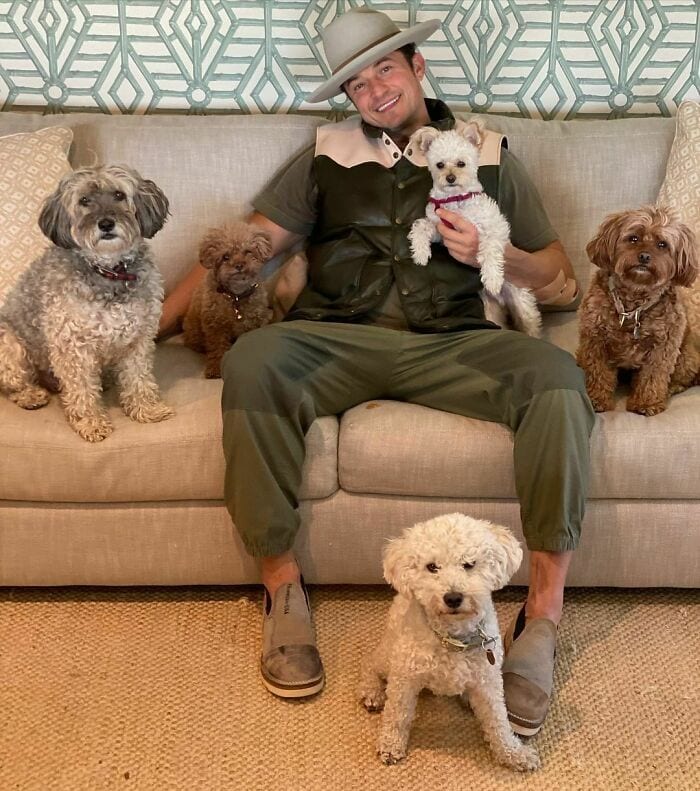 The actor is the proud father of 5 Poodles. Initially, his Poodle Pack was made up of 6 dogs, but unfortunately, one of them, Mighty, went missing last year, and after 7 days of desperate searching, he was found lifeless in the woods. What a nightmare!
Selma Hayek
The Mexican goddess is a huge dog lover, being the mother of several pups. She is also known for being in love with the Malinois, a Belgian Shepherd breed known for their loyalty to their families, whom they consider part of their pack.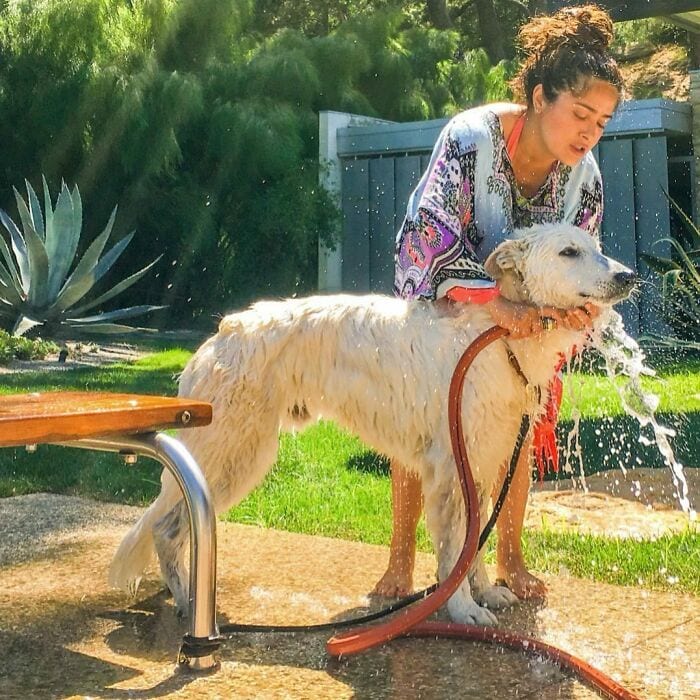 A couple of years ago, the actress posted on her personal account a picture of her 9 years old Malinois, named Mozart, telling her fans that her pup had been shot by her neighbor. It turns out the neighbor was just trying to protect his own dogs from Mozart, so the court determined that her neighbor's action was justified.
Jeff Goldblum
The Jurassic Park actor has been a Poodle lover ever since he was a kid. Actually, he grew up with a Poodle named Ginger, who unfortunately he lost when she was blamed for attacking a child on a bicycle.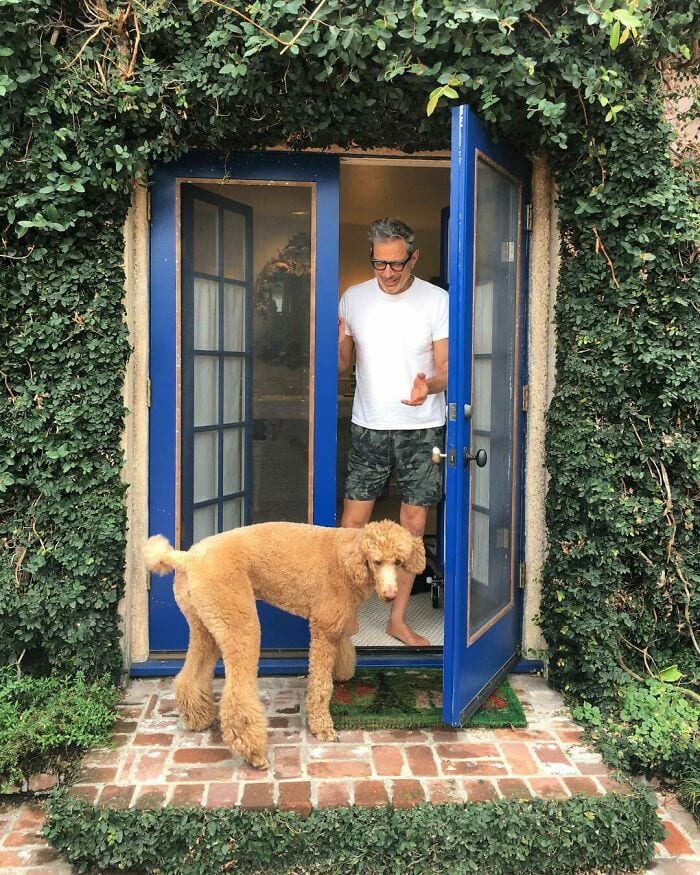 Even though his parents told him that Ginger went to live on a farm, he found out the real story when he grew up. He loved his Poodle so much that he got himself another standard Poodle, Woody, that is the same color and looks exactly like his dear Ginger.
Chrissy Teigen
Many know her as the queen of Twitter clap-back; some know her as Mrs. John Legend, but not many know her as the incredible bulldog mom that she is. Yes, you heard that right! Teigen is a huge lover of bulldogs.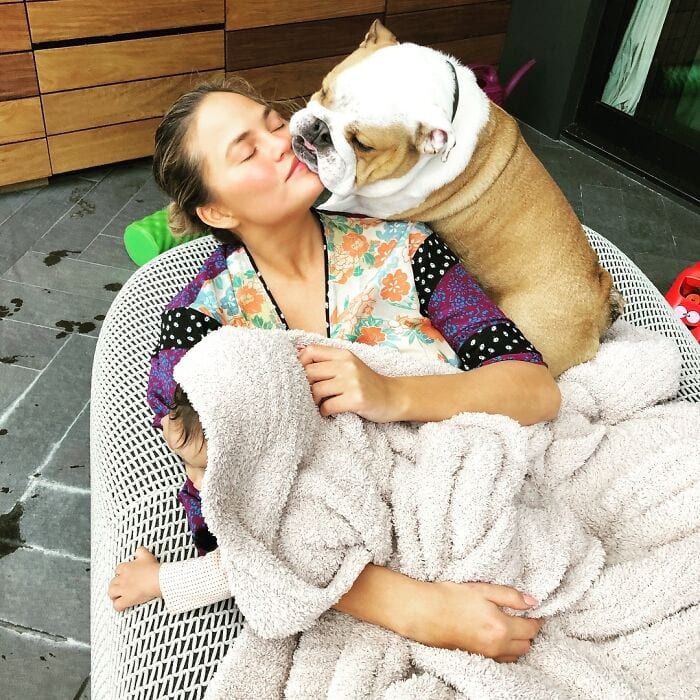 She had both an English (Puddy) and a French bulldog ( Pablo). Unfortunately, Puddy passed, and to fill the emptiness his passing left to her and her family, she decided to rescue a Poodle mix pup whom she called Petey.
Ian Somerhalder
Or as many know him, Damon Salvatore from the TV series Vampire Diaries has a total of 9 pets, including 6 dogs. He's not only hot, but he is also obsessed with animals, and after finding this out about him, we have another reason to love him even more.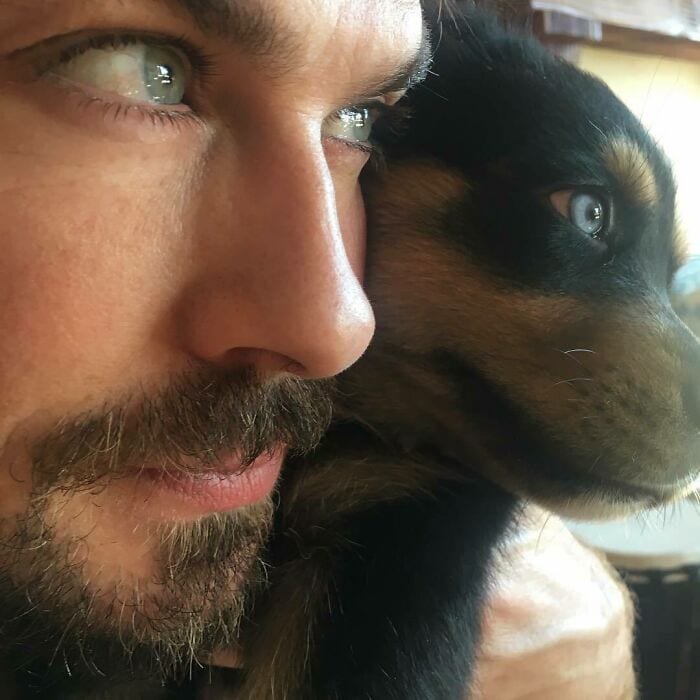 Together with his wife, Nikki Reed, the actor has opened a foundation that has as their main plan to help out the youth and rescue animals. Through the program, the two have already managed to help save over 2500 animals.
Channing Tatum
It turns out Tatum is a dog lover too. Unfortunately, not long ago, he lost his dog to cancer. And the grieving process was not that easy on him, but it helped the actor come up with an awesome idea.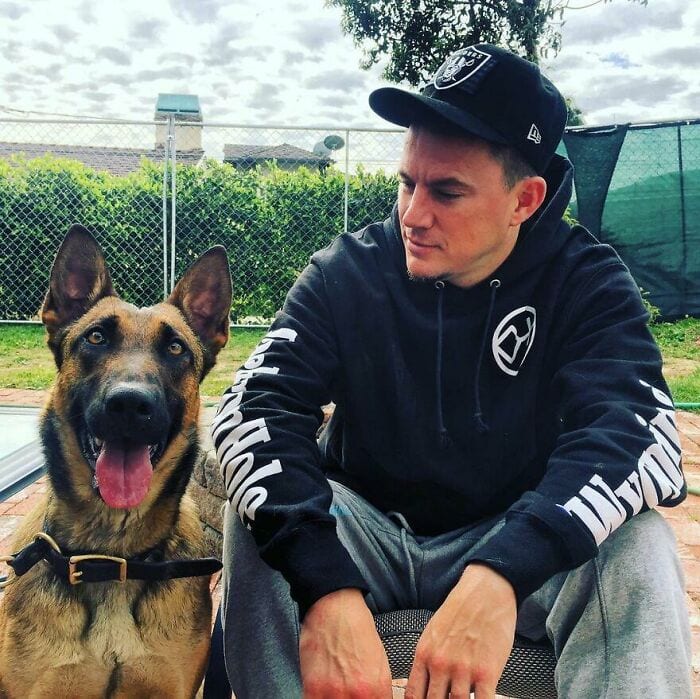 He decided to make a movie about his belated dog, Lulu. The production has started, and the movie called Dog is set for release sometime in 2022. While on the set, Tatum decided to adopt one of his canine co-stars, a Dutch Shepherd named Rook.
Margot Robbie
The Suicide Squad hottie was gifted a very unusual gift by Jared Leto, her co-worker: a rat. She really loved her gift, and she named the little guy Rat Rat. It's fair to say that Rat Rat was probably one of the most spoiled rats out there.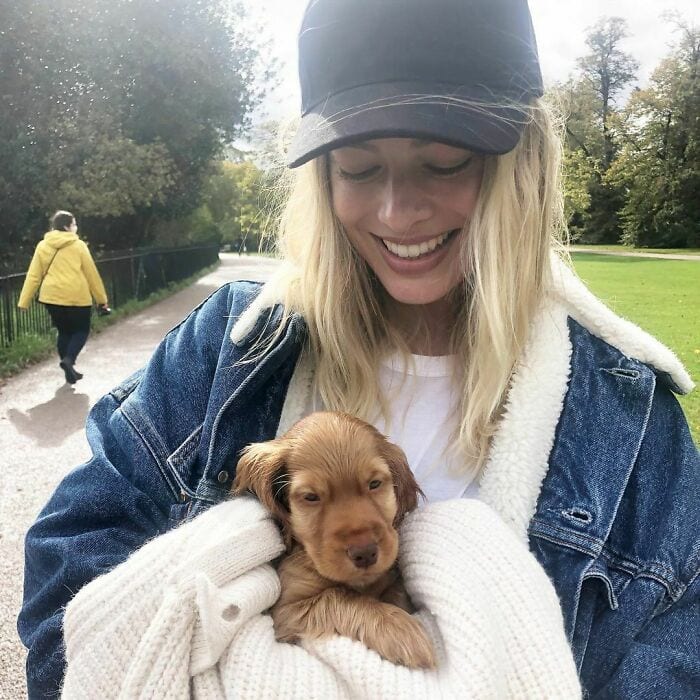 But her landlord was not happy with her having a rat, so the actress had to give him up. A year later, she and her then-fiancé adopted Boo, a poodle mix, and two years later, they adopted another dog, a pit bull mix.
Miley Cyrus
The eccentric songstress and actress Miley Cyrus is known for being a big animal lover, having 15 dogs, one fish, two pigs, three cats, and two horses. Now that's literally a zoo, and we would love to be able to have this many animals.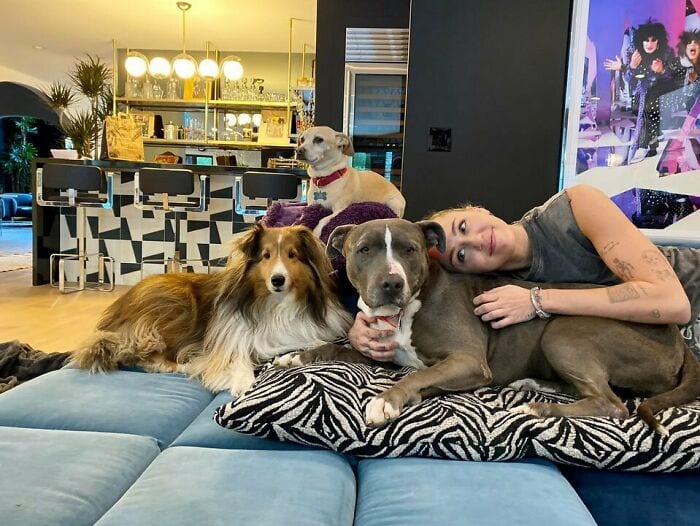 After the death of two of her beloved dogs, Floyd and Lila, the songstress decided to give up four of her dogs, whom she gave to some of her closest friends. That must have been a terribly hard decision for her to make.
Jennifer Aniston
The 52 years old actress is the proud mother of 3 dogs: Clyde, a Schnauzer mix, Sophie, a German Shepherd-mix; and Lord Chesterfield, a Great Pyrenees pup. All three of her dogs are rescue pups, and this made Anniston love them even more.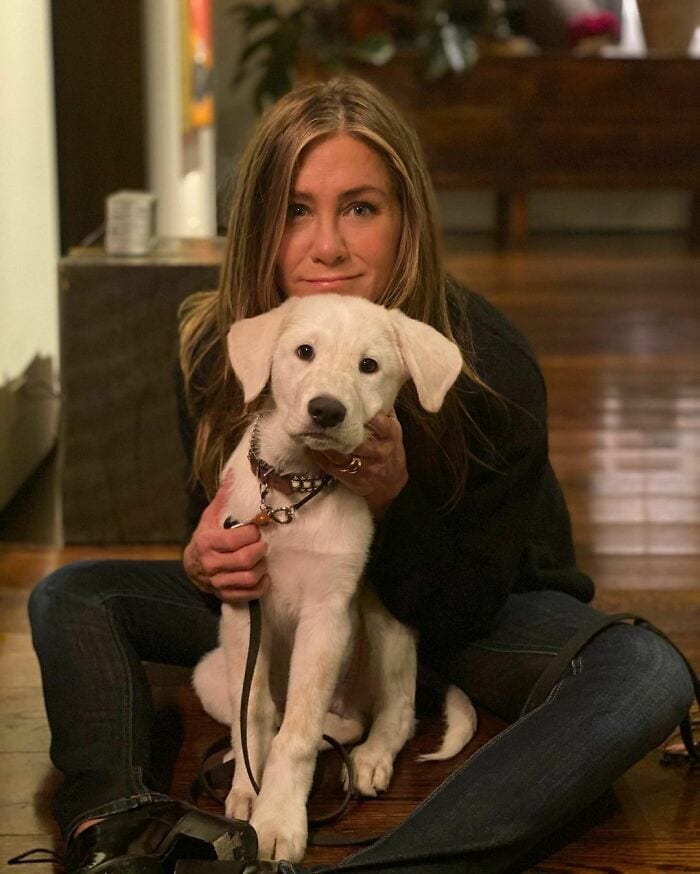 The actress loves her dogs so much that they are always together with her. Sometimes she even takes them to work, on set with her, where they just become the set's main attractions. It must be nice being able to bring your dog to work without getting in trouble.
Kristen Bell
The actress is currently a dog mom of two pups, Frank and Whiskey. Whiskey is a Poodle mixed breed pup who Bell has adopted. The little guy had been in a car accident and lost one of his back legs. Poor pup!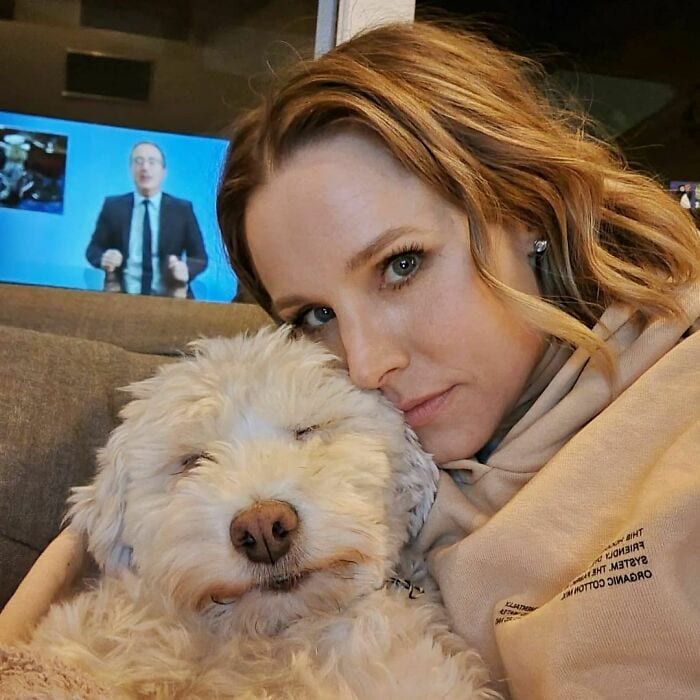 When she introduced the new addition to her fans online, she wrote that everybody in the family, from her dog Frank to her kids and even her husband, who did not agree with getting another dog, have fallen in love with the new addition. Can you blame them, though? He is adorbs!
Lady Gaga
The songstress is obsessed with French bulldogs, and she has three Frenchies of her own named Koji, Gustav, and Asia. The three are obviously really spoiled by their human mother, who earlier this year was ready to give half a million dollars reward for anybody that brings them back after they were dognapped.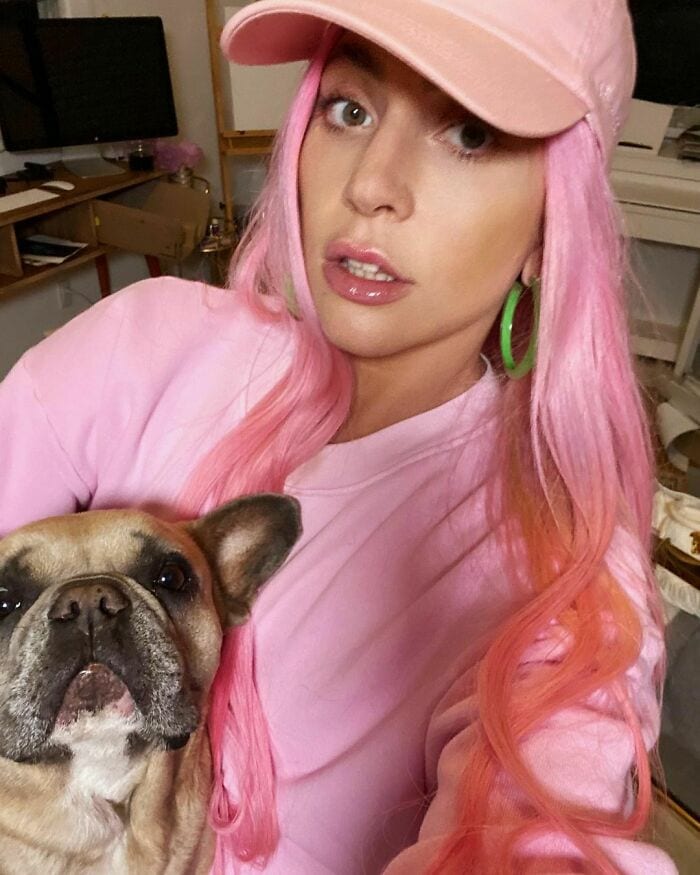 The dogs were on their walk with their dog walker when he was attacked and shot by some people, who then stole two out of the three Frenchies. After desperate messages and the huge reward that Gaga offered, a person whose identity is not known brought the pups back safely after she had found them tied to a pole.
Lewis Hamilton
The Formula One British driver is in love with English bulldogs, and more than this, he is in love with his bulldog pups, named Roscoe and Coco. He loves his dogs so much that they can sometimes be seen watching their human dad race.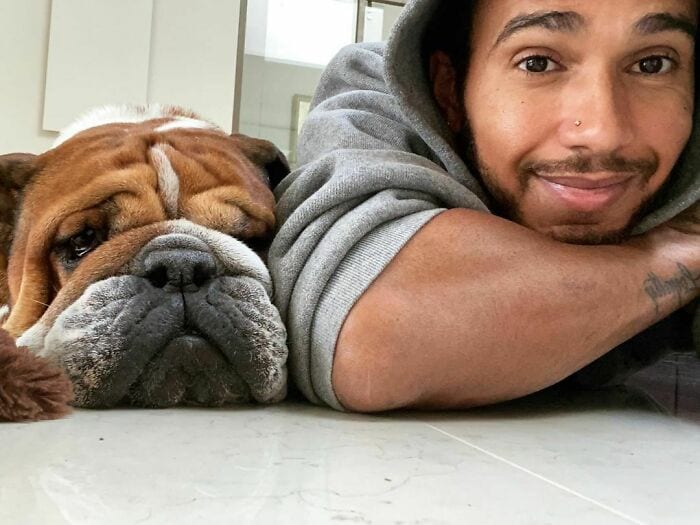 Recently his dog, Coco, passed away most likely from a heart attack. Because of this, he decided to make Roscoe go on a plant-based diet and according to him, his dog has started to feel better, be more active and his breathing improved.
Dua Lipa
Dua Lipa, the Albanian-British beautiful singer, and her boyfriend are the parents of a rescued pup who they named Dexter. Dexter was adopted from a Los Angeles based rescue center where the couple just fell in love with him on the spot.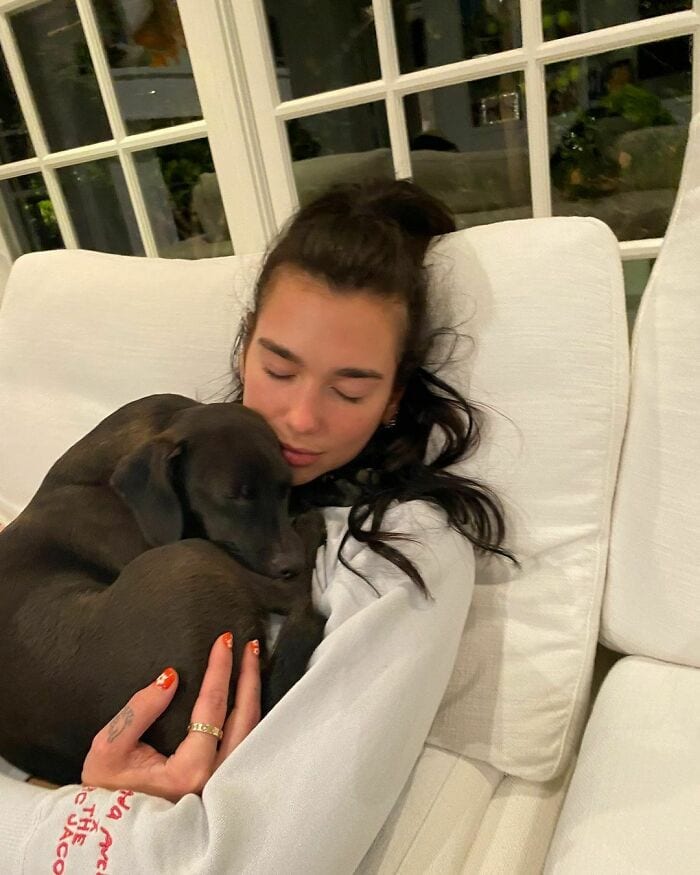 TheLABelleFoundation, the shelter where Dexter was adopted from, is known for saving dogs from all sorts of dire situations: abandoned, strays, and those with medical special needs. And it turns out that a lot of Hollywood stars have found their fur companions at this shelter.
Jennifer Garner
Jennifer Garner is now the proud mom of a rescue dog, a Golden Retriever, named Birdie. Even though Garner was against getting pets, her three children tricked her into getting both Birdie, the cat, and the fishes they have.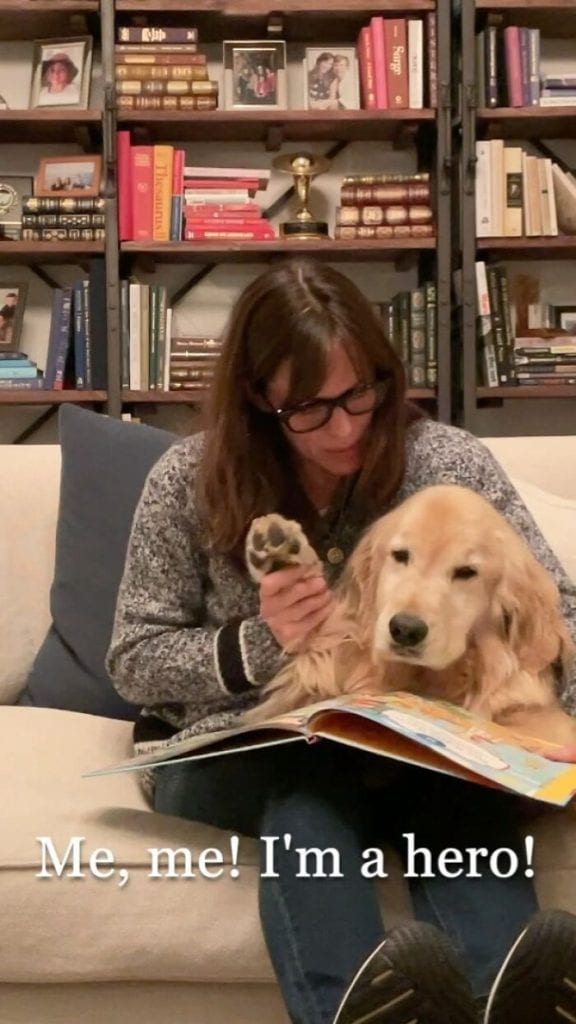 The actress often posts pictures of her reading to her dog on her social media accounts, and the fans are all here for it. When she doesn't read to birdie, Garner makes sure she goes for a walk or a stroll with her cat in tow too.
Johan Hill
The actor has recently become a dog dad. He shared the happy news with his fans on his private social media account, saying that he had adopted a three-year-old dog from Love Leo Rescue, a shelter based in LA.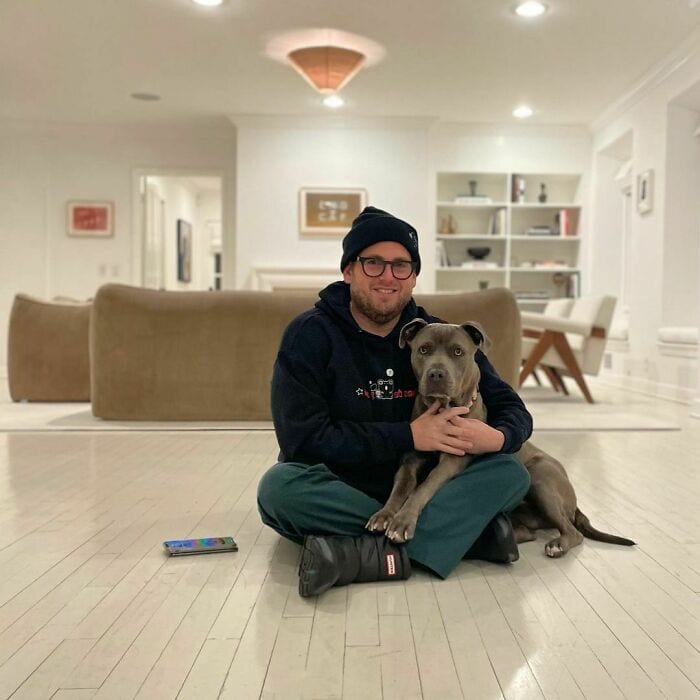 According to the shelter's page, Fig was abandoned at a rural shelter in California during the holiday season. Ever since, she stayed in foster care, waiting for someone to come and take her home. You just got to a love a story with a happy ending.
Jamie Foxx
Jamie Foxx is an advocate and a huge lover of Pitbulls, so his best friends are obviously two dog "bullies" called King and Kong. Despite their very fierce appearance and the aggressive stigma surrounding the breed, the two are very docile and well-trained dogs.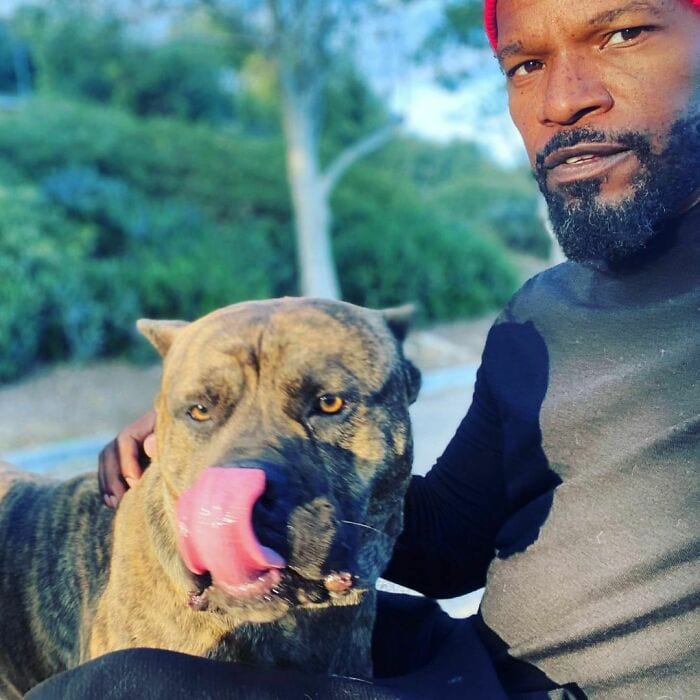 When a former president, who will remain nameless, decided to get a dog for his family, Jamie Fox offered to find him a well-behaved Pitbull dog from the rescue centers. Now that is exactly what we call an advocate with a strong voice.
Mathew Perry
Actor Mathew Perry became famous the moment the pilot for the TV series Friends aired. If he was a proud duck and goose dad on the show, it turns out that he is a dog dad in real life. And a very proud one, as you can see in the picture below.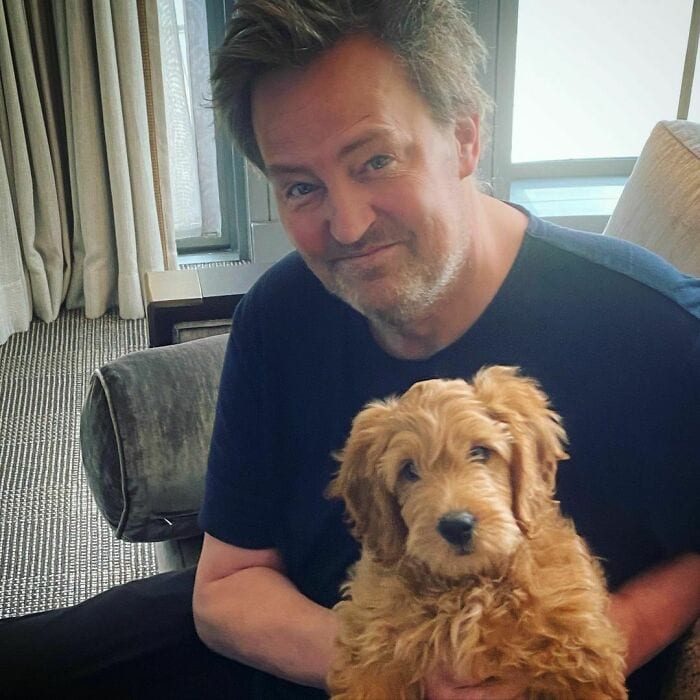 Alfred is a very adorable doodle mix who is constantly appearing in his human dad's posts on Instagram ever since he was brought home. No wonder the actor posts so many pictures with him. Look how cute that face is!
Zendaya Coleman
The beautiful songstress, actress, and producer is a huge fan of the miniature Schnauzer breed of dogs. At 8, she was gifted one whom she called, Midnight, and the two were companions for 11 years until Midnight unexpectedly passed away.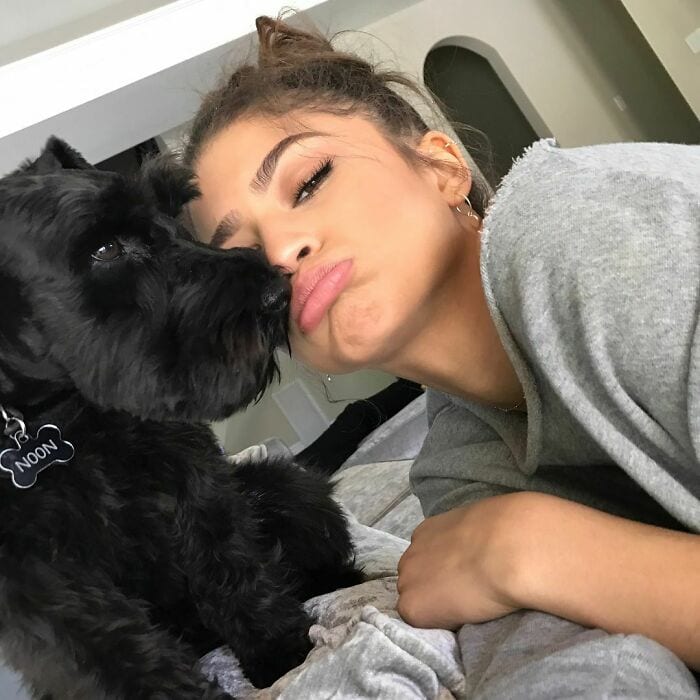 The loss of her beloved pup left an immense hole in her heart, so she decided to get a dog that looks just like her childhood dog, Midnight. And that's how she got Noon, who was the subject of one of the Dog Whisperer episodes.
Cara Delevingne
Cara Delevingne is not only a gorgeous supermodel, but she is also a super dog mom. She is the human mother of Leo, named after her star sign, and is also the foster mother of the two pups pictured below.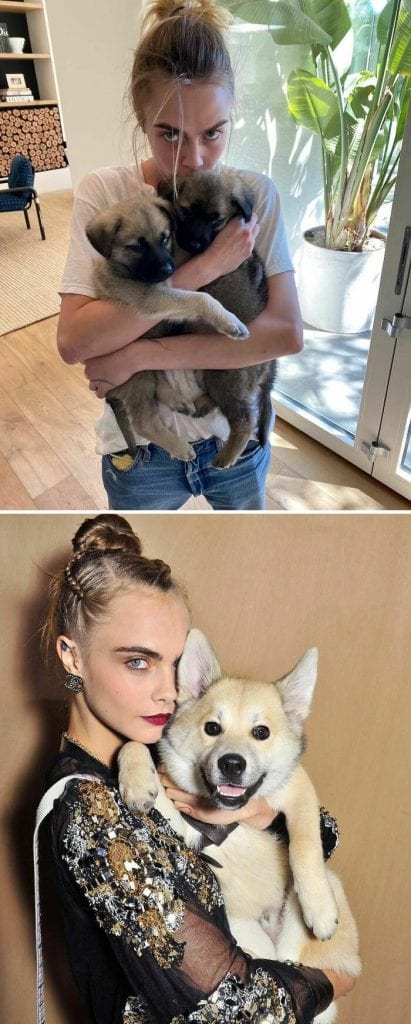 Recently the model posted on her page a picture of the two foster pups, named Bowie and Hendrix, encouraging her followers to go ahead and take in foster pups during the pandemic. We can only hope that people will follow her example.
Pryanka Chopra
The Indian beauty has three dogs together with her husband. They are named: Diana, Gino, and Panda. Even though Chopra and her husband always post pictures of the three dogs, each of the three pups actually has its own Instagram pages.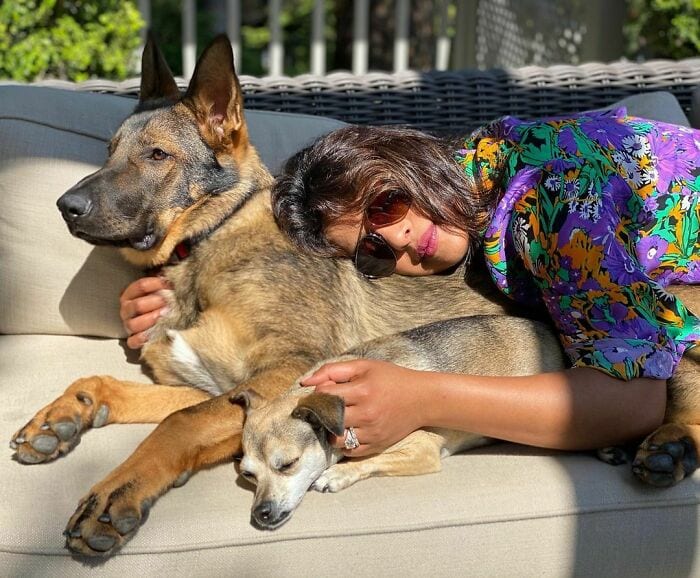 According to Chopra, her first-ever pup was Diana, a Chihuahua- Terrier mix whom she adopted in New York. She has a very special bond with her because she actually helped the actress get through a pretty difficult period in her life.
Reese Witherspoon
The actress is part of the Bulldog lovers club that so many celebrities seem to be members of and is the mother of a French Bulldog named Minnie Pearl and an English bulldog named Frank Sinatra. Their names are everything!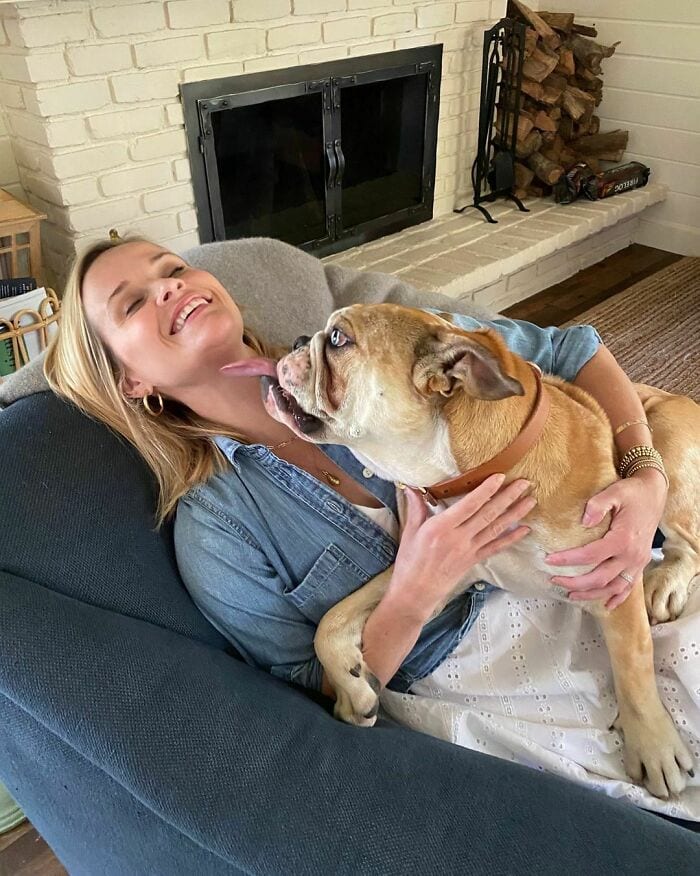 Minnie Pearl recently joined the family earlier this year, three weeks after Coco Chanel, the actress's first Frenchie, passed away unexpectedly. Witherspoon is also the dog mom to an American Bulldog and a Labrador. We think they are really lucky pups indeed!
Josh Duhamel
The former model and actor and his former wife, the songstress Fergie, are dog parents to a Pitbull named Zoey. According to Duhamel, growing up, he always wanted to have a dog, but his mother would not allow him for unknown reasons.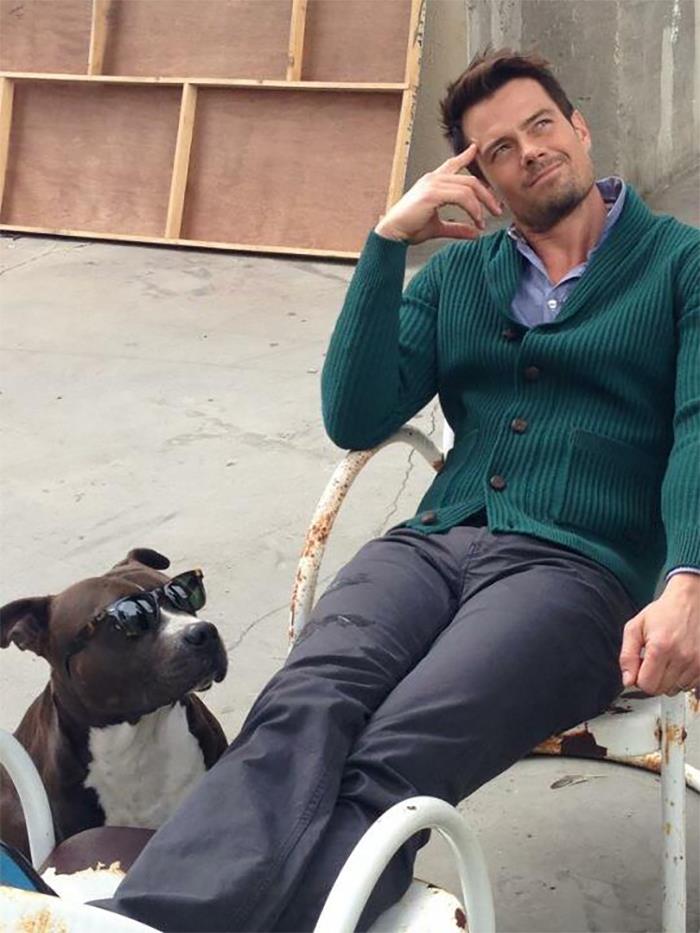 But the moment he moved on his own, he brought home Zoey, and the two had an instant bond. Now Zoey is a big loving sister to her human sibling, baby boy Axl, who joined the family in 2013.
Nicole Kidman
Meet Julian, the first dog that beautiful Nicole Kidman ever had. He is a Mini Poodle, and he was adopted from a shelter. The couple, who also has chickens, alpacas, two cats, and ten fishes, felt that it was time to get a pup to join their family.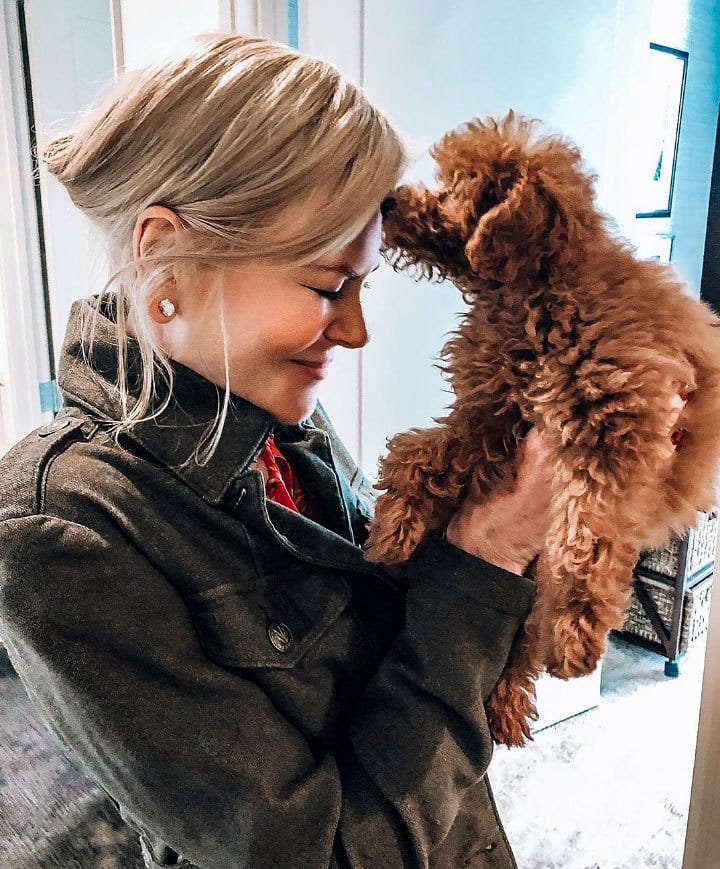 Even though Kidman has always declared herself to be a cat person, she did not hold back from admitting that her new pooch stole her heart immediately, and looking at the picture above, we understand exactly why she loves him.
Jason Mamoa
Usually, we save the best for last, but we could just not wait to share this with you this time. If you're a fan of Jason Mamoa, prepare yourself before seeing this picture below because your heart will most likely melt.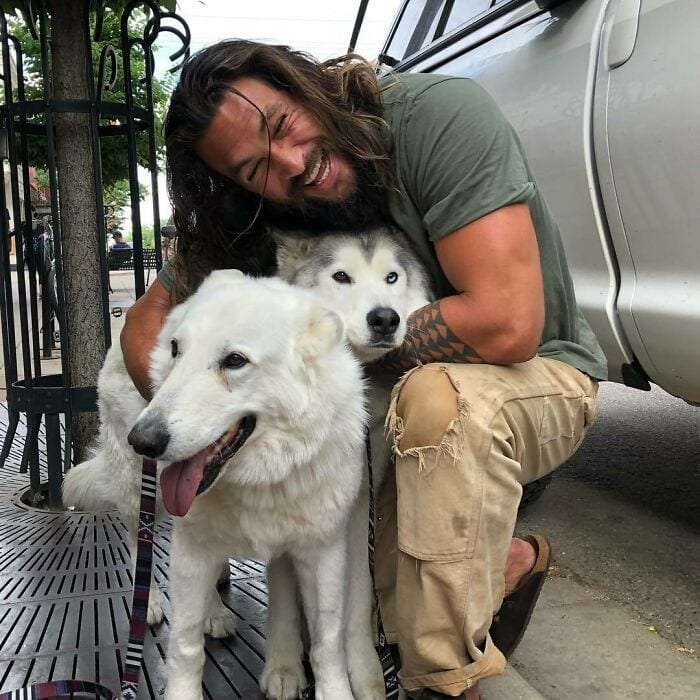 Mamoa is already one of the hottest actors in Hollywood today, but now that we know he is a dog person, we love him even more. Not to mention that his dogs are half Malamute, half wolves. A strong man needs strong dogs, we guess.
Charlize Theron
The South African-born beauty is a very vocal animal activist, and she has worked with multiple animal rights organizations, one of them being PETA. Despite the fact that she loves all animals, the actress has a thing for dogs.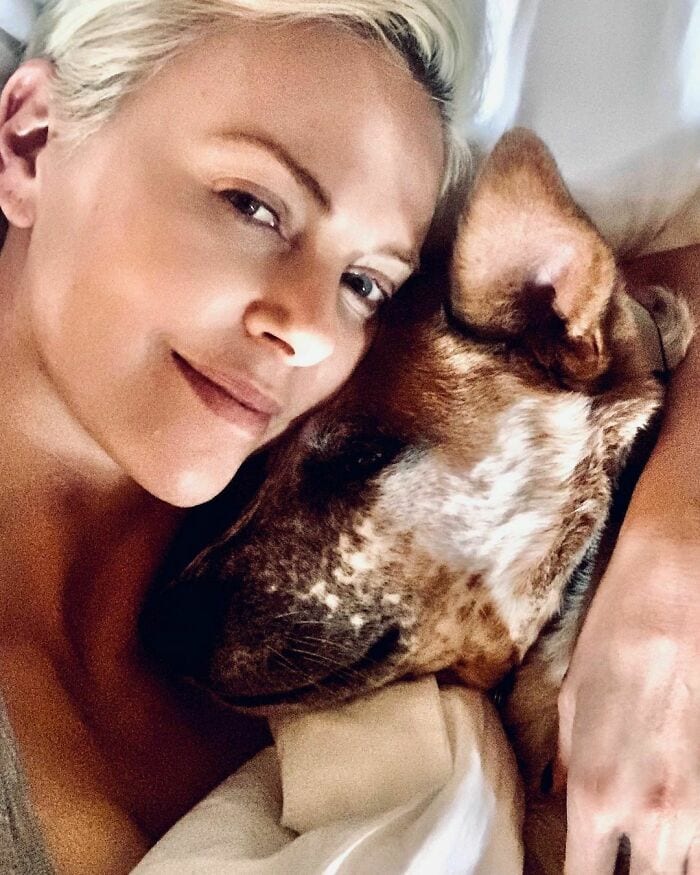 Over the years, she has had many dogs; some of them were rescues, some of them she fostered. But at the moment, it is known that she only has one dog called Tucker. He is also a rescue pup and was adopted in 2011.
Eva Mendes
Together with her husband, Ryan Gosling, the actress has had a total of 3 dogs. Two of the dogs were the Belgian Malinois, Hugo, and George, Gosling's old dog. Unfortunately, both of them have since passed away due to their age.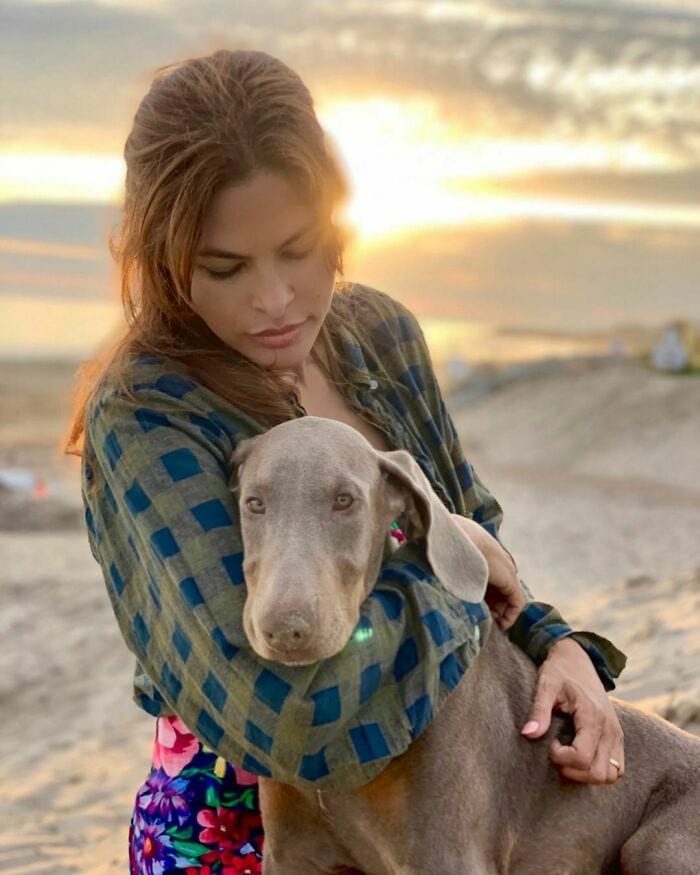 Recently, the couple adopted a fawn Doberman, whose name is Lucho, from a non-profit organization based in Los Angeles. Friends For Life is a well-known no-kill animal shelter popular amongst celebrities from Hollywood who also do a great job raising awareness for it and their cause.
Giselle Bundchen
The former Victoria's Secret supermodel, Giselle Bundchen, and her equally famous athlete husband Tom Brandy are proud dog parents to three dogs: Lua, Fluffy, and Scooby. Lua is the couple's first dog that they got together and Brandy's all-time favorite.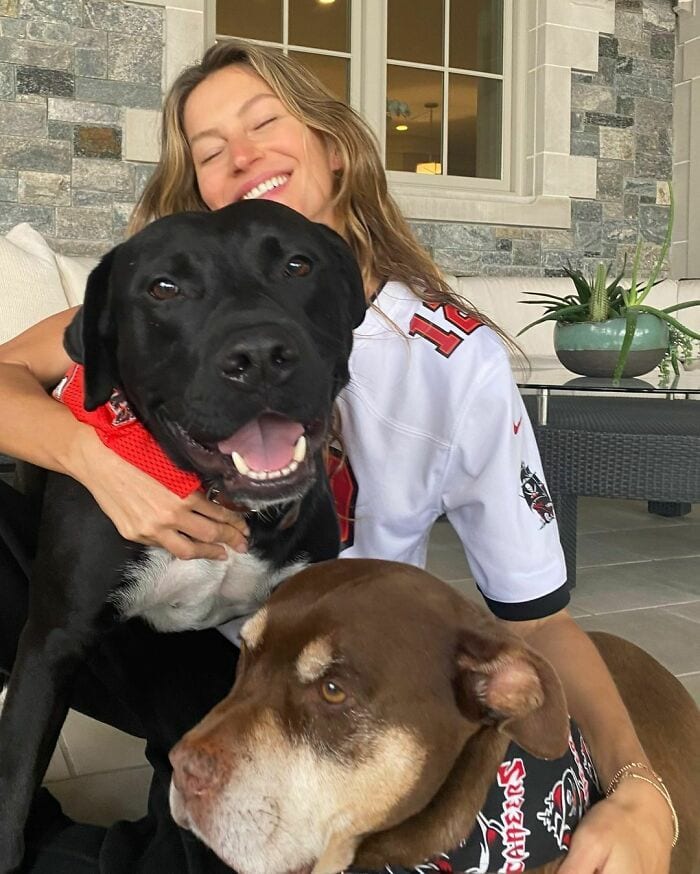 Lua and Scooby are both Pitbull mixed breeds, while fluffy is a Maltese mix. All three of the Bundchen-Brandy couple's dogs are rescued. We love that most celebrities are advocates of adopting and not shopping for their fur friends.
Zac Effron
Despite the fact that he is a really busy man, The High School Musical actor has always had dogs as his companions. These little lucky fellas are always with him wherever he goes, and even go to work with him.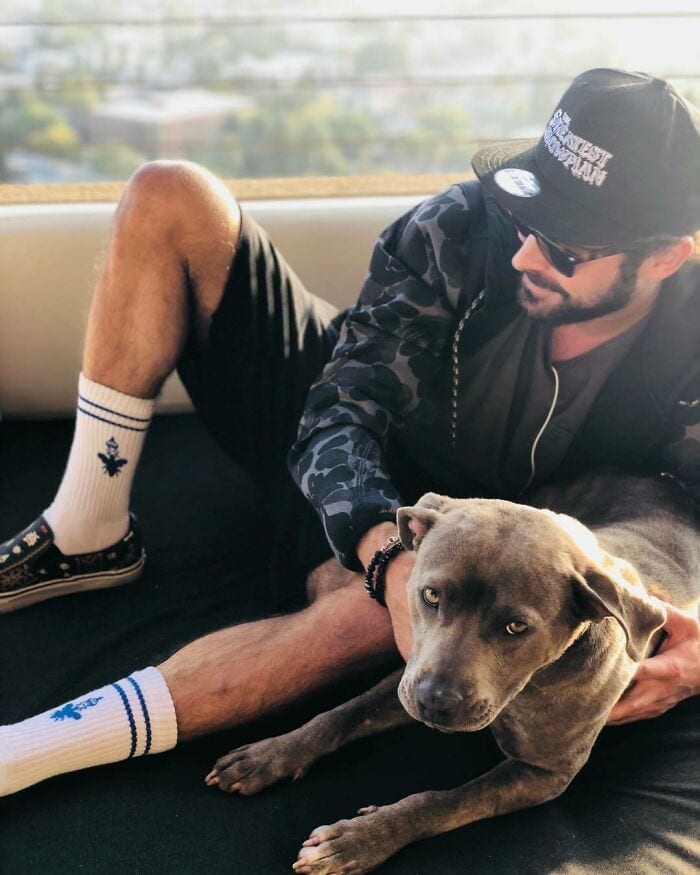 Currently, he is the proud dog dad of a Pitbull, who he named MACA. Formerly called Tilly, the pit bull was adopted from a Los Angeles shelter where she was scheduled to be put down because nobody was interested in adopting her.
Simon Cowell
Even if he is one of the most serious out of the four America Got Talent judges, Cowell's attitude definitely changes when it comes to his dogs. We mean, just take a look at the ear-to-ear smile that he has when he is with them.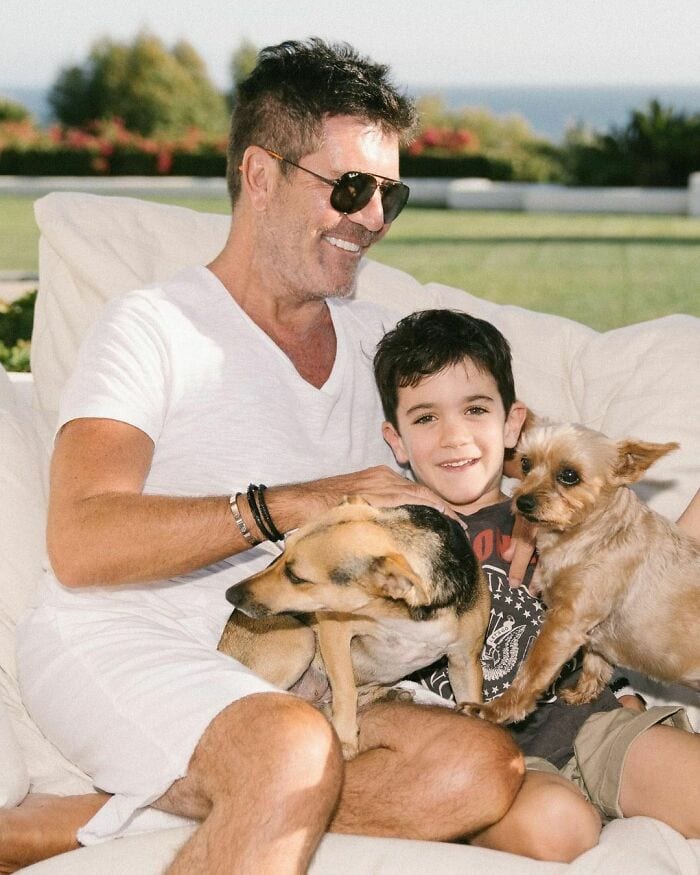 Currently, he owns no less than four dogs, one of them being Freddy, his late mother's dog that he took in after she passed away. Recently Daisy, a stray dog from Barbados, joined the crew formed by Freddy, Diddly, and Squiddy.
Joe Jonas
Joe Jonas and his wife, Sophie Turner, are the parents of two beautiful Alaskan Klee Kai pups, named Porky and Stan, a Golden Retriever and a Corgi. The Corgi joined the family when one of the couple's Alaskan Klee Kai's was involved in an accident and unfortunately, lost the fight.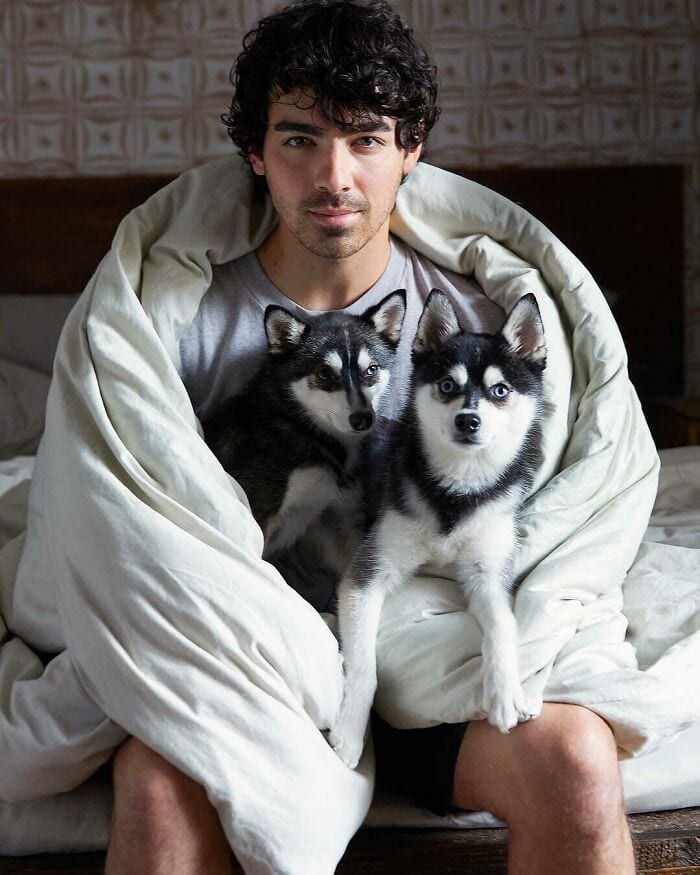 Joe Jonas is deeply in love with their dogs. He and his wife are often spotted on walks with their three four-legged babies. These three lucky dogs and their humans are inseparable; Jonas is often seen bringing them on the set with him. They are so lucky to have such a good human dad.
Enrique Iglesias
The famous singer has two big-sized dogs: Grammy, who is a Golden Retriever, and Lucas, the German Shepherd. The singer and actor loves his fur companions so much that he had them join him for several photoshoots for different magazines.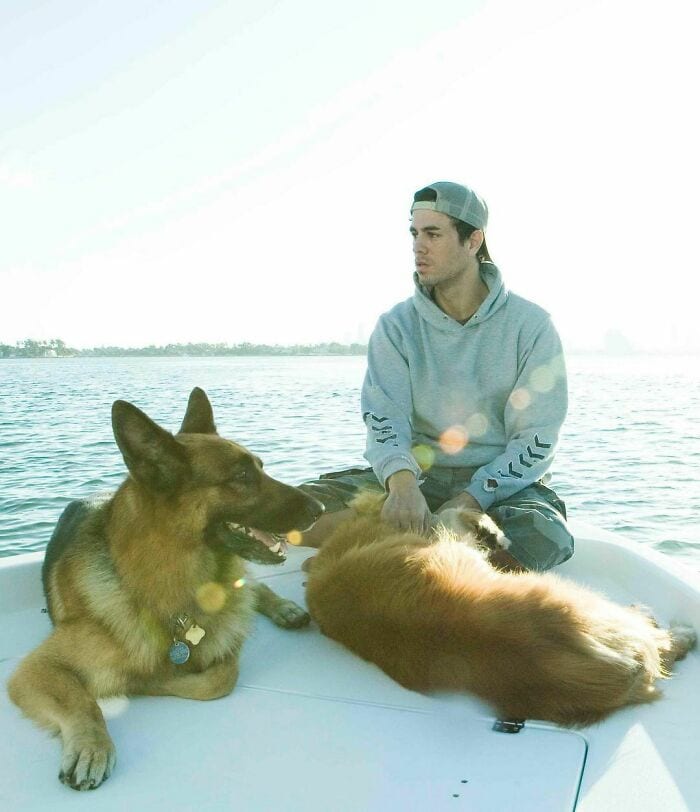 Enrique Iglesias is the definition of a proud dog papa, and it's evident to all. Not only does he takes them everywhere he goes, but he also wants them to work with him. You just gotta love a man that is so caring and loving with his pets.
Nick Jonas
Nick Jonas and his wife, Priyanka Chopra, are the proud dog parents to three dogs: Diana the Chihuahua, Gino the German shepherd, and Panda the Husky/ Australian Shepherd mix. The actor is always showing off his four-legged buddies on his social media accounts.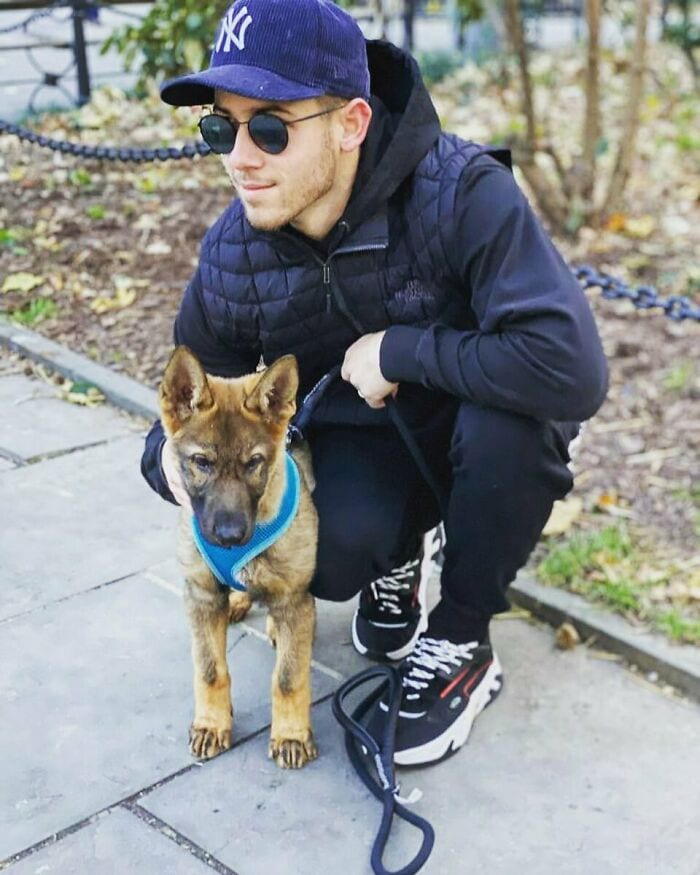 When speaking to PEOPLE magazine, the singer stated that he and his wife decided to make their dogs each an Instagram account. He declared that he and Chopra are both stage parents and want their kids to be out there enjoying the spotlight.
Hilary Duff
Besides from being a very successful actress and an awesome mother to her three children, Hillary Duff is also the loving dog mom of three fur kids: DuBois, a Bernese Mountain Dog/Australian Shepherd mix, Momo, and Lucy the Golden Retriever.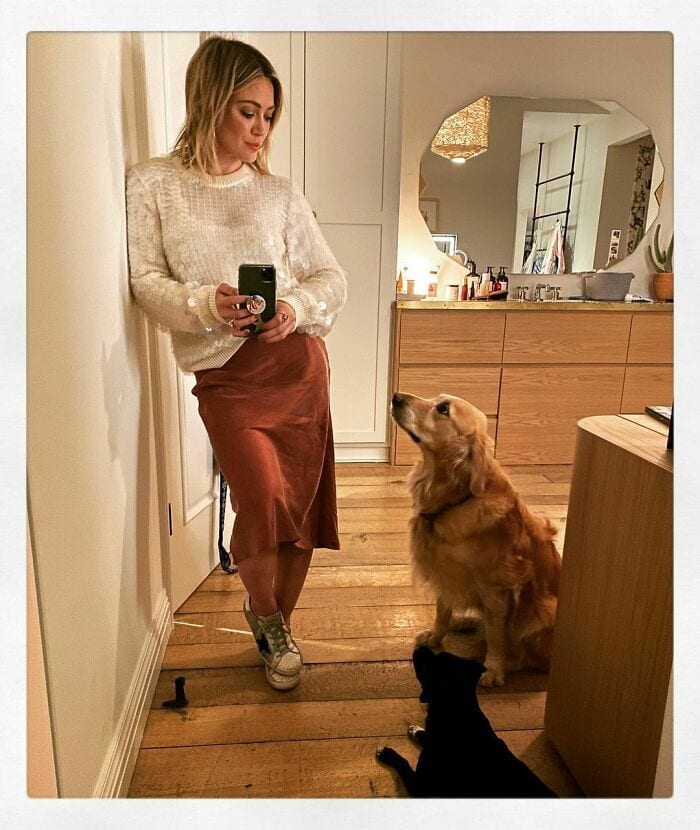 The last two are both rescue dogs from a well-known shelter based in Los Angeles called SoCal-based Love Leo Rescue. According to Duff, her dogs and kids get along very well, and their dogs are very protective over them.
Hilary Swank
The American actress and producer has a total of two dogs, and both of them are rescues; Swank is an advocate for adopting your pets and not buying them from puppy mills. Her dogs are named: Karoo the Jack Russell and Corgi mix and Rumi the Golden Retriever.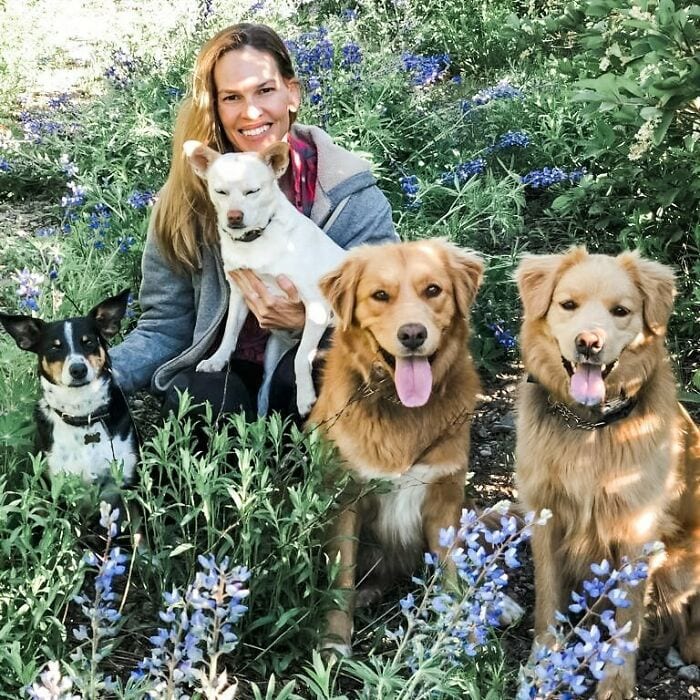 Karoo was found in southern Africa while the actress was filming for one of her movies while Rumi was adopted from a Los Angeles Shelter during Home 4 the Holidays adopt-a-thon that lasted a month. Being the spokesman for such an event, the actress helped contribute in the adoption of over 2800 dogs, which is just another reason to love her.
Pedro Pascal
Well, what do you know, The Mandalorian is a dog person! Pedro Pascal is one of the biggest names in Hollywood currently, and seeing as most people describe him as an all-around great guy, it wasn't surprising to come across this adorable photo.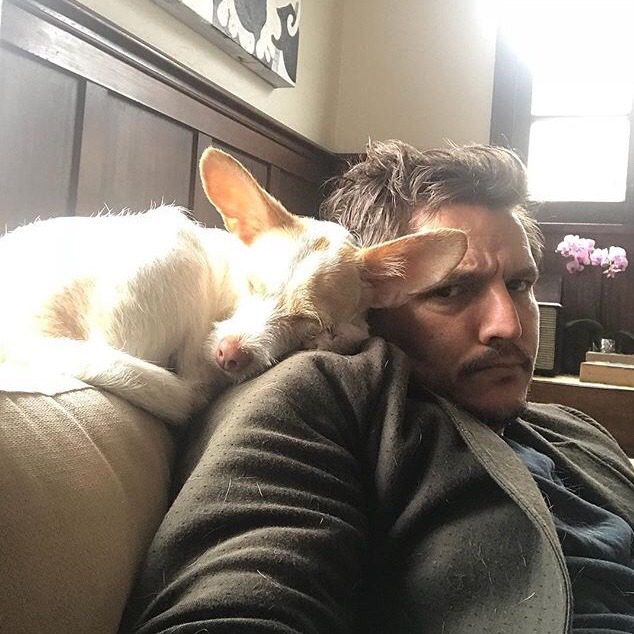 Pictured here are Pedro and Edgar, a dog he adopted sometime in 2018 from a shelter. The actor was photographed with him several times as they hung out and went on walks. Sadly, he had to rehome him after a while because of his constant moving for work.