Iconic Movie Wedding Dresses That We Couldn't Ignore
By Mary A November 1, 2020
---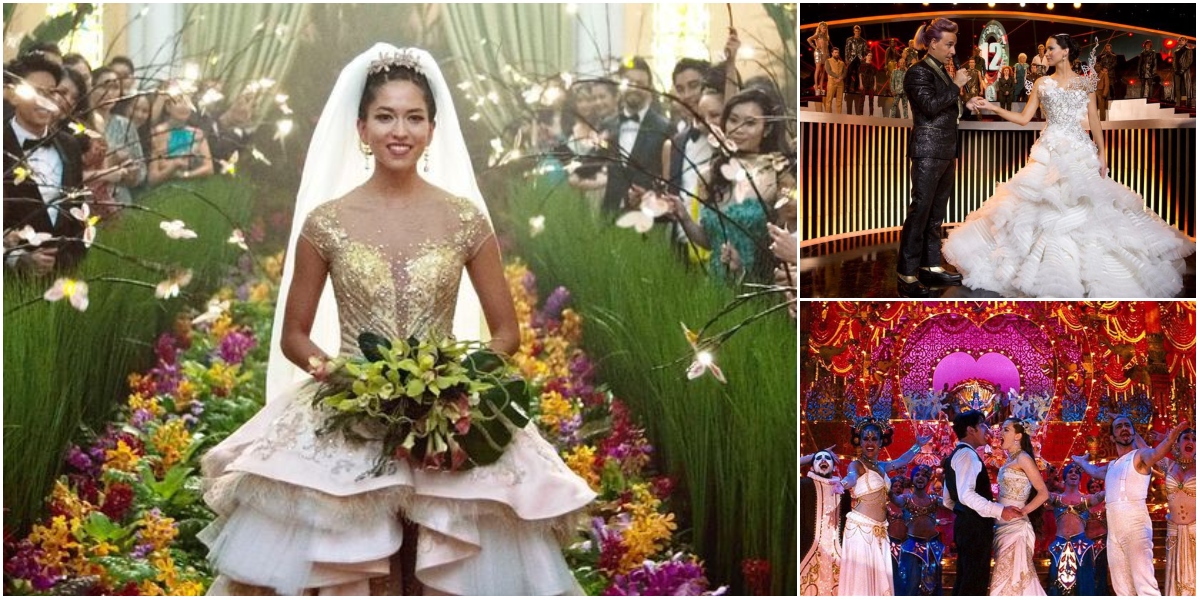 Weddings are one of the most important ceremonies in a woman's life. Every woman will never want to miss the moment, walking down the aisle and looking like a vision in a flawless wedding dress. Nothing brings more happiness than getting married to your lover and saying the wedding vows.
Every woman wants to look stunning for her wedding. That's why choosing a wedding gown has to be carefully done. There is inspiration everywhere, but you can select designs worn by celebrities in movies, from Araminta Lee's stunning jumpsuit in crazy rich Asians or the minimalist non-traditional gown worn by Paige at her wedding to Matt.
Whichever designs you draw inspiration from, we have selected 40 iconic designs worn by celebrities in movies that made the film all the more memorable.
Funny Face
Jo Stockton (Audrey Hepburn) looks gorgeous in her retro-looking wedding dress in the romantic comedy movie Funny Face. It also became one of her most iconic looks ever, although she is mostly known for her other more famous movies.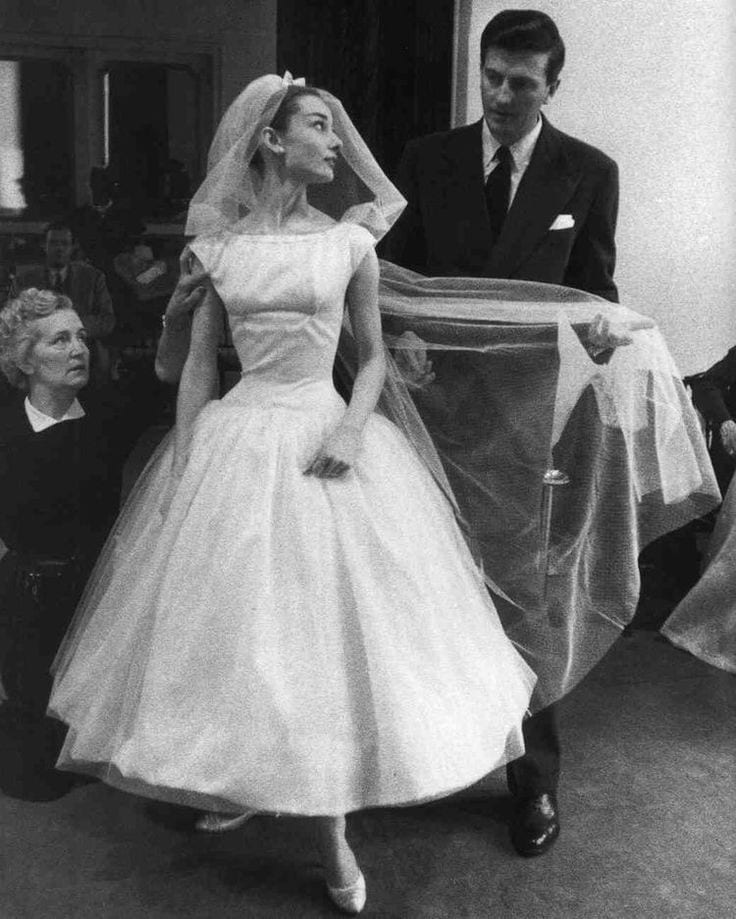 The dress is a tea-length retro-looking gown, it has a dropped waist, and it is made of satin. This dress also helped cement her future as one of the most stylishly beautiful and famous fashion icons the world has ever seen.
Gentlemen Prefer Blondes
In the movie Gentlemen prefer blondes, Lorelei Lee (Marilyn Monroe) and Dorothy Shaw (Jane Russell) looked astonishing while they both walked down the aisle in matching wedding dresses. Lorelei and Dorothy both looked gorgeous in their A-line laced wedding dress.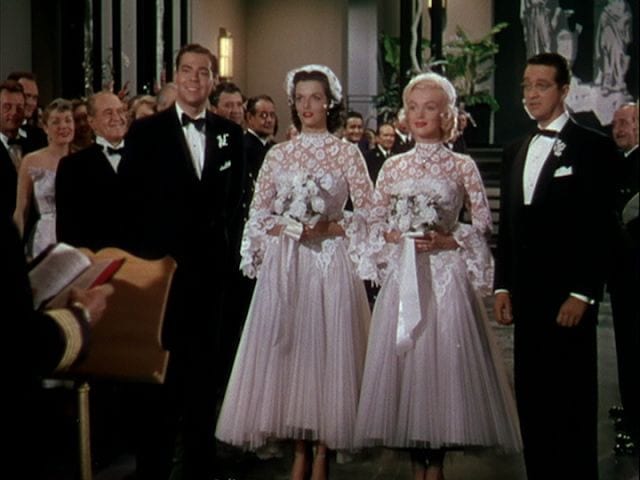 TraVilla designed the gown. It is a tea-length dress with A-line skirt and fitted lace bodice. The beautiful gowns have a combination of high necks, bell sleeves, and veiled hats. The exceptional dress was made to show off each of the women's curves correctly.
The Age Of Adaline
The ageless Adaline (Blake lively) walks down the aisle in this movie in a beautiful wedding dress by Angus Strathie. The dress gives a vintage vibe and serves as a go-to for brides who prefer a much more retro modest look.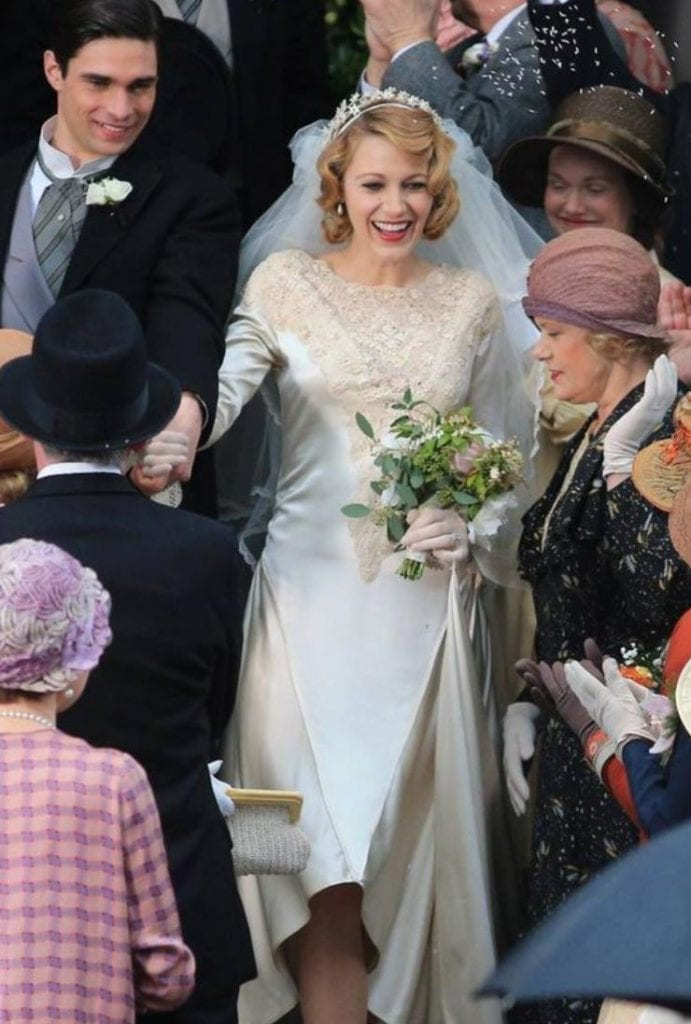 The exquisite wedding dress was designed by Angus Strathie, who also designed the show-stopping wedding dress worn by Nicole Kidman in the movie Moulin Rouge. The dress also won him an award for best costume design, and we love it.
The Father Of The Bride
Despite Stanley Banks (Spencer Tracy) reluctance to give his daughter Katherine's (Elizabeth Taylor) hand out in marriage, she finally walked down the aisle in a beautiful wedding gown designed by Helen Rose in the movie, The Father of the Bride.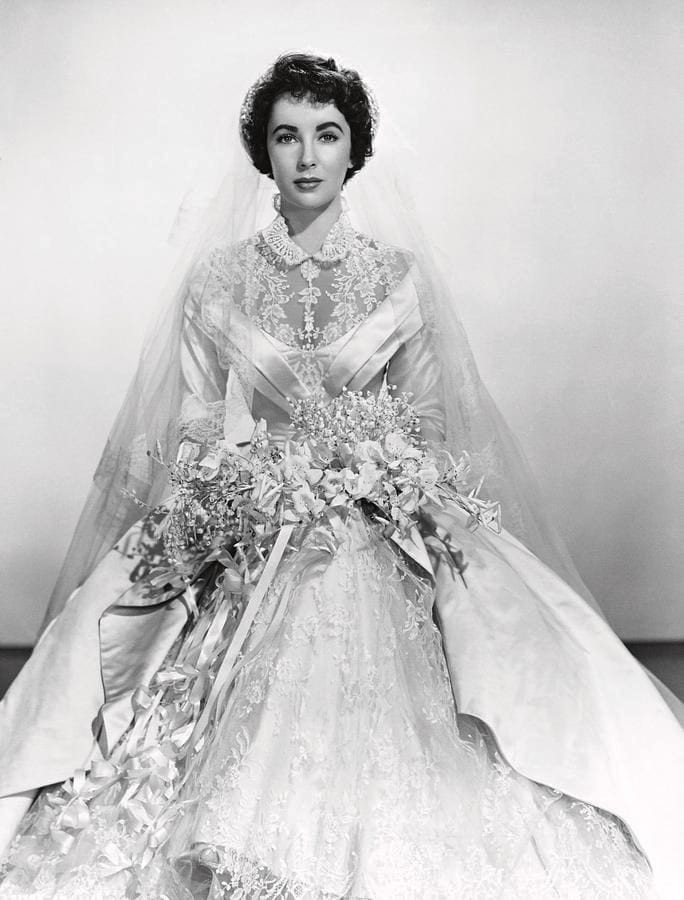 Helen Rose designed this iconic wedding dress. She also designed a replica of this dress for Grace Kelly's wedding in 1956. The 90's lace and the satin wedding gown is an excellent combination of silk, with a high lace collar, buttons, and voluminous skirt.
The Sound Of Music
Julie Andrew's character (Maria Trapp's) wedding dress in the 1965 classic romance movie, The Sound of Music, is also worth mentioning. It is a simple yet classy and sophisticated gown. It also went up for auction at Julien's auction house.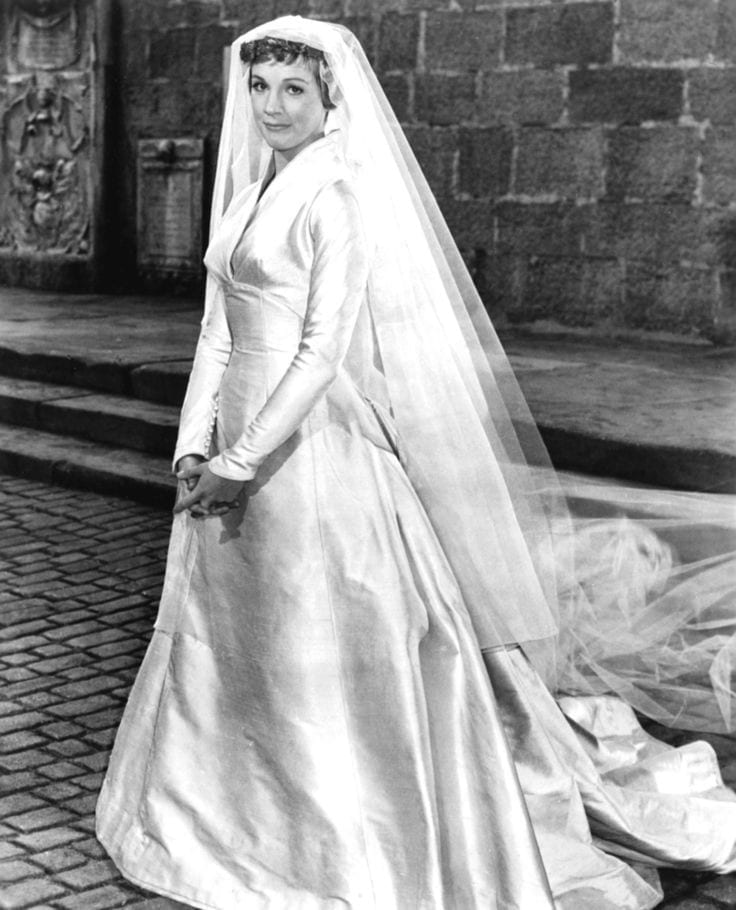 The dress features a satin A-line skirt, modest V -neck, and buttons up the bodice. The dress fetched around twenty-three thousand dollars at the Julien's auction house in Beverly Hills in 2013, even though the dress was not in perfect condition.
Princess Diaries 2
Mia Thermopolis (Anne Hathaway) dazzled on her wedding day, which marked the end of the movie The Princess Diaries. Gary Jones designed the dress. He designed all of the clothes in this movie. Mia looks glamorous and befitting her role as a princess in this gown.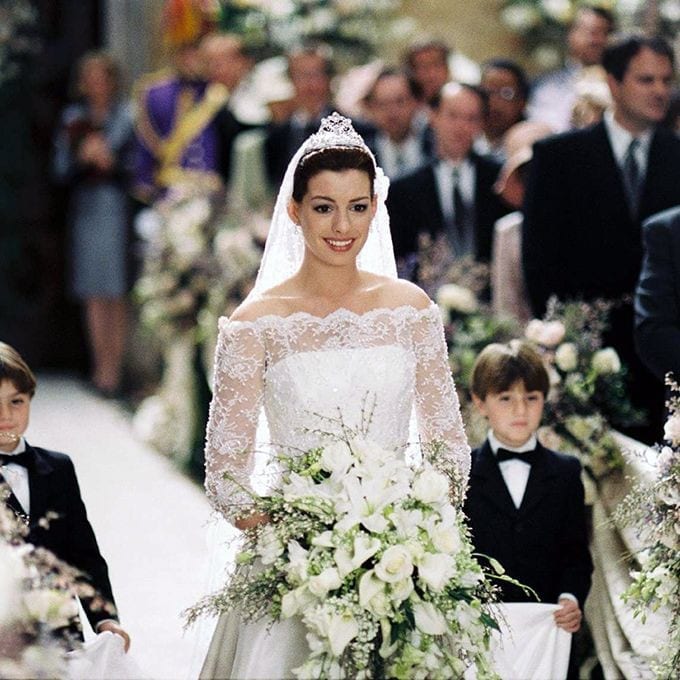 The dress is an off-the-shoulder regal lace sleeved gown. The dress took inspiration from past royal wedding gowns. It has an A-line silhouette, lace sleeves, and a long train, truly a dress fit for a future queen.
Sweet Home Alabama
Melanie's (Reese Witherspoon) wedding dress in this movie is another iconic dress for her wedding to Andrew Hennings ( Patrick Dempsey). Reese Witherspoon was a sight for sore eyes in this beautiful dress. Spoiler Alert: Too bad the marriage didn't actually land up taking place.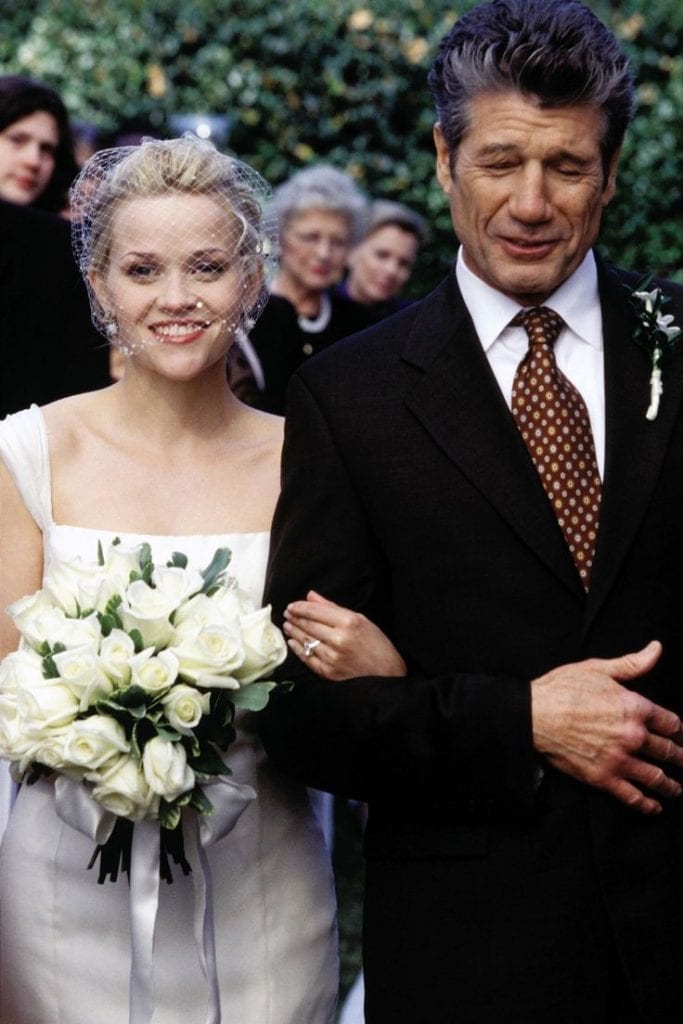 The wedding dress chosen by the Southern Belle was simple, sophisticated, and yet romantic. The dress is in a sleeveless mermaid style, and she topped off the look with a white bridal lace fishnet. Sophie Derakoff is the talented designer responsible for this memorable wedding attire.
Harry Potter And The Deathly Hallows
Fleur Delacour's (Clemence Poesy) wedding dress, at her wedding to Bill Weasley (Domhnall Gleeson) in Harry Potter and The Deathly Hallows, was anything but a simple white dress. French designer Jany Temime designed it. A black headpiece accentuated the dress perfectly.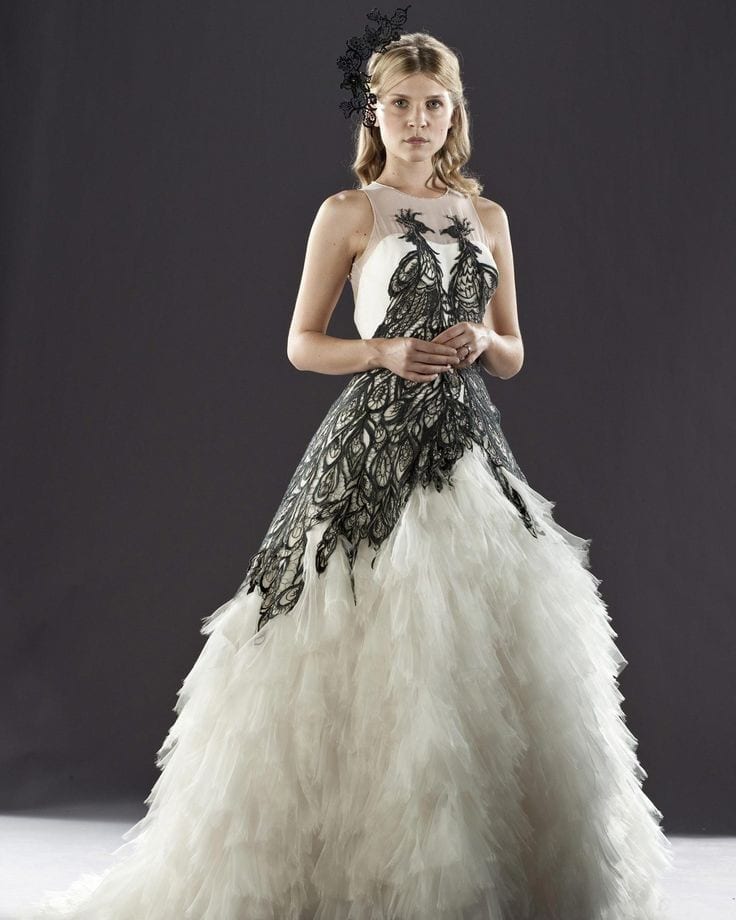 This fabulous dress was made out of organza, and two phoenixes appear on the dress in the shape of a heart. The designer chose the phoenix because the creature represents infinity, just like love. It was a brilliant and very memorable choice.
The Wedding Planner
Mary Fiore's (Jennifer Lopez) wedding to Massimo took place in a courthouse, and for this occasion, she chose a simple fitted taffeta dress with a veiled cap. Meghan Markle's 2019 royal wedding dress was a replica of the gown's neckline and understated elegance.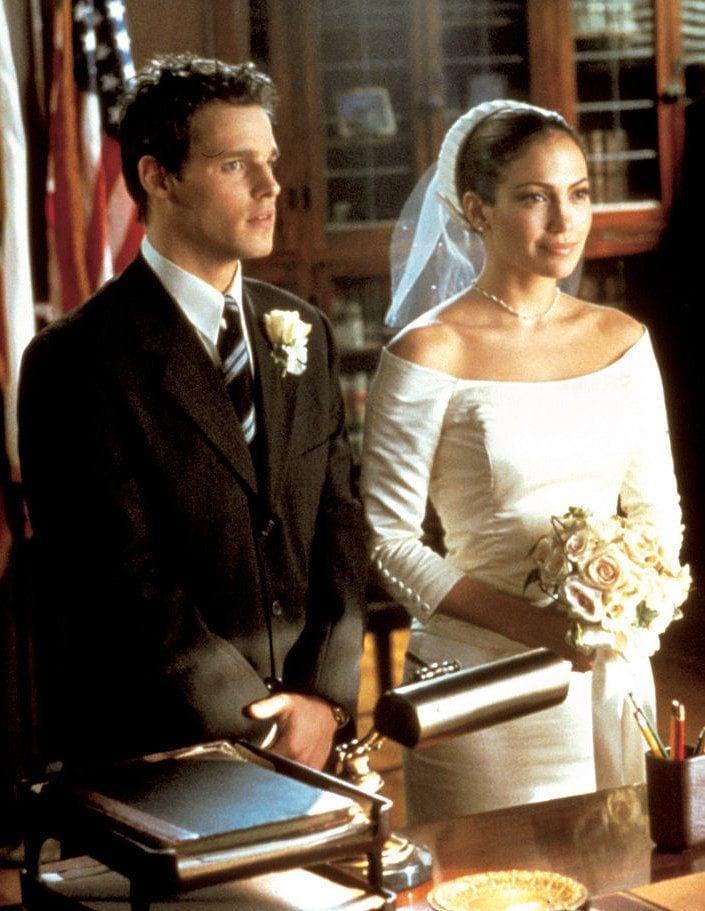 Mary Fiore's chose a simple pencil skirt with a boat neck top. The wedding attire was designed by Pamela Withers, specifically for the movie" The Wedding Planner." And the dress also featured a veiled pillbox cap. It is an exceptional design.
Steel Magnolias
Shelby (Julia Roberts) chose to be adorned in a pale pink ball gown for her big day in the movie Steel Magnolias; Shelby wore the dress by Julia Weiss, who was the costume designer for this memorable movie wedding dress.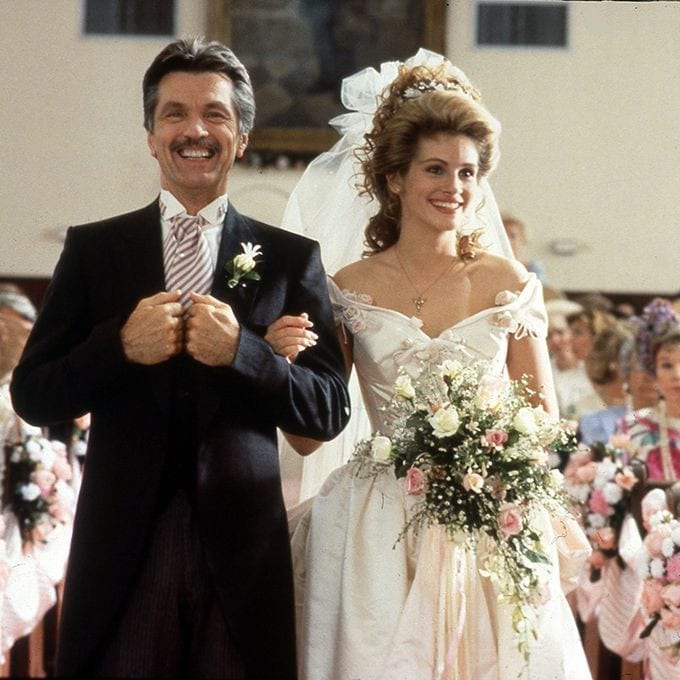 It was a satin ball gown, pink in color, with a pink sash on the skirt and pink flowers on the bodice. The dress was off-the-shoulder and was also adorned with a lot of bows. The veil finished off this dreamy look and was well put together for the fictional bride.
How To Marry A Millionaire
Schatze's (Lauren Bacall) wedding dress in this movie, for her wedding to millionaire J.D, was designed by William TraVilla, also known as TraVilla. He also created the wedding dress worn by Marilyn Monroe in the movie Gentlemen Prefer Blondes.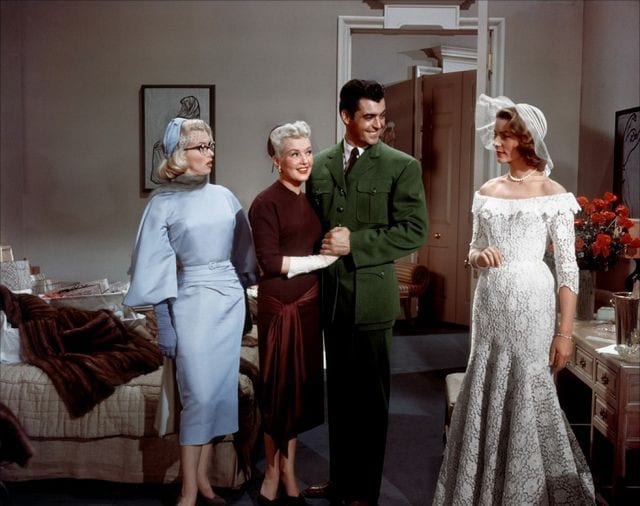 The dress is an off-the-shoulder fit and flare. It is an ornate lace, boat-neck gown finished off with a white sun hat. It is made of satin, iridescent sequins, and embroidered lace. The dress, like other iconic movie wedding dresses on this list, was sold at an auction in 2011.
The Princess Bride
Buttercup (Robin Wright) may not have been happy about her marriage to Prince Humperdinck played by Chris Sarandon in the movie The Princess Bride, but we have to agree that she looked nothing short of amazing in the wedding dress.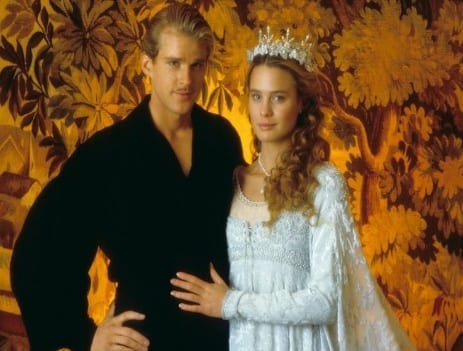 The crown worn by Buttercup (Robin Wright) was also breathtaking. The Renaissance era styled royal wedding dress was designed by Phyllis Dalton, her costume designer. It was covered in dreamy beads and embroidered details.
Bride Wars
Even though it was a rough road to the altar for both of our feuding brides, Liv (Kate Hudson) finally managed to walk down the aisle. Although Anne Hathaway didn't get to walk all the way down the aisle, she was also wearing a breathtaking dress.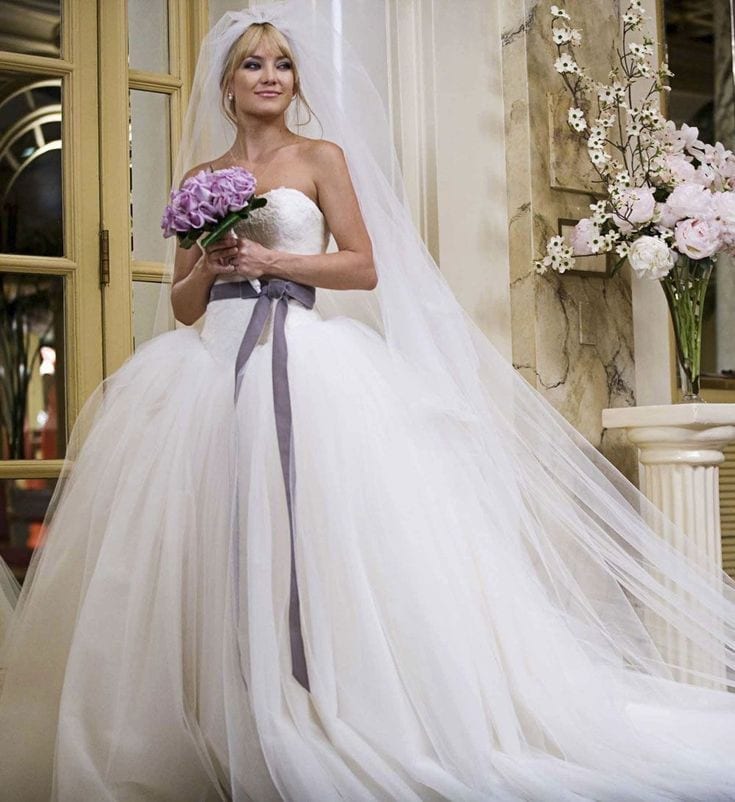 The dresses were designed by Vera Wang. Kate Hudson wore a strapless dress made of tulle while Anne Hathaway opted for a much more modern mermaid cut. The gowns we're also designed based on each bride's characters. And they both look awesome.
Downtown Abbey
Of all the residents at Downtown Abbey, the story won't be complete without that of Lady Edith (Laura Carmicheal). Although she had always been "Poor Edith," as addressed by her parents. But she proved that wrong on her wedding day.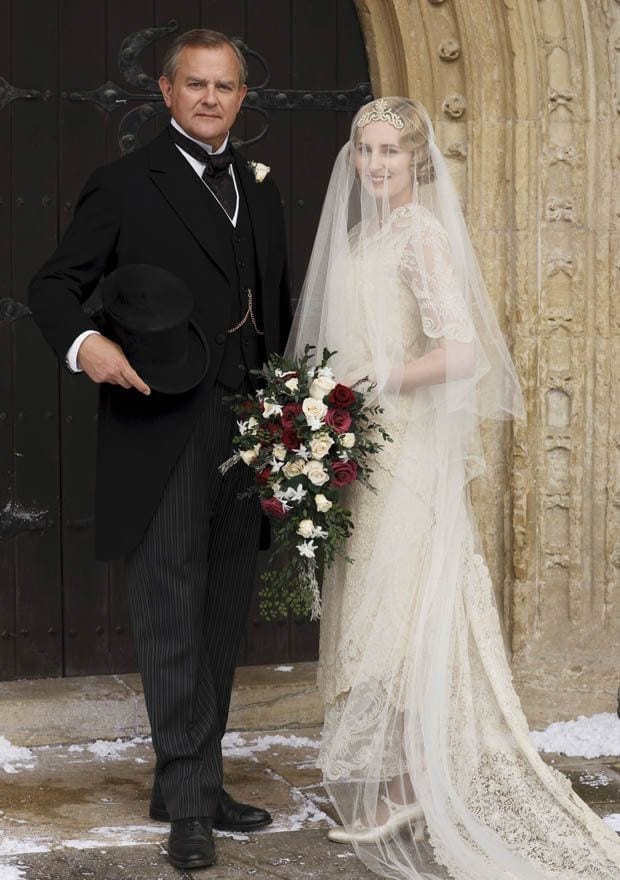 She eventually got her happily ever after on her wedding to Bertie Pelham (Harry Hadden-Paton). Her beautiful short sleeve gown looks exquisite as she walks down the aisle. Her design was befitting of the period piece -simple, yet retaining her elegant look.
Fifty Shades Darker
Ana (Dakota Johnson) was expected to look dazzling at her wedding to Christian (Jamie Dornan), and she did not disappoint. Monique Lhullier designed this beautiful wedding dress. Ana was a vision in white during her walk down the aisle.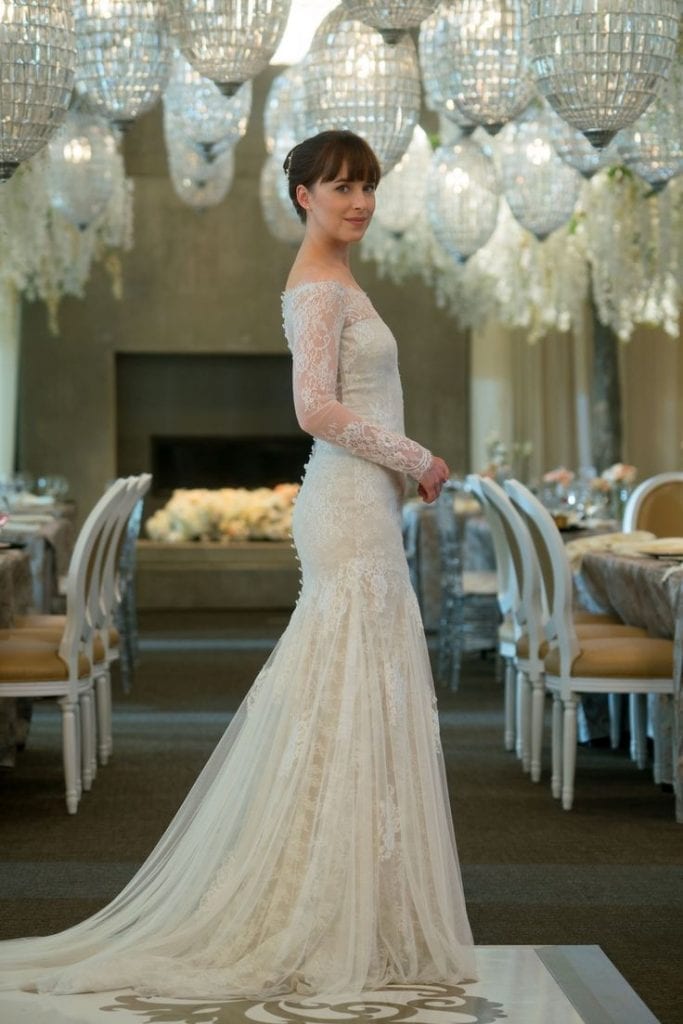 The wedding gown was a fitted lace-covered, off-the-shoulder dress with buttons running down the back. It was mermaid cut and was made entirely out of lace. It framed the actress's curves and was created with Ana's personality and character in mind
My Big Fat Greek Wedding
Just like the wedding of Toula Portokalos ( Nia Vardalos) to Ian Muller (John Cornett) in the 2002 romance movie, My Big Fat Greek Wedding, the wedding dress is simply splendid. Michael Clancy is the designer responsible for this memorable movie wedding dress.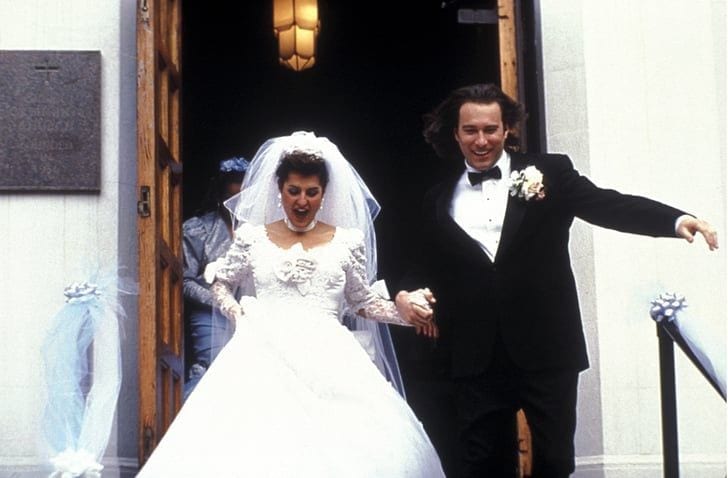 It is a traditionally styled wedding dress with a lot going on. It is V-necked, long-sleeved with a full skirt. The bodice of the gown was decorated with faux pearls and had a long floral attached train.
The Hunger Games
Katniss (Jennifer Lawrence) stuns in this futuristic wedding dress in the movie, even though it was all a ruse. In the film, the wedding dress was designed by Lenny, but in reality, the dress was designed by Trisha Biggar.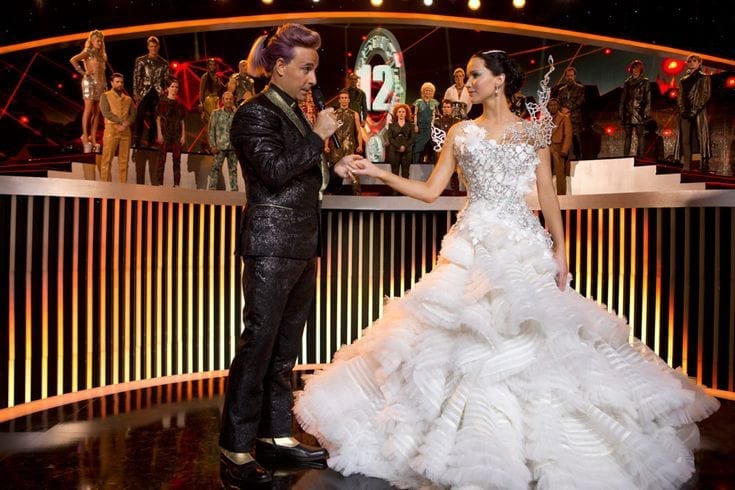 The dress design features complicated embroidery. It consists of an organza corset placed under a metal cage and a chiffon ruffle skirt and tiered organza. It also has an intricately designed bodice, and Jennifer wore it well. It's gorgeous.
Moulin Rouge
Satine (Nicole Kidman) looked spectacular in the wedding dress from the movie Moulin Rouge, this might arguably be one of the saddest weddings to ever be seen in a film, but this dress certainly put a smile on our faces.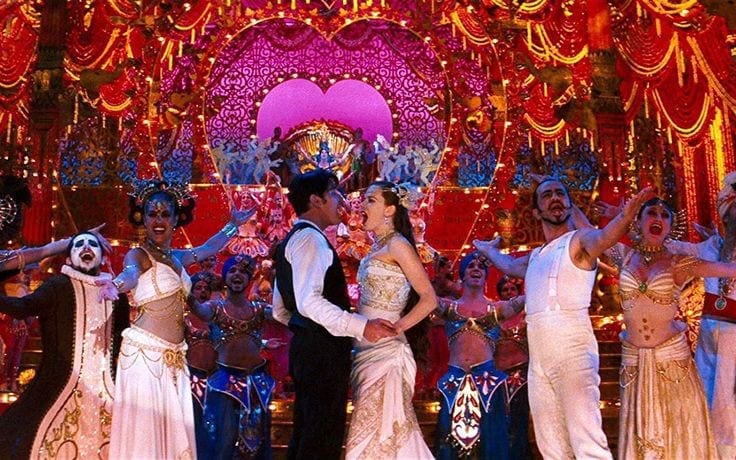 The wedding dress was designed by Catherine Martin, who worked alongside Angus Stathis to create this Hindi-styled dress. The wedding dress was a gorgeous style adorned with silver metallic embroidery. This dress earned them an Academy Award for best costume design in the 2002 Oscar Season.
Downton Abbey-(Another Wedding)
After her first wedding, Lady Mary wanted something more for her next nuptials to Henry Talbot. Anna Mary Scott Robbins wanted to make this day memorable for Mary. She designed a beautiful gown to make her look regal and elegant on her big day.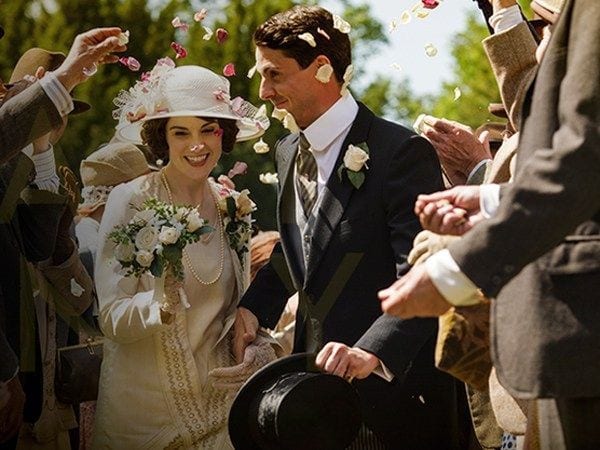 Anna Mary, the costume designer, did something unexpected, using a hat instead of a veil for the wedding scene. It is a timeless style, and any lady would walk down the aisle in it. We do love us some Downton Abbey.
Cinderella
We can't stop watching this romantic movie, Cinderella. Lily James (Cinderella) was the epitome of royalty on her wedding day to Prince Charming. The dress is simple with transparent sleeves and floral touches embroidered at the end of the gorgeous skirt.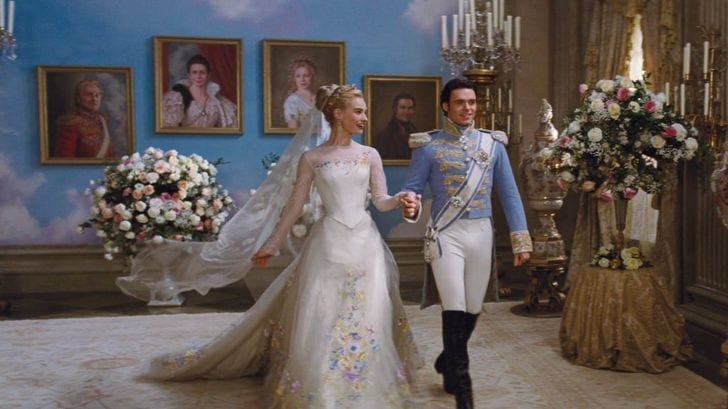 It was designed by Sandy Powell, who drew inspiration from the 19th century and the 1950s to reimagine the looks of the characters to convey a weightless flowing dress; the skirt was composed of a dozen delicate layers of fabric.
Funny Girl
Even though this gorgeous gown worn by Fanny Brice (Barbara Streisand) in the movie Funny Girl was not for an actual wedding but was instead used for the song's performance, "His love makes me beautiful," it is worth mentioning.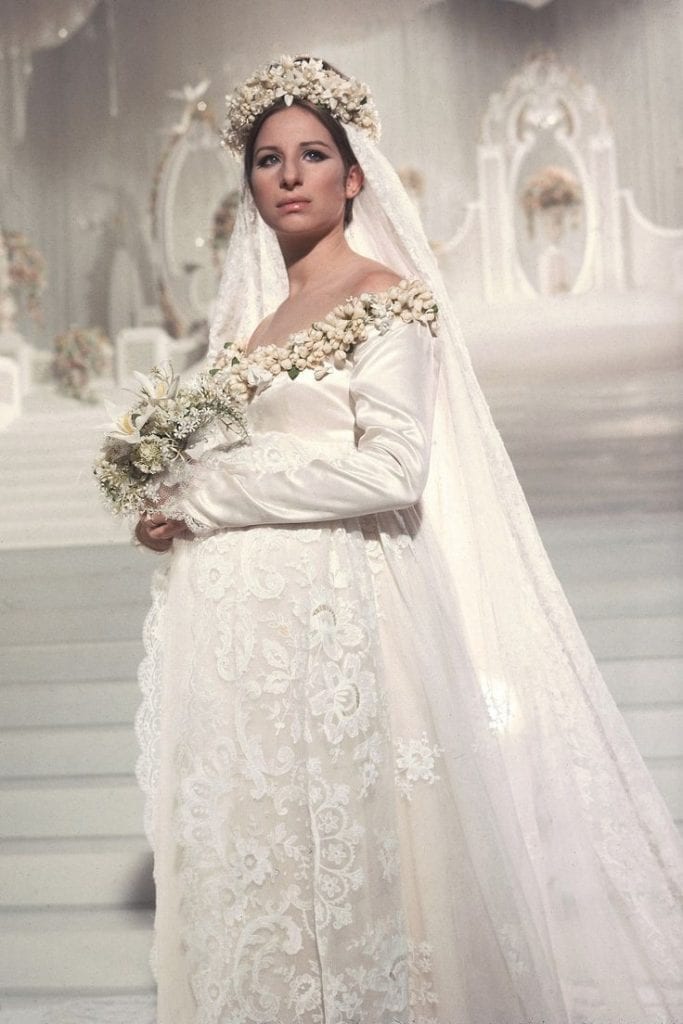 Award-winning costume designer Irene Sharaff designed it for the movie in the year 1968. Barbara Streisand does this dress justice, which is why it is one of the most iconic wedding dresses still today. It is simply stunning.
Gone With The Wind
Scarlett O' Hara's (Vivienne Leigh) wedding dress in the movie makes it on this list, although the dress was borrowed because the wedding was rushed, and it also did not fit perfectly. It was still a phenomenal wedding dress.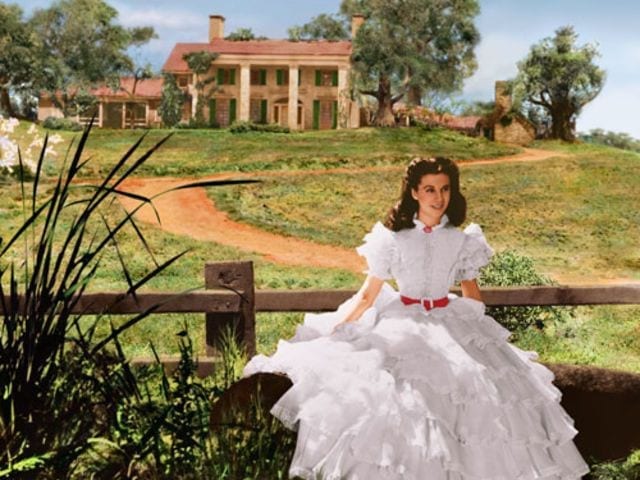 Walter Plunkett designed the dress, and it was made to fit Barbara o' Neill (Ellen), who played Scarlett's mother, to ensure it looked borrowed. The dress style, its massive sleeves, and the heavy satin skirt were created to fit into the time frame of the movie perfectly.
Ever After
In the movie Ever After, Danielle De Barbarac, played by Drew Barrymore, stuns in this beautiful dress by Jenny Beavan. The dress was so iconic that it earned its name 'The breathe dress" , making it a worthy addition to our memorable wedding list.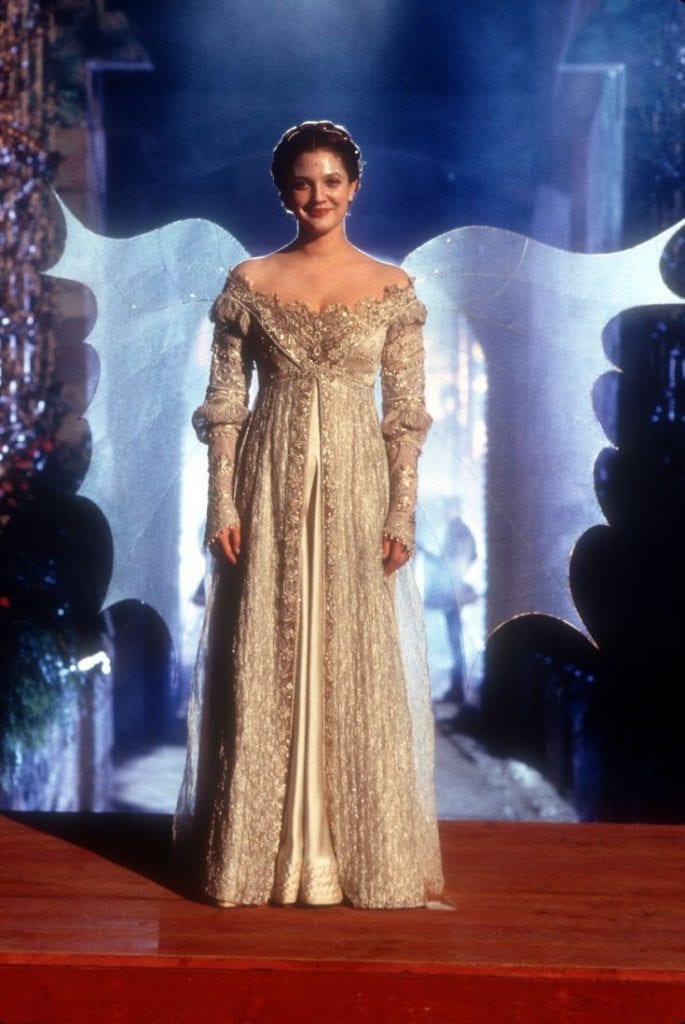 It is a simple yet elegant medieval times styled wedding gown; the cherry on top was the fairy wings added to this gown. The breathe gown was handmade, and it required nine months of work before it could make its appearance in the film. .
Ghosts of Girlfriend's Past
Jenny Perotti (Jennifer Garner) finally walks down the aisle towards Connor Mead (Matthew McConaughey) in the movie Ghosts of Girlfriend's past, despite all the odds. Denise Wingate was tasked with designing the costumes for this movie, and she didn't disappoint.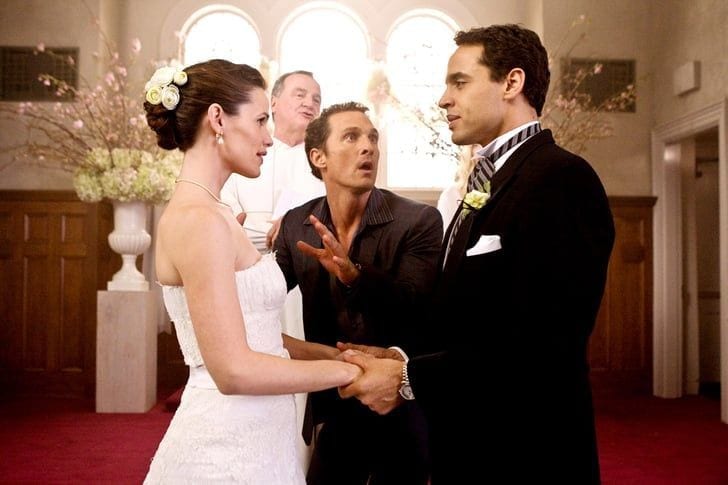 For the wedding dress in this romantic comedy, the designer Denise Wingate collaborated with a Spanish designer named Manuel Mota; they came together to create something simple yet glamorous. It wasn't over the top, but still managed to make a statement.
Downton Abbey
One of the most iconic moments in the movie Downton Abbey is seeing Lady Mary (Michelle Dockery) wed Matthew Crawley (Dan Stevens). It is no surprise seeing her wearing an exquisite design made by Caroline Mccall, her costume designer.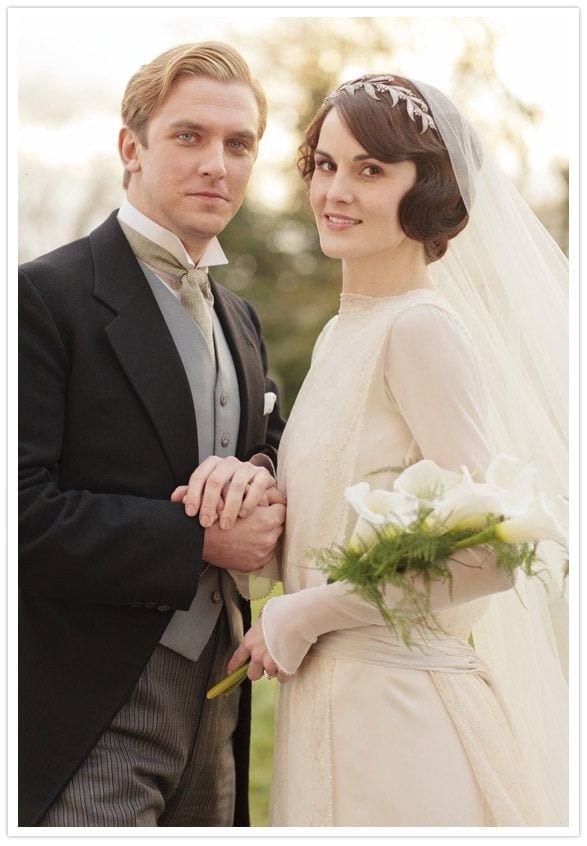 The beautiful long-sleeved cream gown is designed with Swarovski crystals and rice pearls. Lady Mary topped the dress with a $200,000 45-carat floral diamond. Caroline Mccall made a stunning timeless design that won't be forgotten for a long time.
The Proposal
The Proposal kept our eyes glued to the screen every time we watched it. We enjoyed the love charade between Margaret Tate (Sandra Bullock) and Andrew Paxton (Ryan Reynolds). Never did we know they would actually end up together as a couple.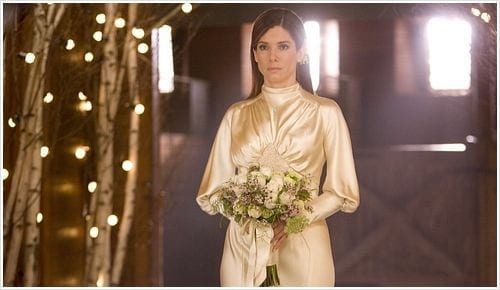 The movie wouldn't be complete without the wedding scene of the couple. Margaret took us by surprise by wearing a satin ivory vintage gown. The unusual cut and fit of the vintage dress embraced her curves perfectly.
Gossip Girl
Several wedding ceremonies took place in Gossip Girls, and all of the weddings are iconic, but we have to talk about how stunning Lily looked in her wedding dress on the day of her marriage to fiancé Matt Bass.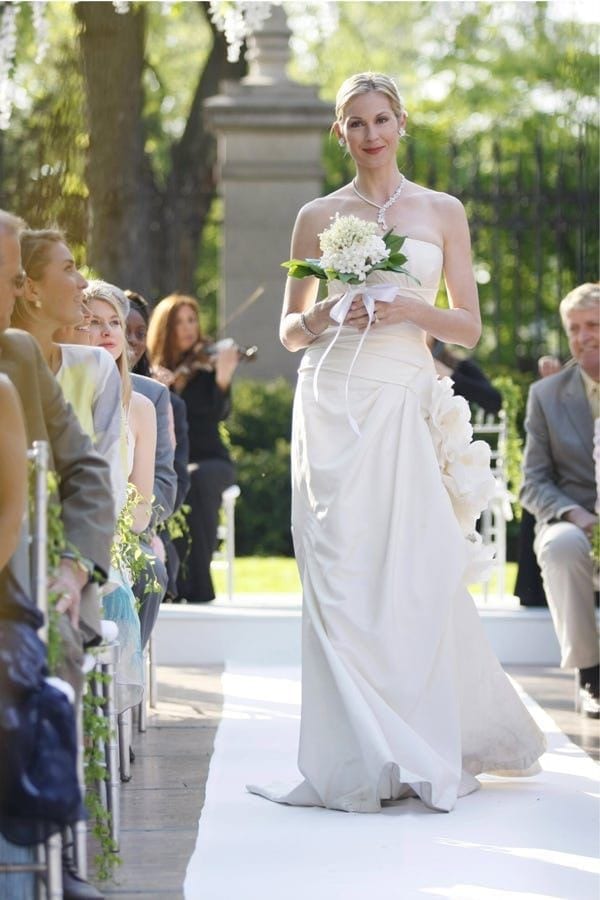 Lily, the bride, was positively glowing as she walked down the aisle wearing a gorgeous gown designed by famous wedding gown designer Vera Wang. The simple sleeveless dress makes us all want to walk down the aisle again and again.
Monster in law
Charlotte "Charlie" Cantilini may have woken up next to her mother-in-law in a white wedding dress on her wedding day. But there's no doubt the ivory satin dress looks great on her. You never step out of style with a sleeveless gown and paired gloves.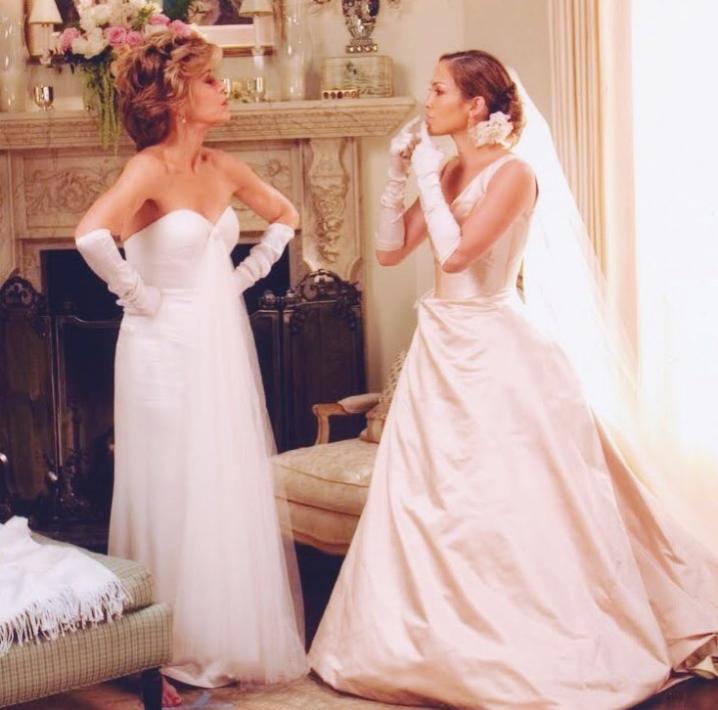 SaeYoung Vu Couture didn't miss a beat with the wedding attire in Monster In Law. The gorgeous wedding gown looks stunning on Jenifer Lopez. The beautiful satin gown and gloves were simply perfect.
Runaway Bride
Having almost walked down the aisle thrice, Maggie Carpenter (Julia Roberts) sealed the last scene in a breathtaking dress. Although the first three gowns we're pretty, you can bet she saved the best for last. Amsale Abera designed the gown.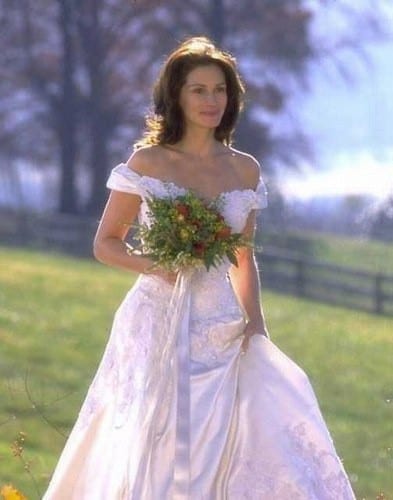 It is A beautiful off-the-shoulder gown with embroidered lace. Amsale Abera showers her timeless design skill with this piece. The bodice was carefully tailored to fit her graceful body. Topped with a long court train, this dress was perfect.
Love Actually
The best movies are saved for Christmas. This iconic Christmas movie opens new waves of romance and has everyone reaching for a kleenex. Despite the way Juliet's (Keira Knight) love story turned out, we can't deny how exquisite the wedding gown Juliet was wearing.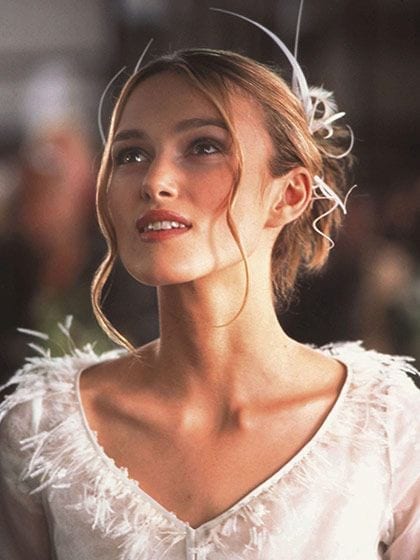 Johanna Justin gorgeously styled it. Johanna wanted Juliet to look sexy for the wedding. The wedding piece might have achieved that: a beautiful A-Line gown that reveals a crop top beneath and Juliet's slender waist. The piece perfectly fits Juliet's physique.
Crazy Rich Asians
Araminta Lee (Sonoya Mizuno) looks spectacular walking down the aisle in her wedding dress. She isn't only wearing a brilliant piece, but it compliments her delicate features perfectly. Vogt and her team put together the beautiful iconic movie wedding look.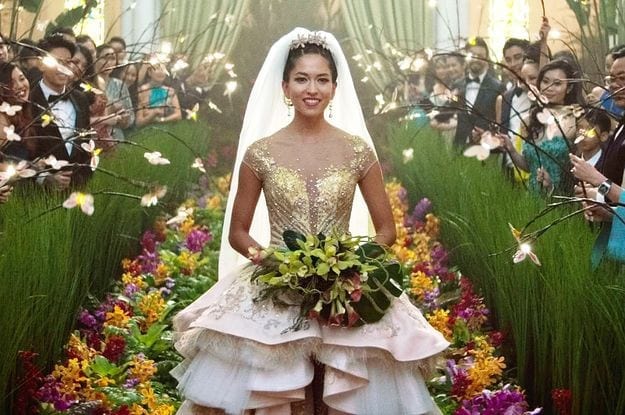 Who would wear a jumpsuit for her wedding? Araminta did. Quite unusual for a typical wedding dress. A beautiful jumpsuit made of stretch tulle. The skirt is attached to the corset. The skirt was designed with crystals to add to the stunning look.
The Vow
Less is more with the wedding dress worn by bride Paige. The engaging, inspiring real-life story still sends waves of deep romance down our spine. We can't but admire Paige's courage to look dashing at her wedding to Leo.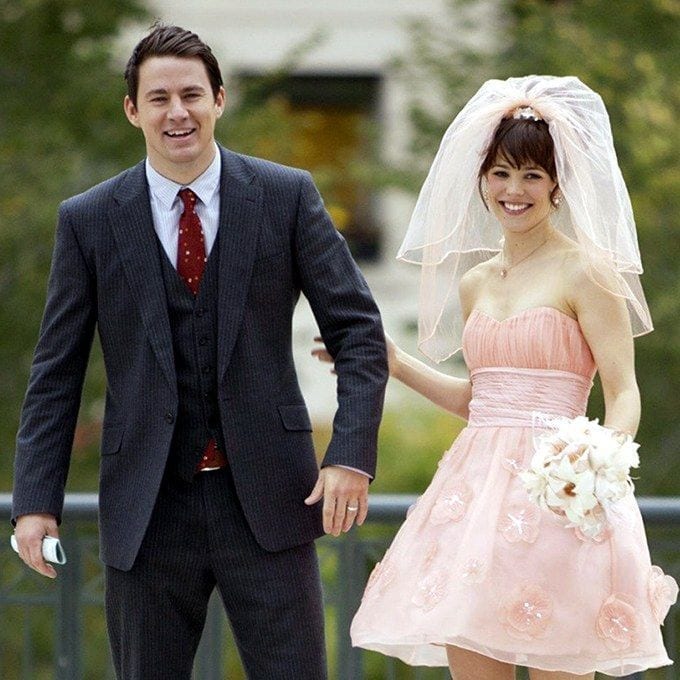 Who else wouldn't want to surprise everyone with a different concept of a wedding dress? No doubt, every lady would love to get married in pink. Betsey Johnson put together the beautiful pink satin gown. It can't look any better with the short veil.
Mamma Mia
Sophie (Amanda Seyfried) looking like a Greek goddess in her pretty gown, designed by Ann Roth. The 2008 musical movie is timeless, and we can watch it over and over. It makes it more special that her wedding was held in a church on top of a very steep hill.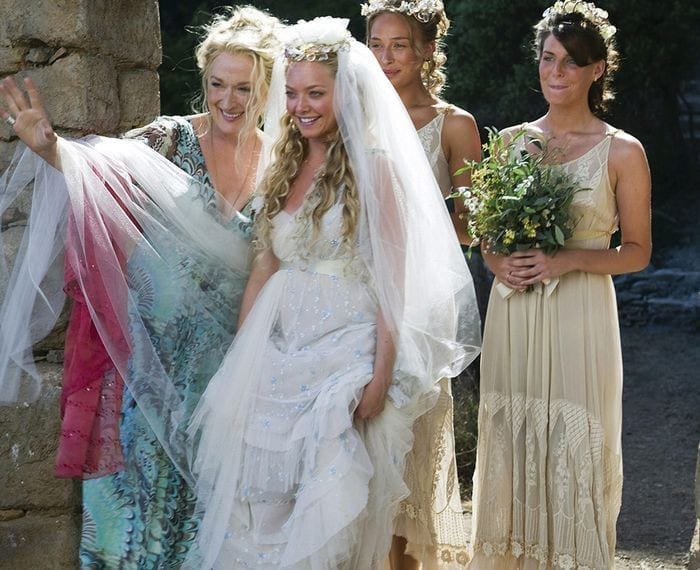 Ann Roth showed her expertise in making this iconic design. The beautiful sleeveless tiered gownhad a high empire waist. The dress design won't be going away for a long time, and we can only imagine how many brides drew inspiration from this beautiful gown.
Twilight Saga: Breaking Dawn
Theirs is no better way to end a movie than with a wedding. The wedding between Bella and Edward was in a beautiful setting. But it was made all the more beautiful with Bella's wedding gown. Any bride would be happy to wear this dress on her big day.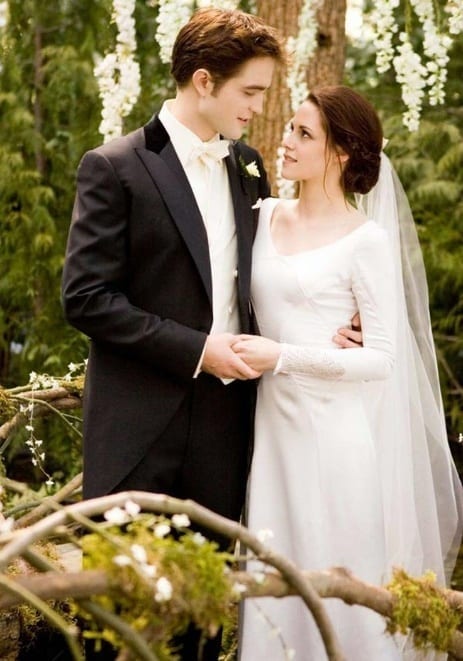 The gown looks breathtaking. It is simple and classy, embracing Bella's figure. The costume designer nailed the brief with this creation. The back is laced beautifully and lined with buttons. Her hair was pulled up in a bun to reveal her beautiful neckline.
I Love you, Man
Does less always mean more? Yes! The J.Crew wedding dress proved this to be true. Zooey (Rashida Jones) wore this to her wedding with Peter (Paul Rudd). We love this American Romantic movie, but we love the dress even more.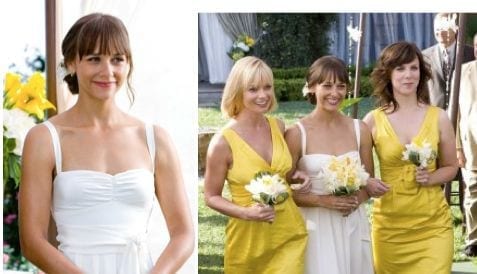 The gown is simple and exquisite. The sleeveless dress reveals her delicate frame, making Rashida look elegant and stylish J.Crew lent the Rebecca dress for the movie, and Rashida Jones is rocking it well. If you love minimalism, this is the ideal look for you.
Romeo and Juliet
The tragic romance between two star crossed lovers was brought to life in the screen adaptation of Shakespeare's classic tale. But despite the violence, the romance between Romeo and Juliet will always be the talk of the movie. Romeo's heart must have skipped a bit when he saw this dress on Juliet.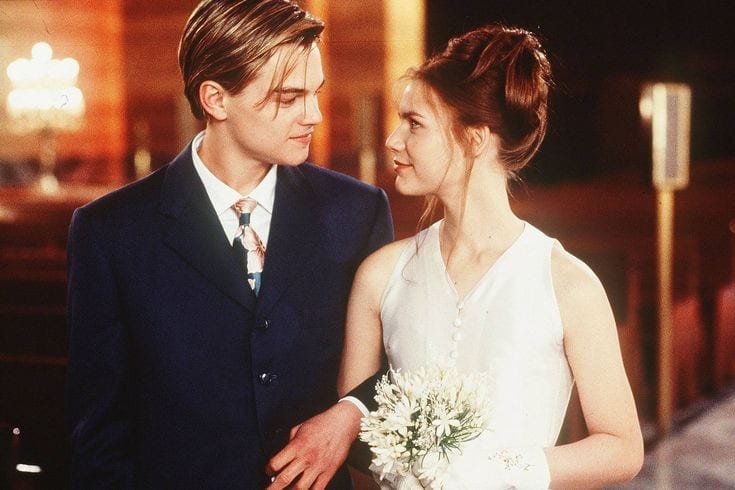 Designed by Catherine Martin, she indeed brought out Juliet's character in the movie. Simple but elegant, embracing her curves entirely. The gloves add to the attire, making it a masterpiece. We love it, and you will too.
Sex And The City
No one might get married in a library. But Carrie would. She takes everyone's breath away in this wedding dress. Carrie had never looked any better! Vivienne Westwood put together a beautiful piece for the perfect girl.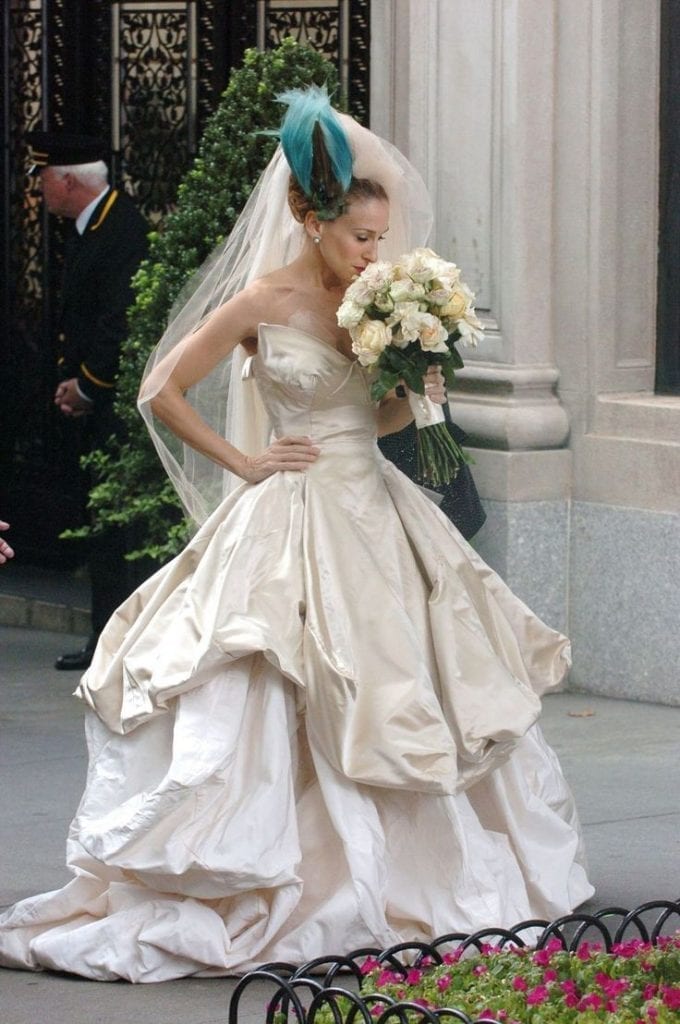 She looks sexy in his beautiful gown designed by Vivienne Westwood. The corset top design was lined with gold ivory silk satin duchess. The skirt was made from ivory taffeta. The gown looks so iconic, and it's a style that could be worn for many years to come.
27 Dresses
After being a bridesmaid for 27 weddings, Jane Nichols deserves something better for her wedding to Kevin Doyle. All of her married friends, whom she has been a bridesmaid for, all gathered to make her wedding memorable.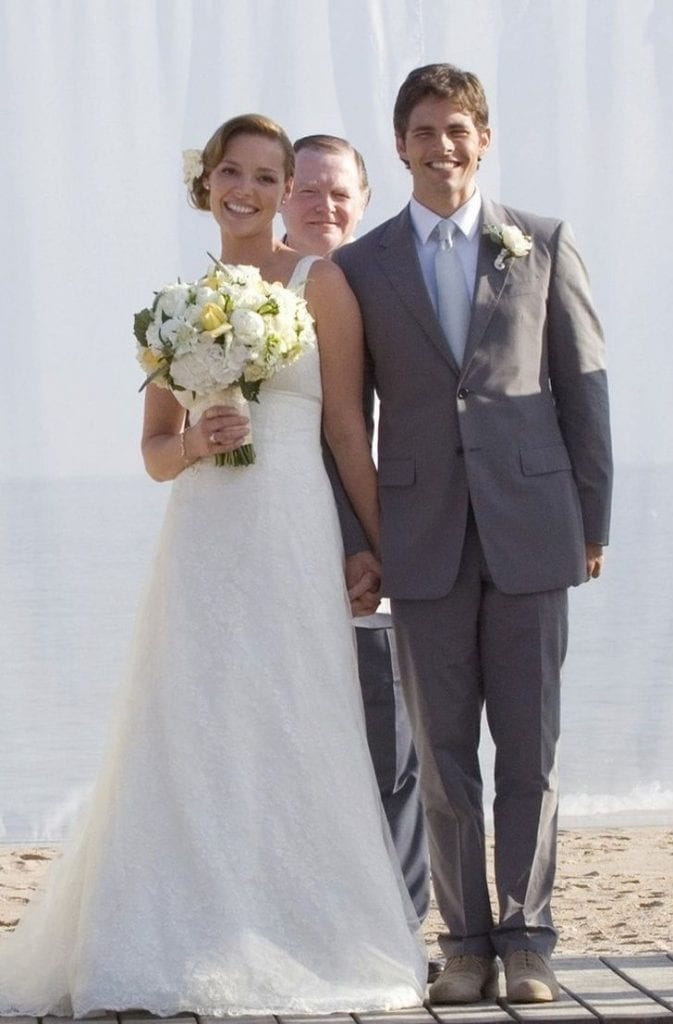 The designer topped it up with the wedding dress. Jane couldn't have looked any better in this sleeveless gown V-neck cut gown as she walked down the aisle for her own happily ever after. Catherine Marie Thomas carefully crafted this beautiful and classic design.
The Notebook
Allie Hamilton (Rachel McAdams) and Noah's romance might not have turned out as planned, but the list won't be complete without Allie's wedding dress. Despite the situation, Allie looks gorgeous in this long sleeve laced dress by Karyn Wagner.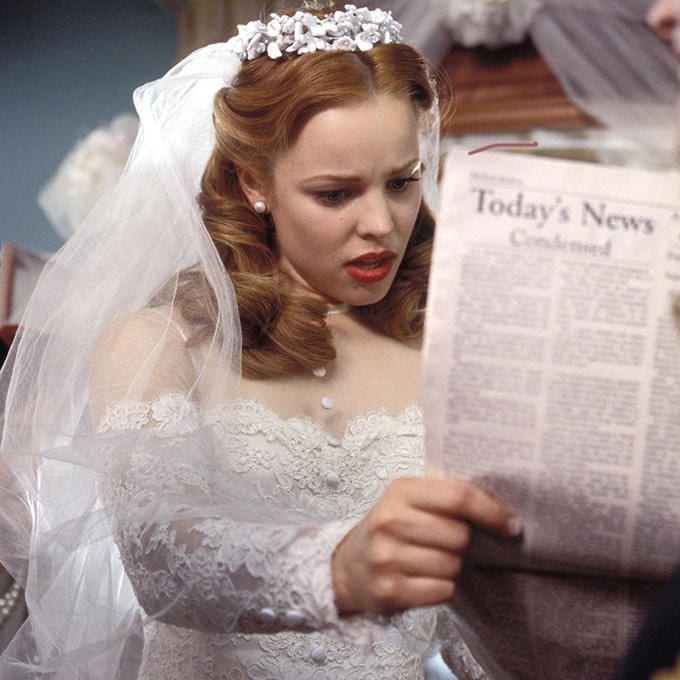 Karyn Wagner combined styles from the 1940s and 1950s, bringing out a masterpiece. Allie wore an exquisite off-the-shoulder lace gown. This dress might have been fitting for a saga set a long time ago, but it's no doubt a gown that never goes out of style.
Houseboat
Last on our list is the wedding worn by Cinzia (Sophia Loren) in a Houseboat. In this movie, Cinzia, an Italian girl is trying to run from her abusive father. But she ends up in a romantic web with Tom, played by Cary Grant.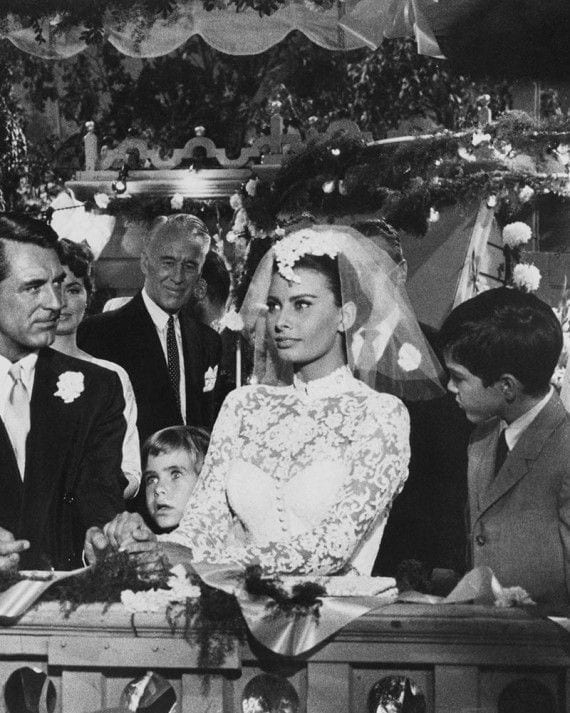 Cinzia, in this movie, wears a beautiful long-sleeved dress. It's a beautifully high necked lace gown, with a fitted bodice and it perfectly embraces Cinzia curves and is worthy of being included in our homage to iconic movie wedding dresses.