Cats Who Made It A "Meowy" Christmas By Helping Decorate The Tree
By Harpreet K
---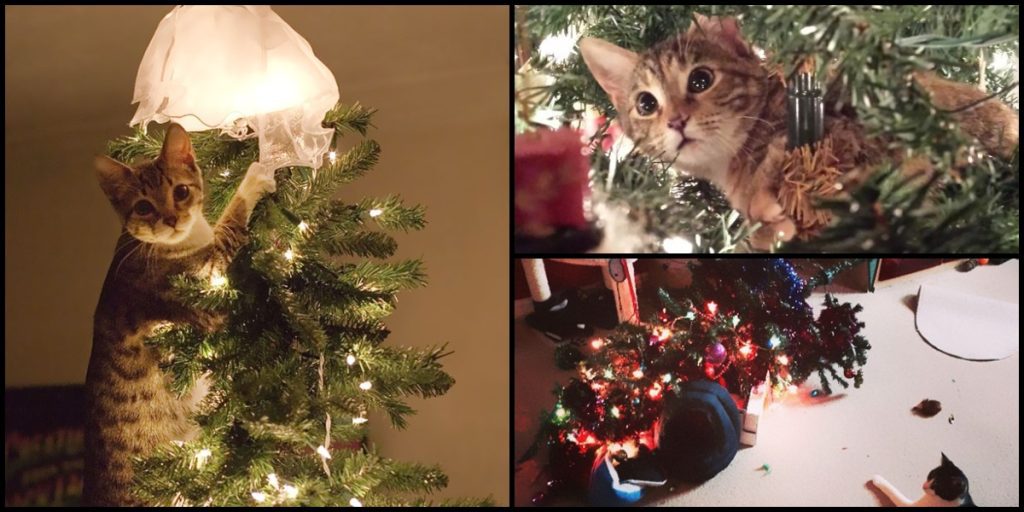 The Christmas tree is the main component of the festivities and helps put everyone in a merry mood. Everyone has a personal style to decorate it with lights and hangings in gold, red, and green. It is also the spot for families to keep their presents and open them in front of each other. Some are blessed with a feline family member who is not a fan of these festive trees and their decorations. Some cats want to be on top of the tree. And some just want to knock off all the ornaments and conquer the tree. You may get a few photos out of this situation, but you will have to fix your tree again and plead with your cat not to ruin Christmas. Meanwhile, check out these pictures of silly cats helping adorn the tree or just trying to mess it all up. 
1. I said, no ornaments
This kitten has special demands for Christmas and does not like any changes in what he wants. He is ready to put up with the large tree in the living room, but it's the decorations are where he draws the line.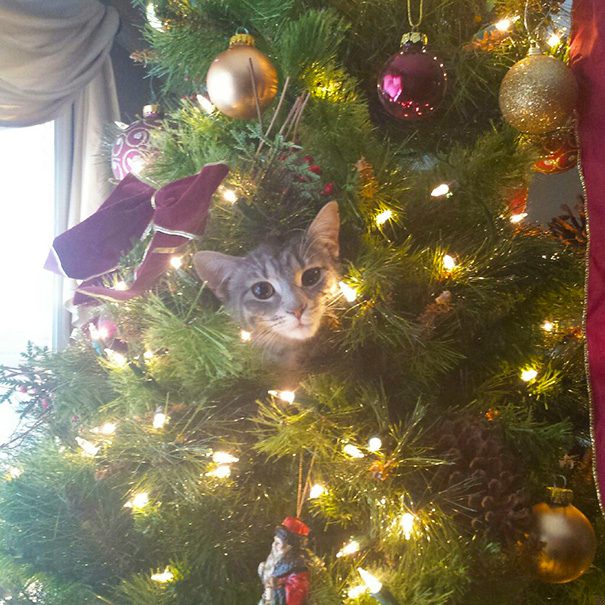 His instructions were not followed when humans decided to put all kinds of baubles and lights on the tree. We can say that he is clearly not a fan of ornaments and will do anything in his power to get rid of them. 
2. Caught red-handed
It may not be a lot, but it is honest work here by this adorable cat. Look at his eyes full of excitement while sitting in the middle of the tree. He was not expecting to be caught in the act.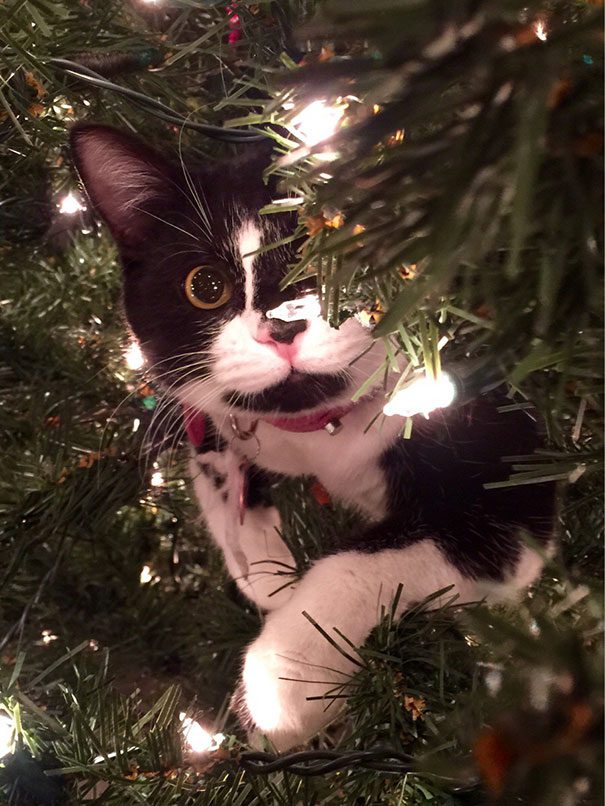 We are sure he just got started and needs more time to get rid of every piece of decoration to be found. Maybe he is just trying to rearrange the lights for the tree to look even better? That's what he wants us to believe.
3. I don't know about patience
Cat parents know how clumsy and impatient their cats can be at times. However, they may not expect them to be this quick. You see in this picture that this mischevious cat was trapped under the Christmas tree after knocking it down.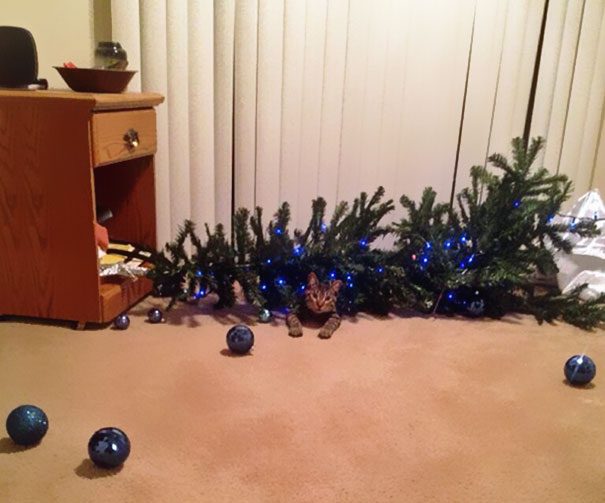 Did we tell you the tree had been up for not more than three minutes? The cat could have waited for at least some time before attacking the thing. We hope she gave excuses instead of pretending the tree just fell over. 
4. I am the Christmas star
Observe how majestic this cat is looking on the top of the tree. She is not supposed to be there, but it seems like she belongs there. Thsi perch was definitely made for her, whether her humans like it or not.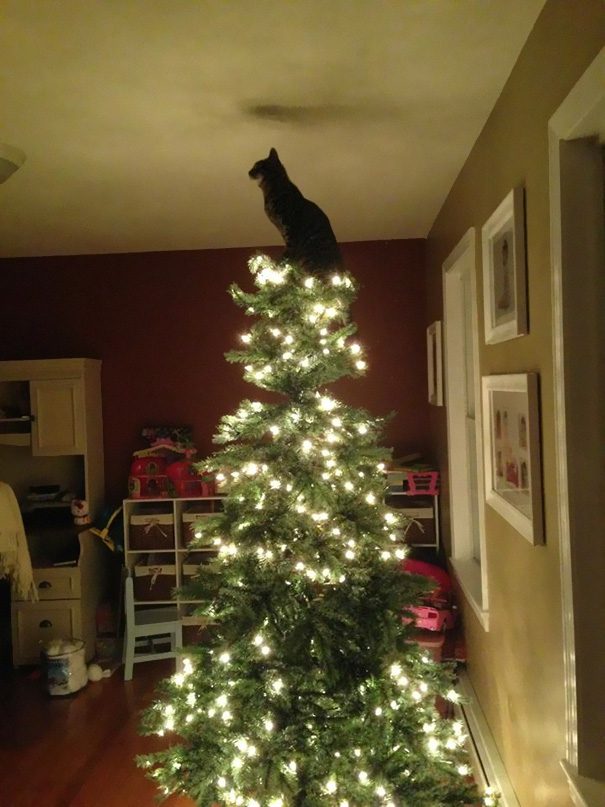 In defense of the cat, they put the Christmas tree here, and it is the perfect way for her to jump in on the festivities. No one could find a better star for their tree than this, so they may as well just accept it. 
5. The joys of having a cat
The cat may be thinking, "get me out of this situation, human!" While for his paw-rent it was a perfect opportunity to take some Christmas card pictures. Look at him, dangling from the lights and regretting his decision. Poor guy.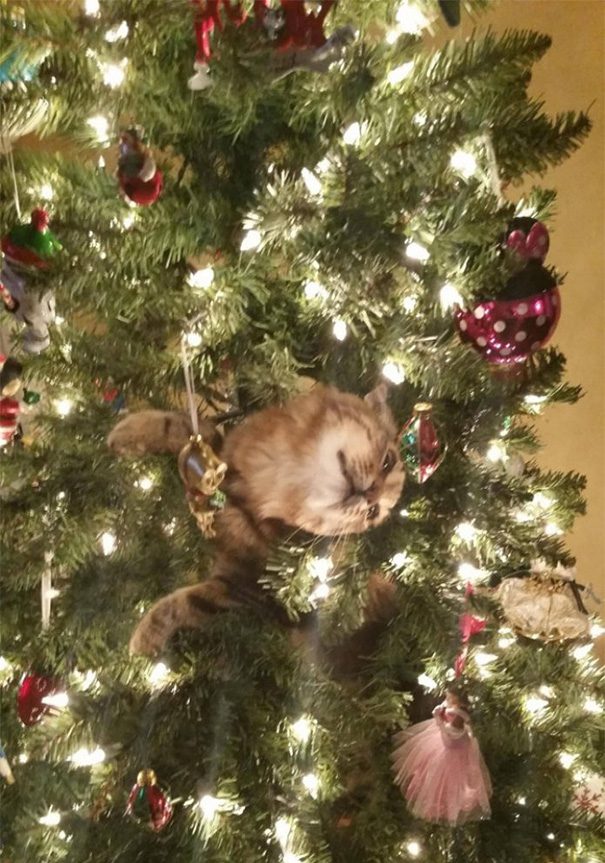 The kitty failed in bringing the lights down with him and got caught in the true Christmas spirit here. After his human gets him down, he will remember this moment forever and never attack a tree again. Or at least, we hope.
6. It's my tree now
You may think you will wake up on Christmas morning to open your presents, but you may find your cat trying to hide in the tree instead. This probably comes from her instinct to climb trees and make them a safe space.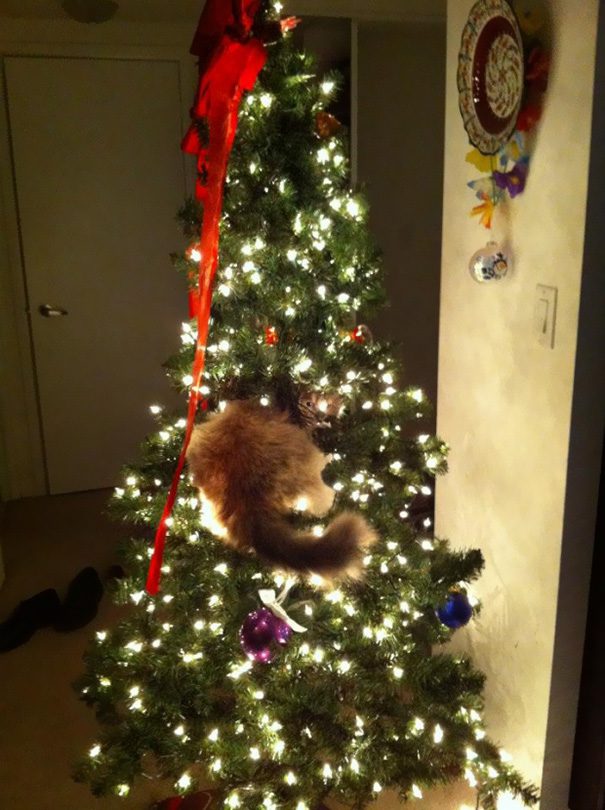 Besides, it may seem like a new playing spot to the cat. So you cannot blame any feline for being naughty and climbing up and down the tree looking for some birds or ornaments to knock off. In their nature, after all.
7. You can't see me
This tiny cat thinks he is as sparkly as the lights and decorations and can camouflage successfully among them. He may be surprised to know that his human can clearly spot him inside the tree, and he is not as good at being sneaky as he thought.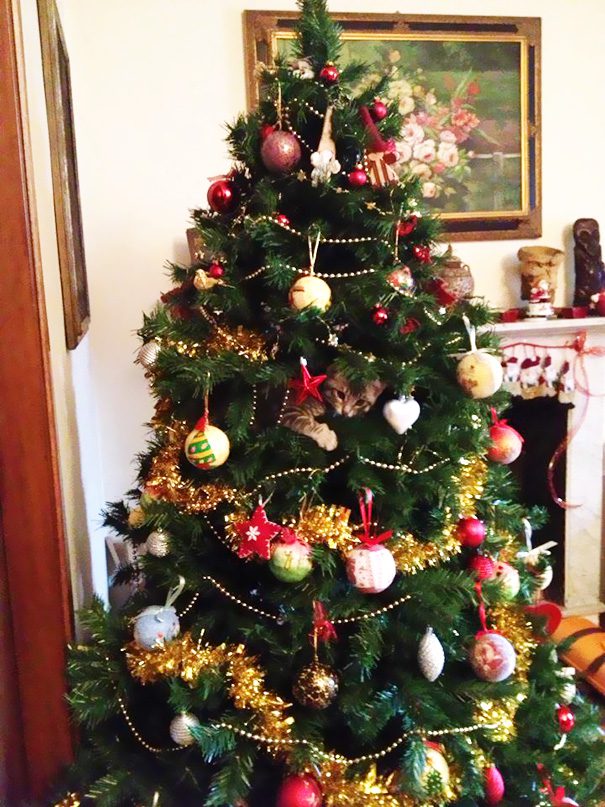 Since he is not removing the decorations, maybe his human will let him stay in a tree for some time and play this hide and seek game. This could be one way of putting him in a jolly holiday mood.
8. I am the star of the family
Cats do think they are the rulers of the world, and you cannot tell them otherwise. People of Egypt used to worship them, and there must be a good reason behind that. Look at this cat sitting on the top of the tree.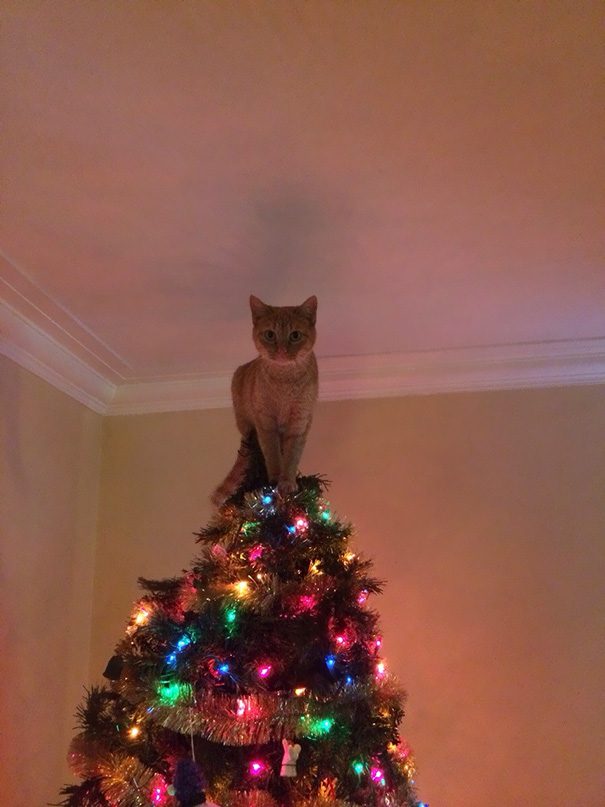 You will not need a star on top of your Christmas tree if your cat does the same thing. She was careful enough not to disturb any decorations. Two out two cats make better tree toppers than any star or angel every could. Do we see a new trend?
9. A very merry Christmas
This tree looks very edible with apple decorations and candy canes. This cat thought the same and decided to get in on the feast. He is trying to get a huge bite of that minty candy cane. No one could blame him!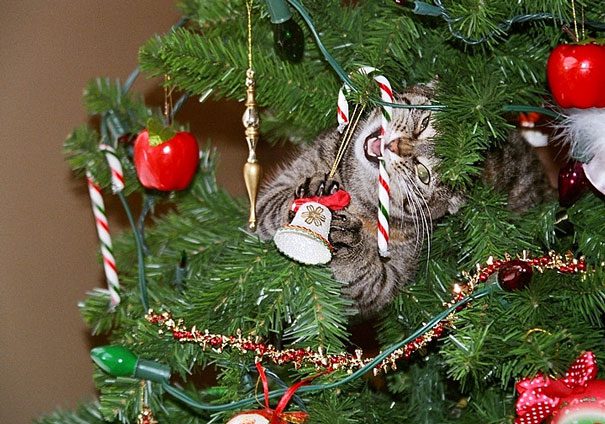 Look at him bite aggressively so that he can accomplish his mission before anyone comes and disturbs him. His cat parents should lure him down with some treats before he tries to bite the light bulbs and plastic apples. After the photo op, of course.
10. Cat cafe Christmas vibes
Have you been lucky enough to witness Christmas at a cat cafe? Well, here is your chance to see the absolute chaos some cats can cause during the holiday season. They are very curious about the tree, and decided to take it down.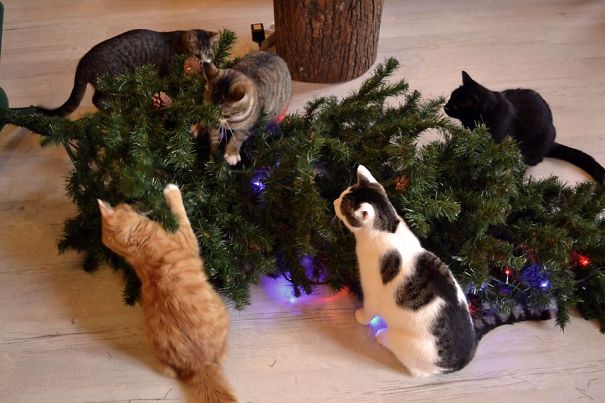 They will leave no tree branch unturned when inspecting the Christmas situation. Look at the cats surrounding the tree that they have rolled down to the floor. They don't need any other presents from Santa to keep them entertained. This is just right.
11. I am an outdoor cat
It is sad how house cats do not get to experience the wildlife and may not even get to climb trees very often. Clara got her Christmas present here in the form of climbing the tree like a wild feline.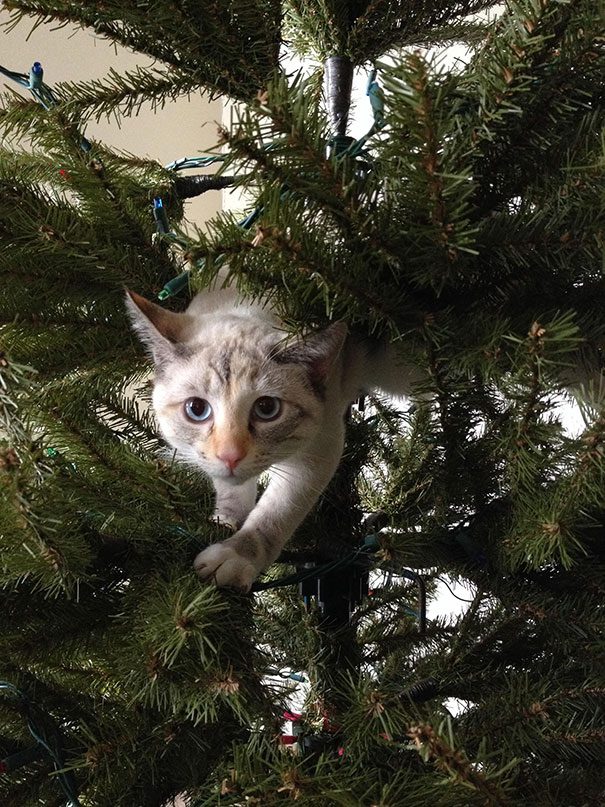 Notice the excitement in her eyes as she walks on the branches. It seems as if she is in her natural element and can spend hours watching birds from this spot. This is her tree now; get another one for Christmas.
12. Clem's Christmas
This is Clem's world, and we all just live in it. Clem is super obsessed with Christmas and eagerly waits for the tree to be set up in the living room. He's having the time of his life while playing with the topper.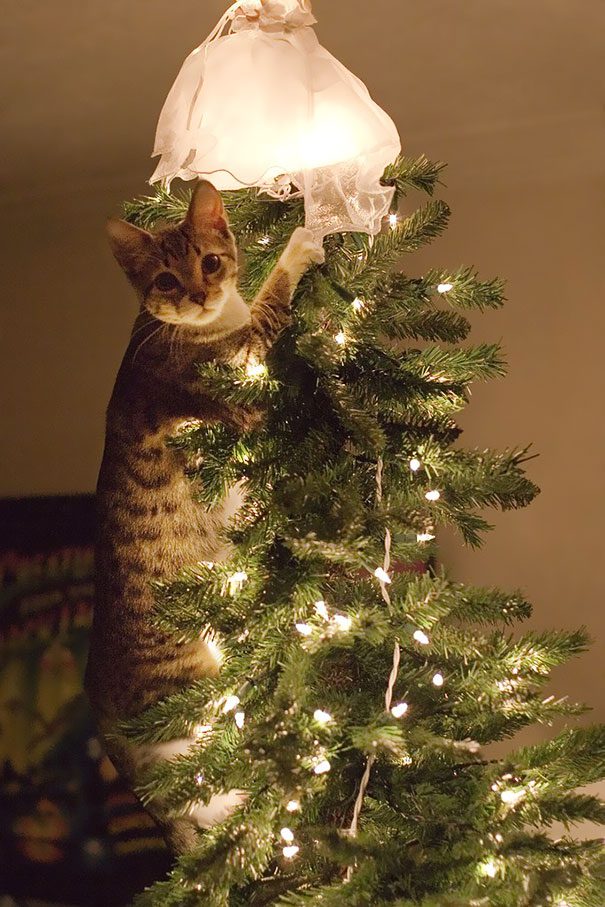 Look at him posing so perfectly for the camera while standing on his beloved tree. As long as the tree is up, Clem is going to stay obsessed with it. His other toys can wait until the holiday season is over. 
13. I don't like sparkles
This picture looks like a Christmas nightmare for this cat's paw-rents. This fiesty fellow is certainly not in the magical spirit of the holidays and is trying to get rid of all the decorations. Maybe he likes the tree in its natural form.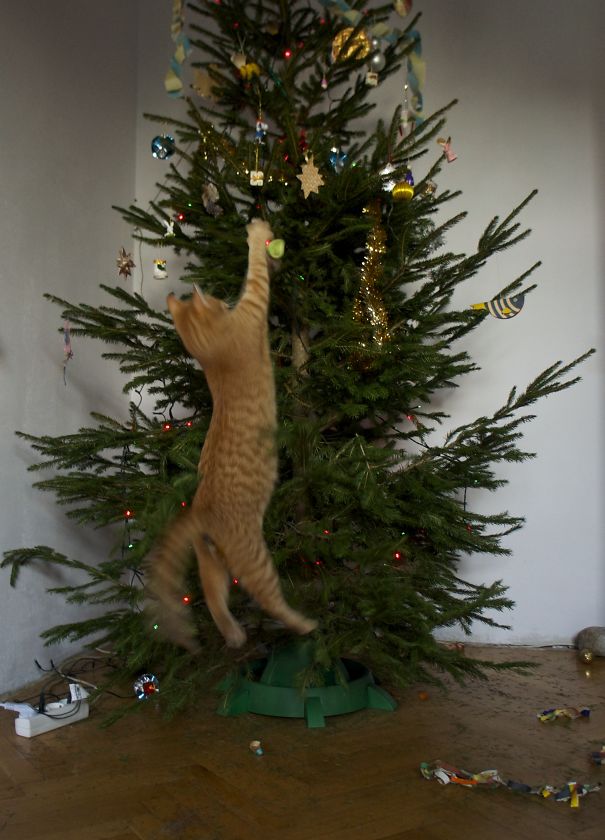 Who is going to tell him that this behavior will put him on Santa's naughty list? We wonder if that would make a difference at all. He needs to be stopped from stealing Christmas or his presents will get sent back to the North Pole!
14. Let me help you, human
Unlike other cats trying to destroy Christmas, this one here is giving his all to help decorate the tree. He is trying his best to put on his favorite ornaments and impress Santa for better gifts such as bird toys and catnip.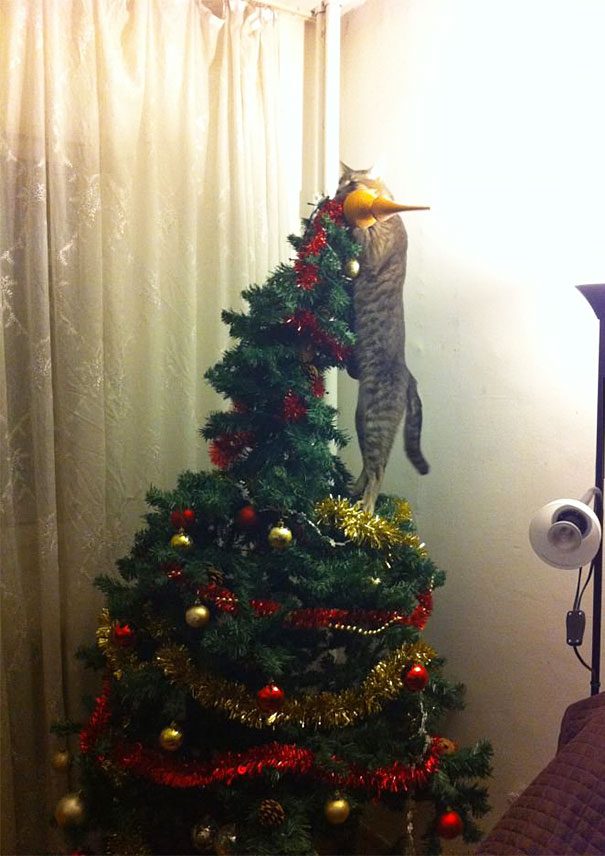 You may find a thing or two about holiday spirit from him if you wish to get a nice gift too. Observe how he is giving the final touches to the tree from bottom to top. That is one dedicated cat.
15. I am your present now
Traditionally, we ike to keep their gifts under the Christmas tree. They gather around to open each other's presents while drinking eggnog and hot chocolate. If you have a cat member in the family, the plan may change a bit.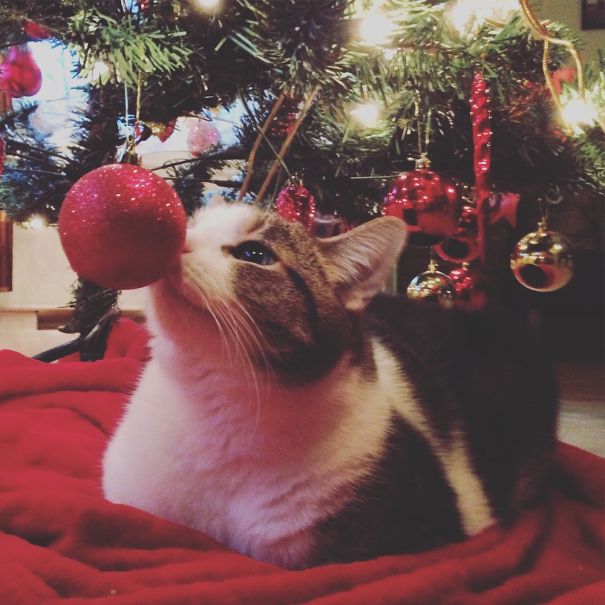 She is already so mesmerized by the tree, she might just plant herself permanently under there. This will leave hardly any space to put the goodies. Your cat's company all these years may be the greatest gift to you anyways. 
16. My mom's cat loves her Christmas tree
All the cat owners know how hard it is to impress their pet and get their approval on a new addition to the house. Here is a picture of a cat enjoying the Christmas lights and tree. The fits, so they sits.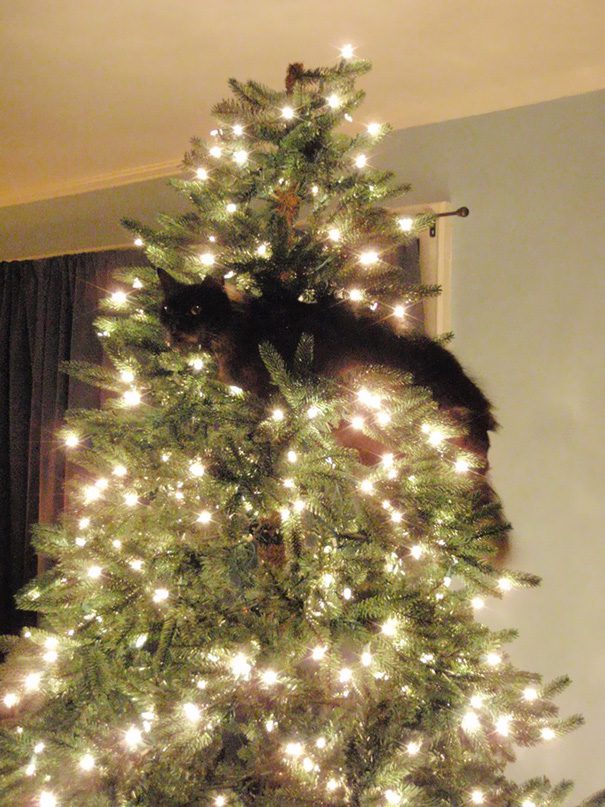 He is so calmly chilling on the tree without trying to destroy it. Maybe he likes the warmth of the lights or is smelling the pine fragrance. His stamp of approval on the tree is no less than a Christmas miracle. 
17. I can be your Christmas tree
So this cat saw his parents putting up the Christmas tree and found an opportunity to show them he looked better than any seasonal decor could. Moreover, he is so cozy inside the base as he fits so perfectly into it.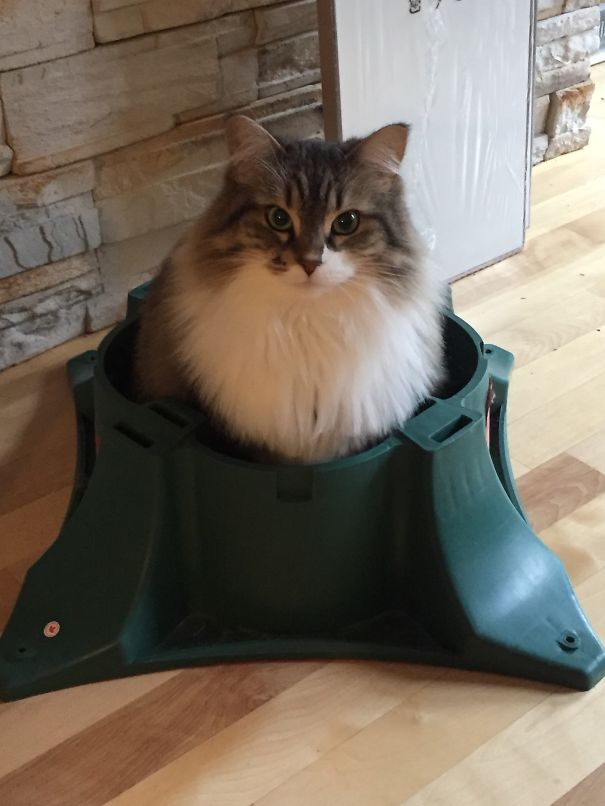 From his determined expressions, it looks like he is willing to sit in one spot the entire holiday season. His family may need to skip the Christmas tree this year and find joy in this cat-mas tree. Just a thought.
18. She loves the tree
Look at this one, totally mesmerized by the colorful lights and decorations. Her big eyes say it all. She adores the smell of pine and the magical feeling of wonder this season inspires. That is why she is sitting inside the tree so calmly.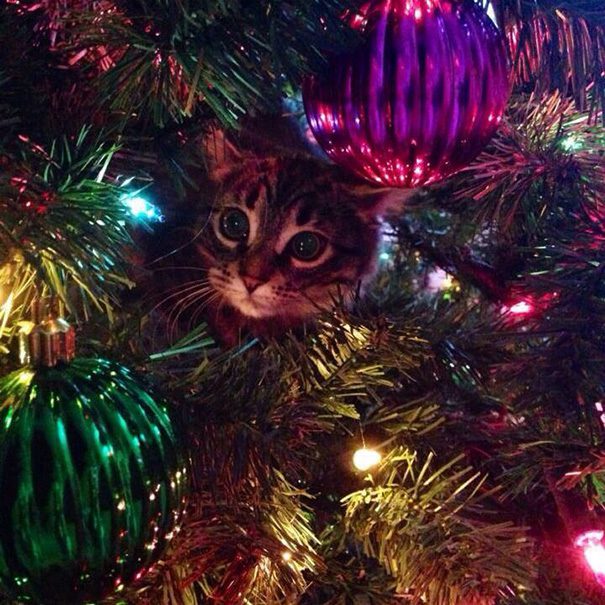 We are sure she won't let her family put away the Christmas tree once the holiday season is over. She is over the moon while staring at the lights in excitement and may even choose to take naps among the branches. 
19. It looks better now
Look at this cute feline who is helping her paw-rents to decorate the tree. She may not have liked the way her humans arranged the ornaments and needed to move some of them around for it to look just right.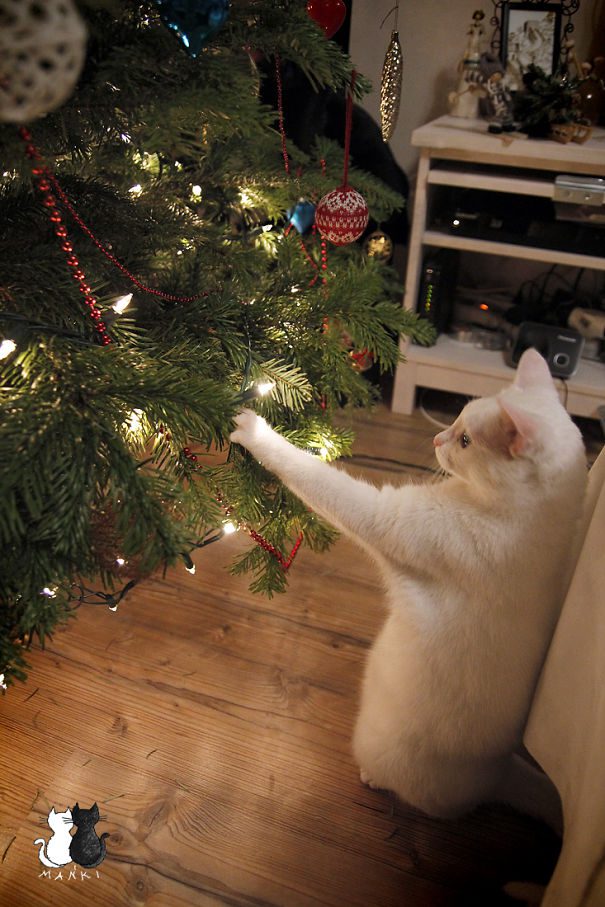 On top of it, she is posing for the camera, showing how proud she is of her work. From next year, everyone can rely on her keen eye to help make the prettiest tree you ever did see. They will definitely not be disappointed by her services. 
20. I feel nice up here
Good luck to this cat's humans who are trying to put up the Christmas tree. You can see how it's not even up yet, and she has found herself a comfortable spot to sit and relax. Might as well leave it like this until she decides to move.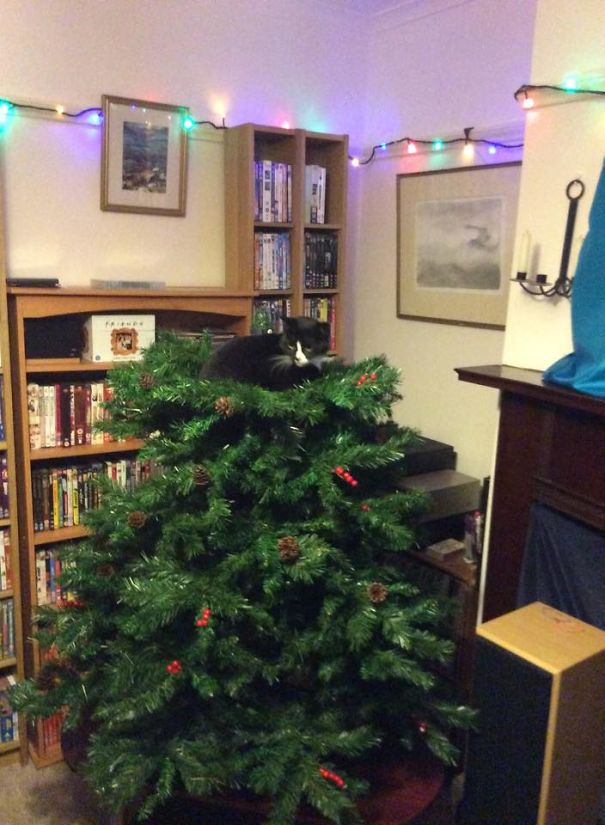 Who has the heart to tell her that they need to put up a star on top to finish the decorations? Not us. Take a cue from some of the people above and let her be a part of the decorations, you guys. It would be better for everyone.
21. Is this tree for me
This Christmas tree looks perfect with candy and gingerbread decorations. The use of a huge bow in place of the star is one of our favorites parts. But, we all can agree the cat is taking the spotlight here.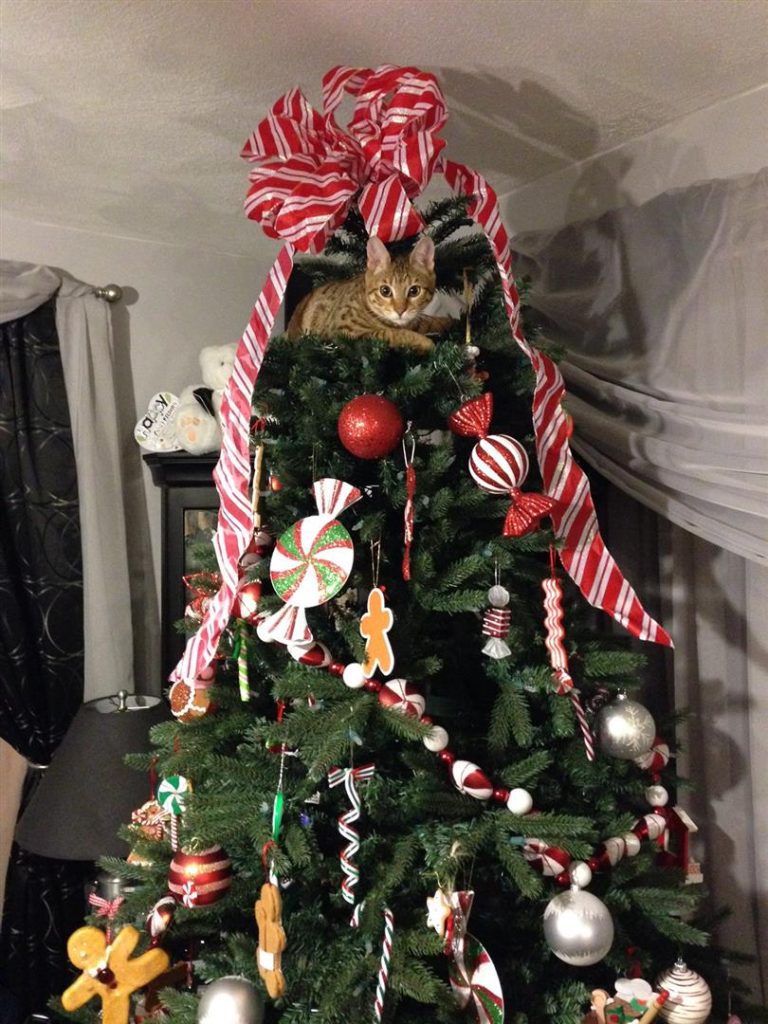 He is sitting perfectly under the bow and is thankful for his humans for getting him this present. It looks like the tree is present for the cat to play and bird watch from the top. He has the best parents ever.
22. What is this tree doing here
Cats are very curious about their surroundings, and new things tend to take up all their attention. This cat has mixed feelings about the Christmas tree as he is just trying to figure out what it's doing in the living room.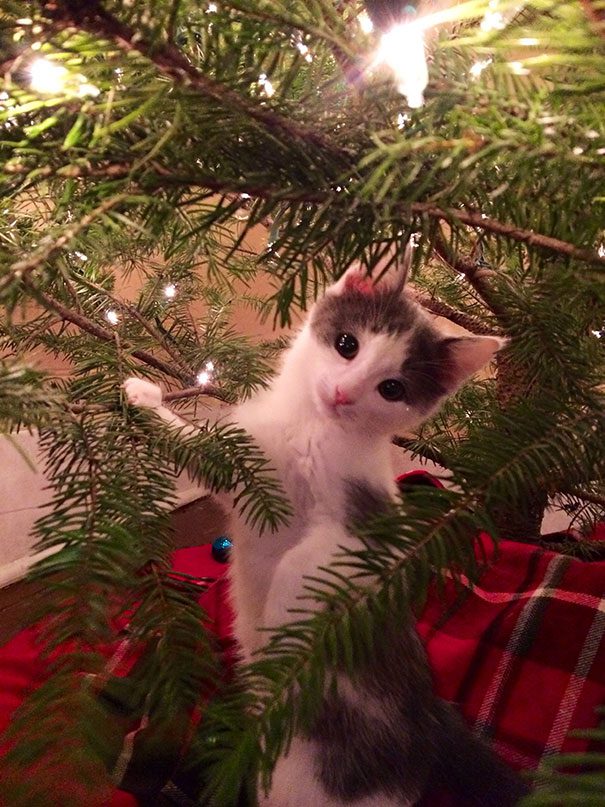 He may have so many important questions, such as, "is this for me," or "can I climb on top of it?" We hope he has fun with the tree and does not end up destroying the entire thing before Santa's visit.
23. Call me your meowjesty
If you wish to witness royalty in a picture, just look at this one. The cat has found her throne atop the Christmas tree. Out of all the places in the house, she decides this is her spot to see her kingdom.
We totally believe in the cat and her reign. She may have gotten inspired by watching The Lion King on repeat. That is why she is posing just like her long-lost cousins. Everyone has to address her as "your meowjesty" from now on. 
24. I can do this too
Cats are adorable when they try to accomplish the impossible. We are witnessing this cat trying to mimic the blue ornament. When you look at the two together, you can see how gloriously sparkly they both are. A purr-fect match!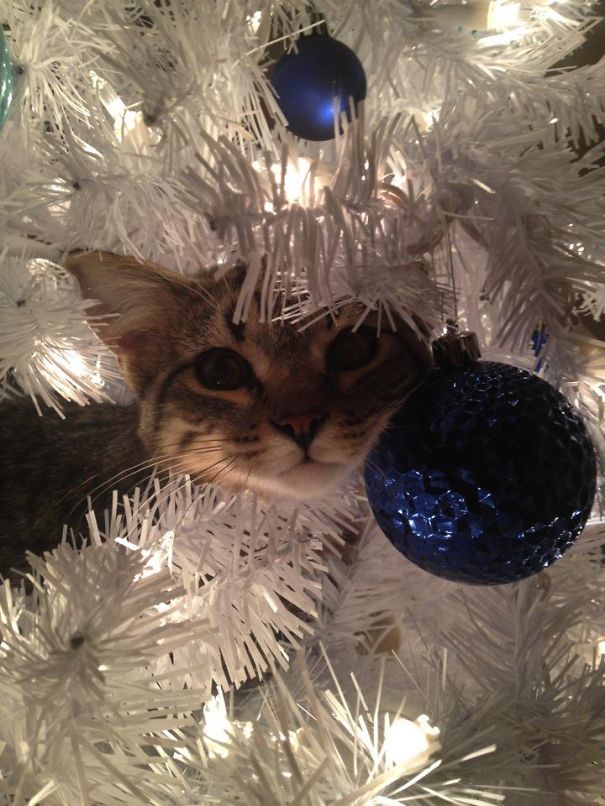 His shiny eyes are making the tree look even more Christmas-ready. Besides, his coat color goes well with this white tree. No one is going to complain about this decoration as long as he does not start knocking off the other ones. 
25. Don't focus on me
This cat has his priorities right during the holiday season. And that is to sit in his cozy spot in the middle of the tree. He is also telling his humans to just ignore him while he enjoys Christmas his way.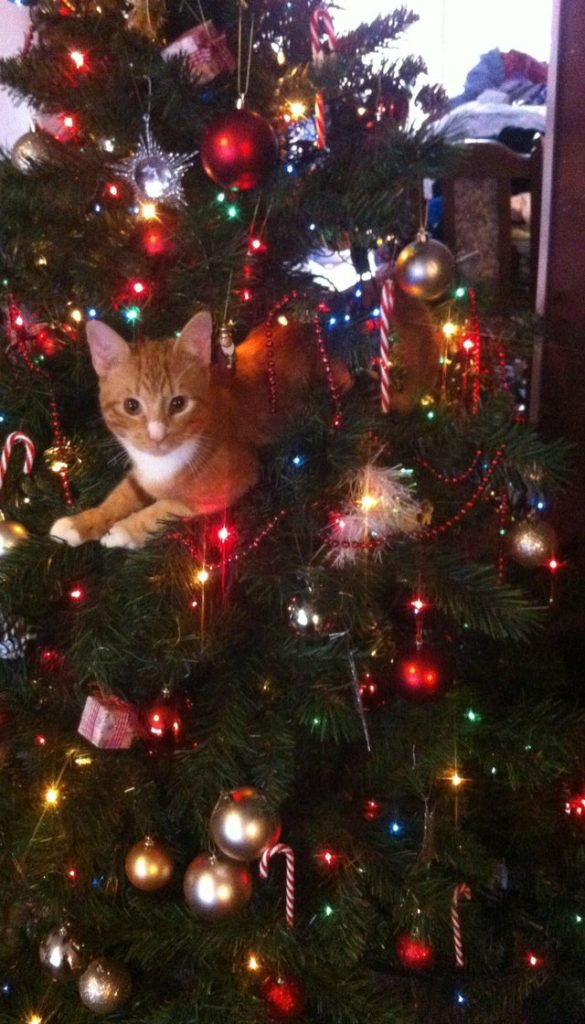 They can just pretend that he is one of the decorations that is completing the final look. His eyes reflecting the Christmas lights is a glorious sign to behold in itself; there is no point in asking him to come down. 
26. This looks like food
This cat may have gotten confused between the tree and the catnip. Or he may not be getting enough catnip these days. We can see how starved he is that he is trying to eat the tree. Except it's clearly plastic.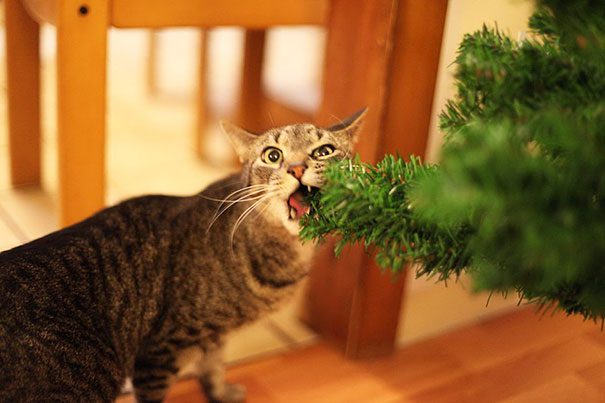 Combined with the decorations of candy canes, we do not blame him for thinking the tree is edible too. But once he realizes it's fake, he will just turn the whole thing into a giant chew toy anyway. Merry Christmas, kitty.
27. I like the tree
Cats love to explore their surroundings and feel very excited about finding new stuff. This seems like this kitten's first Christmas by the look of his face (and tiny size). He is trying to get into the branches to figure out how it works.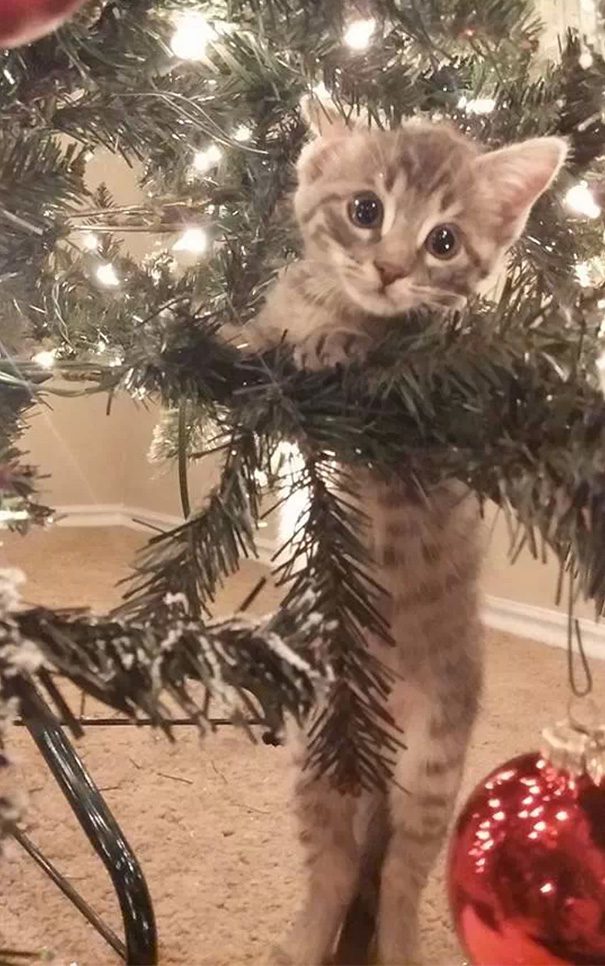 Once he figures it out, he will understand how much fun his new discovery is, and he is going to have an amazing holiday. Besides this new jungle gym, he will get presents from Santa and enjoy cuddles with humans while it's snowing outside.
28. It was not us
Here is a Christmas card mystery for everyone to solve. There are two cats and a fallen Christmas tree in the living room. You have to find out who did it and who is innocent. They blame each other. Who is telling the truth?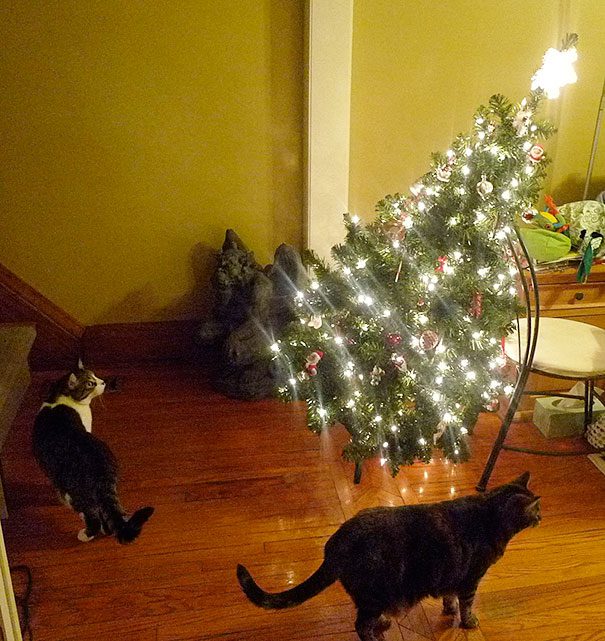 These two cats are acting as though nothing happened, but we all know they convinced each other to play in the tree. As a result, they knocked it down and are now pretending to be all surprised in front of everyone. 
29. Magnus is very helpful
Your cat's destruction skills may come to use when it is finally time to take down the Christmas tree. Look at Magnus here, who is trying to help his family by removing the ornaments one by one after the new year.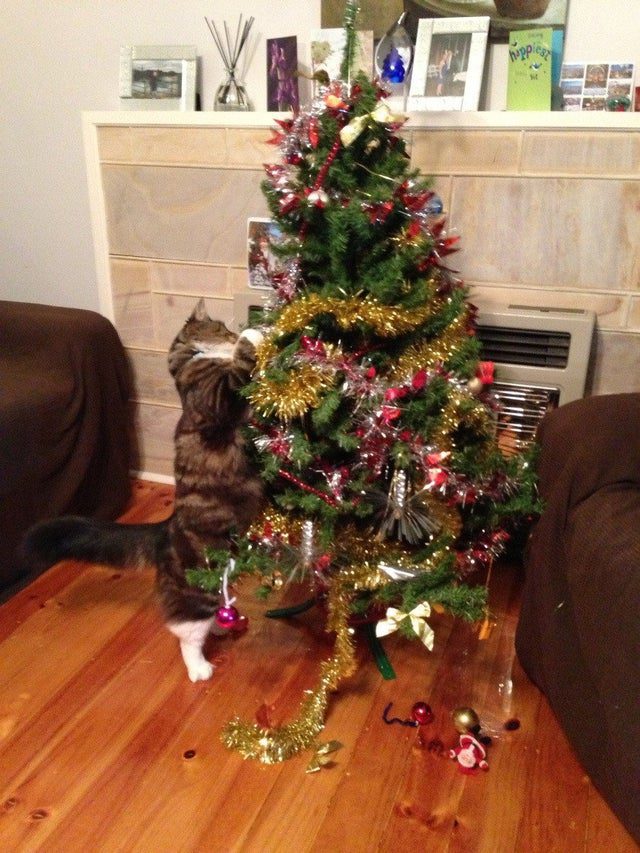 He is very dedicated to his cleaning duties here, as you can see some ornaments are already off the tree. His family can sit back and relax as he will not stop until the tree is free from all the lights and garland. 
30. This is my new bed
Here is a kitten going to sleep but do you notice is something unusual about his bed? He has found a comfortable tree branch to sleep in throughout the night, waiting for Santa to come home and deliver his presents.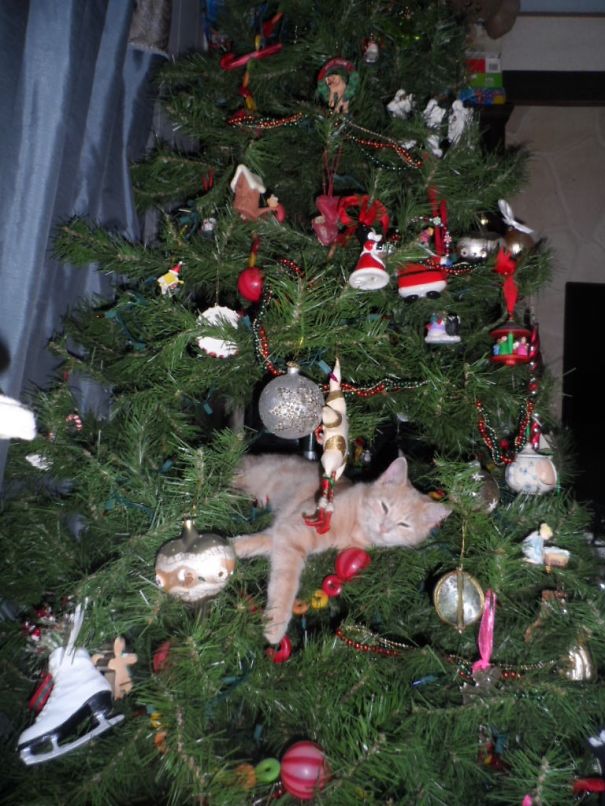 Needless to say, he is behaving so perfectly! He is not removing any of the decorations to make more space. This tree looks like a vacation for him from his old bed and shall remain his nap spot for the remainder of the season. 
31. What is this red ball
The picture looks nothing short of a professional Christmas card photograph. It seems full of joy and happiness. The way cat is staring at the red ball is too precious. He looks so full of love and joy amongst these sparkly objects.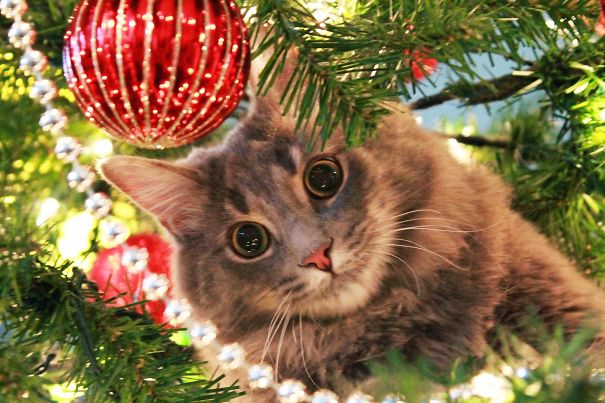 This gorgeous cat is more than obsessed with the tree. We are on his side and agree about that this red ball is with silver glitter is mesmerizing. No one is capable of taking their eyes off something so shiny. 
32. The monochrome ornaments
Have you seen the most beautiful Christmas ornament ever made? It is fluffy, grey, and loves the snow. Here is a picture of a cat who is making the other tree ornaments look like his accessories. You can feel his bright personality.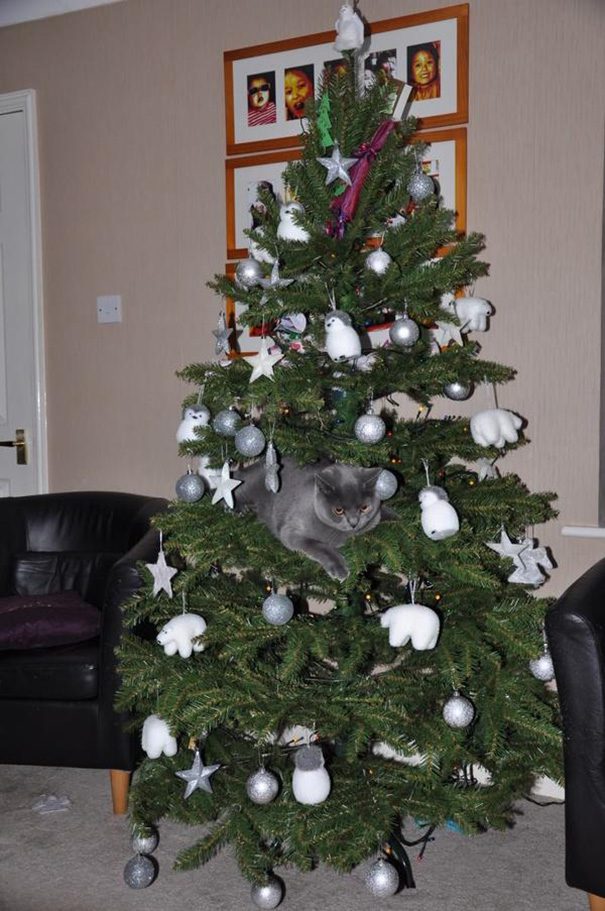 His fur and the color of the ornaments match each other to make a monochrome theme for this year's Christmas tree. It looks like his parents got matching decorations as a present for him, so he will feel like the king he is.
33. Christmas grinch cat
Here is proof of the crime that took place in this household. The cat stole Christmas by removing the star from the tree (without getting up, of course). She just got caught in action, and thus won't be able to deny any charges.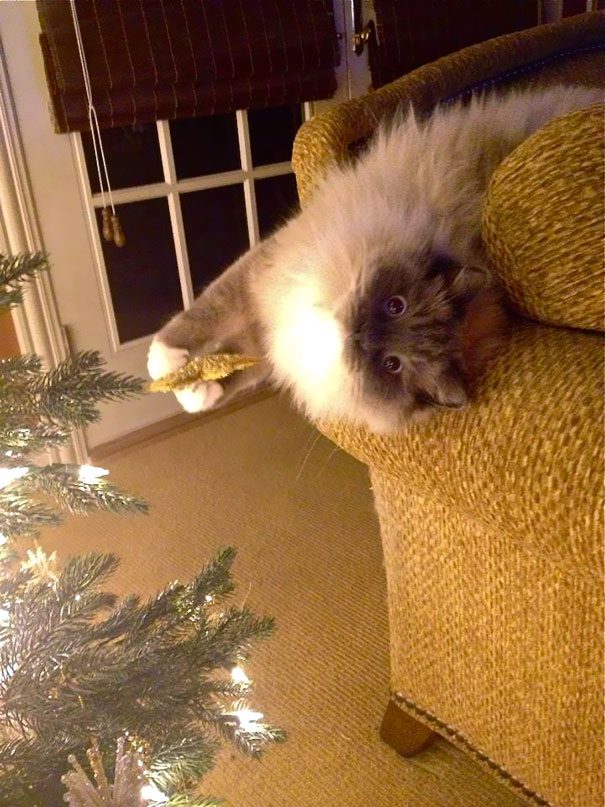 We wonder what made her act like a Grinch in this festive season. Maybe she did not like her Christmas present, or the lights were bothering her for no particular reason. The crime needs to be investigated to answer these questions. 
34. The curious cat
Cat parents know their cats always find a way to steal the show with their charm. Here is a beautiful feline who has just discovered the Christmas tree. She is looking in disbelief as she has not seen anything so surreal in her life.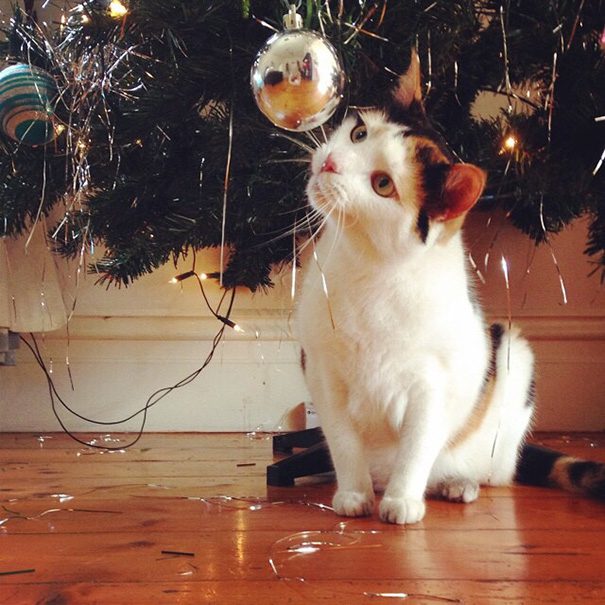 We hope she enjoys these ornaments and tinsel from a distance and does not try to take them wherever she goes. Her newfound obsession with Christmas seems to have a positive effect on her personality. And she is clearly enchanted with her reflection.
35. I can do it better
This cat thinks everything a human can do, she can do it better. She is trying to improve the tree so that it looks even better and is all ready for Santa. She'll take no risks this year, and she has the eye of an interior decorator.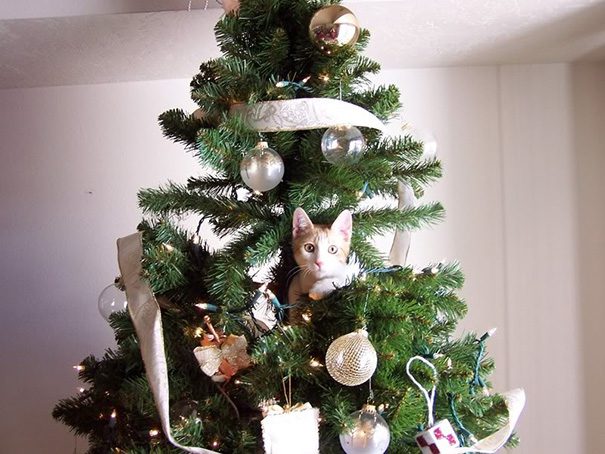 Her mission is to impress Santa with her decorations so that she is on his nice list. This way, she will get all the cat treats and toys to play with. She has also asked for fewer rainy days, as no one told her Santa has nothing to do with the weather.
36. I win this war
Nobody knows why this cat has declared war against Christmas. He does not even look remorseful and is sitting proudly beside the tree, feeling accomplished. We are beginning to think he saw it as his prey. Or maybe he's just a Scrooge.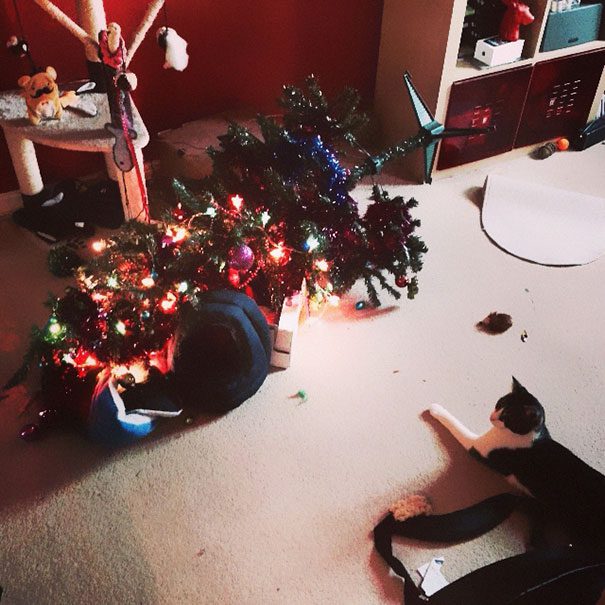 The cat may have won this round on Christmas, but he has not been able to affect anyone's holiday spirit at home. They shall erect the tree again and also protect the ornaments from the cat's anger. Hope is not lost!
37. I always win
We thought cats would try to be at least nice about our feelings towards Christmas and not try to destroy everything in the vicinity. But, they have planned world dominations starting with Christmas trees and their silly decorations (their words, not ours).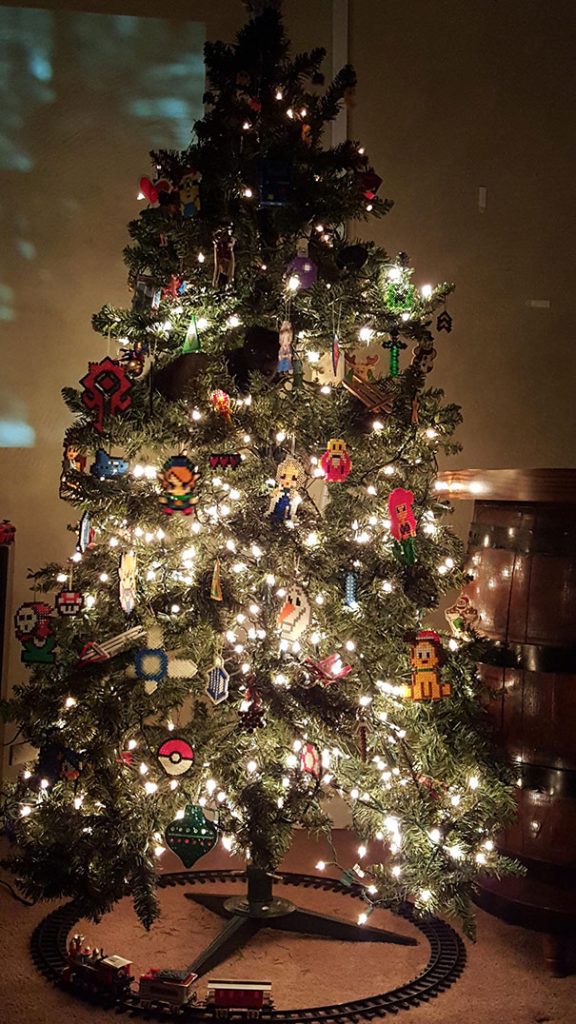 This is another battle where the cat is determined to take down the tree as she thinks it is a bit too overly decorated and doesn't belong in the living room. The tree is still standing tall. Who do you think will win this battle?
38. Some help, please
Those who have cats in their families must have fun on a daily basis. These entertaining creatures find one way or another to keep everyone around them occupied all day. This is how this cat was found within a few minutes into decorating the tree.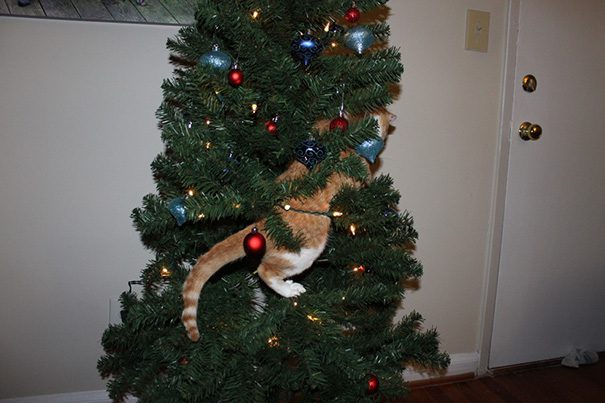 She is stuck between the tree and the lights and cannot manage to get out of it. Some help from humans may be appreciated at this time. However, they are busy capturing this priceless moment to upload on social media. 
39. Stay away from my tree
This cat was awestruck by this huge tree in the house. Therefore, she decided to make it her home as it is fluffy, comfortable, and she likes green. She is in no mood to give up the tree for some silly decorations.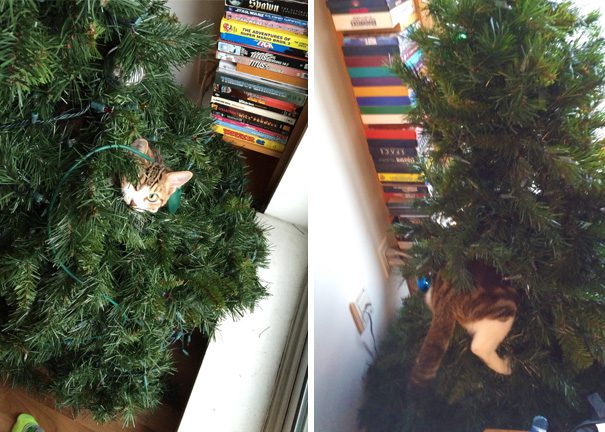 The humans can try their best to get her off the tree to decorate it, but she is not going to budge from her safe spot. There shall be no ornaments this year on the tree as per the cat's demands.
40. I cannot wait
Cats are obsessed with climbing trees as it reminds them of being outdoors. Look at this cat who was so impatient to get in the tree that he could not even wait for the humans to even begin to decorate it.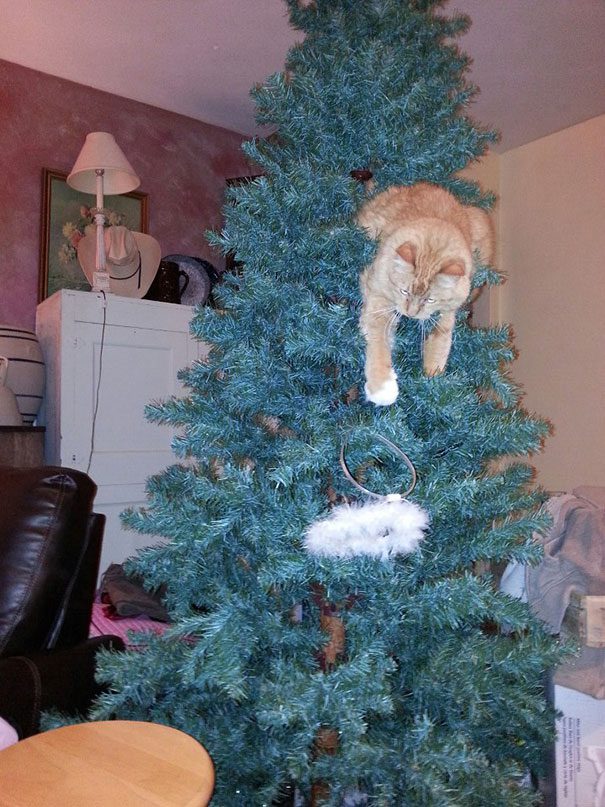 When asked to step down, his grumpy face was caught by the camera showing how upset he would not not being close to the tree. Humans should find a way to incorporate him into the decorations to keep him happy. 
41. Thanks for this toy
The joys of being this tiny and adorable must be immense. This cat knows how to leverage her looks for some fun without getting into trouble with anyone. She has taken over the tree as it is the best toy ever.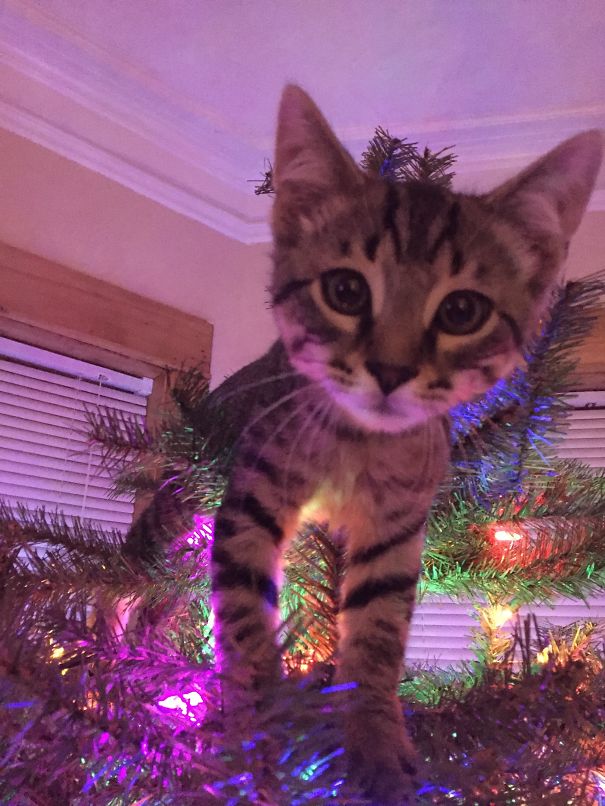 Moreover, she loves the view from above and the way the Christmas lights bring out the color of her eyes. She likes how glamorous she looks in this light and wants the human to take more pictures of her from different angles.
42. Happy first Christmas
It is Coco's first Christmas and is a very big deal for his family. He acted like a nice pet on this day for most of the time. But as soon as he saw the Christmas tree, he could not contain his excitement.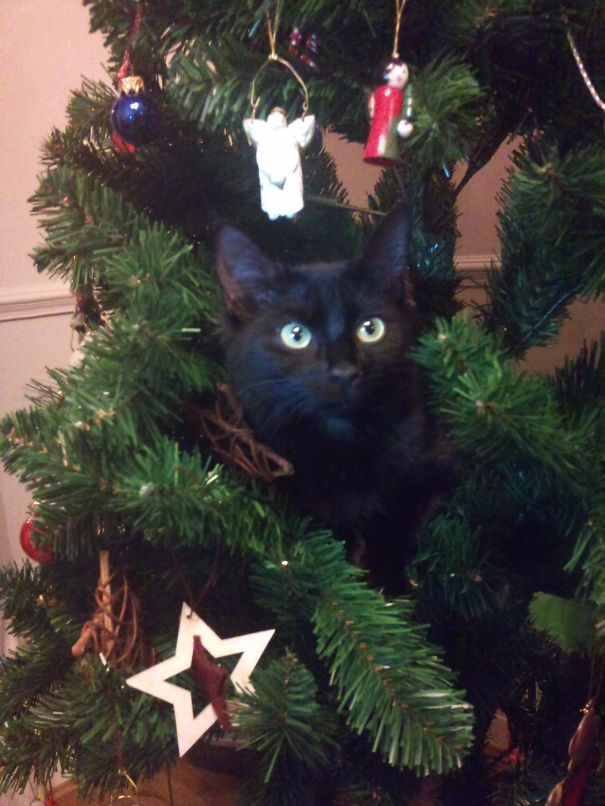 He jumped on the tree to get close to the ornaments and see them up close. His eyes are picking up on all the little details of the figurines, stars, and other bits and baubles. According to him, this is his best day ever.
43. Save the tree
Our cats do so much to protect the house from bugs, rodents, and other cats who are not friendly at all. This is another example of the cat being helpful and letting his paw-rents know that their tree needs help.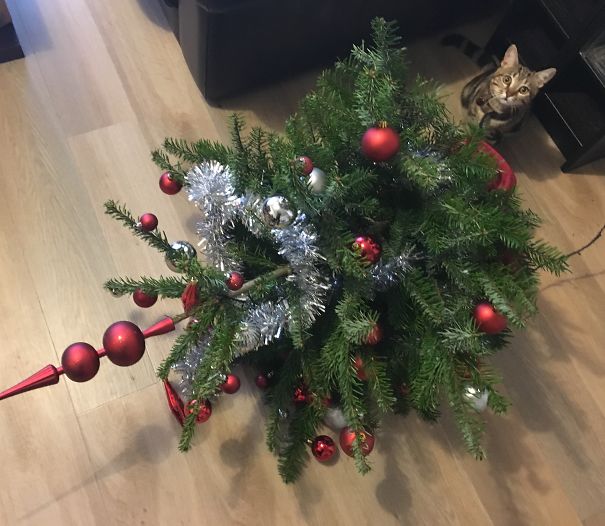 He is so glad they are home and will be just in time to save the Christmas tree. However, he has no idea how it feel over or who pushed it onto the ground. Humans need to hurry to pick it up.
44. Look, mom, I'm all lit up
You may not witness anything more adorable than this cat. He is gracefully sitting on the Christmas tree between the lights. His eyes are sparkling, and he looks so majestic. He is stunned by the shine and glamour of this new addition to the home.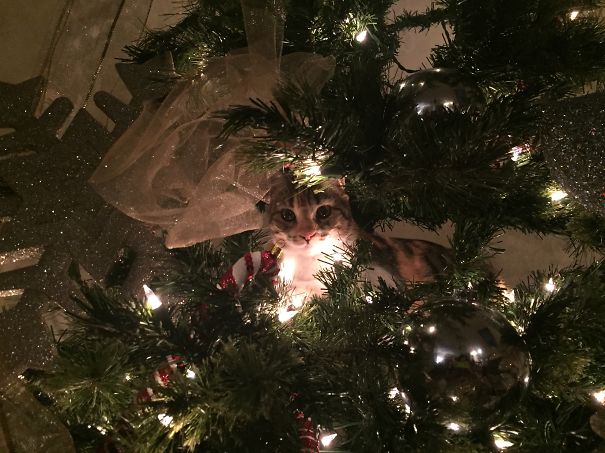 This pose for the picture screams how comfortable he is around the decorations. Needless to say, he was feeling super proud while all lit up and experiencing the true spirit of Christmas. Being the prettiest is his contribution to the day. 
45. Pleasantly surprised
Samantha here had no idea how grand the Christmas celebrations could truly be. She is so surprised looking at the lights and the tree in the house. Also, she found out there would be gifts too for the whole family.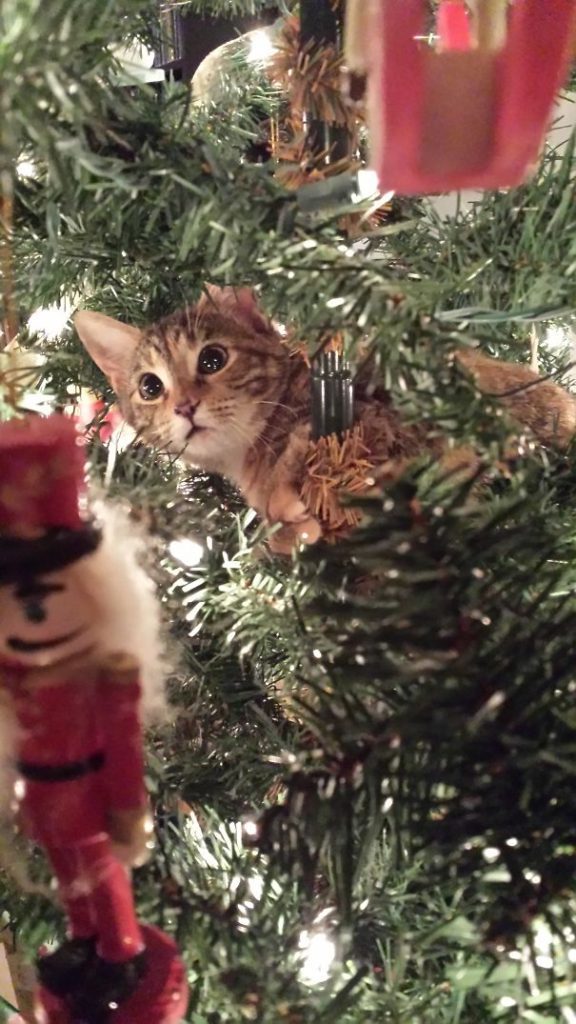 There are so many things around her that she is unable to focus on them all at the same time. She is staring at the lights in such a trance that we hope the click of the camera didn't disturb her wonder.