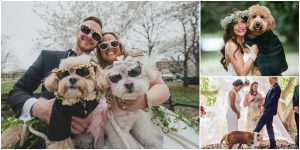 Special Wedding Guests That Made The Day Even More Pawfect
By Iulia P
---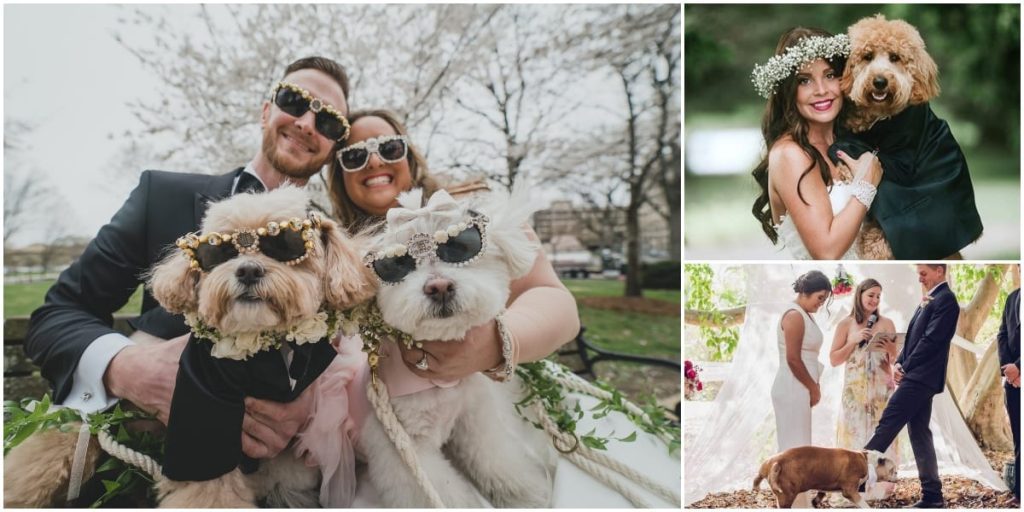 No, by special guests, we don't mean that super-rich uncle who lives abroad and flies for days just to attend the wedding. Or that cousin who became famous all thanks to a viral video. No, by special guests, we mean those 4 legged furry guys considered man's best friend and part of the family. Or did you think it's just us humans that love attending weddings? Eating the yummy food and being the queens/ kings of the dance floor? Well, no. Our furry friends love attending weddings as much as we do, and to be honest, most dog lovers can't imagine getting married without including them in the festivities and celebrations. Here are some dogs that stole the show on their "parents" wedding day.
Sara didn't get the memo
Meet Sara. Sara is a Yorkie full of energy, a bit naughty every now and then but all in all, a good girl. The only problem with her is that she does not know that when you attend a wedding, wearing a white dress is a big "No-No".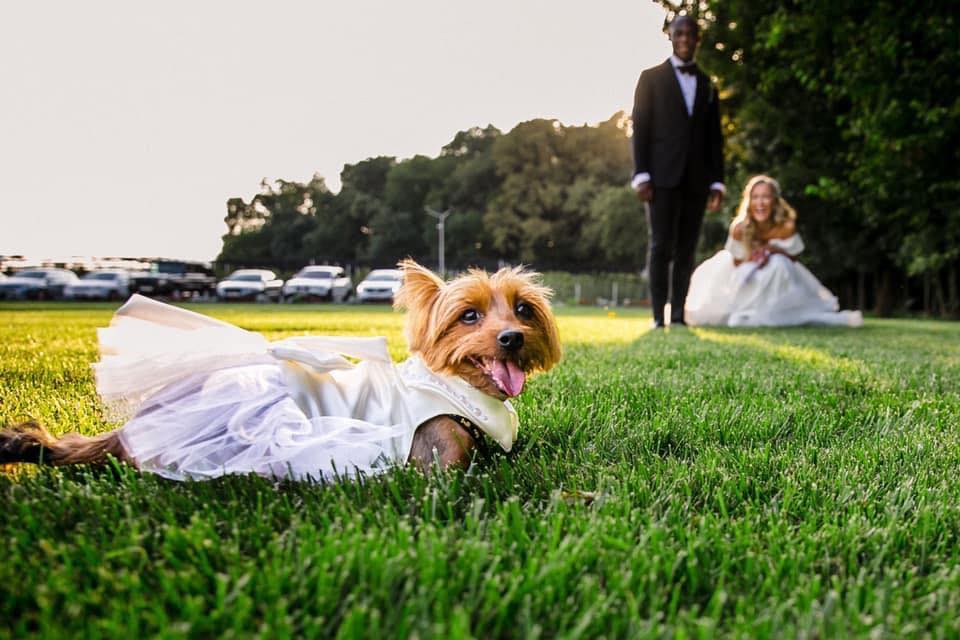 Does she look like she cares? Obviously not. Look at her. At least not in this picture where she decided just to steal the show one more time while her parents in the background were doing their marriage photoshoot. You can tell she loves the attention.
Best man award goes to…
They say a picture is worth a thousand words, but this is not always right. Just have a look at the picture below; it's definitely worth more than just 1000 words. We might not know this little guy's name, but we do know that with those puppy eyes he managed to steal our hearts.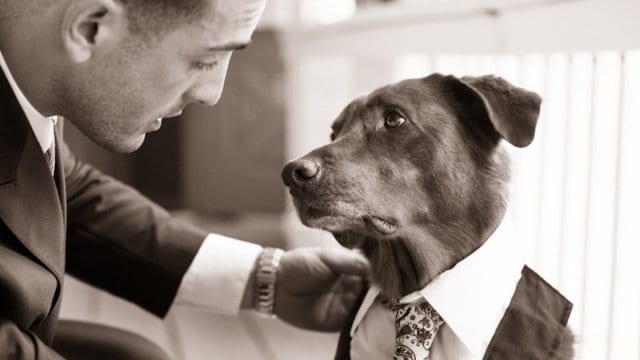 The look in his eyes while staring at his owner's face expresses endless love. His emotion-filled face almost got us distracted from his cool, on-point wedding suit. Photogenic, fashionable, and so expressive. This guy can easily get the best man of the year award. We are really curious about how his best man speech went down.
Groom's men
This groom pictured below decided to have all his close friends in line for his wedding. And by all his friends, we really mean all his friends. His four-legged furry buddy was there, front row stealing the show and outshining everybody with his cute doggo "smile."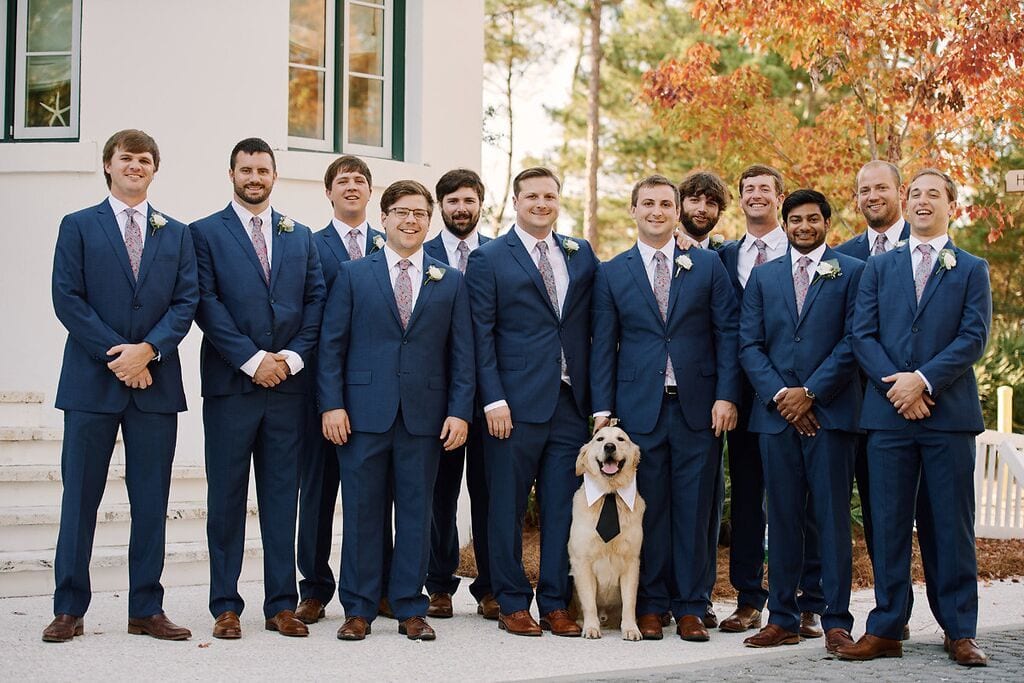 Everybody, including the groom. Well, it looks like his dad doesn't really care about him stealing the show cuz if he did, he wouldn't have dressed his pup in such stylish attire. We are sorry for the other groom's men but we think this little guy won the show.
Could it be jealousy?
Or just a dog that had to go? No matter the case, the American bulldog pictured below made everybody regret inviting him to the wedding when he decided to lift his leg up and do his business on a stunning and, most likely, expensive wedding dress.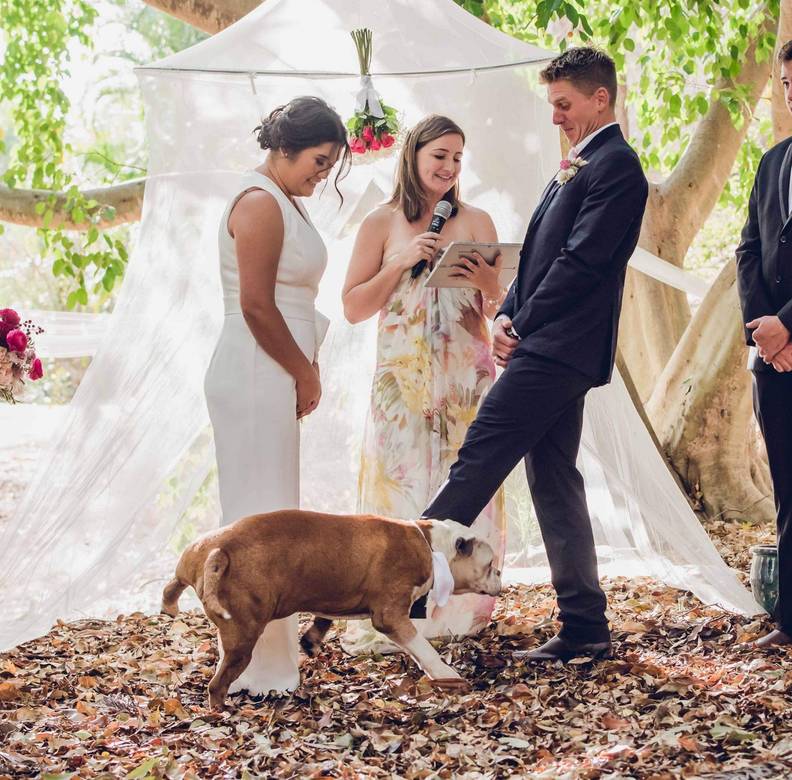 We're pretty sure his owner's wedding shoes might have gotten a bit wet, too, when he tried to save his wife's gown. Nonetheless, it's mandatory we have a moment of appreciation for the bride who kept her cool while most likely screaming and crying on the inside.
The amazing story of Jack
In 2019, Jack, a Rottweiler who had been dumped by his former owner at the SPCA, was adopted by 69 years old Chris, who was going through a rocky period in his life. His son had recently passed, and because of this, he had divorced his wife. He was feeling lonely, so he decided to go to the rescue center and adopt a companion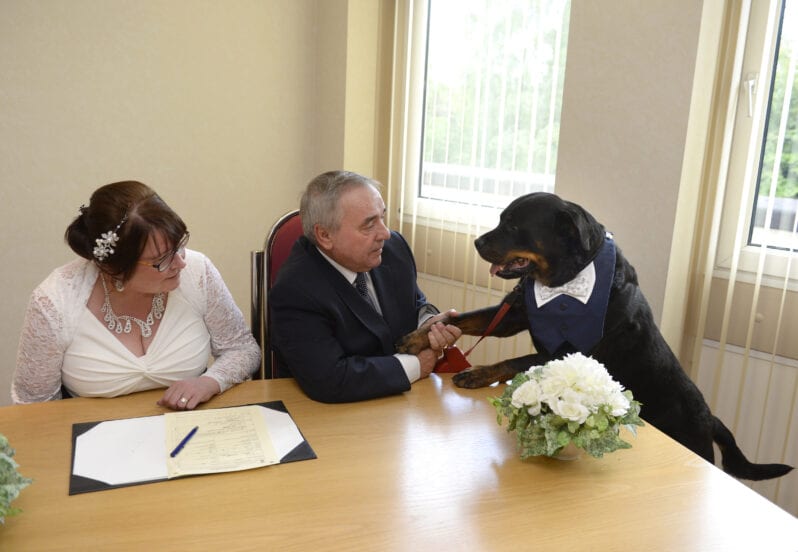 That's how he met Jack and also the woman who was to be his wife. Margaret was an employee of the center and actually the one who had to supervise the bond between Jack and his new owner. Chris and Margaret spend quite some time together, and they grew close and decided to give love another chance. There's no wonder Chris decided Jack to be his best man since he was the one who helped him find love again.
Whose smile is more beautiful?
The couple pictured below decided to do what every dog owner should do: let their furry friend attend their special day, let him be a part of the wedding, and also have him pose with them when doing the wedding photoshoot.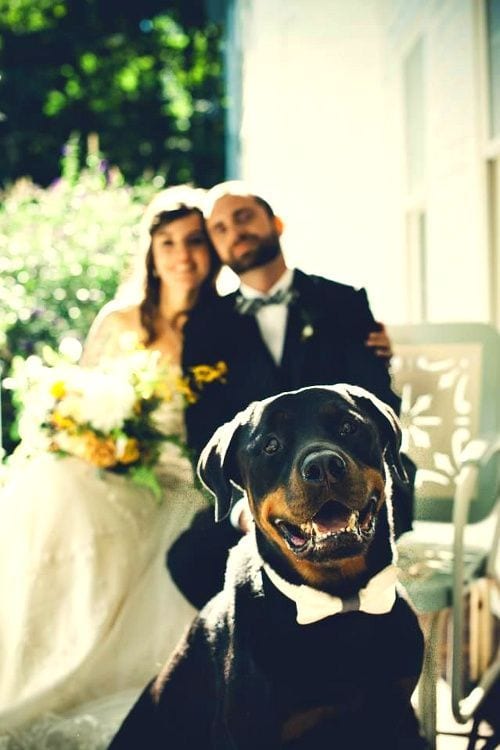 And it was the right thing to do. Look how happy this little guy is to be included in his "parents' " special day. The big smile on his face says it all, and this photoshoot will be such a great memory of their wedding day.
The trustworthy guy
They say animals are unpredictable. It is true. But do you know what can be more unpredictable than animals? Children, especially toddlers. It seems like the bride and groom knew about this, and that's why they decided to share the big responsibilities between them.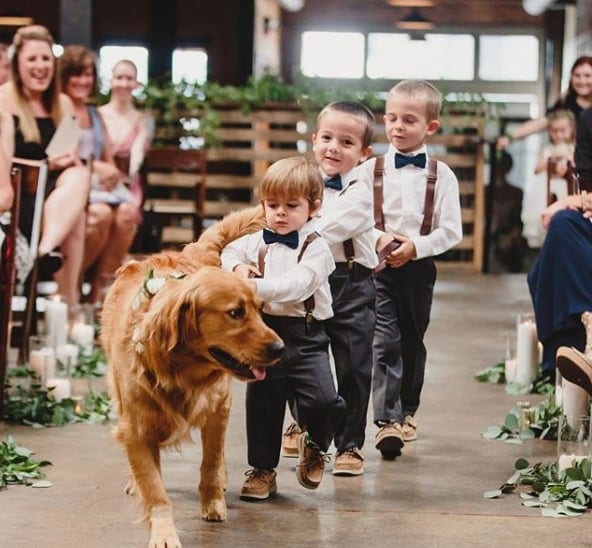 Leading the ring bearers is not an easy task, especially when all three of them are restless toddlers, easily distracted, and always ready for some adventure. By the look that this Golden Retriever has on her/his face, we can tell she accomplished the mission she was given. Seriously now, look how determined and motivated she looks.
Fluffiest maids of honor
You have to agree with us, these two Malamute dogs named Phil and Niko are by far the fluffiest and maybe cutest best man and maid of honor you have ever seen. Their outfits were impeccable, and their behavior immaculate, according to their owners.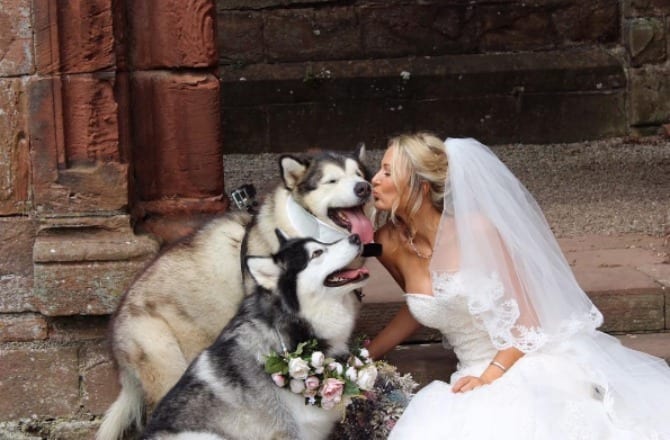 They had such important roles in their parents' special day, but Phil also had to film the ceremony. As you can see in the picture, there is a GoPro camera attached to his back. And apparently, he did a great job, except for the up-the-skirt action he filmed unintentionally. Oops!
The weather man and his best man
A post on Reddit showed the picture below, posted by user Taysha94, of the local weatherman and his groom's men. In case you were wondering who the weatherman's best man is, we can give you a hint: the groom's orange tie matches his best man's orange bow.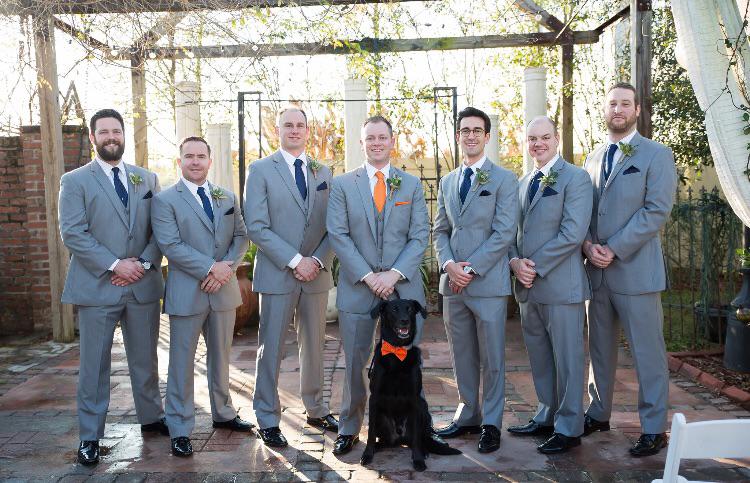 Yes, you got that right! The guy with the biggest smile on his face and the orange tie was chosen to be the best man. And no wonder he was chosen; he seems like the most suitable for this role out of all the groom's men. Sorry guys!
A wedding full of special guests
Mark Twain, the writer, once said that the more he learns about people, the more he likes his dog. And while most of us can identify with this quote, the couple pictured below took it to a whole 'nother level.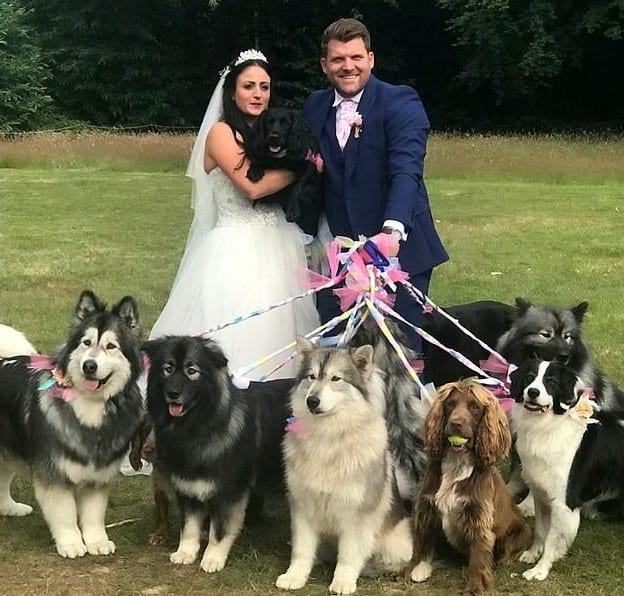 The two love birds decided to have their wedding with some special guests. The main condition: the only human present should be the photographer. The couple had 15 four-legged friends there for them during their special day: twelve dogs and three horses.
Which one is the groom?
Another one that did not get the memo. This little guy did not know that he should not wear the same suit as the groom. Seriously now, just let the groom have his moment of glory and don't steal his spotlight.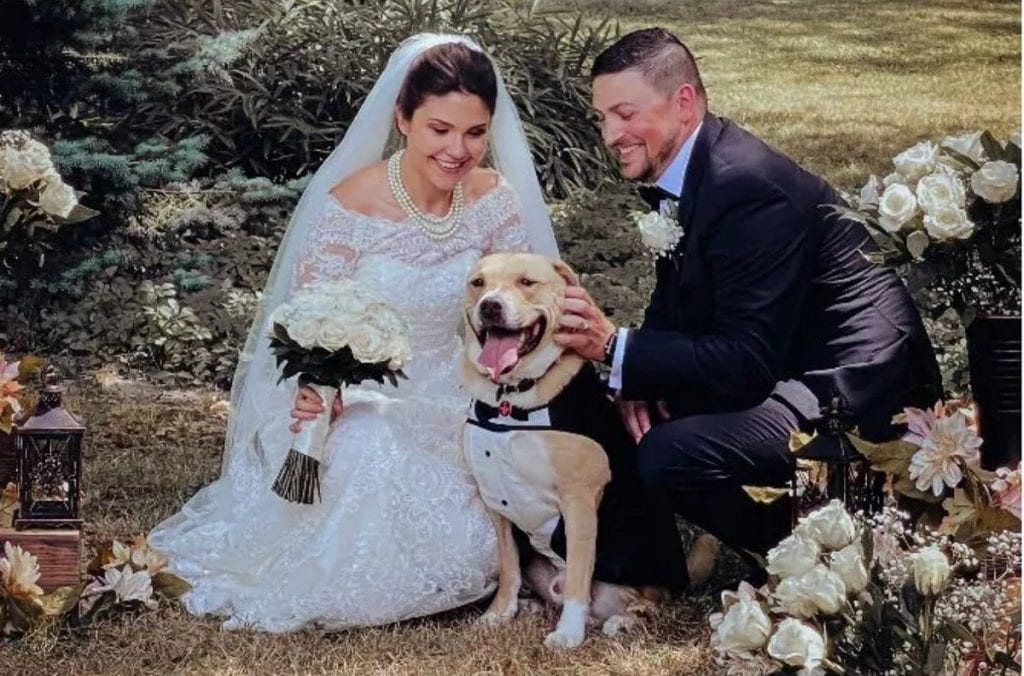 All jokes aside, we have to take a moment to admire how handsome this little guy looks. Not to mention that his big smile from ear to ear definitely takes away the attention from the beautiful newlyweds that are behind him.
Your rings are safe with me!
This might be another case of a couple who decided that their four-legged best friend is more trustworthy than a kid when it comes to carrying their wedding rings. Well, at least you're sure a doggo will not get distracted as easily as a kid.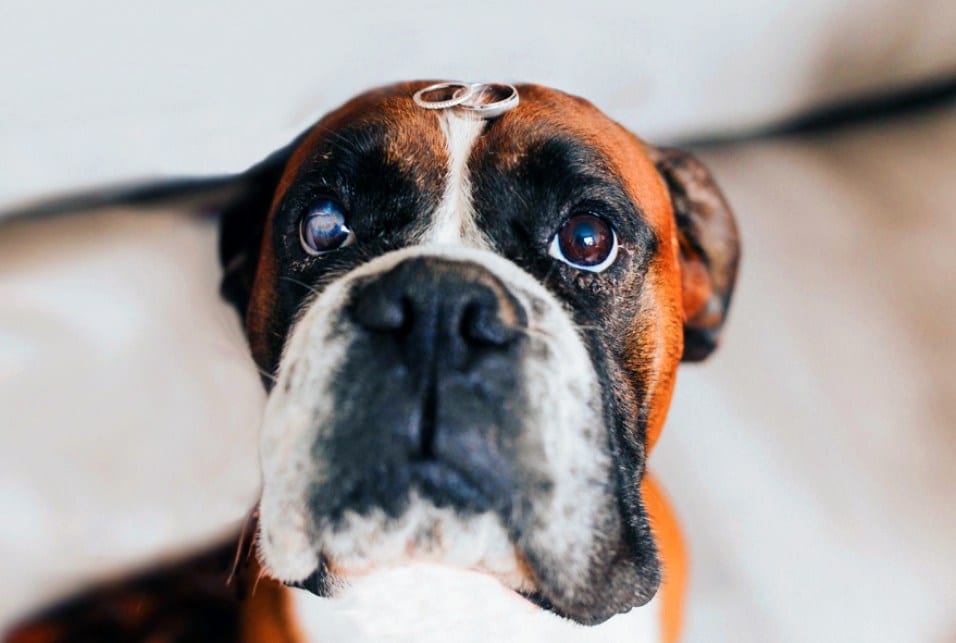 On top of this, who would want to try and steal the rings of a very scary looking Boxer. The couple knew what they were doing when they took this decision. Not to mention, imagine how cute this guy looked in his tux walking down the aisle while carrying his parents' rings.
The very photogenic wedding Yorkie
The little guy pictured below has definitely stolen the show at his mom's wedding. His haircut and hairstyle are on point, his tuxedo really suits him and his style and the pose he served in front of the camera… just perfect!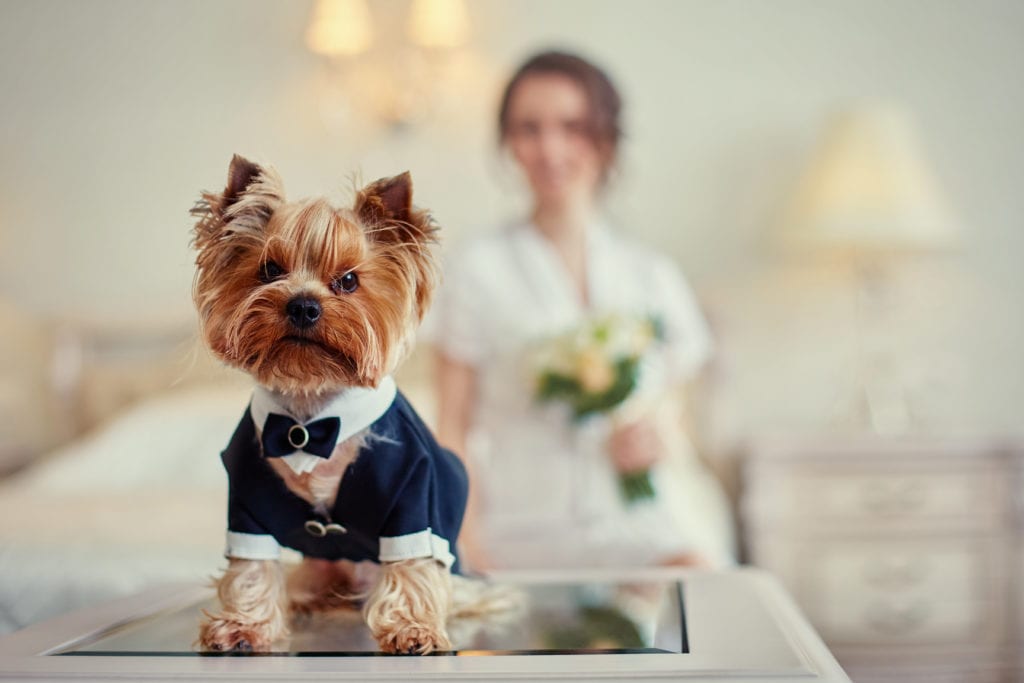 We can tell that he was the star of the wedding party and that everybody wanted to be in the same picture as him. Or at least near him to give him a good ol' belly rub and who knows, maybe a treat too.
If sabotage had a face
That face definitely looks like this: satisfied, yet sorry (for being caught). The doggo pictured below had tried to do something to stop his owner from getting married, and he thought that eating the wedding invitations would be the best option.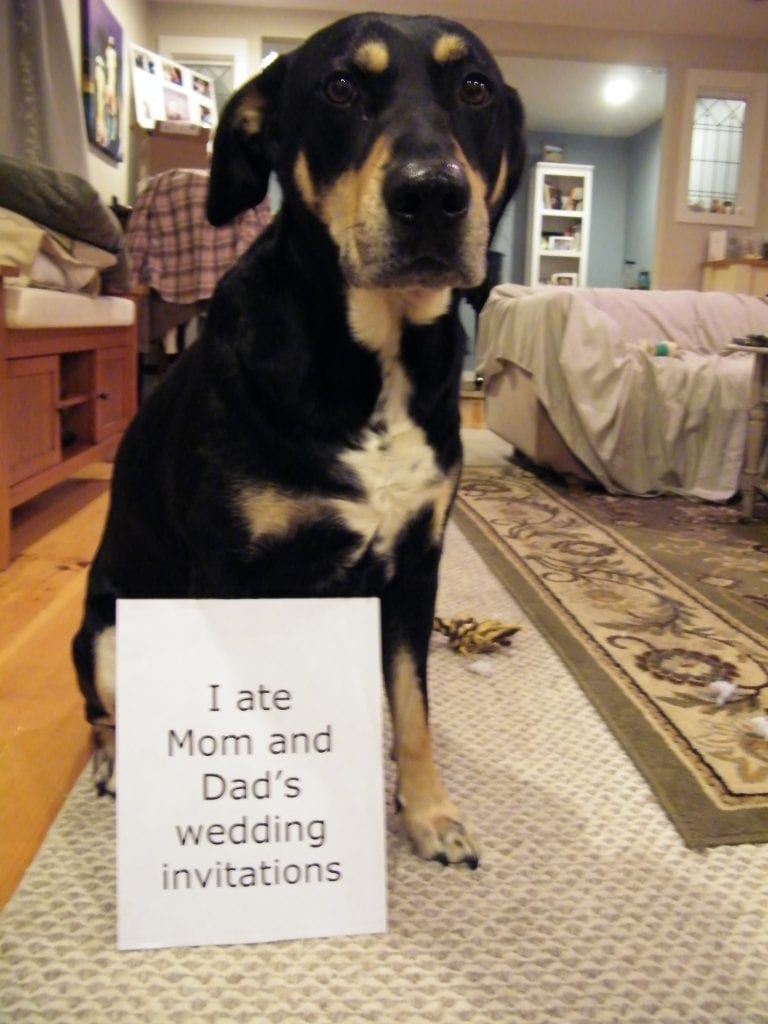 Well turns out that it was not. The couple re-ordered a new box of invites, and not only that but forced the poor guy to wear a very uncomfortable tuxedo while making him sit still for their family wedding picture. Next time, just make sure you eat the dress. That would probably work better!
"Welcome to the family" kiss
We are 100% sure that the picture below will melt your heart the way it melts ours. Ronny, the furry guest, attended his owner's wedding. The two were inseparable ever since Ronny was a puppy, so, as the groom said, it was obvious that his best friend would be present too.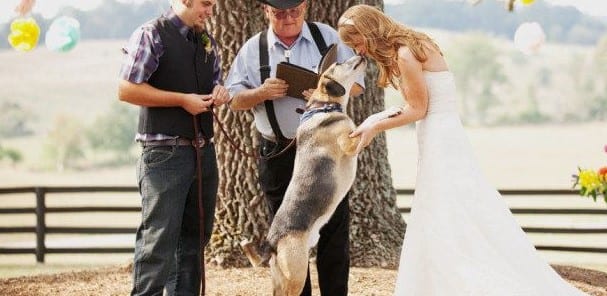 It turned out that it was the best decision because the pup gave the couple something they will probably never forget. During the ceremony, he stood on his back legs and decided to give the bride a "welcome to the family" kiss. Dogs are incredible beings, aren't they?
I was here first!
That's exactly how all of our pets feel when we bring home a potential new member of the family. Call it jealousy or whatever you think it is; we just think it's proof of deep real love and fear of them being neglected and forgotten.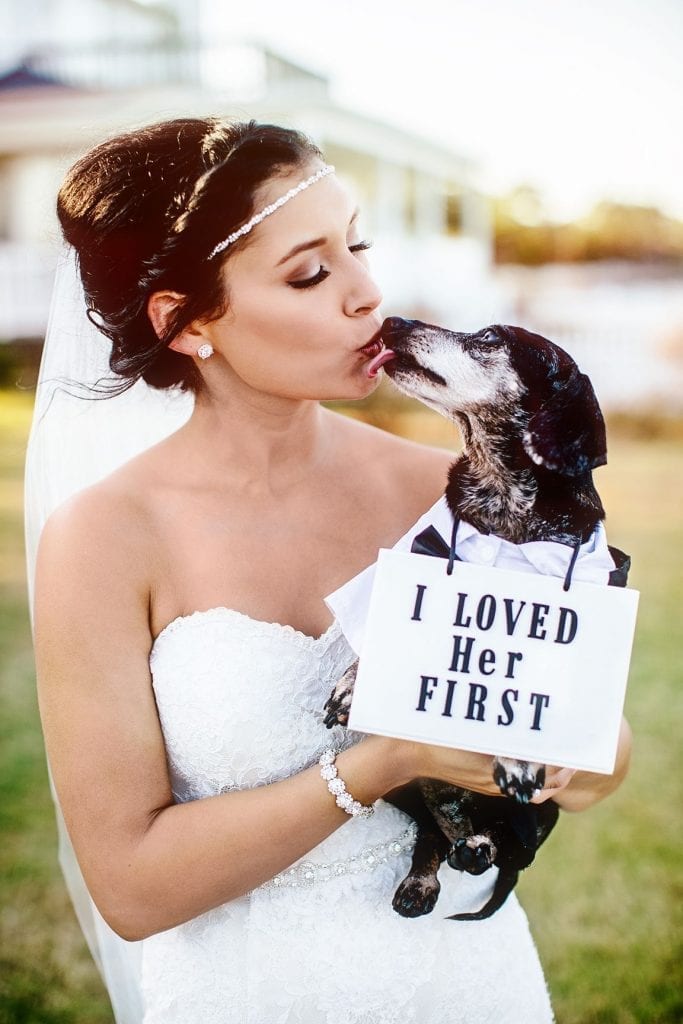 It seems like this handsome guy pictured above needed some time to adapt to the new man in his mom's life. Although he agreed to her getting married, the message on the sign clearly shows that he will be watching his mom's husband closely.
OMG, she said "YES" again !
Imagine being at your human dad's wedding, and the bride (whom you love as much as your dad does) responds with "Yes" to the person who officiates the ceremony. The amount of happiness that this good boy felt that day can be seen in the picture below.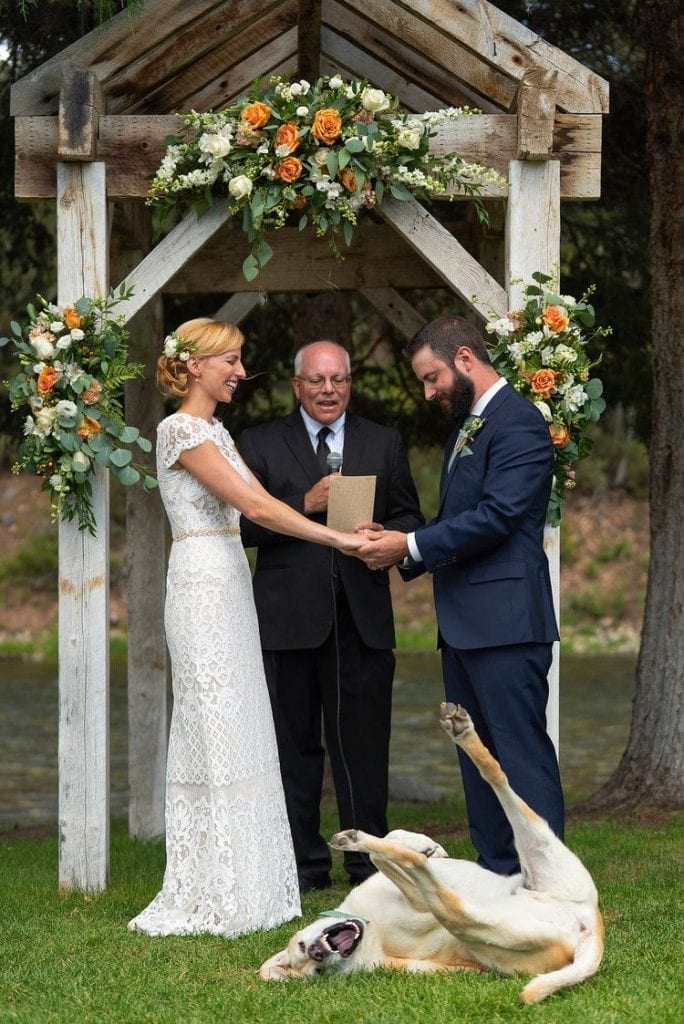 We love how expressive this guy is. Rolling on the grass with that big pup smile while his parents are dedicating their lives to each other. It's hilarious, but we have to give him props for being one of the best men (well, dog) we saw today!
The tired groom's man
You have to agree with us; weddings can be very tiring, especially if you are the bride, the groom or anyone else in the wedding party. There are many people, agitation, the wedding photoshoot and a lot of traditions that need to be respected.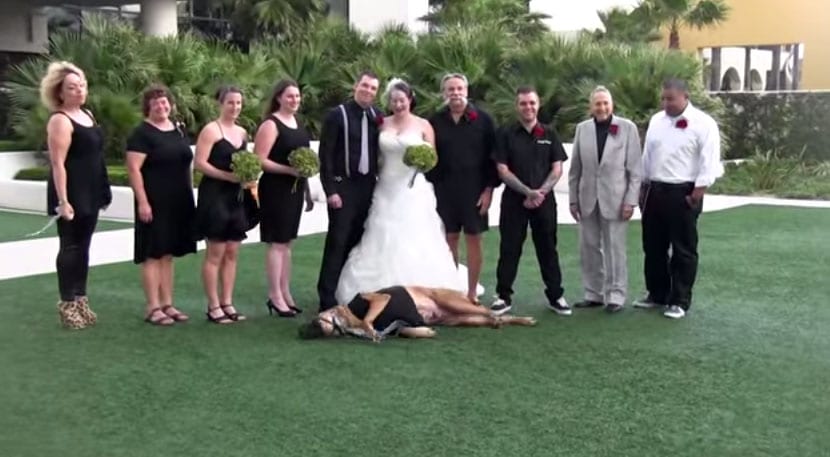 All we can say is as special as a wedding day might be; it will leave everyone exhausted by the end of it. And not only the people! Just take a look at the tired guy pictured above. He just lost it and fell asleep in the middle of the photoshoot. If this image doesn't describe the wedding day perfectly, then we don't know what does.
Forever mama's boy
We fell in love with the picture of this curly guy and his mom taken on his mom's special day. Not only is the dog wearing one cool blazer, but the fact that he smiles while posing with her, just melted our hearts.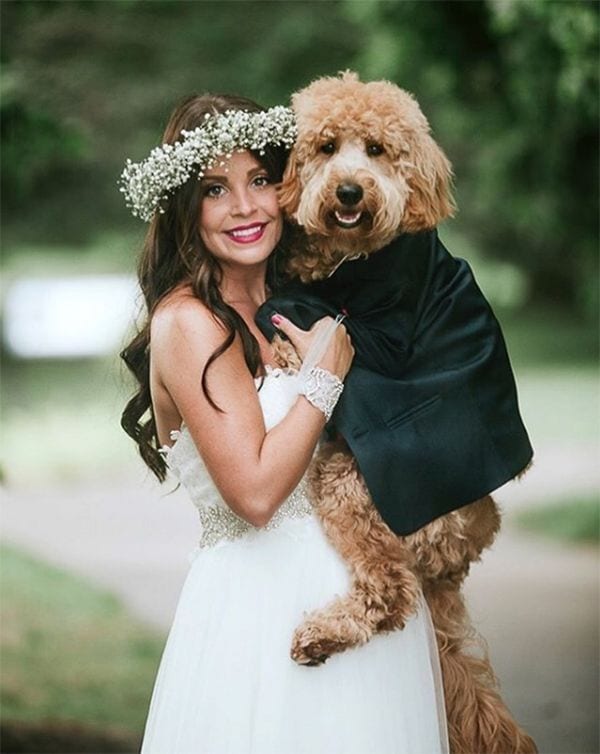 You can tell just by looking at this picture that he was not only looking cool but was also well behaved. Everything about this shot is just perfect. The photographer sure managed to capture the love of the day with this photo.
We told you!
In case you disagreed with our statement, saying that weddings can be really tiring (better said exhausting), we are here to show you, again, that they are. Well, at least for some of us, this English Bulldog girl included.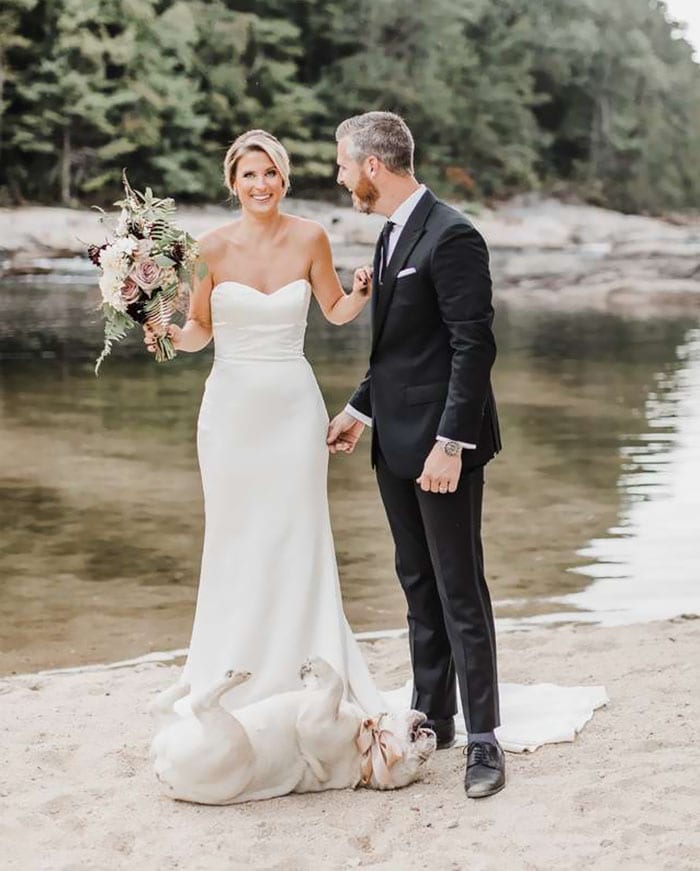 It may have been the crowd; it may have been the early wake-up call or the restless night because of the emotions before the wedding. We have no idea what got her, but she gave up and decided on a quick nap during her parents' photoshoot. Poor girl, she will not be happy with the pictures.
Who had the awesome idea?
Bringing your dog to your wedding should be normalized, as long as the pup is well behaved and not a disguised piggy like the little guy pictured below. We're sure the moment he decided to lift his leg, the newlyweds regretted inviting him to attend their special day.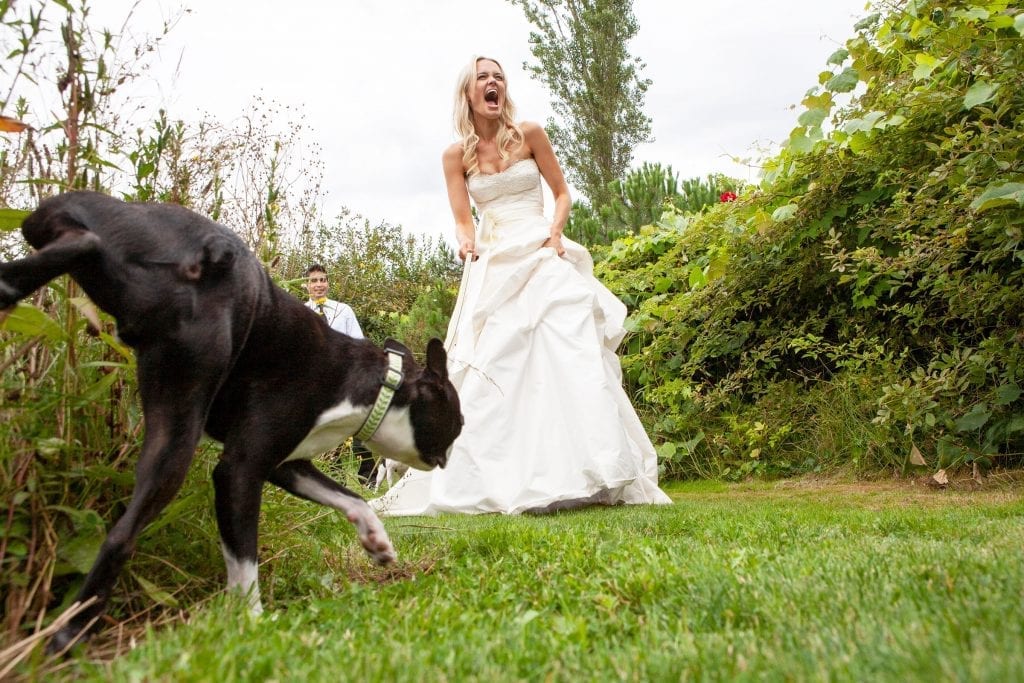 Well, the groom doesn't seem that bothered by his dog's decision but the bride… Poor woman, she looks beyond angry. And who would not be? She looks like she was not okay with the dogs attending the wedding, but her new hubby did not listen to her. Men…
One happy girl
There is no such joy as seeing your owner living her best day of her life while you get to be there to witness it and share it with her. This beautiful furry girl's face says it all. Happiness was in the air that day.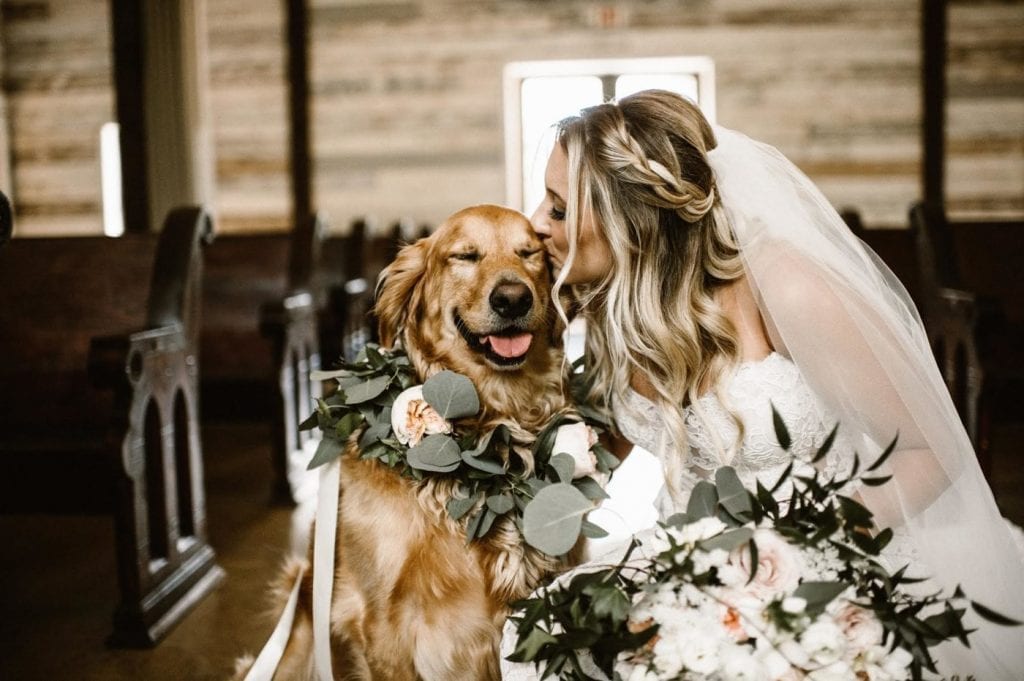 That cute face full of joy and calmness managed to melt our hearts. Not to mention the beautiful boho floral "collar" she is wearing in order to match her mother and her wedding bouquet. We just love everything about this picture.
Matchy-match
What another way to steal the show at your human parent's wedding than to dress up exactly like them? From head to toe, matching their wedding outfits entirely, these two pups did not hold back from going all-in when it came to their tutu dress and tuxedo.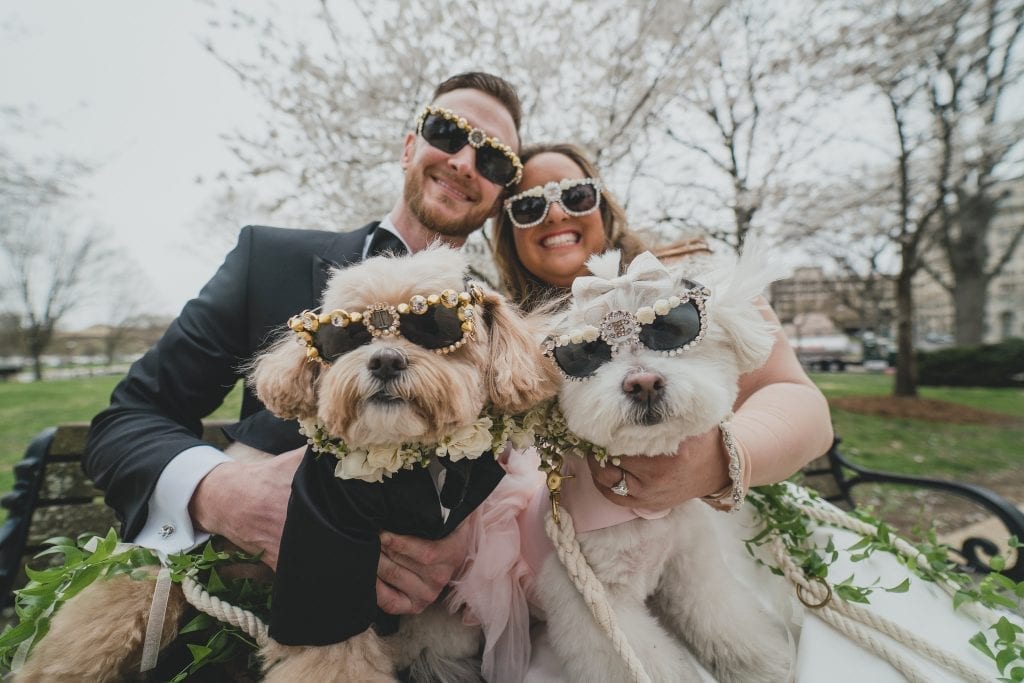 Same shades as mom and dad, same clothes but the attitude, you can tell it's way different. No offense to the newlyweds, but their two "mini-me's" won the attitude game. Just have a look at them; they are so cool.
Through thick and thin
What else can be more beautiful than declaring your eternal love for your beloved one in front of the people you love and also having by your side your four-legged best friend? The groom decided his best buddy should be present at his wedding and we think it was the best decision.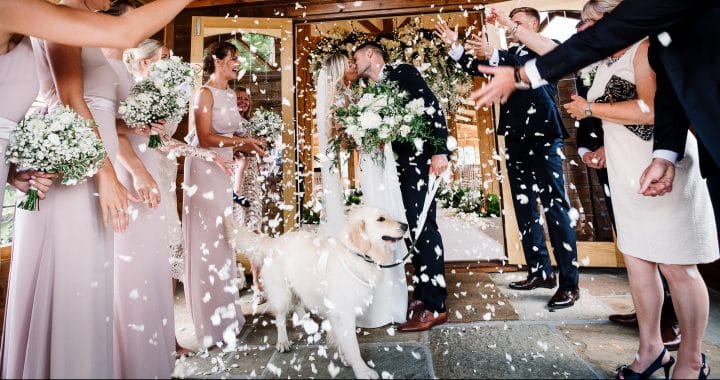 The couple looks happy to have him there, and we are sure that even doggo had a great time, standing next to his owner while being admired by everybody present at the ceremony. Let's not forget about the yummy treats he mush have been given for being such a good dog.
The groom's men
The two Jack Russells were chosen by their owner to be part of his groom's men. No wonder! Look how handsome these two little guys look in their tuxedos while beaming from ear to ear. We are sure they had a blast.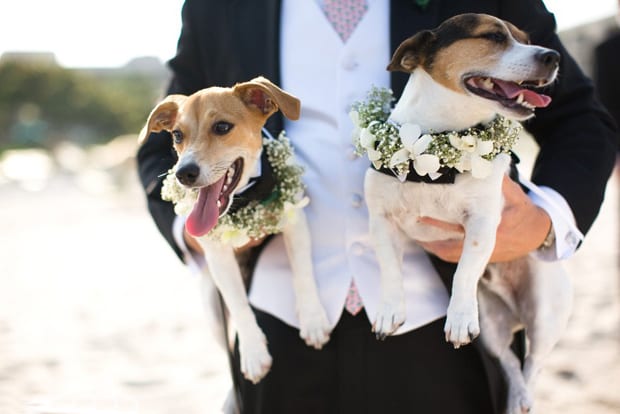 There is one thing that makes us wonder. As smart as Jack Russells are, they are also known for having a lot of energy and, because of that, for being rather naughty. We just hope these two guys were well behaved during their dad's wedding.
Labs and flowers
You have to agree with us! Dogs that wear flower garlands around their necks are adorable. But there is just something about cream Labradors wearing the flower garlands that makes them beautiful and serene. It might be the combination of colors.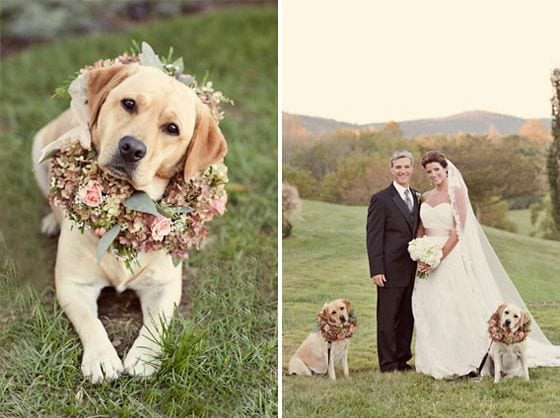 It might be their cute faces; we don't know for sure what it is. But we just love seeing these cream Labrador doggos posing next to their newlywed parents while wearing these beautiful flower garlands around their necks.
Inseparable
That's the first word we think of when we look at this picture of this newly wedded couple and their dog, even though we have a feeling that the groom and his dog might be more inseparable than the groom and his wife.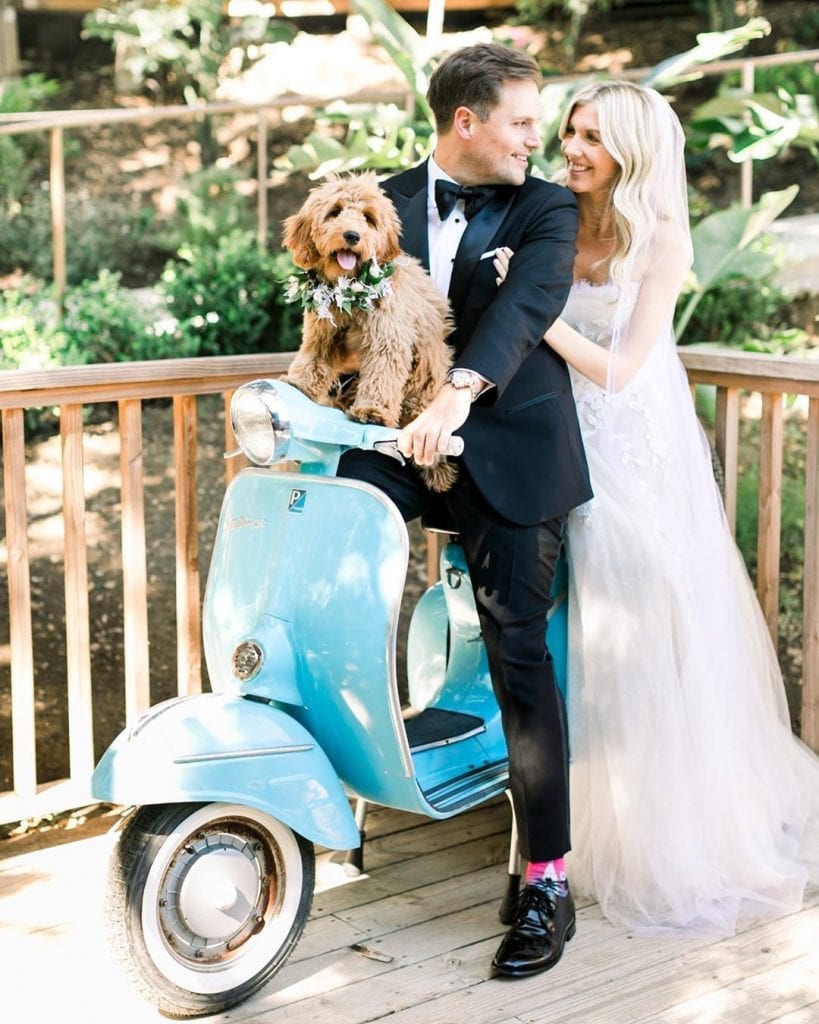 No matter the case, we love that they included their little friend in their wedding photoshoot too. We adore how everybody smiles happily. This photo deserves to be hung on the main wall in their living room.
Two out of three were not happy that day
Well at least that exactly what their cute yet angry little faces tell us. The two guys pictured below might not be happy with the decision their human parents made but the big smile on their big brother's face compensates for it.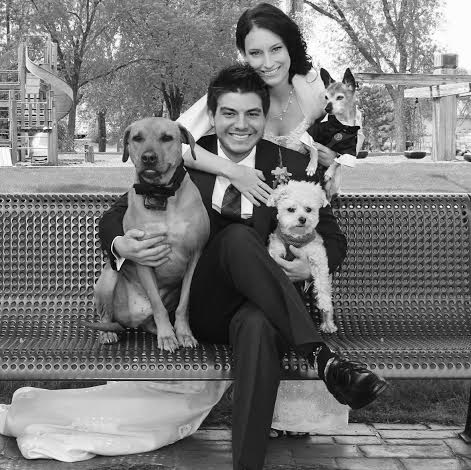 All we can do is hope that during the wedding reception, the two sulky doggos loosen up a bit and enjoyed their parent's special day and the treats the guests gave them. We know for sure their big brother enjoyed it to the fullest.
Double trouble?
Looking at this picture, we can't help but wonder if two weddings took place that day, or if these cute Dachshund doggies just wanted to match the bride and the groom. Nonetheless, the two look really posh in their wedding attires.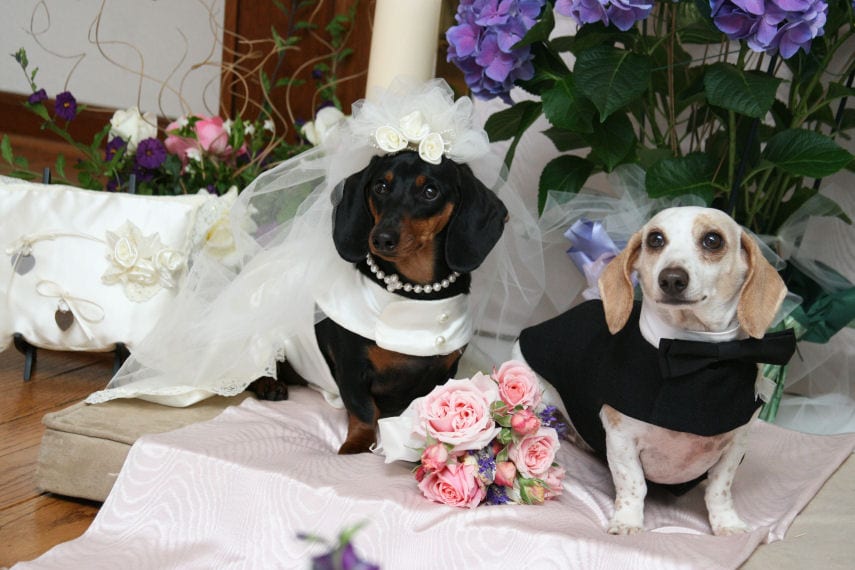 Bride's hairstyle is on point, jewelry is popping, the bouquet is rich and beautifully colored, and the dress… to die for. We have a feeling that she might have stolen the spotlight. We only hope the other bride was not that jealous of this doggy bride.
Good girl
Pitbulls or American Staffordshire Terriers, unfortunately, bare the stigma of aggressive and ferocious breeds. It is known that their master influences the behavior of a dog. Therefore a good master will always raise a good, gentle dog, and unfortunately, the opposite also applies.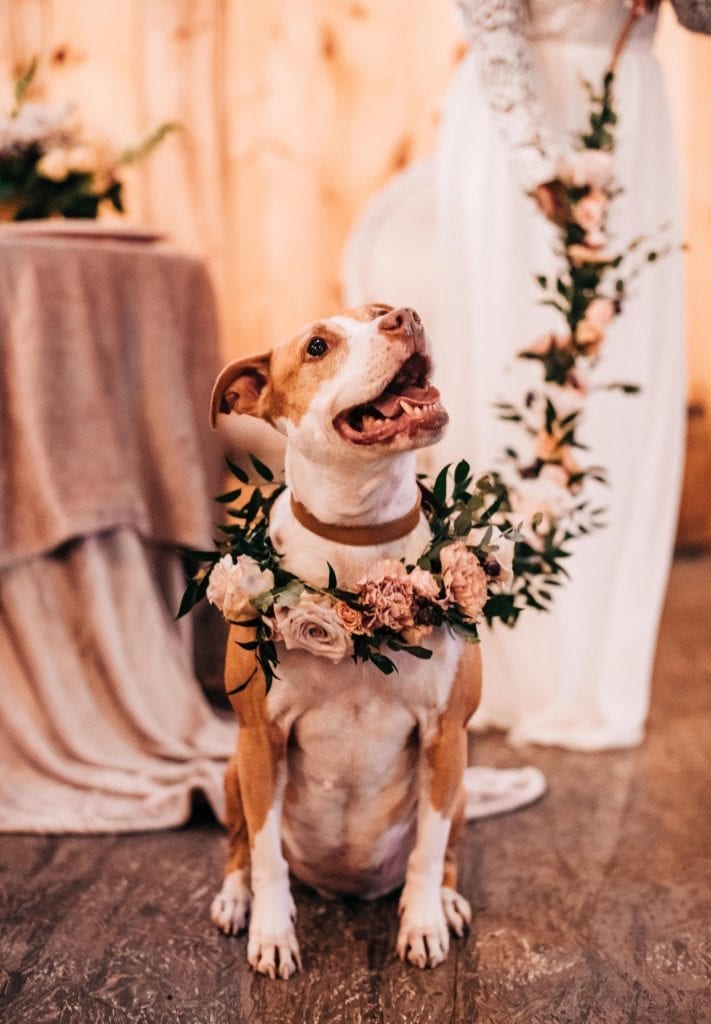 The beautiful girl pictured above is either a Pitbull or a Staffy, and she is definitely one of those to break the stigma. Despite her breed, she looks nothing like a ferocious dog. At least not with that big flower garland around her neck and her big smile on her face.
What a cheeky pose!
Another couple who decided that their most beloved four-legged buddy should be in the wedding picture with them. The real question is, do you think that doggy wanted to be a part of the marriage photoshoot? The pose she decided to do might tell us something.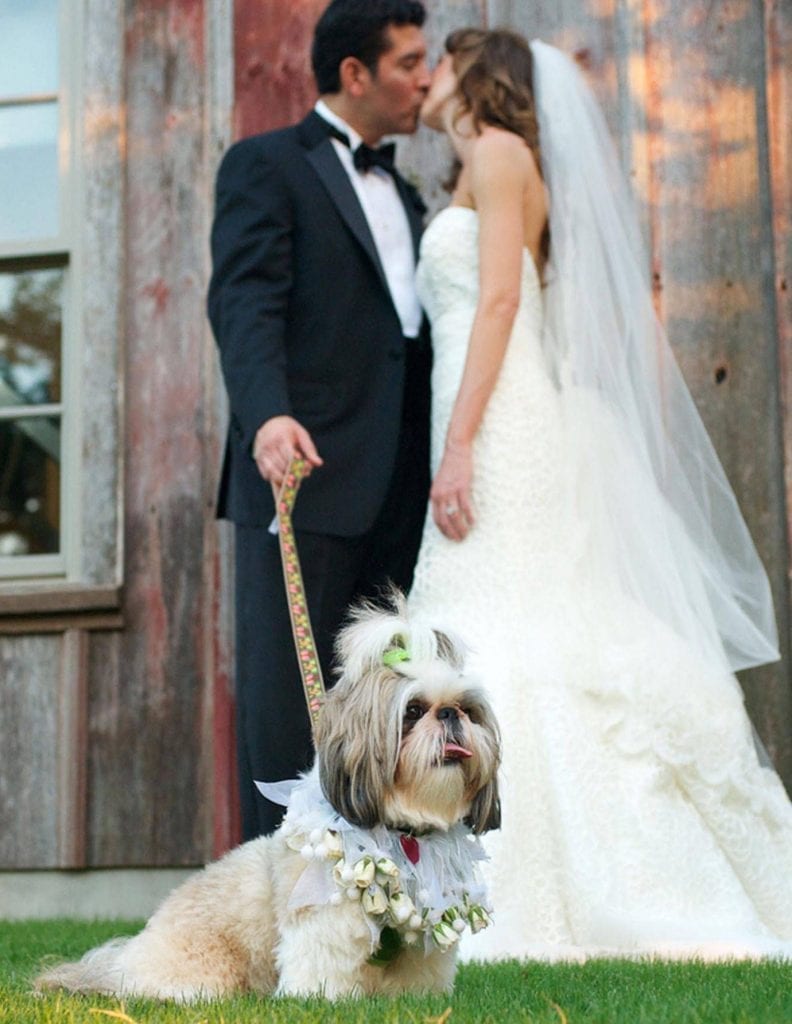 No matter if the doggy wanted to be a part of it or not, that tongue she decided to stick out is the element that makes the shot so cute. No offense to the married couple, but your dog managed to steal your spotlight.
Too old for this
There is something about the French and English Bulldogs that makes them look grumpy and annoyed all the time. It might be the short nose, might be the amount of skin and folds on their faces… nonetheless, you have to admit that they areadorable looking dogs.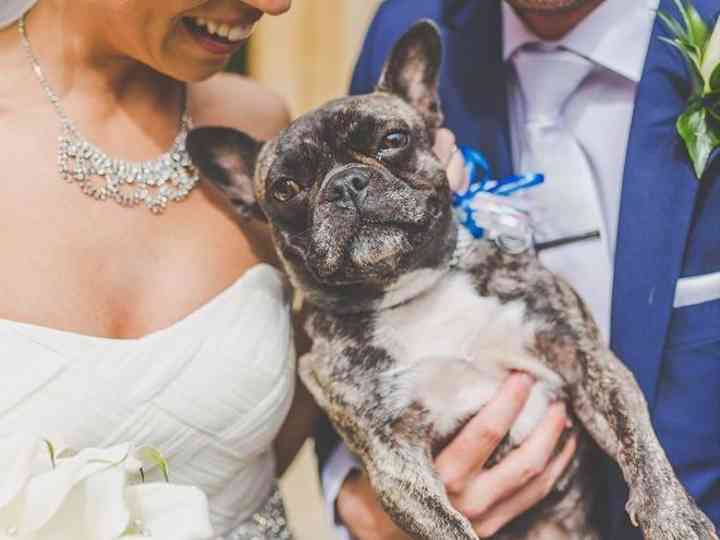 Looking at the picture above, we don't know for sure if this Frenchie dog is excited to be there at his humans' wedding or not. His white snout says something about his age, so all we can do is assume he's getting a little too old to enjoy parties, the crowds, and all the noise, but the smile on his face says he is loving the group hug with mom and dad.
Not a Lab, but close
We were just saying how beautiful we think cream Labs wearing flower garlands were when we bumped into this picture below. Yeah, we know, it might not be a Labrador, but it's kinda close. Golden Retrievers are literally Labradors with longer hair.
This picture makes us really happy. The big smile on this girl's face, the combination of colors, and her accessory matching the bride's bouquet. We just love this. Oh, and yeah! Excuse our manners. The bride and groom are not looking too shabby either.
Double wedding or?
Looking at this cute Poodle couple pictured below, we can not help wondering if they are attending a wedding or if they are actually getting married. While we're looking for an answer, let's take a moment to appreciate how on point these two guys are.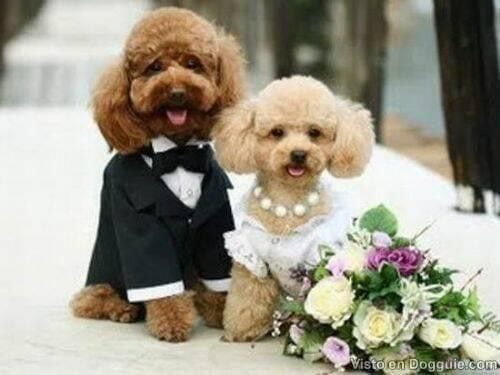 The bride's hair is just spectacular, the pearls are shining like no other, and the dress… honey, we need to know where you got that dress from. Let's not forget the groom. Look how suave he looks in his tuxedo. We just hope that there was no double wedding that day, because we all know already who would have won the silent competition.
Easily distracted
But all in all, a good boy, we assume since his owners decided to allow him to be a part of the wedding. But with all the wedding preparations and organizing, they might have forgotten that their four legged buddy can be easily distracted.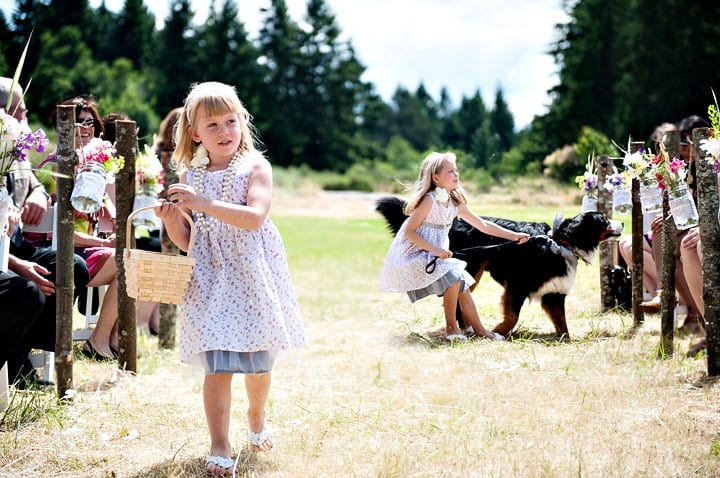 Or that the flower girl responsible for taking care of him and making sure he behaves during the ceremony is too small and not strong enough to resist if doggo will pull her. Nonetheless, it looks like the flower girl gave her best efforts so the day would not be ruined.
Family picture
What a beautiful family picture these three managed to take. The big smiles from ear to ear, the beautiful wedding attire (except for doggo who decided to go au- natural), the colorful bride bouquet, and the scenic background. Everything mixes up just perfectly.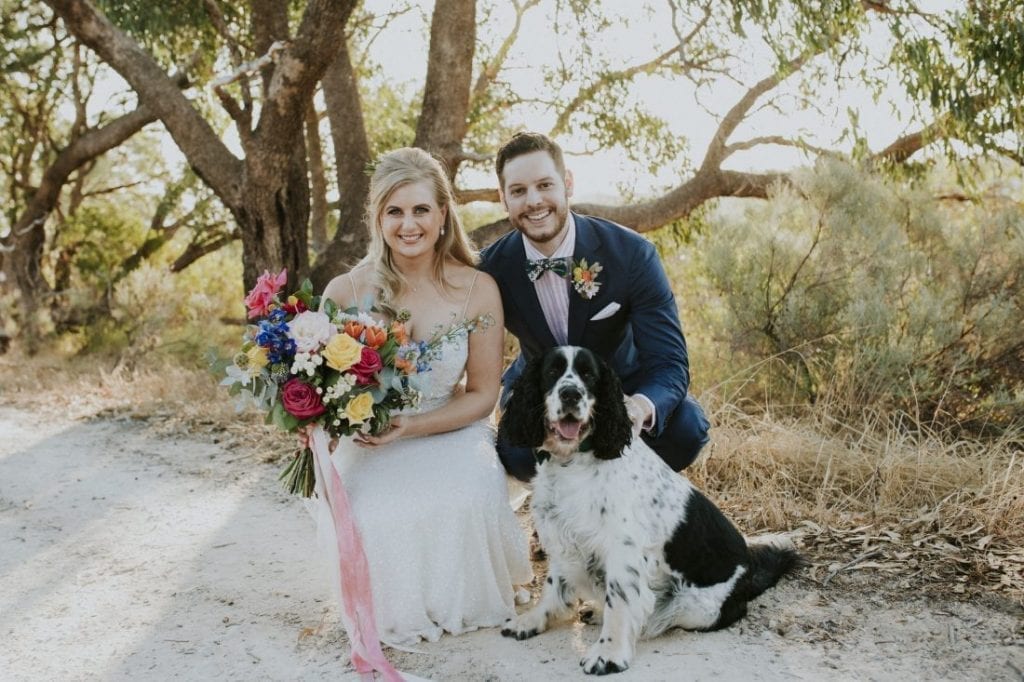 With such a beautiful family, we are sure the photographer did not stop after taking this shot. We are really curious to know how the rest of the shoot came out and also if that gorgeous spaniel has his contagious grin on display in all of them.
Cutest ring bearer
If you had a bad day or just want to increase your happy mood, you scrolled to the right place. Prepare to fill your heart with a huge amount of cuteness, love, and positivity. At least that's what we feel when looking at this little Chihuahua dog and his human mom.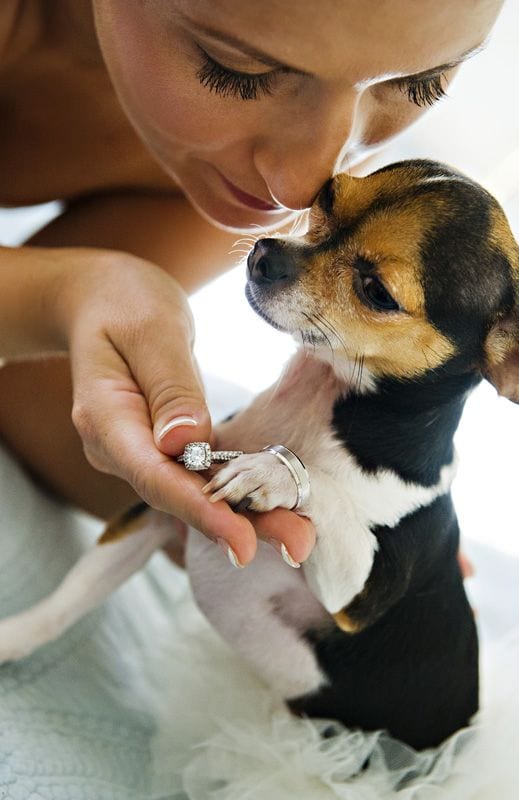 The love between the two, the tiny paws, thin enough to fit the wedding ring or his cute face and adoring expression … We don't know what it is, but our hearts just melted. The level of cuteness it's just too much to bear.
Border Collies and flower garlands
Yes, please! Turns out not only Labradors and Golden Retrievers look good wearing a big flower garland around their necks. Look at this smiley Border Collie pictured below. His fur looks phenomenal, and his flower garland is complimenting his look.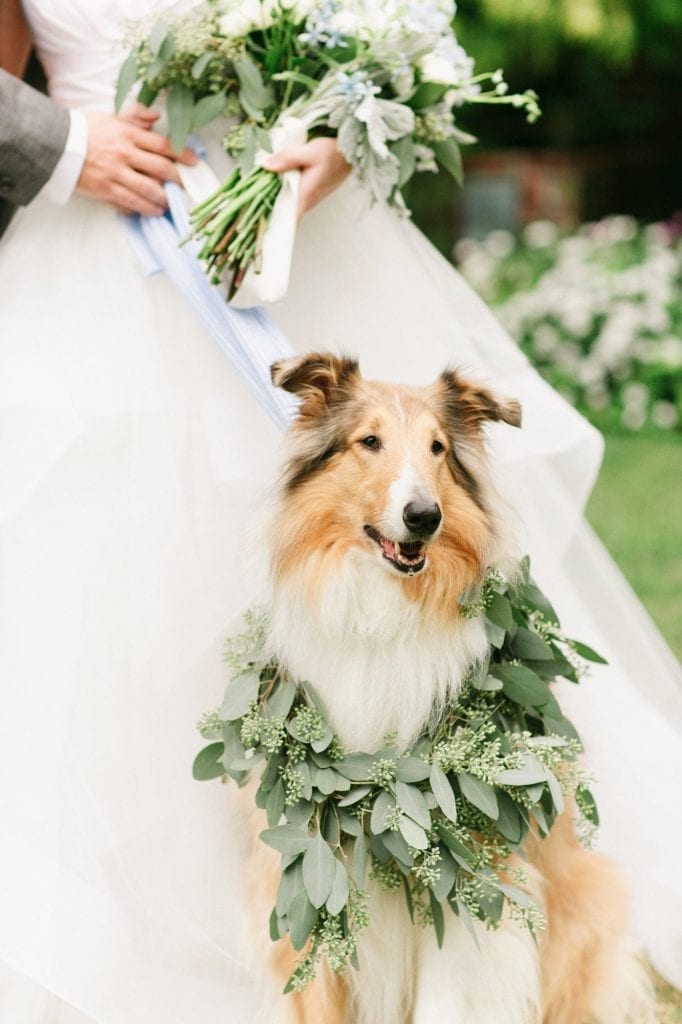 Not to mention, his flower garland is matching the bride's bouquet, while his white fur matches the bride's dress. He looks amazingly cute and, judging by the big smile on his face; it seems like he is aware of it.
The triplets that stole the show
The couple in the picture below decided to have a vintage wedding. The photo décor is in line with the theme, but the element (better said the elements) that really give the picture a vintage touch are the cute Beagle triplets.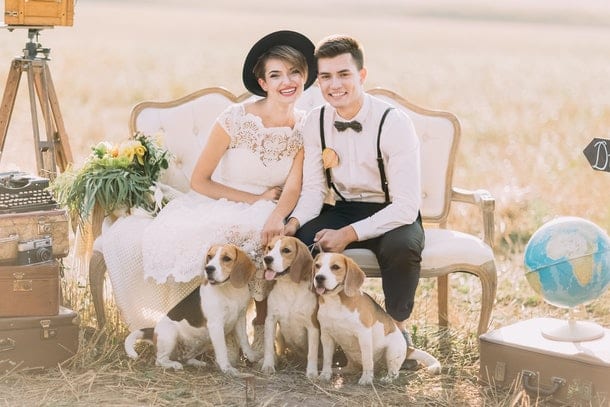 Wearing their fabulous coats that mother nature gave them, the three doggos (who, by the way, look like they were very well behaved that day) smiled and stuck their tongues out to the camera giving the photographer one awesome shot.
"My besties got married"
The picture below was taken in 2019. The couple decided to tie the knot after dating for 8 years, ever since high school. Morty, the black Poodle who is actually the groom's family dog, had to be there for the special day.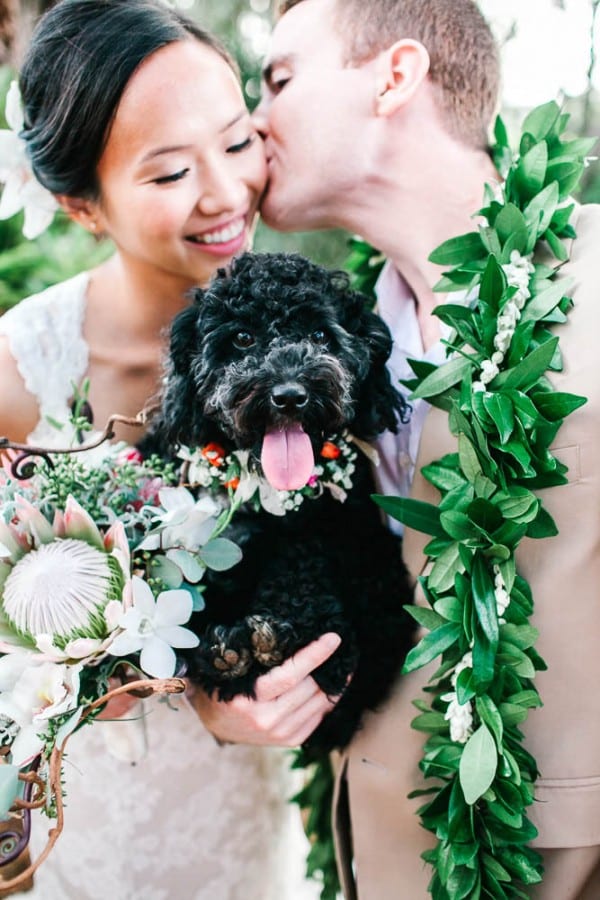 Morty joined the family when the groom was still in high school. The groom used to take Morty with him when going on dates with his girlfriend (who became his wife). You can see the excitement on this dog's face for his owner who got to marry the love of his life. You can also tell that she and Morty have such a cute bond too.
Album cover?
It may look like one indeed, but it is just a very cool groom's men picture. We can not decide what's the coolest thing in this photo. The background looks awesome; the groom's men's posing is on point; the groom looks fabulous in his suit, and we are loving the expression on the best-dogs' face..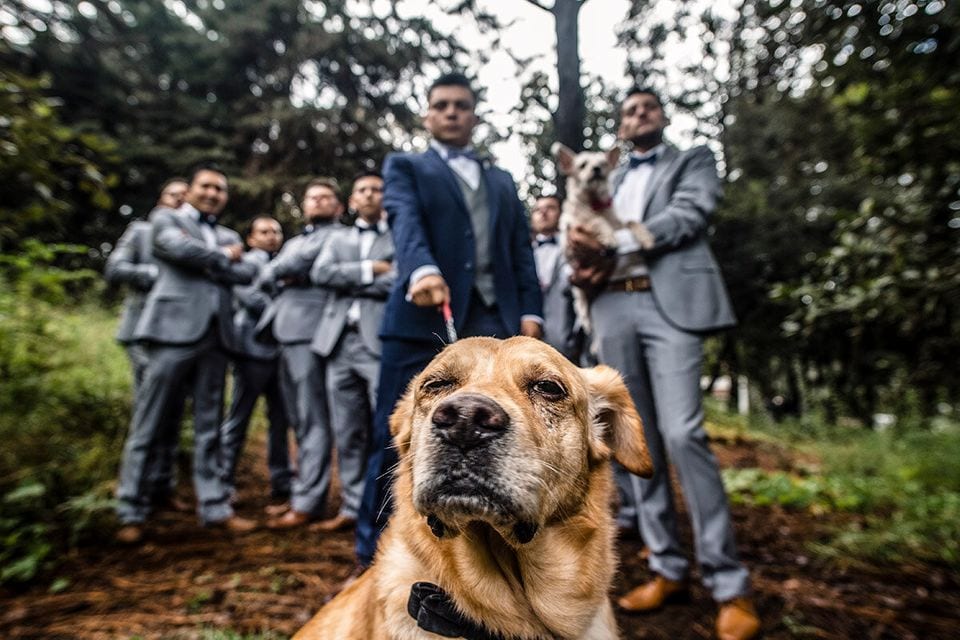 We adore everything about this picture, it's giving off boss- vibes, and we are wondering: if the groom's men's picture is this cool, what was the bride and bridesmaids photoshoot like?. We have a feeling that the ladies might have nailed it too.
Just another tired Bulldog
Here is another example that Bulldogs and weddings are a good combo, generally. This until the lazy Bulldog gets really tired and throws all sense of wedding decorum out of the window for the chance to take a quick nap under the main table.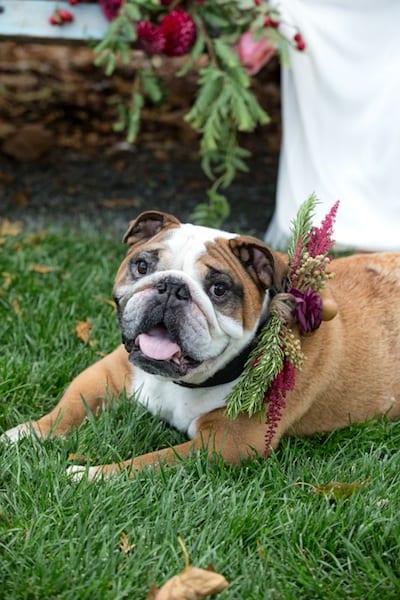 Lucky for this guy pictured above, the photographer managed to take the best picture of him before he gave in to his exhaustion. Even if this pup slept through the rest of the reception, at least the photographer got this adorbale pic of him first.
The teddy bear
The teddy bear looking dog pictured below will most likely steal your heart. At least that's what happened to us. The little Shi Tzu guy looks exactly like a teddy bear with his fresh new cut. The groomer knew what he was doing, for sure.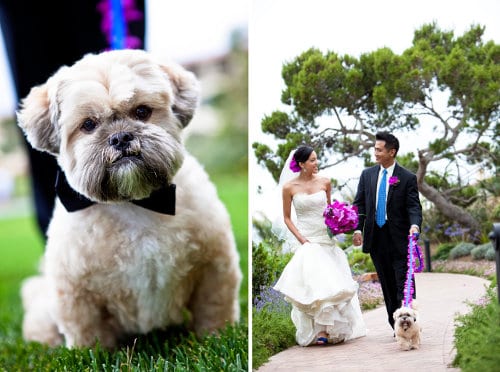 And his owners too. Look how they made this little boy's leash match his mom's bridal bouquet and shoes and his dad's tie and handkerchief. We love how he was not only included in the wedding and the photoshoot but also in the aesthetic. His human parents must really love him, and who wouldn't?
The famous wedding officiant
Imagine being so lucky that the wedding officiant you get to have at your wedding is nonother than the famous singer John Legend. A couple of years ago, John Legend and his wife Chrissy Teigen decided that their two bulldogs should just get married.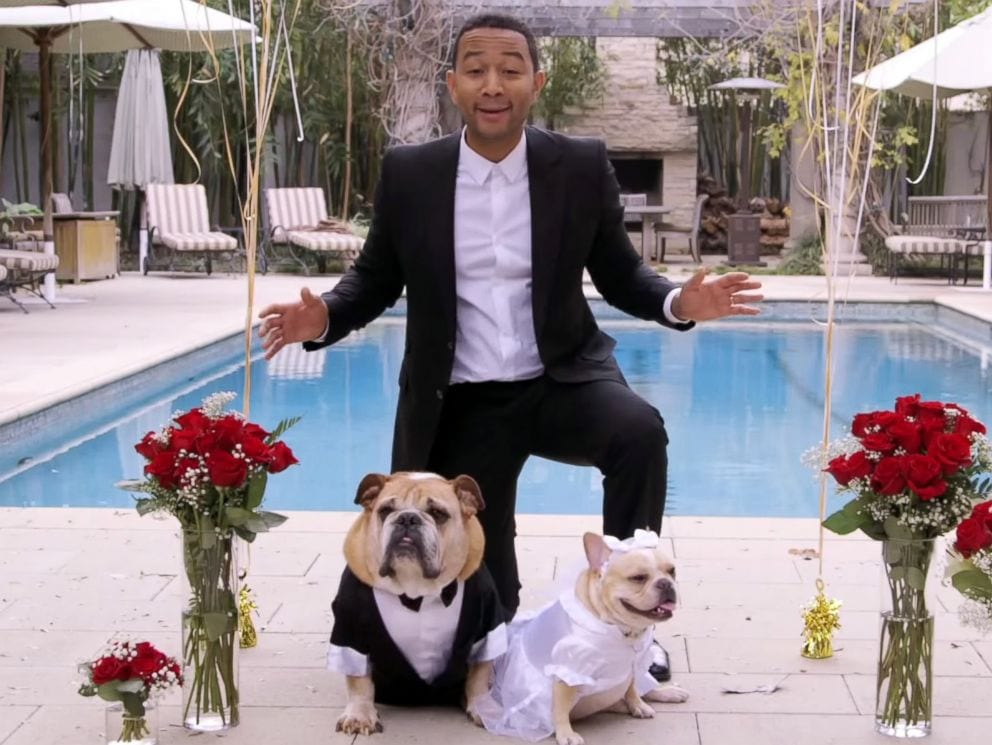 The happy couple (and no, we're not talking about Chrissy and John) tied the knot in the back yard, and the ceremony was officiated by the singer himself in the presence of Chrissy, Chrissy's mother, and their daughter Luna. Gotta love an intimate wedding.
Bare necessities
We decided to end this article in a funny and slightly cheeky way. We spoke about dogs that stole the spotlight with their fancy haircuts and clothes and their cute smile. But we did not really speak about the dogs that did the opposite of stealing the show, which was ruining it.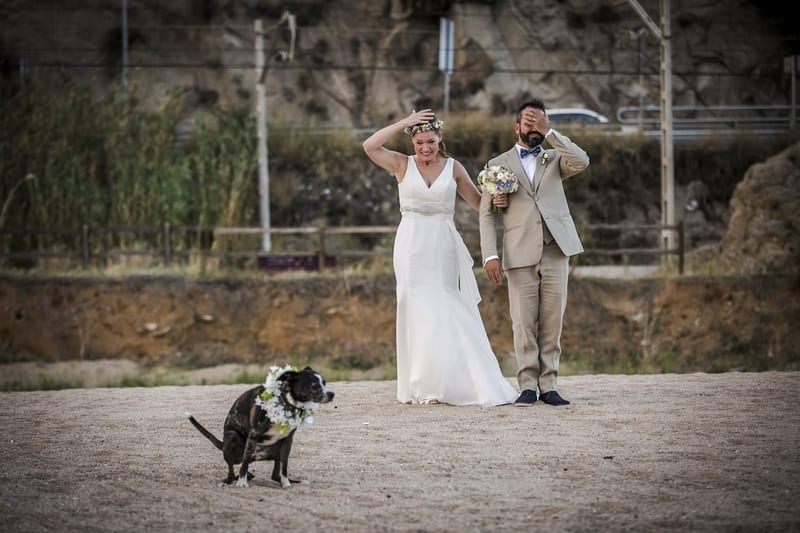 But hey, they might have done some things that were not in the best of etiquette, but we are sure it was unintentional like the poor pup pictured above. We're sure he did not want to go toilet in front of the camera. But an emergency of this kind can not be avoided, so let's try to be more understanding of this poor pup.