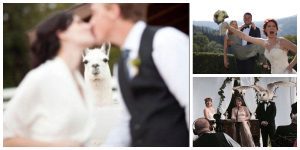 40+Epic Wedding Photobombs
By Dakota Rae L
---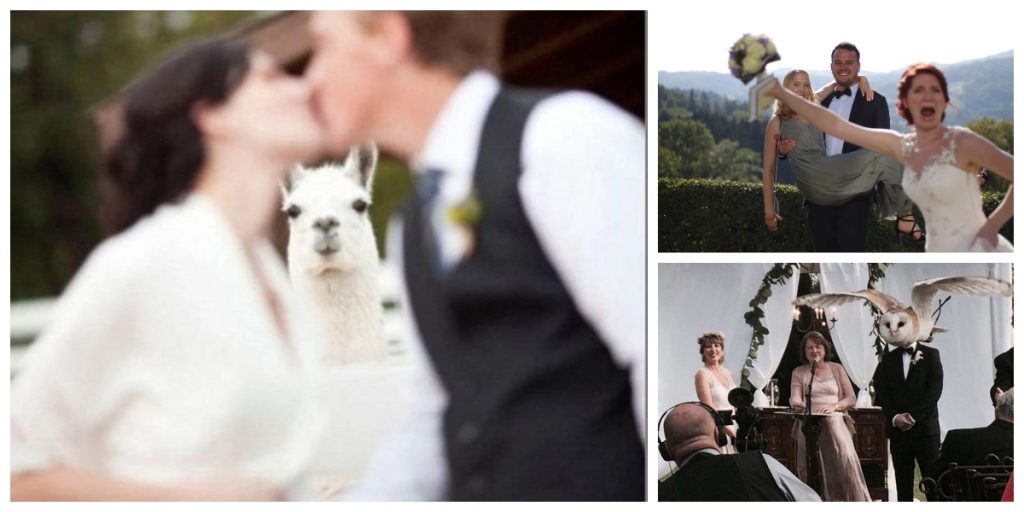 "Your wedding day is a day that you will never forget." This phrase is especially true for these sets of newlyweds whose wedding pictures turned out to be hilarious! We hope these newly married couples will cherish these photos, to have and to hold, for better or for worse. There is a lot of planning before the big day, but when it comes down to it, no one can predict what will happen at wedding day photoshoots. Whether they intended to or not, these wedding goers made themselves the life of the party with these ridiculous photobombs. If nothing else, these funny photos serve as a hilarious and memorable souvenir for the other party guests. But if you're planning on tying the knot, make sure to keep an eye out for these awkward photobombers on your own wedding day!
No time for pussyfooting around
It seems that this furry friend was not invited to be a part of the celebrations, but they decided to make themselves the star of the show anyway. This wedding crasher decided to show off their best angle, just as the photographer was about to take a photo of the happy couple.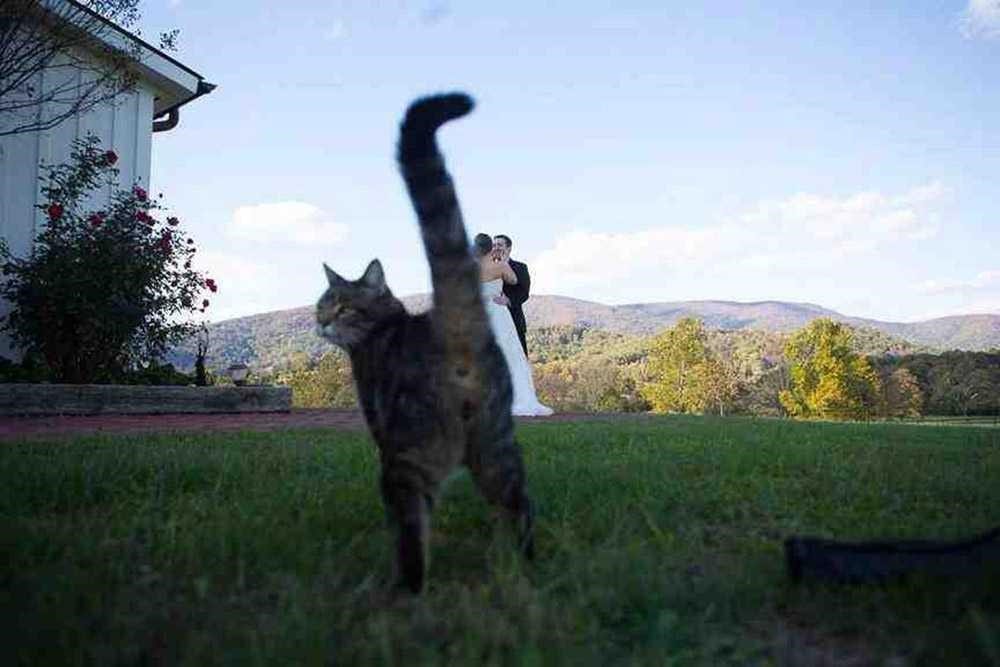 Purr-haps this will teach the newlyweds a lesson: to make sure they always include their feline friend in the festivities. The bride and groom may or may not appreciate this photo bomb, but frankly, we think it's the cat's meow!
---
Picking more than the flowers!
It seems like this wedding has a gold digger – only this time it's not the bride, but the flower girl! This adorable little girl chose a picture-perfect moment to "dig for gold!" Perhaps she misunderstood what the photographer meant when he asked them for a quick pic? Judging by the bride's smiling face, we can tell she has no idea what's going on right under her nose.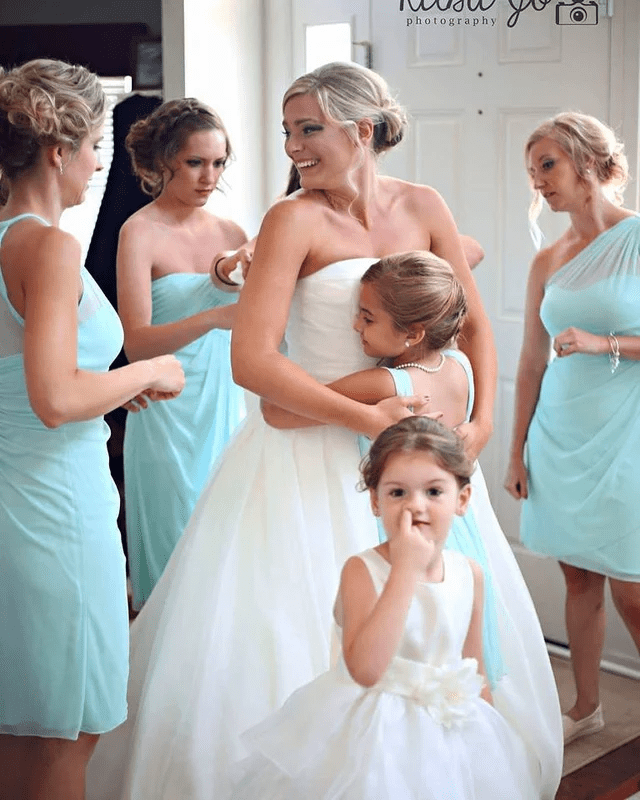 We're sure that this little girl's mom probably warned her to stay out of trouble, and "keep her nose clean," but this is taking it a little too far. We're hoping that the bride found this picture as funny as we do.
---
Looking Like A Fish Out Of Water
There's something a bit fishy about this photobomb, the bride and groom don't seem at all to mind sharing their wedding photos with this Trident toting merman. It must be because this is actually Aquaman himself, Jason Momoa! By the look on his face, we can tell this star must have felt like a big fish in a small pond to find himself in the midst of this local wedding!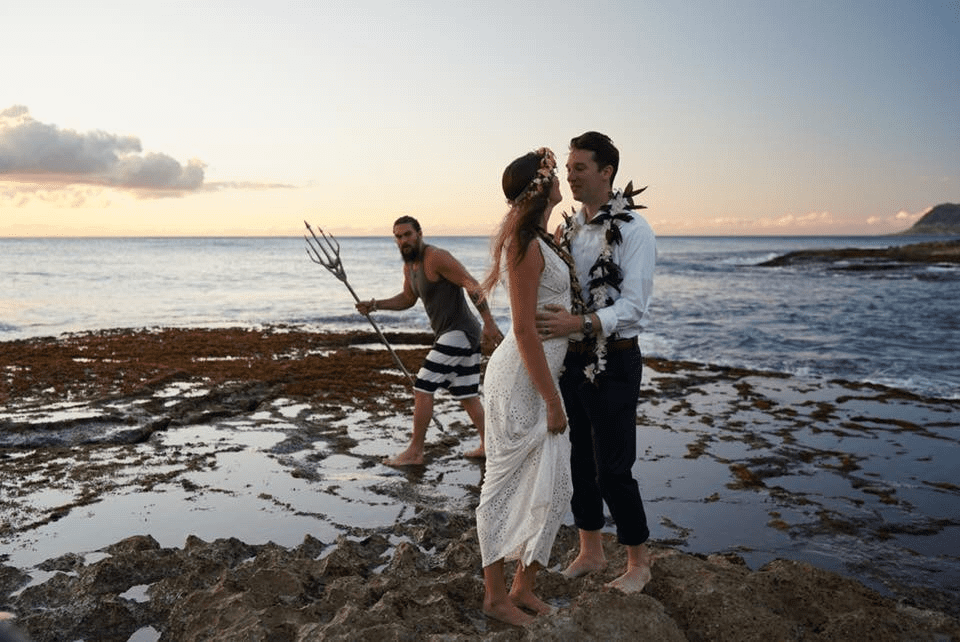 We're guessing that this couple were overjoyed to invite him to the wedding party. We don't know about you, but we certainly wouldn't count this photobomb as a kettle of fish on our big day. Unfortunately for Jason Momoa, this beautiful bride is already taken, but surely he knows that there are always more fish in the sea!
---
Heeeeere's Joanie!
This wedding goer seems to have misread the invitation. It was supposed to be a shining celebration, not a celebration of The Shining. We think it's about time to steer this party guest away from the open bar. No more red rum for you!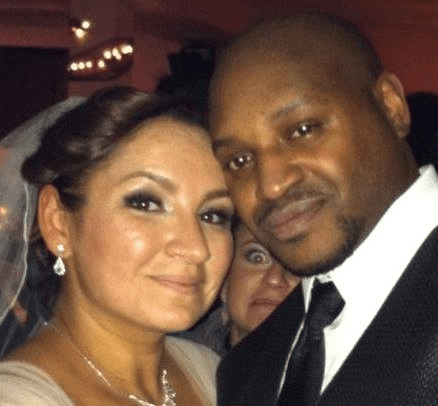 We're guessing that the photographer must have enjoyed taking this photo. After all: "All work and no play makes Jack a dull boy!" We're hoping that the bride and groom weren't too mad, but this guest might be walking on thin ice from now on!
---
Hay, Girl, Hay!
This eager guest seems determined to join the wedding party in this pic of the bride with her maid of honor. It seems like this woman really wanted to be a bride's maid but, unfortunately, it looks like she might be better suited to stand out in the field and keep the crows away.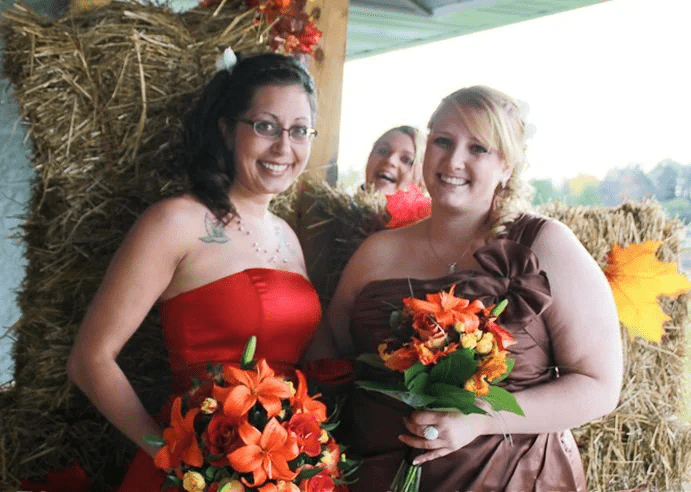 We hope that this wasn't the last straw for this bride, otherwise that guest might have some explaining to do. Hopefully, she has a good sense of humor. What can we say; sometimes you need to know when to bale!
---
Caught between a rock and a hard place
This unlucky person seems to have drawn the short straw, and been forced by their friends to climb the cliffside and retrieve their frisbee. We wonder whether the wedding party noticed the man sneaking into the photoshoot, or if he ever got his frisbee back.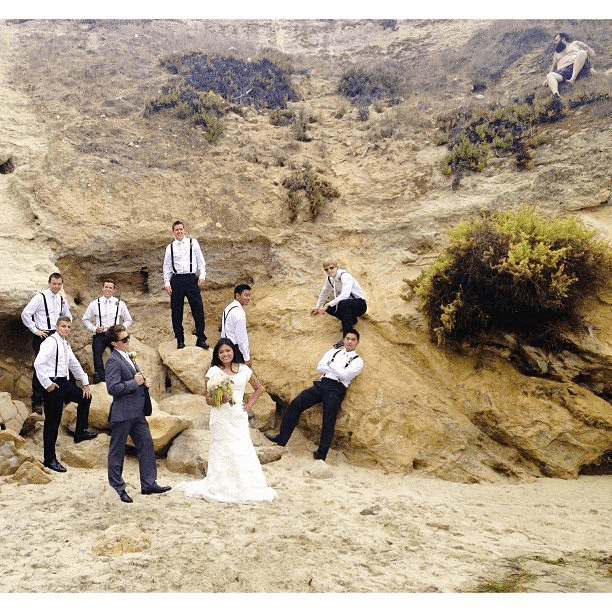 What a cliffhanger! Although this photobomb made us laugh, it should be easy enough for the photographer to crop this climber out of the picture. This is one funny photo that we wouldn't be mad about having in our wedding album!
---
No, I Don't Want No Scrub…
A scrub is a guy that can't get no love from us. That is, unless he's Scrubs star Zach Braff – pictured here photobombing this lovely couple, posing in the midst of a New York crosswalk. These lovebirds must not have been eating an apple a day to keep this doctor away.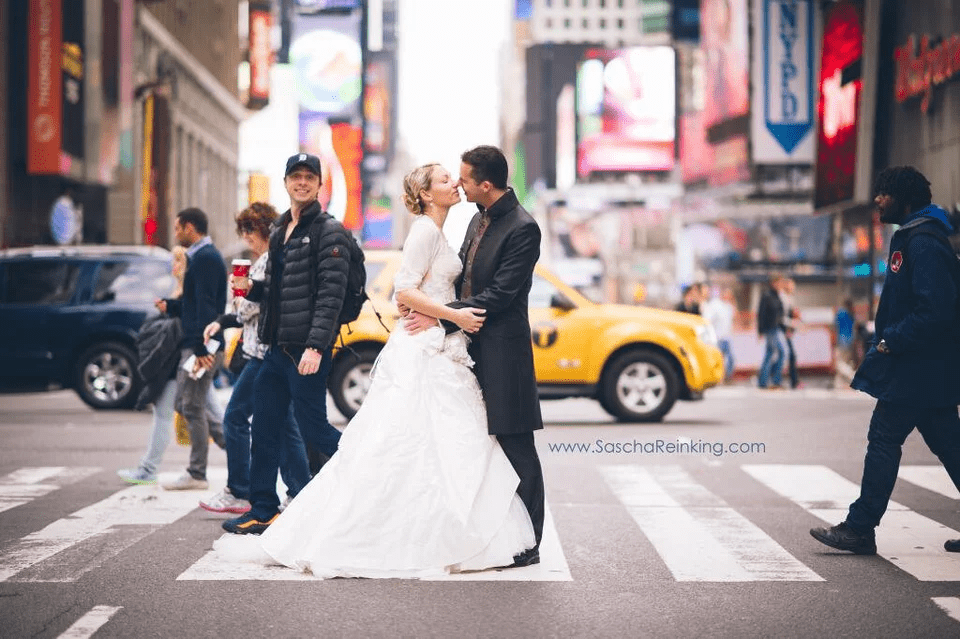 We actually think the bride and groom will be thrilled to find this cameo in their wedding album. Rather than ruining the picture by stealing the spotlight, he's giving a genuine smile for them. It's just what the doctor ordered!
---
Jumping for joy
This groom must have been excited to take the leap on his big day. While his gorgeous bride was posing, he jumped at the chance to prank her with this silly pic. We hate to leap to conclusions, but it seems that this eager groom is jumping in with both feet.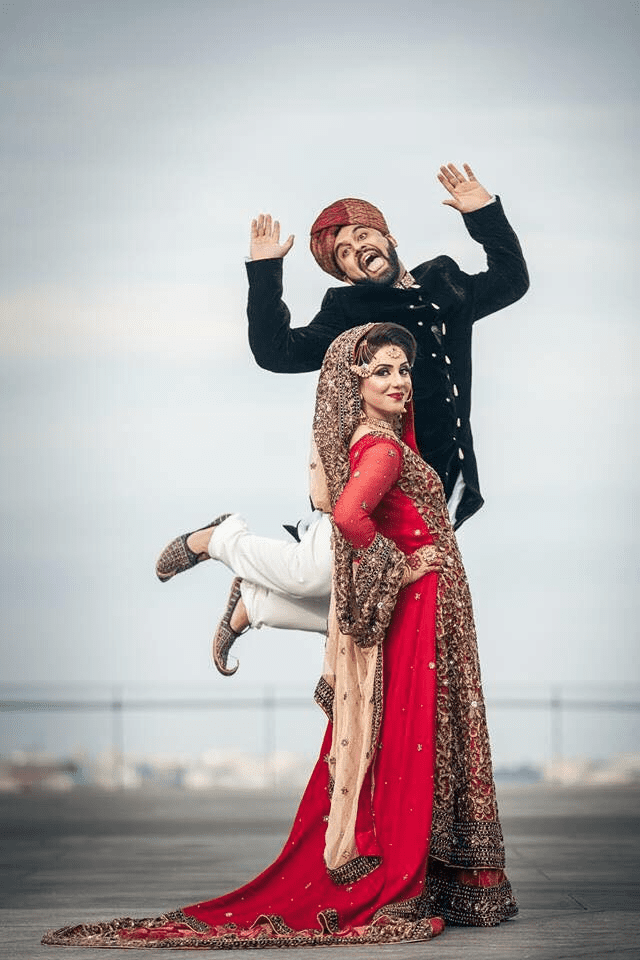 We hope this bride knew what she was getting herself into. it's always best to look before you leap. If we had this kind of surprise during a photoshoot, we would be likely to split our sides laughing! She does look quite happy.
---
Pitcher Perfect
This guest seems to have decided the lovely couple needed some soothing background music for their photoshoot. From the look on their faces, we're guessing the newlyweds are regretting their decision to have an open bar. They'll just have to grin and beer it!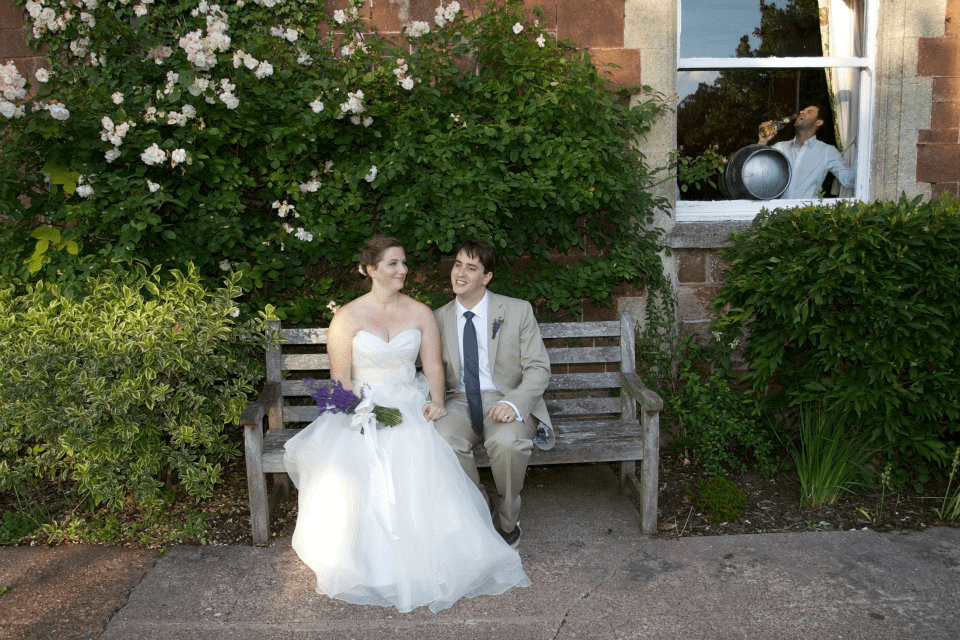 We wonder what song he might be singing into his beer bottle microphone; perhaps "Don't Worry, Be Hoppy" or "Smooth (H)operator?" Whatever it might be, we bet that this bride and groom did not expect to be serenaded so enthusiastically!
---
Purrfect Timing
This tabby chose just the right moment to give the camera a curious lick. We can't imagine it tasted very good, but it did make for a great gag picture! This bride and groom look lovely, but this cat seems to think that love stinks!
Although we're sure this cat is safe and sound, it had better watch out when the bride sees her wedding day photos. Apparently this kitty doesn't know the old adage about what curiosity did to the cat! Looks like it might learn.
I Object!
It seems like this groomsman has something very important to say. It's so important that he's about to trip right over the photographer! We hope that he's not on his way to stop the wedding, as it seems a little late for that!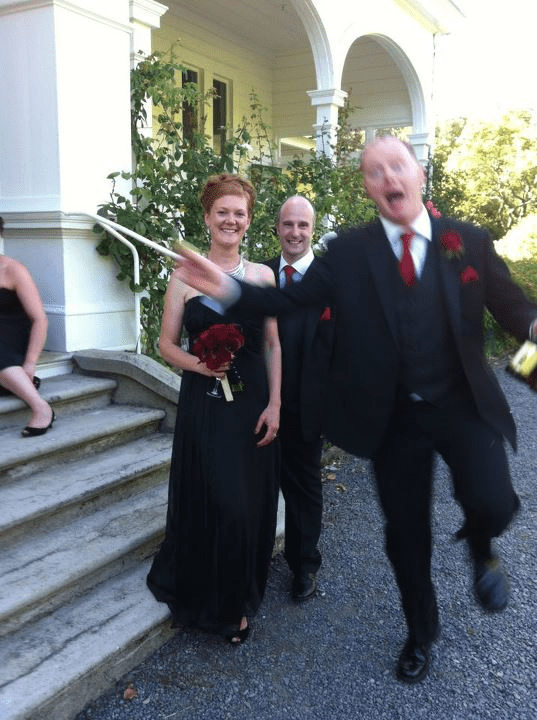 What else could this well-dressed man be in such a rush for? Perhaps he was being chased by some ravenous bridesmaids. Whatever the case, we will just never know for sure. it does look likes he's smiling. Maybe he just really wanted to be in this photo.
A Wheelie Beautiful Wedding
Arguably, this wedding party is actually doing the photobombing in this picture of an otherwise sporty cycling photo. We wonder how many tries it took to catch this bicycle trick on camera, and whether the photographer intended to catch the wedding in the background.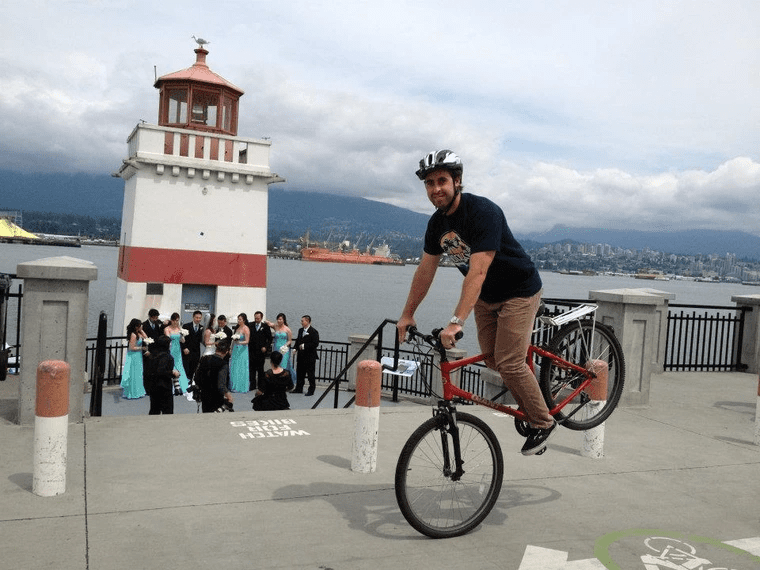 The wedding party certainly does look great in front of that lighthouse. Luckily, this silly cyclist won't be ruining any of their pictures, even if they ruined his. For the wedding photographer, this might mean their ship has come in!
---
If you can't beat 'em, join 'em!
These two couples both decided to take their wedding day photos in front of the same hotel. This meant each couple ended up photobombing the other. Well, at least they didn't have any reservations about taking the pictures despite this.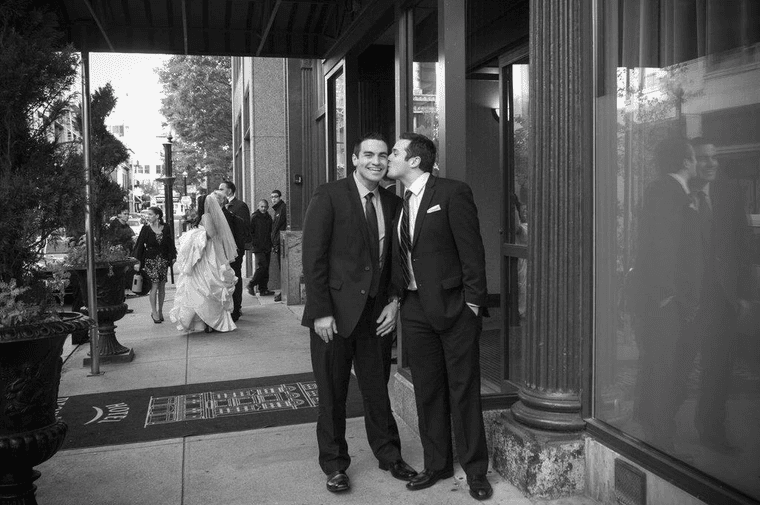 Even with this unusual double photobomb, we think that each of these couples look great. They say, "great minds think alike," and we like to think that these two couples crossed paths for a reason! Maybe they became friends after this.
---
Having a Whale of A Time
This marine mammal clearly doesn't know that it's poor taste to wear white to a wedding! The curious Beluga Whale came to investigate the ceremony happening beside it's tank in the aquarium. Far from being angry, the bride seems to think that the ceremony is going swimmingly.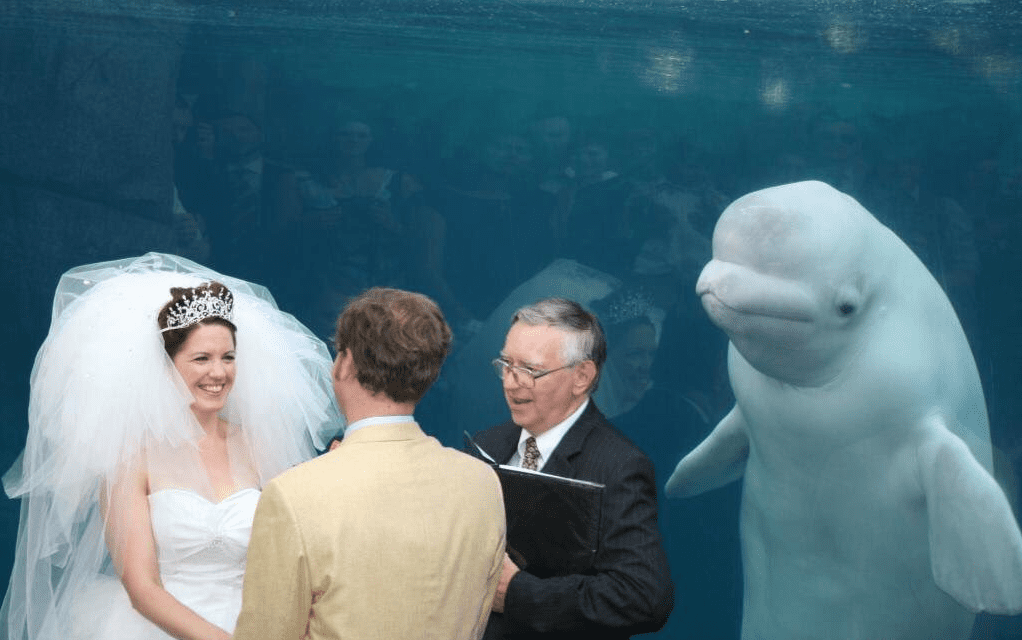 We would be curious too if we were this whale. If someone asked you to have your wedding in the aquarium, would you dive right in? If it weren't for the photographic evidence, we might think it was a tall tale.
Gazing At The Scene
These party crashers seem to have misread the dress code "fancy dress" as a costume party, instead of a formal event. Too bad they can't take off the masks! This group of raccoons are very curious about the wedding taking place.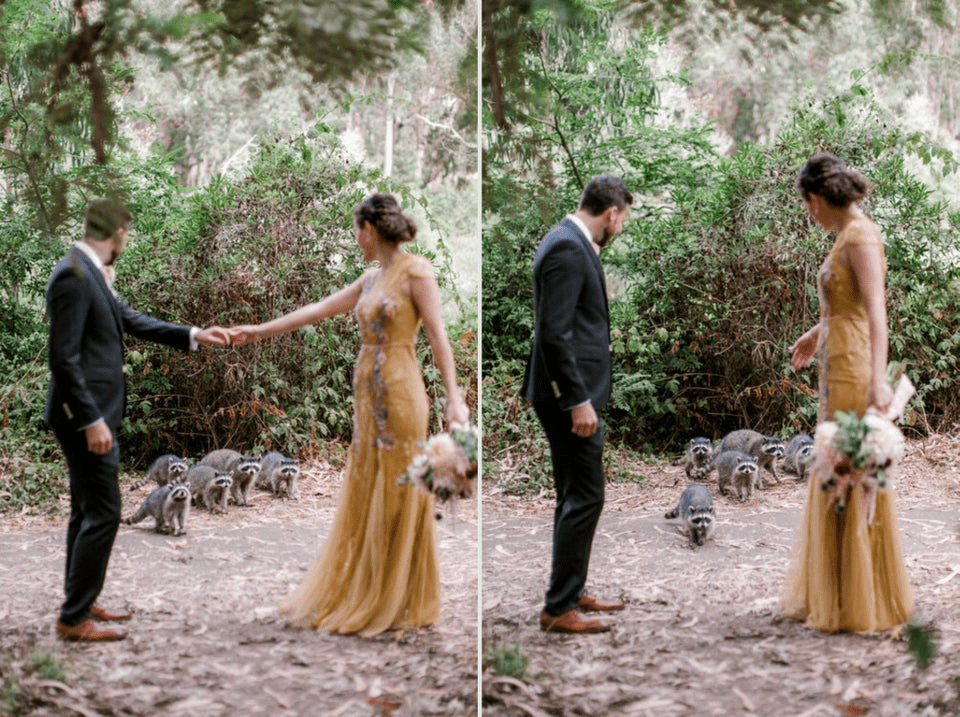 We certainly hope the bride and groom have room for a few more small guests. This family of raccoons seems intent on joining the party, whether they were invited or not! Please don't forget to RSVP: Rabies Shot & Vaccination, Please!
---
---
Best Served Cold As The Ice Sculpture
Just like a wedding cake, revenge is sweet. It seems that this groom got his share of both when it was his turn to be the best man at the wedding of his friend. The friend had previously photobombed his ceremony, and you can clearly see the satisfaction on his face.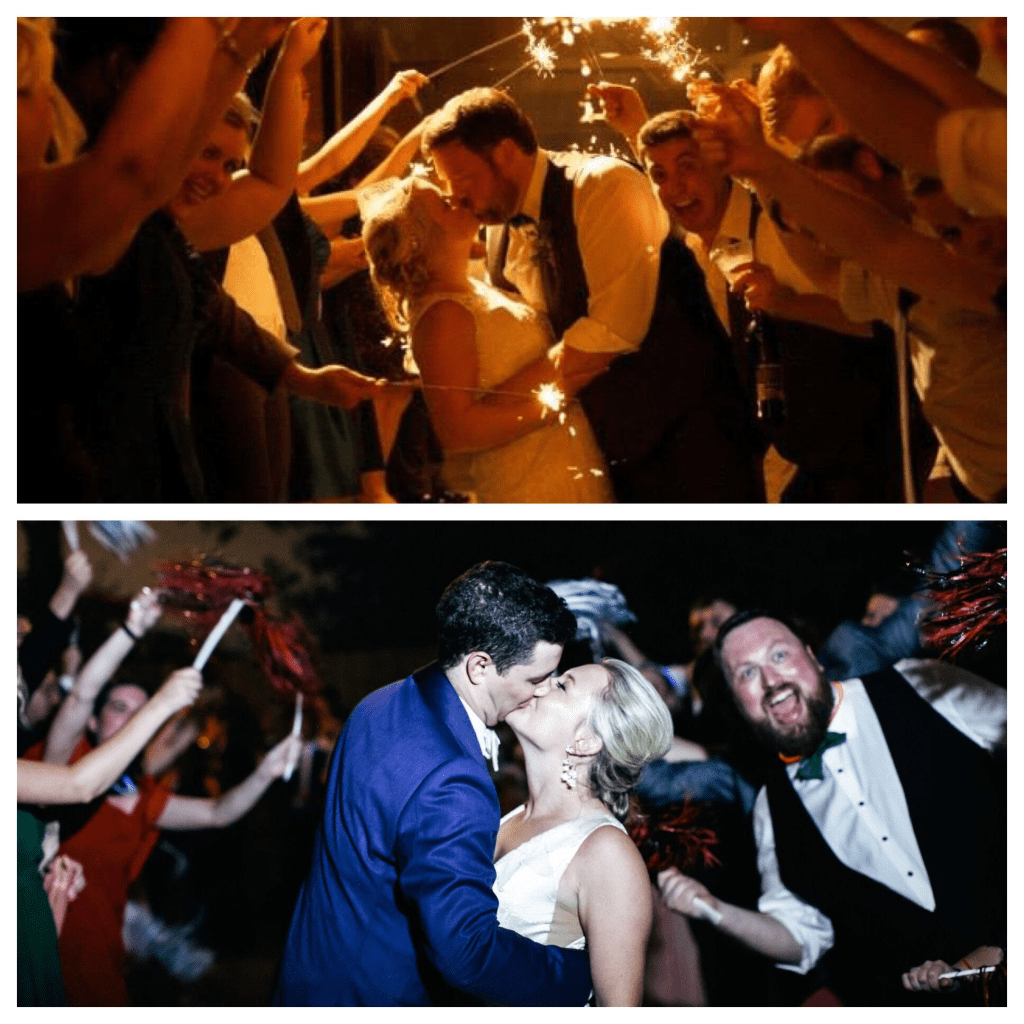 We hope this happy couple didn't spend too much time agonizing over the seating chart, because the tables have turned! It must feel good to finally get back at his friend for this silly prank. The results are truly adorable, though.
Giving Them The Cold Shoulder
Apparently tying the knot at the zoo seems to be a new trend. this could be because it offers extraordinary wedding guests, such as this polar bear. However, the bear doesn't seem overly interested in joining the party. Swimming right by without a "congratulations" – now that is as cold as ice!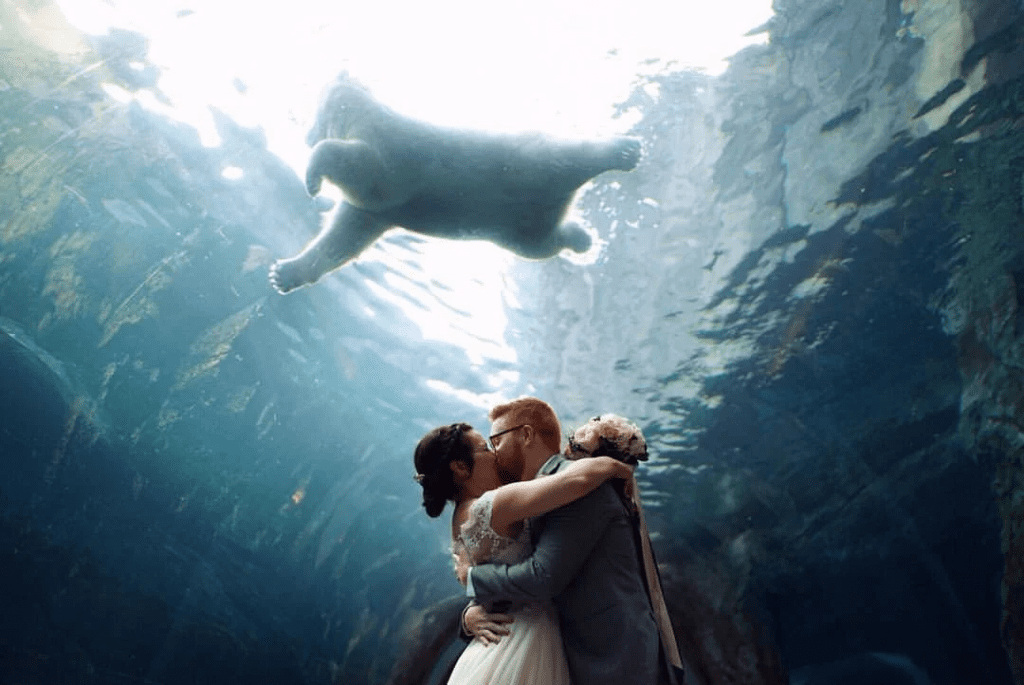 Perhaps this new husband and wife just need to give the bear some time to warm up to them. A good start is to tell it a joke: How much does a polar bear weigh? Enough to break the ice!
Winner, Winner, Chicken Dinner!
This groomsman must have felt pretty cocky when he was chosen to be in the wedding party, but you shouldn't count your chickens before they hatch. The poor guy was tasked with catching the farmyard rooster while everyone else got to take photos!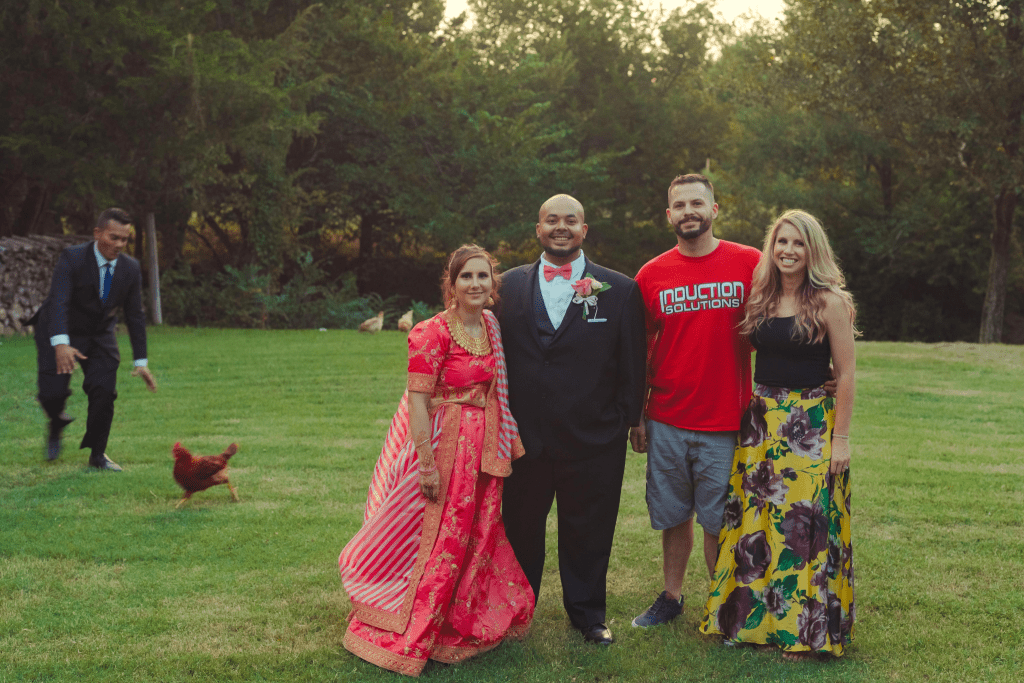 We wonder what he did to deserve this punishment, but either way, it seems like the chickens have come home to roost. He might rethink accepting any invitations to be a groomsman in the future, but at least he tried his best, rather than chickening out.
Walk This Way
This blushing bride-to-be was star-struck when she ran into the Aerosmith singer, Steven Tyler, during her bridal photoshoot. We're sure the musician gave her a little inspiration for the wedding ceremony: "Walk this way, talk this way, give him a little kiss like this!"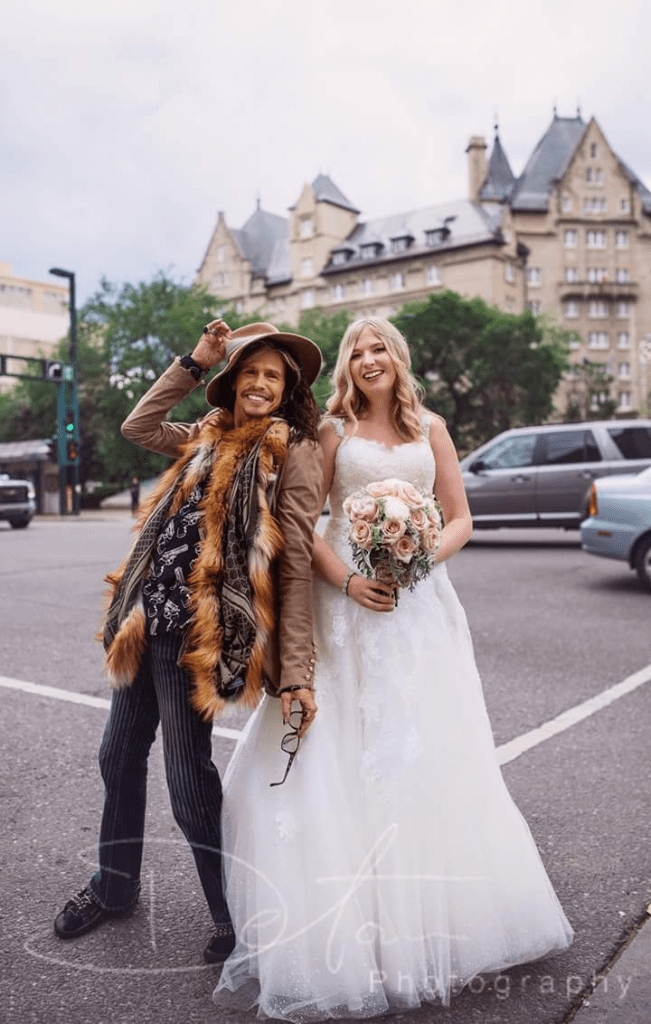 She was lucky to catch the famous singer in the parking lot outside of her hotel. Everyone knows that on your wedding day, you don't want to miss a thing, so this bride will be happy to have this memorable souvenir.
When you've found the one
These "Neo"-ly weds dodged a bullet by booking their reception at this restaurant rather than a private banquet hall. It provided this photo opportunity with The Matrix star, Keanu Reeves. We would be blown away to meet this celebrity in public, but this lucky pair decided to shoot their shot by asking him for a photo.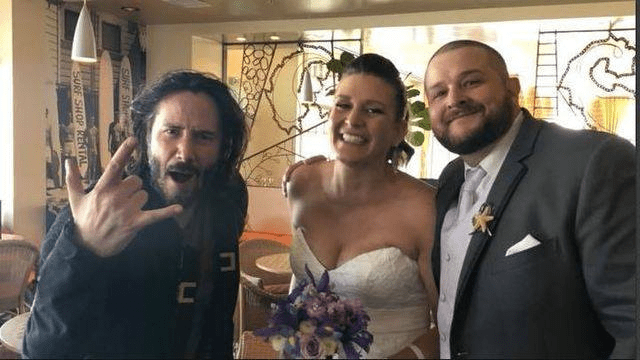 We're glad that this happy couple stuck to their guns and didn't shoot themselves in the foot. Now that these two are off on the adventure of married life, we hope they will be nothing but excellent to each other.
You've got to be kitten me!
This bride is going to have kittens when she finds out that this shot of her first married moments was eclipsed by this little cat. Where did it come from? The photographer will have a field day trying to untangle this ball of yarn.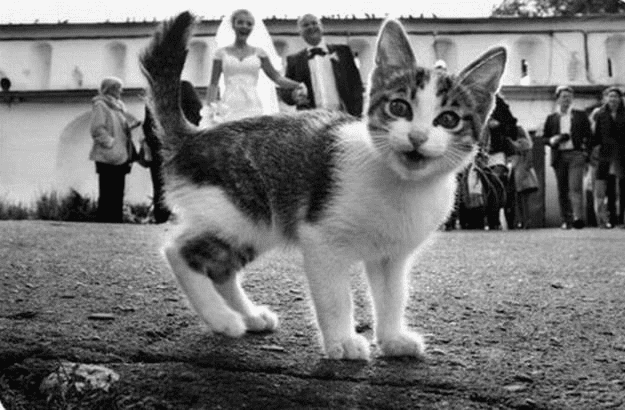 We just can't stay mad at that adorable little feline face. At least, for the bride's sake, it wasn't raining cats and dogs that day. Then, the photographer would have had to whisker away to an indoor location for the photoshoot.
Oh, Deer!
This couple just wanted a scenic spot for their photoshoot, but we're guessing they didn't anticipate this furry friend to join them in these special photos. This curious deer seems to have taken a particular interest in the bride's bouquet!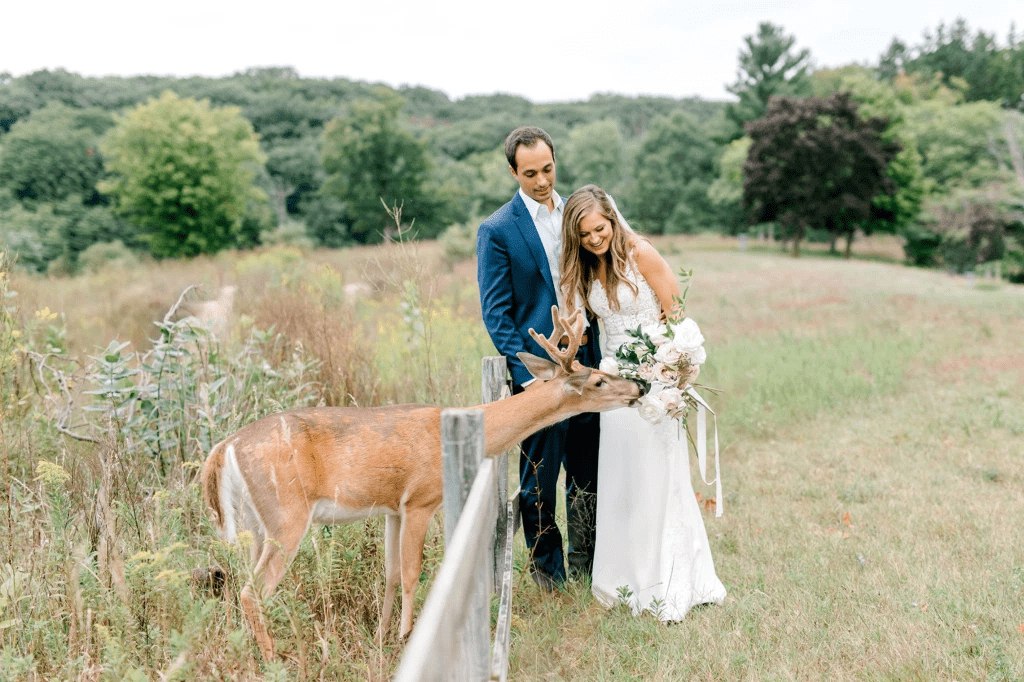 Every newlywed couple looks forward to receiving a couple bucks from their wedding guests, but we're guessing this one came as a surprise. The animal must be a little confused – maybe he heard there was going to be a stag party!
Hakuna Matata
Far from the African savannah, this meerkat has made its way into a Scottish wedding! The couple decided to host their nuptial photo shoot in the local zoo, giving their photographer a chance to catch this four-legged friend in action.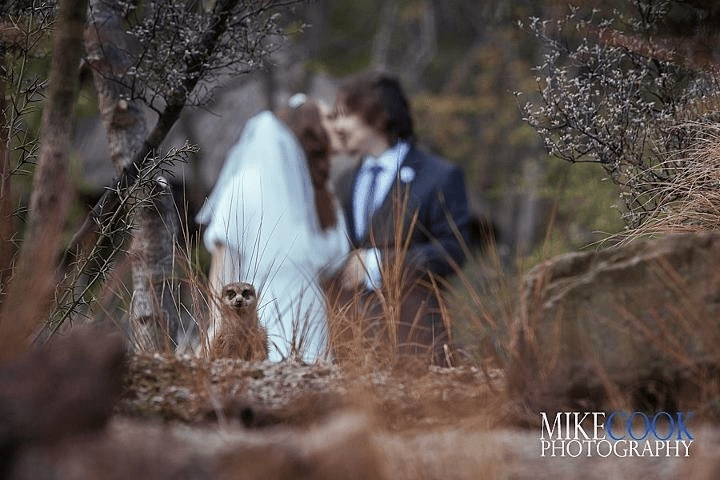 This furry fluff ball doesn't seem bothered by the appearance of these fancily dressed visitors. He looks perfectly pleased with himself, and his pose in on point. We're guessing he lives by a worry-free philosophy. Although it does make you wonder, where's the warthog?
Bear With Me Guys..
This enthusiastic guest looks more like the mascot than a member of the wedding party, and he certainly is trying to spread some cheer. Although stunts like this make us giggle, he really ought to bear in mind that hiring a photographer can be expensive!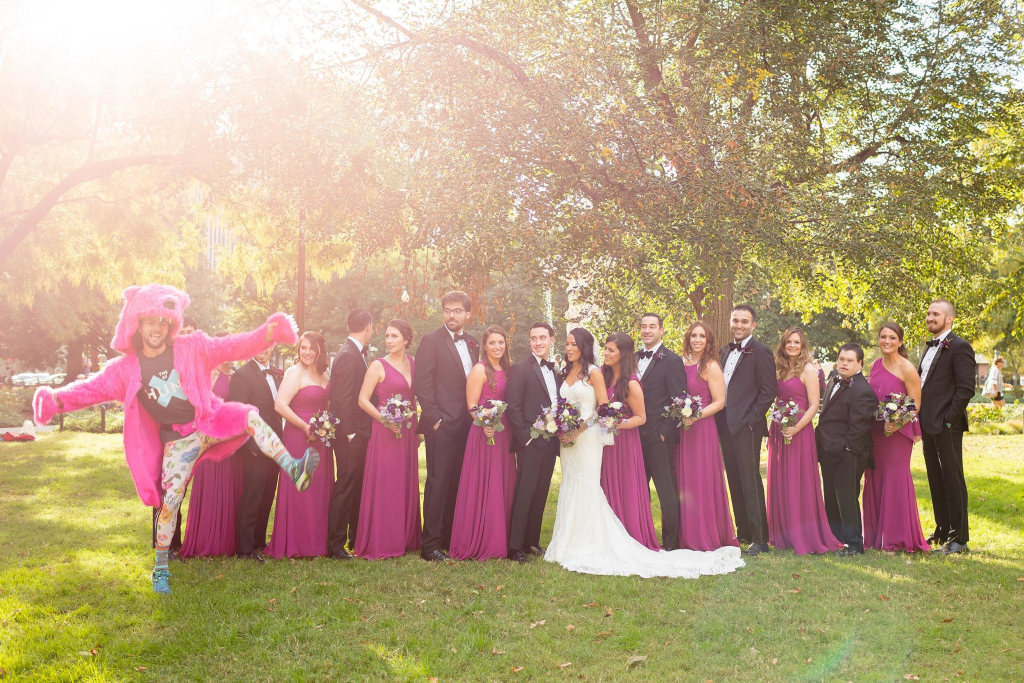 We hope that this bride and groom are amused by these antics. Otherwise, things could get grizzly for this particular friend. Luckily for this costume wearing culprit, it looks like he could bear the brunt of their retaliation, whatever happens.
26. Is This The Way To The Luau?
Having a wedding on the beach in Hawaii always seems like a romantic idea, but, as these groomsmen soon found out, you often have to contend with tourists to get that perfect picture. It's not clear whether the shirtless beachgoer is even aware that is crashing the party.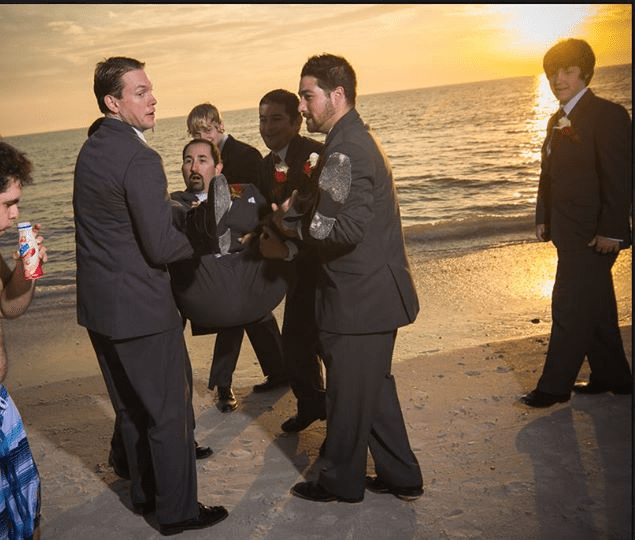 At least the groomsmen are here to support the groom in his time of need. There's no way this groom is getting cold feet! It's a shame that this beach bum interrupted the photo; it would have been quite an uplifting image!
Better Start Backpedaling!
This apologetic cyclist clearly feels sorry for accidentally photobombing this lovely scene. We doubt that this one was intentional. She doesn't seem like the type that would take them for a ride. She's trying to speed through as quick as she can.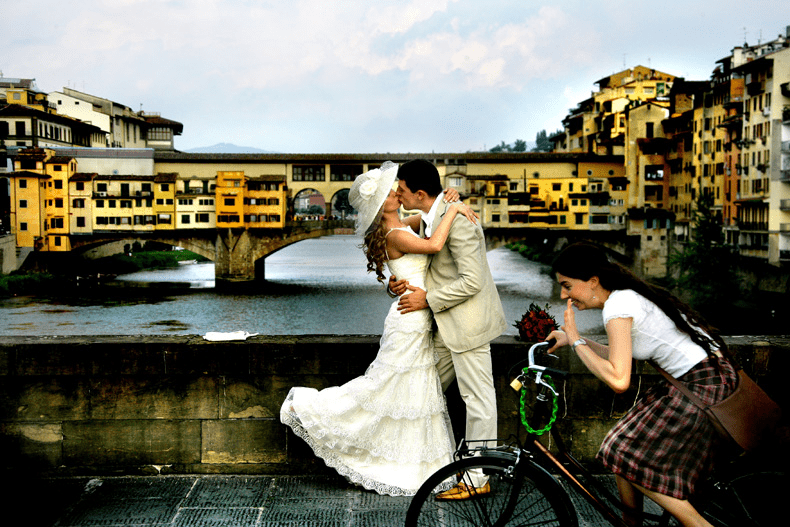 We blame the photographer's timing for this shot. Surely they saw the cyclist coming, and mistimed this shot. Perhaps they were a little rusty. Oh, well. Surely the next few shots turned out better. After all, it's just like riding a bike!
She's no cold fish
This creative couple really committed to this underwater photoshoot when they decided to dive right in! Although the couple look incredible in the aquatic environment, it looks like they didn't plan on encountering any wildlife! Check out this little photobomber.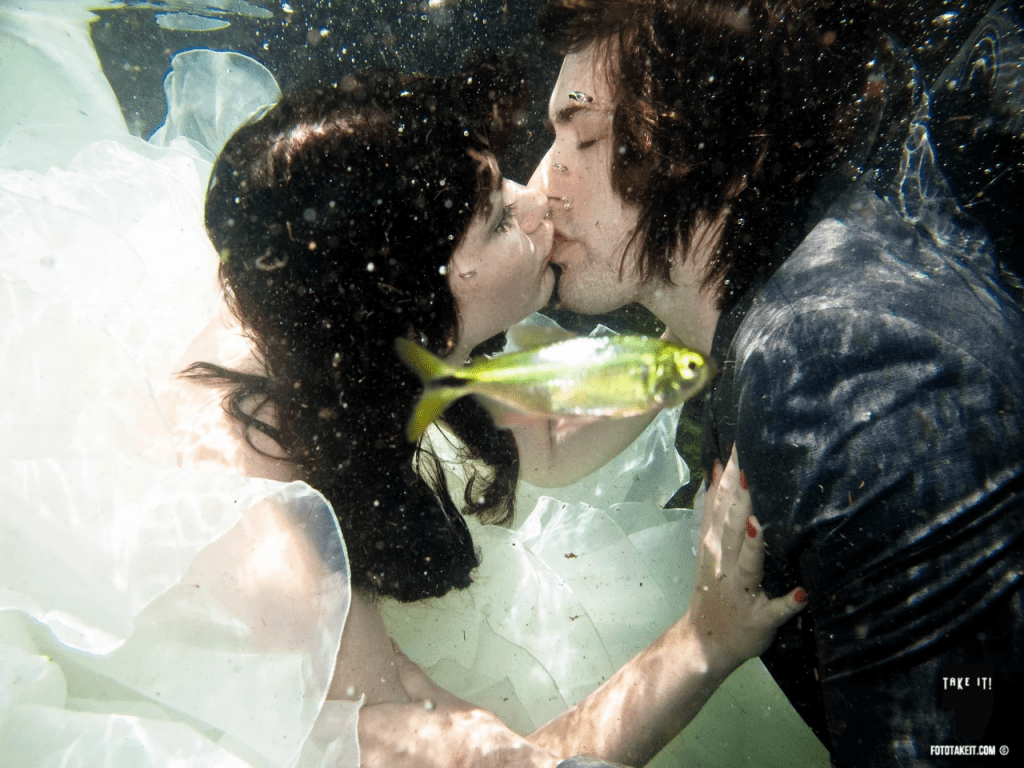 It seems like this time, it was the fish's turn to catch everyone's eye. This tricky fish picked just the right moment to swim up to the camera and the photographer fell for the stunt hook, line, and sinker. But that placement could not be more perfect if it had been planned!
Make Sure You Get My Better Half!
This beautiful bride thought she would have a little fun of her own, while photobombing a shot of her new hubby and sister-in-law. Wedding days can be a stressful event, especially for the newlyweds themselves. So, we're glad to see this bride hasn't lost her sense of humor.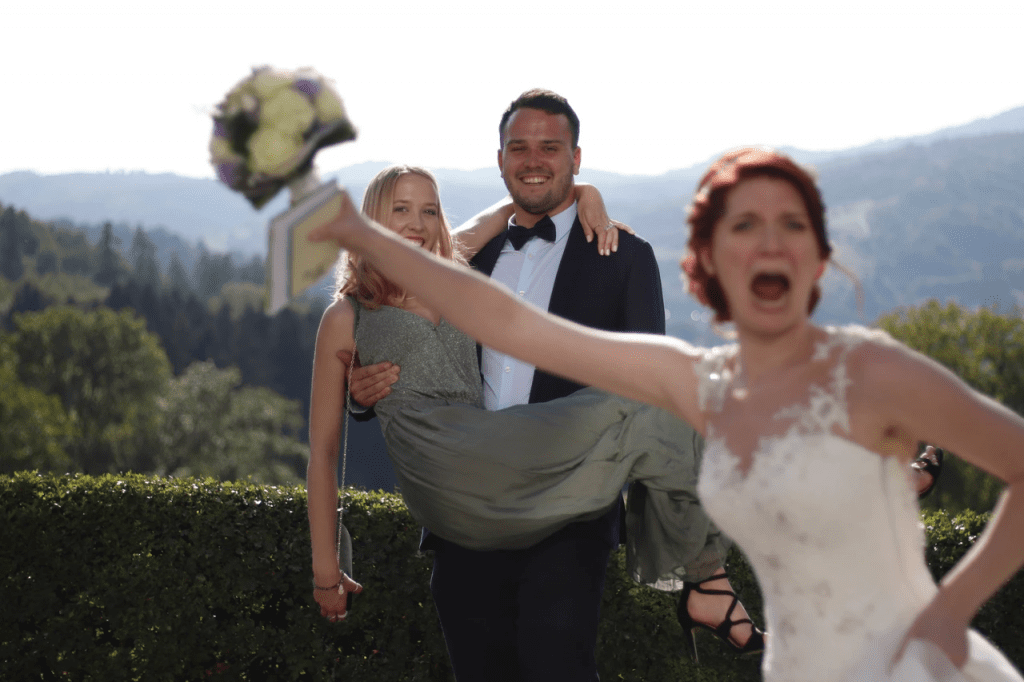 If anything, we are impressed that this lovely new wife had the energy to jump in the frame for one more shot. It seems she is done primping and posing. We didn't need the father-of-the-bride to give that one away – her face speaks for itself!
Making a Splash
This wedding guest is certainly not a wet blanket. Although, it looks like they might be needing a dry towel. Jumping from the second story into the swimming pool takes some guts. We're guessing that this guest must have wet their whistle at the open bar before taking the plunge.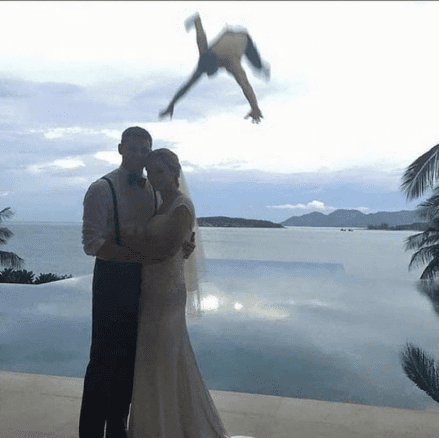 From the photographic evidence, we can tell that this party goer has only dipped his toes into the sport of diving. He looks like he could use a little practice, but we doubt he's going to get invited back to another wedding anytime soon!
Look behind you!
This curious guy stole the show when it decided to take center stage of this romantic photo. Although it certainly took the focus from the happy couple, it's still a very cute shot, so we're pretty sure that they won't tell it to take a hike.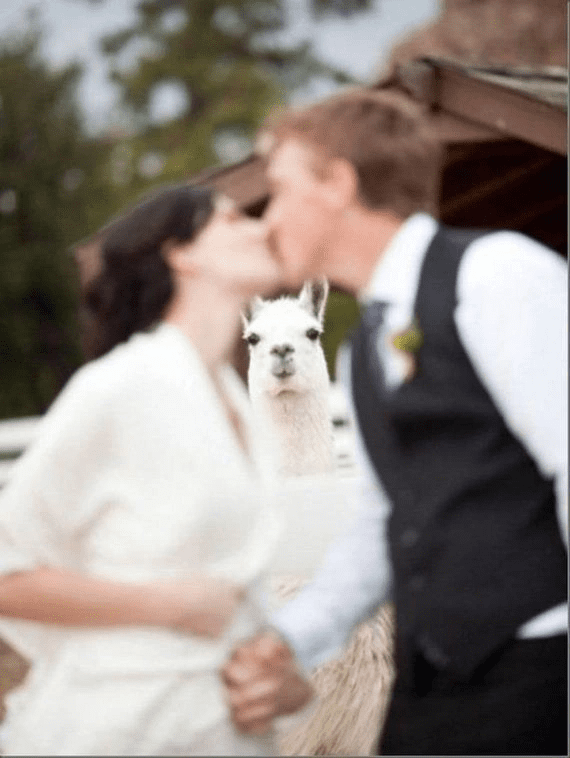 This couple must have chosen this South American location for their ceremony of matrimony because of the gorgeous scenery, and all the hiking opportunities. We assume they like rock climbing, so hopefully they won't make a mountain out of this molehill.
A Well-Trained Dog
It seems like being the ring bearer is a tougher job than this old dog had prepared for. When the poor pooch got dog-tired, it decided to curl up and take a nap – on the train of its owner's dress!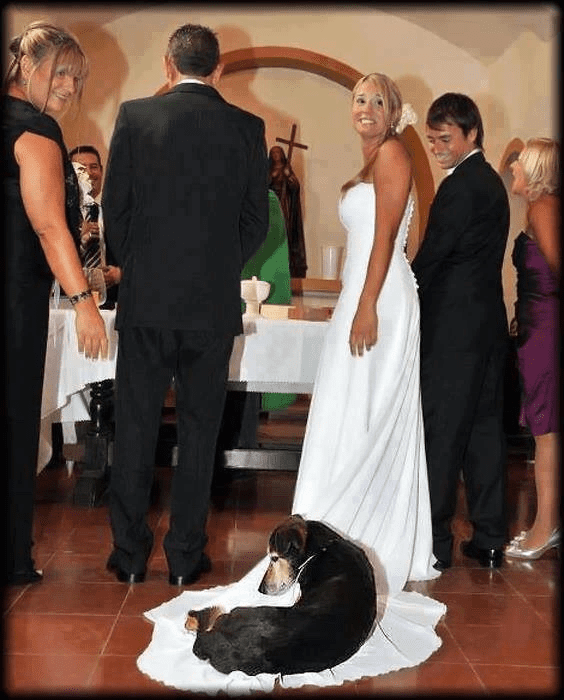 This bride seems to find the humor in the situation. After all, she should be used to her four-legged friend riding her coattails. We hope that someone in the bridal party remembered to bring a lint roller along, just in case.
Peek-a-boo!
This playful wedding guest decided to sneak a peek at the happy couple. Although you can only see a portion of his face, that wild-eyed look still makes us laugh. We bet the bride and groom didn't see this one coming!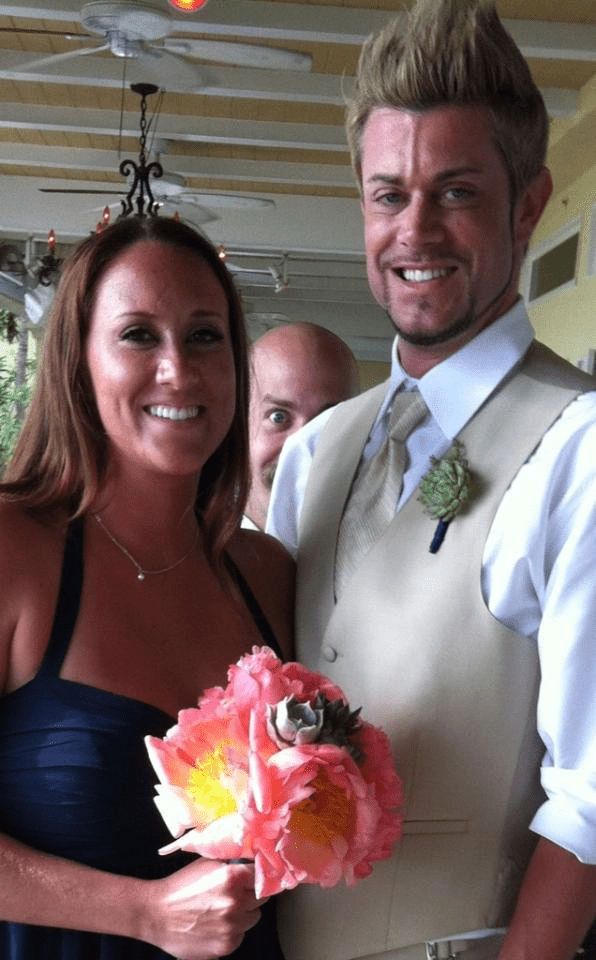 To be honest, we are most worried about the groom in this picture; between the vein on his forehead and pointy hair, he looks like he is about to go super Saiyan! We don't mean to be rude; we're just sayin'.
The Wedding Singer
This couple look like they cracked up at the first sight of funny guy and Happy Gilmore star, Adam Sandler. If the actor was looking for some uncut gems, he's out of luck, as we're sure that the bride's diamond ring is sparkling.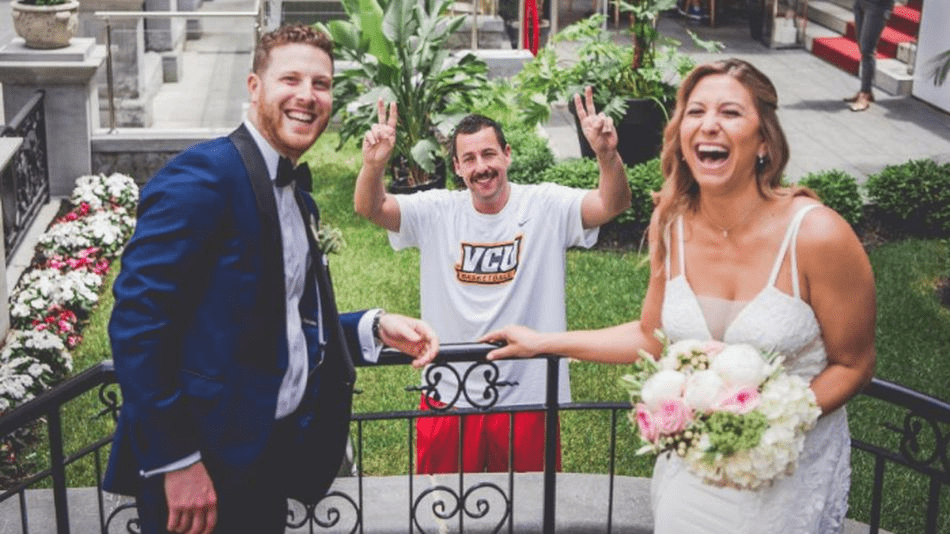 We hope that this comic genius wasn't planning on sticking around to ask this beautiful bride out on fifty first dates. Although we moustache him some questions of our own about his wedding attire. The gym shorts we can forgive, but he could have at least thrown a tie on!
If You Love Each Other, Gopher It!
When this couple chose the romantic mountain peaks as the perfect spot for their photoshoot, they couldn't have foreseen this little trickster making an appearance. The sneaky little gopher popped into the photo frame just in time for this shot.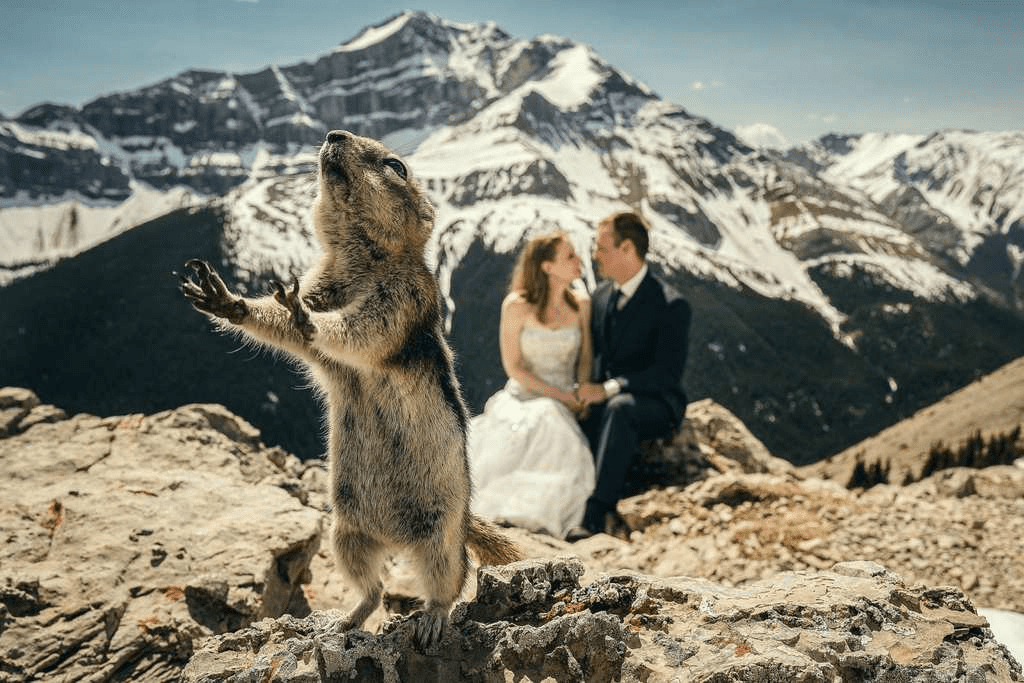 This adorable guy looks like it is trying to tell the camera crew something important, but what could it be? If it sees its shadow, does that mean the newlywed couple get six more weeks of honeymoon? We'd like to think so!
Owl Always Love You.
So much for flying under the radar! This owl descended down from it's perch in the midst of this beautiful ceremony. Although the bird is quite beautiful, and the bride doesn't look alarmed, we are sure that this little owl caused a pause in ceremony with one fell swoop.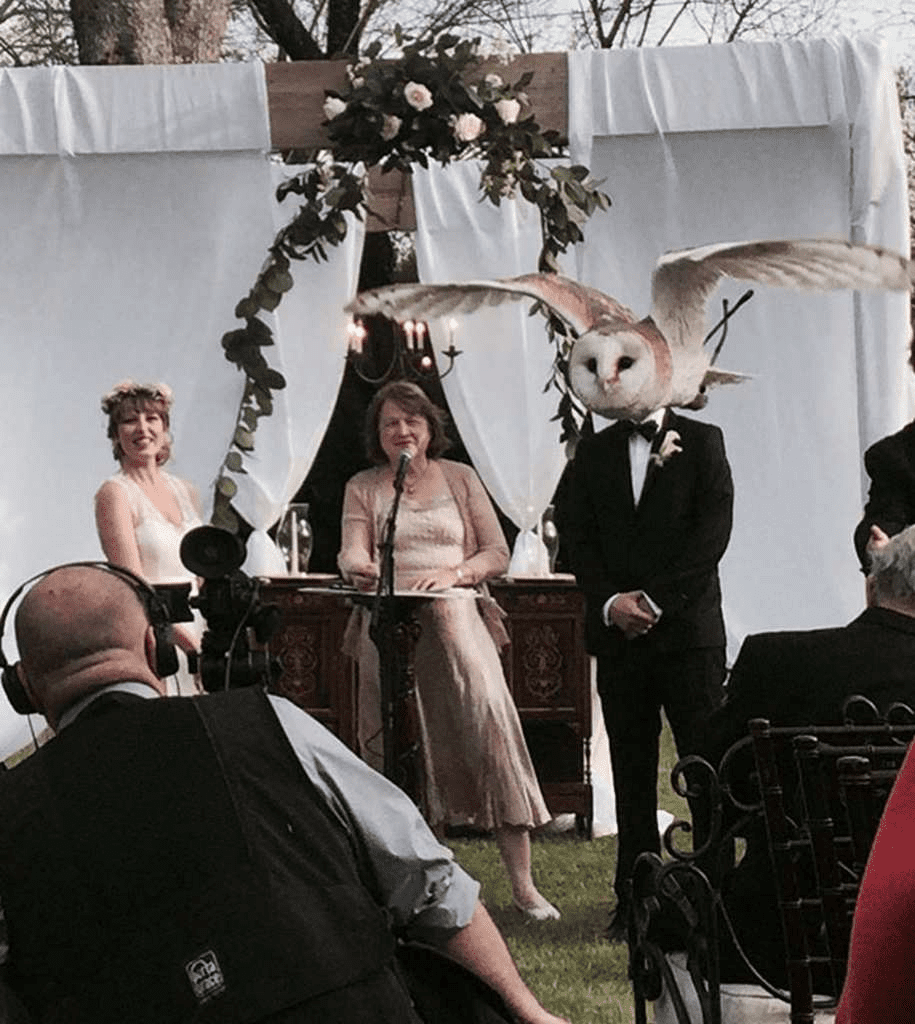 Since they are usually only seen at night, this sleepy owl must have been rather confused about which people were getting married. Party goers and witnesses report that it kept asking "Who?" That must be why it came down for a closer look.
Who's Got That Ring?
An unfortunate mixture of poor lighting, heavy makeup, and photographic angle have this bridesmaid looking pale as a ghost. The image is haunting, but we hope that she doesn't carry a grudge towards the photographer when she sees this shot!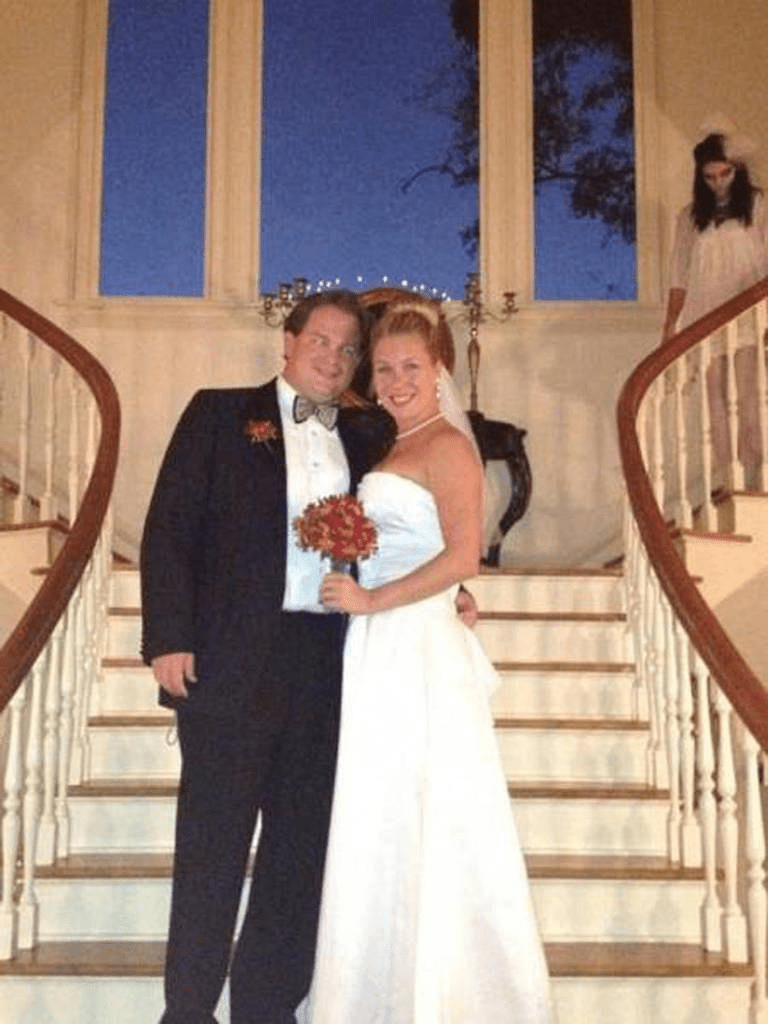 Although this image is spooky, it's not as scary for us as it will be for this couple when they look back through their wedding photos. We hope it's not an omen of bad news for them! Meanwhile, this bridesmaid probably laughing herself to death.
Time To Grab The Bull By The Horns.
This couple seems to be having a field day with their wedding photoshoot. We are not sure what they did to attract the attention of this unhappy bull, but we are pretty sure we know what happened in the next frame!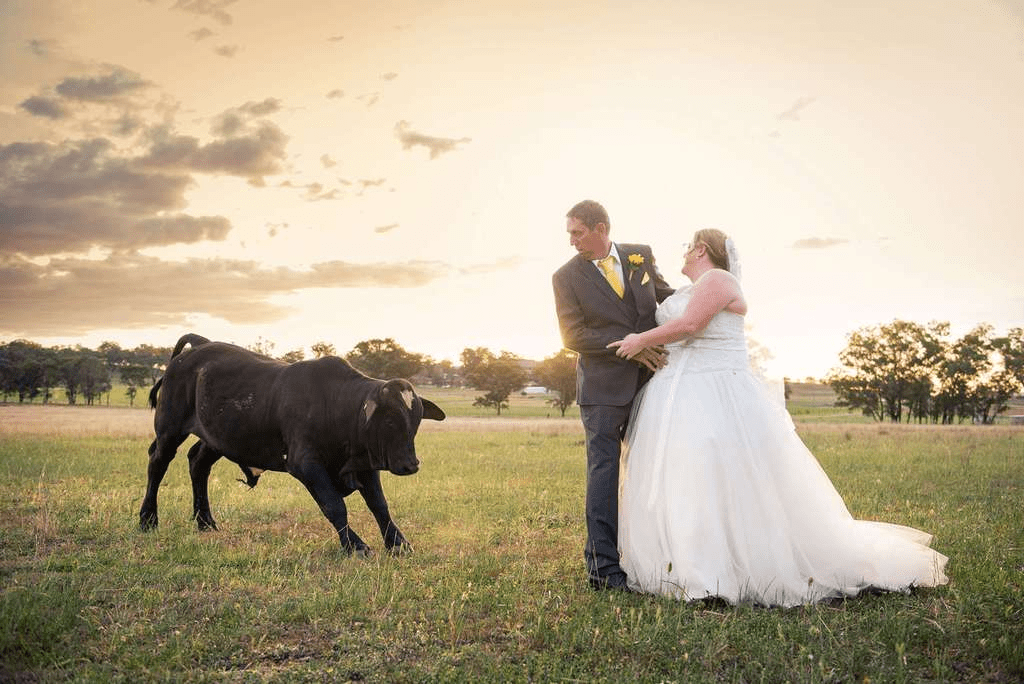 Although this young bull doesn't have it's horns yet, it sure wouldn't feel nice to be on the receiving end of that headbutt. We hope that this couple had running shoes on under those fancy outfits. It looks like they might need them!
Where's Waldo?
This clever wedding guest has found a hilarious way to feature in the wedding photos – by dressing up as Waldo! We wonder if the bride and groom were in on the joke, or if this will be a pleasant surprise for them.
Something that surprised us was that we didn't know Waldo was such a tree hugger! One thing is for sure: this guest's ability to hide in plain sight would make them a great undercover spy. Or should we say, a plant!
Copping a feel
Surely, this bride meant this pose to look elegant and tasteful. There was no way for her to know that the photographer was going to pick an angle which made her look like she was reaching for this officer's… baton.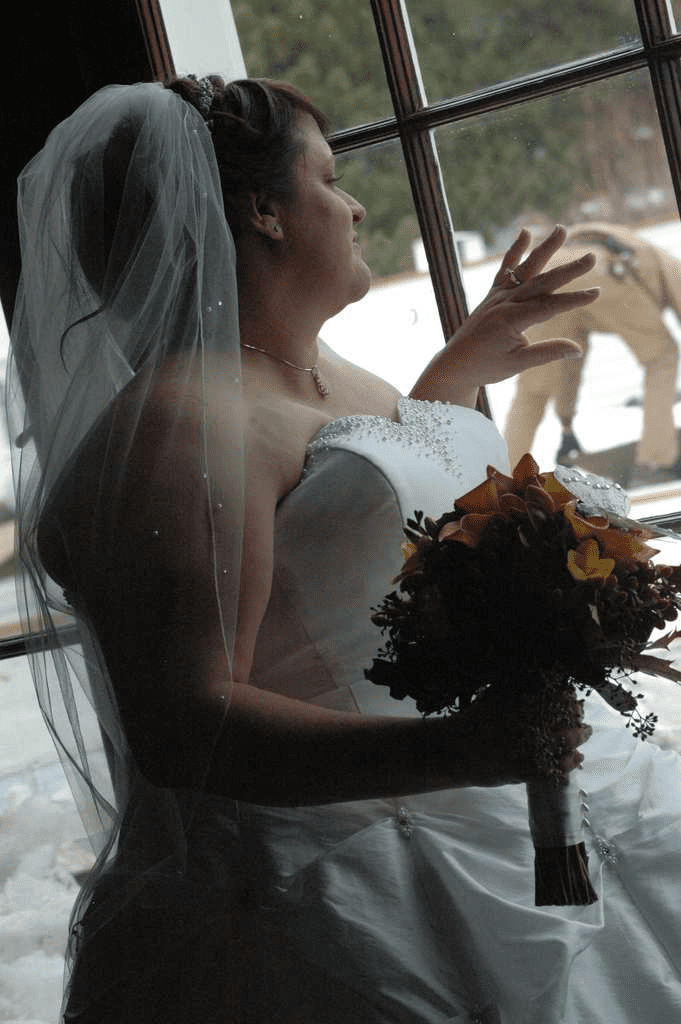 Unless this bride and her photographer are thick as thieves, we imagine that she is going to be pretty embarrassed to see this photo in her wedding album. As long as the cameraman gets paid before she notices, they could be getting away with murder.
One is the loneliest number
Always the bridesmaid, never the bride. We feel for this solitary maid of honor, as she has to sit on her own beside the shameless newlyweds. They're not going to save any room for cake if they keep eating each other's faces like that!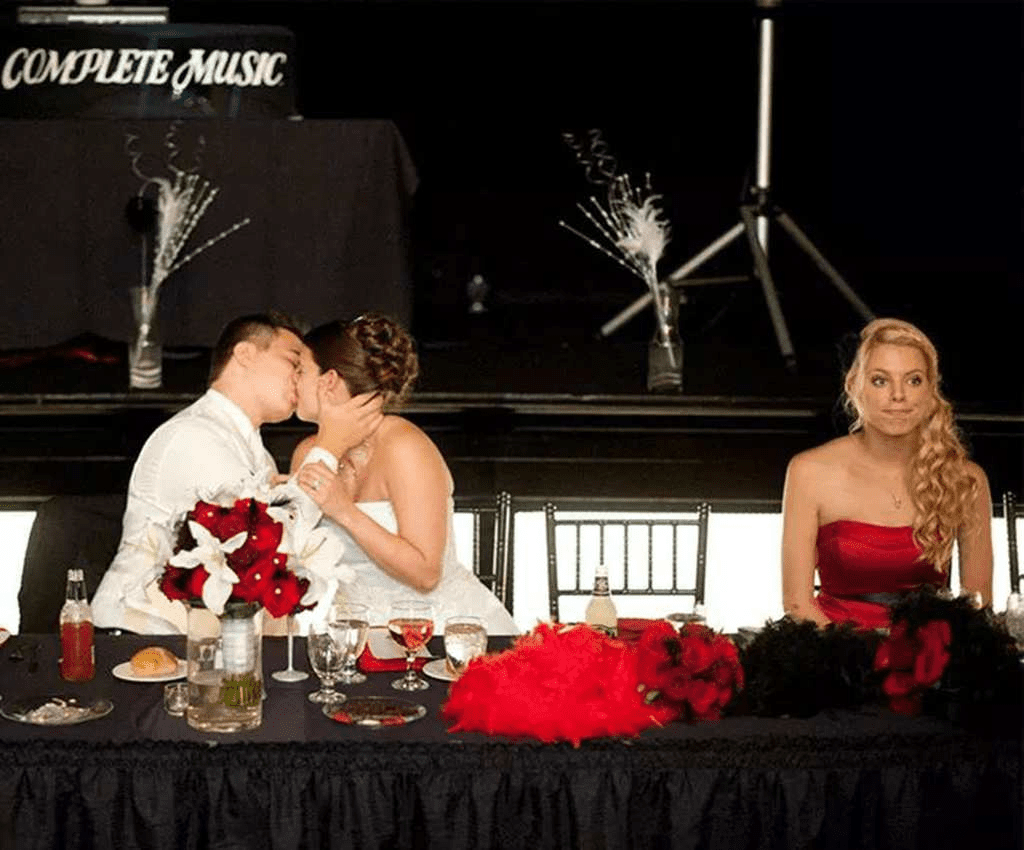 Hopefully this lovely bridesmaid finds a handsome groomsman to save her from this awkward situation. She looks like she desperately wants her own wedding knight. There might not be a tower or dragon, but she certainly is a damsel in distress!
The Party Pooper
We're guessing this is NOT what these newlyweds were expecting when they asked their canine companion to join the wedding party. The mortified look on the bride's face says it all: this was not the romantic sunset photoshoot she was counting on.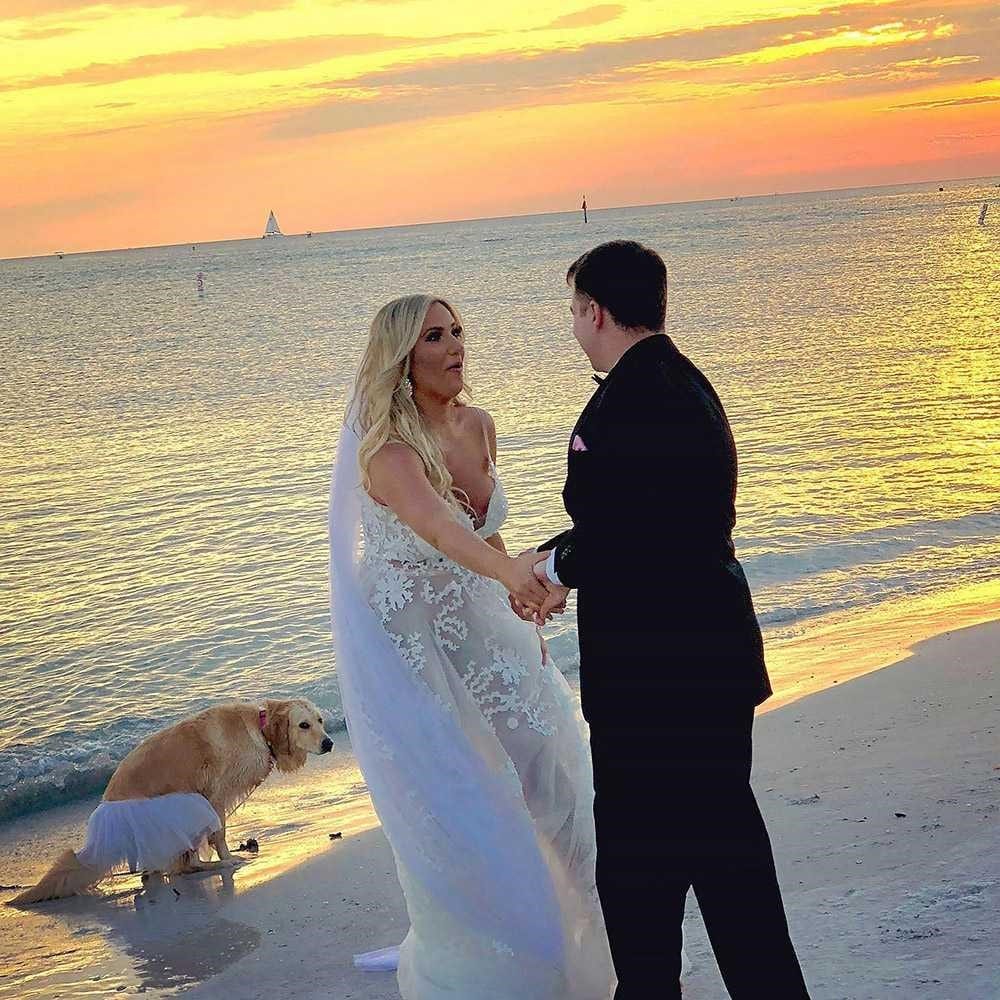 We hope that this poor pooch isn't in the dog house for too long after spoiling their pictures. However, we think this picture could still be used for something; a doggy dating app perhaps. "Daisy, 5 years old, not looking for anything serious; just puppy love. She enjoys ballet, and long sunset walkies on the beach!"
A Happy Camper
It seems that this camper mistook the wedding tent as an invitation to pitch his own. Although we definitely understand the bemused look on this bride's face, we do have a foot in both camps. After all, it is her own fault for having her reception in a public park.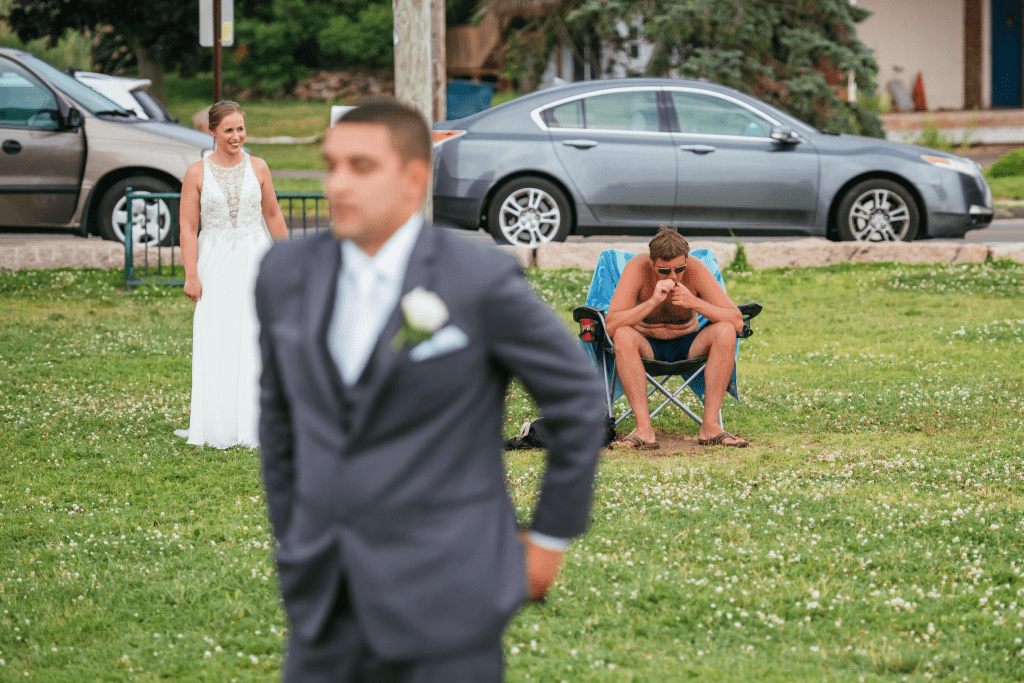 To be fair, it was not at all the camper's fault that he was caught while doing his morning routine. They could have moved the photoshoot. Still, we can't help but wonder, will he be doing the floss at the wedding reception as well?