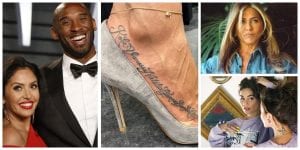 40+ Celebrity Tattoos and Their Meanings
By Abigail T
---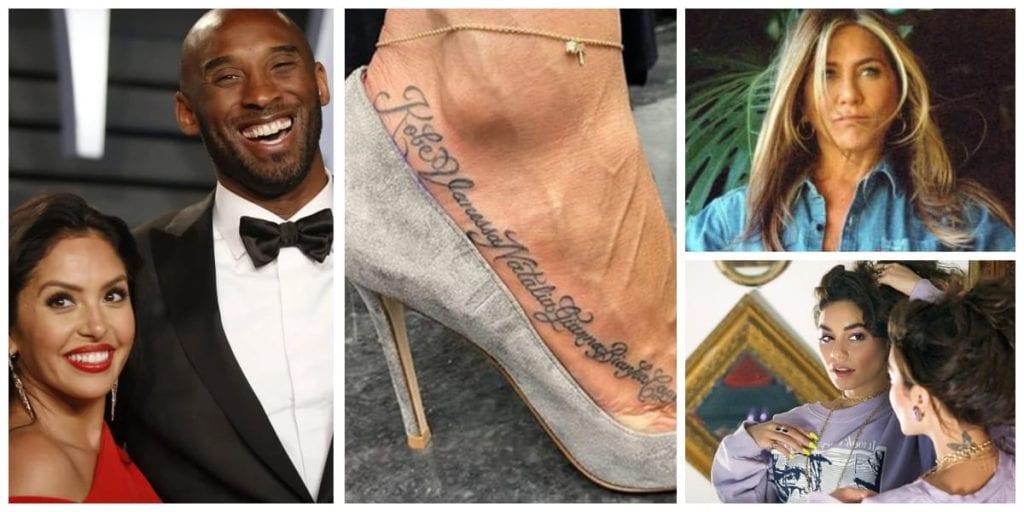 Whether to commemorate a significant life milestone, remember a family member or a pet, or just to have a permanent accessory, everyone gets inked. The art of permanently tattooing one's body dates back to thousands of years ago. It began as an ancient tradition in many cultures around the world that etch their skins to tell stories and signify status. To this day, people still use tattoos to do the exact same thing. Celebrities also take part in the art of tattoos, with some of them even being known for the multiple tats on their skin. If you're looking for tattoo inspirations, or simply wanting to check out the sweetest backstories behind the ink on some of Hollywood's most beloved celebs, then read on.
Demi Lovato's reminder to Stay Strong
Disney darling-turned-pop sensation Demi Lovato has always been open about her struggles with mental health, eating disorders, and addiction. The This Is Me singer is no stranger to the highs and lows of life as a star in the entertainment industry. One of the first tattoos she got was the words "Stay" and "Strong" on the inside of each wrist.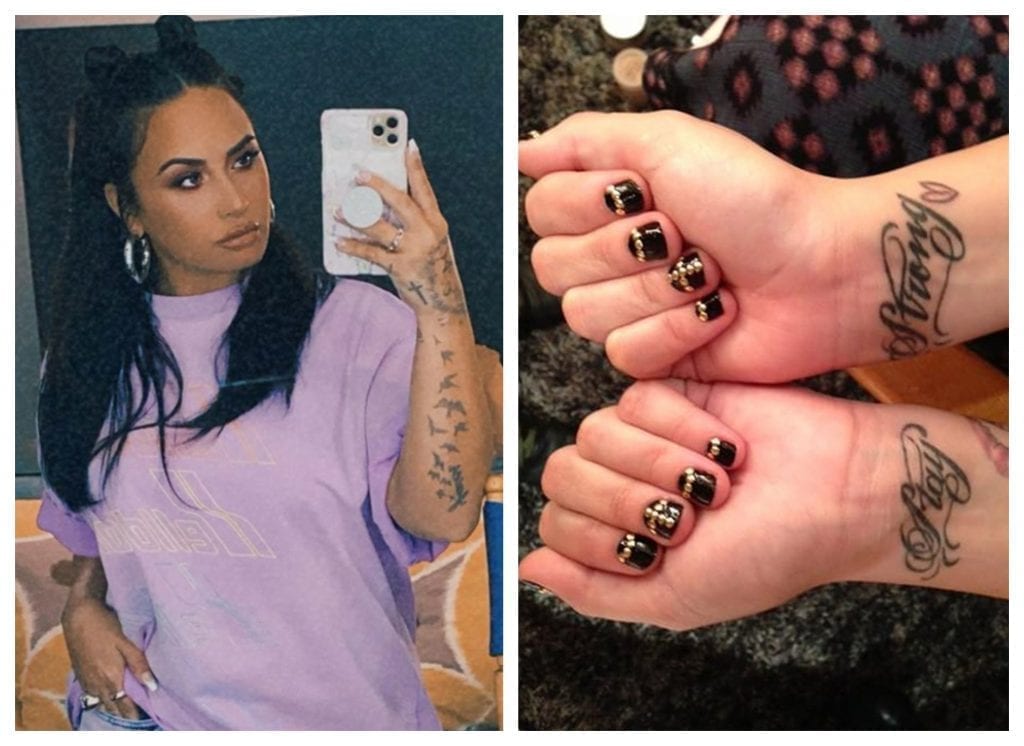 The actress/singer, who has spent a few stints in rehab, decided to ink the beautiful sentiment on her skin after completing her first round of rehab in 2011. It is a reminder for her every time she sees it, to stay strong every day.
Megan Fox's signifier of strength
Demi Lovato isn't the only star who needs a bit of encouragement. Jennifer's Body actress Megan Fox also has a similar sentiment in the form of a Chinese symbol tattooed on the back of her neck. The character is a sign for strength.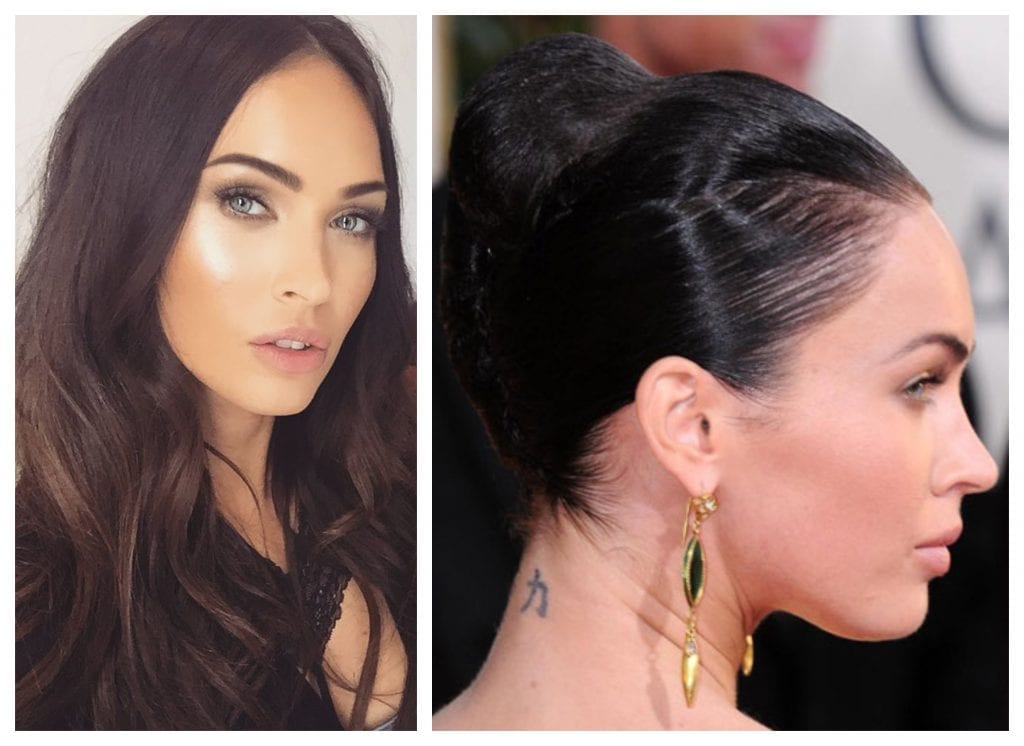 Fox's tattoo symbolizes the strength needed to live life as a celebrity who is constantly in the public eye. She feels that it takes a certain kind of power to be able to survive Hollywood and that the ink keeps her balanced.
Jennifer Aniston's tribute to Norman
The loss of a beloved pet is always devastating, and Friends star Jennifer Aniston is not exempt from that grief. She lost her adorable Welsh corgi-terrier mix Norman in 2011, and she loved the dog so much that she got his name in italics tattooed on her right foot to remember him by.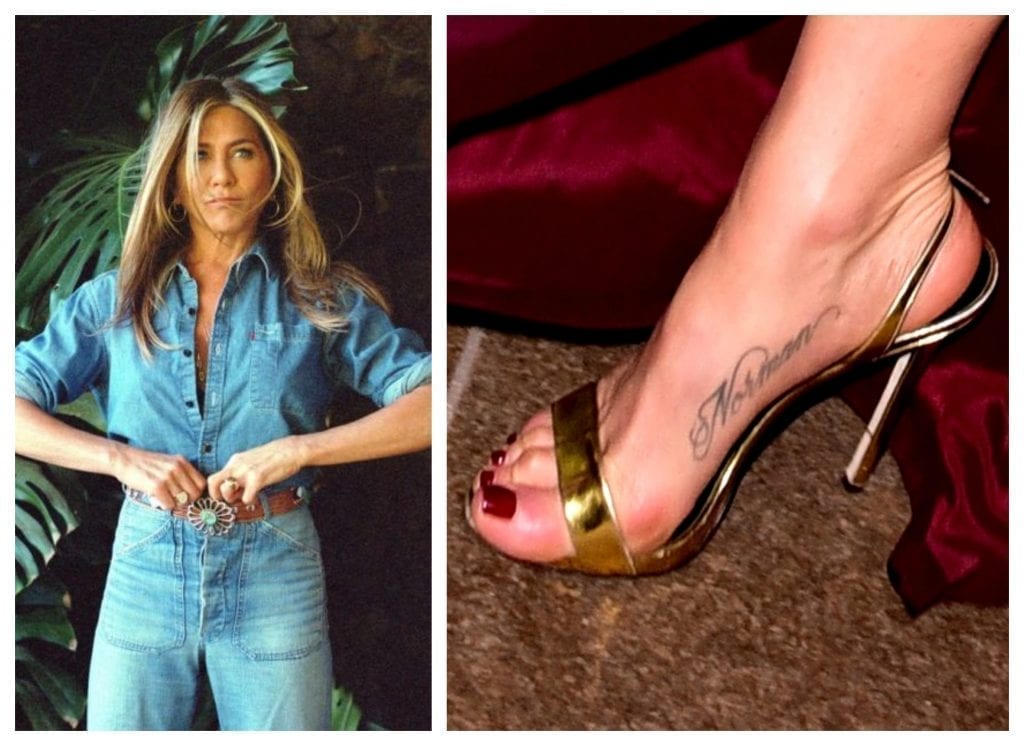 Aniston said that Norman helped her prep for her famed family movie Marley & Me in 2008. To embody the sorrow of losing a dog, she imagined what it would have been like to lose Norman three years before she actually did.
Sam Smith's advocacy for equality
This next celebrity ink is both a personal belief and a statement to the world. As someone who is gay and has been out for a while, Stay With Me crooner Sam Smith is always vocal in his support for the LGBTQ community.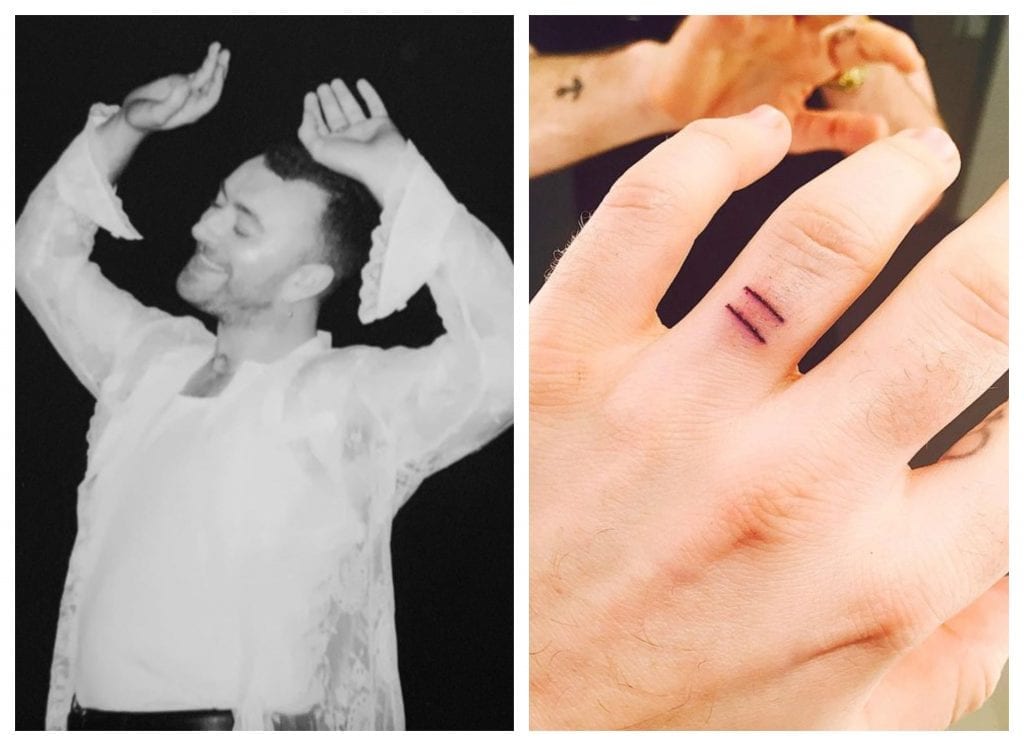 The singer has a simple equal sign tattoo to symbolize his support for the community as well as his belief in equality and equal rights for gay marriage, which is why the tattoo is on his left ring finger.
Cara Delevingne's country of origin mark
Cara Delevingne's tattoo may be reminiscent of the "Andy" label under Woody's shoe in the Toy Story franchise, but the ink is actually more powerful in meaning than that. The British model, who has also dipped her toes in acting for the movie Paper Towns, has the words MADE IN ENGLAND tattooed on the sole of her left foot.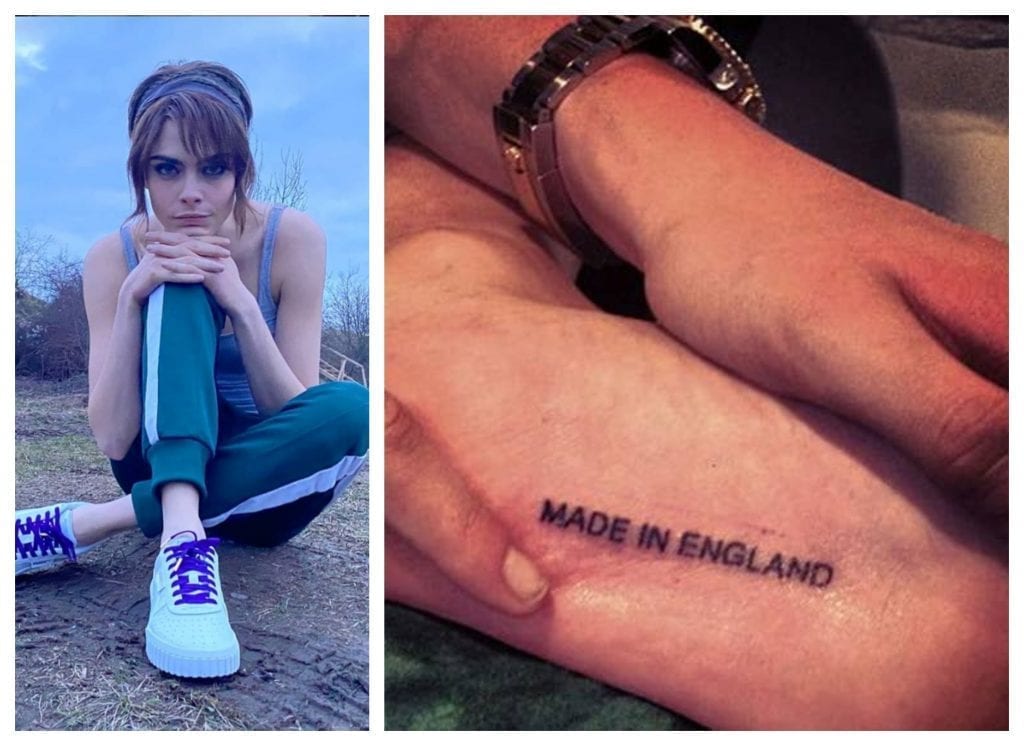 Delevingne revealed the tattoo represents the way she feels as a model, who is just there like a doll to be dressed up. The ink is similar to the way mass-produced products on store shelves would have the same kind of country of origin marking on them. We love a feminist queen critiquing the industry in her own quirky way.
Brooklyn Beckham's ode to his passion
Like his fellow Brit, Brooklyn Beckham also has an image related to his career inked permanently on him. The firstborn son of football legend David Beckham and Posh Spice has a very detailed tattoo of a camera on his left bicep.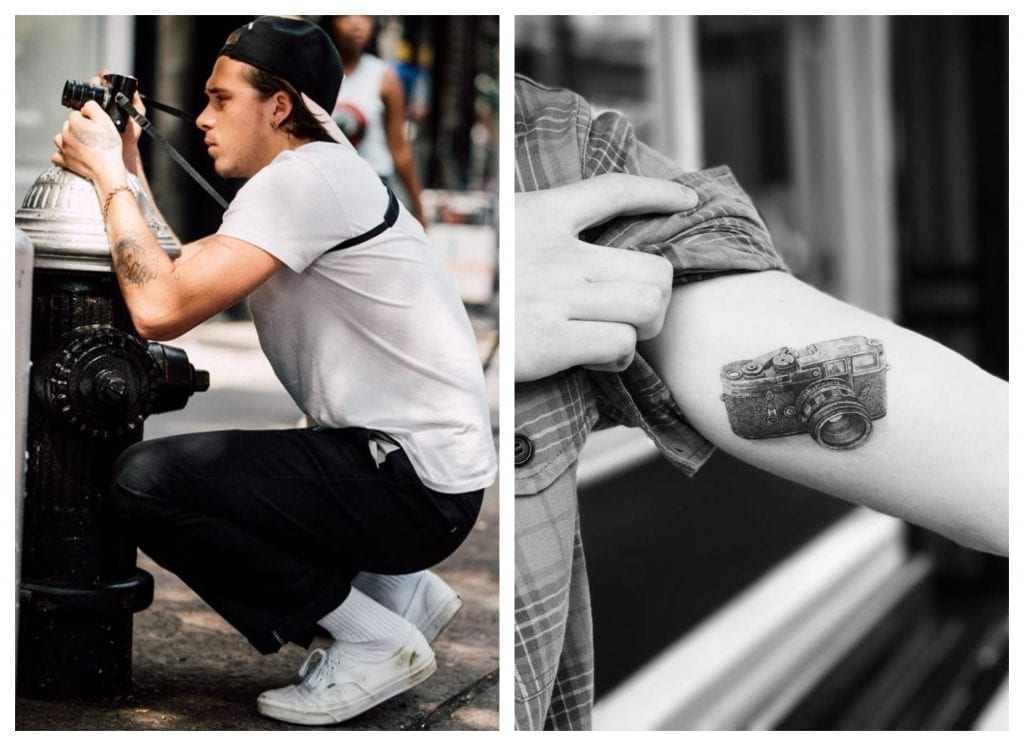 The tattoo signifies his profession and passion for photography. Brooklyn has always snapped photos and posted his work to his Instagram. He has even published a photography book when he was just 18. The collection of photos is called What I See, and was published by Penguin Random House.
Johnny Depp's number 3
Captain Jack Sparrow has numerous tattoos on his skin IRL. Johnny Depp's fascination for the number 3 is manifested in a number of his tattoos, such as the triangle and the three rectangles on his index finger. In addition to these, he also has the number 3 tattooed on the back of his hand.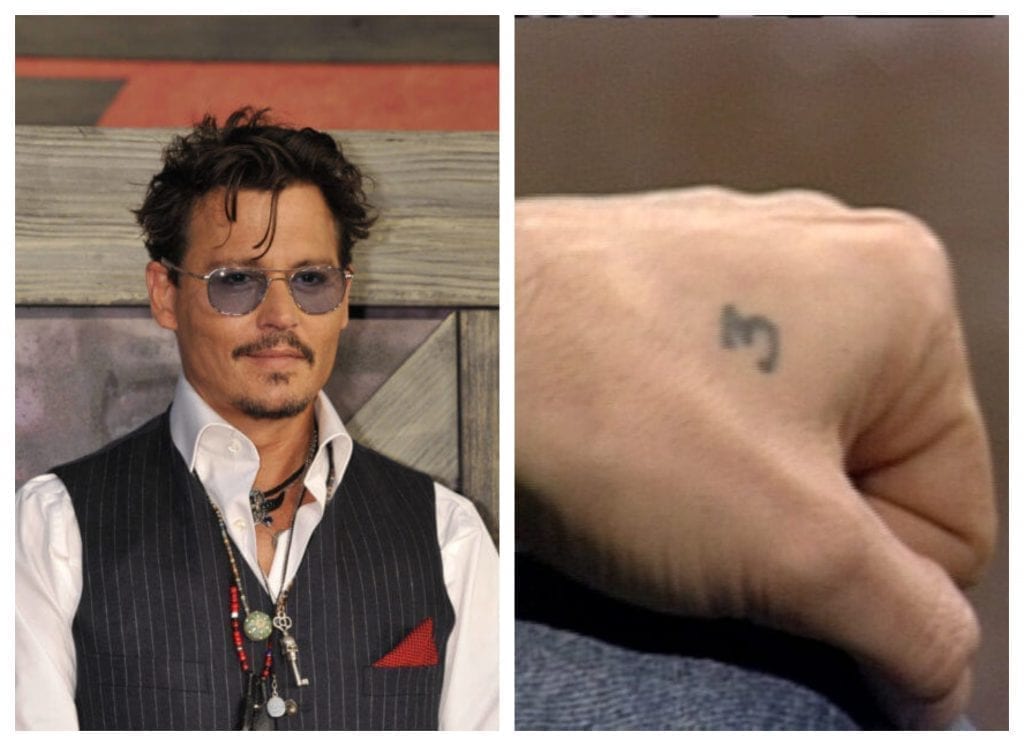 In an interview in 1995, Depp said he "feels very close to the number three," and in 1996 added that 3 is a "mystical, magical number." However, he has also said in another interview that the tattoo meant nothing. Well, your ink doesn't always have to mean something. You do you, Johnny.
Miley Cyrus drowns out the noise with LOVE
Look up tattoos on Pinterest, and you'll see that getting the word "love" tattooed on you is not uncommon. But Miley Cyrus's unique placement of the tattoo is what makes her ink meaningful. The former Disney star has the word tattooed inside her right ear.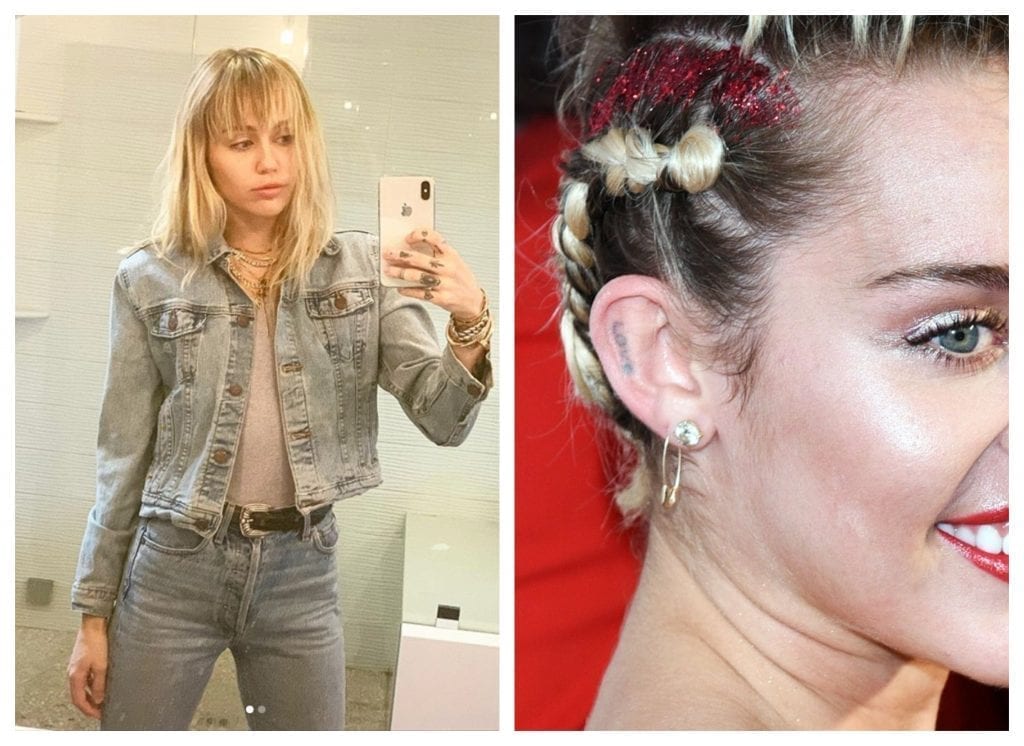 In an interview with Access Hollywood, Cyrus said that the word "LOVE" in all caps is in her ear because love is loud enough to "block out all the crap that everyone throws into your ears." Knowing the intentionality behind it, this is a pretty powerful and meaningful tattoo.
Emma Stone's Blackbird feet
This one has a particularly sweet story to it. La La Land star Emma Stone has bird feet tattooed on her wrist. The tat may look like it was lazily doodled on, but it was actually designed by Beatles superstar Paul McCartney.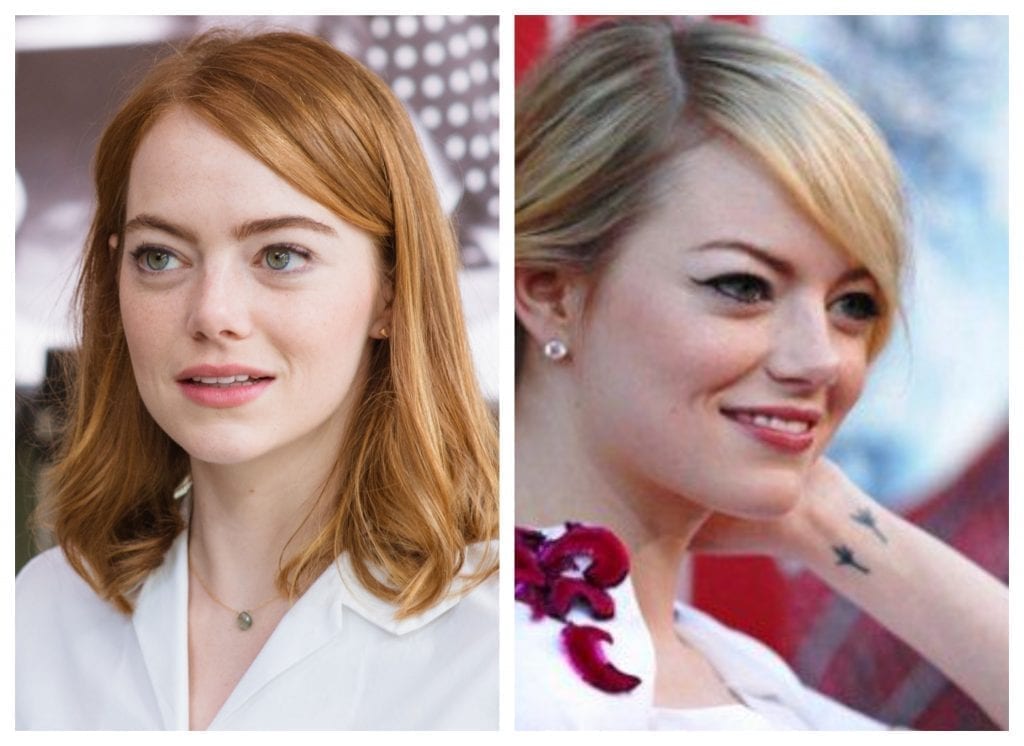 Emma got matching bird feet tattoos with her mother after her mother defeated breast cancer. They are both big fans of the song Blackbird by The Beatles, which McCartney wrote. How lucky are they to have a Beatle do a tattoo for them?
Sarah Hyland's spritely hummingbird
Sticking to the bird theme, Emma Stone isn't the only actress with a bird tattooed on her. Modern Family alum Sarah Hyland also got a bird tatted on her in 2014. The hummingbird was done by renowned tattoo artist Dr. Woo and was featured on his Instagram.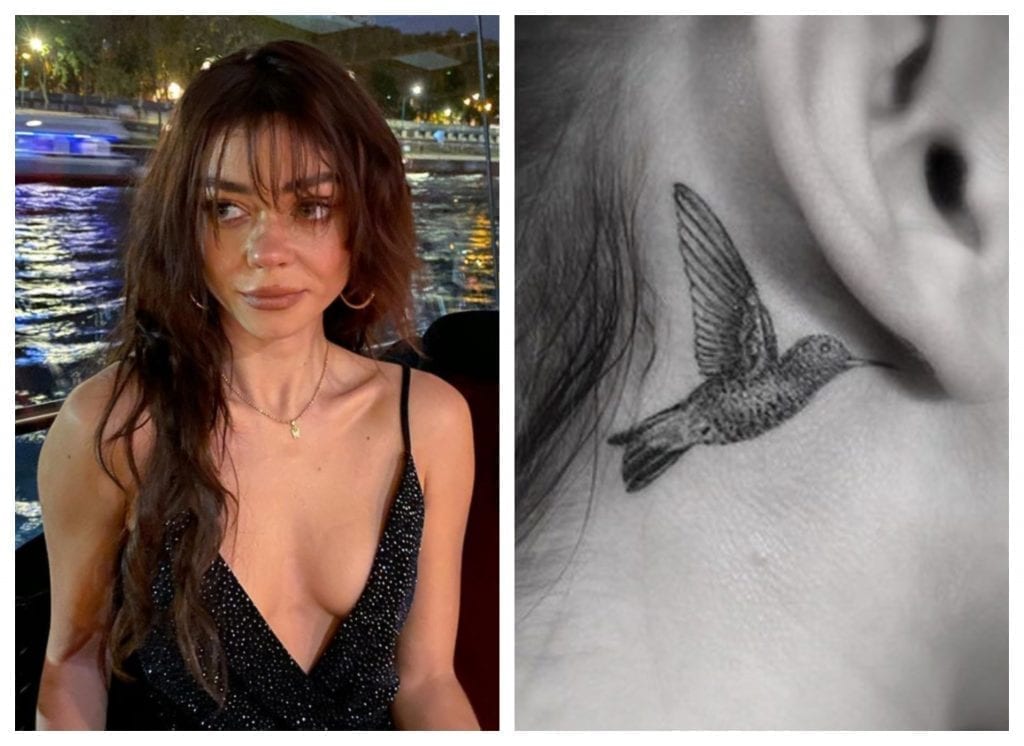 Sarah Hyland's hummingbird symbolizes "joy and lightness of being," as she explained on her Instagram when she first got it. She says the hummingbird may be little, but it can fly great distances while still maintaining a kind of joy and resilience that she herself needs a constant reminder of.
Vanessa Hudgens' butterfly namesake
Famed for her role as sweet Gabriella in the High School Musical movies, Vanessa Hudgens was looking for something to redefine herself at 22. For her, the way to do this was by getting a butterfly tattooed on her neck.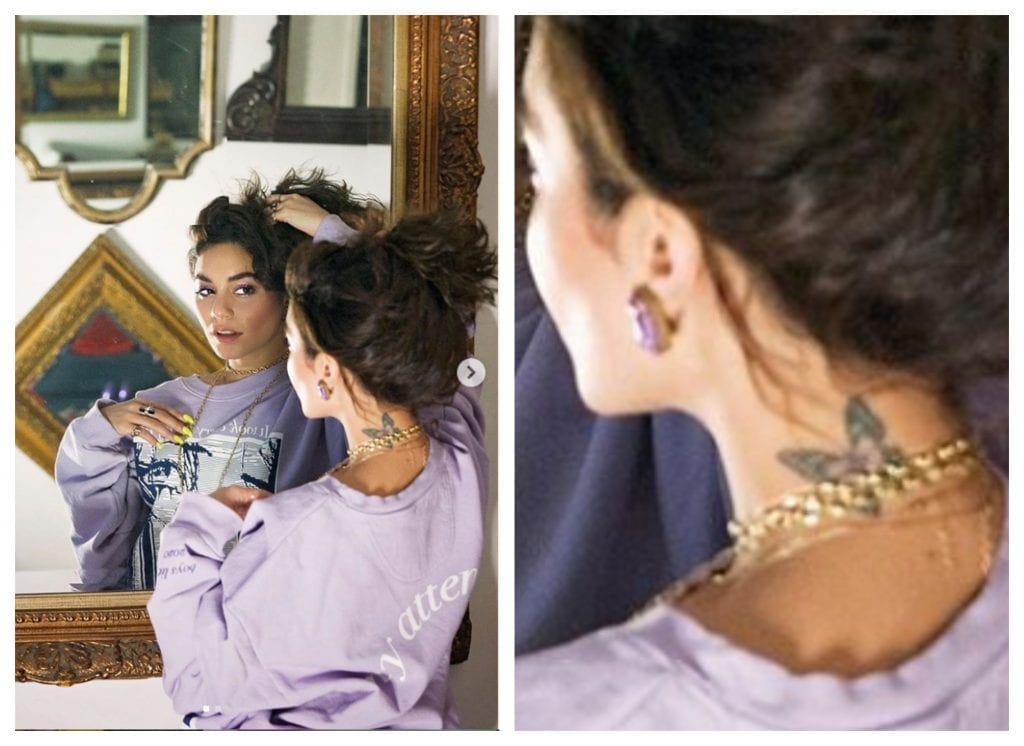 Hudgens explained the story and meaning behind her ink on David Letterman's talk show. A week before she was born, a butterfly landed on her mom's stomach, and that was what inspired the name Vanessa because it is a Latin derivative of butterfly. The green, purple, and blue-tinted creature was her first tattoo and symbolized her leaving behind her Disney days. She said she felt badass with it on her.
Hilary Duff's secret ghostly message
Lizzie McGuire icon and mother of two Hilary Duff knows how to do matching tattoos right. The Disney alum got a tattoo of a cartoon ghost with the phrase "ride or die" hidden and incorporated into the ghost's sheets. Talk about cute and innovative!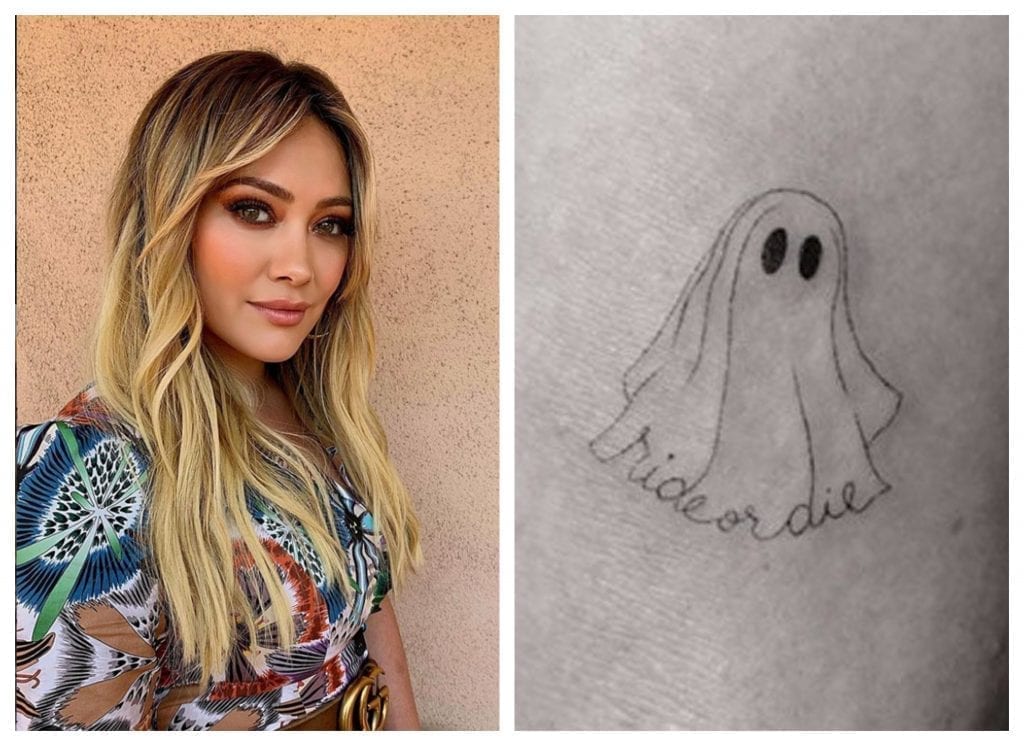 The actress/singer got the tattoo on her arm in 2014 to celebrate the release of her new single and her return into the music world. Her best friend Alanna Masterson also got the same tat to match, hidden phrase, and all.
Scarlett Johansson's watercolor sunrise
This Hollywood actress has been working since she was a child, and grew up to be one of the world's highest-paid actresses. She has amassed numerous tattoos over the years, but only the sunrise on the inside of her left forearm is in color.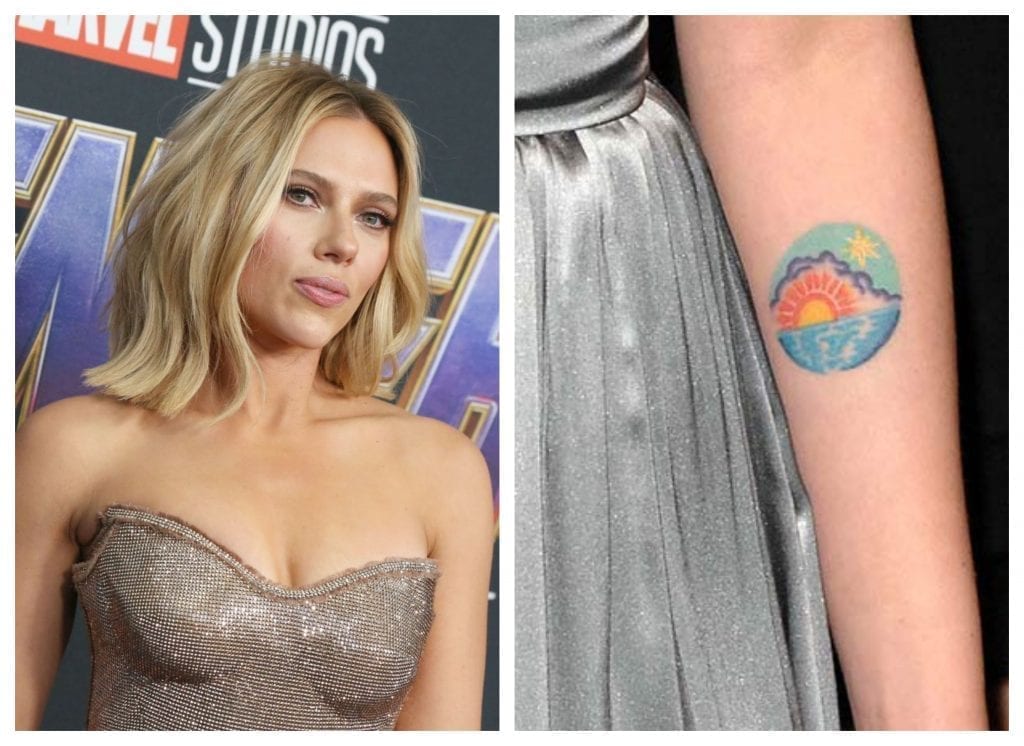 The tattoo looks like a child's watercolor painting of a sun rising over the sea, with big clouds looming behind it. Like the ink, the meaning behind it is also simple—it simply makes the Marriage Story actress happy.
Anne Hathaway's mysterious M
Anne Hathaway is one of those celebrities whose life we rarely hear about in the media and has barely been involved in any controversies. For all we know, she lives a very peaceful life. For this reason, nobody really knows the meaning behind this Les Mis actress's one known tattoo.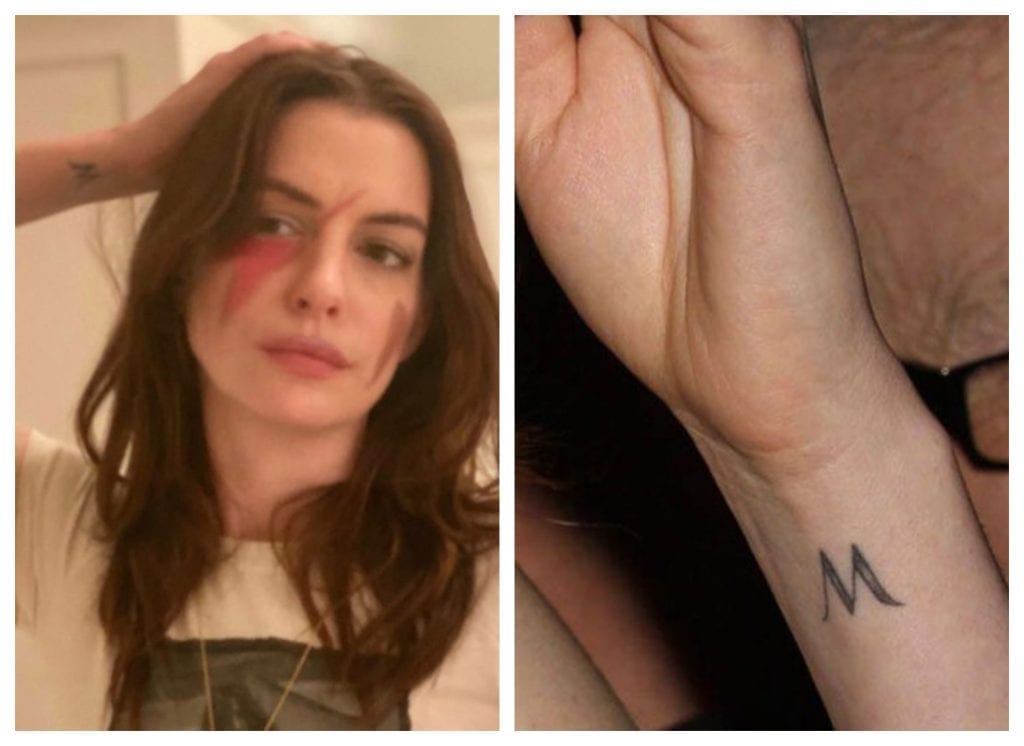 Hathaway has the letter M tattooed on her wrist and has never opened up about the meaning or story behind it. We can only speculate that it is an initial, either M for her brother Michael or her mother's maiden name McCauley.
Lily Collins' British roots
A few celebs back in the article, we showed you how the Brit Cara Delevingne commemorated her British roots with her tattoo. Lily Collins sought to do the same with hers by getting a British crown tattooed on her wrist.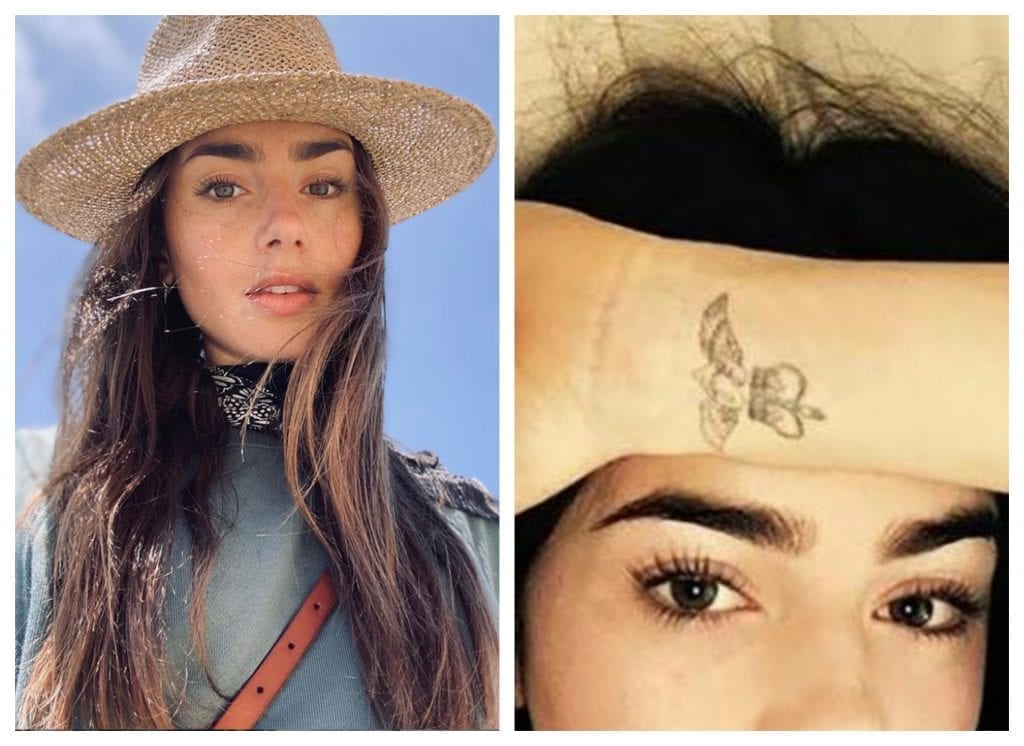 The daughter of legendary singer Phil Collins grew up in the English countryside until she was five, before moving to Los Angeles after her parents divorced. Her crown tattoo sits on top of a heart flanked by angel wings because her mom has an angel tattoo. Meanwhile, her initials—LJ for Lily Jane—fit nicely at the center of the heart.
Justin Bieber's tribute to the King of Pop
Like Lily Collins, Justin Bieber also has a crown tattooed on his body. This is one of the many tattoos the Sorry singer has on his skin, and it rests on his chest. Bieber got the tattoo in 2012 but hasn't spoken about the meaning behind it.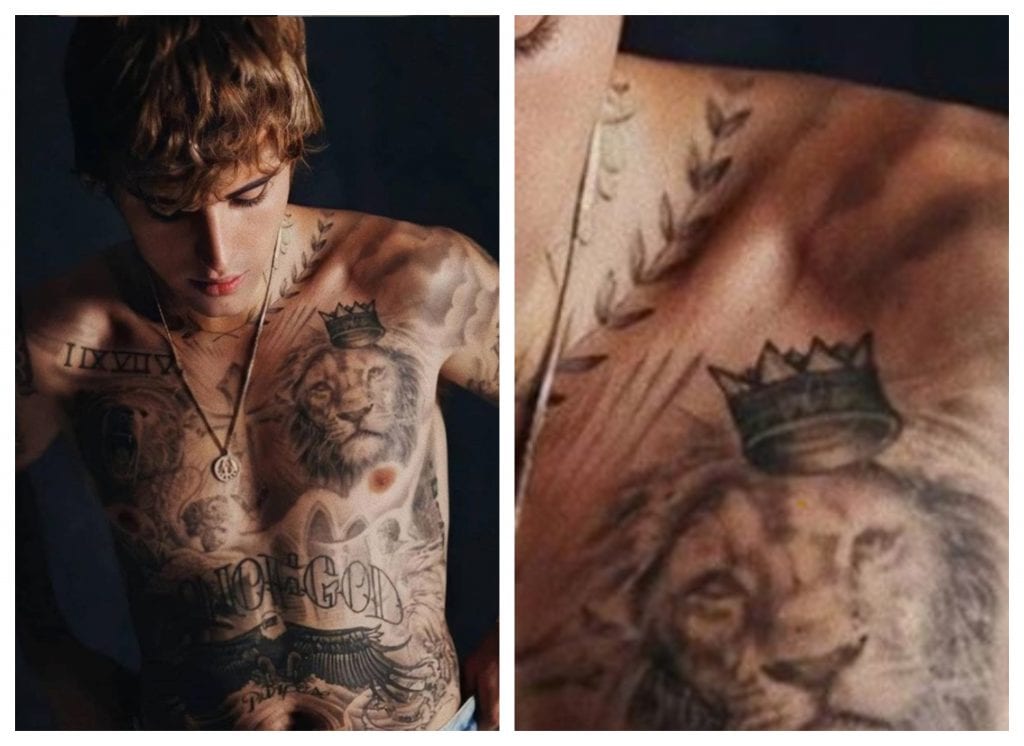 When photos of the crown tat first surfaced, fans speculated that it was Bieber's tribute to Michael Jackson, the King of Pop, who also happens to be one of Justin's musical idols. No confirmation on that as of yet, but we'll let you know if we get new information.
Ruby Rose's Basquiat crown
Crowns seem to be a common favorite among celebs, as Ruby Rose is the third on this list to have one tatted on her. The model is known for her ink-covered skin and reportedly has 57 tattoos on her body in addition to this one. Her crown sits right below her chest and looks like it's been messily painted onto her.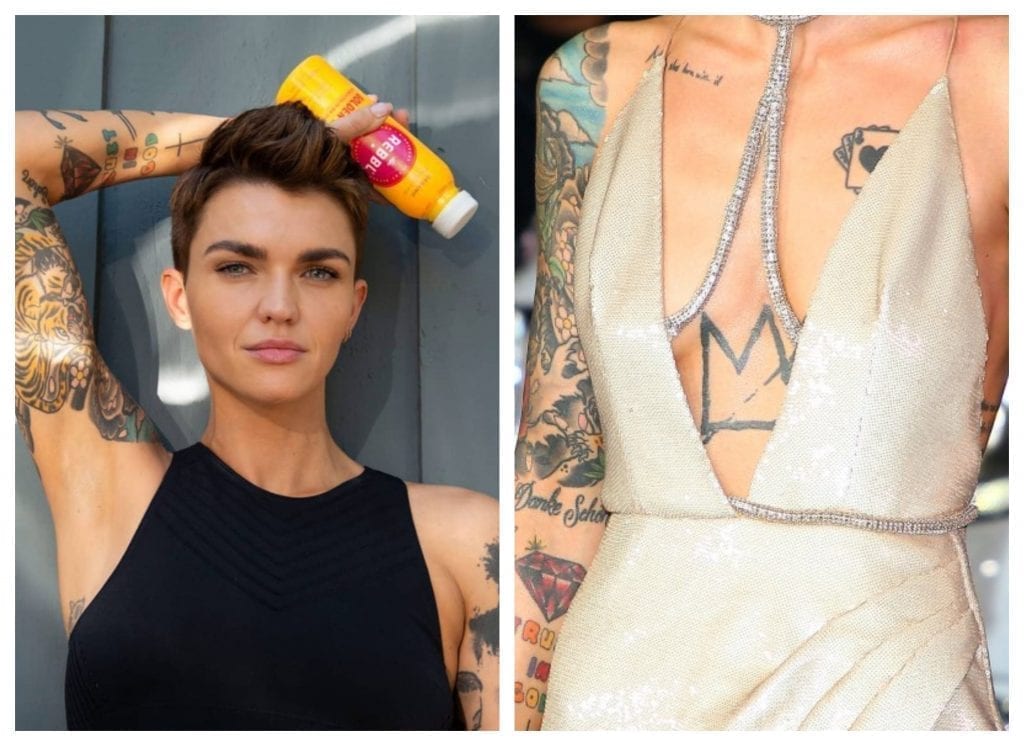 The paint-like crown is actually Ruby Rose's tribute to the late street artist Jean-Michel Basquiat. Rose admires him so much that she also has a very realistic portrait of the artist tattooed on her upper left arm.
Angelina Jolie's Bengal tiger
Angelina Jolie has always made headlines for her unusual antics. There was the vial around her neck filled with her husband's blood, and then there was the knife collection. Honestly, those things make the 12-inch Bengal tattoo on her back look normal.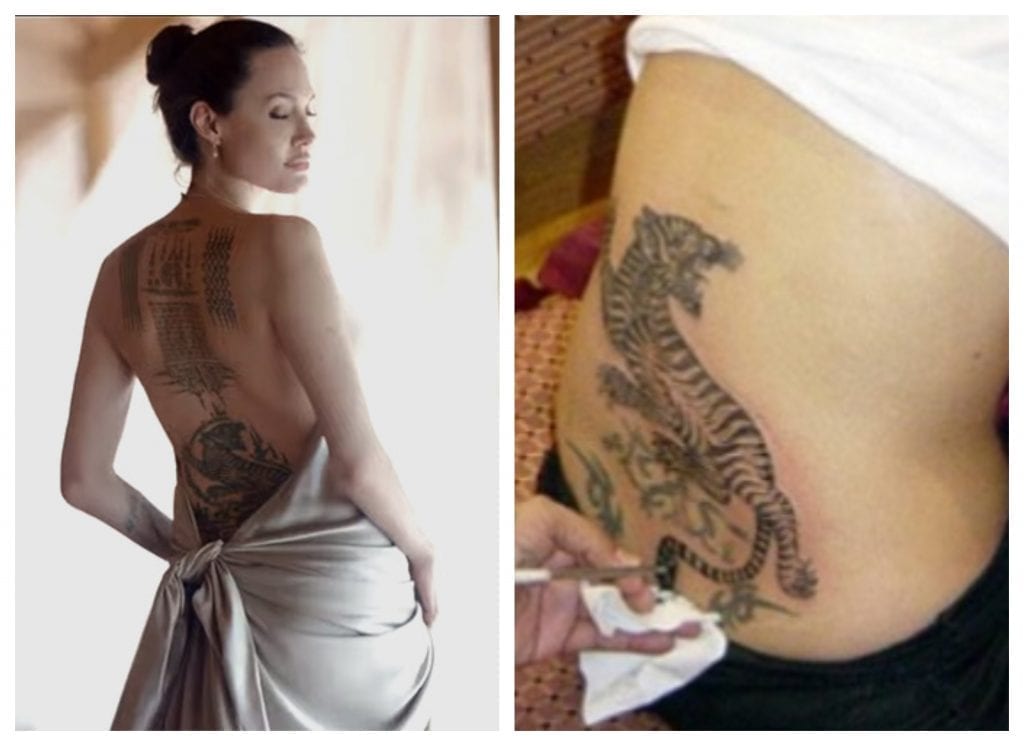 Jolie got the tattoo in 2004 to commemorate the granting of her Cambodian citizenship. It was a momentous occasion that she wanted a permanent reminder of. Rumor has it that the tattoo was drawn on by a traditional Thai needle that had been blessed beforehand.
Jessica Alba's break-up lotus
It's common practice to get tattoos in other languages like we've seen with Megan Fox and like you will see as you scroll on. Actress and Honest Beauty founder Jessica Alba followed this trend by getting the Sanskrit symbol of a lotus on her wrist.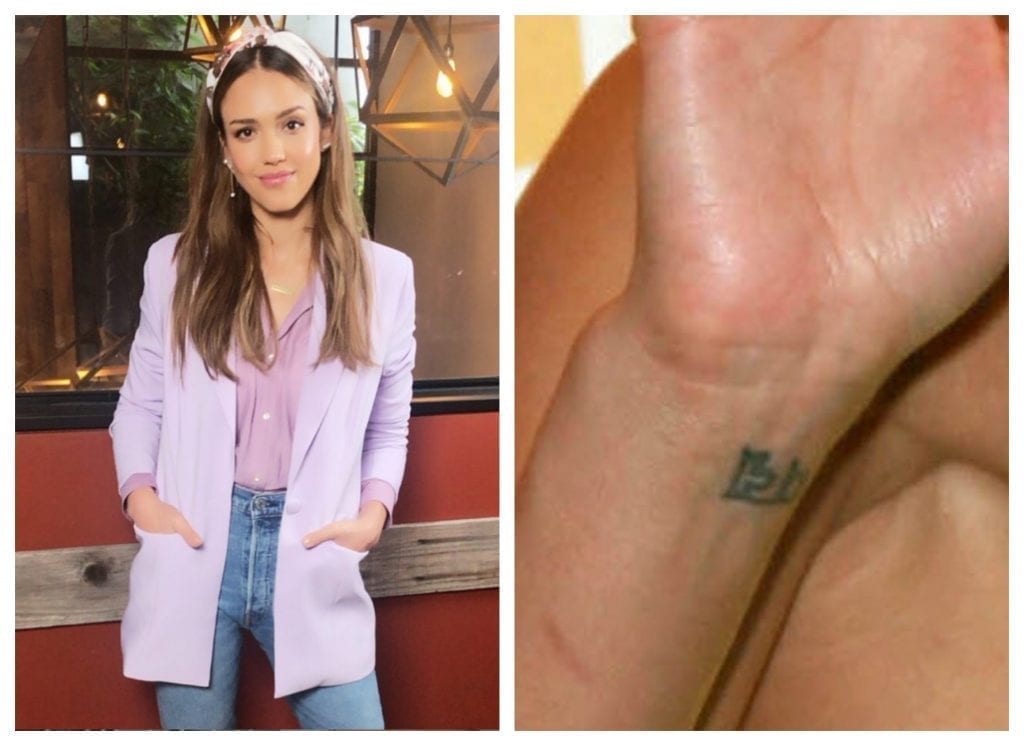 In an interview on The Late Show With Stephen Colbert that she got the tattoo after she broke up with someone who didn't like tattoos. The lotus is a symbol for "the manifestation of spiritual beauty," which she found in herself after the split. We love a power move break-up glow up!
Tim McGraw's Ichthys
Aside from symbols in other languages, many people also decide to get symbols of their faith tattooed on them. The Cross is a common ink that represents the Christian faith, but country singer Tim McGraw opted for a less conventional approach.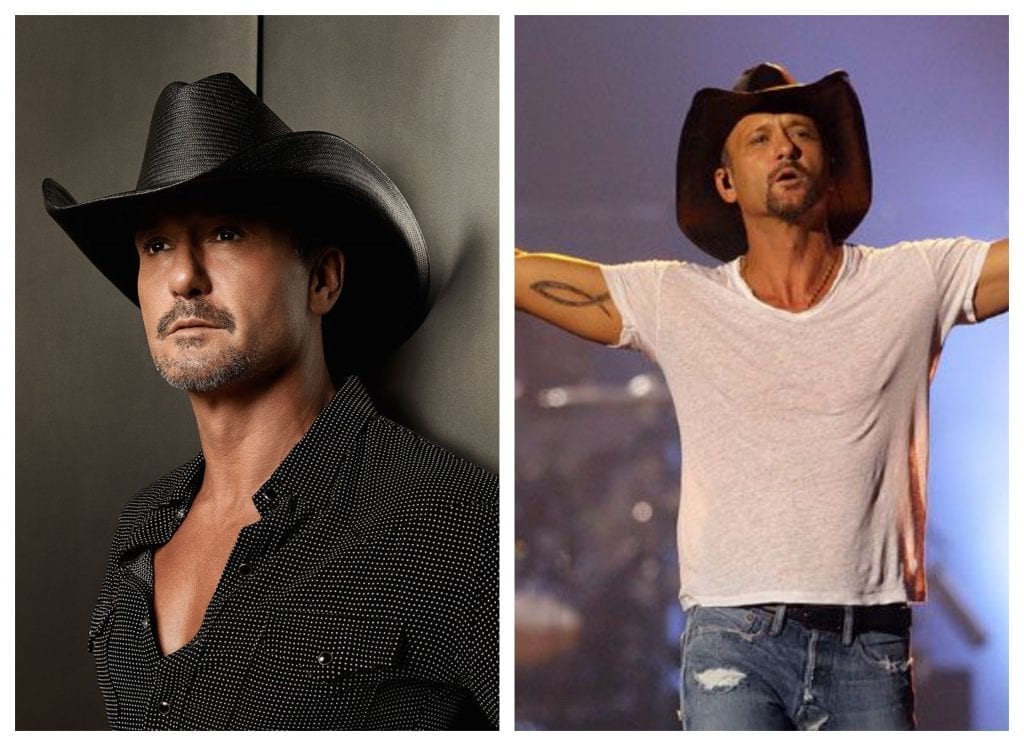 McGraw has a rather large tattoo of a fish on his arm, a common symbol for Christianity that is also referred to as an Ichthys or the "Jesus fish." He has not spoken about the tattoo, which is just one among the several he has on his body, but it is most probably a signifier of his faith.
Vanessa Bryant's family names
When LA Lakers legend Kobe Bryant and his daughter Gigi tragically passed away in a helicopter crash in January of 2020, nobody was more devastated than his wife Vanessa and daughters. This year's Lakers win in the NBA Championship was a breath of fresh air for the family as well as fans alike. Vanessa decided to commemorate the victory in the form of a tattoo.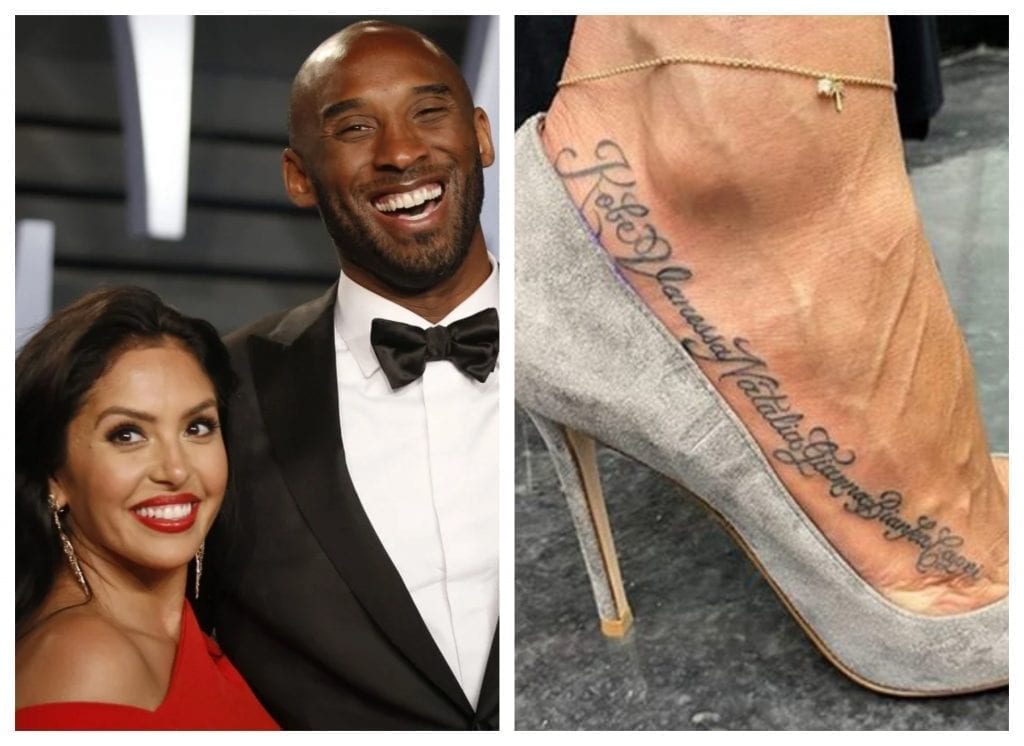 Vanessa got the names of her immediate family on her foot – Kobe, Vanessa, Natalia, Gianna, Bianka, and Capri. The ink was done by renowned tattoo artist Mister Cartoon, who has done tattoos for other big names like 50 Cent.
Snoop Dogg's Lakers win celebration
Vanessa Bryant wasn't the only one who got inked in celebration of the Lakers' 17th NBA Championship win. Snoop Dogg was also quick to get tatted, with art also done by Mister Tattoo, who has apparently done tats for Kobe himself.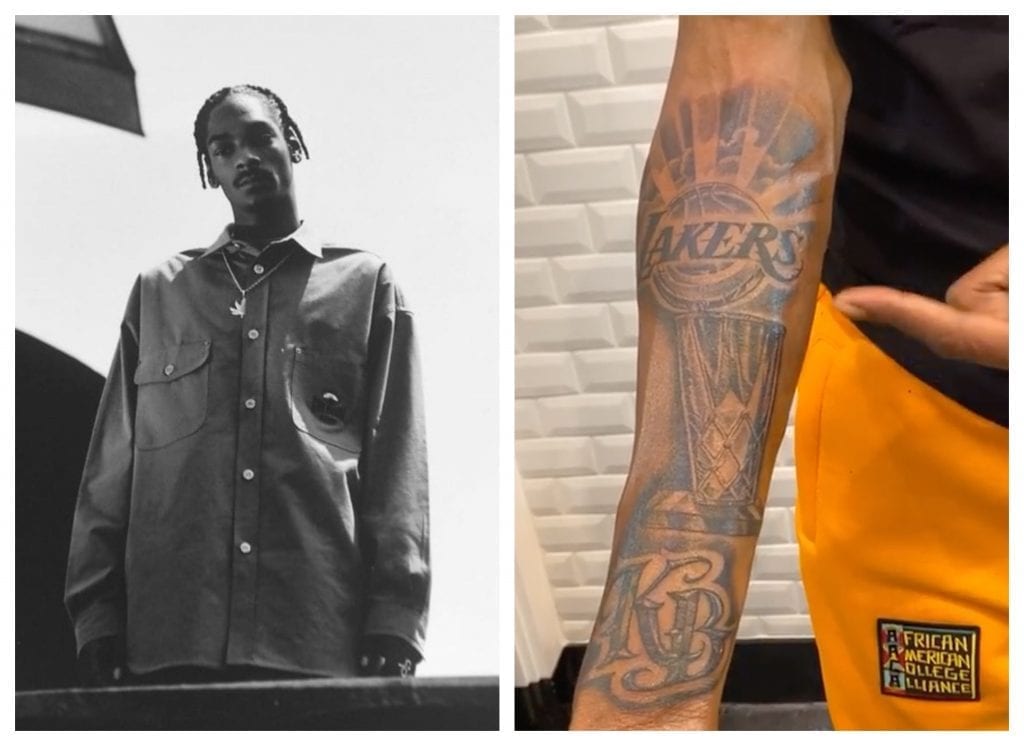 The Gin & Juice rapper now has the Lakers logo etched on his right forearm, above a basketball hoop, and the initials KB for Kobe Bryant under it. Snoop has been a long-time Lakers fan. In a video posted by TMZ, he stated, "Anything for the Lakers, everything for the Lakers, all things for the Lakers."
Keith Urban's phoenix rising
Keith Urban's phoenix tattoo on his left forearm is a powerful signifier. The country singer has struggled with addiction and alcoholism in the past. The story of the phoenix rising from the ashes symbolizes rebirth and overcoming challenges, much like he has.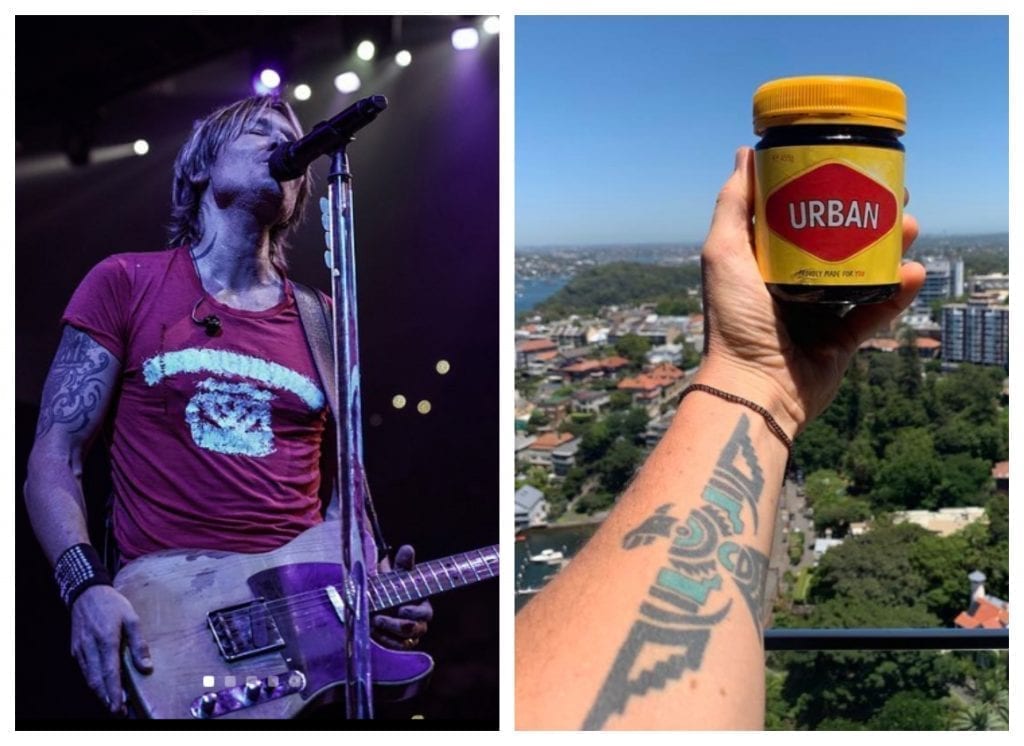 The style of the phoenix on Keith's arm resembles tribal or ancient hieroglyph, colored in black and aqua. In a 2011 interview with Women's Wear Daily, he said, "The 'what doesn't kill you makes you stronger story of the phoenix… I can relate very strongly to that, going through hard times and coming out the other end of it much stronger for the experience."
Lea Michele's cup of coffee
This Glee star reportedly has 15 tattoos on her. One particularly sweet ink is the little cup of coffee she has on her right ring finger, complete with steam coming out of it. Lea got the tattoo to remember her late grandmother, who gave her her first cup of coffee when she was 8.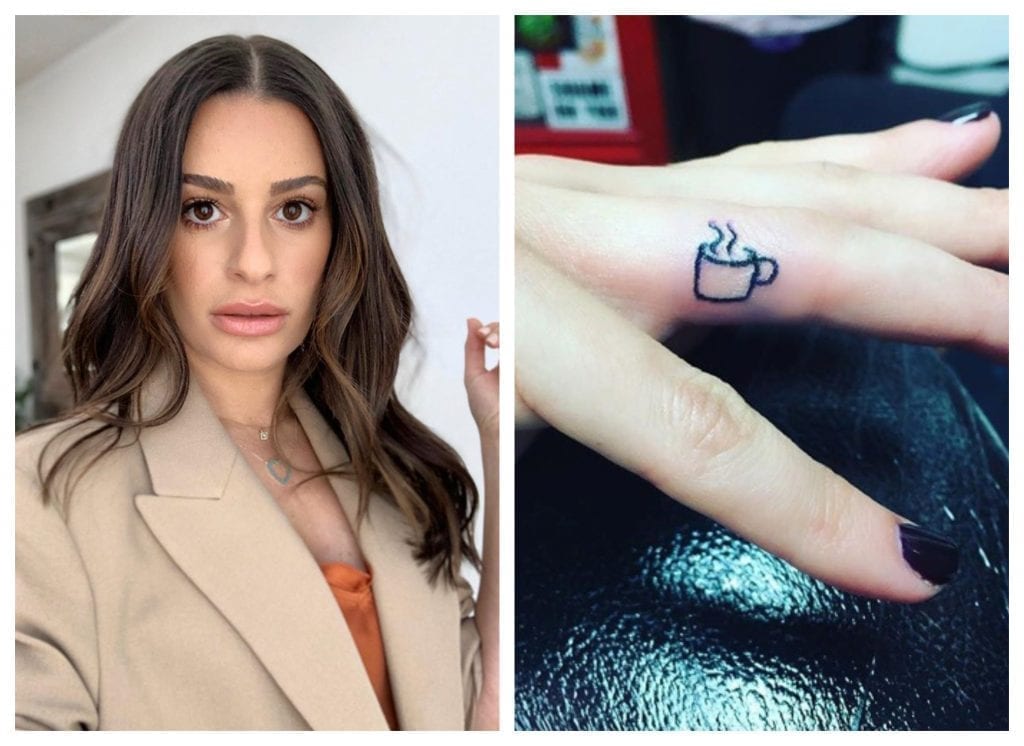 Lea got the tattoo back in 2016. A few days after her grandmother passed away, she took to Instagram to share a photo of the little mark, saying in the caption, "I loved her… More than anything.. I love you, Grandma."
Selena Gomez loves herself first
We've listed tattoos of Chinese characters and Sanskrit. Well, Selena Gomez's language of choice to permanently mark herself with Arabic. The Wizards of Waverly Place alum has an Arabic phrase on her upper right back, which translates to "love yourself first."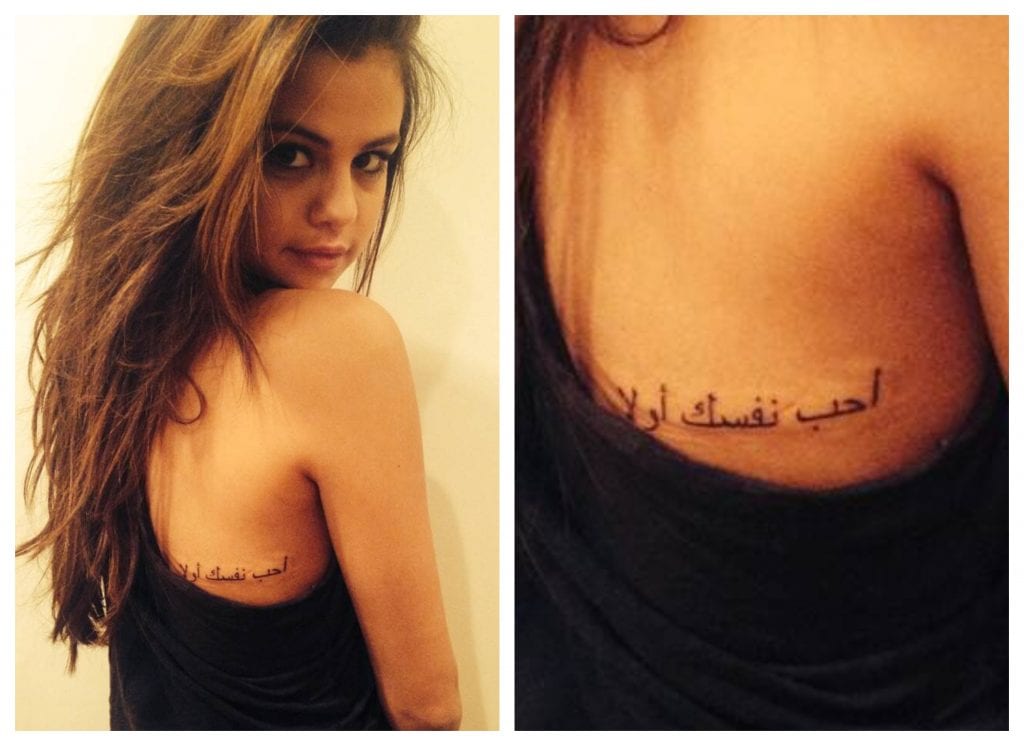 The tattoo is the actress/singer's fourth ink. Gomez focused more on her singing career after her Disney days, writing songs such as Who Says and Lose You to Love Me that also advocate and encourage self-love.
Christina Ricci's lion
As seen in previous items on this list, animals are a popular tattoo choice. We've seen birds and tigers, but for actress Christina Ricci, the lion is her animal of choice. The actress has a lion tattooed on her upper right back, and while it's not uncommon to get a lion ink, this isn't just any lion.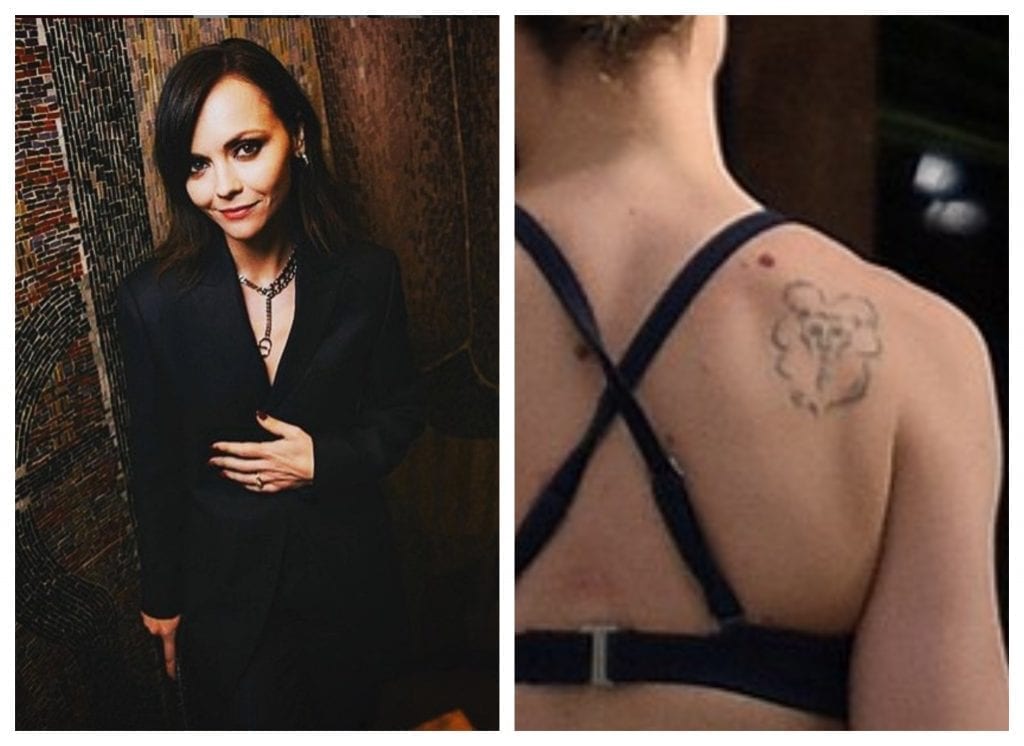 Ricci's lion is specifically Aslan, the Great Lion of Narnia from the C.S. Lewis book series The Chronicles of Narnia. It was reportedly one of her favorite book series. The lion on her back is made of wispy lines, making it look like Aslan is coming out of a cloudy puff of smoke.
Rihanna's camo shark
This fashion icon and all-around badass has a number of tattoos on her, but none with a backstory quite as cute as the camo-patterned shark on her ankle. The Fenty Beauty founder has the same shark tattoo as Drake, with whom she's sparked off-and-on dating rumors.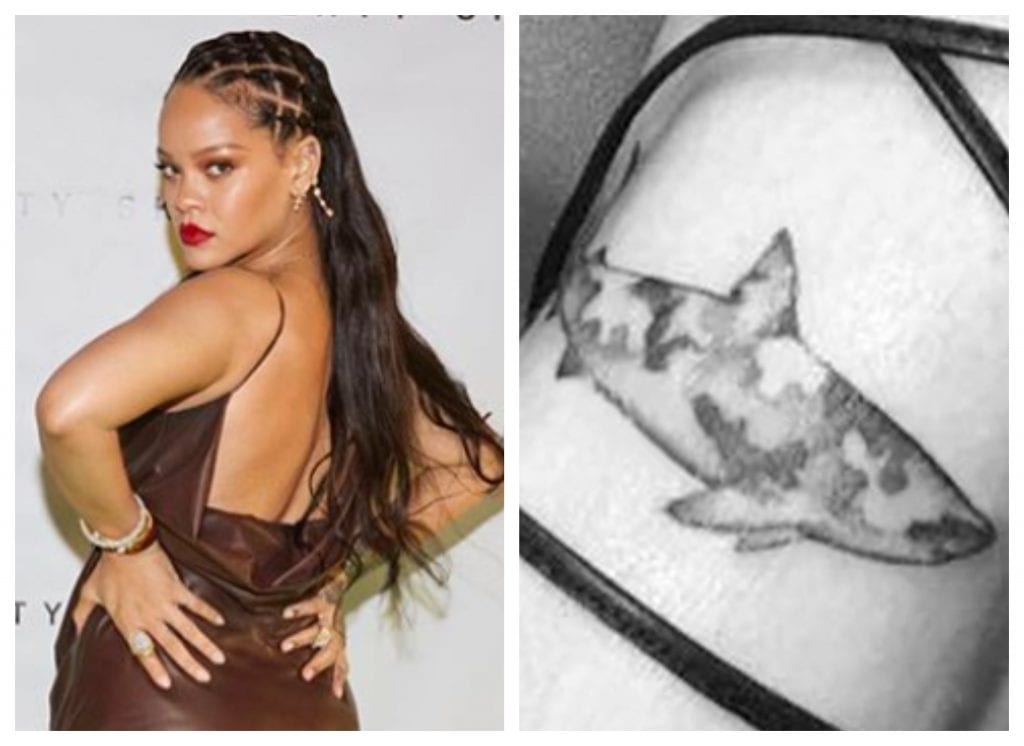 Rihanna and Drake have worked together on music, music videos and awards show performances for years. The two were rumored to have gone on a date in an aquarium in Toronto, where Drake got Riri a stuffed shark, inspiring the matching tats. Talk about a cute date!
Kesha's rainbow after the rain
We knew her as Ke$ha before she got entangled in a legal battle with her abusive producer Dr. Luke, who nearly cost her her life. Released in 2017, her Rainbow album was the first piece of music she released after the debacle, and Kesha got herself a rainbow tattoo to commemorate.
The natural phenomenon is tattooed onto the singer's left arm. She says the rainbow "injects color into her life." It is also a long-term symbol of pride and the LGBTQ community. Kesha's colorful ink expresses the freedom found in being yourself.
Nicole Richie's ballet shoes
In addition to other tattoos, she has on her skin, actress and model Nicole Richie has a pair of pink ballerina slippers on her lower right abdomen. The socialite is the daughter of acclaimed musician Lionel Richie, who reportedly wrote and dedicated his song Ballerina Girl to her.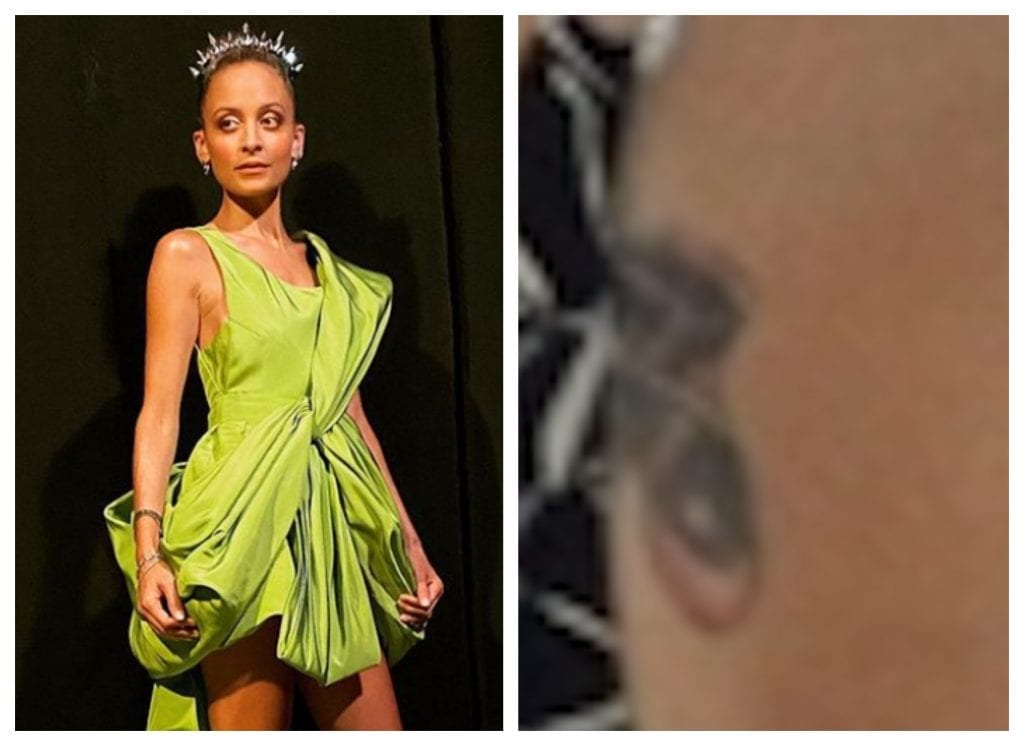 Nicole was adopted by Lionel Richie and his then-wife, Brenda Harvey at the age of 9. The couple knew Nicole's biological parents could not provide for her financially, and so they cared for young Nicole as she grew up.
Reese Witherspoon's birds around a star
Another actress with a tattoo on her lower right abdomen is Legally Blonde lead, Reese Witherspoon. Initially, Reese had a tattoo of a star, but when she married her husband Jim Toth, she got two blue birds added around the star to symbolize their new life together.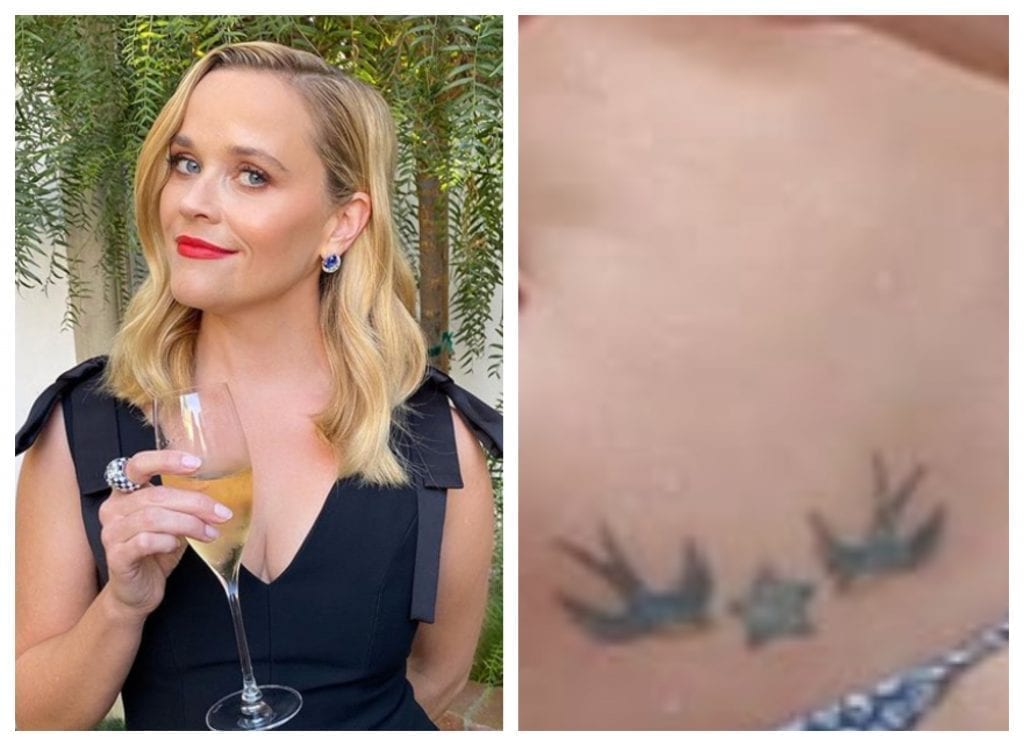 Reese was previously married to Ryan Philippe, with whom she had two children, Ava and Deacon. The actress, known as America's sweetheart, also reportedly has an extensive collection of antique linen and embroidered fabric.
Joe Jonas' Waldo
Another pair of celebrities who commemorated their pooch's passing with a tattoo is Joe Jonas. This one-third of the Jonas Brothers and his wife, Game of Thrones star Sophie Turner, mourned for their dog Waldo who tragically died in a car accident in 2019.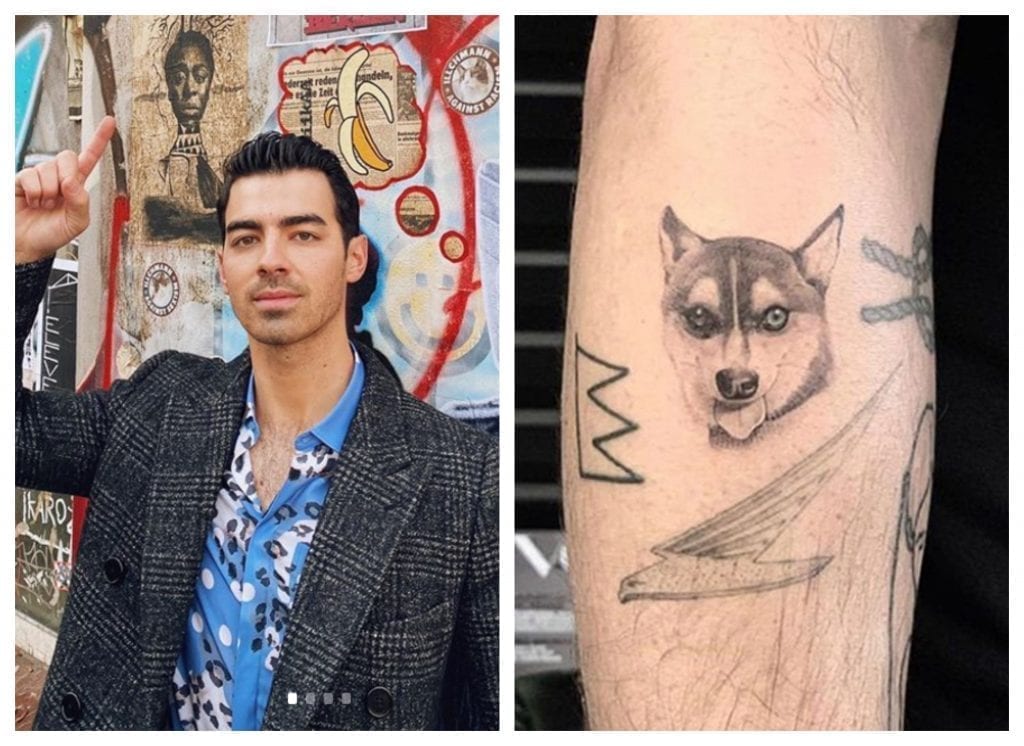 The pair's matching body art of Waldo's face was done by Dragon, a tattoo artist in Bang Bang Tattoo NYC. They made sure every detail was true to Waldo the Alaskan Klee Kai, down to his two different colored eyes. Jonas shared the ink on Instagram with the caption "R.I.P. my little angel."
Kelly Osbourne's Stories…
This tattoo placement is the one that probably caused the most pain on this list. Actress and designer Kelly Osbourne got a tattoo on her scalp. Yes, scalp, you read that right. The daughter of Black Sabbath frontman Ozzy Osbourne tattooed the word Stories… on her scalp, which stands for her clothing line of the same name.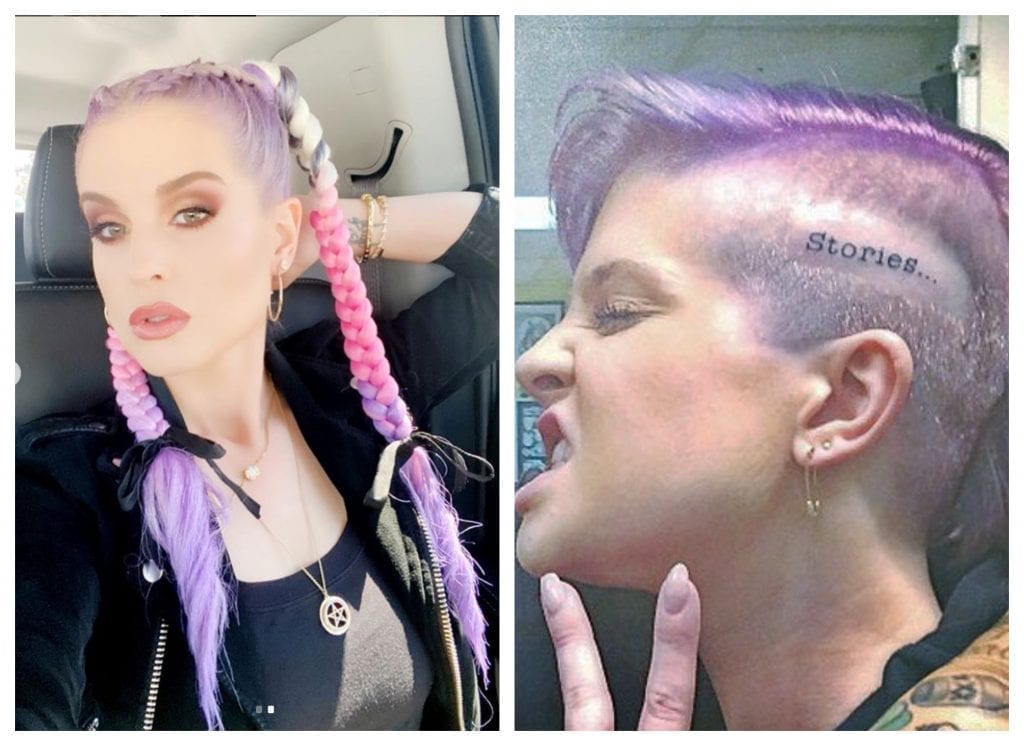 Kelly has always been known for constantly changing up her hairstyle and hair color, especially seen during her time as one of the hosts of Fashion Police on E!. She can definitely show off the ink when she is sporting a fade, but nobody will be able to to see it when her hair grows back…
Amy Schumer's lower back mark
Despite being a stand-up comedian, Amy Schumer had a pretty dark past, which she explored in her New York Times Best Seller book The Girl With the Lower Back Tattoo. Schumer actually does have a lower back tattoo of a sort of long tribal pattern that no one really knows the meaning of.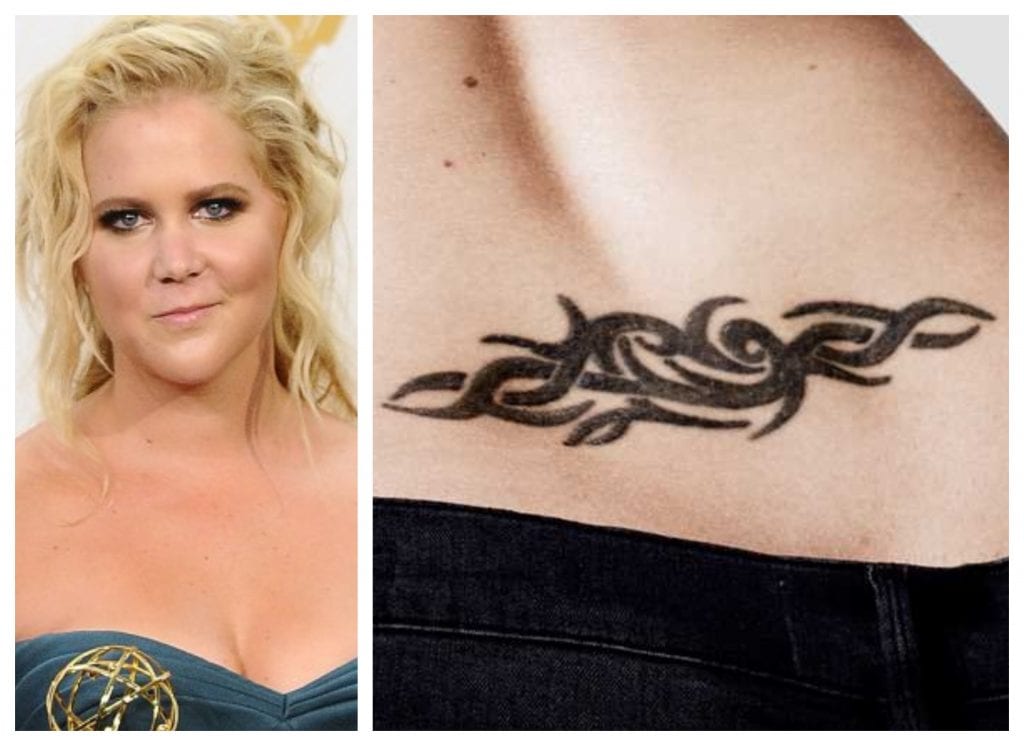 In her book, which she released in 2016, Schumer told the story of how she got the tattoo at 20 years old. The memoir detailed her less than ideal past, dealing with problematic parents and failed relationships in her life.
Miranda Lambert's angel guns
This country artist with her sweet soul and angelic voice, ironically, has guns tattooed on her wrist. Miranda Lambert has two six-chambered revolvers flanked by angel wings on her left arm, which has become the image for her brand, gracing logos and all her event backdrops ever since.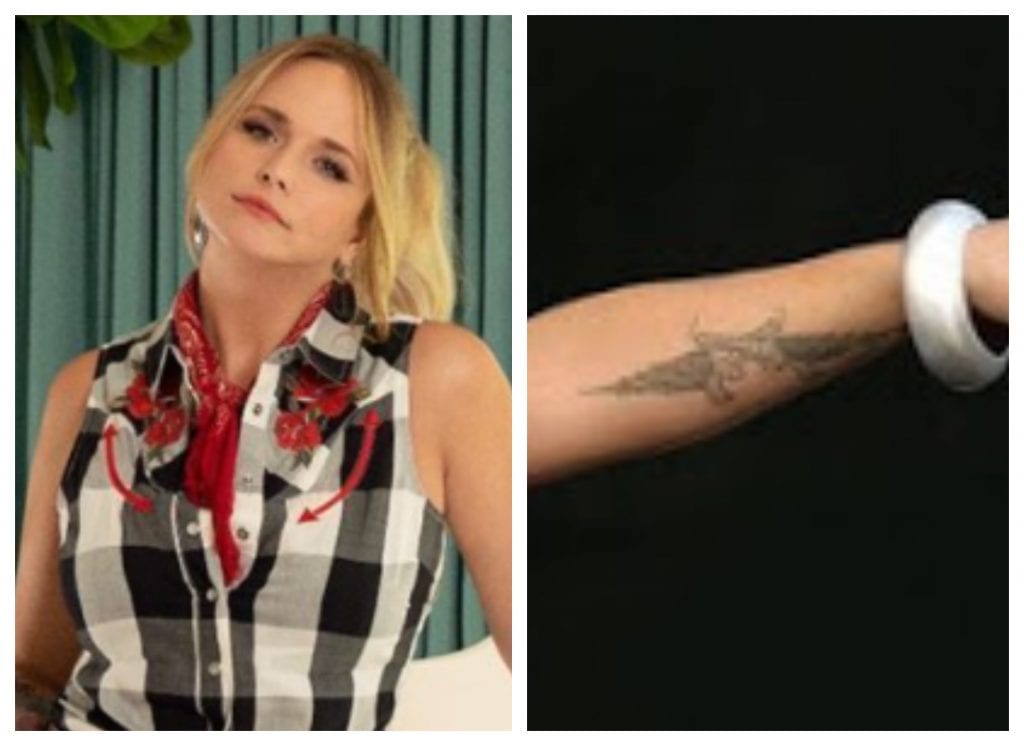 The House That Built Me singer revealed in an interview that she had gotten the tattoo when she was 22 and touring with George Strait. It was the first thing she had done without asking for her parents' permission. Her father was very upset about it and wouldn't speak to her for a week after getting it.
Hayden Panettiere's Leo
Astrology is a trend that has resurfaced over the last few years, but Hayden Panettiere got this star sign tattoo before it was cool. The actress, best known for her role in the series Heroes, was born on August 21, 1989, making her a Leo.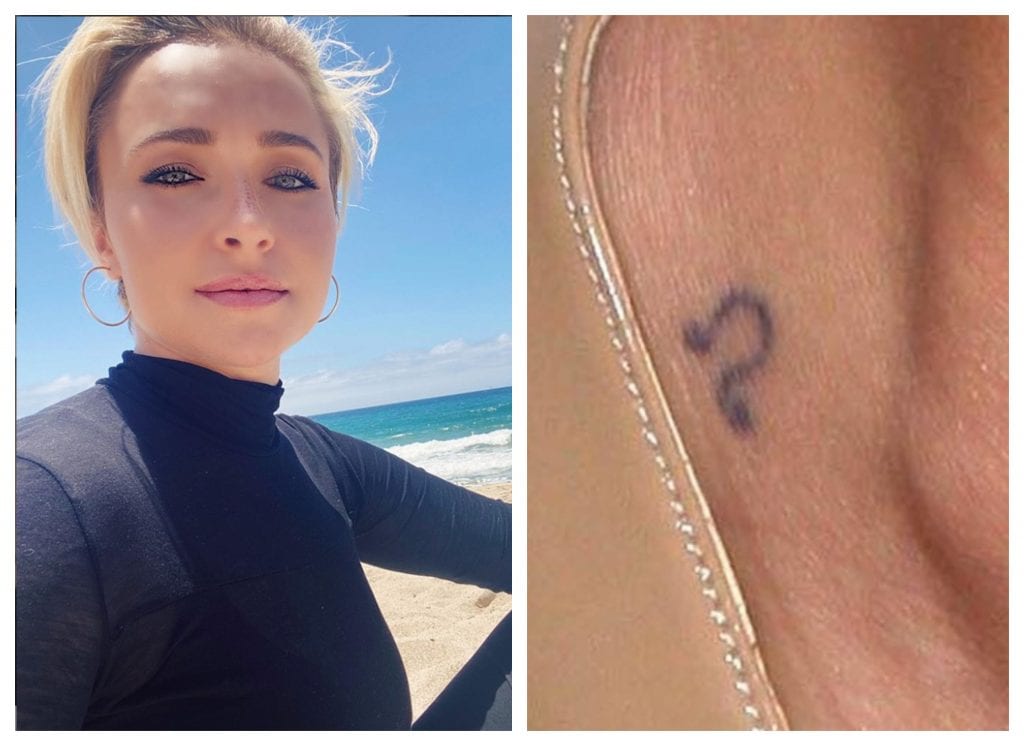 Panetierre has a very tiny zodiac sign for Leo on her ankle, barely noticeable when you're not paying attention. She was engaged to heavyweight boxer Wladimir Klitschko, with whom she has a daughter named Kaya, but the couple has since split.
Kelly Clarkson's hallowed advice to love them more
Being the first American Idol champion threw Kelly Clarkson into the deep end of the music industry. The singer/songwriter got a tattoo on her right wrist to help her overcome days when dealing with people in her line of work became a bit too much to handle.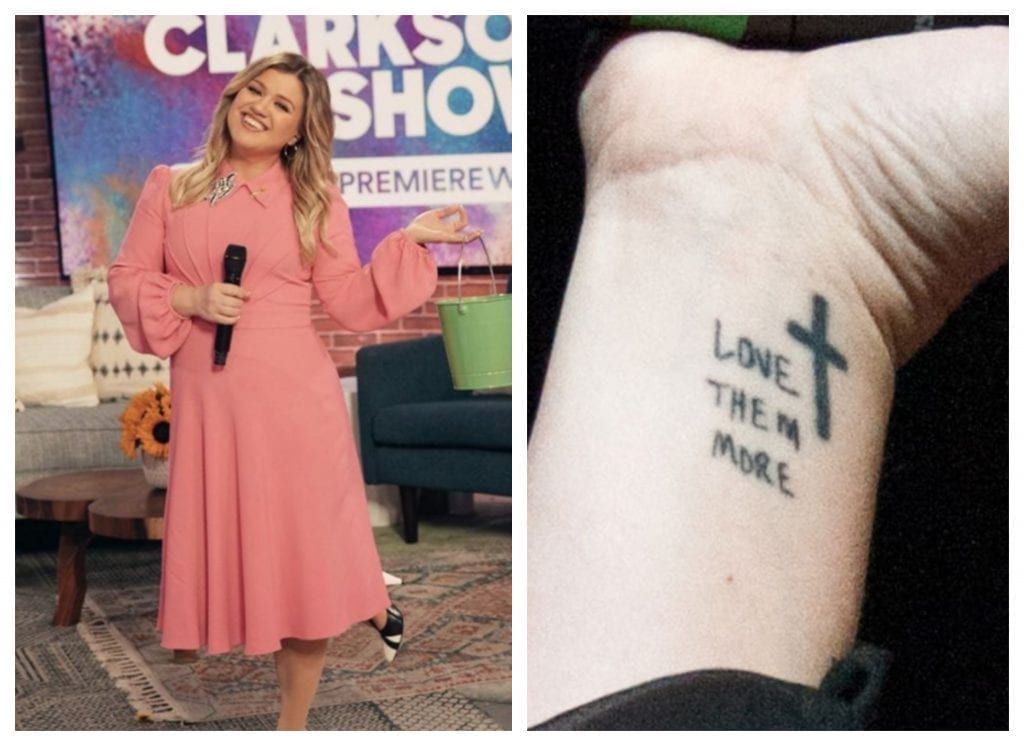 Clarkson sports a cross and the words "love them more" on her wrist. Growing up in Fort Worth, Texas, her preacher used to say this as an advice for when people were being mean to her as a child. As she grew to become a big name in music, she realized that there are many mean people around her, and the tattoo serves as a reminder to love them more.
Britney Spears' pink dice
Britney Spears is a former Mickey Mouse Club and Disney alum, whose journey in shedding her Disney persona was heavily covered by the press back in the day. One of Spears' very non-Disney behavior was getting a tattoo.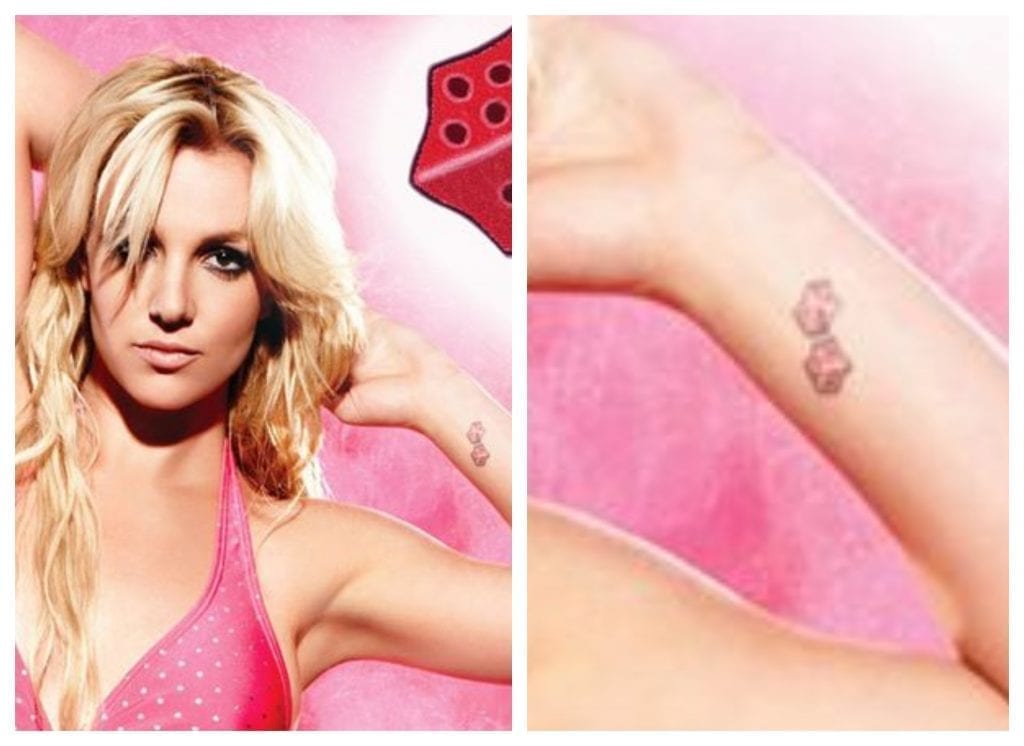 The Toxic singer has a pink dice tattooed on her wrist. Spears got married to her now ex-husband Kevin Federline in 2004 when she was 23 years old. Federline got the exact same dice in a blue color to match Britney's. Earlier this year, Spears revealed she was thinking of getting the dice removed.
Katy Perry goes with the flow
Pop sensation Katy Perry may seem to be living in color, but the tattoo of a Sanskrit phrase on her right bicep is simple and monochrome. The phrase, which says "anuugacchati pravaha," translates to "go with the flow" – truly a phrase to live by.
The I Kissed a Girl singer got the ink in 2010 as a matching tattoo with her then-fiancé Russell Brand. Sanskrit is a language that originated in India, a country that bore significance for the couple, as it was the place where Brand proposed to Katy while they were on vacation.
Lady Gaga's seamstress mouse
Lady Gaga has always been known for her fashion and music that pushes boundaries. The Mama Monster is a very artistic soul, and the concept behind her mouse tattoo is also creatively clever. The mouse, which sits above her left elbow, is dedicated to her younger sister Natali, whose nickname as a child was Mouse.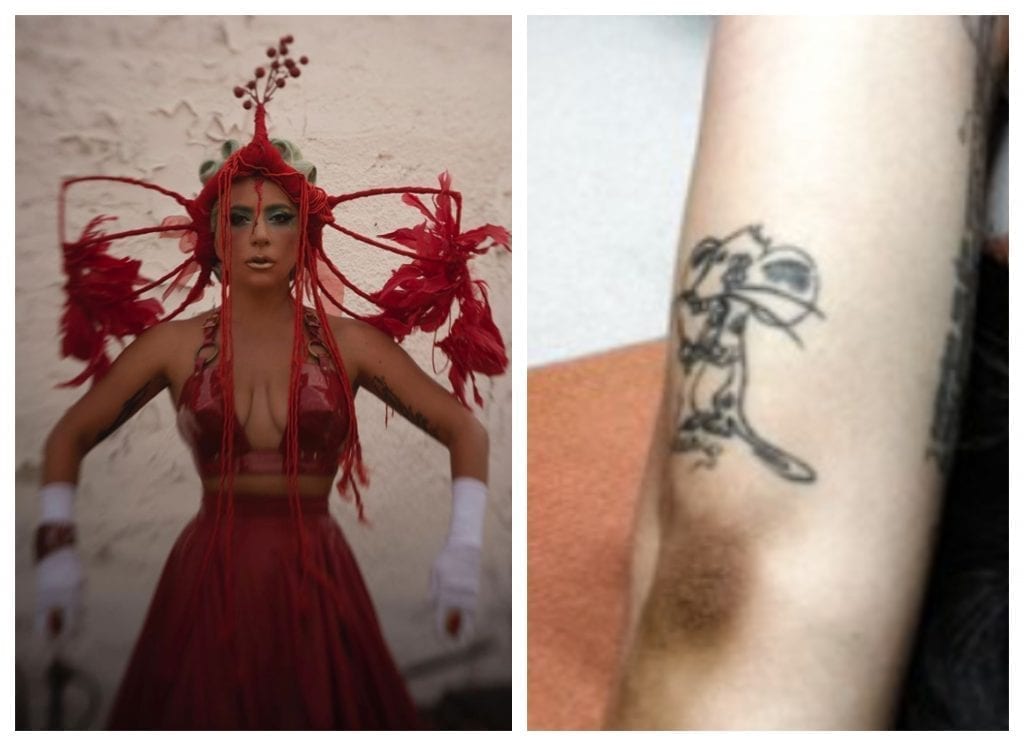 The little creature is among the 24 tattoos present on the singer's skin. It is holding a needle and a thread to signify Natali's passion for fashion design. The nickname "Nat" is also spelled out underneath the mouse.
Nicki Minaj remembers that God will be with her
Nicki Minaj is another celeb who chose to have a Chinese phrase as a tattoo. The six characters on her left arm read Shàngdì yu ni cháng zai, and means "God will be with you." The Anaconda rapper confirmed the meaning of her tattoo through an Instagram video of a fan encounter, where a Chinese fan read and translated her tattoo.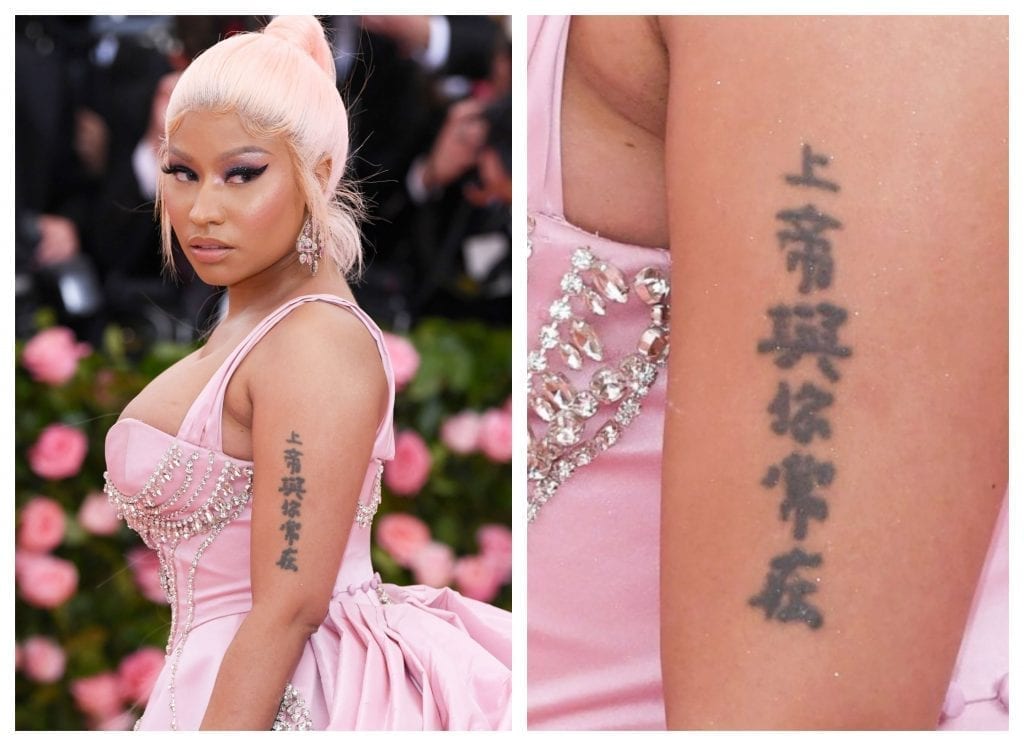 Nicki revealed in an interview for Billboard that she got the tat at age 16 but regretted its placement because she now feels she can't wear nice gowns with it. The ink was supposed to be placed on the back of her neck, but she quickly backed out of it when she felt the needle hurt too much there.
Colin Farrell loves no matter
Colin Farrell has several tattoos on him, but possibly the most notable and sweet in meaning is the one found on his left pec. The Irish actor has the words "I love no matter" tattooed over an image of a flower.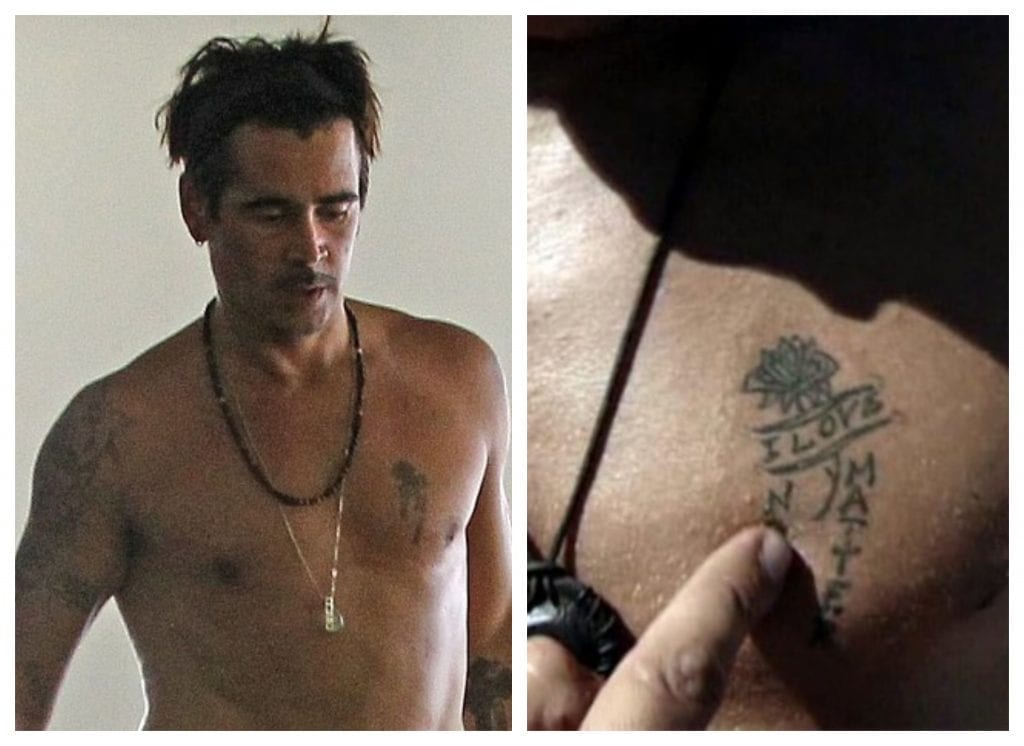 The ink on the In Bruges star is meant to symbolize his faith in "love and the power of relationships." He has gotten a number of other tattoos laser-removed because he feels he takes too long in the make up chair in the mornings to get them covered up. In an interview on James Corden's talk show, he said he wanted his extra 45 minutes of sleep.
Ariana Grande's crescent moon
Victorious alumnus-turned-pop star Ariana Grande has a reported 55 tattoos on her, each with a commemorative meaning. The crescent moon on her neck is a matching tattoo with one of her best friends, Brian Nicholson, who is also her backup dancer.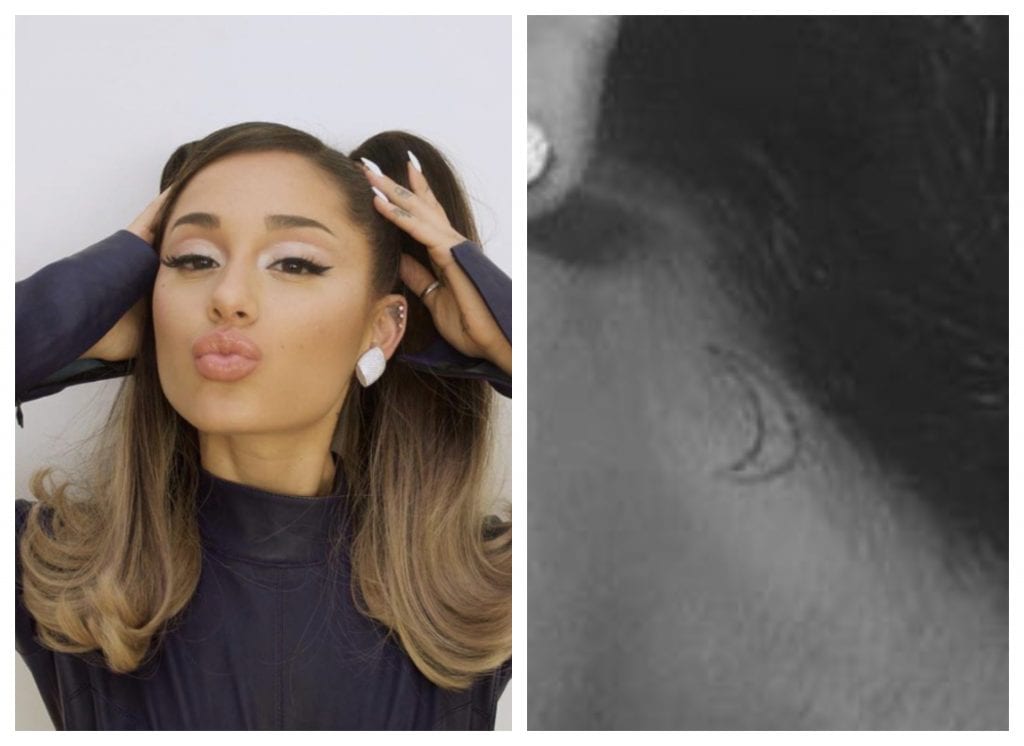 Ari got the lunar ink in 2015 before even her fans knew that she had a third album coming. The album was supposed to be called Moonlight but ended up being the album we now know as Dangerous Woman. Grande premiered the tattoo on her Insta in April of 2015 with a single crescent moon emoji as a caption.
Hailey Bieber's broken heart
Model Hailey Baldwin is not only related to a Baldwin and married to Justin Bieber, but she is also besties with the Jenner sisters. Hailey and Kendall both have the same tattoo of a broken heart on the inside of their fingers to commemorate their friendship. The heart on Hailey is red while Kendall's is white. Why the heart is broken, we have no idea.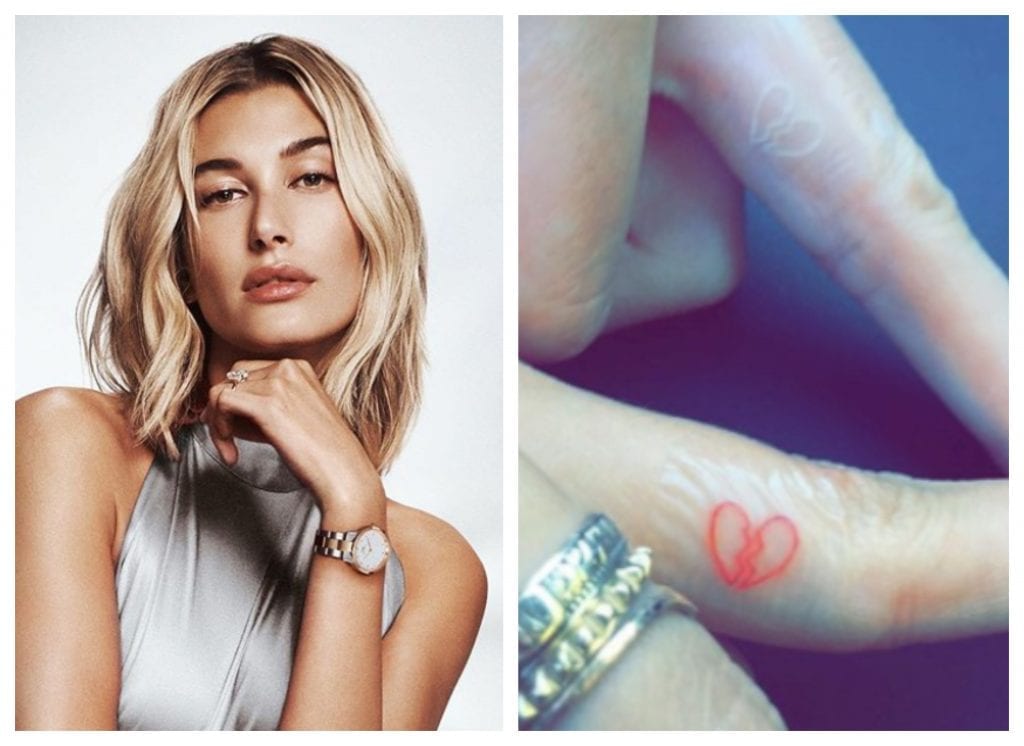 The two girls were initially only mutuals, as Hailey was originally best friends with Kendall's sister Kylie. However, things changed when all the sisters began hanging out in the same circle, including model sisters Gigi and Bella Hadid.
Robert Downey, Jr. assembles the Avengers
Real-life Tony Stark Robert Downey, Jr. initiated what might just be the greatest group tattoo ever to exist. The Iron Man actor first got a tattoo of the Avengers logo on his wrist to commemorate the role of the lifetime as part of the mega franchise that is the Marvel Cinematic Universe.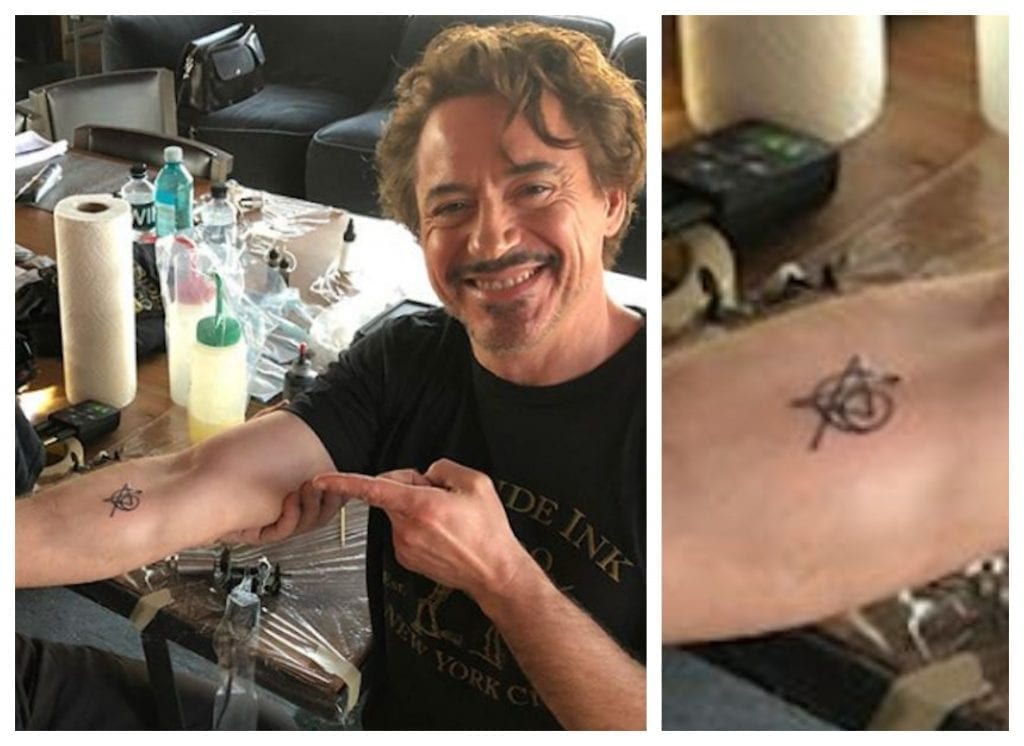 Soon enough, his fellow original Avengers followed suit. Scarlett Johansson, Chris Hemsworth, Chris Evans, and Jeremy Renner now have the same tattoo on them. The group got their inks done by John Lord, a tattoo artist based in New York City. What a strong bond these stars must have off-screen!
Vin Diesel's Paul Walker tribute
We all wept when news of Fast and Furious star Paul Walker's death was reported in 2013. We probably played See You Again by Charlie Puth so many times. Walker's best friend and co-star Vin Diesel grieved Paul's passing so much, and he got himself a very beautiful tattoo to honor the memory of him.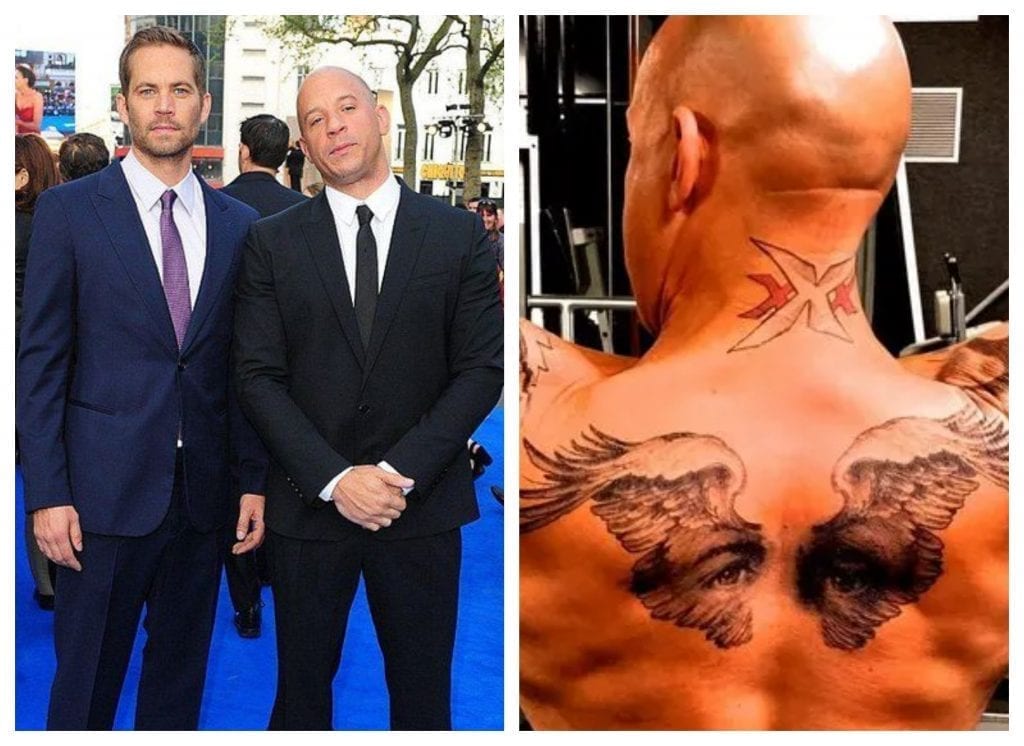 Diesel shared a photo of a tattoo on his upper back to his Facebook. He sported detailed angel wings with a very realistic pair of eyes in the middle. Fans immediately speculated that the eyes were Paul Walker's, though the actor himself hasn't made a statement on the tattoo or confirmed that the eyes are indeed Paul's. Diesel shared a brotherly bond with Paul Walker, even naming his daughter Pauline after him.