Celebs Who Took a Step Back For Someone Else's Big Day
By Dragana S September 3, 2020
---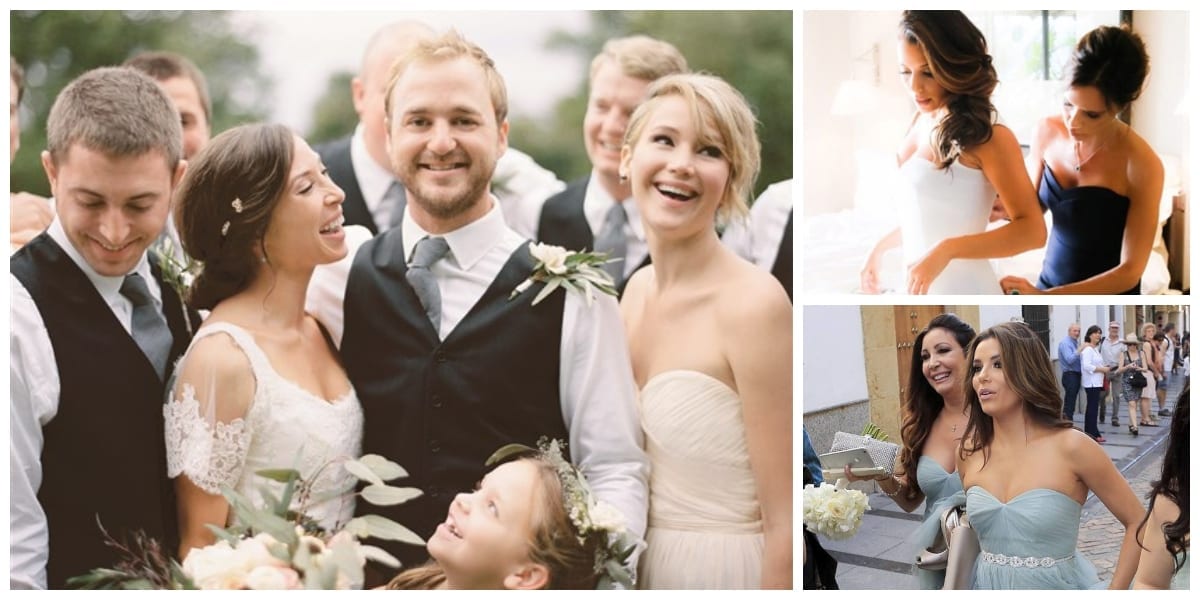 We are used to seeing these women in the spotlight, but what happens when the roles are reversed? It's every bride's dream to have a perfect wedding, but having a celebrity bridesmaid can be a big challenge. Imagine paparazzi trying to sneak into your wedding reception or all eyes on that VIP bridesmaid instead of on the bride!

But luckily, the famous women on this list have proved that they put their friendship first. They handled their role with humility and grace, helping their friend feel special on their big day. But there's one great thing about weddings with celebs in them – you know for a fact that there are going to be some amazing high couture dresses out there!

If you want to see some glamorous wedding pics and faces you recognize, we hope that you'll enjoy this article. Here is a list of some of the hottest celebrities ever to attend someone else's wedding as bridesmaids.
Ashley and Mary-Kate Olsen
You don't often see bridesmaids wearing mismatched dresses, so this colorful wedding was real eye candy. The Olsen twins served as bridesmaids to Cassie Coane who made a special request that each of the bridesmaids wear a different floral pattern dress.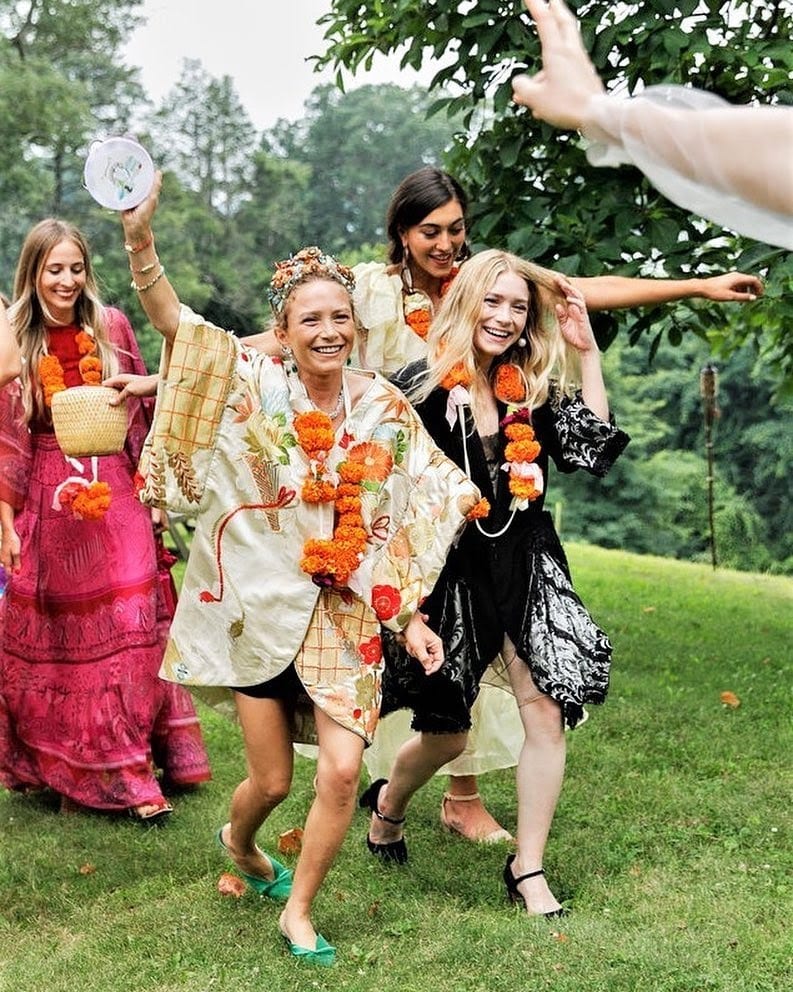 Ashley and Mary-Kate looked stunning in their wavy colorful and black and white dresses. The bridesmaids' party was wearing orange flower chains and floral headpieces that attributed to the free-spirited wedding theme. This 2017 New York wedding has set high standards when it comes to boho fashion.
Emily Ratajkowski
When celebrities attend weddings, they usually go for one of two completely opposite looks. They either flaunt a flashy fashionable item worthy of a celeb, or they pick something more casual not to overshadow the bride on her special day.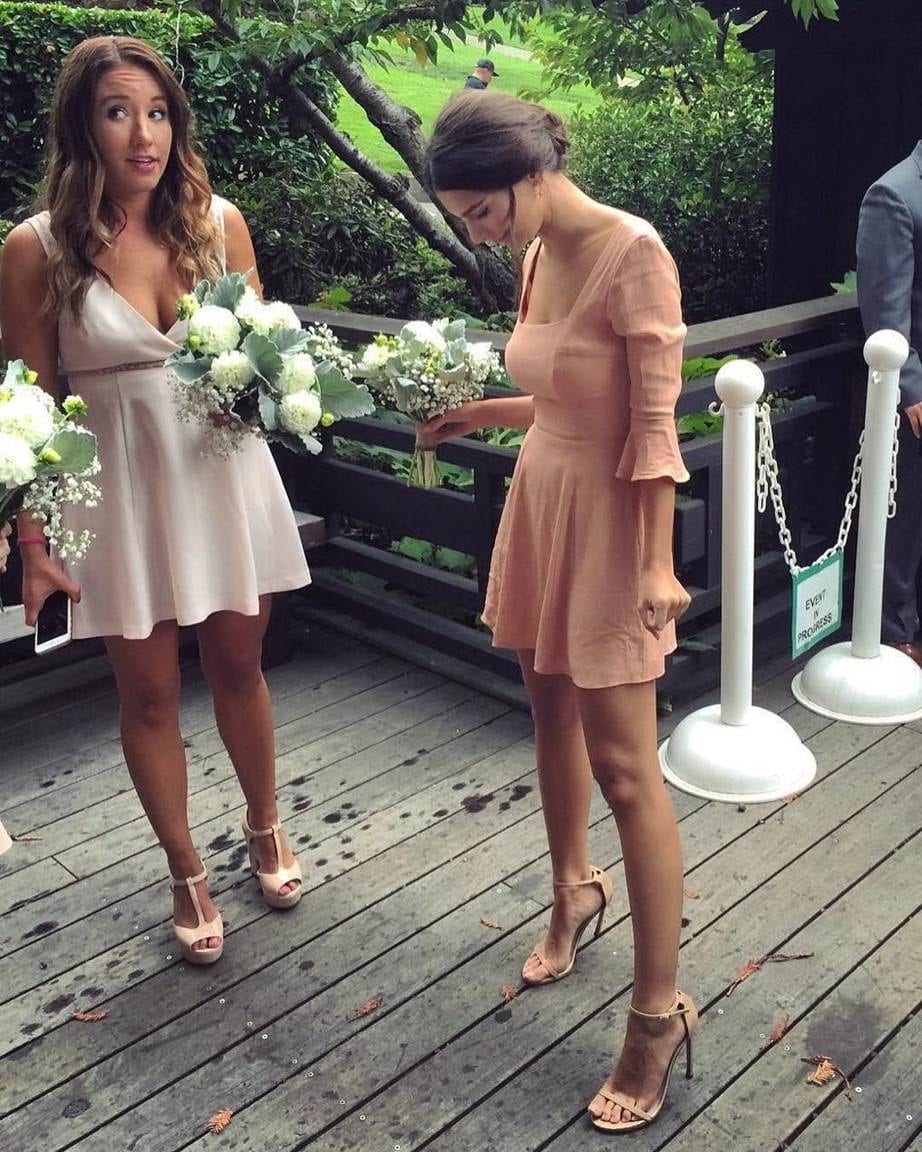 Emily Ratajkowski got some backlash on social media for her informal look at her friend's wedding. She wore a peach Christy Dawn minidress that she designed herself earlier this year, but the fans couldn't forgive her for not ironing the dress.
Taylor Swift
Taylor Swift wouldn't have missed a chance to be a part of her best friend's wedding in Martha's Vineyard for the world. Abigail Anderson (who apparently inspired Swift's hit song Fifteen) got married to her fiance Matt Lucier in September 2017.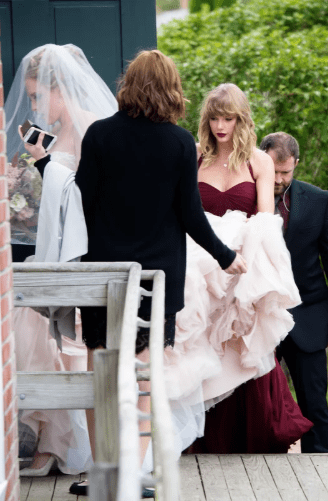 Taylor wore a dashing burgundy Jenny Yoo gown that perfectly matched her makeup. During the church ceremony, she carried the bride's train walking behind her. According to a snippet of Swift's toast to the newlyweds that ended up on Instagram, the popular singer made a funny, R-rated speech.
Emma Roberts
Fashion designer Kara Smith had Emma Roberts as one of her bridesmaids for her Santa Ynez wedding. The bridal party broke the rule of wedding guests not wearing white and paraded in silky ivory dresses accompanied by white flower bouquets.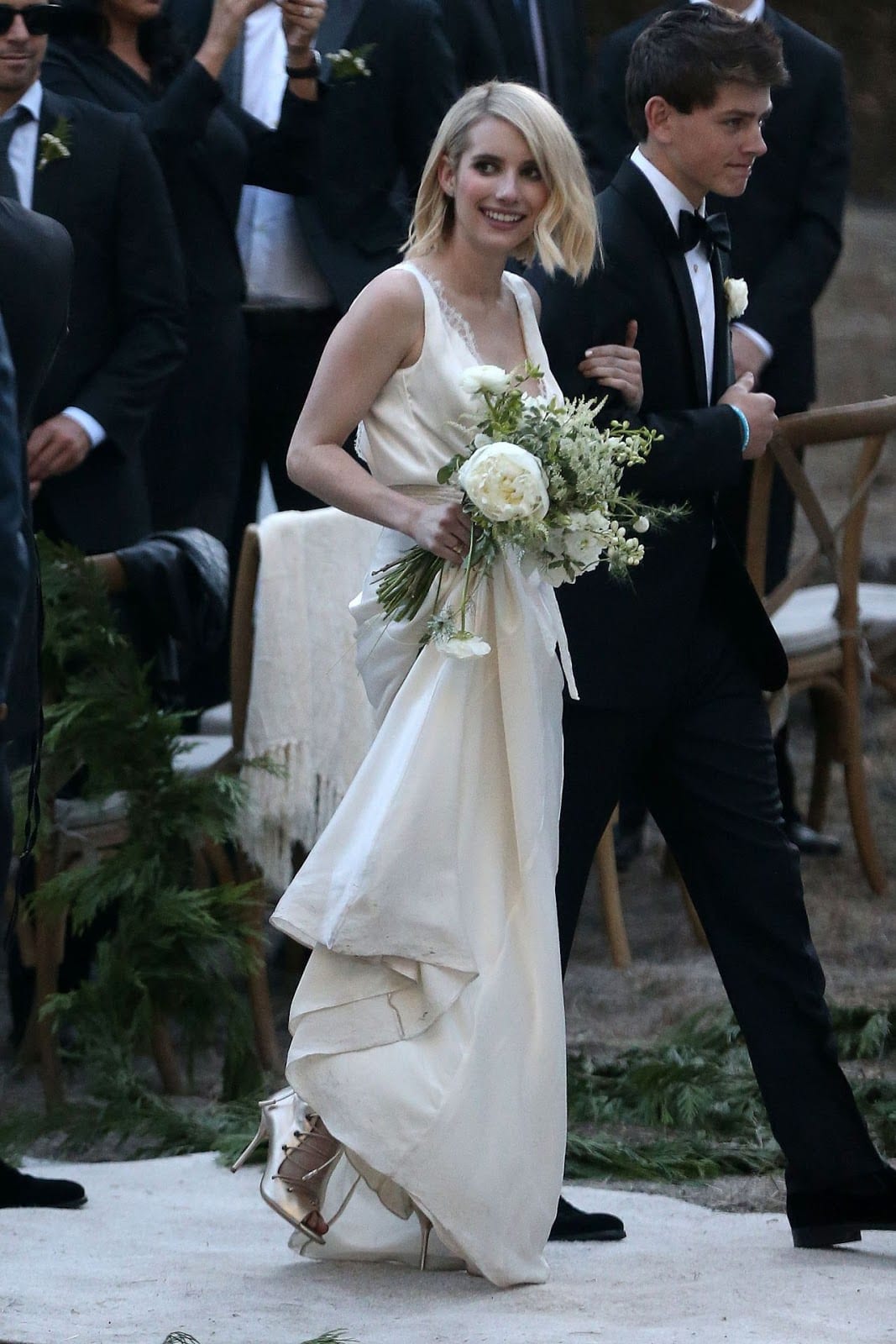 Emma followed Kara to the altar to witness her marry the photographer Nick Walker in an elegant ceremony. Many fans agreed that Roberts looked so stunning in white that they would love to see her in a wedding gown one day.
Paris Hilton
When it comes to Paris Hilton, she's guaranteed to draw attention to any event she attends. It wasn't any different at her sister Nicky's wedding in July 2015. Paris was the maid of honor, strutting a pale blue Dennis Basso chiffon gown with a discreet sparkling belt.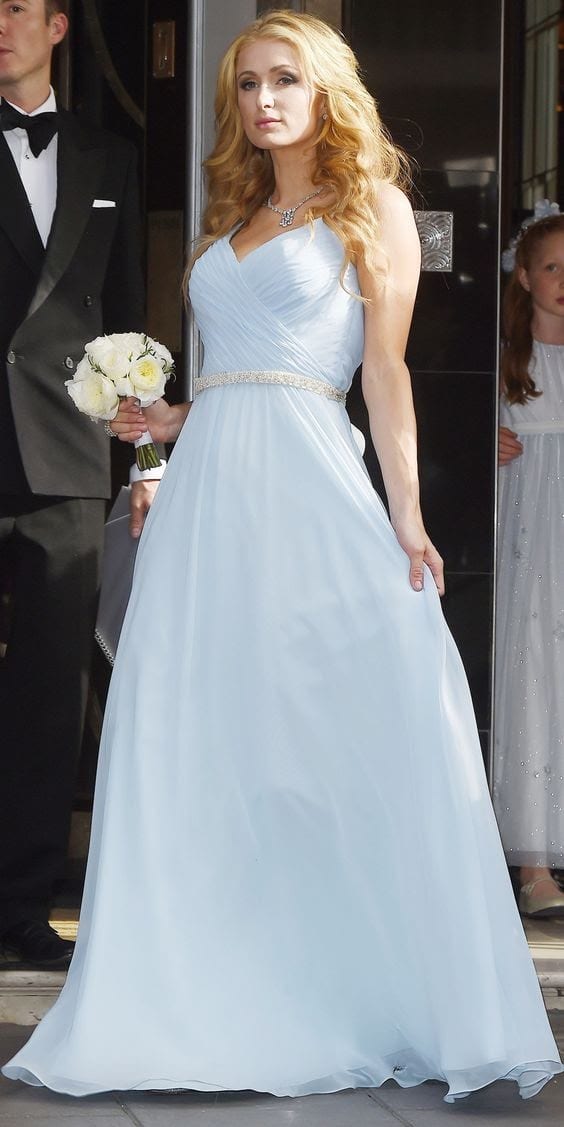 Nikky Hilton's marriage to James Rothschild meant the joining of two billionaire families, so it wasn't surprising to see the bride in a $65,000 Valentino wedding gown. According to Paris, she agreed to wear anything her sister picked out, and judging by her glamorous look, Nikky chose well.
Sofia Vergara
The last thing you want on your wedding day is to have all eyes on your bridesmaid instead of you. When Sofia Vergara is in your bridal party, that is a serious concern. Luckily, Vergara made sure that her friend Chi Bui got all the attention she deserved.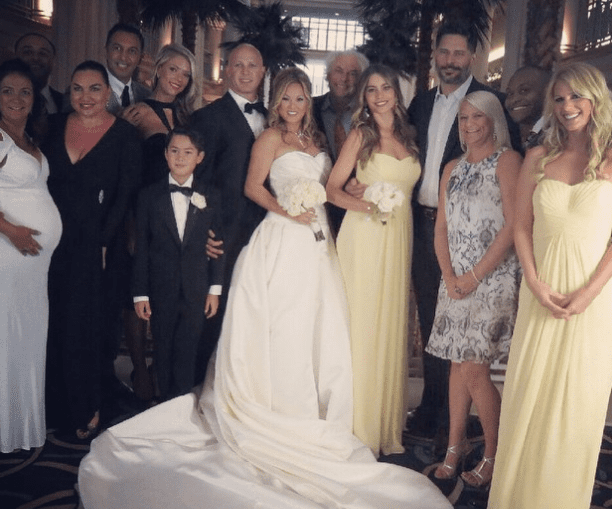 Sofia Vergara came to the 2015 wedding accompanied by her then-fiance Joe Manganiello who became her husband later that year. She wore a long pale lemon strapless gown that matched other bridesmaids' outfits. Their dresses were perfectly paired with subtle white rose bouquets.
Rachel McAdams
We are used to seeing Rachel McAdams in movies with wedding themes – she played the maid of honor in 2005 comedy Wedding Crashers. There were no wedding crashers this time as she served as the maid of honor in real life, witnessing her baby sister Kayleen tie the knot.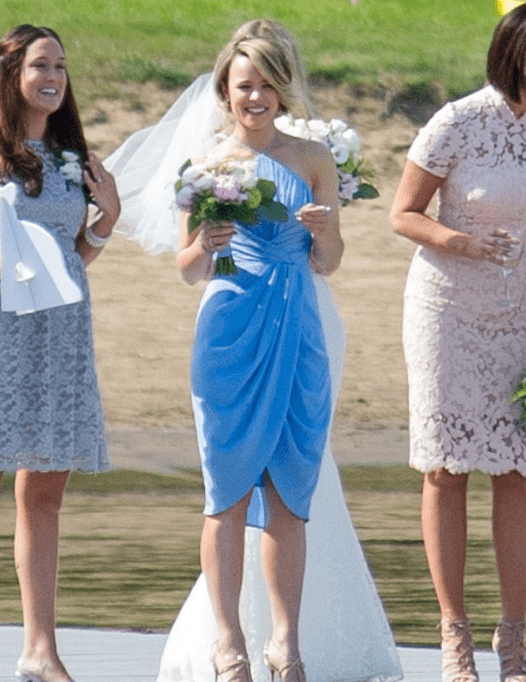 In 2015, Kayleen said yes to Evan Turner in a custom Vera Wang wedding dress – the slick, lace adorned Madeline model sans the peplum. Her big sister Rachel wore a blue halter dress paired up with golden Louboutins and had a pastel lilac and white bouquet as an accessory.
Eva Longoria
Back in 2015, Eva Longoria flew to Cordoba, Spain to accompany her friend Alina Peralta as she was getting married to her fiance Manuel Gutierrez. The famous actress was so chill, she took her shoes off and walked the streets barefoot.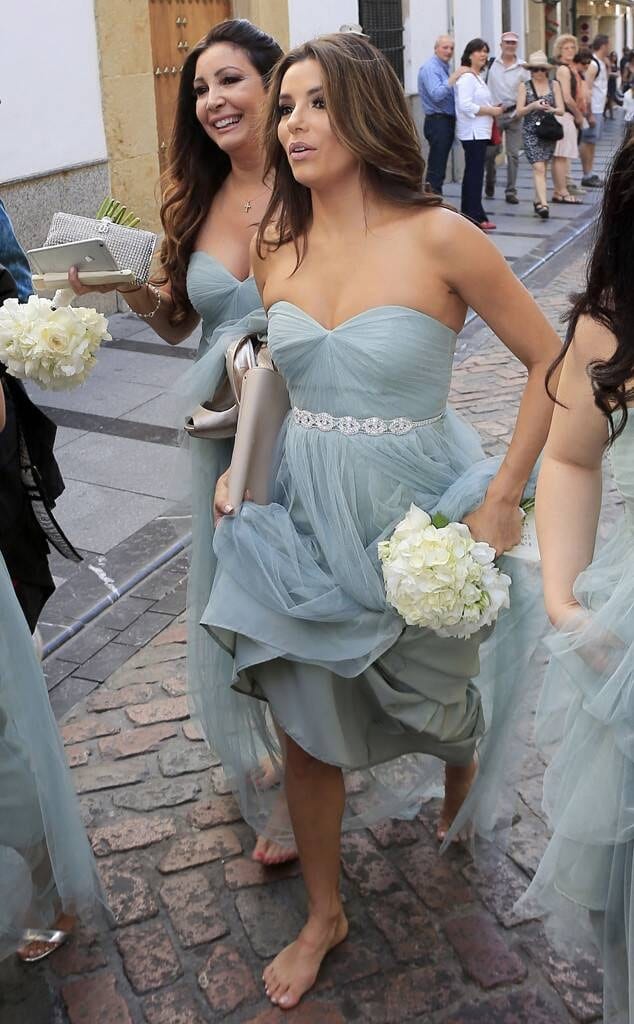 High heels or bare feet, it didn't make much difference to the overall appearance of the Desperate Housewives star. Longoria attracted the attention of the locals who gazed at her ravishing soft blue tulle dress adorned with a subtle zirconia belt.
Rihanna
If you want your wedding to be unforgettable and a little bit wild, make sure to invite Rihanna as one of your bridesmaids. The beauty from Barbados returned to her homeland to accompany her childhood friend Sonita Alexander as she walked down the aisle.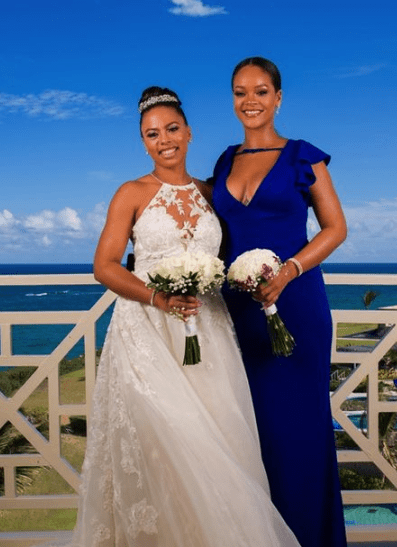 RiRi looked nothing short of breathtaking in a royal blue mermaid gown with a low-cut back that flaunted her tattoos. After the ceremony, Rihanna goofed around and made sure to duck and avoid catching the bouquet when Sonita threw it into the crowd.
Lady Gaga
Asking Lady Gaga to blend in is pretty much like expecting for hell to freeze over. The singer superstar is a natural performer and she can't go unnoticed even when she is not wearing a dress made of steaks or a similar outrageous outfit.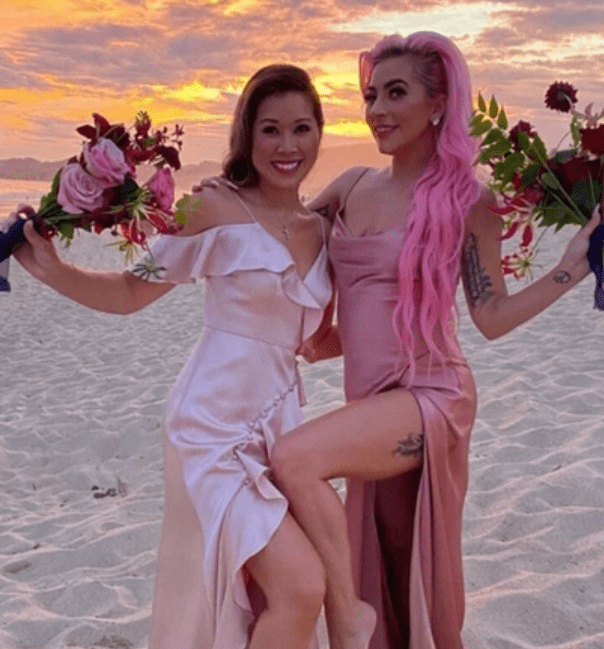 When Gaga's best friend, make-up artist Sarah Tanno, organized a beach wedding in 2019, the singer flew to Mexico to see her get hitched to her now-husband Tim Stewart. Lady Gaga wore pink head to toe, matching her pink silk dress with a bubble gum pink hairdo.
Sarah Jessica Parker
In 2014, SJP's former assistant Melinda Relyea threw a wedding fit for a Sex and the City movie. While the bride flaunted a stunning Oscar de la Renta gown with a bold black and white color combo, the bridal party wore something more classic.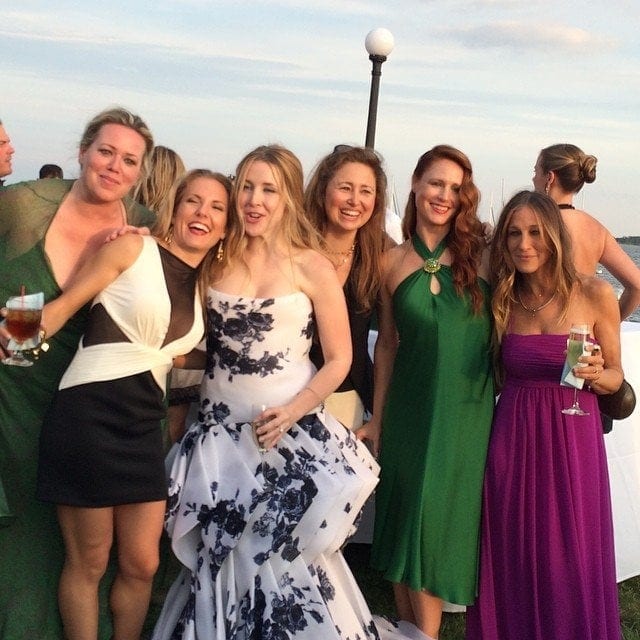 The bridesmaids, Sarah Jessica Parker among them, all wore gorgeous strapless plum dresses. As Melinda gave her hand to James Kearns, SJP shared snapshots of the couple's big day on Instagram. Her pics revealed the stylish details of the wedding ceremony that took place in Connecticut.
Cara Delevingne
Cara Delevingne's big sister Poppy had no less than 17 bridesmaids for her wedding, her baby sister included. Poppy Delevingne and James Cook said "I do" in May 2014 during a ceremony held in a church in their hometown, London.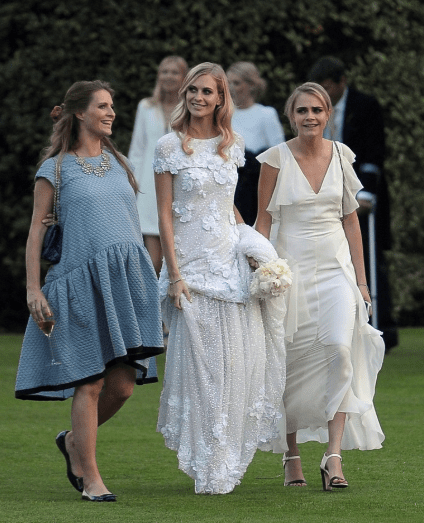 Cara was the maid of honor and she wore a Chanel Couture dress of the same color as her sister's Chanel wedding dress. Since Cara was in the bridal party at her sister Chloe's wedding only three months before, she was pretty experienced in this role.
Jennifer Lawrence
In October 2013, Jennifer's brother Blaine tied the knot with his fiancee Carson Massler. The wedding ceremony took place in Kentucky, and the Hunger Games star was one of the bridesmaids. The wedding was featured in a special issue of Martha Stewart Real Weddings.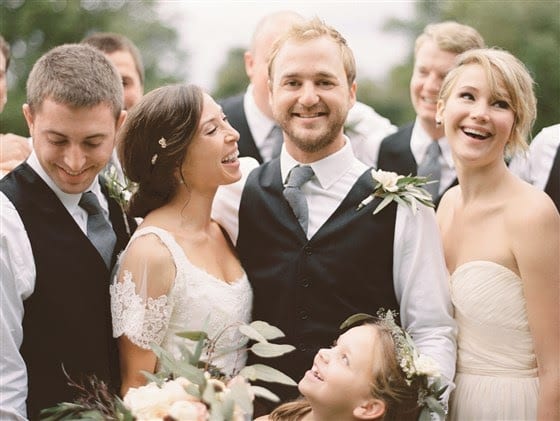 The Hermitage Farm wedding was a true classic. Lawrence and the rest of the bridesmaids wore powder pink strapless gowns. The bride chose a Monique Lhuillier gown that, according to Massler, she ordered online and customized with the help of a local seamstress.
Kate Bosworth
Back in 2008, Kate Bosworth flew to Sydney, Australia to participate in the wedding of Jacqui Louez, who she met on the set of Superman Returns. During the filming, Louez was Bosworth's personal assistant and the two quickly became friends.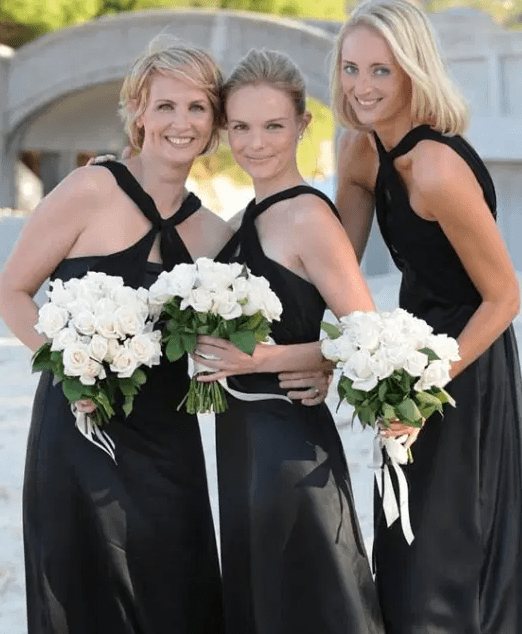 While most brides opt-in for colorful bridesmaid dresses, Louez wanted an elegant black look. Kate Bosworth and the rest of the bridal party wore a black floor-length chiffon gown. Their look was perfectly complemented by bouquets of white roses. The bride wore a strapless Peter Trends wedding gown.
Maggie Gyllenhaal
There's nothing more colorful than a Hawaiian-themed beach wedding party, and Maggie Gyllenhaal's father's wedding in 2011 proved no different. Both Maggie and her brother Jake were there to support their father as he wed for the second time.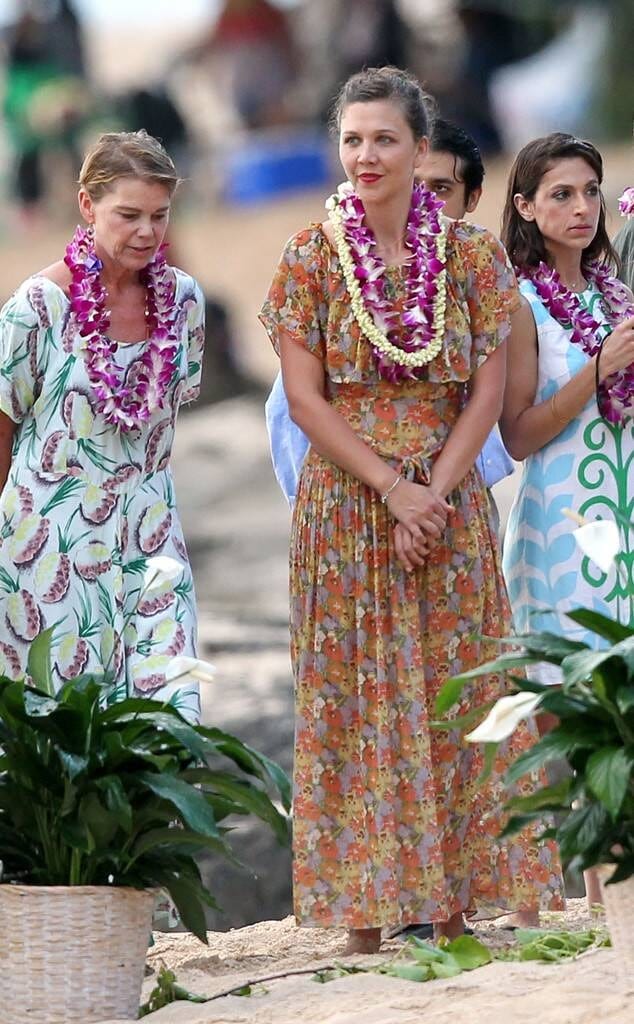 Lovely as ever, Maggie Gyllenhaal wore an informal flower pattern dress. The wedding guests wore lei, traditional Hawaiian flower garlands. With discreet makeup and her hair casually tied in a bun, Maggie Gyllenhaal showed that sometimes less is more.
The Kardashians
With so many Kardashians and their many marriages, it was hard to pick just one occasion when the rest of the family came to support their sibling tying the knot. We chose Khloe Kardashian and Lamar Odom's wedding from 2009 just for the sake of gorgeous purple gowns.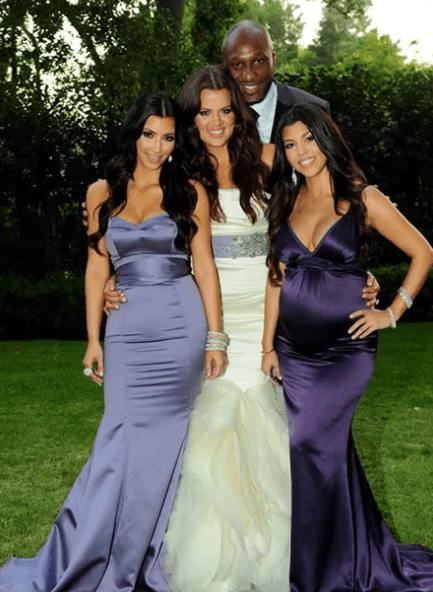 Although their marriage ended in 2013, fans will hardly ever forget Kloe and Lamar's wedding. The gala spectacle was televised, giving the audience a chance to take a peek into the glamorous ceremony. Khloe's sisters all wore long gowns that were different shades of purple, accentuated with sparkling jewelry.
Beyoncé
In 2015, Beyoncé got a new stepdad. The actor Richard Lawson liked it and put a ring on it, marrying Queen B's mom Tina Knowles in a breathtaking yacht ceremony. The wedding took place in Newport Beach, California, with both B and Solange attending.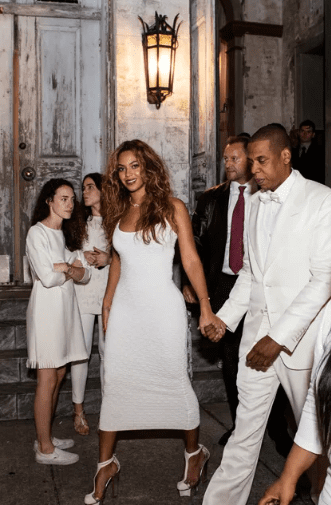 Beyoncé and Jay Z wore head to toe white, much like the majority of the guests. A tight lace white dress flaunted Queen B's slick figure, and she chose to wear a floral crown because, after all, she is a queen.
Keira Knightley
When Keira Knightley's brother Kaleb decided to tie the knot with his fiancée Kerry Nixon, it came as no surprise that Keira was there as a bridesmaid. The wedding took place in Glasgow in April 2011, at the Pollokshields Burgh Hall.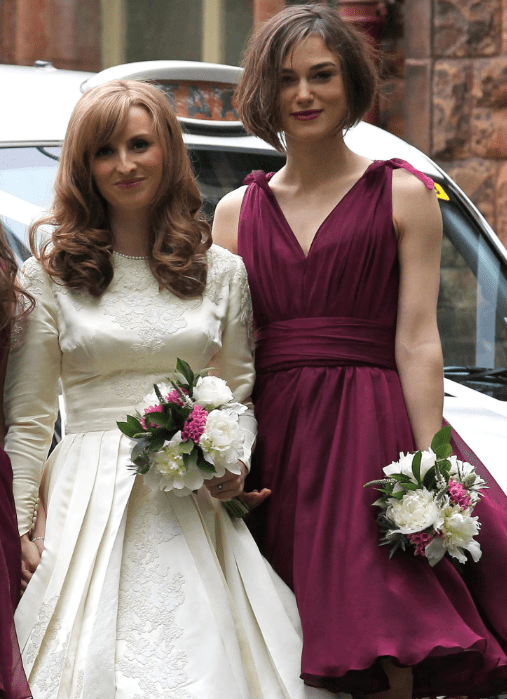 The windy day didn't keep Knightley from looking stunning in a knee-high purple bridesmaid dress. She sported the purple frock with grace, accompanied by a pair of classic style black high heels. The bride wore a long-sleeved gown that seemed to be inspired by the 1950s fashion.
Kirsten Dunst
It's great to see celebrities who don't forget where they came from and keep in touch with their childhood friends. When Kirsten Dunst's old friend Molly got married in Santa Barbara in 2012, Kirsten was there as the maid of honor.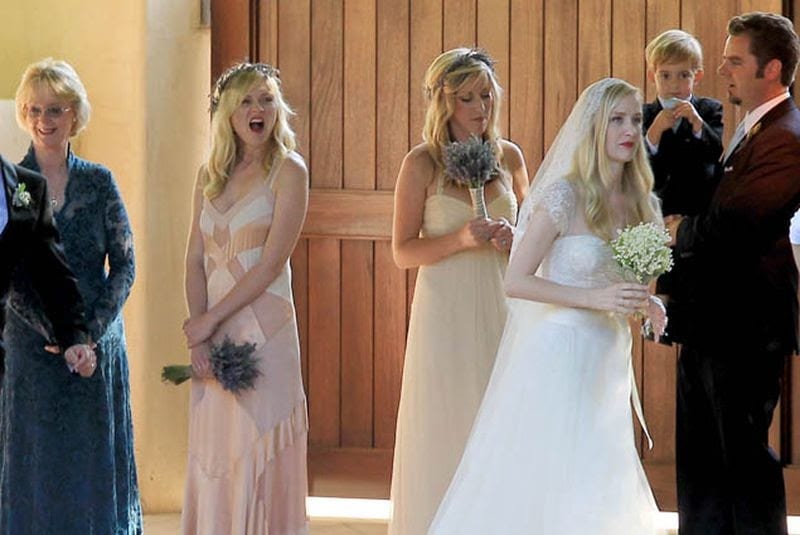 Dunst was the life of the party, happily chatting away with old friends and the bride's family. She flaunted a floral hairpiece and a long pink and cream-colored bridesmaids dress. Even though her looks were drawing attention, Dunst made sure not to steal the spotlight from her friend on her big day.
Sarah Michelle Gellar
Santa Monica seems to be a popular destination when it comes to weddings with celebs in the bridal party. This time, we go back to 2006 to witness Sarah Michelle Gellar as one of the bridesmaids at her friend's wedding.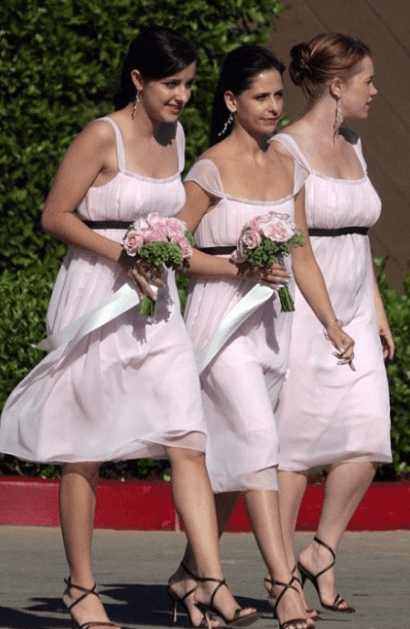 One of the curious fashion details about the ceremony was that all bridesmaids wore the same outfits – even matching brown high heels. Every little detail was the same – if you pay close attention to the picture, you'll notice that Gellar and her friends even wear matching earrings.
Jennifer Garner
It seems as though a lot of celebrity personal assistants get lucky enough to have the people they worked for to attend their wedding. Here is another example of a famous actress serving as a bridesmaid at her personal assistant's wedding.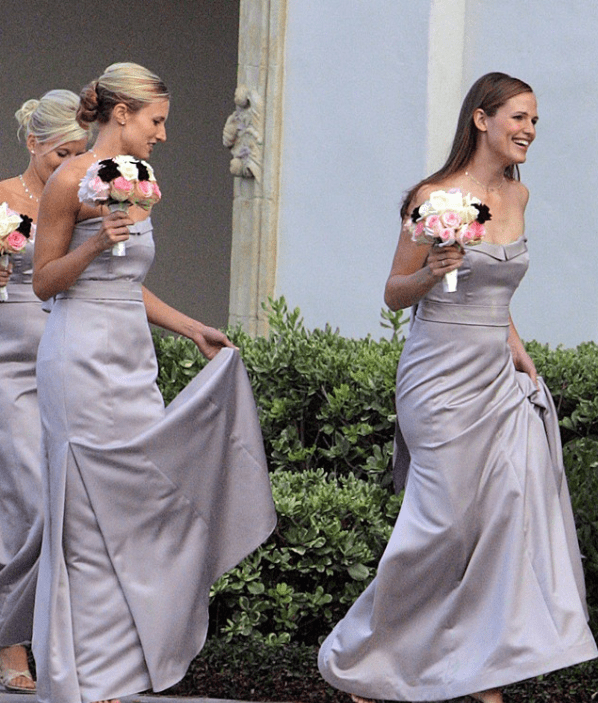 Back in 2006, Jennifer Garner had the role of a bridesmaid in a beautiful fall wedding that took place in Montecito, California. Garner wore a strapless silk lilac gown that matched the rest of the bridal party's outfits.
Lena Dunham
The creator of the famous TV series, Girls, made it to the top 10 on this bride's list. Dunham's best friend threw the wedding party in June 2014 and invited 10 bridesmaids to witness the wedding ceremony.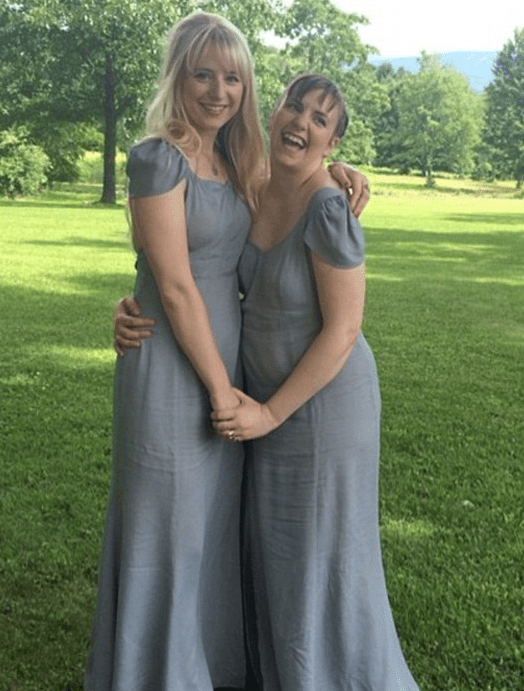 Although Dunham chose not to disclose her best friend's name, she happily shared some pics on her Twitter account. Fans complimented her looks in a backless gray dress that went all the way to the floor, with an interesting capped sleeves detail.
Britney Spears
The controversial queen of pop was the maid of honor at her sister's wedding in 2014. Jamie Lynn Spears said yes to James Watson in a Louisiana ceremony donning a Liancarlo wedding gown. The lace adorned dress look perfect on the new Mrs. Watson as she walked down the aisle.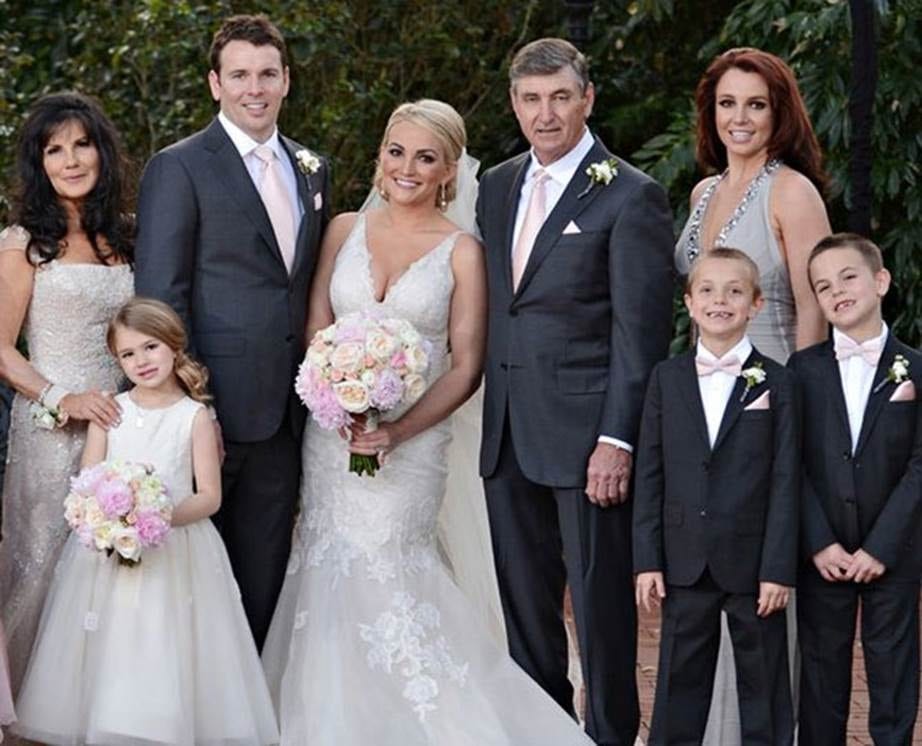 Britney Spears was a redhead at the time, which made the grayish purple dress a perfect choice. Her bridesmaid dress was a beautiful V-neck gown adorned with sparkling details around the neckline. We couldn't help but notice Spears' sons sporting matching suits and looking adorable as ever.
Selena Gomez
The fans of Selena Gomez who were rooting for her and Justin Bieber's rocky relationship most certainly remember this epic Mexican wedding. Costume designer Shannon Iarossi got hitched in Mexico back in 2004 and the famous couple were her guests.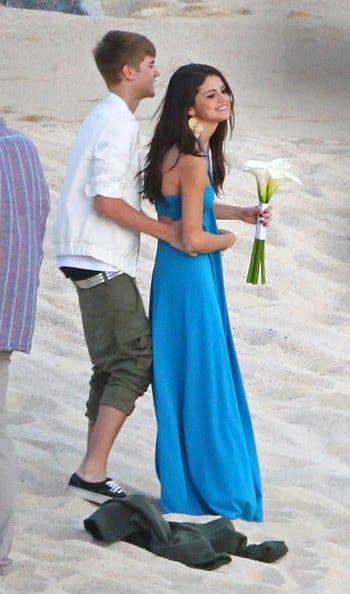 Gomez and Bieber weren't shy to show their affection during the beach ceremony, giving the paparazzi something to write home about with their PDA. Gomez wore a long blue halter dress and massive golden earrings. At one point, she ditched her sandals to walk barefoot in the sand.
Jessica Alba
Amir Khastoo and Jacqui Lang had a number of famous guests at their 2010 wedding, most notably Jessica Alba. Alba was one of the bridesmaids at the couple's Beverly Hills September wedding. She showed up holding hands with her husband Cash Warren, accompanied by their daughter Honor Marie.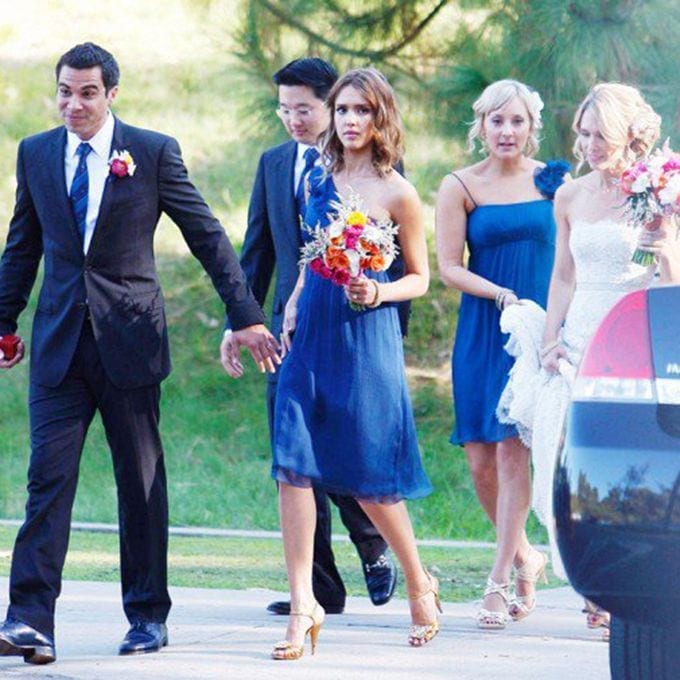 Alba drew attention with her flawless look – the royal blue asymmetrical dress complimented her slim figure. A bold combination of colors for the bridesmaids' bouquet was in perfect contrast to the deep blue dress color and Alba's brown high heels.
Naomi Watts
We'll remember 2010 for the glamorous Australian wedding that had no one other than Naomi Watts as one of the bridesmaids. Watts' close friend Emma Cooper got married to her fiance Harry Cripps at Shore Chapel in Sydney.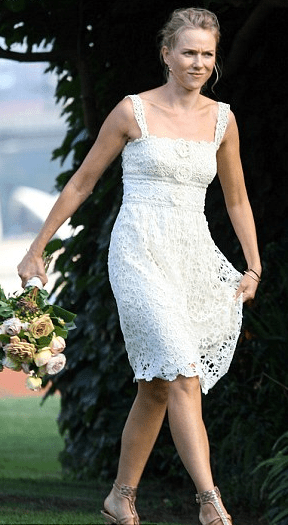 Although Watt's doesn't look too comfortable in this picture, it was just an awkward moment caught on camera. During the ceremony, she accompanied the bride with a huge grin on her face, and the two walked hand in hand sharing a laugh before the wedding vows.
Jessica Biel
In 2008, 7th Heaven star Beverley Mitchell married her fiance Michael Cameron in the Italian city of Ravello. Jessica Biel, Mitchell's former co-star, was invited as one of the bridesmaids. She flew to Italy with her then-boyfriend Justin Timberlake to attend the wedding.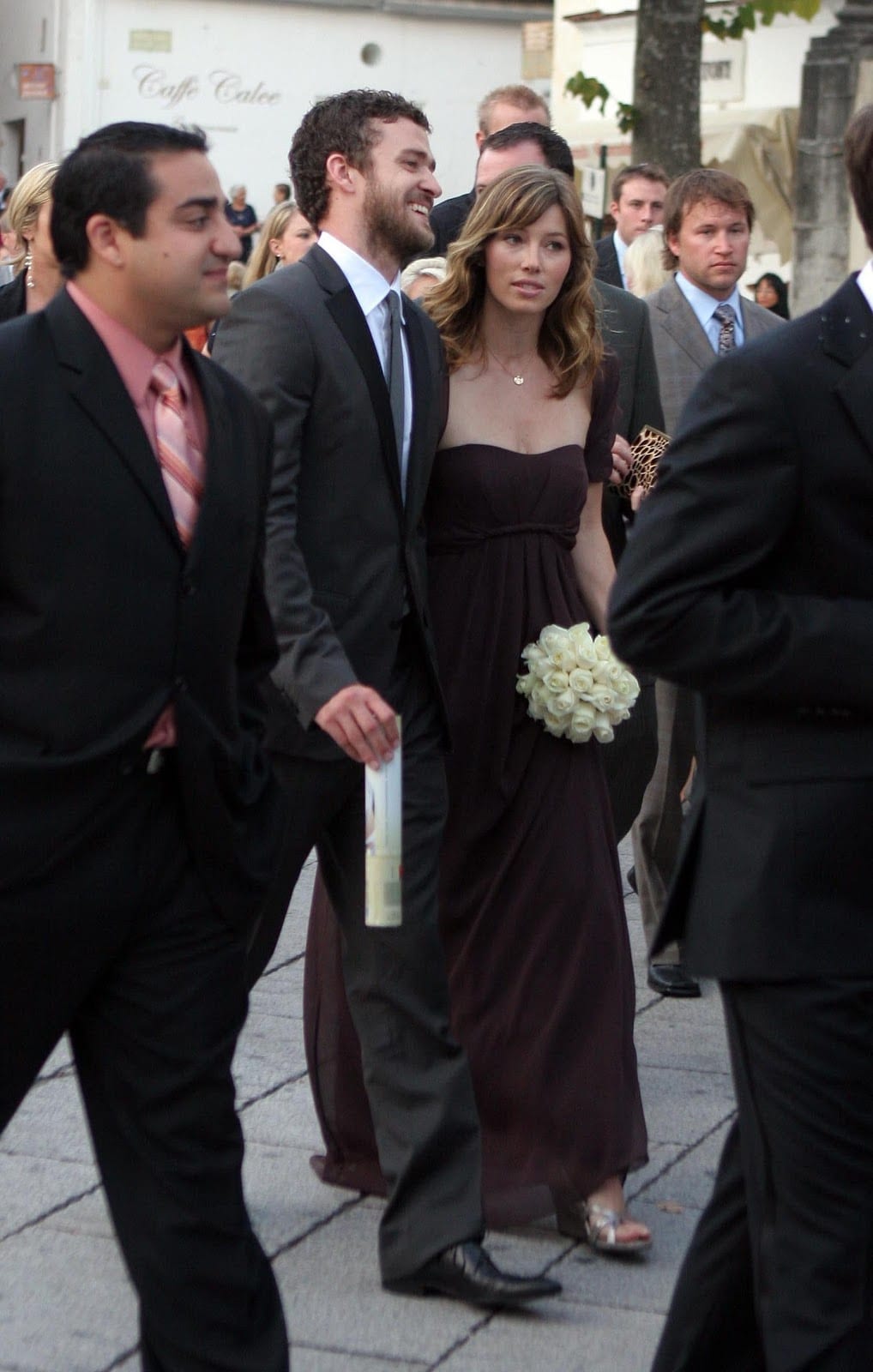 Both Biel and Timberlake looked very elegant while walking the narrow streets of the picturesque Italian town. The famous actress flaunted a stylish chocolate brown gown with a matching blouse covering her shoulders. The bride was seen in a Melissa Sweet wedding gown.
Serena Williams
We are used to seeing the famous tennis player in sporty outfits, but when she jumps into a dress she looks nothing short of stunning. In October of 2019, Serena Williams attended the wedding of her sister-in-law, Hayley Ohanian.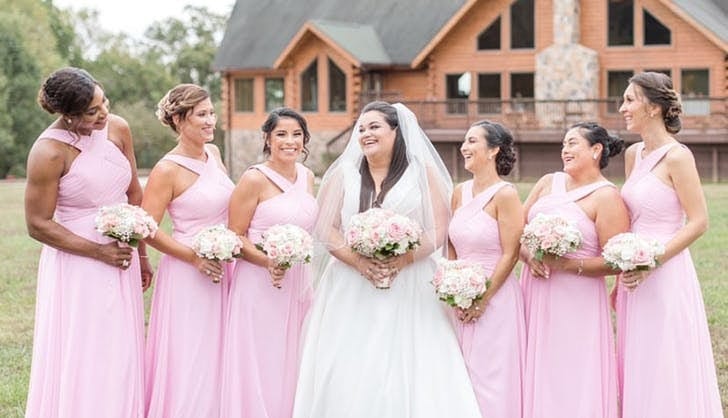 The romantic candy pink bridesmaid dress that Williams wore was designed by Azazie Kaleigh. Much to our surprise, the gown isn't nearly as expensive as it looks. If you want your bridesmaids to wear this dress Williams style, you can get it for $130 apiece.
JoJo Fletcher
Former The Bachelor and The Bachelorette star JoJo Fletcher captured the fans' hearts when she fell in love with Jordan Rogers. In 2017, the happy couple flew to the British Virgin Islands to attend the wedding of one of Fletcher's family members.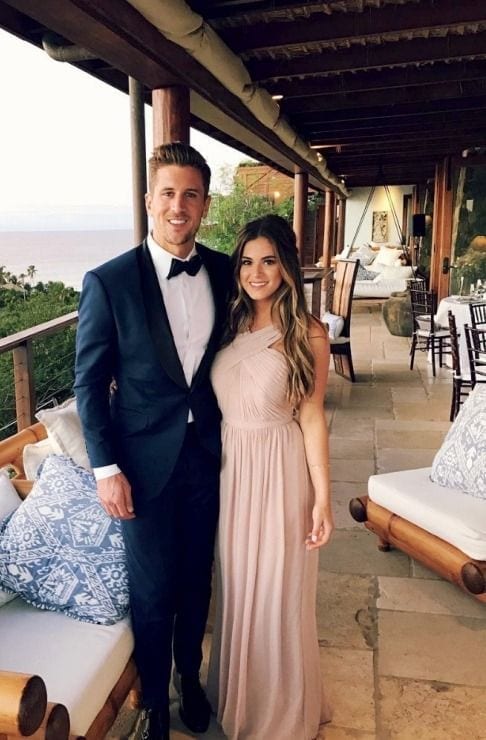 The celeb Bachelorette chose a pale pink chiffon dress while her fiance picked a dark blue suit and bowtie. Although Fletcher is only 5'4'' tall and floor-length dresses aren't recommended for short-figured women, she proved that rules were made to be broken.
Miranda Kerr
Miranda Kerr's brother Matty Kerr and his partner Jimmy Wright decided to say I do in December 2016. The happy couple held the wedding ceremony in Nanna Kerr's Kitchen in Hunter Valley, Australia, and Miranda was one of the bridesmaids.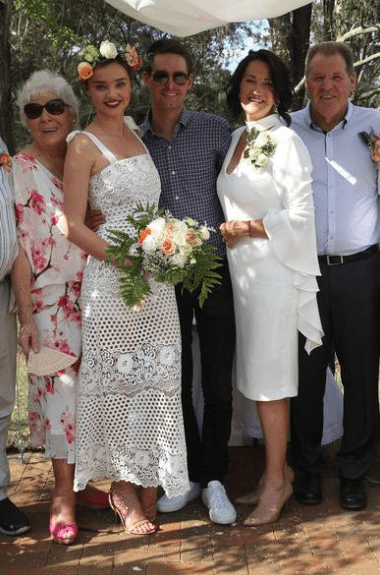 When you're a Victoria's Angel, it's part of your job to look good. Miranda Kerr left fans breathless as photos of the wedding appeared online. She wore a colorful floral crown and a simple yet elegant white dress adorned with floral lace motives.
Snooki
They say to keep your friends close and your enemies closer, but what to do when your friends prove to be your worst enemies? The Jersey Shore star Angelina Pivarnick probably regrets picking Snooki, JWoww, and Deena Cortese as her bridesmaids.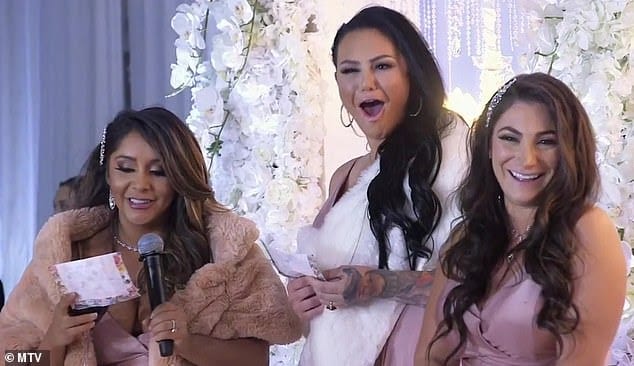 During the wedding ceremony, the three bridesmaids wanted to spice up their speech by roasting the bride, but they went too far. They were booed off the stage while the bride ended up in tears and decided to have security remove them from the venue.
Lauren Conrad
In August 2014, Maura McManus and David Oehm tied the knot in Oiai, California. McManus' Paper Crown clothing business partner and old-time friend Lauren Conrad was there as one of the bridesmaids. The former reality star turned fashion designer walked her friend down the aisle.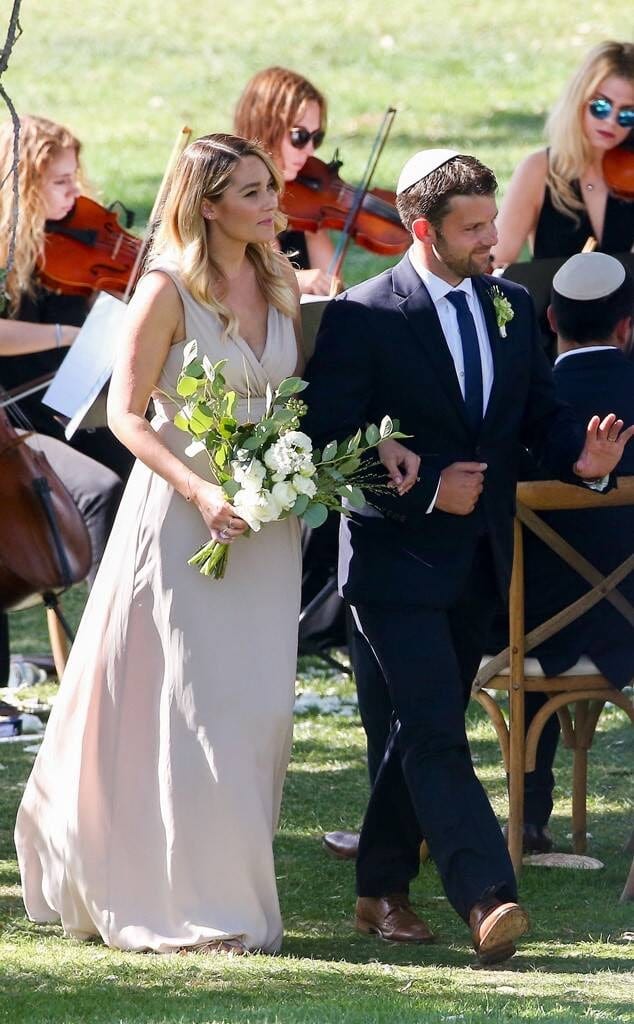 Conrad and the rest of the bridal party all wore dresses of the same color, albeit they sported different gown styles. Lauren chose a very simple yet effective floor-length dress that gave her an elegant look. The choice of white and green combo for the bridesmaids' bouquets was a great detail.
Vanessa Hudgens
It's not uncommon for actors to bond while working on the same project, which is how Vanessa Hudgens and Ashley Tisdale became friends. The two starred together in The High School Musical and have remained good friends since. When Tisdale decided to get married, Hudgens was there by her side.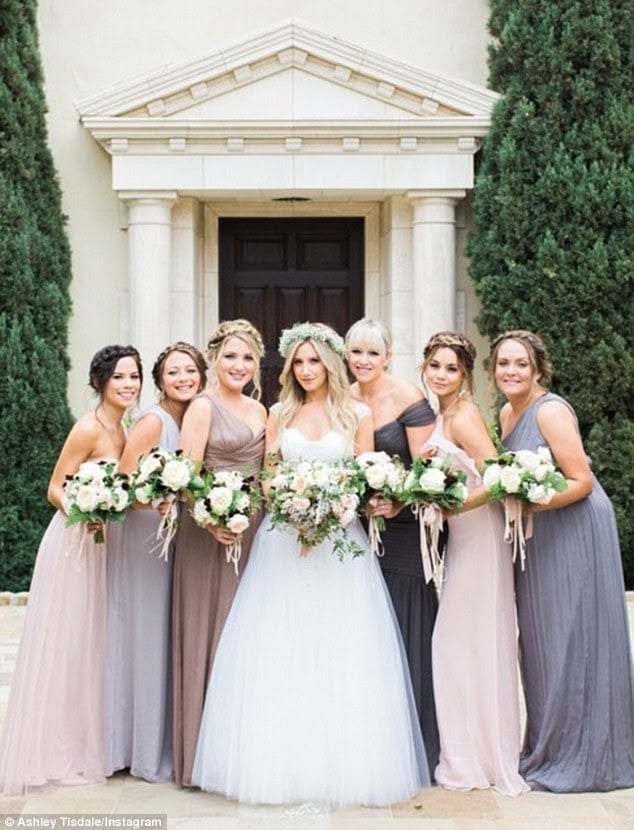 In September 2014, Tisdale married Christopher French in a secret ceremony, accompanied by six bridesmaids. She did share some pics on her Instagram account, and thanks to these we could see that Hudgens was wearing a bright lilac dress matching the pastel shades of other bridesmaids' gowns.
Mila Kunis
Mila Kunis and Ashton Kutcher had a practice walk down the aisle when they attended Kunis' brother's wedding in 2014. Michael Kunis married ballet dancer Alexandra Blacker, who actually trained Mila for her memorable role in the movie Black Swan.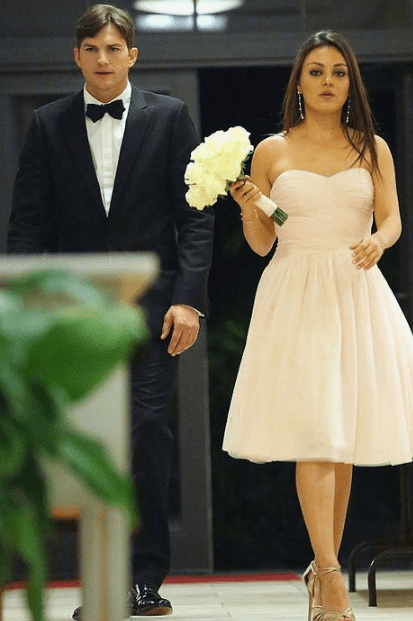 The wedding reception was held at St. Petersburg Yacht Club in Florida, and it was very chic. Kunis was spotted in a knee-length strapless gown that was simple and refined. Her then-fiance also chose a classic look with a black suit and bowtie.
Katharine McPhee
The popular singer and actress got one of the most important roles of her life when she was tasked with being a maid of honor at her sister's wedding. McPhee's sister Adrianna got hitched in Los Angeles back in 2012.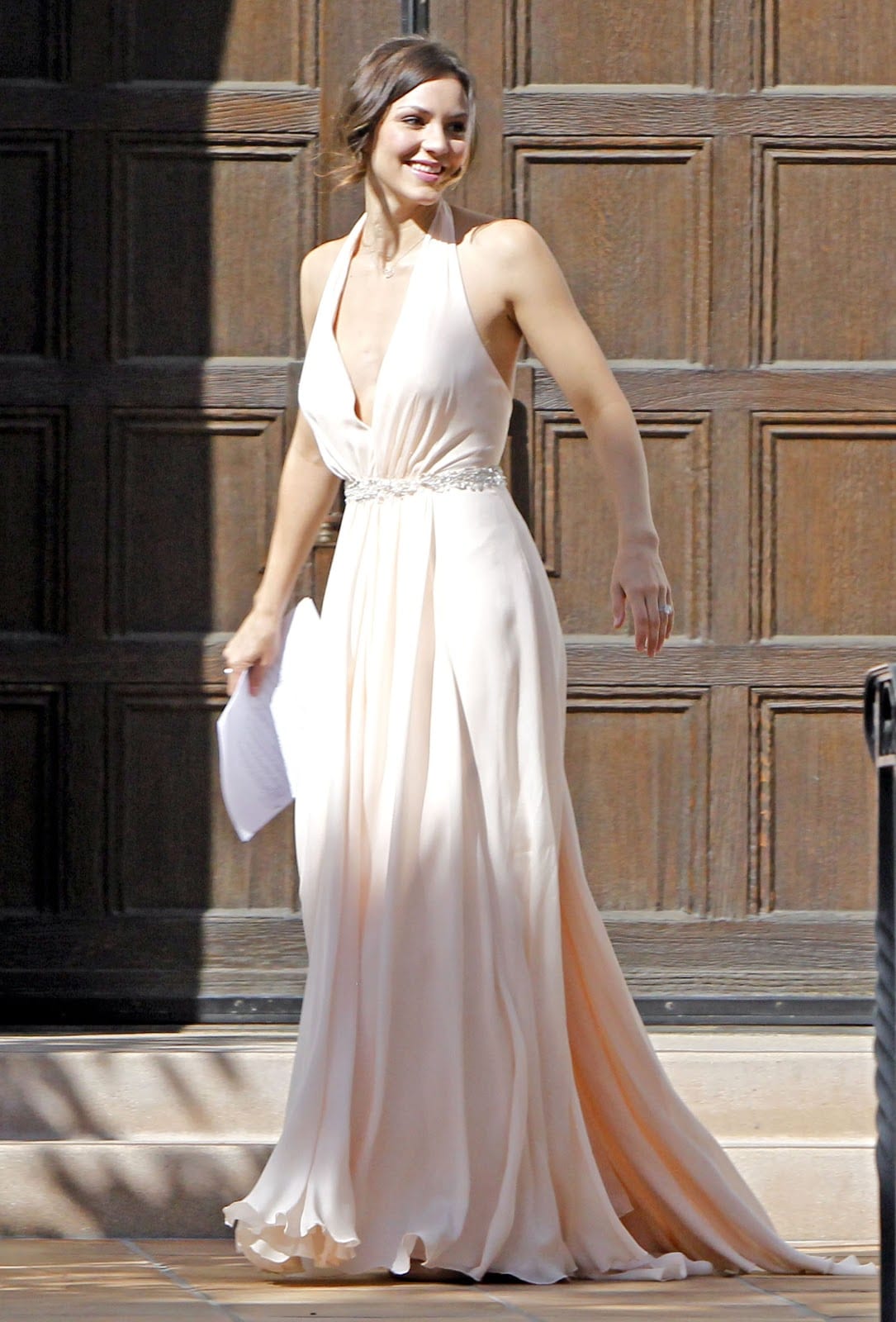 The reception was rather small and sweet, and Katharine McPhee looked as stunning as ever. She wore an elegant floor-length gown in a pastel pale pink shade, adorned with a narrow sparkling belt. McPhee, who walked down the aisle herself four years before, was thrilled to be there for her sister's big day.
Alessandra Ambrosio
When a former Victoria's Secret Angel throws a romantic Greek wedding and invites a bunch of her model friends, you know that there will be some haute couture and perfect pictures. In 2016, Ana Beatriz Barros married her partner Karim El Chiaty in Mykonos, a popular islanddestination in Greece.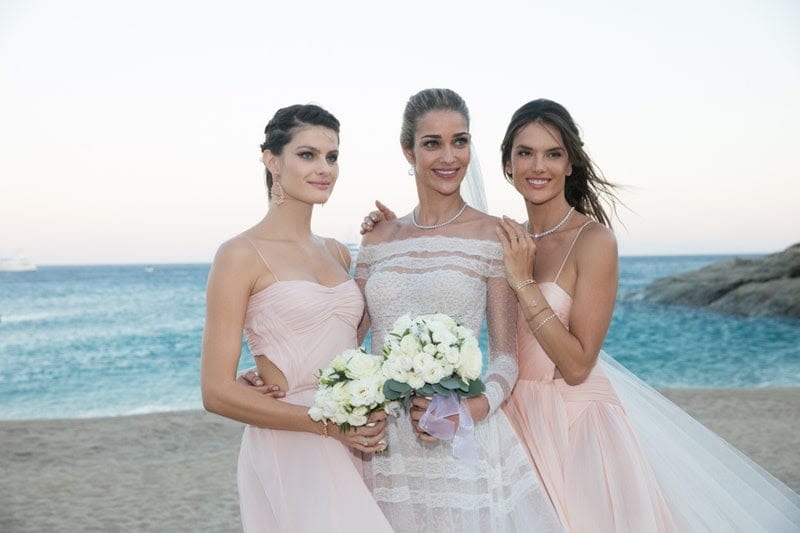 Barros' supermodel friends Alessandra Ambrosio and Isabeli Fontana were there as bridesmaids, and their outfits were simply breathtaking. Ambrosio's daughter was there too, as one of the flower girls. Alessandra's look was flawless – a pale pink gown with a simple, elegant necklace.
Kelly Rowland
If there's one wedding on this list that looks like it came straight out of a fairy tale, it's this one. It was the iconic wedding of Ciara and Russell Wilson who tied the knot in Peckforton Castle in Cheshire, England.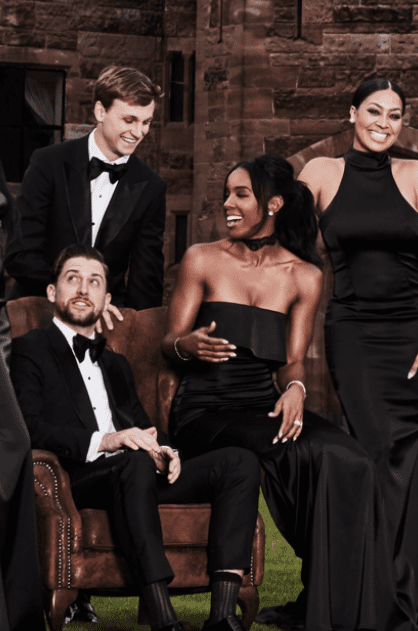 Not only was the medieval castle a perfectly romantic destination, but the bridal party was dressed to impress. Kelly Rowland was among the several famous people who attended the ceremony, and she served as one of the bridesmaids. All guest wore black, which looked beyond elegant.
Margot Robbie
In 2019, Margot Robbie served as a bridesmaid at her friend's wedding in Bryon Bay, Australia. After Robbie revealed that she wore a Bec + Bridge Moon Cowl dress dress, the $300 item became so popular it instantly sold out.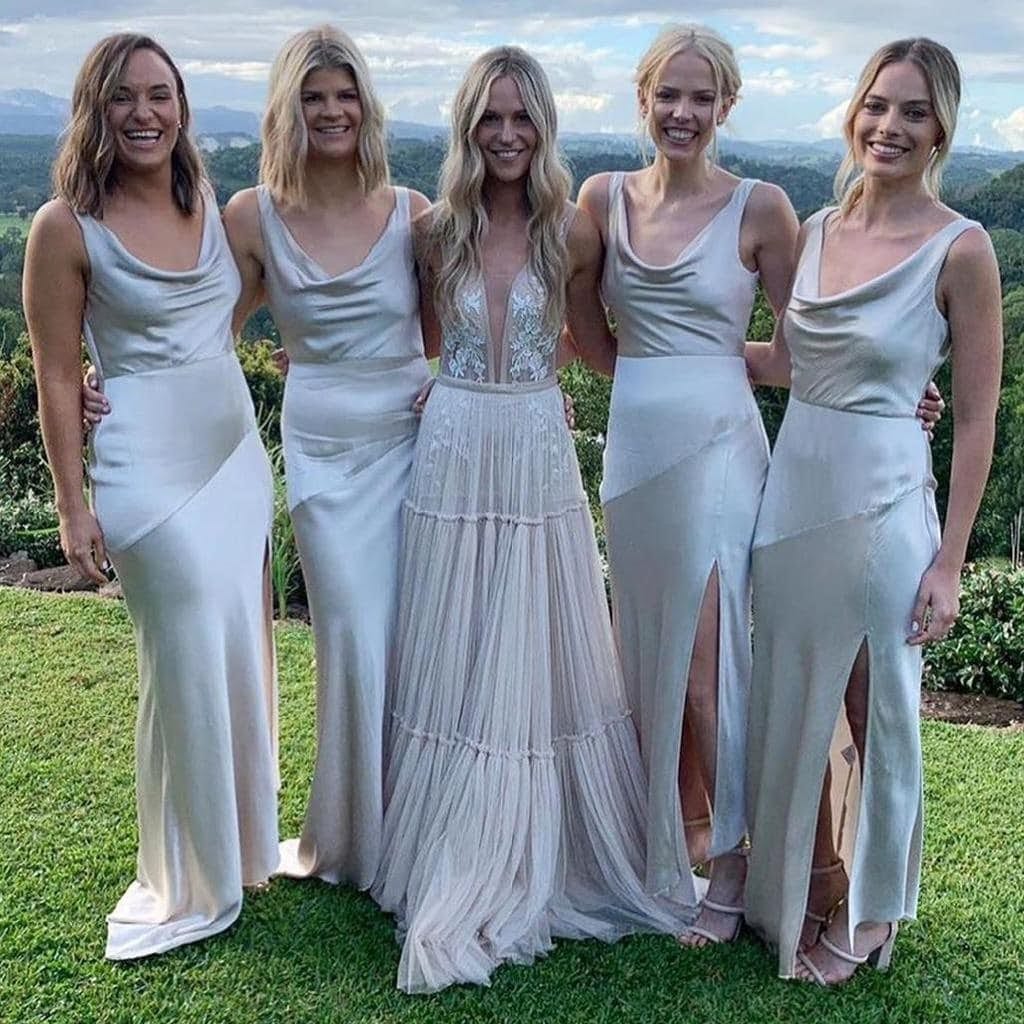 No wonder that many fans rushed to buy this ivory beauty – its sleek design made Robbie and the rest of the bridal party look stunning. What made this wedding famous is the video of Robbie's bridesmaid's speech which is one of the best we'd ever heard.
Amy Schumer
Although Amy Schumer is rarely serious on the big screen, she took her bridesmaid's duty very seriously when she got chosen as one of the bridesmaids for her friend's wedding. Schumer's friends Tara Alana and Rusty Fitton said I do in August of 2016.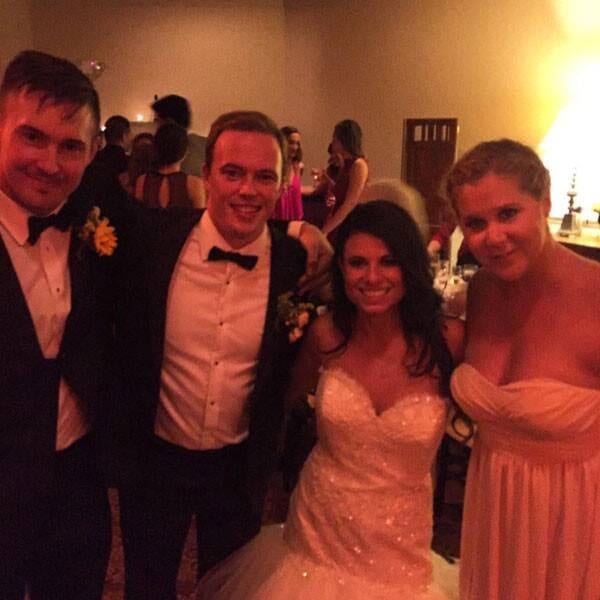 Schumer attended the wedding ceremony hand in hand with her then-boyfriend Ben Hanisch, who she split with a long time ago. Nevertheless, we must admit that Amy looked very pretty in a strapless blush-colored gown and with her hair tied in a bun.
Victoria Beckham
We're gonna mention one of the ladies on our list once again, this time in the role of a bride. Eva Longoria's wedding took place in 2016, and even though the ceremony was intimate and not as glamorous as one would assume, it was really amazing.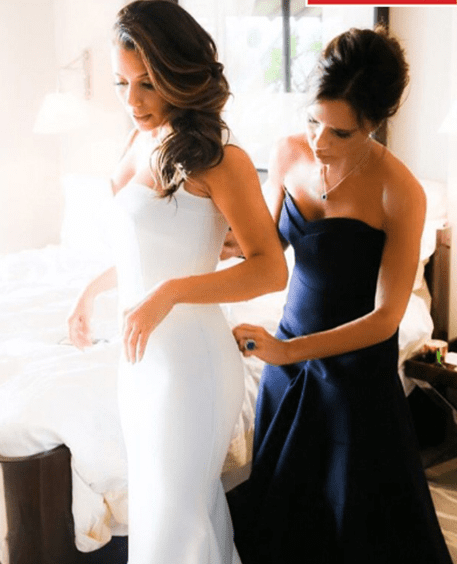 The one person who helped everything go as planned was Victoria Beckham, who was not an ordinary maid of honor. In fact, Longoria asked Beckham, who is a fashion designer among her many talents, to help design her wedding dress. As you can see in the picture, the result was amazing.
Cameron Diaz
When the actress Lake Bell decided to get married to her partner Scott Campbell at The Marigny Opera House in New Orleans, there were too many famous people to count. If there was one person who stood out, it was Cameron Diaz in her bold bridesmaid dress.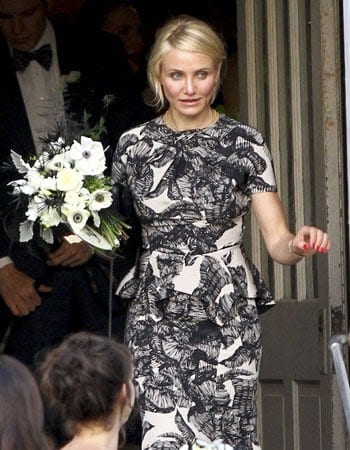 While there weren't many bridesmaid dresses on this list that weren't monochrome, this model was one of the most interesting black and white pieces we have ever seen. Diaz paired it up with a classic white bouquet as she rushed to join Eva Longoria, Kate Bosworth, Lance Armstrong, and many other celebs at this ceremony.
Tori Spelling
The Tori & Dean star, who older generations remember as Donna from Beverly Hills, 90210, stepped into a real-life bridesmaid role at her friend's wedding. Amy Colvin, one of Spelling's closest friends, walked down the aisle in 2011 to marry real estate developer Michael Kaz.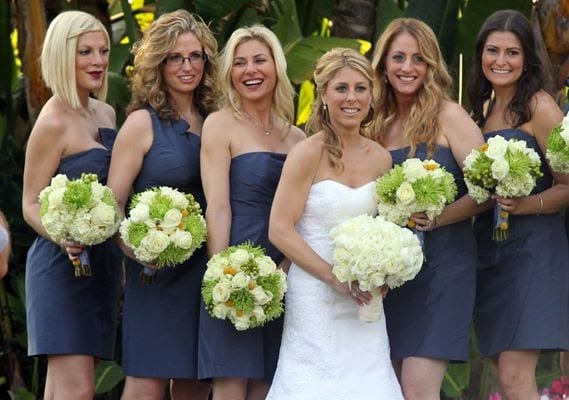 A traditional Jewish reception took place in Beverly Hills Hotel, with a wedding party of around 175 guests. All bridesmaids wore dresses made of the same dark blue material, each with a different detail in design. Spelling opted-in for a strapless dress, which was a great choice.
Jessica and Ashlee Simpson
Both sisters were there to support their friend Lauren Zelman when she got married to the Orange County actor Brett Harrison. The wedding took place in March 2012 at the Parker Palm Springs in California. Although late in her pregnancy, Jessica Simpson didn't want to miss this joyous event.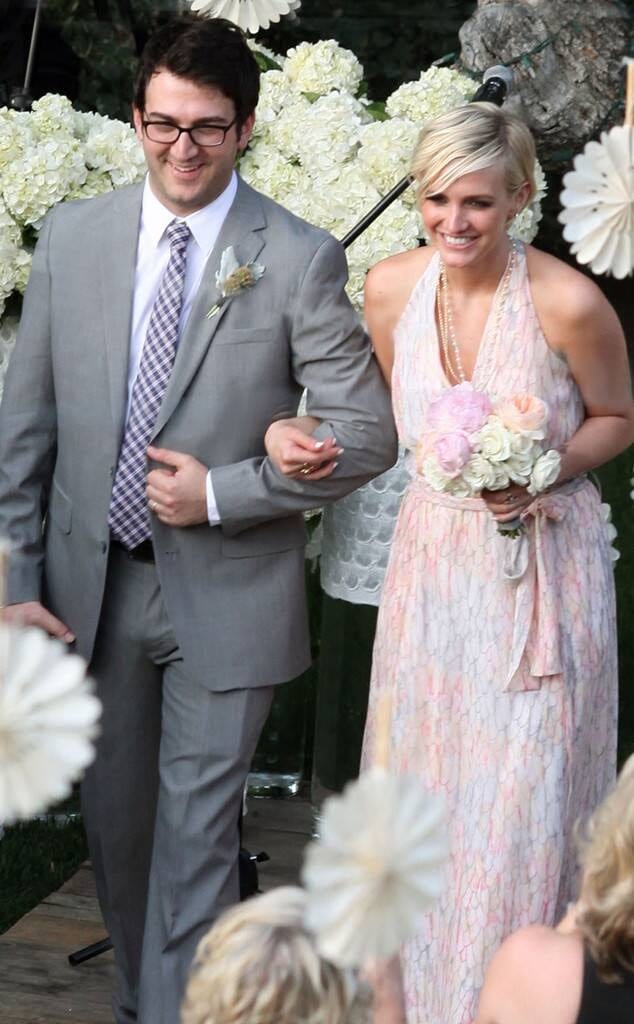 She sported a pink bridesmaids dress that flaunted her big baby bump, and even though she had a hard time moving around, Jessica seemed to have enjoyed the ceremony. Her sister Ashlee wore a matching pink dress paired with a bouquet of white, lilac, and pink roses.
Nina Dobrev
Julianne Hough's wedding in 2017 was the first time Nina Dobrev ever took the role of a bridesmaid. Hough had a memorable outdoor wedding on Lake Coeur d'Alene in Idaho, and Dobrev was there to share the happy moments with her best friend.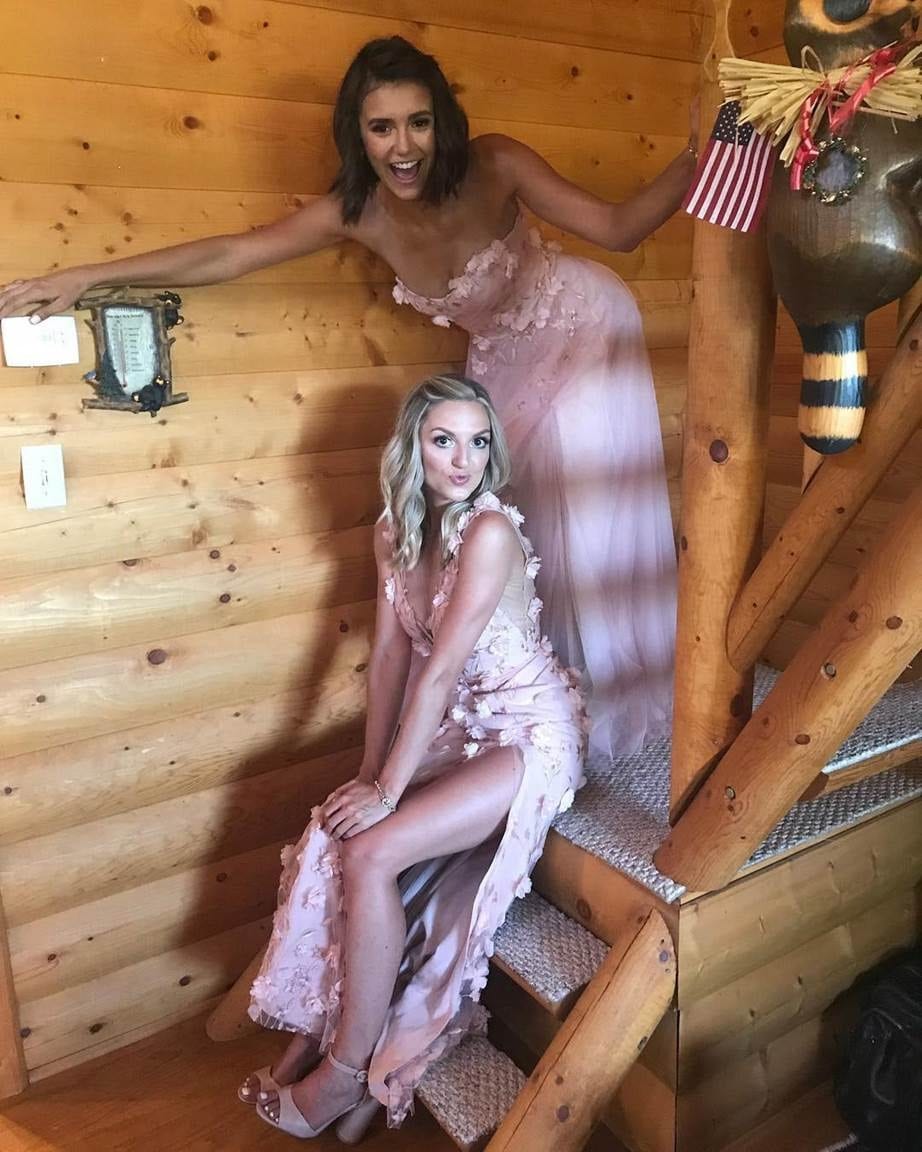 Despite this being Nina Dobrev's first time, she made a perfect bridesmaid. The bridal party flaunted long pink dresses with floral ornaments, and Dobrev looked like a million dollars in hers. She admitted to having an amazing time at the wedding and looking forward to her next bridesmaid role.