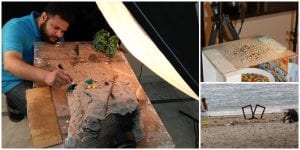 When What We See On Social Media Is Nothing But An Illusion
By Jhoana C
---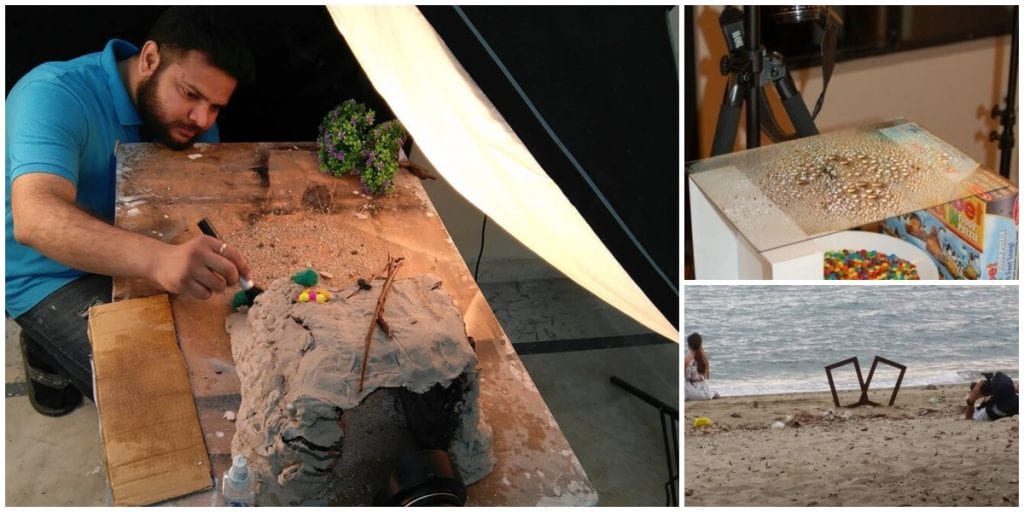 We have often been told not to believe everything we see on social media because it doesn't resemble reality most of the time. Everything on social media is choreographed and executed to perfection, and things are hardly perfect behind the scenes. If you only saw the reality behind those photos, you'd see that you're punishing yourself way too much for photos that aren't 'perfect.' Photography has been used for decades to create lasting memories and to document daily life. However, since the advent of social media, the use of cameras has been leaning more towards creating illusions and showcasing a life of perfection. See that lady who just went to Paris for her 21st birthday? You better think again because she might just have been sitting in her room the whole time. Remember that newly-bought Porsche that influencer posted on her Instagram? It might not even be a real car, after all. Here are some behind-the-scenes look of photos that will convince you that not all you see on social media is real.
#1 The sun on your nose, the sand on your toes
Being near water makes us happier, and going to the beach, especially during the summer months, just happens to be one of the best things in life. Who doesn't like playing volleyball, enjoying water sports, sipping cocktails, sunbathing, and spending time with family and friends?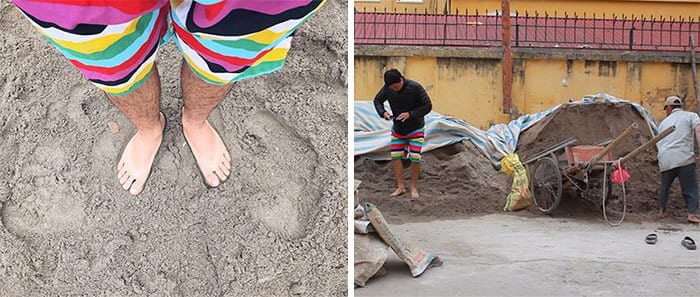 This man can't go to the beach, but he thought that there's another way to fool people by posting a picture on his social media account. The photo on the left is what his friends saw on social media, but the photo on the right is the reality. Quite a big difference, right?
#2 Was it cold out there?
When people scroll through their social media feed and look at influencers' photos, they often think that these people are having the time of their lives. How nice would it be to be like them and go to fancy parties and wear fancy clothes?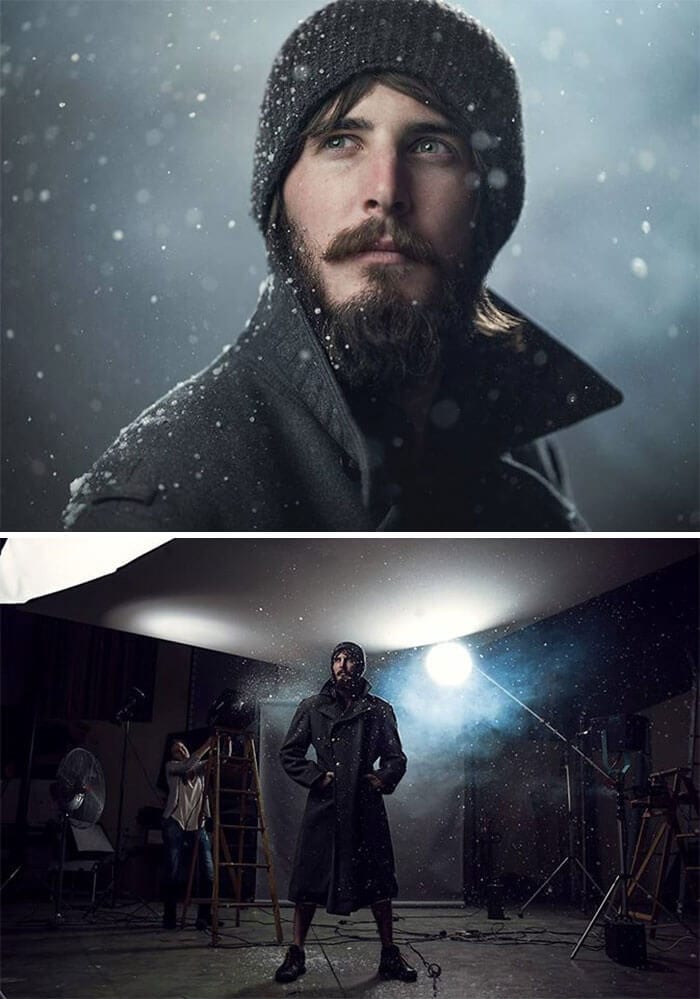 But you shouldn't believe everything you see online. A perfect example of that is this picture of a man outside on a frigid, snowy winter night. He's got a coat on and a winter hat, which means it must be freezing outside, right? Wrong! He doesn't even have pants on.
#3 Paris is always a great place to be
Ah, Paris, the city of light and love. It's renowned for being the most romantic city in the world. Everyone wants to go there and of course; everyone wants to take photos next to its most famous landmarks such as the Eiffel Tower.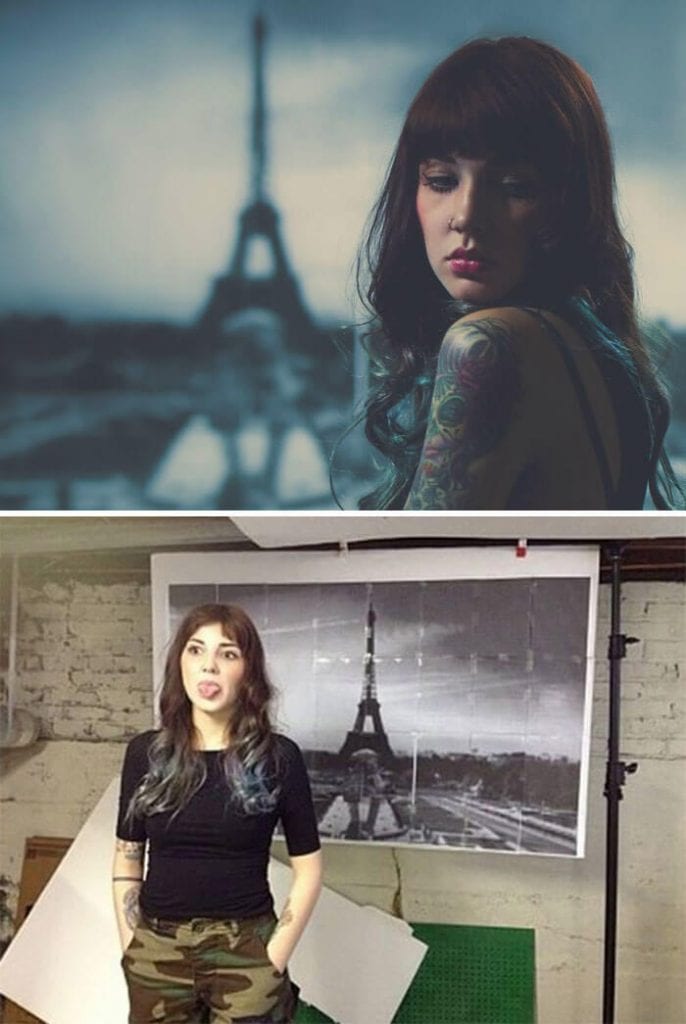 This lady just had to take a photo of herself with the Eiffel Tower in the background. Must be great to be in Paris. Well, she wasn't even in Paris, to begin with. She was just posing with a poster of the Eiffel Tower behind her. She must have one talented photographer.
#4 Wishing we could go to The Alps too
Since we're on the topic of traveling, this woman went to Switzerland. How can she travel with all the restrictions and lockdowns right now? We thought borders weren't open, and businesses all over the world were closed? Did she travel before the pandemic?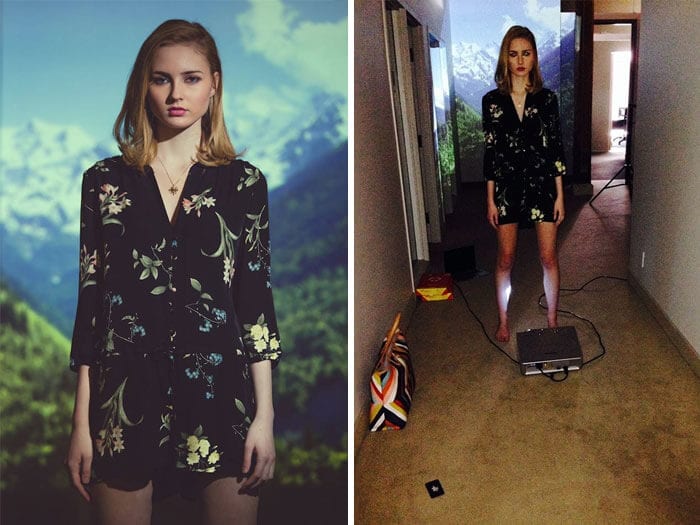 This girl happened to just take the photo with the Swiss Alps in the distance. She didn't even have to spend money on a ticket to take this photo. She just used a projector, a tripod, and a camera. She was at home when she took the perfect shot of the Swiss Alps.
#5 We're gonna get ourselves an Audi too
The Audi is one of the most popular luxury car brands on the market. Audi is Latin for "hear," and August Horch founded the company. The most expensive Audi is the Auto Union Type-D, and it was produced on the demand of the Fuhrer in 1930.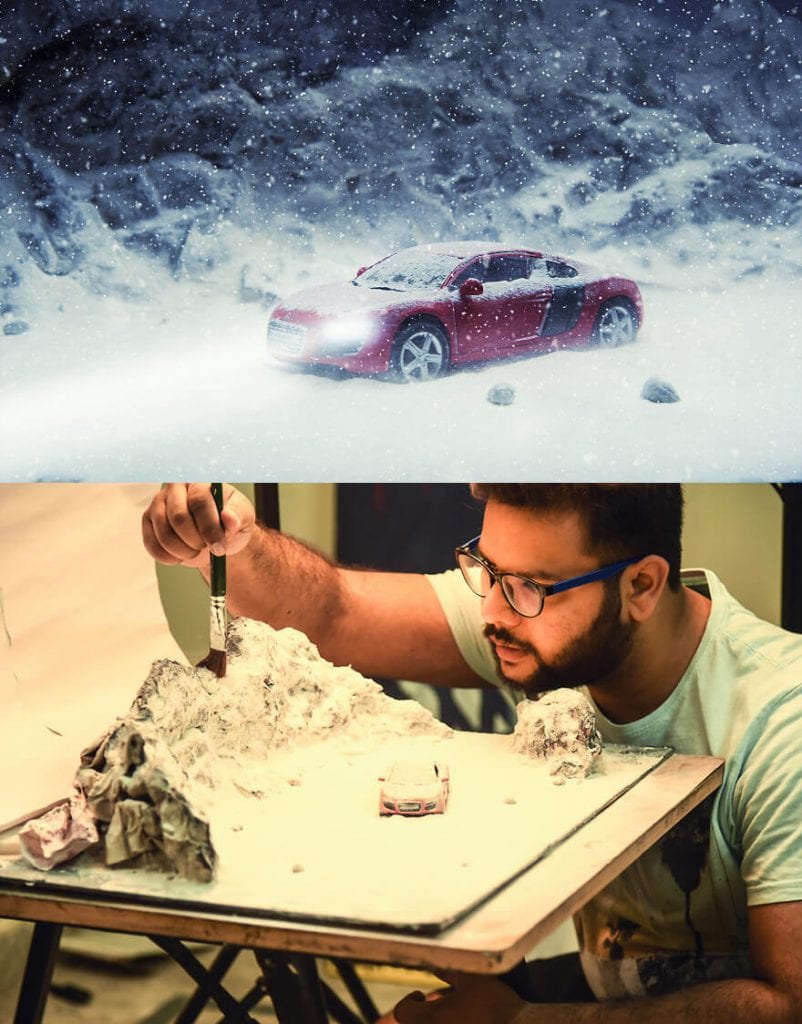 He wanted to show the world how much Germany has progressed in the automobile industry. This picture of an Audi in the snow just might convince you to get yourself an Audi too. But that's not even a real car. That's just a miniature car photographed on a set.
#6 The girl is on Cloud 9
We often hear people saying being on Cloud 9 or feeling as if they are on Cloud 9 and if you're wondering what that is like, look at this picture, and you have your answer. She must have felt very happy and light, but how could they convey it effectively through a picture.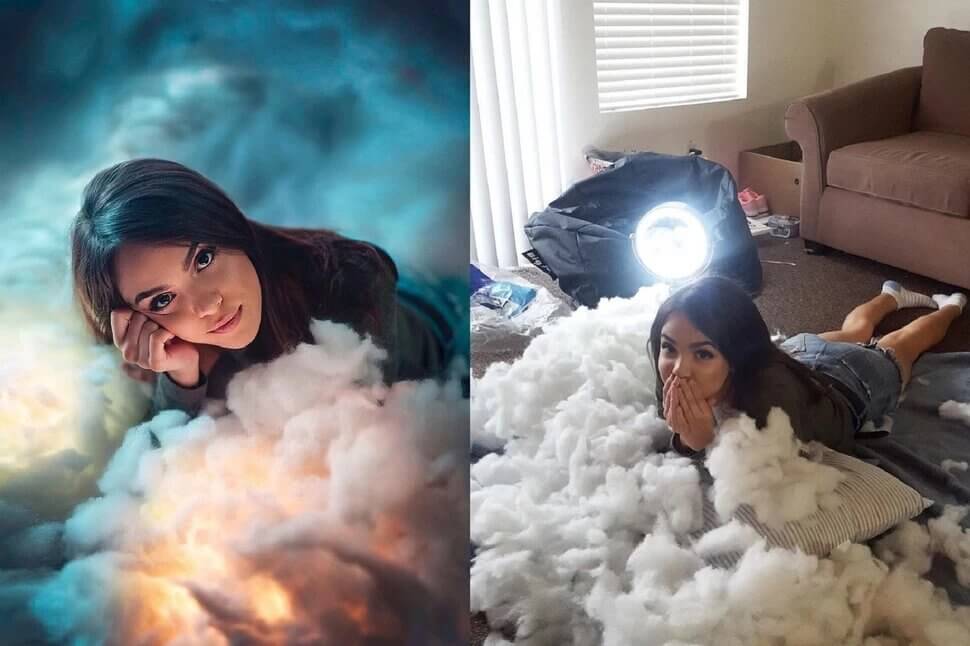 Did they use a heavy smoke machine to produce such an effect? Wrong! They used something much cheaper. They just tore up a pillow and placed lighting correctly to come up with a creative and beautiful picture. We're just wondering who's going to clean up all that stuff.
#7 Where does that door lead to?
If you're a fan of Narnia, then you'd love this photo. It's like the door to Narnia comes alive, and it will get you thinking about what lies behind those doors. Imagine how the photographers dragged those huge doors to the beach.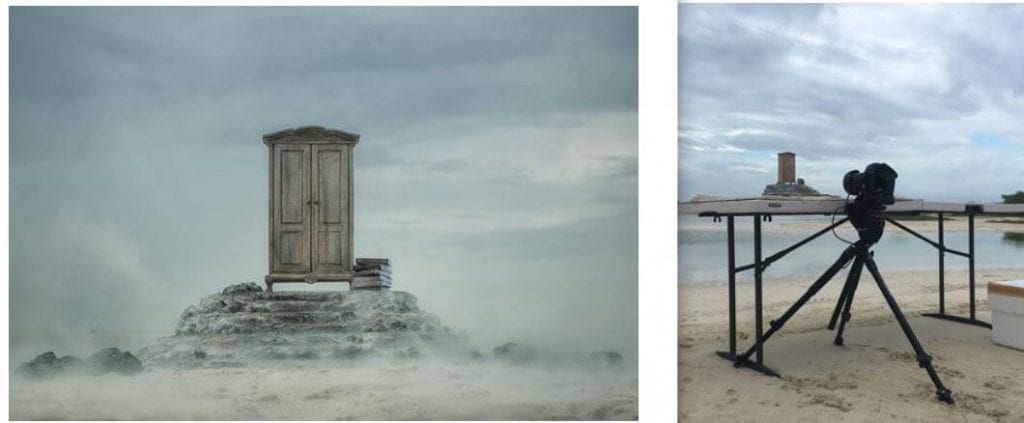 Well, it turns out they didn't exert much effort doing so because those are just miniature doors. They probably weighed less than a kilogram. They then sprinkled baby powder all over the portable table to make it seem like there was moist sea air swirling around.
#8 The woman in the window?
This photo is reminiscent of the Netflix movie, The Woman in the Window. Look at her peeking out from between the shutters and observing the neighbors from her window. We're wondering what she's looking at and why she's spying on her neighbors.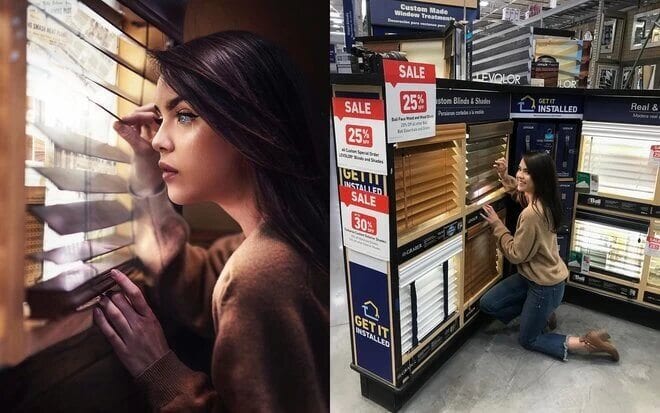 Did the photographer spend money on blinds to come up with this photo? Was it shot in a real house? The answer to both questions is no. The model and the photographer just went down to their local Home Depot, and they were able to take plenty of great photos from the home improvement store.
#9 How often do you get a tourist spot all to yourself?
Tourist spots are always crowded with people trying to take the perfect Instagram photo. You'll see an ocean of people with different poses and with cameras and smartphones happily clicking away. If you want the place all to yourself, you better be prepared to wake up very early in the evening.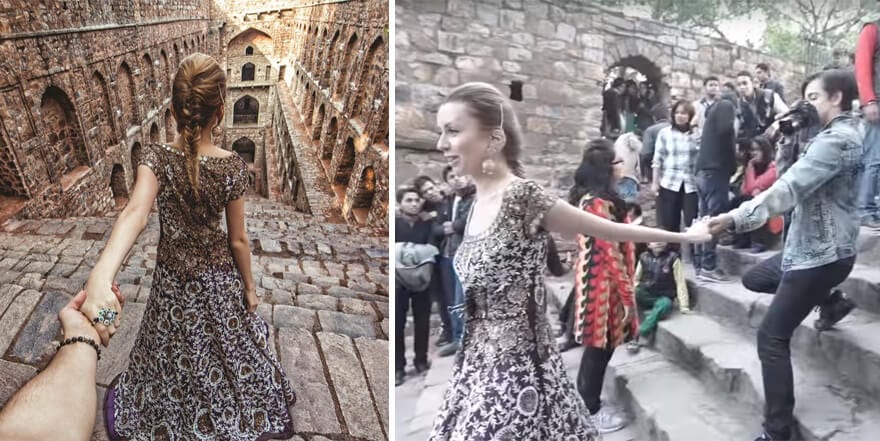 Or you can learn how to be creative. When you look at the photo on the left, you'd think that they woke up very early to avoid other tourists. In reality, they are mingling with a crowd, they were just creative with their perspective.
#10 Wow, that looks yummy!
The art of food photography is to make food look so enticing that it would seem like people can taste them through the pictures. With food photography, you can effectively market your product and get patrons to come to your store or restaurant in hordes.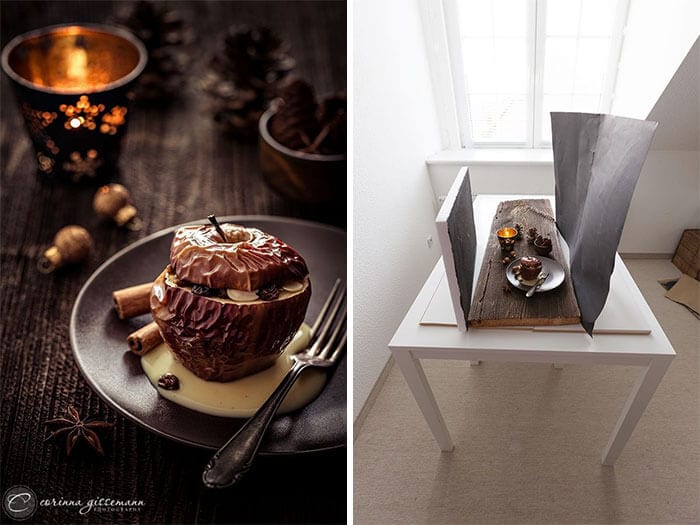 How do they make food look so tasty and beautiful? Well, now you see how they do it. With a few props, lighting effects, and lots of training in food photography, you'll also be able to produce something that people won't be able to resist ordering.
#11 Wow, we never knew it took so much hard work
The lengths photographers would go to just to ensure that they get the perfect shot. Judging from the behind-the-scenes picture, we'd say it's not easy being a photographer. You have to be prepared to get wet and take pictures from nearly impossible positions to please clients.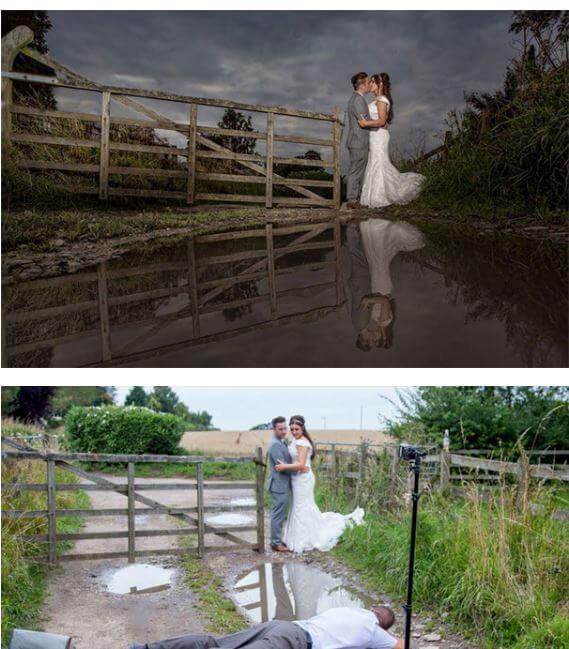 This photographer deserves a bonus for the gorgeous photo he produced. At first glance, you'd think that this isn't the right location to take the perfect photo, but with a little creativity and the correct photoshop filters, everything can be made beautiful.
#12 Another excellent photo
Unlike other photos on this list, this one has very little trickery. It's just about the right perspective and, of course, plenty of creativity. Couples love to take photos like this. It makes them seem all loved up as they stare into the distance.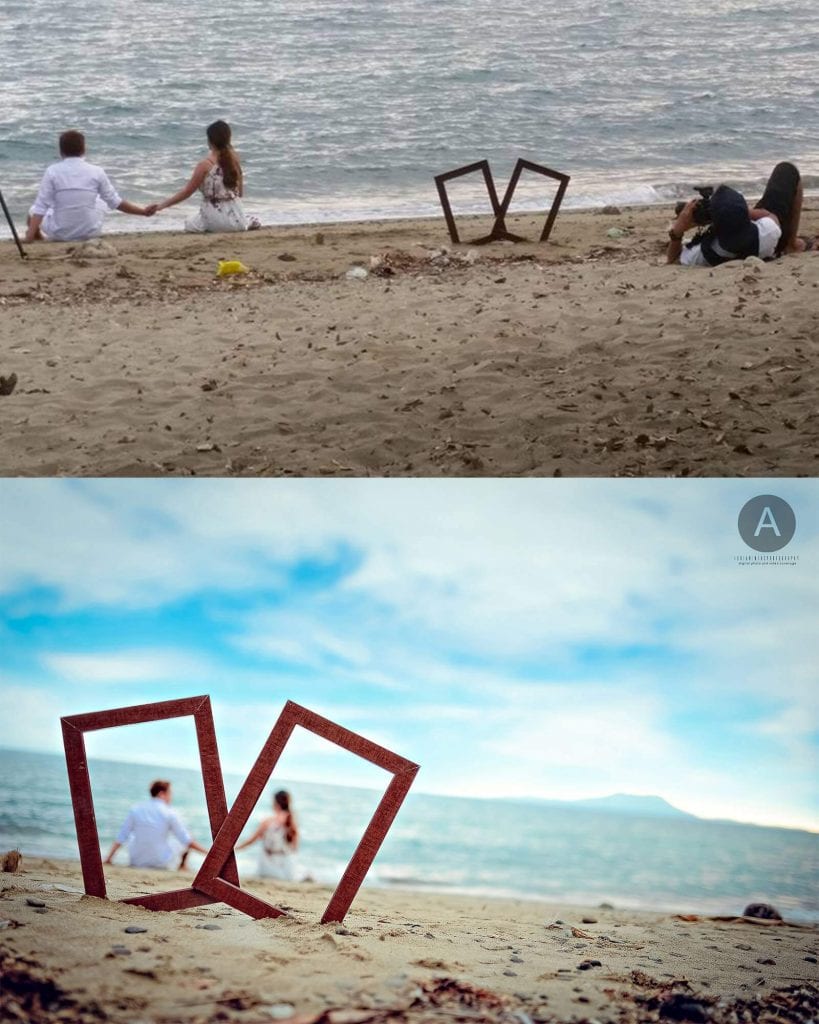 What made this picture stands out are the two simple wooden frames used to frame the couple. The focus is set on the frames instead of the couple; they ended up becoming the photo's background. You'll still notice the couple, though, even if they are blurred.
#13 A sports car in the desert
Who can resist a sports car? We know we wouldn't be able to. If we had the money, we'd probably get ourselves a sweet ride, too. Have you ever wondered how they shot those car pictures and car commercials? We have been wondering the same thing.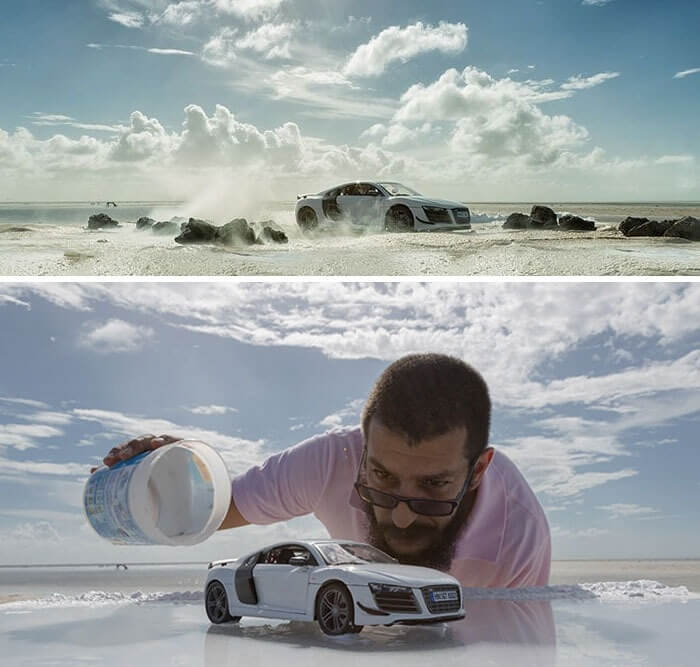 It seems that we have our answer now. This talented photographer didn't even need to take a real Audi sports car all the way to the Accona Dessert. He didn't even need to drive the car. He just used a toy car, a few pebbles, a white glossy surface, and his amazing skills to bring the car to life.
#14 Loved-up couple photos
Have you ever seen those loved-up photos of couples on Instagram? They look cute and obviously, so in love. They also make a lot of people jealous. Well, it turns out most of these photos needed a third person to execute.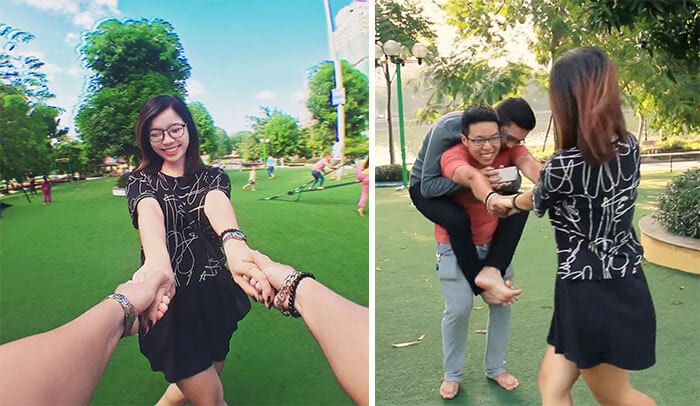 Here is a classic example of that. When you first look at the photo, you'd think that the boyfriend lovingly took this picture of his girlfriend. But if he's holding both of his girlfriend's hands, how was he able to take the photo? Good question.
#15 The new neighbors have arrived
Don't you get curious when you have new neighbors and you see them move in? We surely would want to see what our new neighbors are like. If you look at this photo, you'd think that it's an old picture that's been retouched depicting a small American town.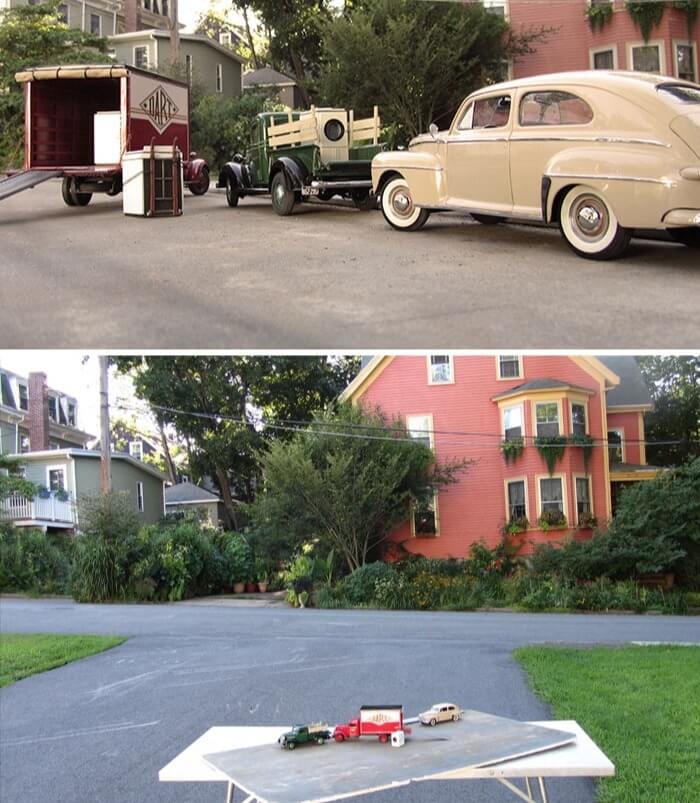 What makes the photo outstanding is that this isn't even a photo of a real car or real people moving in. The photographer used toy cars and some clever editing tricks to make them seem real and inject some life into the scene.
#16 This guy's going to be on a magazine cover
Looking at the photo on the left, you'd think that it's going on the cover of an editorial high-end magazine. However, it's not. You'd also think that the model is sitting comfortably in a cozy location while his photo is being taken.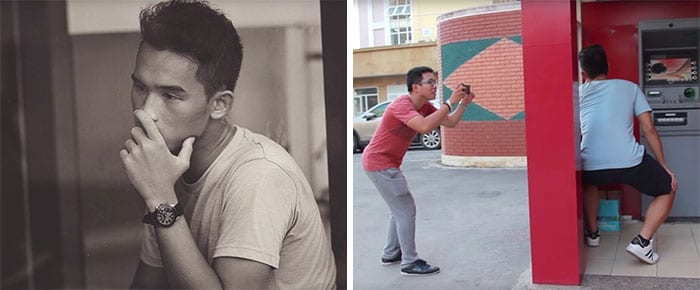 Well, you're wrong. He isn't in a cozy location, and he's not sitting down. He's in an ATM booth, but he's not there to draw money. He's there to pose and work it like a real model. The photographer isn't even using a professional camera but a smartphone to take this shot.
#17 We'd love to get some of that shrimp
If your food photography doesn't want to make people want to go to your restaurant and order the goodies, then you're not doing it right. This photo, on the other hand, has got things perfectly. This juicy, fresh, steaming shrimp makes our mouths water.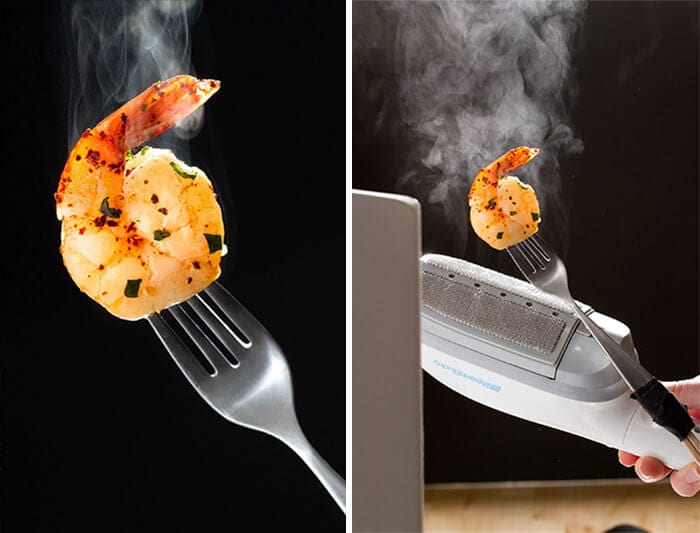 It looks like it came straight out of the pan, but it didn't. Where is the steam coming from? Well, from a hand steamer. Such a clever and unusual use for something that's usually used on clothes. Good job to the team behind the picture.
#18 Smoke machine? No need
If you look at this photo, you'd probably think that they used a smoke machine of some sort to produce such an effect, but they didn't. It's just one of the photographer's friends exhaling some smoke and blowing it with a fan towards the model.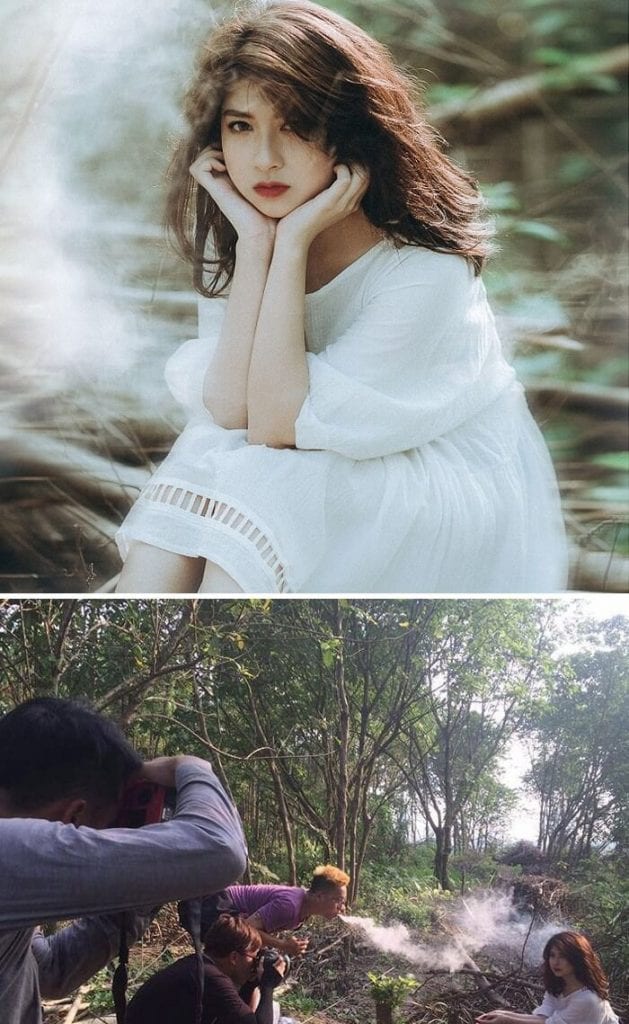 The photograph produced is quite nice, though. It emphasized the beautiful girl and her pretty eyes. The location for the shoot wasn't even that scenic. It was just some wooded area. This just goes to show what the power of effects and editing can do.
#19 The cabin in the woods
If you haven't watched the movie Cabin in the Woods but have heard of it, this image is what's gonna come to mind. But we all know that that movie is a horror film and this picture is a lot cozier and friendlier, at least from a distance anyway.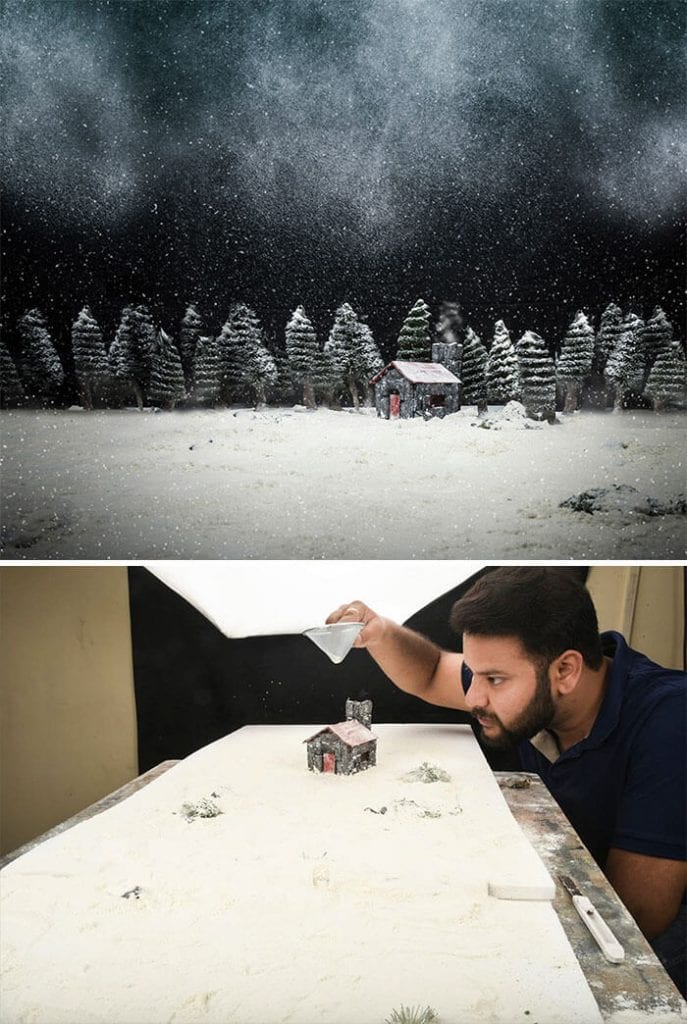 The snow you see falling is made of powdery sugar. Clever, right? This wintertime scene is from a miniature set, but it does make you want to prepare a cup of hot chocolate, snuggle with a blanket, and a good book beside a warm fire.
#20 Fly me to the moon
Most people who want to put a big, bright moon on their photos use their Photoshop skills. But sometimes you need more than that. This photographer not only used his excellent Photoshop skills, but he also went to his local Ikea and got himself a few Chinese paper lanterns.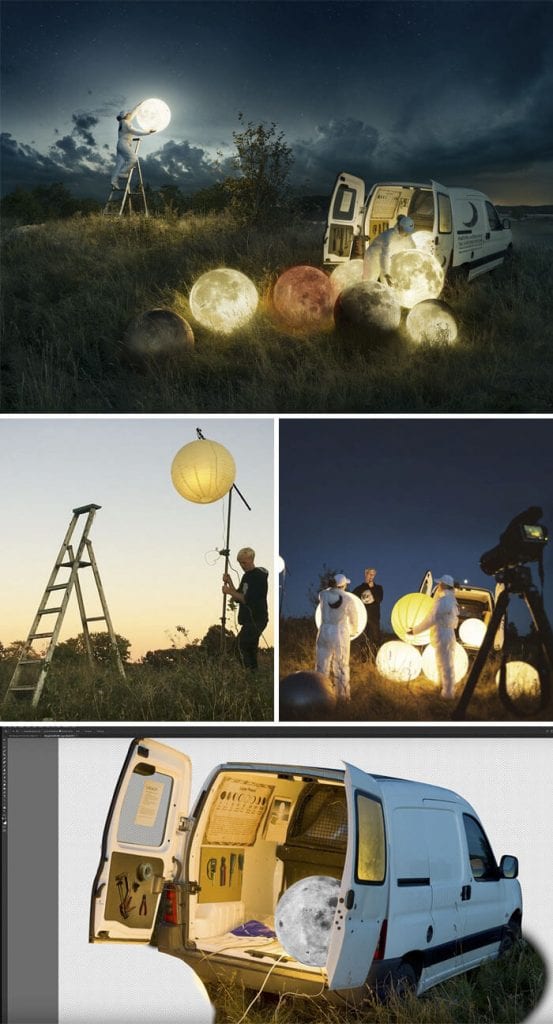 If you want to see just how great and creative a photographer he is, look at his finished shot! Need we say more? You can see from his photos that he likes his job very much and enjoys doing what he's doing. The photo looks like they're hanging the moon in the sky.
#21 Kiss me quick!
Well, this is a photo we know many couples would like to recreate. If you think this is easy, you better think again. it involves more than two people, contrary to popular belief. We know there's a photographer involved, but is there another person?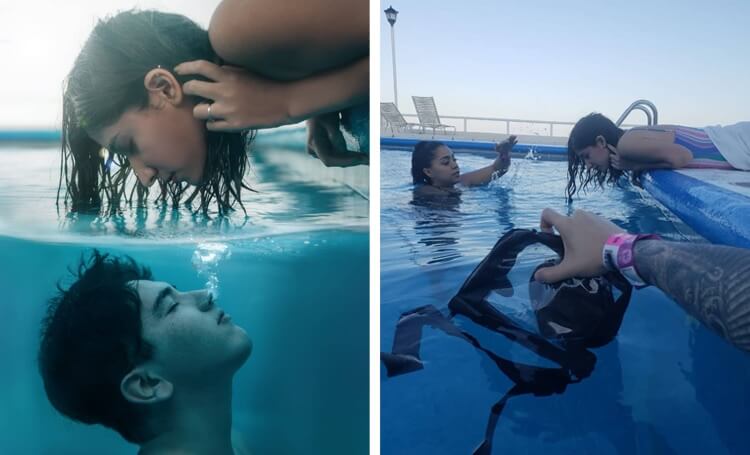 The answer is yes. After all, who's in charge of creating the perfect wave line that separates the lovers? It can't be the photographer because he is holding on to his camera, and he is directing everything. Just how many times did they attempt this before they got the perfect shot?
#22 She looks like she belongs in Avatar
When it came out, James Cameron's Avatar was one of the most-watched movies ever, and until now, people are still waiting for the release of the movie's second installment. Will there be one? The good news is that apparently, we won't need to wait much longer?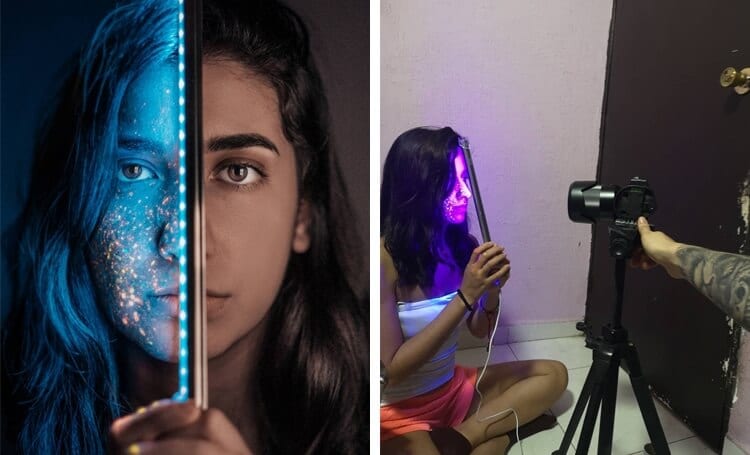 This picture reminds us of the Na'vi people, the inhabitants of Avatar. How do you make yourself look like one? Do you need a lot of special effects? Turns out you don't. All you need is a hybrid LED lamp with purple, blue, red, and white LED, and you're ready to be an alien.
#23 The paint section makes excellent photos
Who would have known that Home Depot is an excellent place to take pictures? you don't even have to spend money on backdrops and other things. All you need is a good camera. After going to the window shutters section, it's time to head to the paint swatches.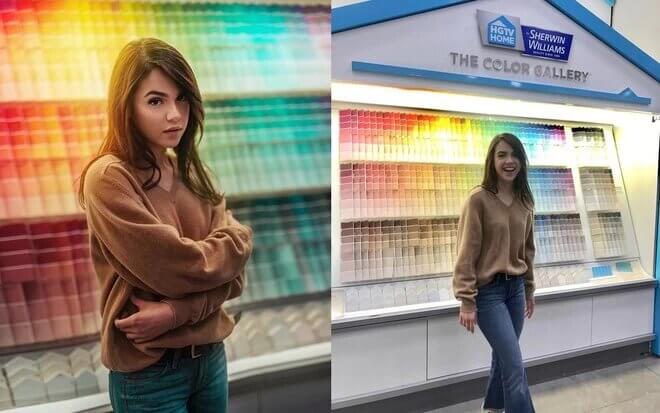 At first glance, you'd think that the photographer spent long hours editing the photo and putting all the magical colors there. But all they did was go to the color gallery to take a beautiful photo with rainbow colors in the background.
#24 Make good use of that LED lamp
Remember that LED lamp with purple, red, blue, and white colors? Here it is again demonstrating just how versatile it is. This is something that you need to invest in if you want to produce one-of-a-kind photos that will get hundreds of likes on Instagram.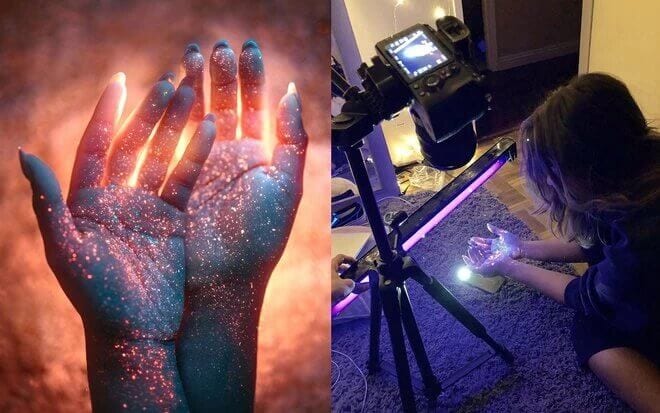 This time it's not the face that's being illuminated but the girl's hands. If you look on the right side, you'll see that aside from the hybrid LED lamp, the woman is also using her phone's flashlight to give her photo a yellow light effect.
#25 This should win the National Geographic award
Photographing wildlife is something that requires a lot of patience. You have to sit there and wait for the animal to make a move. Sometimes, this takes a few minutes, but other times it can take hours. This is especially difficult if you're out in the snow.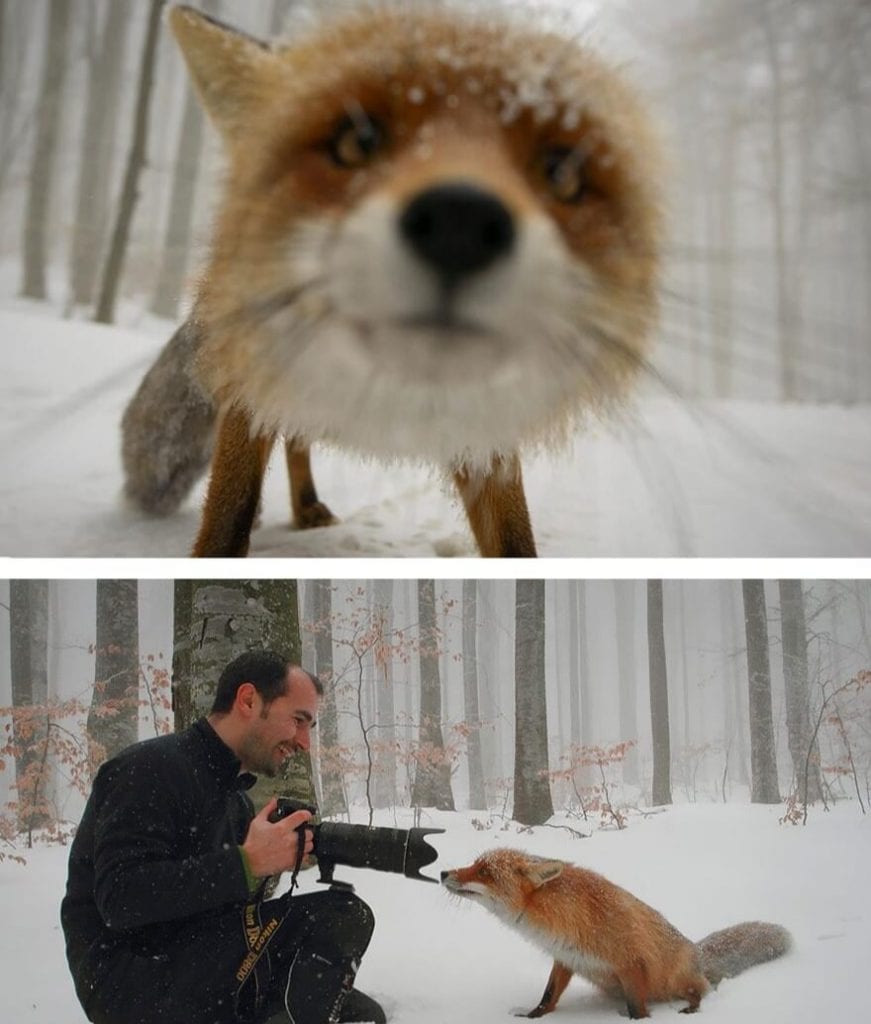 A case in point is this photo, but the result is quite a beautiful candid moment captured on camera. Just look at that red fox enjoying being the star of the show. Just look at how happy the photographer is for taking such a photo!
#26 Wow, look at the photo they came up with
How do perfume companies always come up with those elegant and classy photos? Did they spend thousands of dollars on their pictures? Did they hire top photographers for their product shoots? Well, this behind-the-scenes look has no hint of luxury or glam.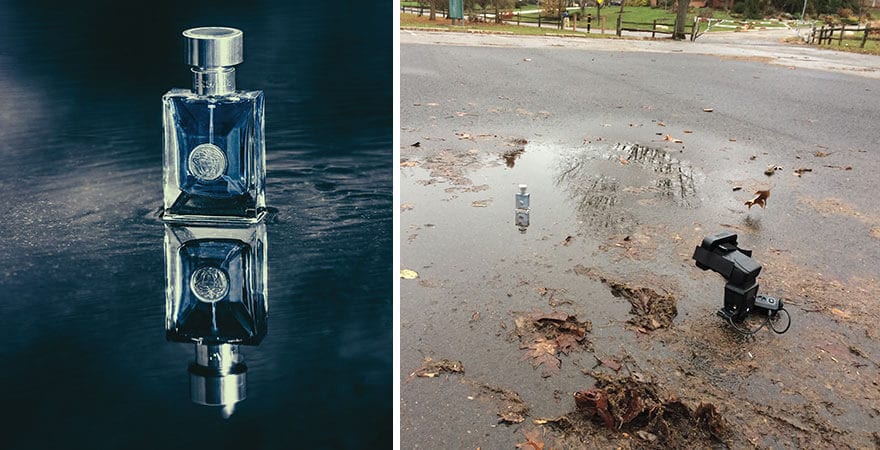 The picture was taken in puddles of rainwater, and there isn't even a single prop used when the photo was taken. Look at all the dirt and the mud. Who would have thought that such a photo can come from that location?
#27 The volcano is erupting
Volcanos erupting is not a joke. Aside from the possible loss of property, there is also the possible loss of life. That's why volcanic changes need to be monitored so people can be warned early and that they can evacuate the area in time.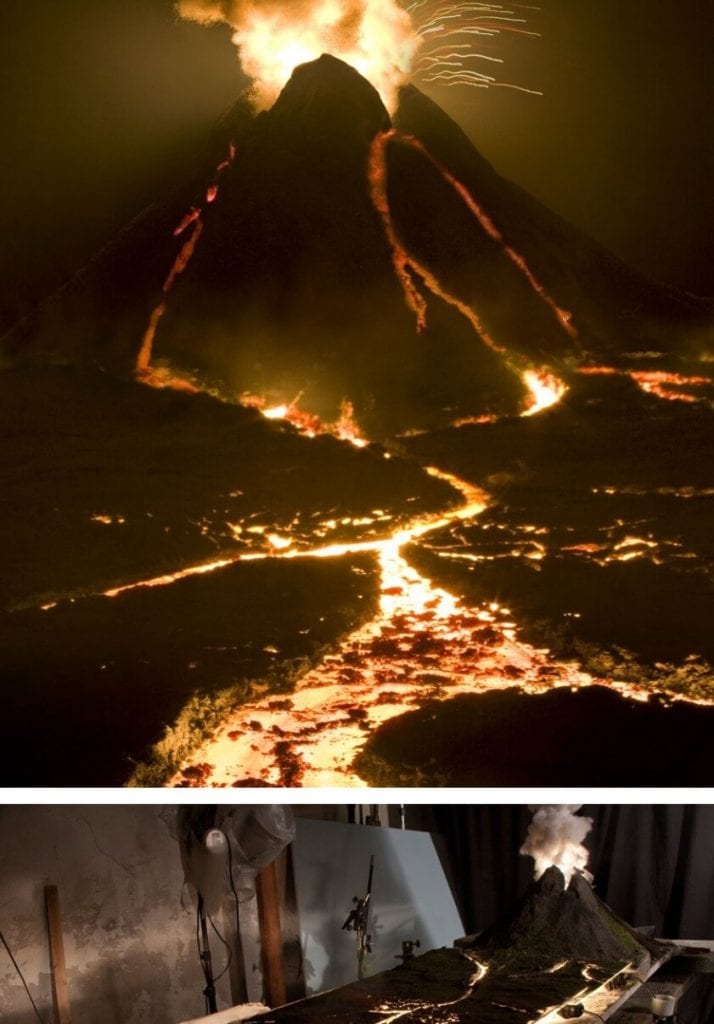 This scary photo makes it seem that the photographer risked his life for it. However, that's not the case. It's just a miniature set that was made to look so real as if it's a scene that came right out of the movie, Dante's Peak.
#28 Be careful of the Twister
Twister was one memorable movie about a natural disaster that became a commercial success. When you look at this photo, the first thing that comes to your mind is that movie. Looking at the photo makes you think that they must have risked their lives to get one great shot.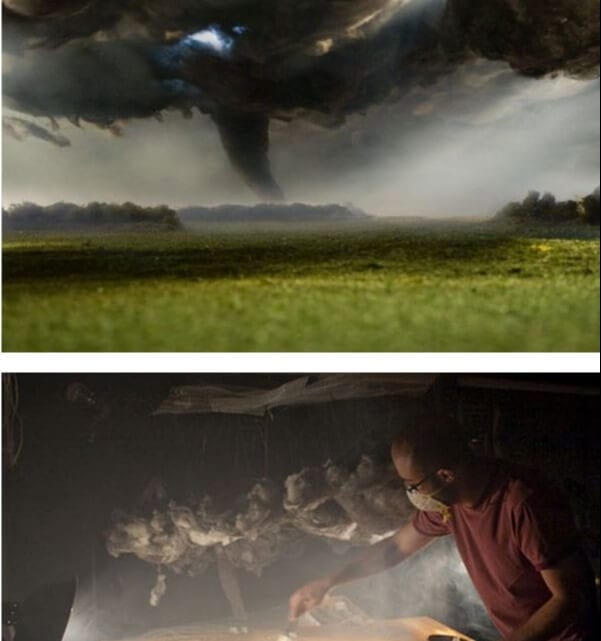 Thankfully, no lives were put in danger when this photo was taken because that menacing Twister you see there is made of colored cotton, which was suspended above a miniature set—props to the designer and the photographer for making it look very realistic.
#29 Have some Skittles
Skittles are one of our most favorite childhood snacks. People have plenty of fond memories of the candy. A fun fact is that yellow skittles are more common than any other color, and Skittles were originally from the UK, not the US.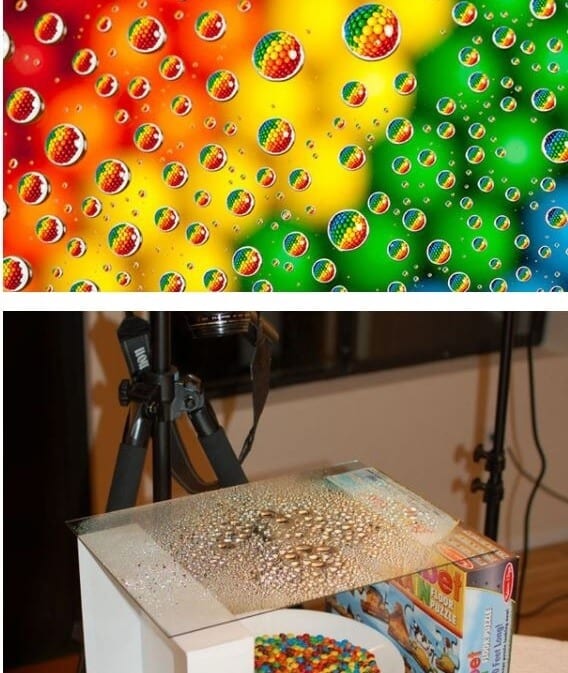 The above picture of Skittles would make you think that it's digitally made. This optical illusion wasn't digitally manipulated. The creative photographer just had the clever idea of using waterdrops on a clear glass sheet to make it seem as if the Skittles were inside bubbles.
#30 Where's the genie?
The first thing that came to mind when I saw this photo was, "Quick, rub the lamp so the genie can come out, and you can get your three wishes!" But, alas! There's no genie to be found. You'd also think that this photo was taken in a professional photo studio.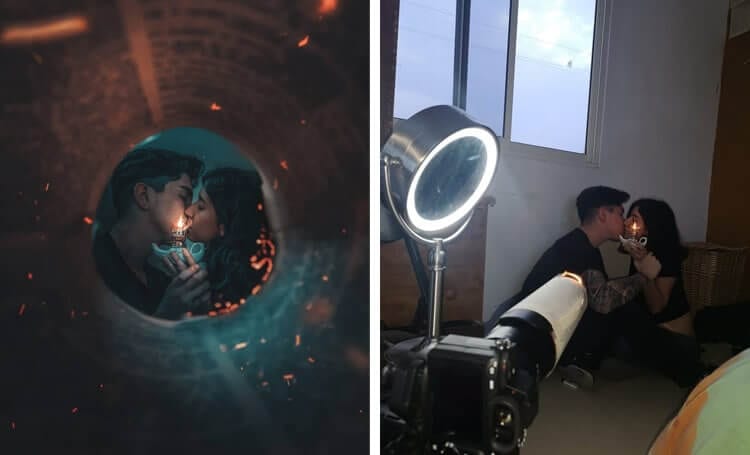 Surprisingly it wasn't. It was taken in a bedroom, and for props, all they used was a rolled-up newspaper, the tiny lamp, and a makeup lamp placed just above the roll of paper connected to the camera lens, but look at the end product! Magnificent, right?
#31 So many emotions with this photo
This photo evokes anger, fear, and worry. Is the girl being abducted? Is she being prevented from telling the truth? Is she being harassed or abused in some way? This photo is very effective in making you feel plenty of emotions. So how did they come up with it?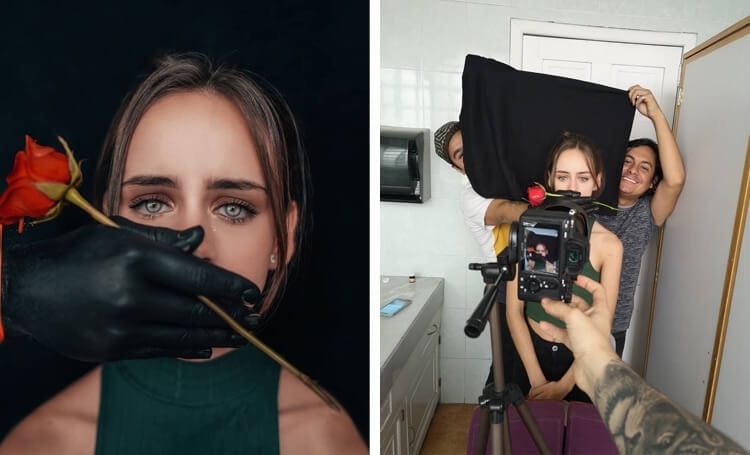 From the looks of the behind-the-scenes photo, it looks like it was shot in somebody's kitchen. The background was just a simple black cloth. Look at the hand holding the rose; that's not a black glove. They just painted somebody's hand with paint. You don't need fancy props to produce moving and provocative images.
#32 Whale tank?
This photo looks like it belongs on the cover of the National Geographic magazine or perhaps on Discovery Channel. It looks like the photographer spent a lot of time and effort underwater trying to chase a massive whale just to get a perfect shot of it.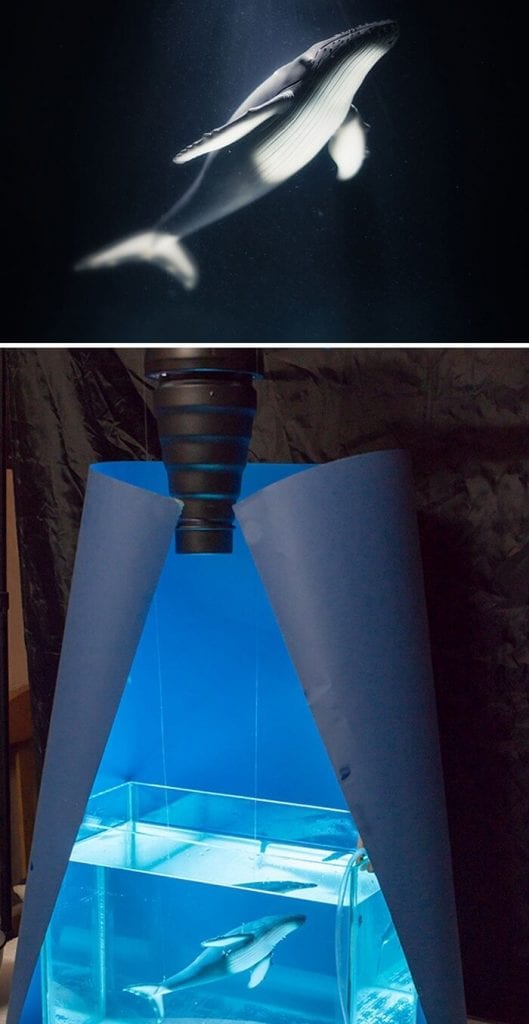 But that's just a toy whale in a water tank. It's not a real whale in the depths of the ocean. Look at the bottom picture to see how the photographer gave the photo a realistic and deep cold-water effect. Who would have thought that some wrapping paper and a spotlight could create that effect?  
#33 A picture fit for a motorcycle ad
This picture is fit to be used for a Ducati motorcycle commercial. Doesn't that image make you want to purchase a motorcycle too? Look at the sleek lines. The image also conveys speed and power, things that you want in a motorbike.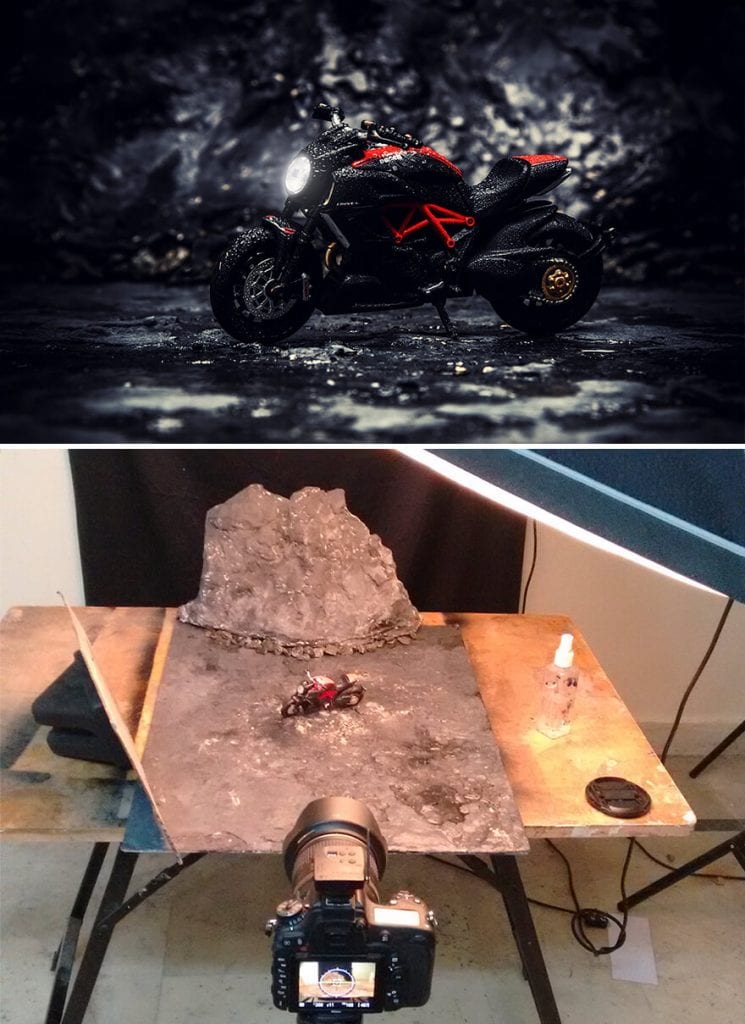 Well, this isn't even a picture of a real Ducati bike. It's a miniature motorbike in a miniature set. Great editing and photography skills just brought it to life. This kind of photography does require talent and not everyone has it.
#34 Don't go into the cave
This photo reminds us of Batman's secret hideout, his Batcave. This secretive place had plenty of wonders, such as the latest in weapons and technology to fight the bad guys of Gotham. Look at that entrance right there. Isn't it full of mystery?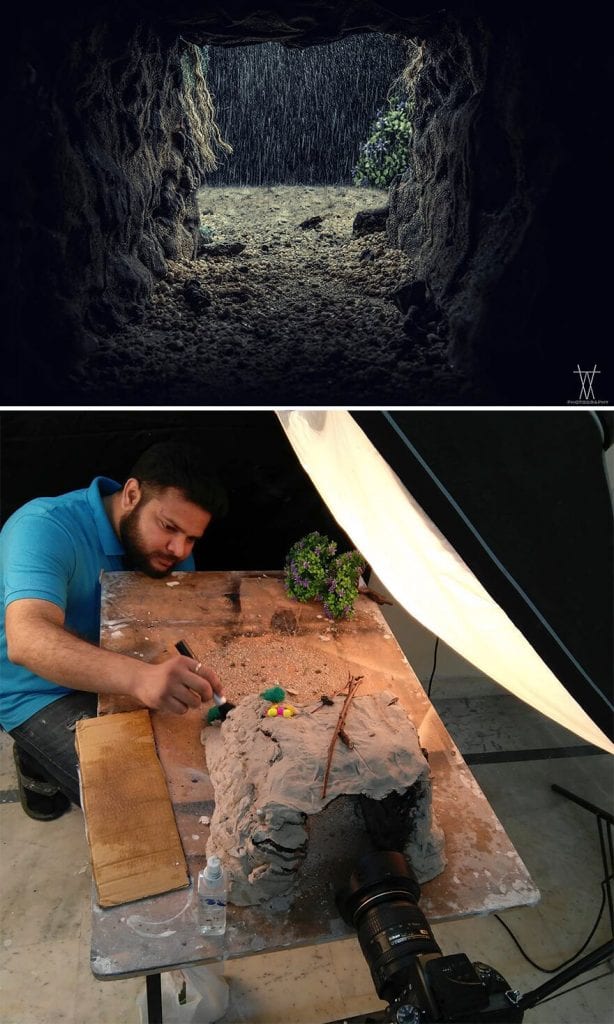 However, what you're looking at is made of crushed pebbles and grey plasticine. Look at the bottom picture, and you'll see just how they creatively reproduced the Batcave. It's just a miniature set that was made to look lifelike.
#35 Where's that car headed to?
You shouldn't believe everything you see because they're not all real. A case in point is this photo. If you look at the top photo, you'll see a car speeding down a one-way road in the rain. Look at the bottom photo, and you'll see it for what it really is.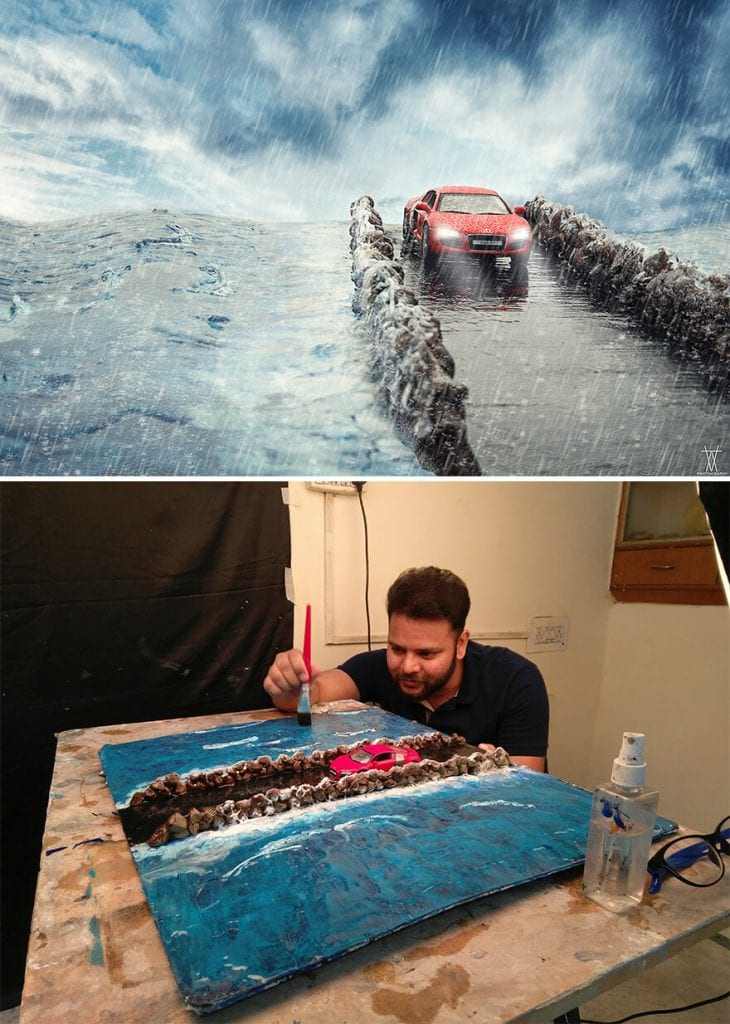 It's just a toy car on a miniature set. For a minute there, we thought that the driver was having a hard time navigating the slippery road while driving in inclement weather. It can get dangerous doing so and can result in an accident. Fortunately, there were none on set when this picture was taken.
#36 Is that Mount Fuji?
Some photographers prefer taking photos of wildlife, portraits of people, landscapes, and there are those who prefer to take photos of miniature sets. This photographer prefers miniature photography, and his photos are a testament to his mad crazy skills.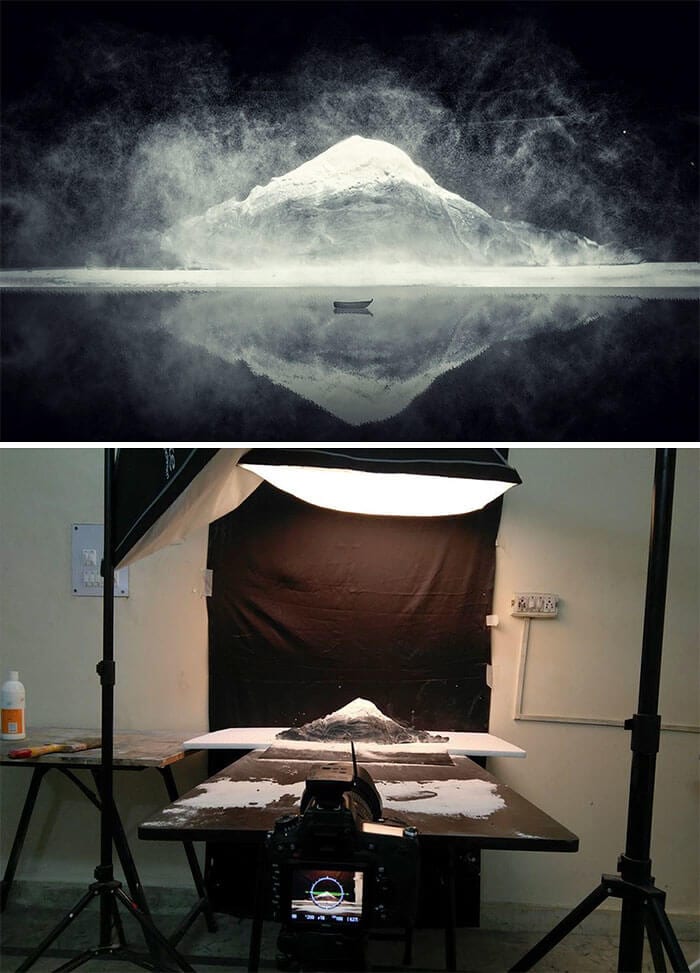 This otherworldly photo looks like it was taken near Urui River, and it has the majestic Mount Fuji in the background, Japan's most famous volcano. But the photographer didn't even step foot in Japan to take this photo. He just had a miniature set in his house.
#37 Behave horsey!
Horses are majestic creatures. They have a lifespan of up to 25 years, can sleep either standing up or lying down, and can run shortly after birth. If you want one, you better have deep pockets because it's going to cost you a pretty sum.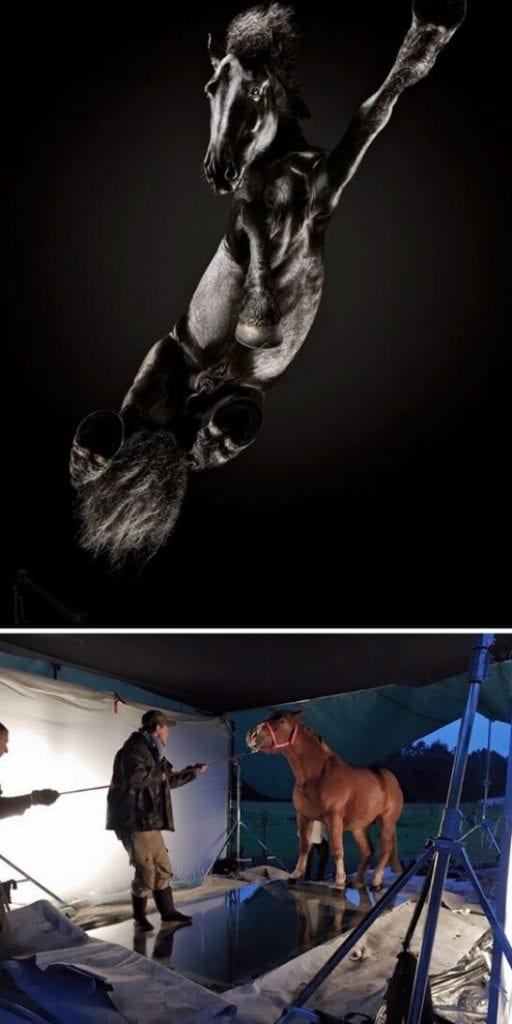 This picture of a horse took extraordinary lengths to capture. They had to dig a hole in the ground and cover it with thick glass strong enough to support the horse's weight. If you didn't know better, you'd think that the horse was galloping mid-air when the photo was taken. But we all know it wasn't.
#38 You'd think that this was a visual effects production
Visual effects are an excellent way of bringing things to life and making them seem authentic. They can make men fly, they can bring extinct dinosaurs to life, and they can make magic exist. This photo looks like it's a product of Photoshop or other effects software.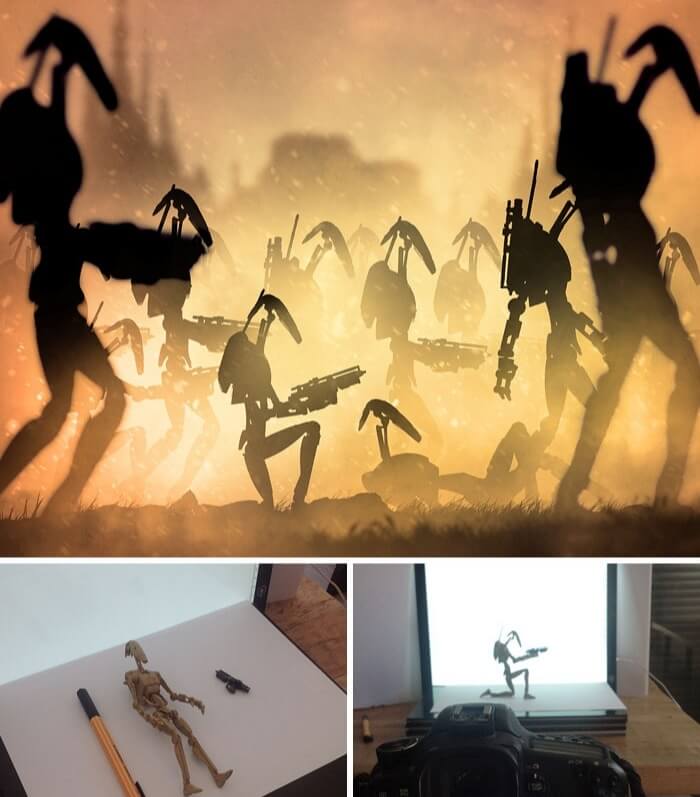 This picture recreated a scene from a Star Wars movie and was made with a miniature figure which was positioned against a background light. Throw in some Photoshop skills and the end product looked like it was a still shot from the movie.
#39 You'd think this was taken in the ocean
Taking photos in the water can be a challenging task, but it also presents countless opportunities to let your creativity and resourcefulness shine through. This picture is an excellent demonstration of how to take amazing pictures in the water.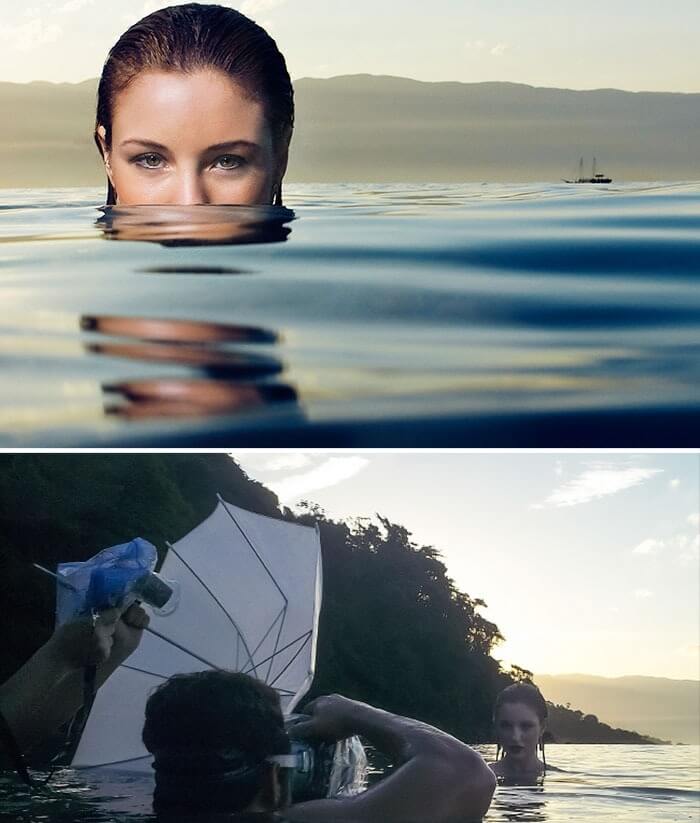 No, the girl wasn't in the ocean, she was in an infinity pool, and the ocean was just behind her, but you would never have guessed that if we didn't tell you, right? The photographer wasn't even using a waterproof camera. He was just using a regular DSLR, but he was resourceful and covered it with a clear plastic bag to protect it from the water.
#40 That's one great portrait
Annie Lebovitz, Herb Ritts, Richard Avedon, and Steve McCurry. What do all these people have in common? They are some of the best portrait photographers in the world, and if you can be in the same league as them, you should consider yourself very lucky and accomplished.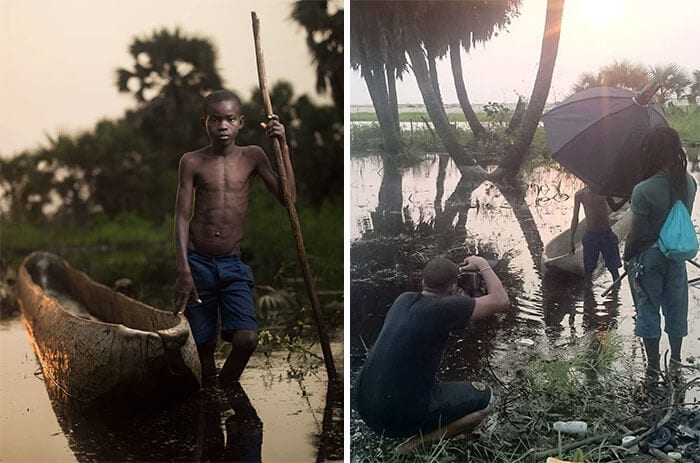 This photo is an excellent example of a great portrait and strobe light photography. All the elements worked together to produce something incredible. You wouldn't have thought that behind the scenes, things looked very different from what appears in the final shot.