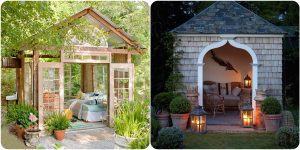 Quintessentially Feminine She-Sheds Perfect For Some Alone Time
By Abigail T
---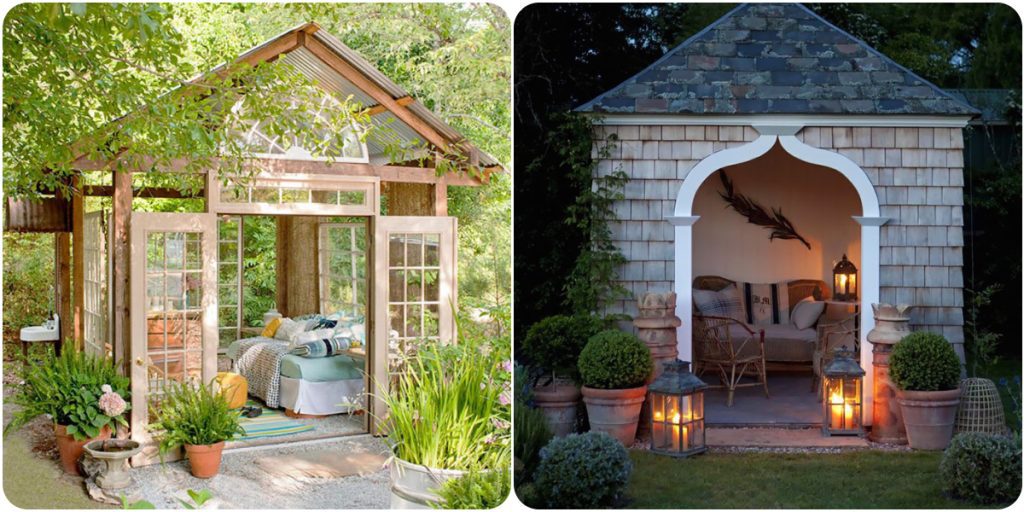 What's the feminine equivalent of a man cave? A she-shed. Conceptually, the she-shed is exactly what a man cave is, except instead of being a part of the main house like a transformed garage or basement, she-sheds are separate from the house. Most she-sheds are outdoors and built in the garden or yard of a home. They are great if you're someone who often needs their space away from the family. A she-shed can be your place to relax and retreat, whether it's by curling up with a good book, painting, or just enjoying a good pot of tea. The best thing is you can decorate and customize your shed any way you like. If you're looking for some inspo for your future garden getaway, here are 45 gorgeous she-sheds you can draw from.
A personal hive
The octagonal architecture of this shed resembles a beehive from the exterior. It may be an aesthetic choice to have the space shaped like this, but from the interior, you can see that it creates a much more cozy feel. With the ceiling slanting downwards, it makes you feel secure, almost as if you're in your own little pod.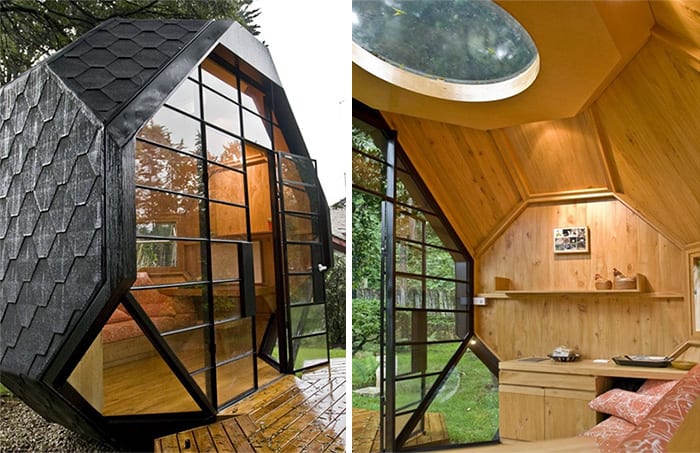 We're gushing over the wood finish on everything, from the walls to the floor and the little table. Paired with the underlighting, it makes everything feel much warmer. This shed is perfect for cuddling up on a rainy day.
Peaceful reading nook
Gardens are the perfect place to build your she-shed. You can relax while overlooking the greens and flowers while still keeping an eye on the kids in the house. You can tell that this particular shed was just built for reading, with books lining the ceiling.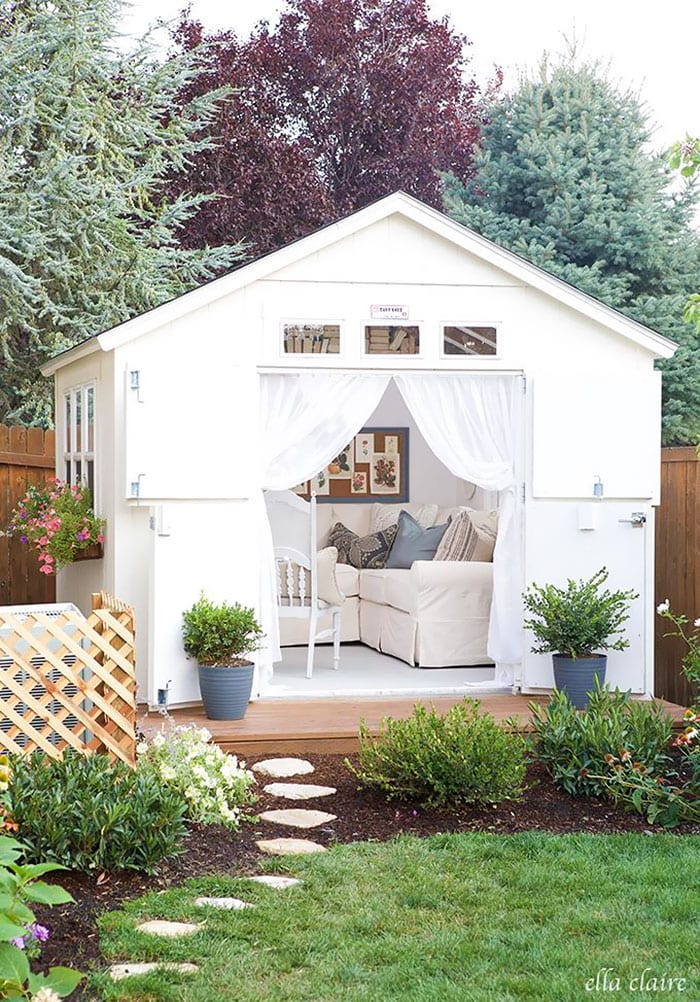 An all-white interior and exterior opens up the space and makes it feel like you have more room, although this makes it difficult to maintain though. With the winds and rain, the outside of your shed can get dirty fairly quickly.
Garden greenhouse
Turn your she-shed into a haven for your green fingers. A relaxing time doesn't always have to involve lying down and doing nothing. Tending to your flowers and succulents can also serve as a bit of a break from the mundane.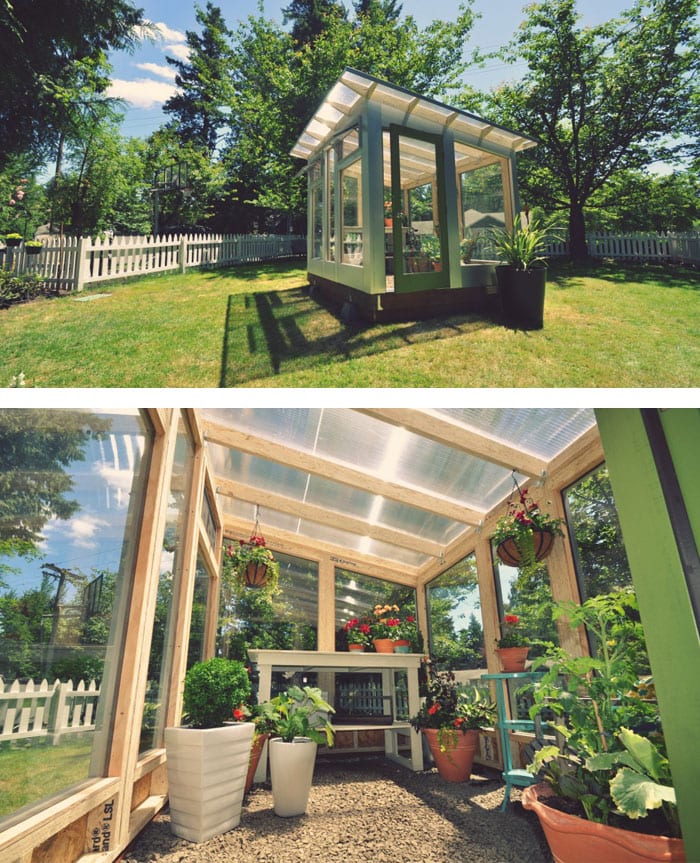 Having a greenhouse as a she-shed means you have personal space to take care of your plants. Tell the kids that when you're in your greenhouse, no one can disturb you. Play a bit of music while you work and forget the world for a while.
A trailer transformed
If you're lucky enough to have a large backyard, consider transforming a trailer into your she-space. You can put up a wooden exterior like this one, with nice lighting to match. Install a proper door and more windows, and you're good to go.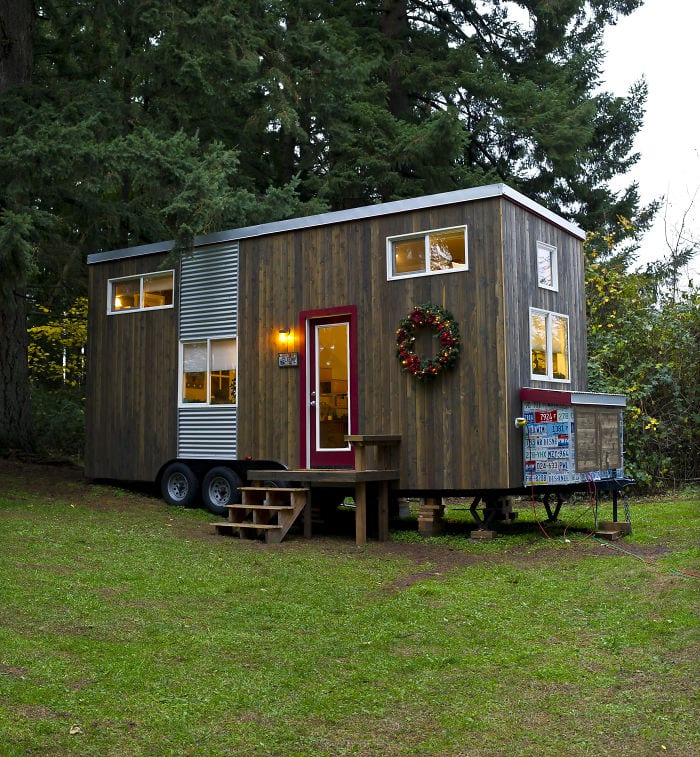 The trailer can be a great space for family time as well. Make dinner in the house and bring it out to the trailer for a change of scenery. On nights when you need your space, you can hide away there without disturbance.
Yoga retreat
Don't have space for yoga in the house? Or are you just too lazy to go out and take a class? A she-shed designed specifically for yoga may be for you. This one has just enough space for you to stretch out in a warrior pose.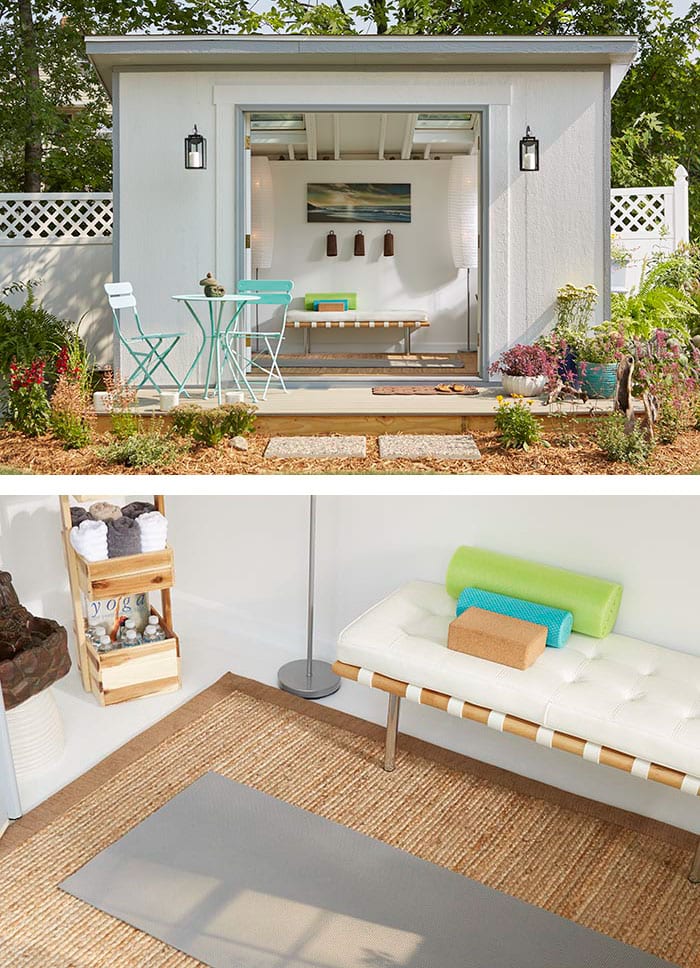 The table and chairs outside add a nice touch. It's perfect for enjoying a smoothie in the sun after your session. Decorate the interior with neutral, calming colors. You can even install speakers to play your calming music as well!
Half a tool shed
If you've only got enough tools to use up half the shed, then maybe it's time to repurpose the other half of the space. This beautiful she-shed uses up half a tool shed and lets a lot of sunlight in through the ceiling and floor windows.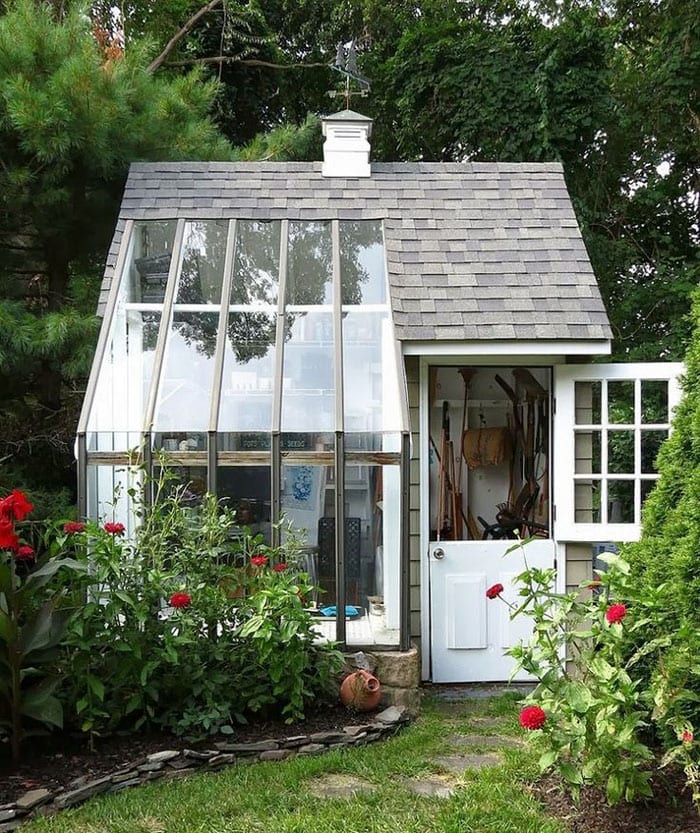 We see this person has transformed the space into an art studio, which is ingenious. To be able to paint with that much light streaming in must be such bliss. It's a painter's paradise, and we want a taste.
The glass house
This one looks like it was plucked straight out of a fairy tale children's book, and we are here for it. The boho aesthetics of the rugged white wood exterior, paired with the wooden planks on the floor and the mosquito netting over the sofa, just pull the look together.
There's also a birdbath right outside, which just makes us feel like this is a home fit for a modern-day Snow White. Its rustic feel makes it fit to be the set of the next Taylor Swift music video. Maybe a video for evermore off her new album?
Minimalist shed
Just because it's called a she-shed, that doesn't mean it has to be particularly feminine in design. You can scrap the pastels and loveseats for a more neutral aesthetic. This shed's black and light wood material do the job just fine.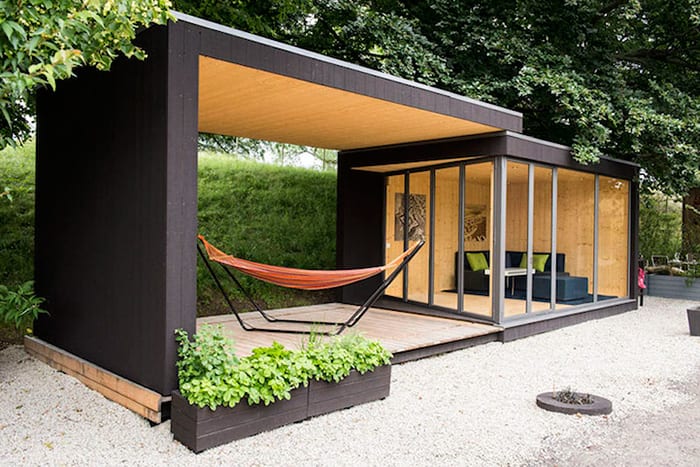 Possibly our favorite part about this shed is the hammock outside. It gives you relaxation in a completely different way. You can swap out the hammock for a round outdoor table and a few chairs to host friends as well.
A moody space
This is the kind of space you need to brood and ponder about life. The candle lanterns lighting up both the inside and outside of the shed really sets the mood. It almost makes you feel like you're in the Harry Potter universe.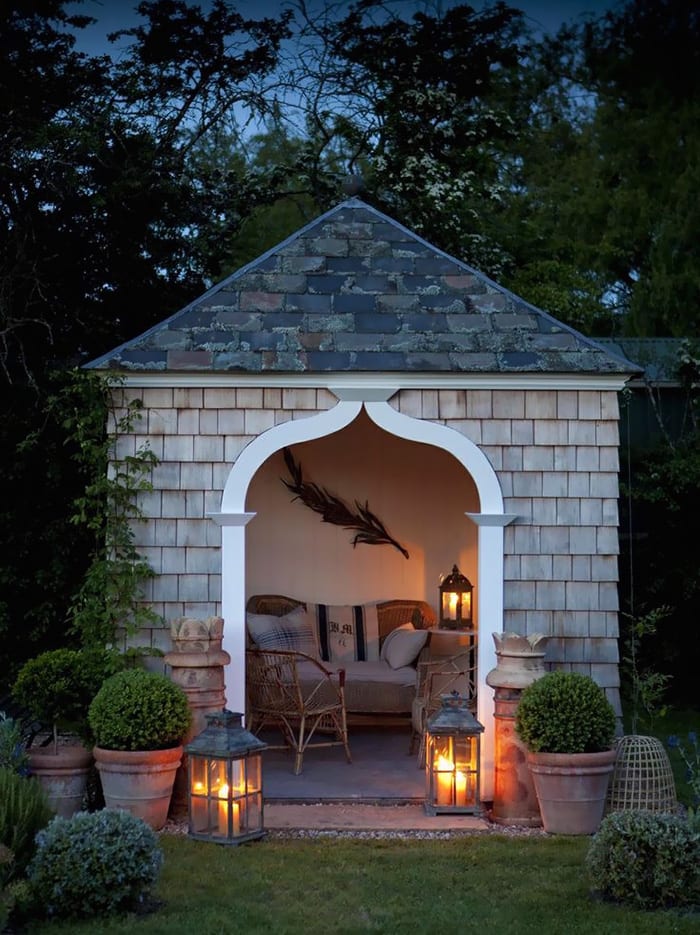 Rattan and wicker are a great alternative to wood if you're looking to create a natural aesthetic for your shed. Pairing it with stone materials is also a good idea. Make your shed as moody or as chipper as you like!
Garden tea house
A she-shed doesn't have to be used solely for alone- time. You can entertain others in your shed as well. This particular shed is perfect for an afternoon tea party. With three out of four walls being glass, it will provide a warm atmosphere for you and your guests.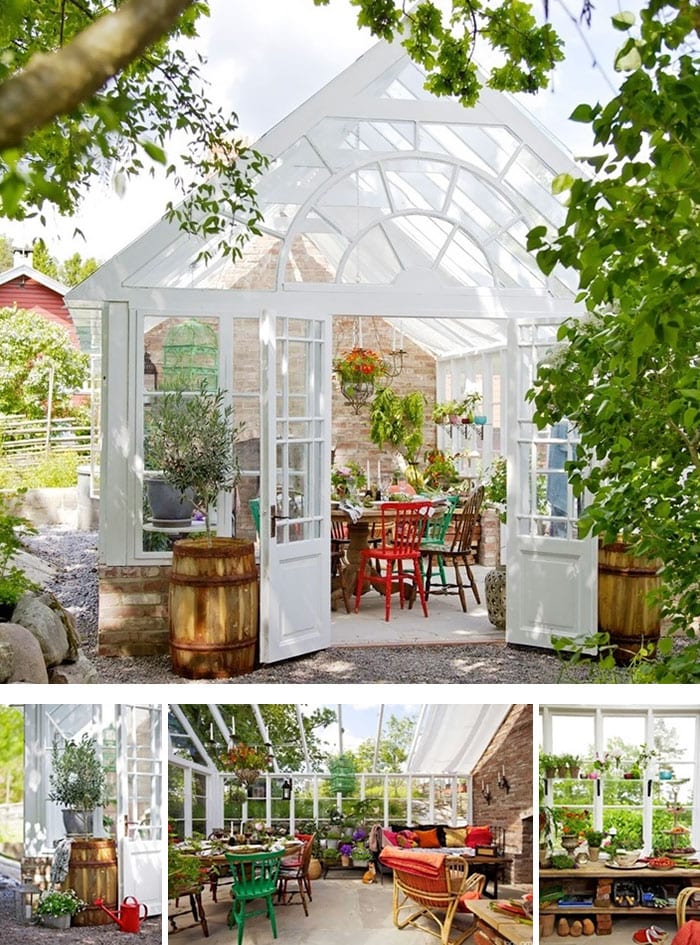 Decorating your shed with potted plants can also bring the garden inside. The colorful seating looks inviting, but you can also opt for more neutral colors instead. Start building your garden tea house now, and you can be enjoying a pot of tea with friends there this summer!
Cabin feels
Architect Alex Wyndham designed this lodge. Aptly named Hawk House, it is located on a hill that overlooks the California coast. The wooden exterior blends in seamlessly with the nature around it. Throw open the accordion doors in the morning to take in the sea breeze.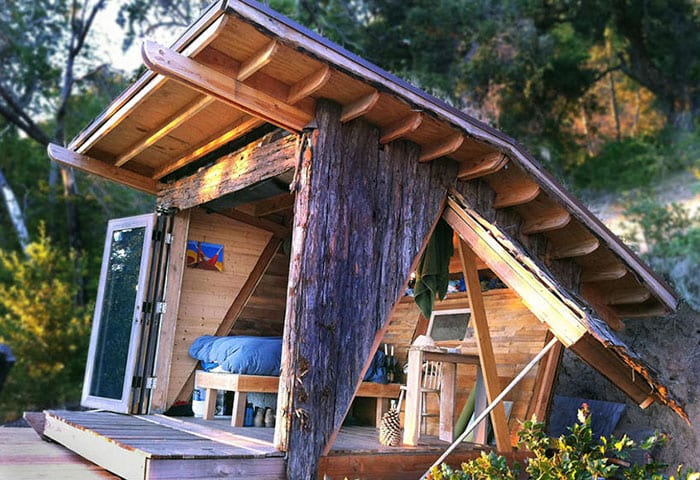 Isolation is achievable in Hawk House. It can just be you, the lodge, and the ocean, making this the perfect she-lodge for the surfers out there. The wood finish gives the lodge an extra taste of nature, making your stay there an entire experience in itself.
Green gables
The famous LM Montgomery novel Anne of Green Gables must have been the inspiration for this she-shed. The exterior may be painted a mint green, but the wood on the inside has been left bare for a more rustic feel.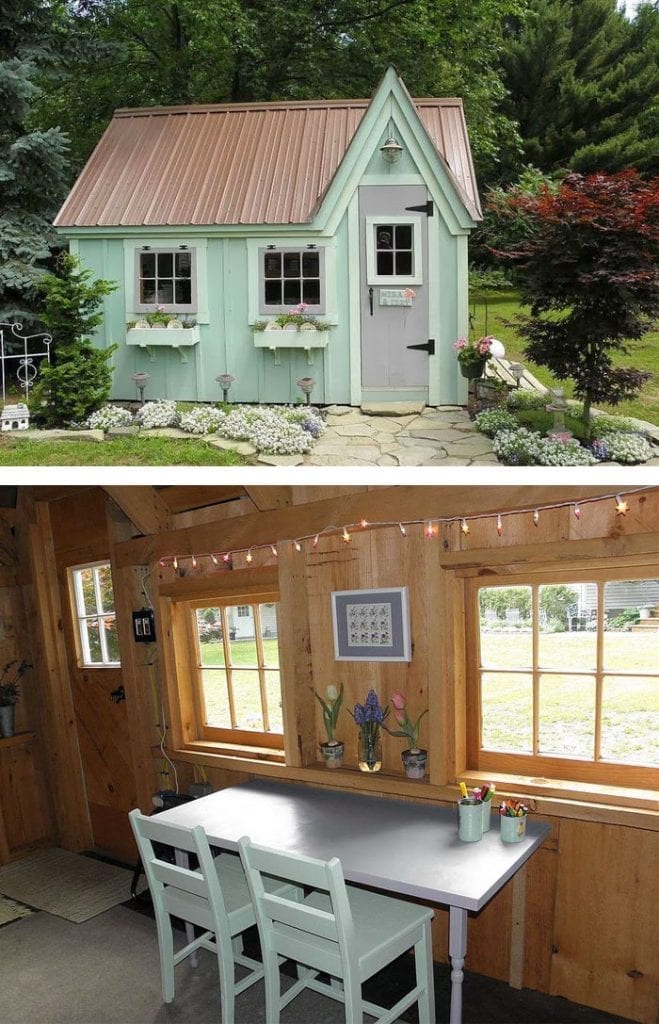 Installing a table overlooking the rest of the garden is a good idea. The shed can be a space where you get a lot of work done, but it could also double as a kids' creative zone if you feel like sharing the space. The one thing we would have changed would be to make the windows bigger to ensure maximum sunlight.
Bachelorette pad
Who says only guys can have a bachelor pad? Building a bachelorette pad can also be a good idea. This one sticks true to a monochromatic theme, with a pop of color in the red outdoor chairs. The sleek black and white elevates the space and makes you forget it's originally just a shed.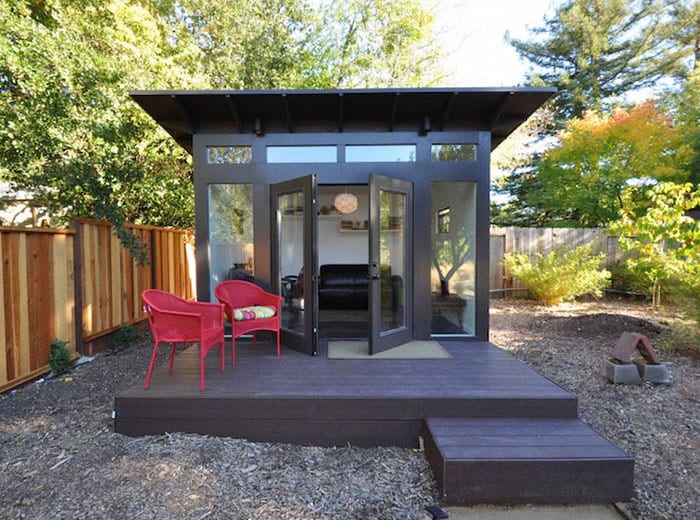 Nothing screams bachelorette pad more than leather couches. Install a mini-fridge and a smart TV in there, and we guarantee you'll never leave. Coincidentally with the pandemic, you would want this kind of space that makes it easy to stay home.
Guest house
Some people are blessed enough to be able to afford not just a guest room but a guest house. This separate unit from the main house is a beautiful place to host guests, whether it's your family or friends coming in from out of town.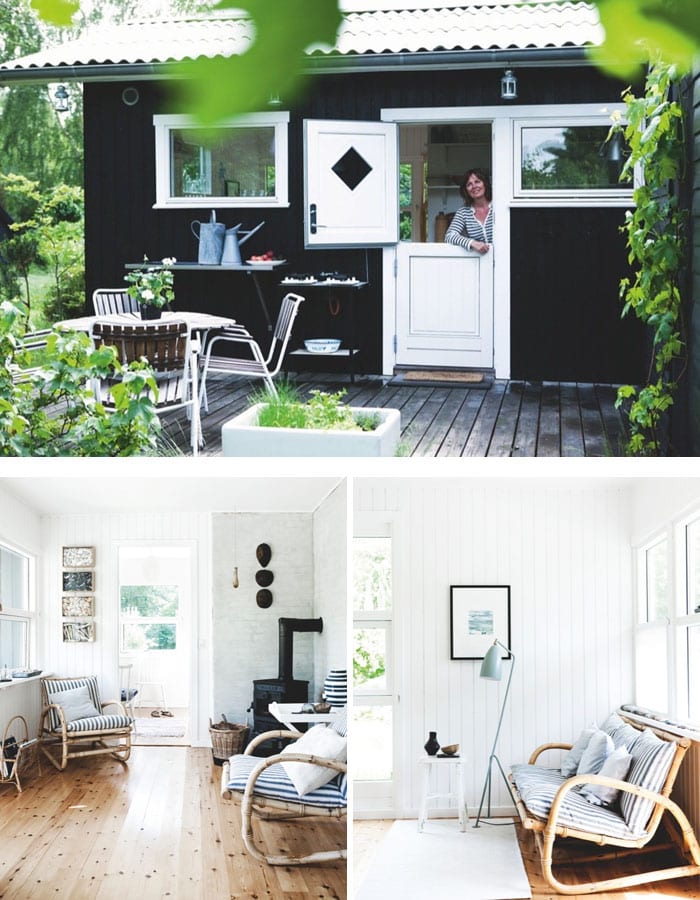 From the outside, it may not look like there's too much room in there, but once you step inside, the white walls really expand the space. The wicker and woods aesthetics makes it feel like you've never left the outdoors. It's warm and homey.
Beach dream
There's no better way to wake up to the sound of the waves crashing on the shore than to stay the night in a beach hut. You can turn your beach hut into your own charming she-shed. Painting the hut white makes it look elegant and almost blends it in with the surrounding nature.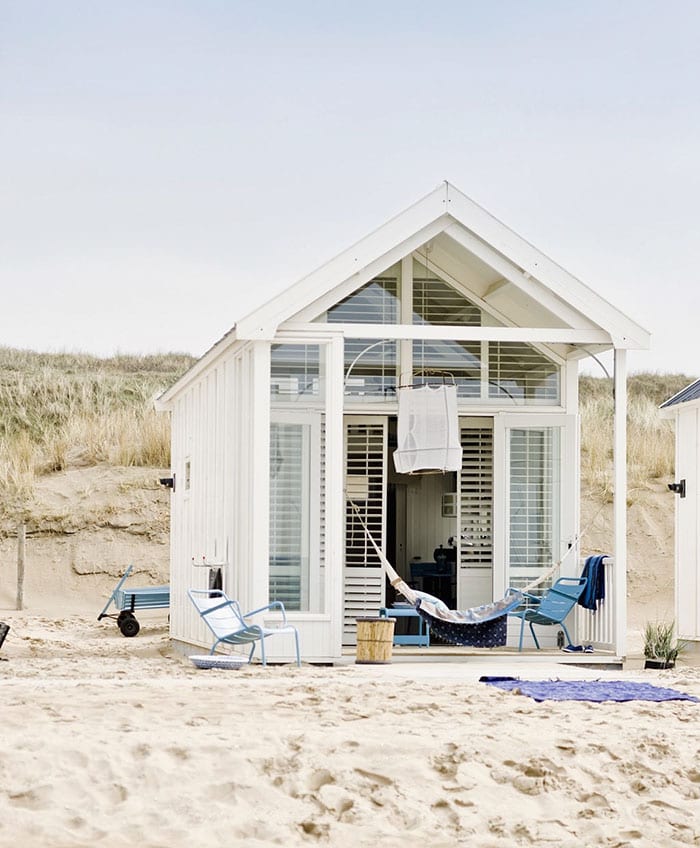 The shades of blue complement the white. Baby blue, navy blue, and teal are great colors to use to elevate your beach hut's look. Enjoy the sunset while reclining in your beach chair or lying in your hammock. This truly is the life.
Tree lodge
This treehouse might not be possible to install in the trees in your backyard, but you can use the aesthetics as inspiration. This is actually an Airbnb unit located in Atlanta, built by architect Peter Bahouth. There's a rope bridge you have to cross to get to the actual lodge, also lined with pretty lights.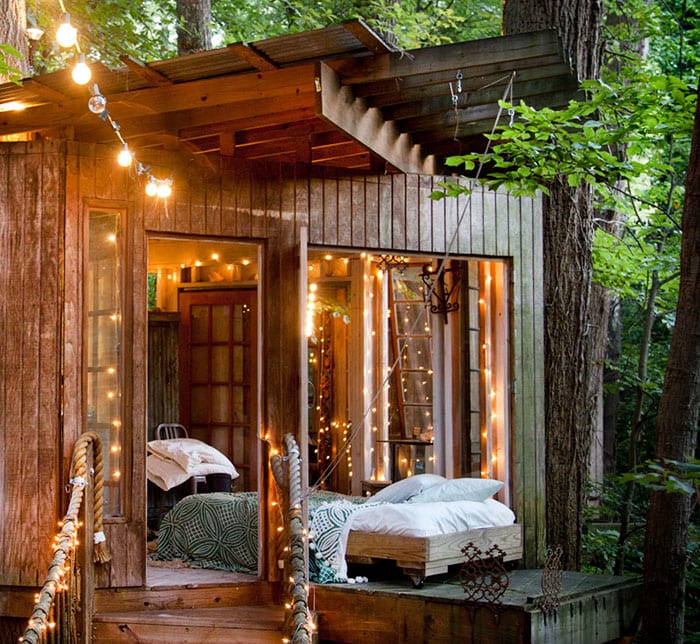 In January 2016, Bahouth's treehouse was named the Most Desired Rental in the World. Aptly so, because we wish we could be living our boho-chic dreams in there. Perhaps this will inspire you to put up fairy lights around your treehouse too.
Rustic garden shed
This shed is used for supplies but also doubles as a greenhouse. It looks like it's located in the middle of the woods, and so its rustic design fits perfectly. It's somewhere plants can grow in peace and where you can also come to find some serentity.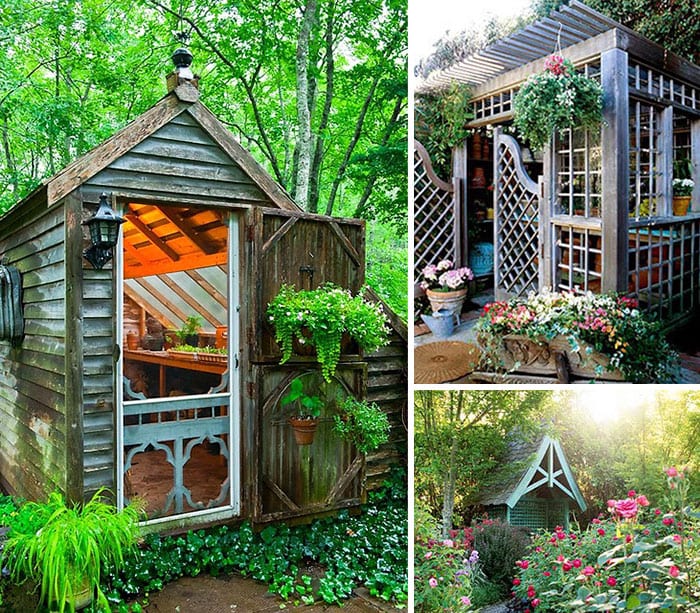 Like the greenhouse a few scrolls up, this one can also serve as your own private sanctuary or even a secret hiding spot to get away from it all for a while. It's an ideal getaway perfect for those green fingers to tend to all the flora you have.
The letter A
This A-framed shed in the middle of nowhere is gorgeously unassuming. The materials may make it look like it's very simple, but the views you can see when you're gazing out the window of this she-shed look simply breathtaking.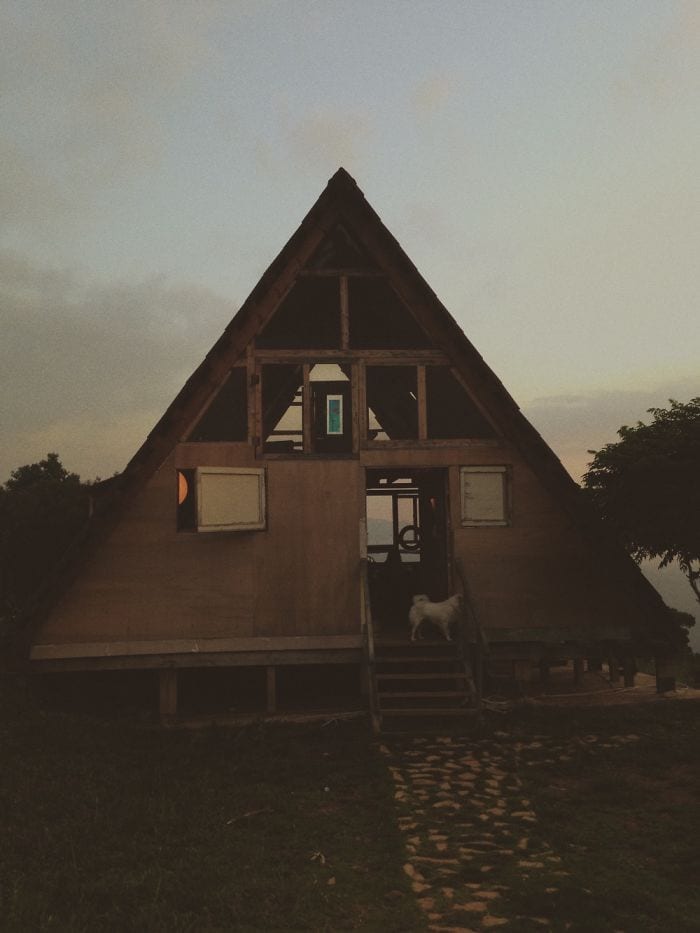 The A-shaped architecture lends itself to this secluded shed. It isn't necessarily a she-shed, but it is a place of one's own. Overlooking the mountains, you get killer sunrises from the back of the house and majestic sunsets from the front door.
Tea party chic
Many of the she-sheds featured here are the ideal tea party venue, and this mini white one is no exception. Despite its size, you can still sip tea with a friend on a nice sunny day out on the patio.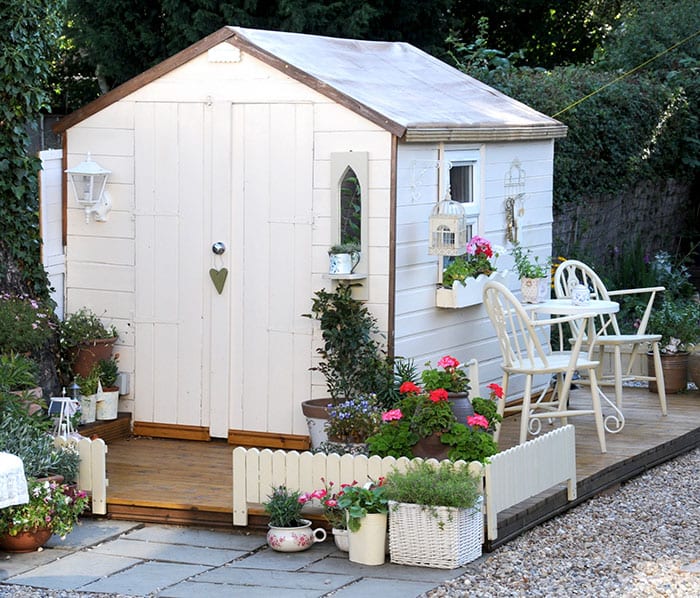 Aside from functioning as a she-shed, decorating your garden shed in a pretty way is also an excellent way to disguise your dingy old storage area. What lies behind those doors might not even be a space where one can chill—it may just be filled with gardening tools!
Home sweet home
This is the perfect storybook private get-away. White exterior, big red door, and potted plants on the windowsill. It's almost a replica of every generic house we doodled back when we were kids. Except it's not a house, it's a she- shed.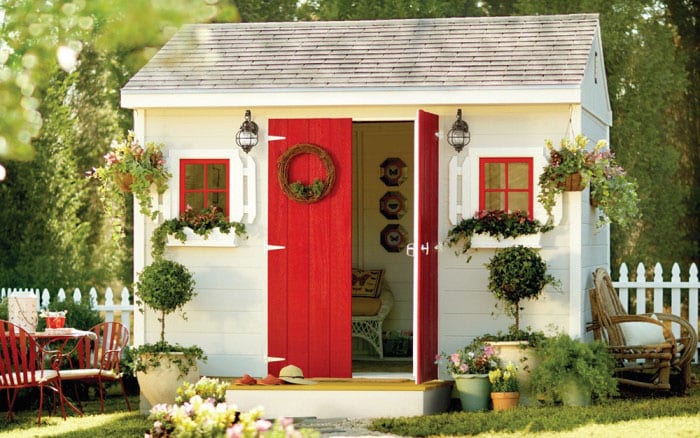 Giving your shed the exterior of a house, complete with a front step and doormat, can make the space feel more welcoming. It's your home outside of your main house, and you should always feel at home in it.
No wasted space
What do you do when a hurricane blows over a huge tree in your garden, and now the space is left bare? You build a she-shed in its place. Although, this does look more like a mini house than a shed.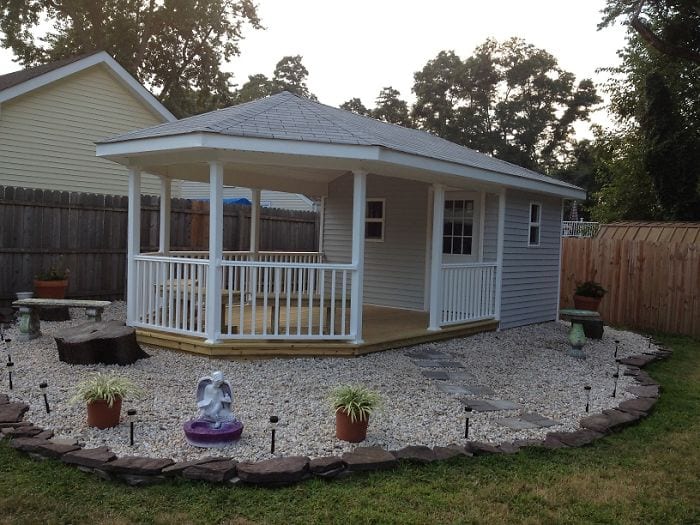 This she-shed is complete with a front porch seating area. Even better, it's fully equipped with electricity as well, meaning you can work, play PlayStation, or watch Netflix in here. Just get a WiFi router to connect to the main house, and you're good to go!
Heavenly
It seems that when you enter this space, an angelic choir starts singing, and you're transported to another level of inner peace. The design of the shed contributes to this feeling. The white and off-white colors brighten up the room.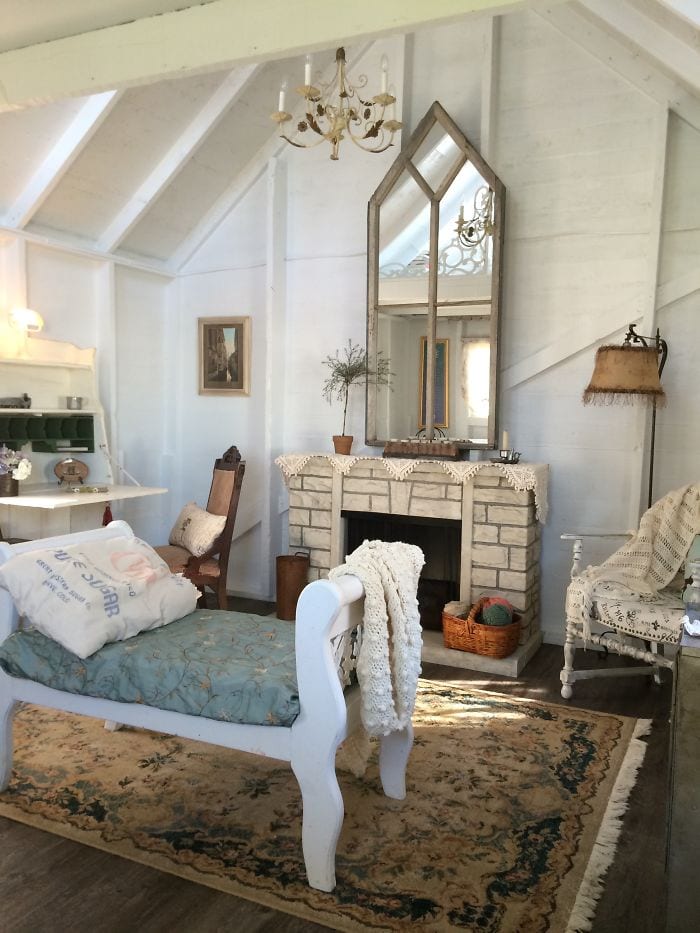 We love that it has a fireplace built-in, perfect to warm up a cold night. Perhaps our favorite detail is the mirror on the mantle. It's shaped exactly like the shed, with a pointed top to match the ceiling. Pro tip: having a mirror in a room really opens up the area and makes the place look larger than it is.
A beautiful disguise
Some garden sheds get shabby with age and could use a little beautification. Sometimes all it takes is paint and a bunch of potted plants. If you pay attention, not much has been done to this shed except the pop of color.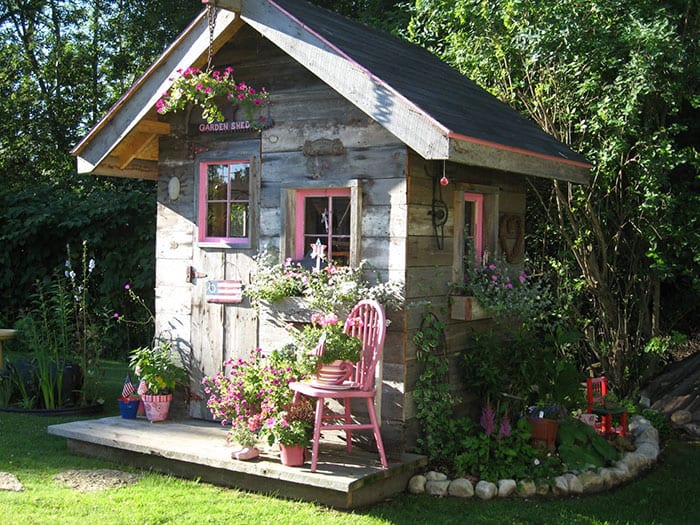 Painting the window panes pink brightens up the look of the whole shed. Matching the flower pots and chairs outside gives it a cohesive look. We especially love the detail of the hanging potted plant overhead and the sign over the door.
A Hobbiton backyard
For fans of The Hobbit or Tolkien's universe in general, this shed may be of interest to you. A circular door to a little Hobbit house under a hill, it looks almost exactly like Hobbiton. You almost expect to see Bilbo Baggins walking out the door!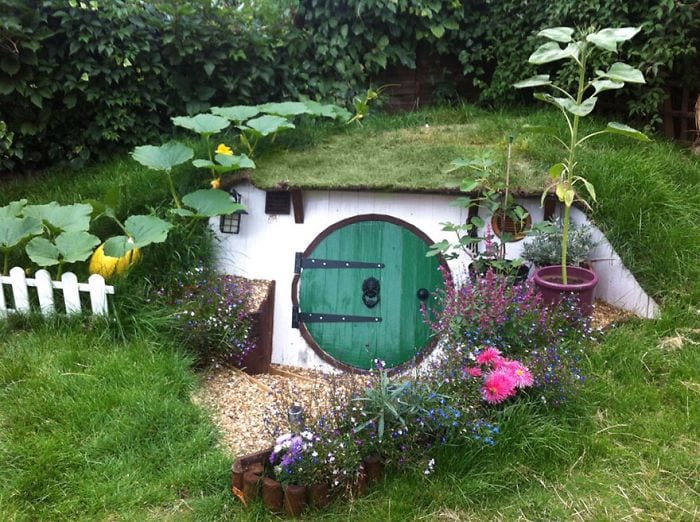 We're unsure how this particular shed can be used as a she-shed, though. It's a bit impractical to have to bend down to get inside. It's probably just there for the aesthetics, which is completely fine, too! It definitely establishes that the owner is a hardcore Tolkien fan.
Art corner
This is another way to turn your she-shed into your de-stress zone. If painting is what you do to take the load off, having a dedicated space to paint may be a good idea. Having a she-shed for this activity can give you room to be creative on your own.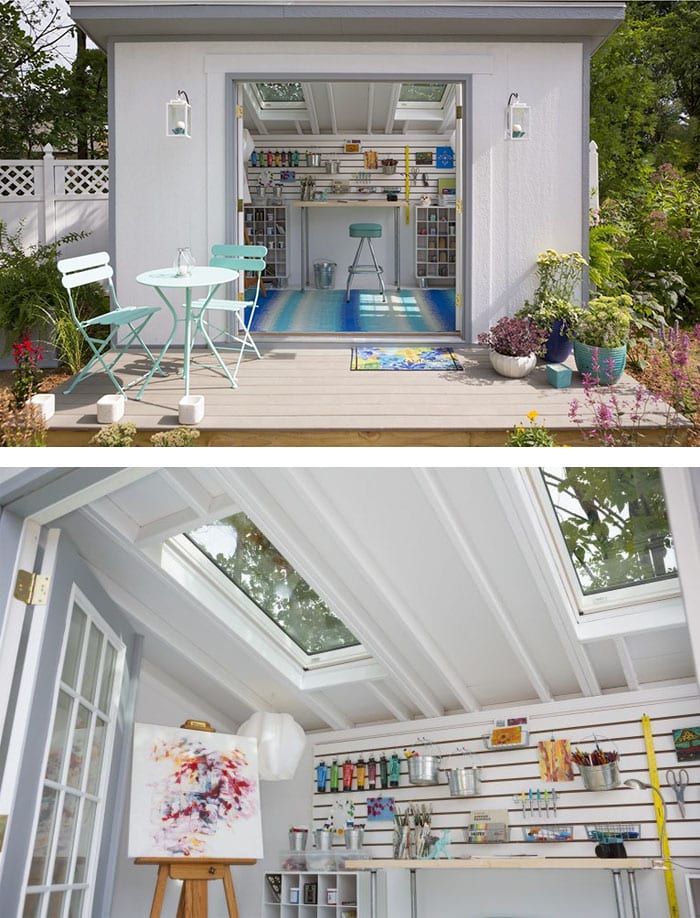 We love the space's neutrality, allowing for emphasis to be placed on the art being created. It's also a good idea to use hardboard on the floor. If you have any other kind of flooring, tape down a thick plastic sheeting to protect the floor from staining.
A nap in the garden
An afternoon siesta can be enjoyed anywhere, but why nap in your room when you can nap in this gorgeous she-shed in the garden? The space is open and welcoming for anyone who would like to take a break.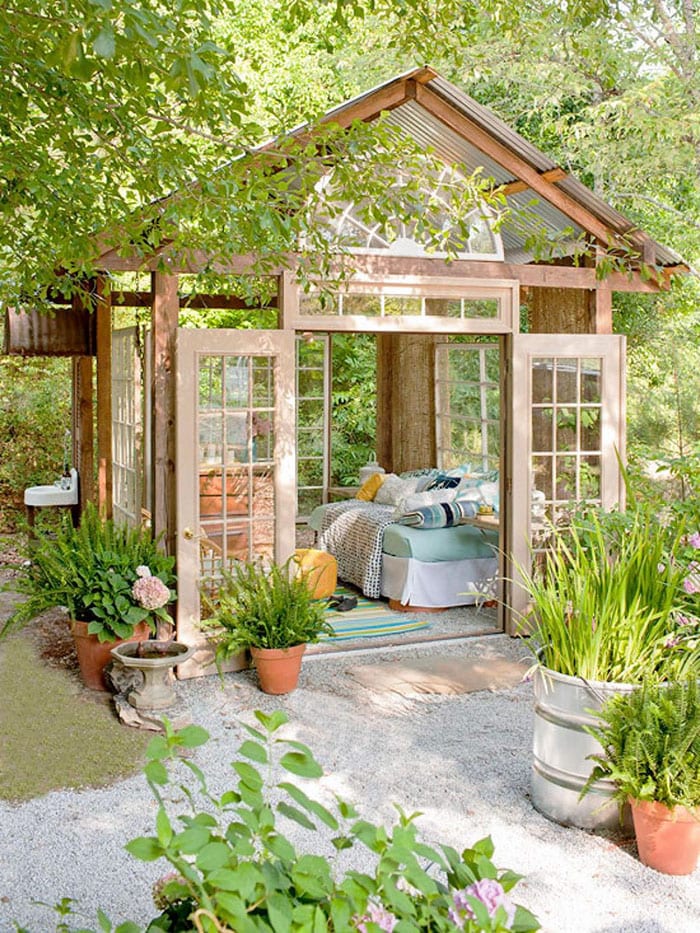 The space looks at one with nature with the wooden panels and the walls that aren't fully floor to ceiling. It lets in the natural breeze through the spaces above, which makes for a better nap. Make sure you put on some mosquito repellent, though!
Sweet little bungalow
Sometimes you just need a place to be alone for a while. This garden bungalow is a sweet little spot to have some me-time. Whether it's to journal, ruminate, or brood, rest assured you can have your privacy here.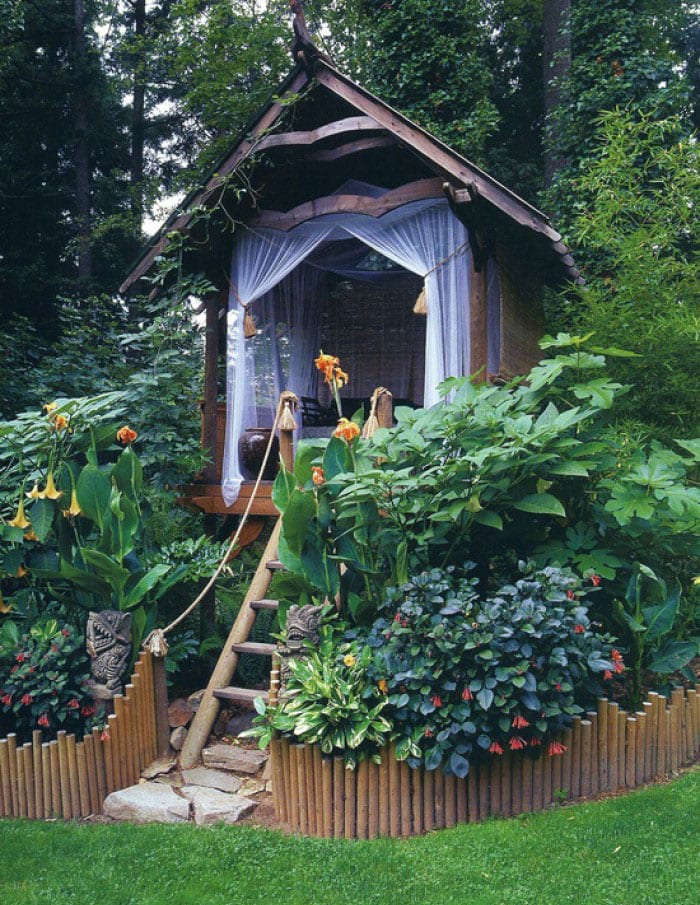 Draw the mosquito netting over the entrance for a bit more privacy. This bungalow is great because it is surrounded by nature, which can reduce stress levels. To just sit there and look out at all the greenery can brighten up anyone's day
Turquoise dreams
White isn't the only color that can brighten up a space. This she-shed with turquoise panels is also very light and welcoming. The trick here is the windows that are floor to ceiling. It floods the entire place with sunshine.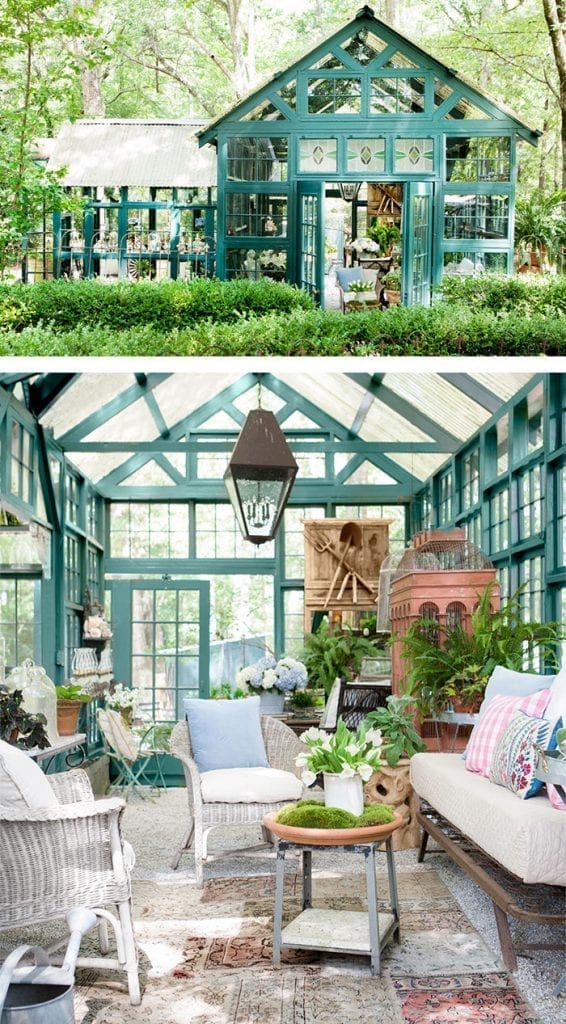 The word "shed" isn't quite apt for what this space is, though. It's almost an entire house in itself. It might have been a greenhouse converted into a relaxing space. Decorating with neutrals and pastels gives the place a feminine touch.
The ultimate wedding gift
Some people are bad at gifts, and some people are incredible at it. Kevin Cameron gifted his wife Heather this gorgeous she-shed in their backyard. He tore down their potting shed and rebuilt this peaceful haven in its place.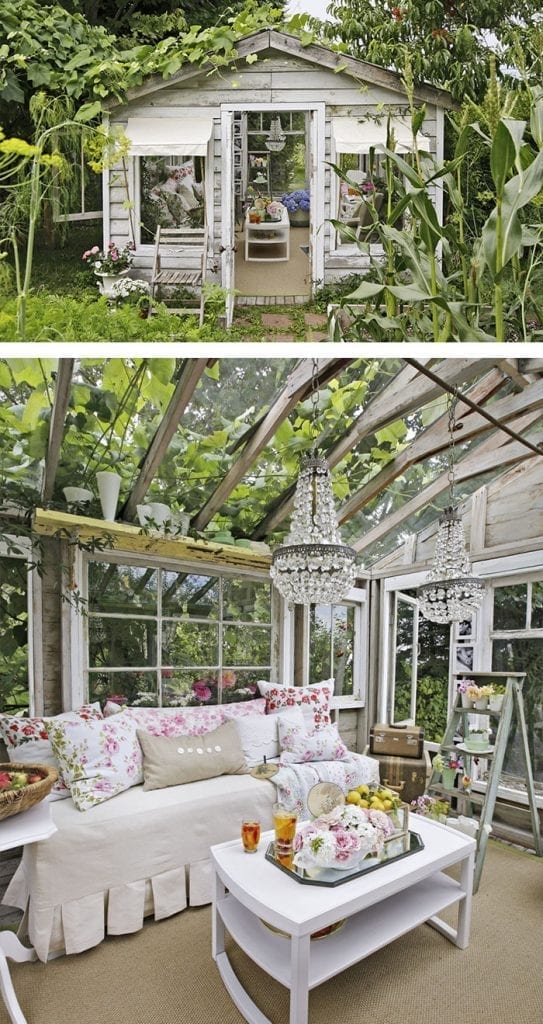 The roof is tempered glass, and large windows surround the space to let enough sunlight in. it is furnished with bright neutrals and surrounded by grapevines and peach trees. What an idyllic little room to rest and contemplate in.
Garden playhouse
A girly garden playhouse may be just what all ladies need for a change of scenery during this pandemic. Building this playhouse can give you a fun little space to hang out and lounge around in the warm summer days.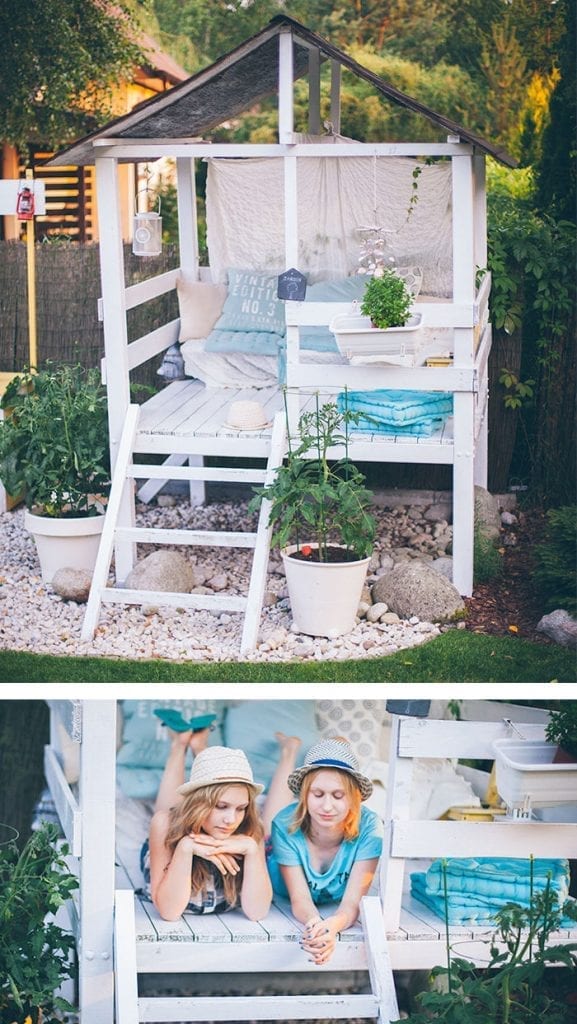 While we're a big fan of the white and blue color palette, you can totally jazz up your own playhouse in whatever tones you like. Get experimental and personal with it because it will be your own little cozy nook.
She-dome
This is one of the more innovative she-sheds out there. In fact, considering the way it's shaped, it may even be considered a she-dome. It's gorgeous inside and out and is spacious enough to host a girls' hangout, once the pandemic is over, of course!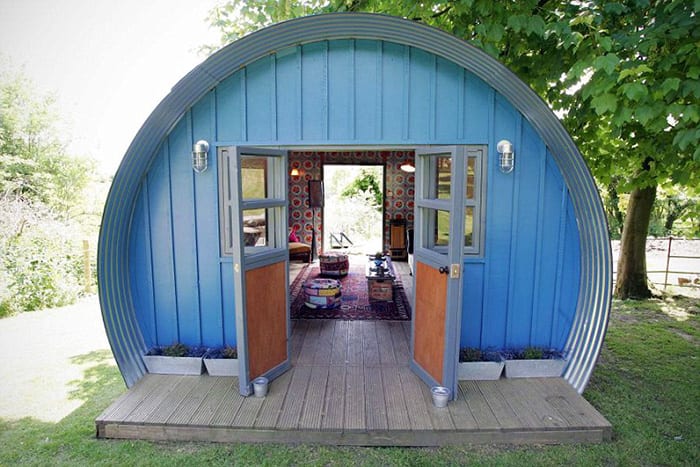 Why do we get the feeling that this would make a cool music studio? It doesn't even have to be a full-on studio; a garage studio with just the basic monitors, audio interface, instruments, and microphone would fit perfectly here. Fully cover the floor in carpet, install sound dampening panels and you're good to go!
Tiny house
Look at all those chickens! …just kidding. We lost focus for a second. What we're really here to discuss is the quaint little tiny she-shed behind the chickens. The shed's décor lends itself to the vintage period drama aesthetics.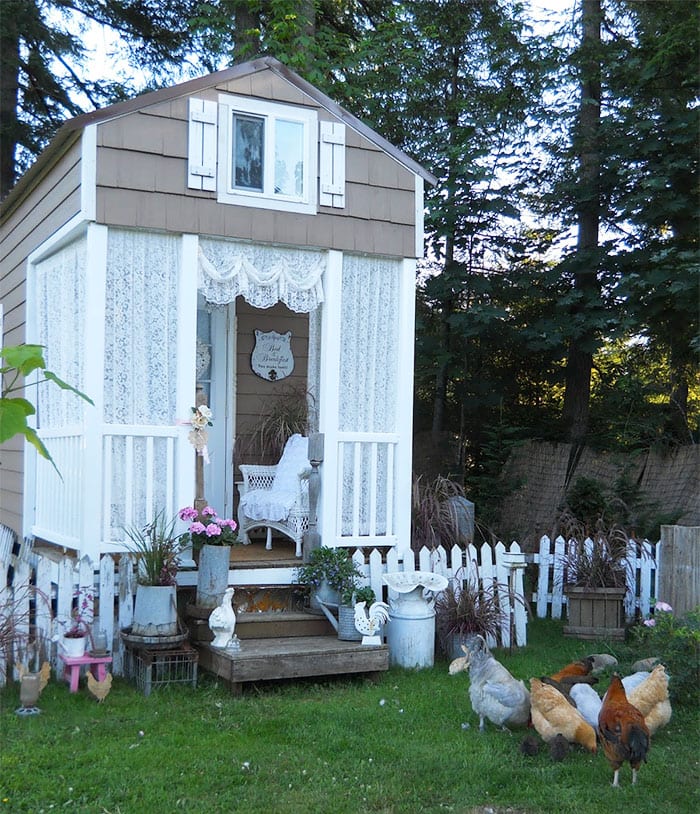 Draping lace curtaining over the front porch makes the space feel extra feminine. There are also flowers and plants everywhere, just in time for the summer. The porch sits four people comfortably, which is perfect for summer hangs with friends.
A little shade
This garden is immaculate, and we're jealous of whoever the owner is. It's so neat and lush and spacious! Our favorite part might be the bench that circles around the tree, but the bit that definitely ties it together is the baby blue shed.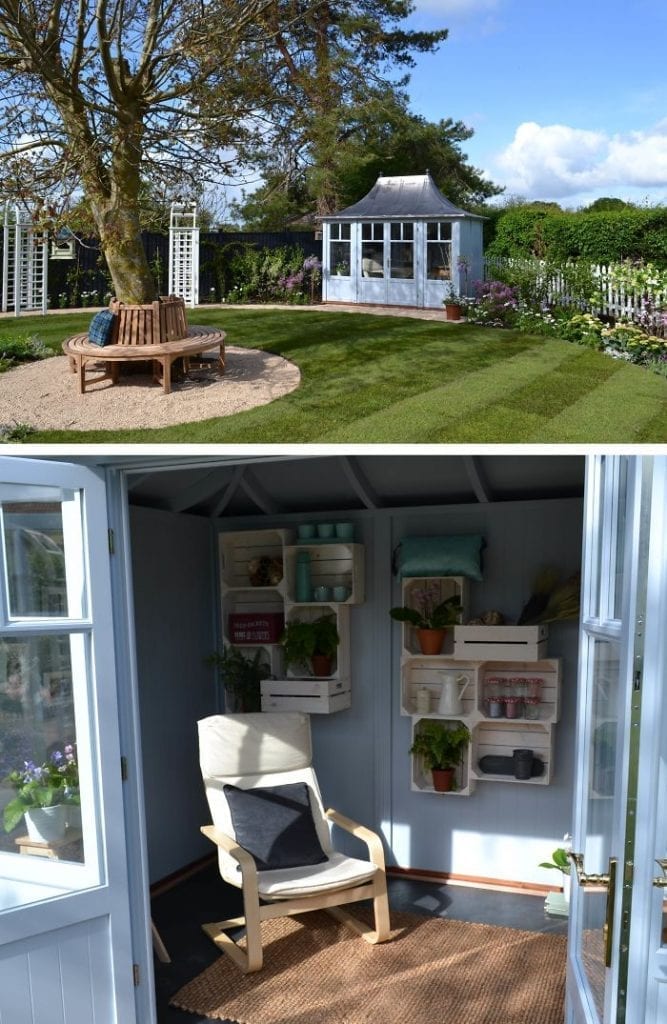 Instead of being primarily used to store gardening supplies, the shed doubles as shade from the sun on exceptionally bright days. Placing a single chair inside was the right move. Tidying up and making the storage units look pretty creates the feeling like you're not inside a storage space at all.
Make it a party
Solitude isn't the only reason to have a she-shed. Sometimes you just need space when you have some company. This garage was beautifully repurposed into a guest house-slash-general party space, proving our point that every space has potential.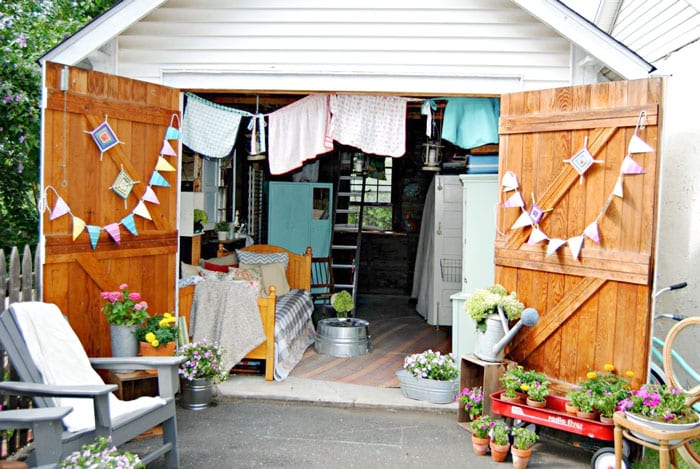 The decorations around this she-shed make it party-ready. The outside of this garage is great for people to congregate on a hot 4th of July. If you have anyone staying over, they can stay in the garage in that lovely bed right by the door.
Cabin in the woods
A destination she-shed is the best way to ensure you truly have the privacy that you want. Building the shed somewhere a little further from home means you can truly get away from it all, whether it is to write or reflect.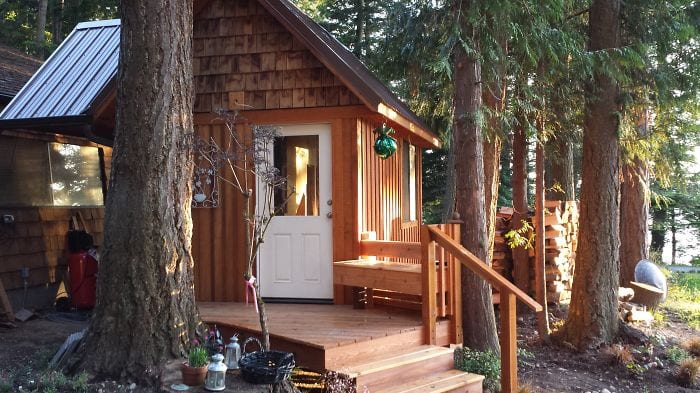 This beautiful wood cabin can be the perfect place for you. It's spacious enough for you to spend a day or two there. It also overlooks the forest, which can serve as inspiration while you write your next novel.
Driveway pit stop
In addition to the backyard, garden, and garage, the driveway is also a good spot to build your she-shed. Just like this one, the shed can serve as a nice greeting as you pull up to your house, no matter what you use the space for.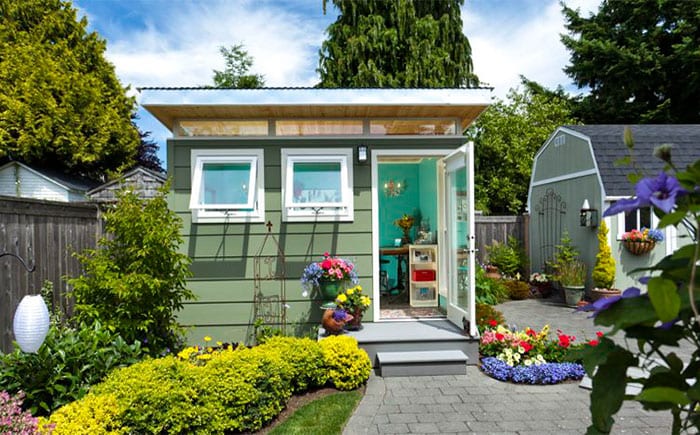 Installing a glass door is a good way to let more light in when you know you don't have space for too many windows. Placing potted flowers around the shed brightens up the place and makes it look more welcoming.
Minimalist and natural
Here's a shed that blends minimalist architecture and natural elements perfectly. The angular design, paired with the use of light washed wood and black detailing, brings the backyard and its surrounding trees to life while fitting in perfectly with the fence and other design elements of the garden.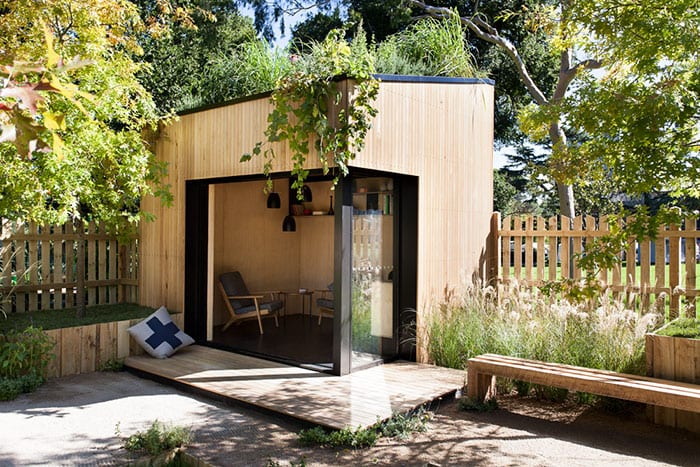 The most impressive detail is probably in the surrounding nature. The fact that the trees around it weren't cut down but instead used as decoration to accent the roof is ingenious. The greens tie everything together perfectly.
Crafts corner
If you're a big crafts person and have run out of space in the house for your ribbons and washi tape and glitter, why not use the garden shed for storage? Revamping the shed and installing a simple storage unit can make all the difference.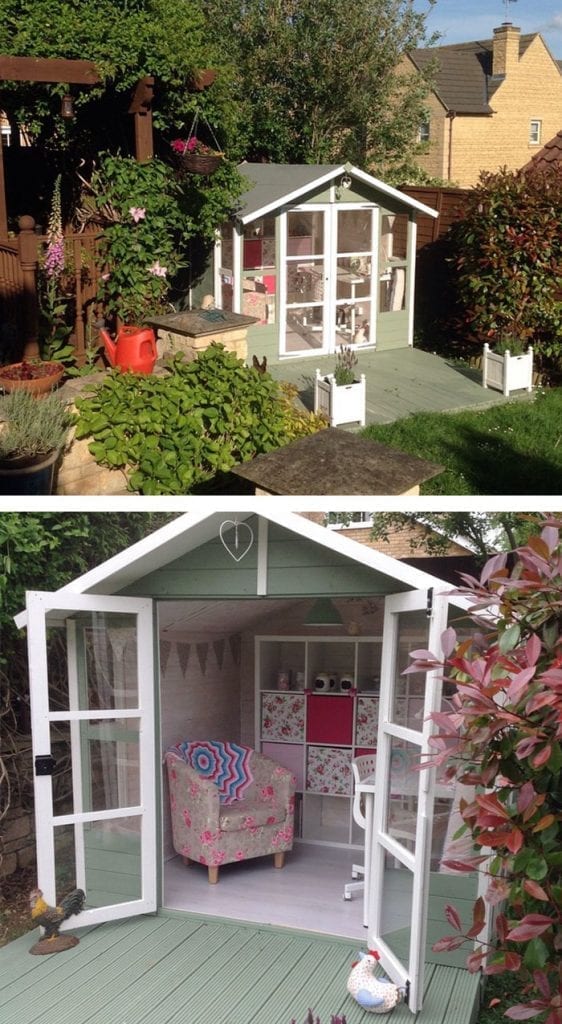 Here, they have opted for one big shelving unit. To both decorate and utilize this shelf, they've used colorful and patterned storage boxes, which is something you can use in place of regular storage boxes. Depending on how much space you have, you can also install a little crafts table if you need to quickly do some wrapping or cutting.
Sunroom
Other alternative uses for a garden shed: a beautiful sunroom. All you need to do is install big windows on all four walls as well as the ceiling. Decorating is entirely up to you, and you can fill the space with whatever kind of colors and furniture you want.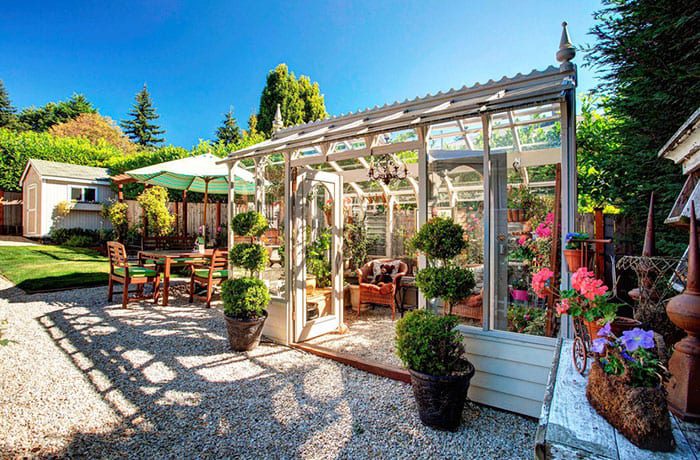 Potted plants and flowers do well to liven up the place and give it a pop of color. The plants can also use oxygen and sunlight coming in from the windows. Breakfasts in the morning in the sunroom will give you so much peace and serenity to start your day right.
Middle of nowhere
Reminiscent of the movies Nanny McPhee and Chitty Chitty Bang Bang, this quaint little shed in the middle of nowhere does not look like it belongs in this universe. Nevertheless, it does exist, though it probably does not function as a she-shed.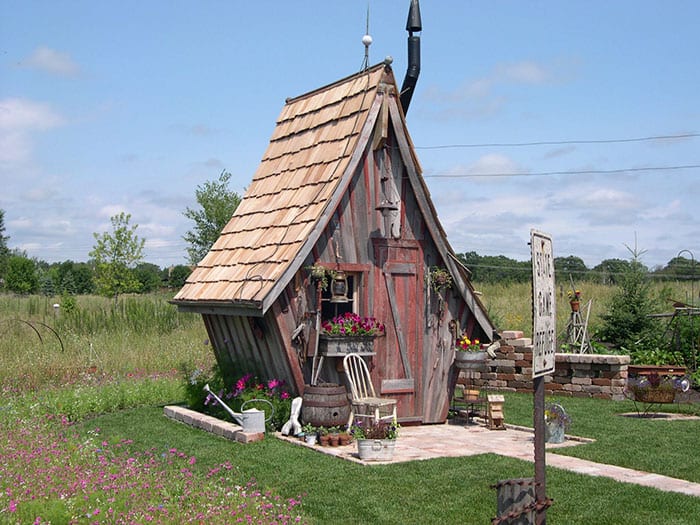 The architecture of the shed is definitely quirky. The roof slopes and extends further down the house, making it look like a dwarf. The one tiny window barely lets any light in, which leads us to believe this is just a glammed-up storage shed.
A quick shut-eye
Here's the perfect she-shed for you to catch some quick Z's in the middle of the day before getting up and completing your day. Stretch yourself out on this beautifully furnished settee and let yourself doze off in peace for a quick siesta.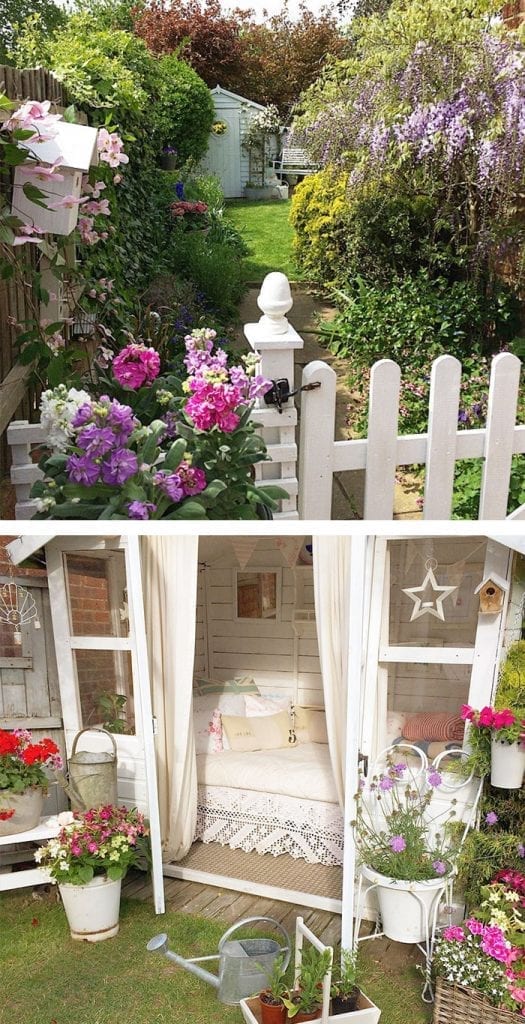 Don't nap for too long, though. No matter how comfortable it is in this little shed, the rest of the day awaits! Get up, rub the sleep from your eyes, close the door, and leave the little comfort of rest behind you till next time.
Green island
Exterior design is just as important as the interior. If you're stuck on what to use to spruce up your she shed's exterior, all you have to do is look out to nature. You can build your she-shed in the middle of all the greens growing in your garden.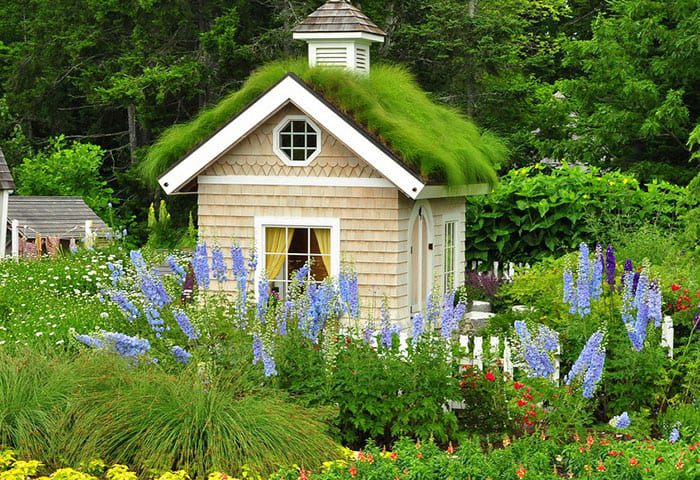 Just like this shed, create your own little island amidst plants and flowers blooming everywhere. Create a little fenced-in area just for you, where you retreat to find peace of mind. Fall asleep inside and be greeted by nature when you wake.
Warm workspace
Sometimes you need a dedicated workspace that's separate from the house. It helps you create a boundary between work and home. No matter what it is you do, be it a freelance designer or an author, accountant, or journalist, a work shed is always a good idea.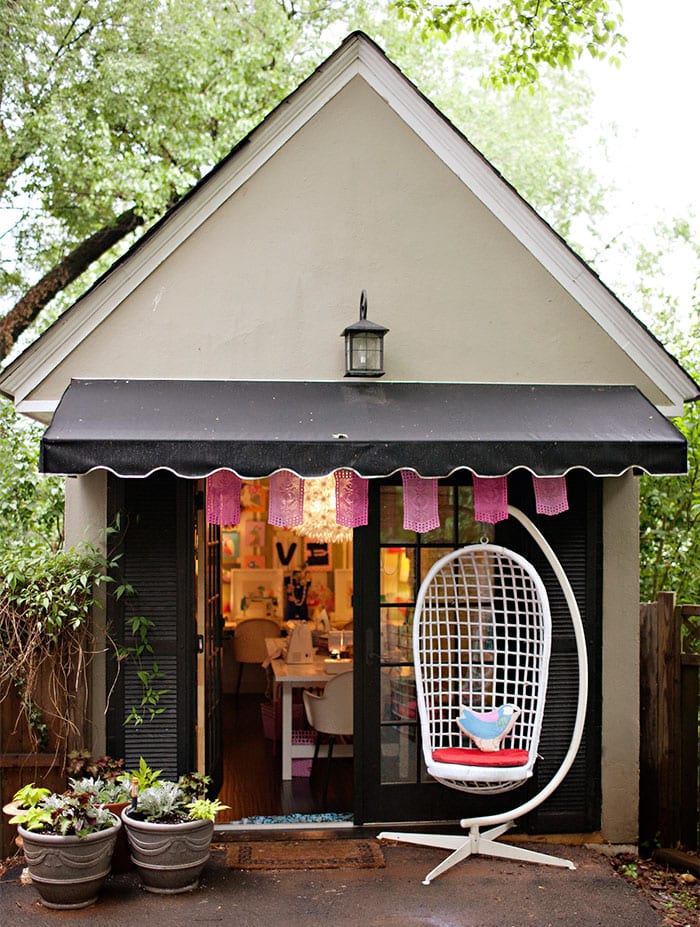 This particular workspace is for design and crafts work. You can see framed paintings, a sewing machine, and various artwork inside. The warm lighting and big windows make this place an inviting and inspiring space to create.
Barn aesthetics
You've seen minimalist sheds, natural light sheds, and storage space sheds. Now get ready for barn chic. Yes, that's what we've decided to name this aesthetic. The exterior of this shed reminds us of being in a barn in the countryside.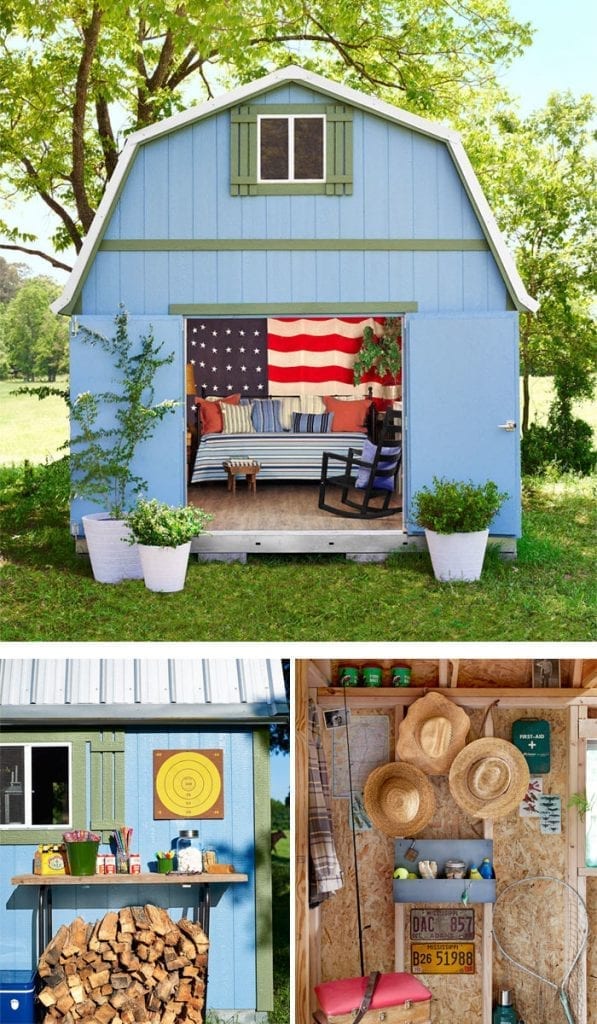 Inside, you can utilize the space for anything you need. Be it a place to rest, work, or store the various tools you need for the garden, or all three, the barn will accommodate it. So, what are you waiting for?
A bookworm's pad
This one is for the bookworms who have run out of space in their library. Moving some books to the she-shed clears up space at home and decorates the shed well. Make your she-shed the place you escape, not only physically but also imaginatively into another world.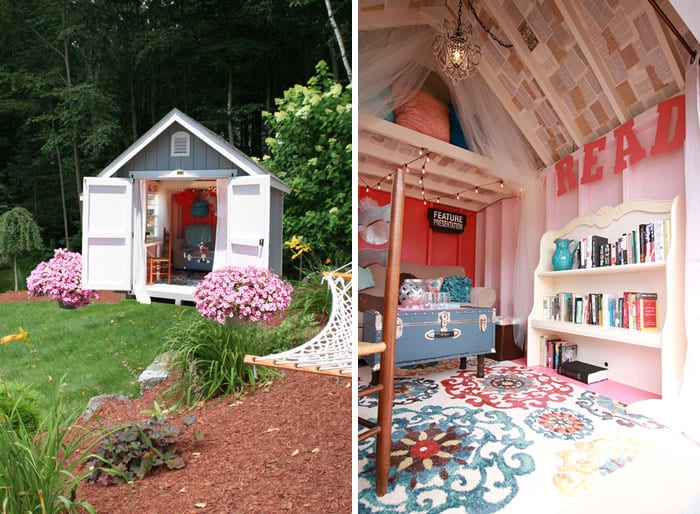 See that table in the middle of the room that looks like a chest? Guess what? Pop open that top, and you can store even more books! It's truly a book lover's dream, right? The final detail is to put in your favorite sofa, and all that's left to do is curl up with your next novel.