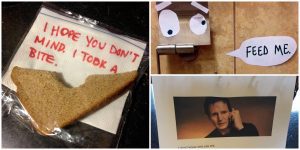 45 Exasperated Parents That Teach Us How To Raise Kids Right
By Ishita P
---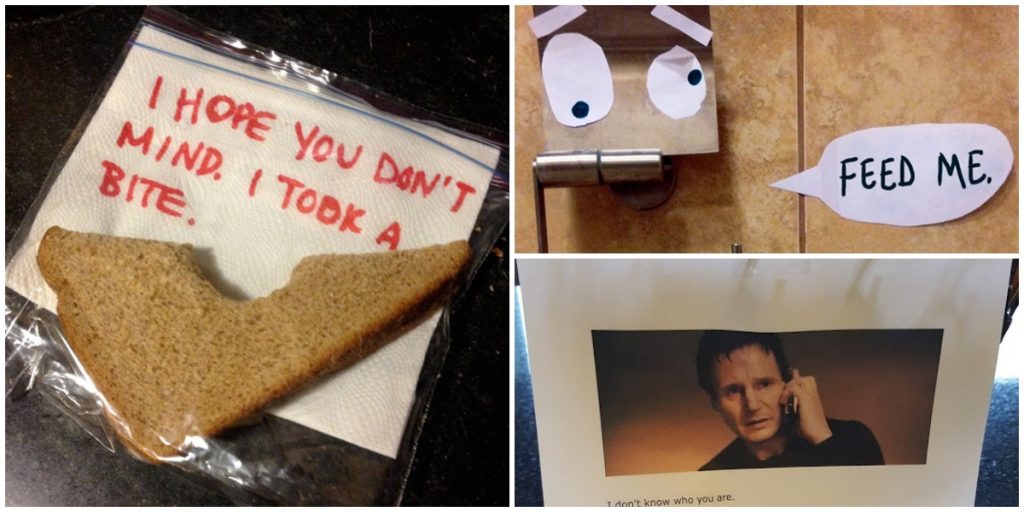 Parenting is undoubtedly a hectic task when your kids are lazy. But it can be funnier when the parents are even cooler than their kids. However, the one thing that every parent must admit is that tackling your teenage kid is way more complicated than when they were younger. Teenagers either prefer to stay lazy and not listen to their parents, or they are just dependent on their mom and dad for every little thing; there is rarely an in-between. The most challenging task for the parents of lazy teenagers is to make them get their chores done. But some parents worldwide have proved that it is indeed possible with a piece of simple yet hilarious note. So, do you want to take a quick ride through those funny notes that many parents left to their lazy kids before going to work or a party? Have a look.
Laundry made simple
Who wants to spend a lot of time doing laundry? Definitely not teenagers. But parents rightly know how to make their kids do their chores the right way. At least this parent knows better how to keep things simple yet hilarious.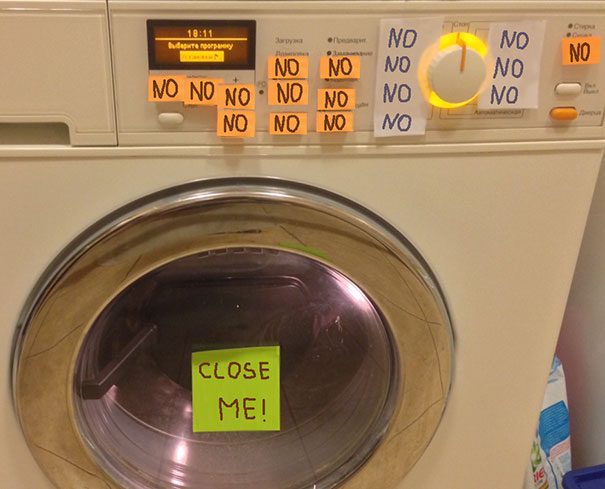 This is probably the best use of sticky notes that a parent can make. The notes have clearly shown to ignore every button on the washing machine. All it says is to dump the clothes in the appliance, close the door. The way sticky notes display a "no" is nothing but funny!
"I'm watching you" – Yours sincerely, laundry basket
Yeah, we know it feels pretty unsettling when your laundry basket is watching you. But messy kids who keep throwing their unwashed clothes here and there need someone who can closely keep an eye on them to help ensure those clothes eventually make it to the washer.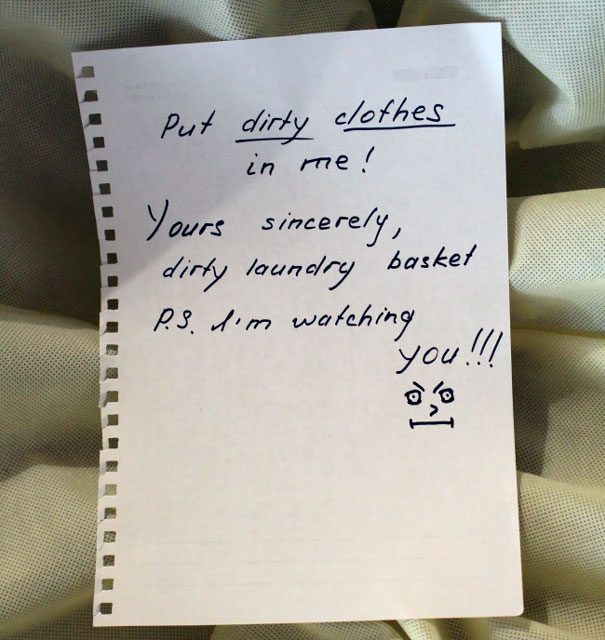 So, it looks like this household has some strict rules for their little champs. Parents of this home have some tie-ups with their laundry baskets to make sure that the dirty clothes of their kids are not flying here and there in the bedroom but always kept stacked in the basket.
Your co-worker is not your mom
Some of us have a terrible habit of believing that no matter whatever mess we create, our mommy will handle it. But what happens when those of us of this persuasion move out into the workforce? Most of us learn to handle our own messes.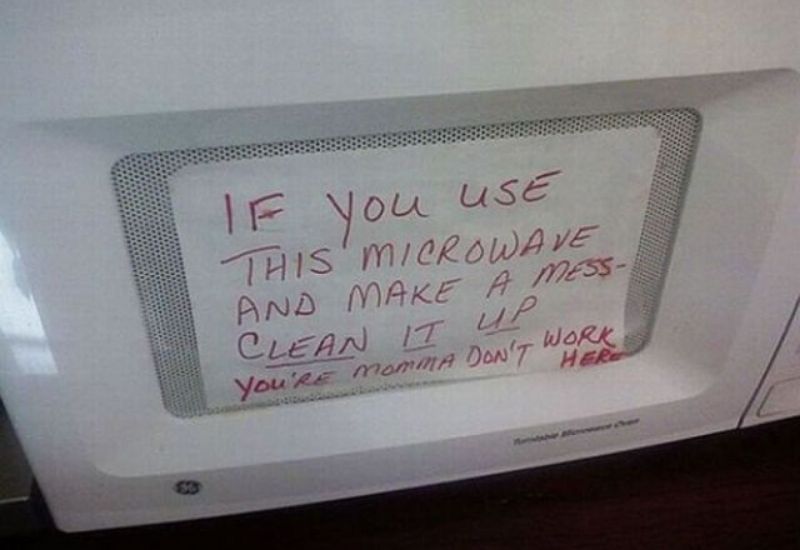 The message is clear. Don't act privileged, and do not expect anyone else to clean up your spilled soup in the break room microwave. No one wants to find out they are the person everyone in the office dislikes because of their messy habits.
Take note… Do not water artificial flowers!
Well, this note by a sweet mom has all elements to provoke laughter. Sometimes kids are lazy yet cute. Hence, this parent has picked a polite way to tell their kid that they do not need to try to help in a way that is in vain.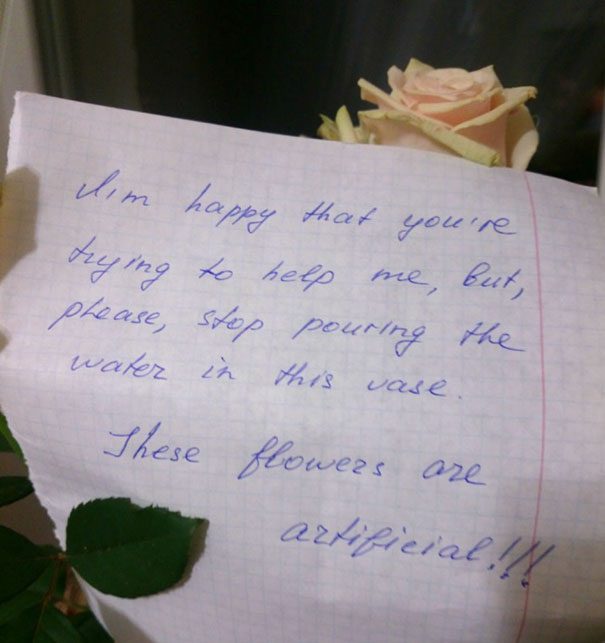 The parents have decorated their home with artificial flowers for some purpose. And the child must have watered them to help their parents. So, the parents chose a humble way to inform their kids after the fact, saying that it would be helpful if they put the same effort towards something fruitful.
A sweet and short worklist to get the Wi-Fi password
Parenting is easier when you know the pulse of your kids; what makes them tick? It's hard to keep them away from internet surfing, but you can make an amazing deal with them. How? Well, take inspiration from this note!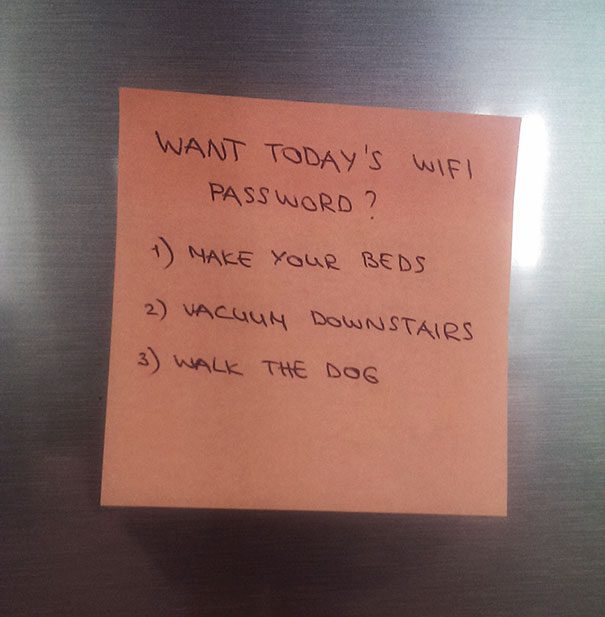 This parent's demand is very minimal. All they want from their kids is to keep the home neat and well-organized. So, making a to-do list and asking your kid to complete it to get access to the Wi-Fi password is a proven trick that every parent can try to make their kids help around the house.
No space for ants
This mommy has chosen to urge her kids to pick up their dishes after eating. She has even pointed out that she does not want the home to turn into a nest of ants due to their accumulated dirty dishes.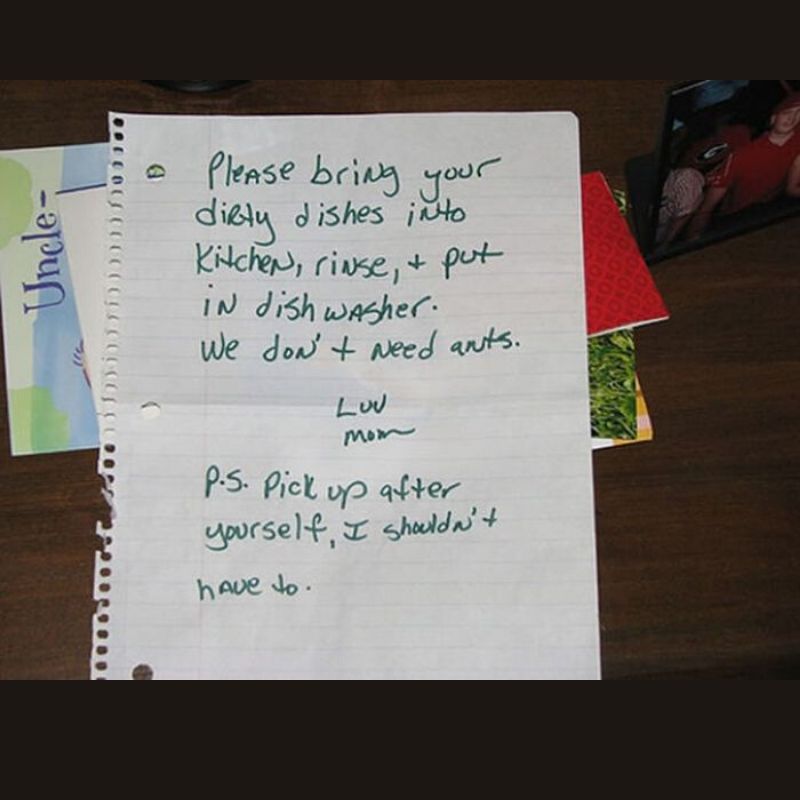 So, simple note, she has asked her kids to do what she is clearly tired of doing on her own. It shouldn't be hard for them to do, especially when it has an underlying benefit of keeping their house ant-free. After all, no one would like to live and get bitten by ants!
A trick to keep your kid in control
Parenting challenges are easy to overcome when you know how to keep your kid in control with some clever tricks. These sticky notes make things clear that disobedience comes with some financial consequences. The passive-aggressive game is strong in this house.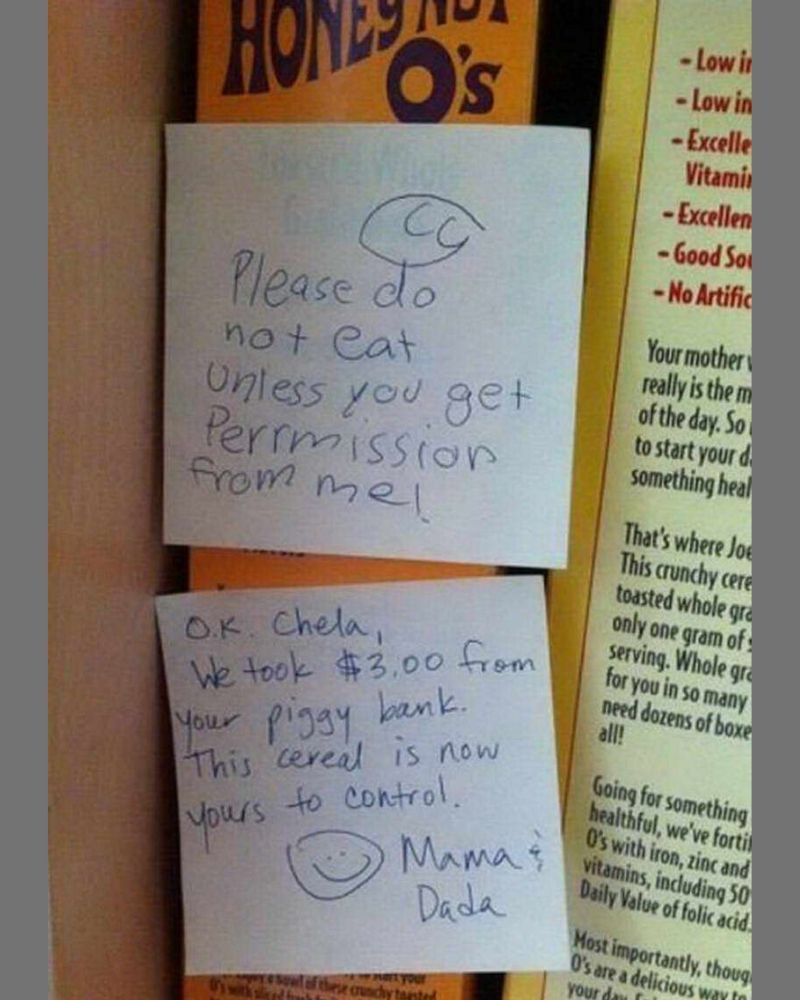 Here Chela's parents have politely urged her not to eat cereals without asking her parents. We are pretty sure that Chela has learned her lesson now! And this will make her think twice in the future. Is disobeying her parents worth losing more money? No way!
It's not a love note
Well, it is common among many parents to leave an emotional, heartfelt love note in the lunch box of their kids. But here, it looks like the cool mommy has used her kid's lunch-box to say something else. At least it's not a reprimand!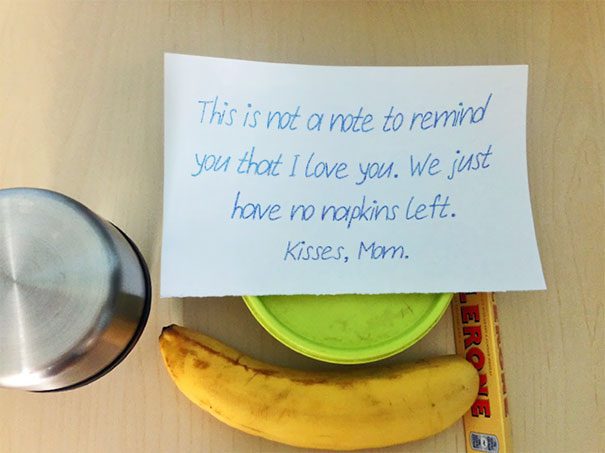 It is a reminder to her kid that they are running out of napkins; hence, they have to make it with only this piece of paper. Well, there might not be a napkin, but there are lots of kisses from her mom and a Toblerone. A lucky kid, we must say!
Put on some pants!
While some lazy kids need to receive a reminder from their parents to get done with their household chores, some go even beyond that and decide to forgo some human basics like putting on pants at home. We get it, but come on.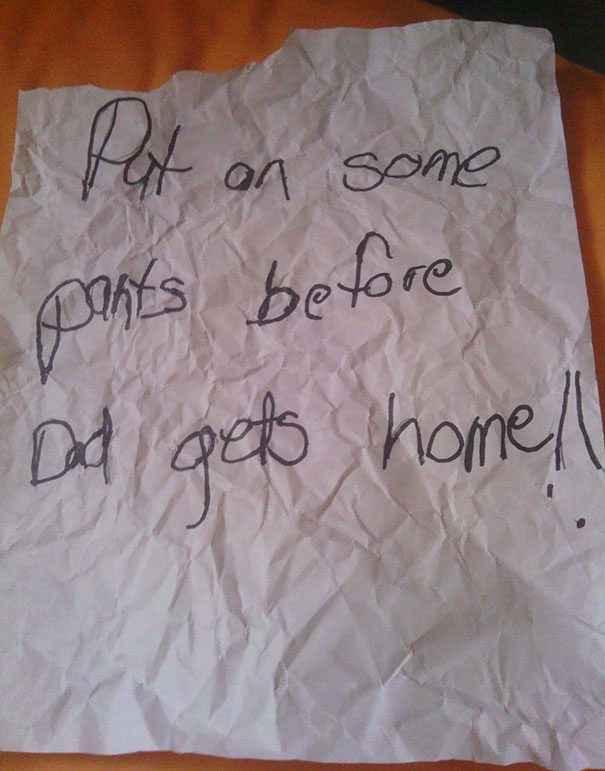 Well, moms might be cooler with the fact that their kids are not wearing pants at home, but this dad clearly wouldn't be thrilled. Hence, it is a valid request from a mom to remind her kid to wear pants before he gets home.
Fill up the car
Though parents usually do not mind giving their car to their kids to drive, most of the time, it's the parents that end up filling up the tank. Kids barely care about checking if there is enough fuel in the vehicle when they return home.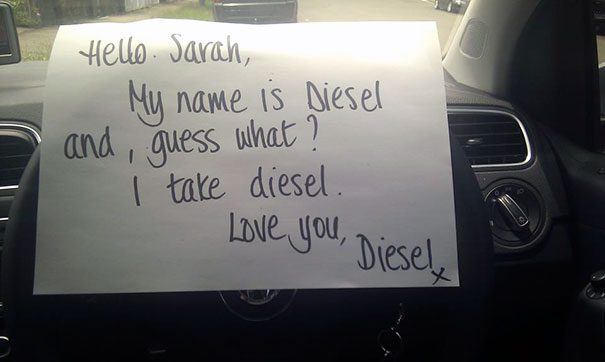 But these parents are now tired of fueling the car every time their kids empty it. So, they came up with a cool note to remind their kid on behalf of Diesel, the car, to fill it up. Well, we are pretty sure that this creative note will help their kid remember to visit a fuel station the next time they drive.
Pissed off tooth fairy
Who doesn't love receiving gifts? Especially kids who believe they will get rewarded by their favorite fairytale character? Taking advantage of this belief, this mom found a clever way to make her kid clean their room. We'll be filing this away to use later.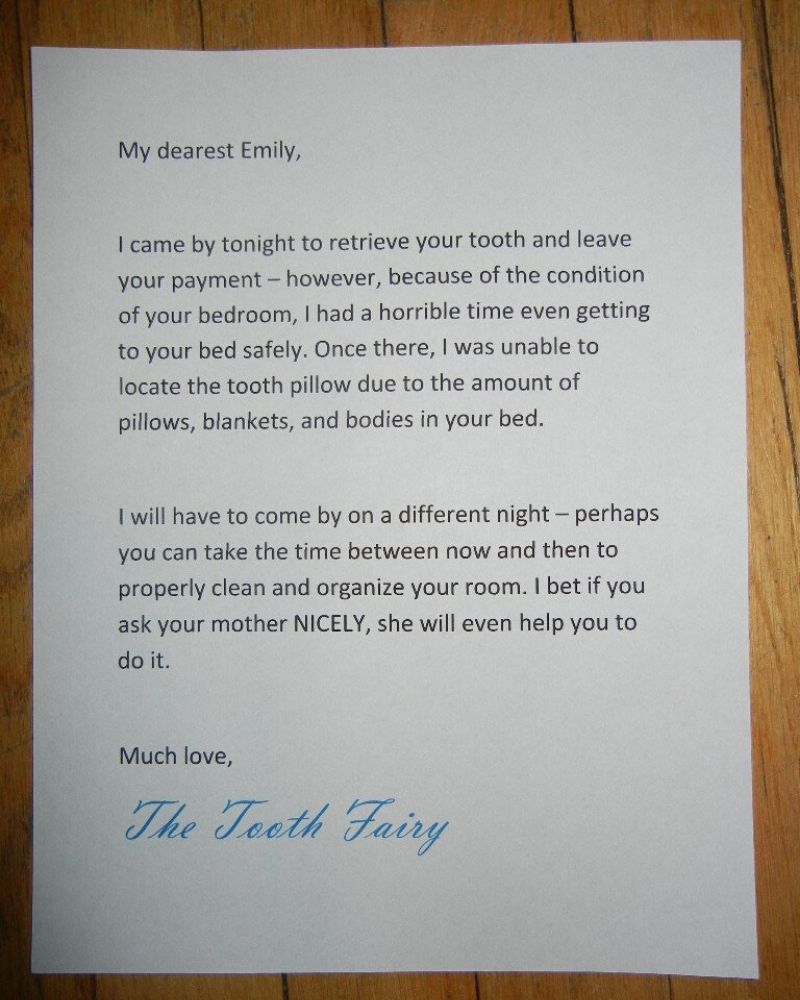 She simply wrote a letter cooking up a lovely fairytale saying that the Tooth Fairy is very unimpressed with the condition of the kid's room. So, if the child wants to receive a gift from the Tooth Fairy, they need to keep their room tidy. They can even ask their mommy dearest to help them.
Clean the room or no electricity!
Best parenting times are when you know how to make your kids clean their room. This parent is one of the best examples. They rightly know that all the things their child prefers to do are connected with electricity. Hence, they locked up the plug. Now, all they have to do is find the key for it.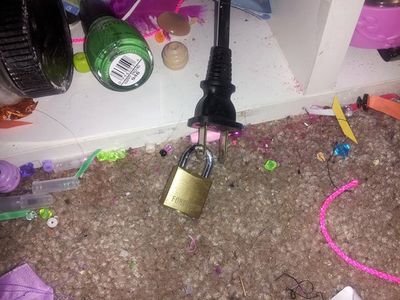 But the room of the kid is not at all tidy and finding the key would be a hassle. The mess all around is enough to give chills down our spines. So, to find the key, the kid has to clean up their mess. What a "ninja technique" of getting your kids to do what they need to!
Nothing special about skipping your household chores!
We all expect some time off from our daily household chores on our birthdays. And the best part is that most of our parents understand this fact and give us that special treatment on that special day. But it looks like McKenna's parents had some other ideas.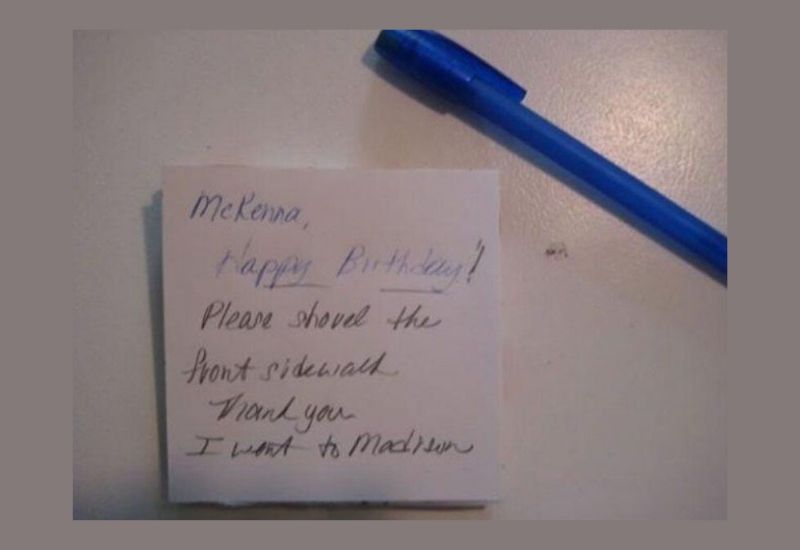 Just after a heartfelt birthday greeting, this note comes with a quick reminder that there is nothing special about skipping sidewalk shoveling. It sounds a bit strict, doesn't it? Well, we hope that when coming back home, her parents bring her a beautiful birthday cake to celebrate the day.
Your dad is not your dishwasher!
It's just a note from an extremely fed-up dad, who is annoyed by doing dirty dishes every time their kids leave them in the sink after their meal. We agree with the middle-aged, balding man, Brian, that you need to teach your kids to do their own chores at some point in life.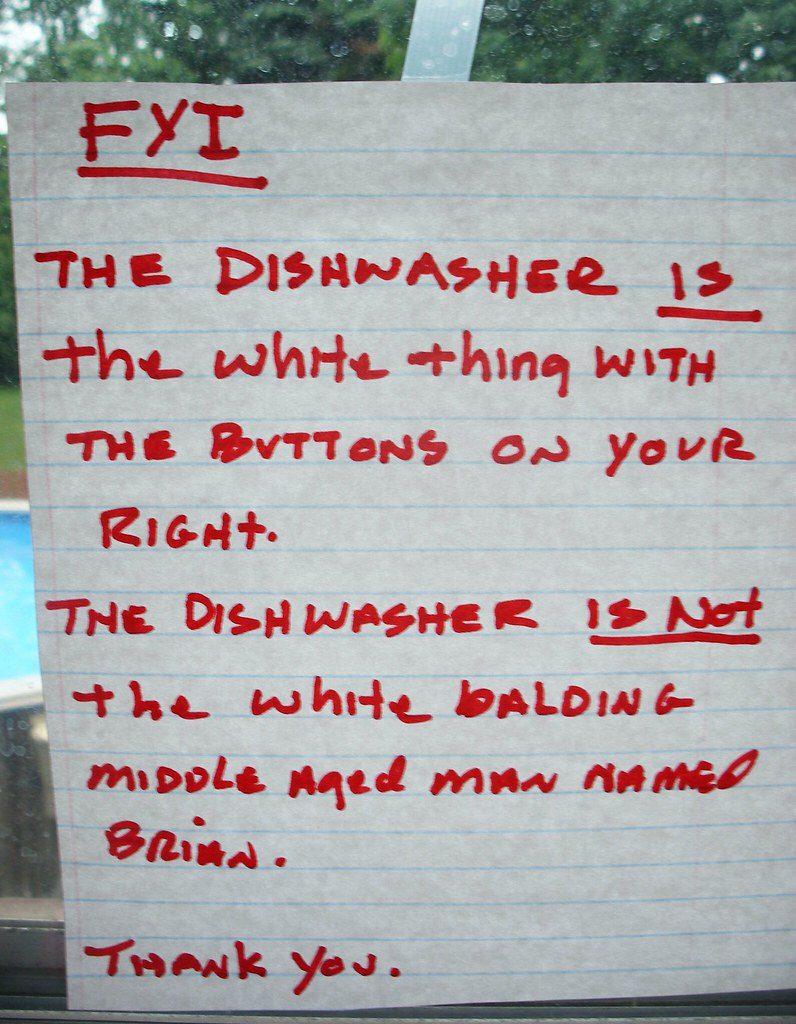 While the note makes it pretty clear that the dishwasher is the white device with buttons, there is also a sense of annoyance from Brian, who is just tired of doing the job again and again. But we can't deny the fact that the note is hilarious!
Just a sweet threat from mom
It looks like Kevin and Molly would be in big trouble if they did anything to mess up the thoroughly cleaned kitchen. Well, we do agree with the mother's concern here. It takes a lot of time and effort to clean the whole kitchen. And after returning from work, if you find a total mess in your kitchen made by your kids, it feels like too much.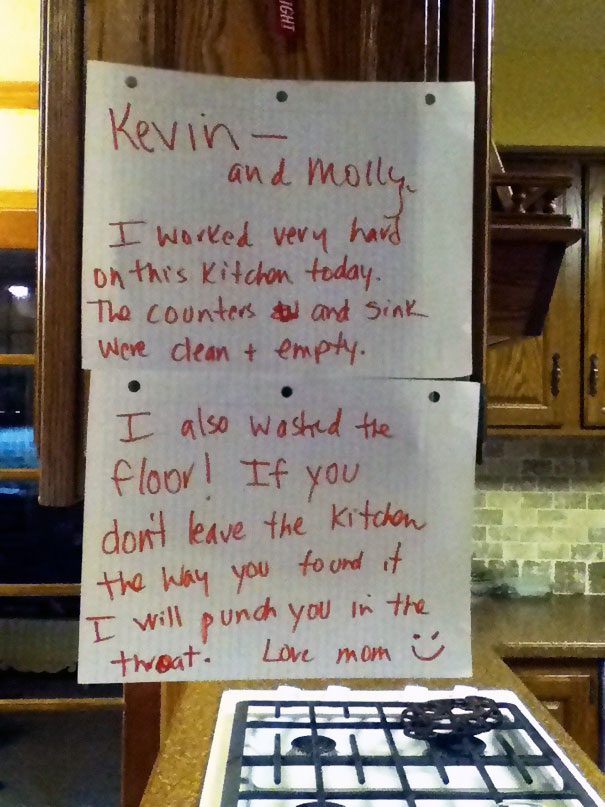 We are pretty sure that Kevin and Molly would not love to get a punch from their mother in return for the mess they create in the cleaned-up kitchen. So, they'll try to obey this warning sincerely, even if she is only kidding.
Message from Santa!
Kids love to get their Christmas gifts and treats from Santa. What they don't love is keeping their toys organized. But they might work on it when they find that it's a message from Santa. This clever parent has come up with a funny idea to send themselves a text message from Santa's end asking kids to keep their room clean.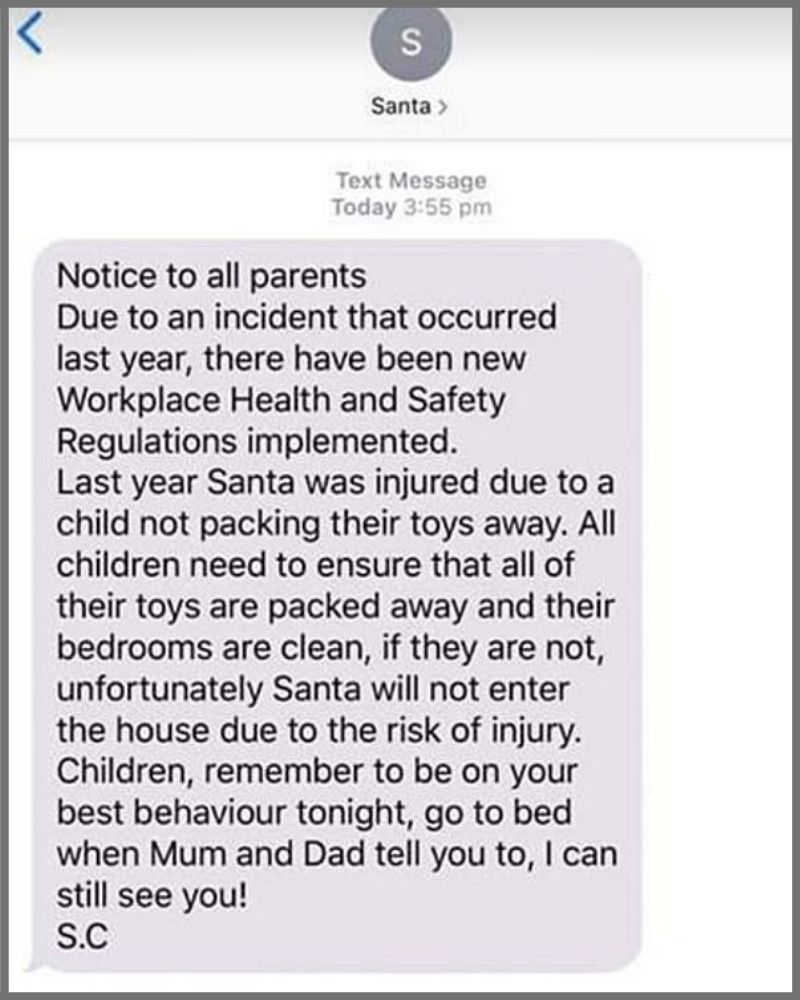 The message reads that Santa got injured in his feet last time when he tried to enter the room of a kid who had scattered toys all over. Hence, this year Santa will not visit those kids who have not packed away their toys and kept the bedroom clean. Also, there is a piece of advice to the kids to be on their best behavior to receive their Christmas gift.
A strict warning
Parents' notes can be hilarious and, at the same time, strict. Kids do not mind begging for a new toy every time they are done with their old ones. But when it comes to keeping that toy in good condition, their scorecard is zero!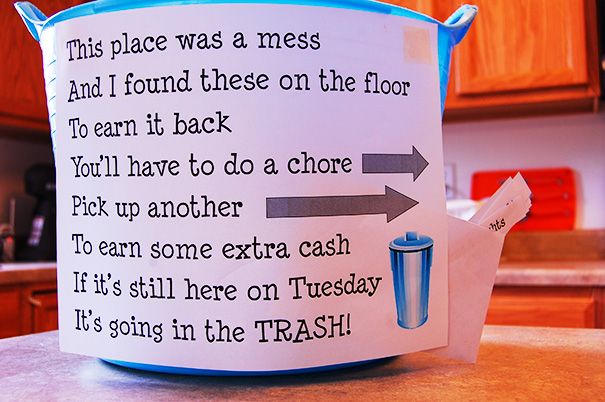 They found a way to see how much value their kids give to their stuff when taken away from them. So, they have put up a chore for the kid to do if they want to get back their toy. In case they leave it for too long, the toy will simply go in the trash.
Get your things done, or see your internet getting disconnected!
The habit of kids taking advantage of their parents is a universal problem. Most of the time, they take their parents for granted, who will handle all their household tasks just like a free maid. But this mentality needs to get changed, and modern parents know how to do it.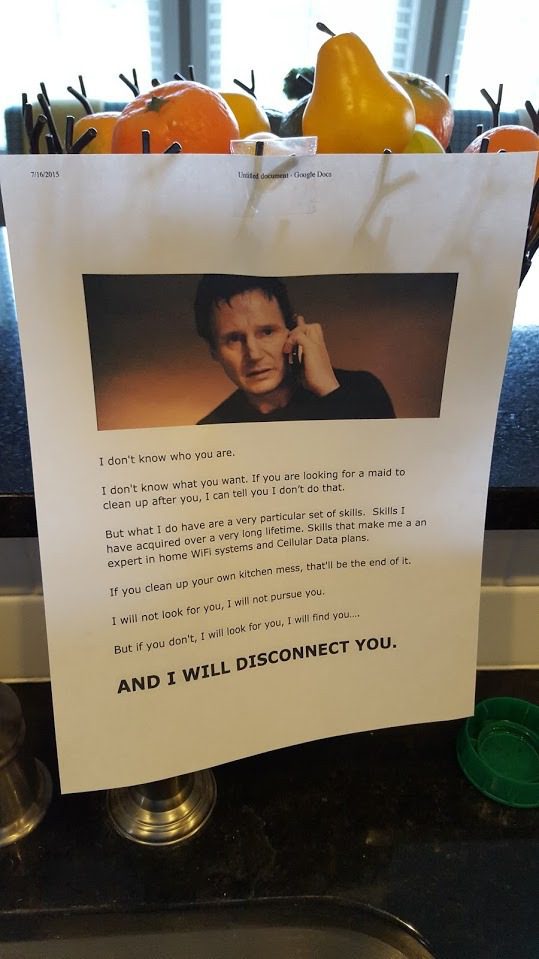 This note is a hilarious threat to a kid, saying that if they do not clean up the kitchen mess, the internet connection will simply get disconnected. Well, as per the current scenario, the internet is the only thing youths care about. So, it is a great way to get their attention and make them do their chores.
Get your own food!
Parents can even take it to a very high sarcasm level to make their lazy kid get out of bed and find something to eat. We can sense from the options given that this parent is simply tired of hearing, "I'm hungry and there's nothing to eat!"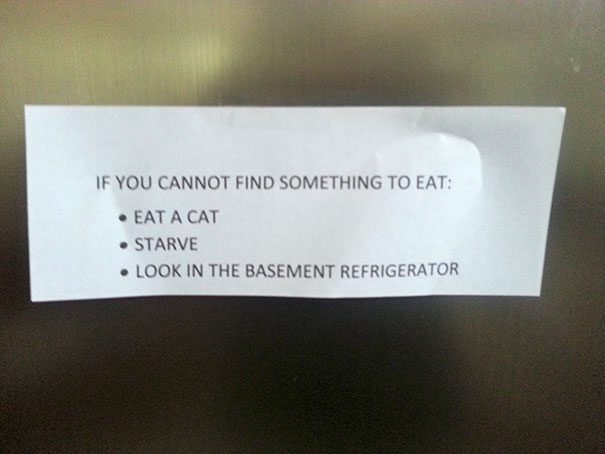 The kid needs to get out of bed and make their way down to the basement refrigerator and find something nutritious to eat! This parent's strategy to make the child find their own food from the fridge deserves serious applause.
The game is simple when you know the trick
We can see there are some serious codes of conduct that need to be followed by the children living in this home. If the kids want to access the Wi-Fi password, they need to clean up the kitchen and send a picture of it to their mom.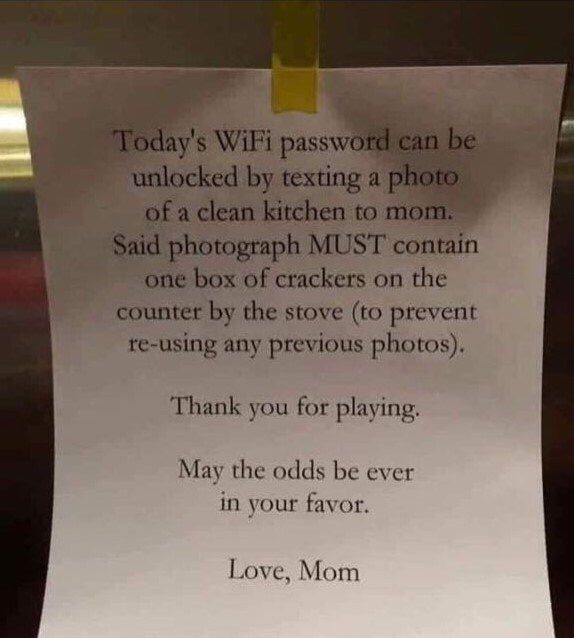 But the twist here is that this mom is not ready to give her kid any chance to use an old photo of a clean kitchen. Hence, the kid has to place a pack of crackers on the counter by the stove to prove the photo's authenticity. Well, this idea needs to be labeled as a mastermind one! What do you say?
An apology treat for two
Well, dads are just the cutest humans God has ever created. At least this note from an apologizing dad will make your day the way it made it for his son, Christopher. This dad couldn't keep his promise to stay at home for dinner as he had to go out with the aunt and uncle.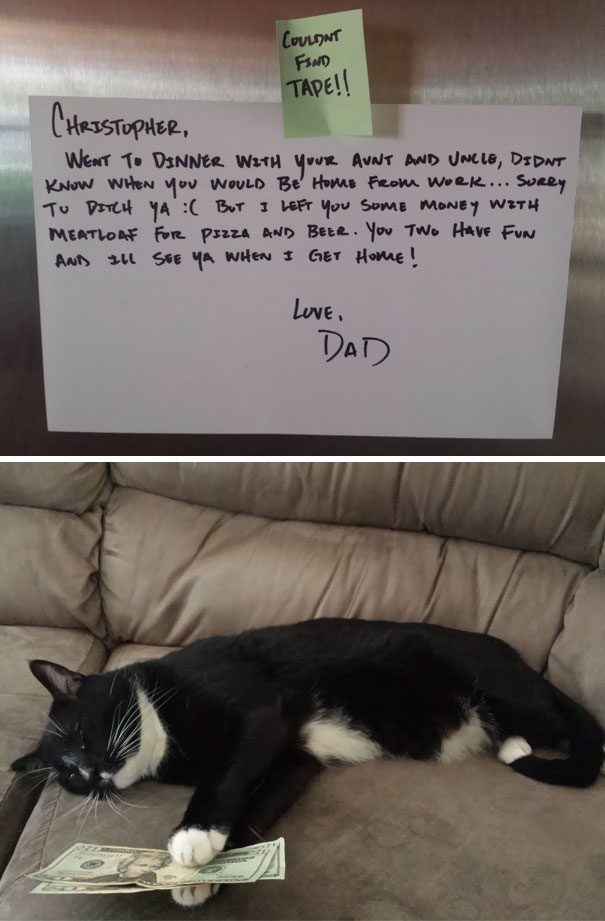 But he knows how to make his son happy. So, he has left some money with Meatloaf, the squishy mushy cat, so that Christopher could buy some beer and pizza for them and have some fun. Thank God Meatloaf didn't tear apart those notes!
Parents too need a late morning sleep
Be it about having breakfast or having fruits in the snacks, kids are always ready to bother their parents. But even parents love to have a good sleep late into the morning. So, these parents did a hilarious thing to ensure their wish of sleeping till the late morning was fulfilled.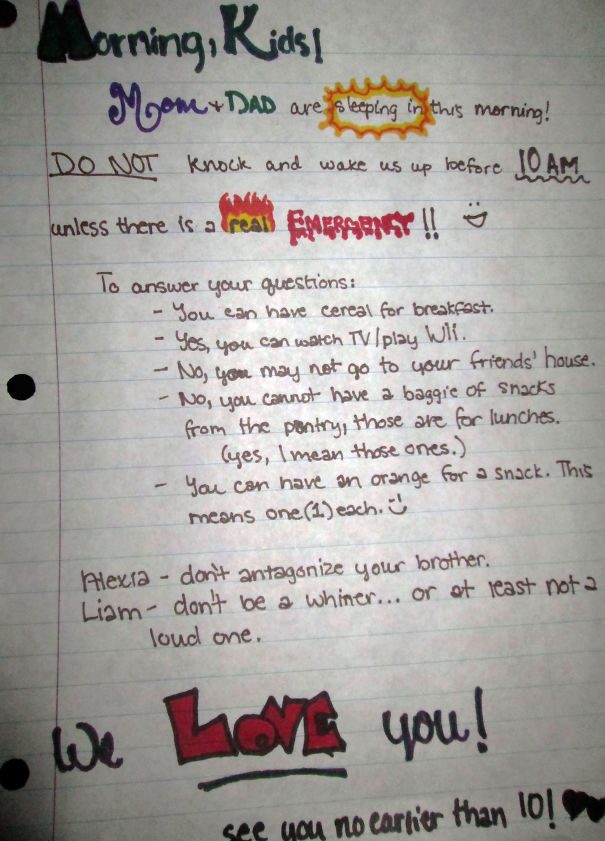 They left a nicely written note with beautiful highlights stating that they need some extra time to sleep in the morning. Also, they already answered the questions kids ask in the morning on the note itself. However, these parents also specified that the kids could only wake up their parents if there was a real emergency. Otherwise, it's a strict no!
Time for some dad facts
A weird yet funny way to make your kids eat their food is by telling them some "facts" that can startle them. Well, this dad rightly knows how to do it with some smart #dadfacts that his kid would readily believe.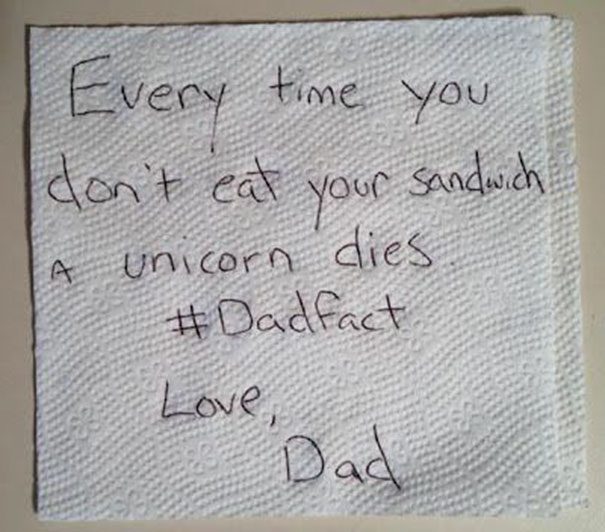 We know that there is no proof to back up this dadfact, but if it makes kids eat their sandwiches, then why not use it? So, the kids must have found it worth eating all the sandwiches he makes them to save the unicorns.
Mom's love over snack
This mom is just like any other busy mom who forgets to buy everything she needs from the supermarket. Well, we can't blame her as it is tricky to remember all the things you need to shop for. Hence, forgetting to buy enough snacks is quite natural.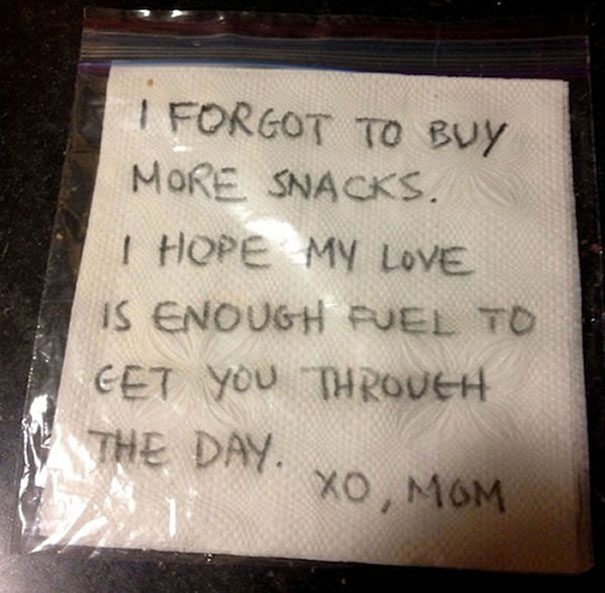 But this mom has found an incredible way to comfort her kids. Even if she forgot to buy more snacks from the market, she says her love would work as enough fuel for the day. Such a lovely little note, isn't it? We are sure that it melted the hearts of the kids too!
A small bite
You can grow, become an adult, turn into a parent, and still, the inner kid in you can make you do weird and funny things. Packing sandwiches for your kids might be a part of your daily duty. But if you take a bite of it because you are hungry, we don't think your kids will get that upset.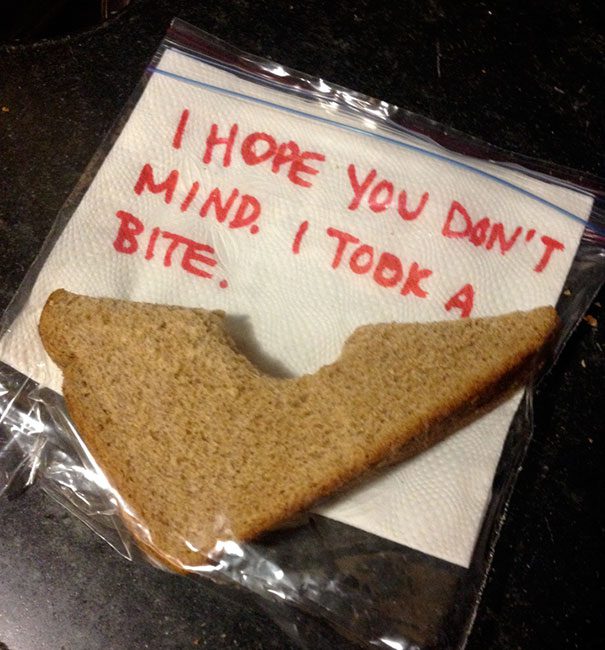 The key to convincing them is to write a note just like this parent has written. The parent apologized rightly after taking a bite from the kid's sandwich. But just imagine the face of the kid after receiving it, especially when they are super hungry.
A sarcastic life lesson
Does this note make you laugh or appreciate this life lesson? Well, this is just a piece of advice from a dad who has already experienced the main mantra of life. He sounds like he is tired of fighting with Sammy about vegetables.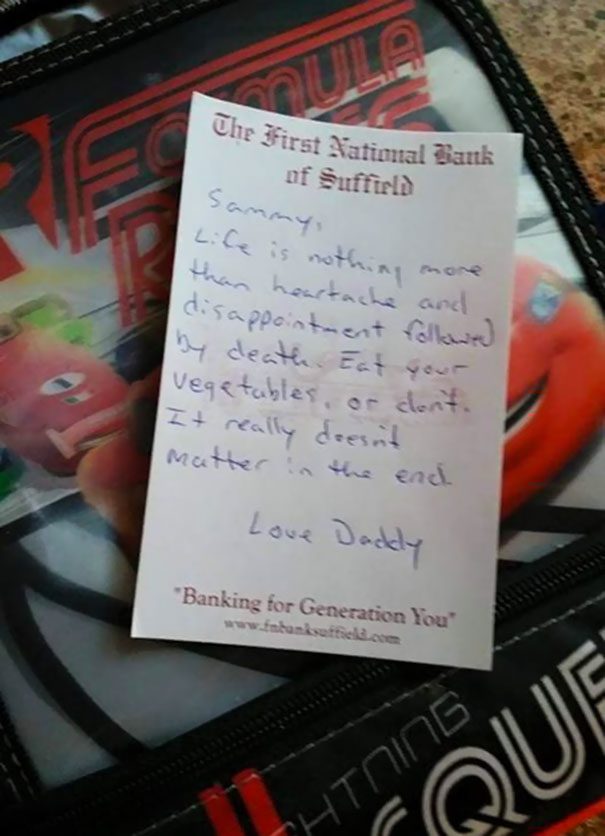 This hilarious note reads that life is just a journey to death accompanied by some disappointments and heartache. And in the course of this journey, it doesn't matter whether you have your veggies or not. Such a sarcastic note to scare kids about their health and compel them to have healthy and nutritious food, isn't it?
A legit note on the phone
This mom told her daughter that she would add a note on her phone to remind her to bring a cake. Well, mommy took the game a bit far, and she stuck a paper note inscribed with "cake" on the screen of her phone.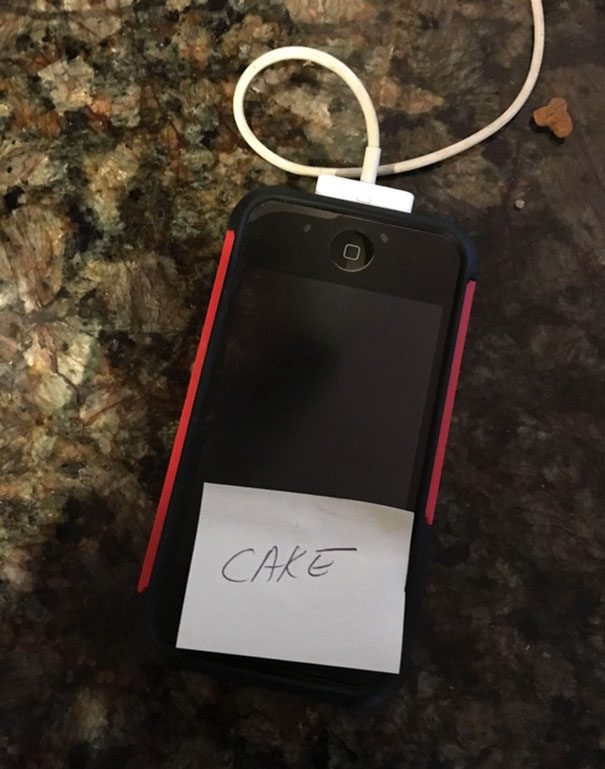 Well, we can sense two smart ideas here. The mom either knew that her daughter would forget to check the set reminder on her phone, so she used a stick pad note for it, or knew that the phone was something her daughter would indeed look at. Smart mom alert!
A relaxing hangover it was
Moms are pretty cool sometimes, we all have to admit. And as adults, we think it's kinda funny when they steal from their kids. But, when it comes to alcohol, we understand it is worth stealing to have some fun time; and this mom didn't skip a chance to do so.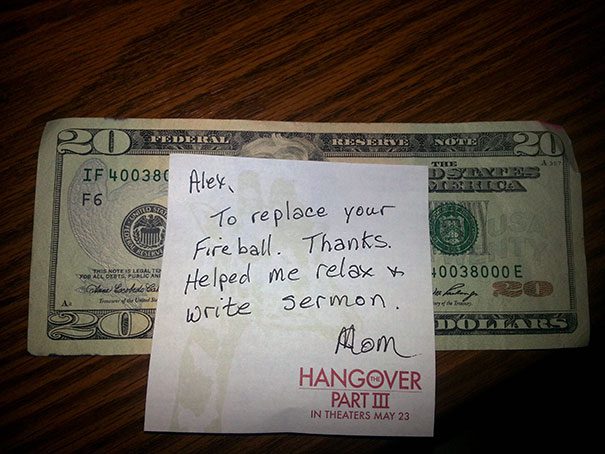 But her apology seems too sweet as it comes with some extra money and a thank you note for the kid. Well, it can be said that it was the best use of Alex's Fireball since it made his mom happy and relaxed.
A surprise!
Well, you must admit that this note from a parent is nothing but a hilarious one that none can help laughing at. The kids have probably received a shock when they found a bird sitting over the toilet seat.

They might not have even imagined such a living surprise waiting in the bathroom. It's just evidence of funny parenting when you are a bird lover and love to surprise your kids with a new pet. We hope they had another bathroom they could use, though!
A mom's love
Moms just can't help praising their kids over and over again. Kids are the source of their happiness, whether they show it or not. But this mom has chosen to express it beautifully. This thoughtful note is just proof of how much this mother loves her kid.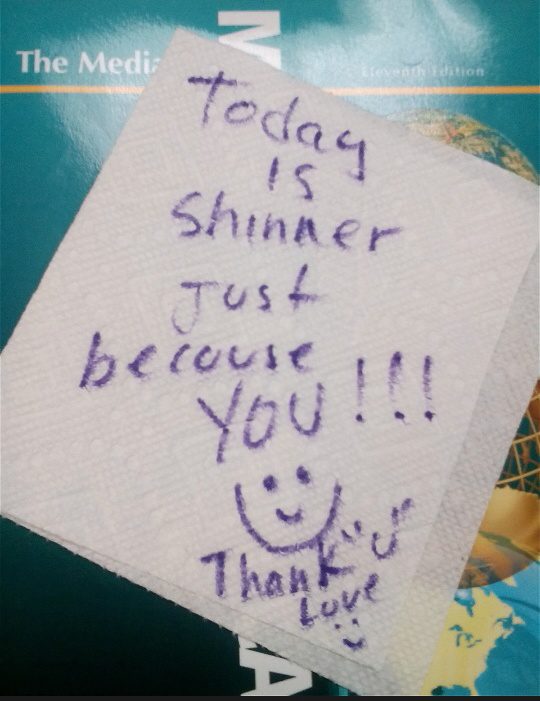 The way she has compared her kid to sunshine is something that only a mom can do. It's pretty to stop getting emotional over this little piece of note written in simple yet lovely words. This proves once again that moms are the most adorable humans on the Earth!
I ate your chocolate…
We wish we could have seen the reaction of this kid, who just discovered that their mom had eaten all the chocolates. But what she did was more sarcastic. She left the empty packets of chocolates with a funny note for her kid.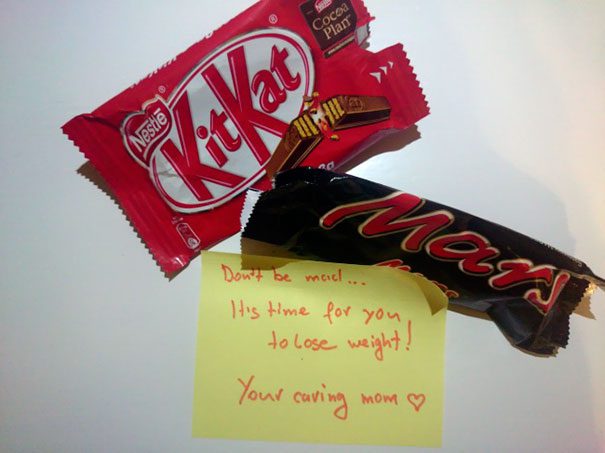 She knew that the kid would get mad at it; hence, she was quick enough to come up with this funny excuse. But the way she has helped her kid to lose some weight can truly hurt some feelings. However, we can't blame a hungry mom, can we?
When dad finds you quite old school!
This kid accidentally left his Reddit account logged in on his computer in the morning. And it looks like his dad was quick enough to have a look at his friend circle and give a piece of advice to him. He even claimed that the site looks like one from the 90s.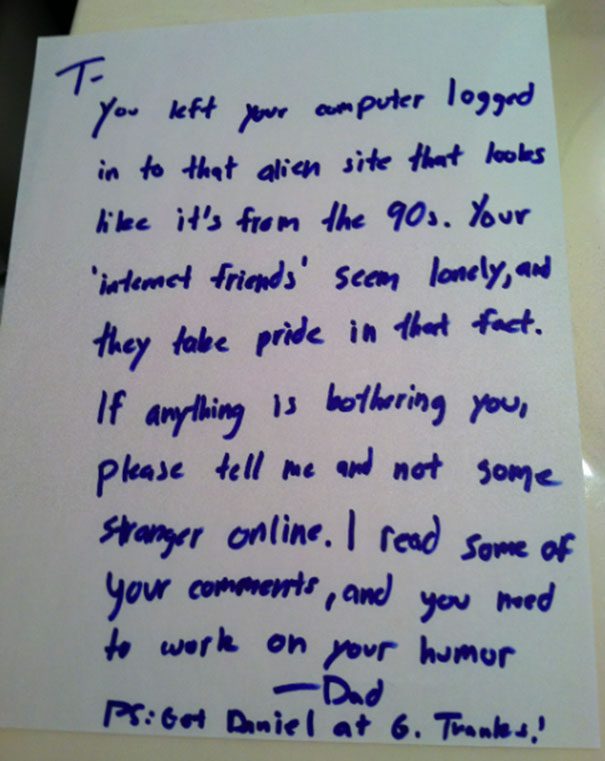 And like any other caring and concerned father, he is also worried about his kid and wants his child to share his problems with him, not unknown online friends. Nevertheless, he left a hilarious piece of advice at the end of the note on the poor humor skill of his kid.
The fun-packed mom-dad duo
Well, it's evident that Anna gets her daily dose of fun when she is around her parents. But her mom-dad duo perfectly complement each other and know how to nourish their bond with their daughter is one of the best and most cooperative parents you will ever come across.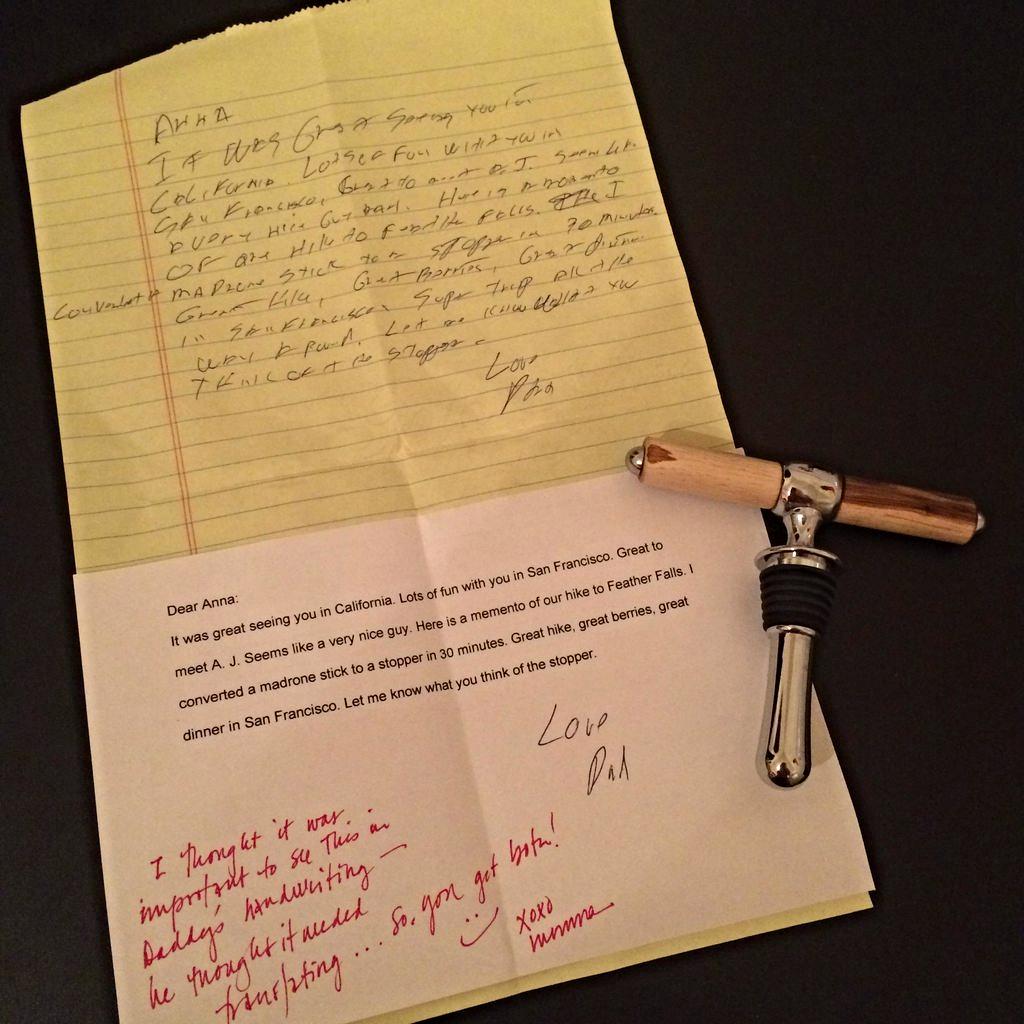 Yes, we do agree with Anna's mom that her dad's handwriting is horrible. But she didn't give Anna a chance to struggle to read these loving handwritten words from her dad. So, she just printed it out and left a note of her own. Isn't it just a wholesome family bonding?
A persistent dad
Nothing can be more hectic of a parenting job than making your kids their lunches. But kudos to dads who always know how to come up with some hilarious ideas to make kids eat them. Especially when you are persistent like this dad, your kids are bound to eat the sandwiches at some point.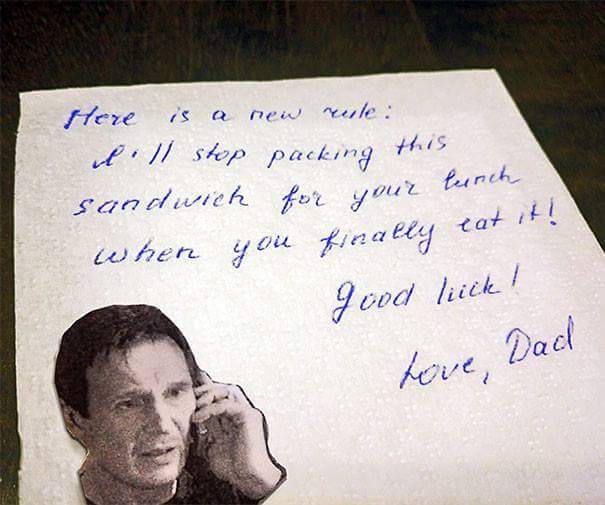 This dad's new rule makes it pretty clear that he would stop packing new sandwiches for lunch until the kid finally eats the one he has. He knows better that it will not happen any time soon. And that good luck at the end says it all!
The spoiler mom!
We believe that our friends can be rude enough to provide us with the spoiler of a book or a movie before we explore it, but our moms can't be. But this mom broke the conventional thought – well, not really. She just wrote a note to give a hint to the plot of the book.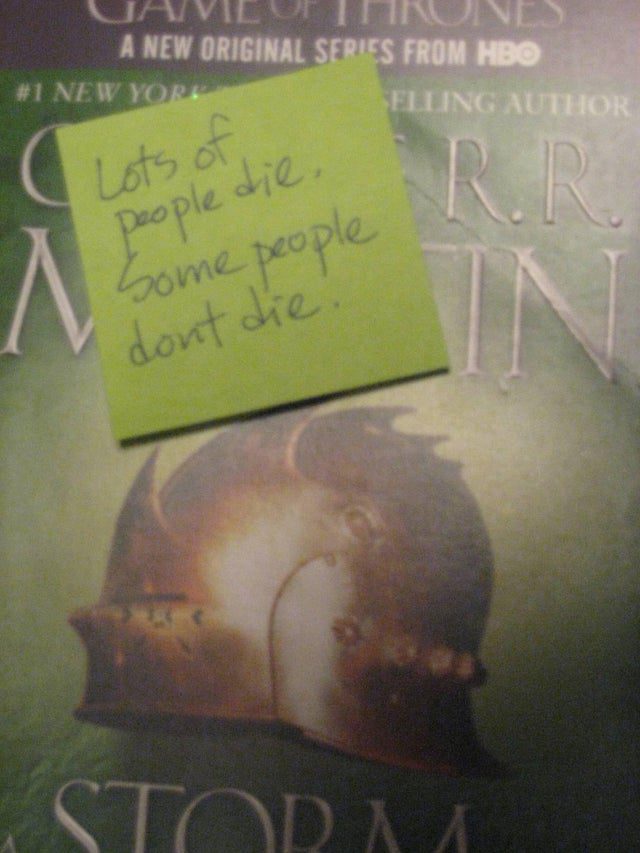 It seems that this mom has already read the book by George R.R Martin that her son is reading. So, all she did was leave a note that revealed the thrill of the story. Well, this kind of fun actually helps in keeping up the bond between a mother and a son.
Got yourself grounded?
Parents can be strict at times, but they can be the gods of hilarious ideas for punishments too. At least the kids of this house receive healthy parenting dosages regularly. Although it is always unfortunate to get grounded, at least their parents have some humor.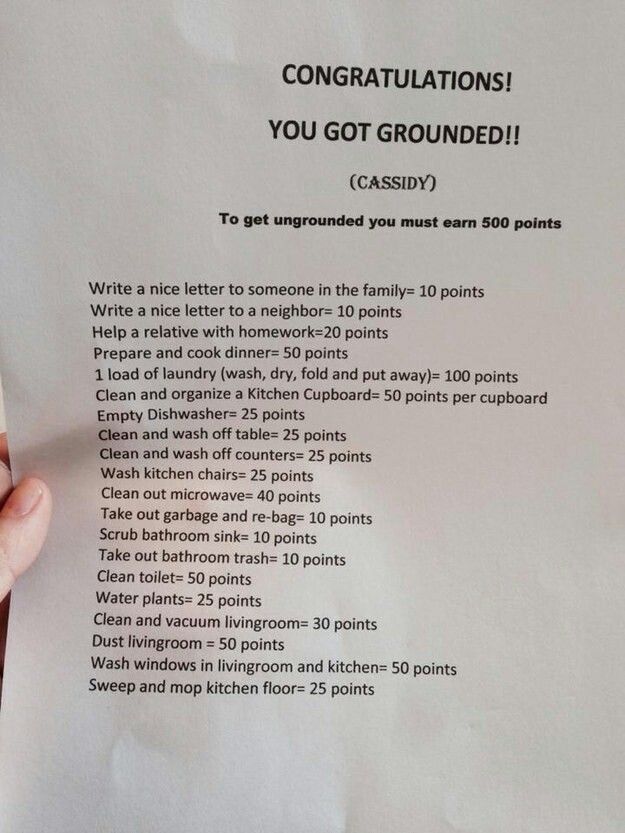 But they are pretty lucky as they can easily earn their freedom back through scoring some points by doing a bunch of chores. It looks like Cassidy has been greeted with a grounded notice. All she needs to do is spend her whole day doing the chores her parents asked her to in the note. And once completed, she can get what she wants!
Running out of toilet paper?
Kids usually think that some magic happens overnight, and the holder gets filled with toilet paper again. But these parents have decided to show the kid clearly that what they think about the automatic filling of the dispenser is absolutely wrong.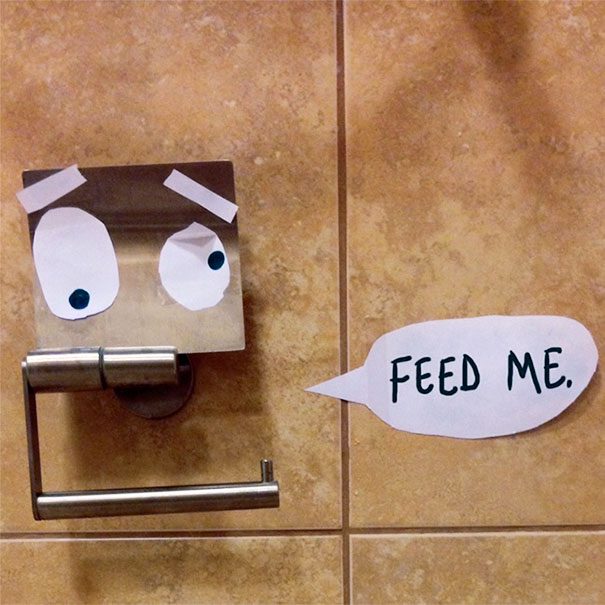 These parents drew a face for the toilet paper holder to make it look like a hungry dispenser, crying for food. After that, they made the kid try to feed the dispenser with toilet rolls and accomplish the task. Maybe they even erased and redrew a happy "I'm full" face for the toilet roll holder after it was done.
Sarcastic kids are born to sarcastic parents
What happens when both parents and kids are fans of Star Wars? Well, here's an excellent result of that! Parenting is easier when you know the right language to communicate with your kids, and this mom seems to know it properly.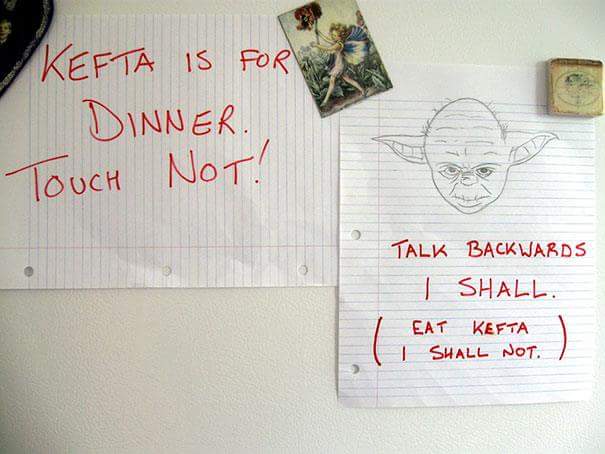 This mom's only request to her kids is that they must not touch the Kefta made for dinner. But she said it in the dialect of Yoda from Star Wars. What is more hilarious in this image is the reply from the kid who used the same form of language to promise in return for the note that they would not eat the Kefta.
Savage kid indeed!
Sometimes it is the kids who are stubborn enough to take some simple advice. This is a sweet and loving letter from Julian's mom in which she just asked him to have a good day. It is just a simple wish that all moms make for their kids.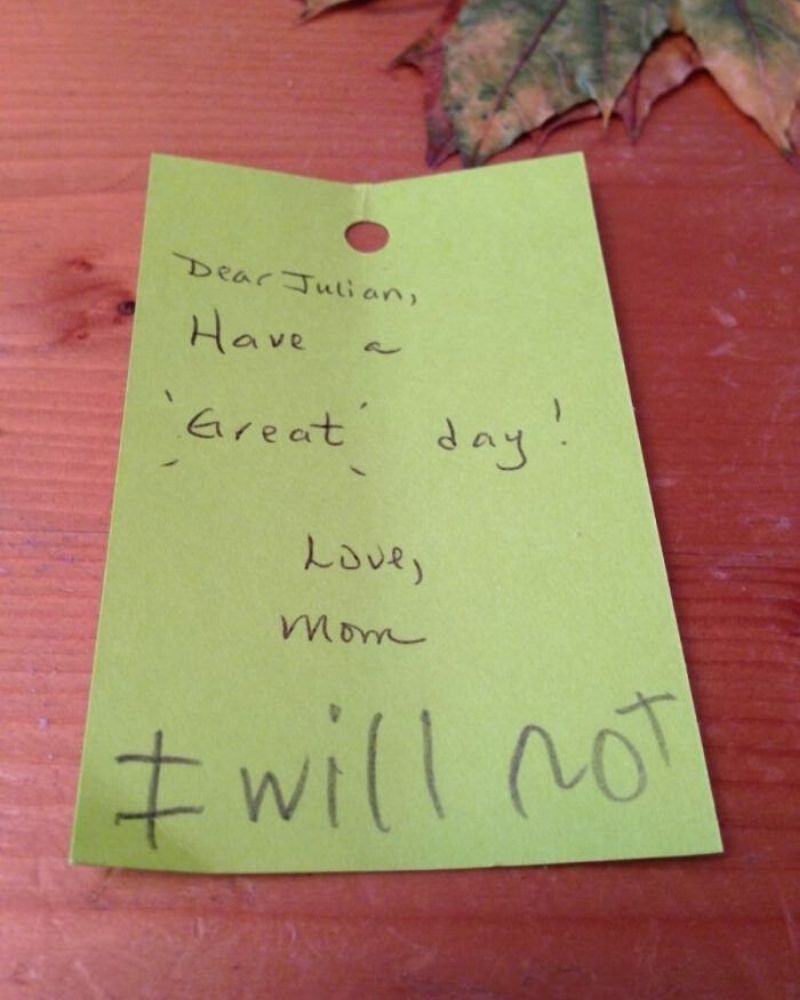 But it seems that Julian is either pissed off at his mom, or he just wants to annoy her. We get it, Julian; it was hard for you to have a good day, but you should have behaved well! Now, let's hope your mom behaves well with you!
A warning rap
Sometimes we just can't get enough of the creativity that parents come up with to get their kids on the right track. Well, this quick warning rap from this mom is enough to make your day filled with laughter.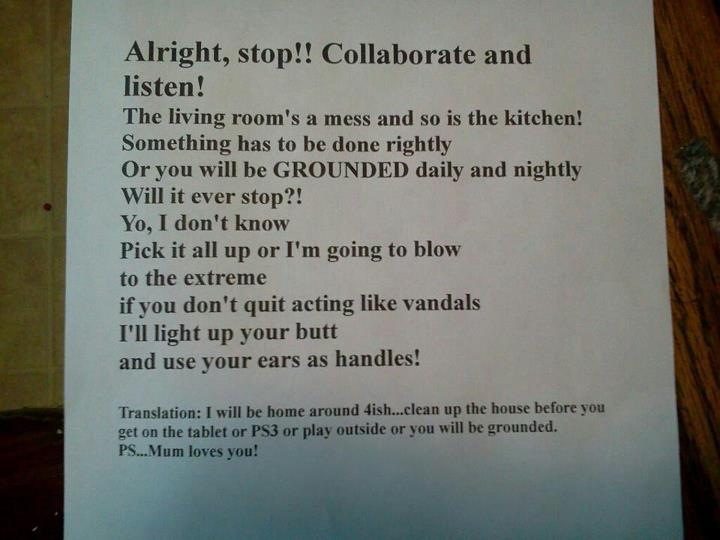 It's pretty evident that she is annoyed with her kids messing around in the living room and kitchen. But what she did to warn them is, she wrote this fun rap that tells what kind of wrath the kids will face if they do not listen to her.
Just lock your door, simple!
Although locking the door is not that big of a task, kids apparently find it as difficult as climbing a mountain. Almost all of us got scolded by our parents for leaving the doors unlocked. But these parents seem to have the best idea to remind their kids to lock the door properly.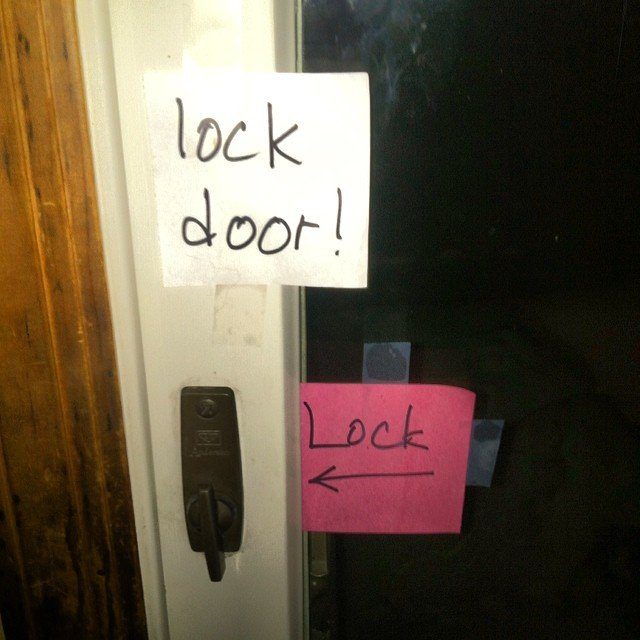 The fun part here is how they have pointed out the very simple and basic thing yet one of the most ignored tasks by kids. The parents have used a sticky note to say "lock door" while they have used another note to point to the exact location of the lock on the door. It seems these parents are really annoyed!
Just a reminder
Moms can be out for many reasons, but they're never on a break from worrying about their kids. And that's what makes some cool moms find out quirky ideas to write notes to their kids, reminding them of the basic things.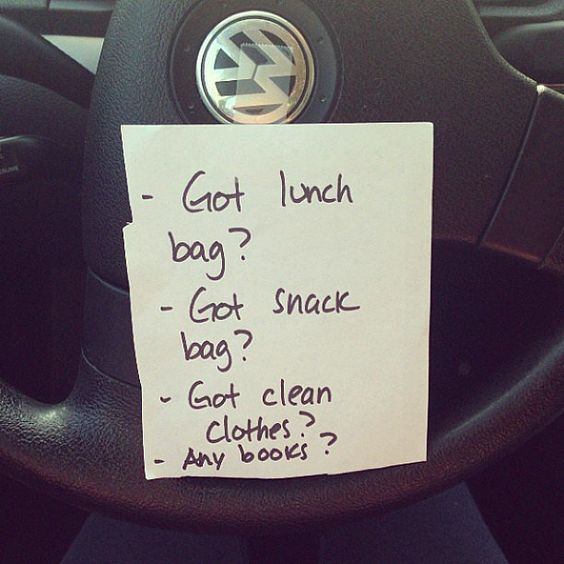 This mom has thus found writing a note as a valuable and valid idea to remind her kid to have lunch, a snack bag, clean clothes, and books so that they do not miss out on any essential stuff. Doesn't it give you the vibe that moms are our real guardian angels?
Parenting done right!
All we need is some kind words from our mom, saying how much she has faith in us in order to boost our morale. And this mom rightly knows how to give Snappy a morale boost with her heartwarming and loving note.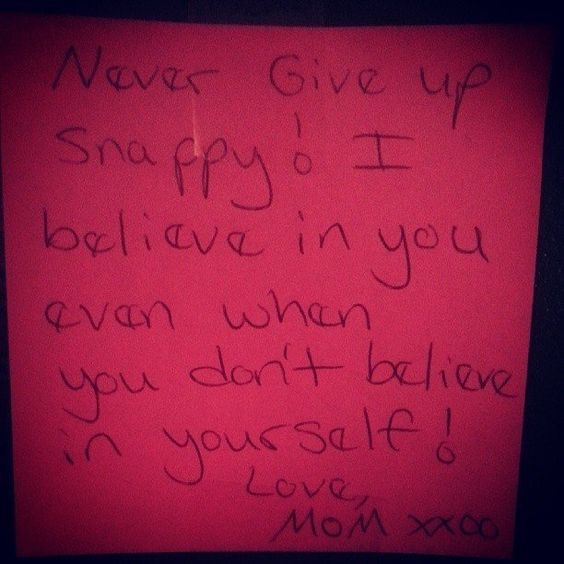 This adorable note reads that Snappy's mom believes in him even when he fails to believe in himself. Isn't it sweet how this mom is trying to keep her son charged up with inner strength? Well, we got pretty emotional reading this one, and we know you must have too!
Mom joke alert!
Moms are simply the best humans we have ever encountered. They can be caring, strict, and fun at once. Even though most of the time they spend their time keeping their kids safe and healthy, they simply nail it when it comes to cracking a joke.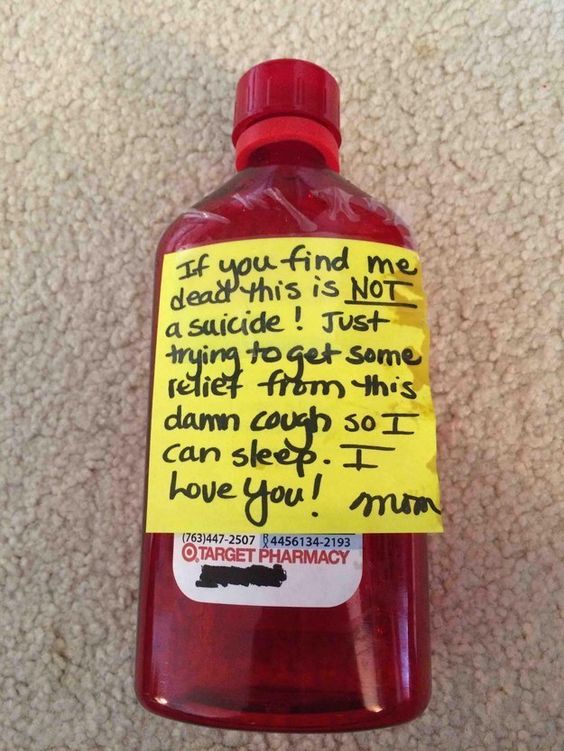 Well, this is exactly what explains this mom who just cracked a funny joke to tell her kid that she is sleeping after taking some cough syrup. But the way she said this is worth making you say, "ROFL!"
Some sneezing tips
We all have to sneeze sometimes. But kids are least bothered about covering their nose while sneezing or cleaning it up properly. Yeah, we know it's gross! And this is the exact feeling that this parent had while cleaning the computer.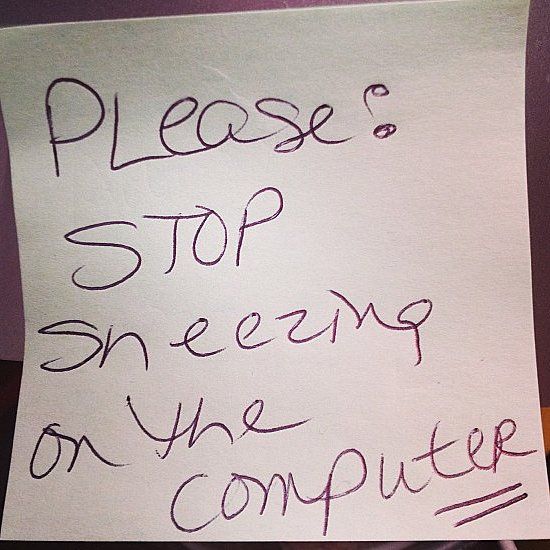 This note is more of an earnest request from a parent asking her kid not to sneeze on the computer. The straightforwardness message has won our hearts. We hope the kid has listened to this sweet request of the parent.