Cats That Could Easily Start Modeling Careers
By Iulia P May 26, 2021
---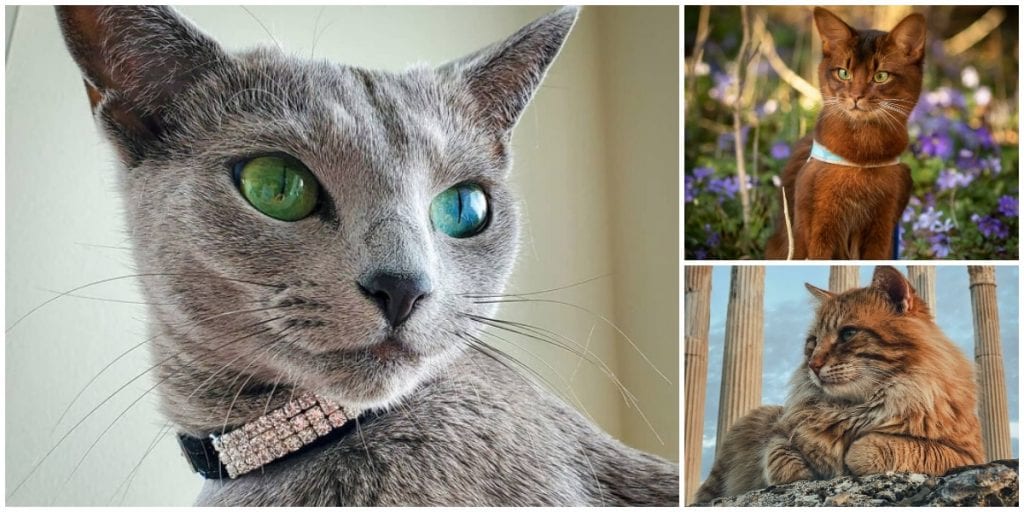 If you did not already know that cats are an internet sensation, then you must live under a rock. And while some dog people would probably disagree with us (and that's okay), cats might be one of the most photogenic pet species that humans own. Mysterious, graceful but also funny and goofy, cats are beautiful beings, making awesome companions. The internet is full of pictures of pets, and by taking a look at them, you will probably notice that those pictures of cats are always on point. Like they are aware that they need to be presentable and cute in front of the camera. Here is a thread of cats who not only are the pride of their humans but who are also so photogenic that they could also start a modeling career without a second thought.
Real or surreal?
Watch out; we're coming in hot! We just started, and here is one of the most beautiful cats you'll probably see today, this month, and why not this year. She is just purrr-fection, and that coat and coloring are just gorgeous.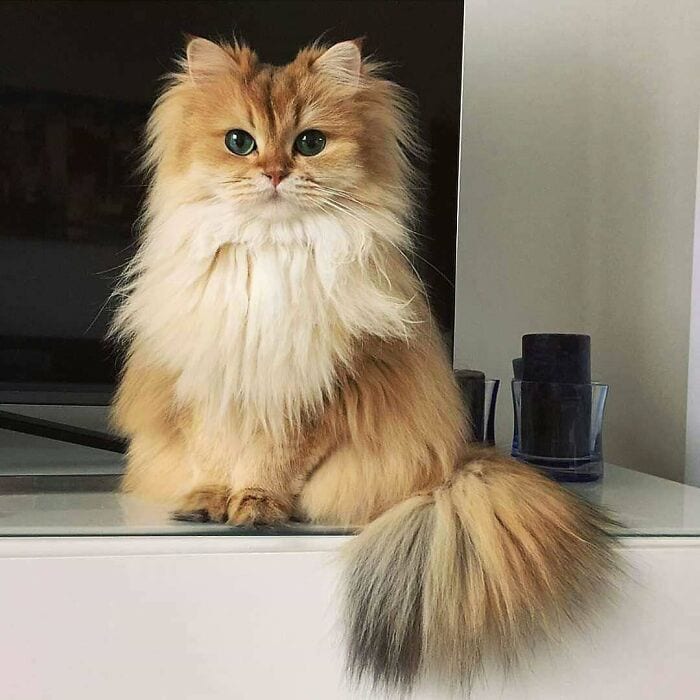 And guess what? Her name is Smoothie. Now we don't know if her human chose this name because he or she likes smoothies or it was just because of that smooth furry coat. Nonetheless, the name suits her just perfectly.
"Brave counsel"
Meet Reinhardt! He is 100% a Siberian Forest Cat and, as you can see, 1000% fabulous. No wonder his human mom did not wait for a second to post this beautiful picture of him. He is a natural model for sure.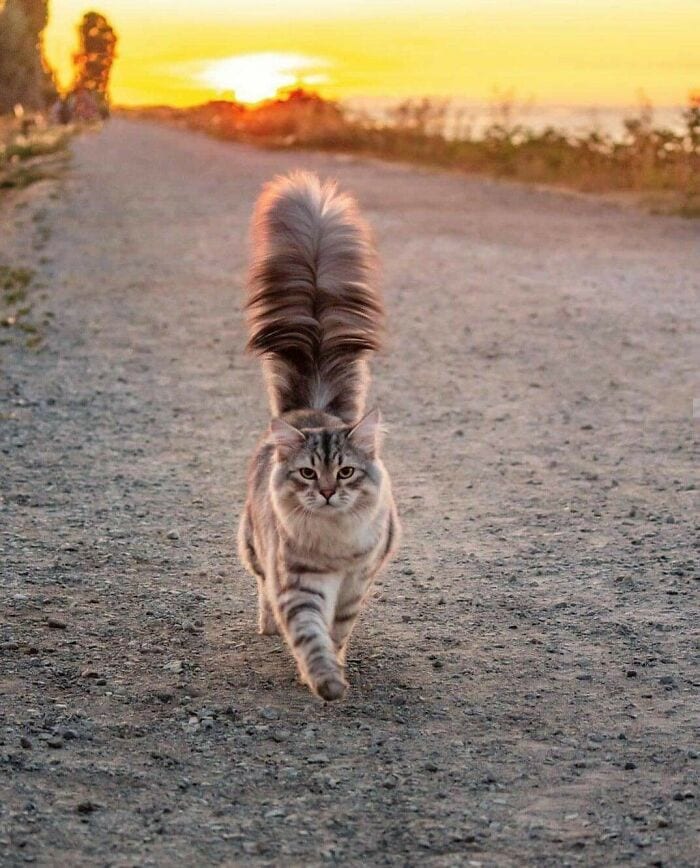 Look how beautiful he looks walking down the road, so fierce, so unbothered, making everything look so natural. And not to mention that tail. Although we have never seen such a fluffy and big tail before, this guy's tail reminds us of a feather duster.
Inclusivity
The 21st century is definitely a century of inclusion and diversity, and we love it. And not only do we love the idea of seeing diversity in its purest form, but we also encourage it. Therefore, meet Eli- the blind cat!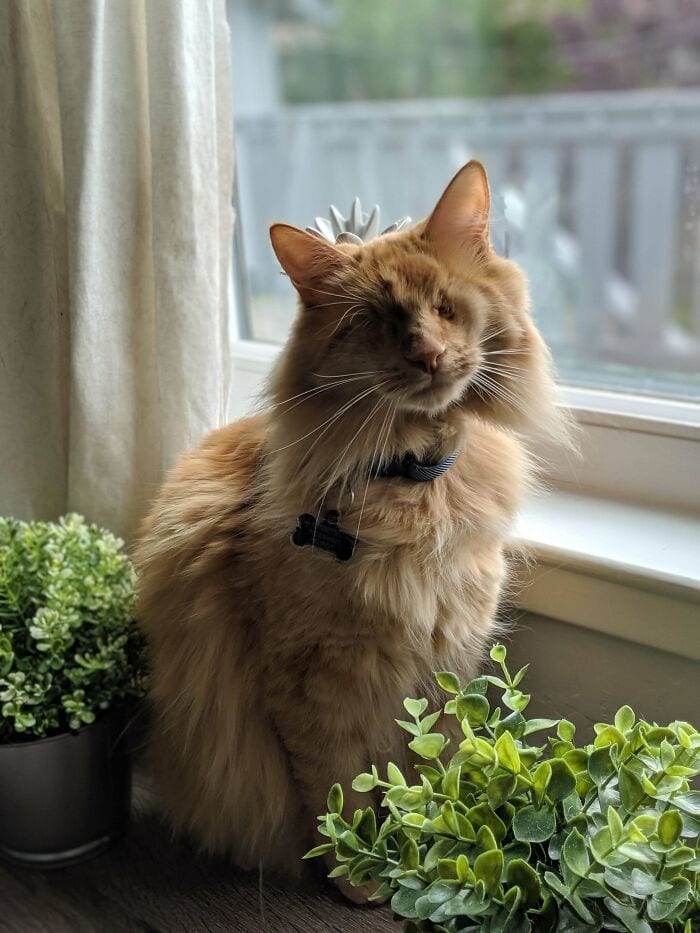 Or we should better say the most fabulous disabled cat that, without even knowing, managed to steal our hearts. Despite the fact that Eli lost his eyes due to an eye infection, he remained as fabulous and chic as he was before. If not even more so. Gorgeous is an understatement when describing him.
Flerken the Maine Coon
We have been starring in awe at the picture below for a good 5 minutes. Yes, Flerken looks awesome! His coat is sleek, his beautiful eyes are popping, but can we take a moment to speak about the photographer's skills?
The picture came out beyond amazing. The angles the photographer captured and even the fact that the background matches this beautiful cat's coat all tell us that the person behind the camera is without question a great photographer indeed.
Wow!
Just, wow! This picture left us speechless, and we do not even know what to start with because every little thing in the composition of this photo is just perfect. This picture could easily be on the cover of some pet or lifestyle magazine.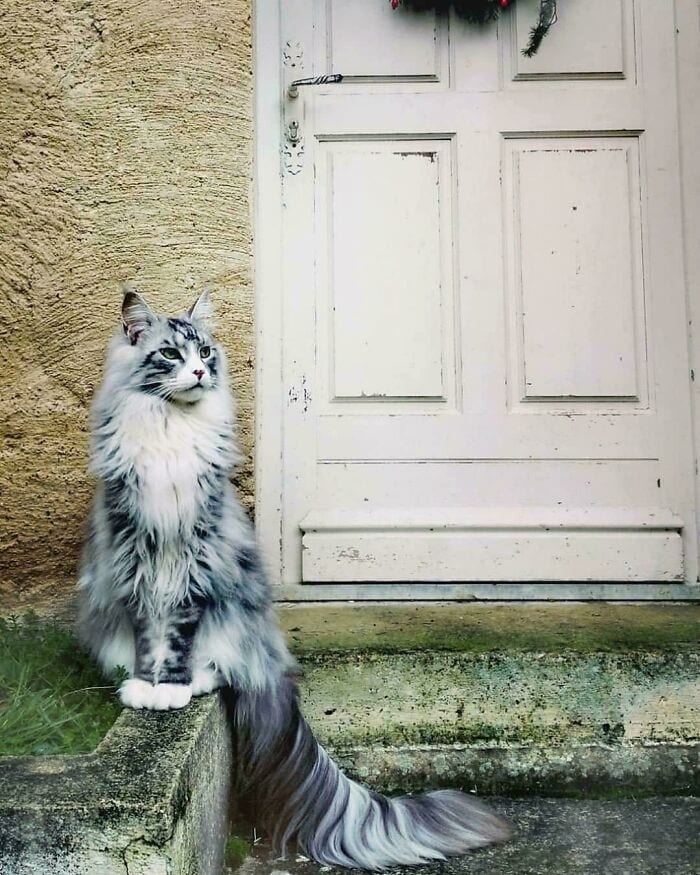 But instead of speaking about covers and magazines, let's take a moment to acknowledge and admire this cat's beauty. The colors of its coat, the posture, and even the facial features… Can someone give her a modeling contract already?
Kitty eyes
Most of us heard about the "puppy eyes," those big eyes dogs make to get us to do something for them or to forgive them for some mischievous thing they just did. It works like a charm when they want us to share our food with them too. It turns out that cats have the same compelling look, and it turns out that they do it very well.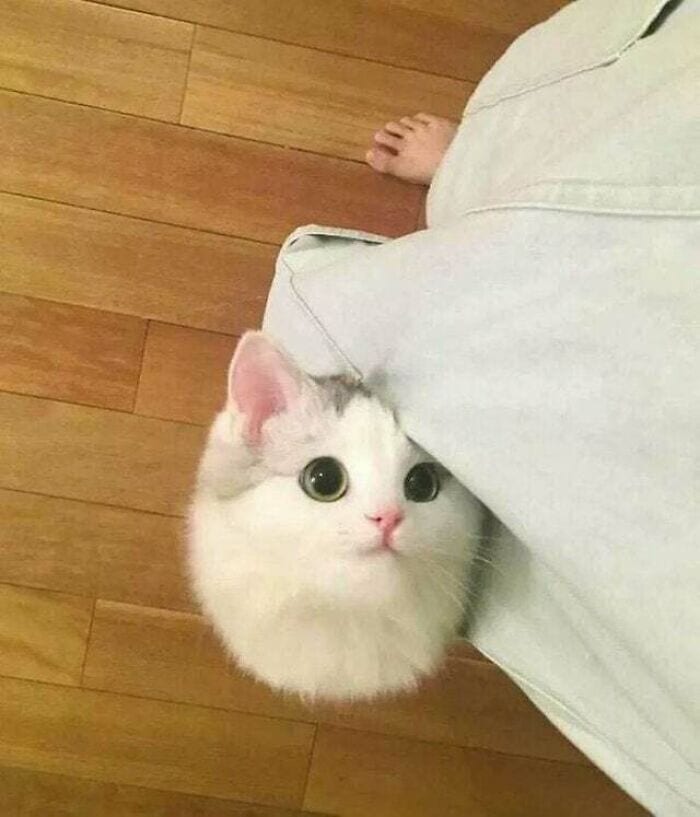 Just have a look at this little ball of fur giving his human the kitty eyes. Make sure you don't look at her eyes for too long. You might get hypnotized and end up doing what she wants you to do for her.
Frame it!
Can someone bring a frame? This picture that you will see below needs to be framed and hung on the main wall in the room where this cat's human welcomes their guests. We are mesmerized by how gorgeous this picture came out.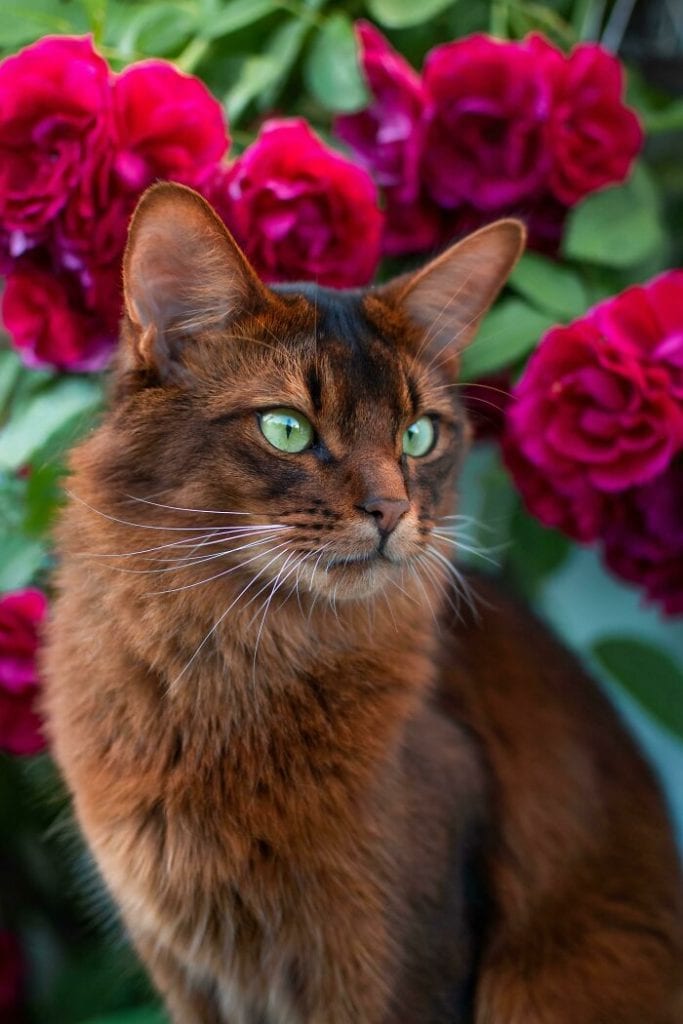 This cat is so lucky! Imagine having your own photographer there with you, following you out into the yard, ready and willing to take pictures of you, and always managing to capture your best angles and enhance your best features.
We couldn't help it
By now, you are probably used to us giving you the best of the best only at the end of the article. Well, this time, we just couldn't do the same because we were too excited to share this picture with you.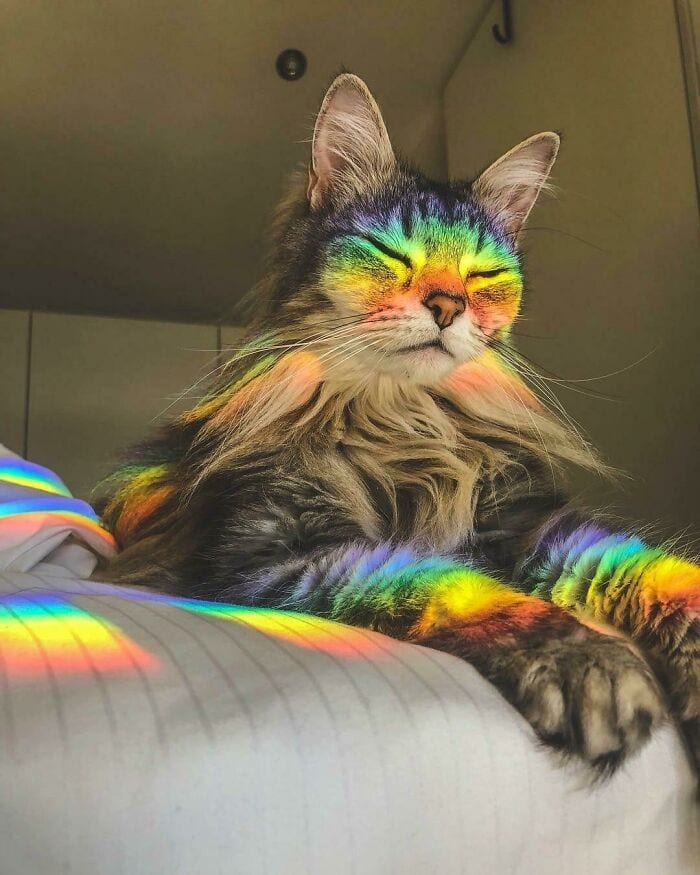 Majestic is an understatement! We can not tell if those colorful lights are from a lamp or if they are just an edit. But there is something about this idea that just makes us place this picture into our top 3 all-time favorites.
Future little model
We are sure you agree with us that this little guy is photogenic and that he might be on the cover of Cat Vogue one day. For now, he is out here practicing while his human is telling him what a handsome kitty he is. Work it, kitty!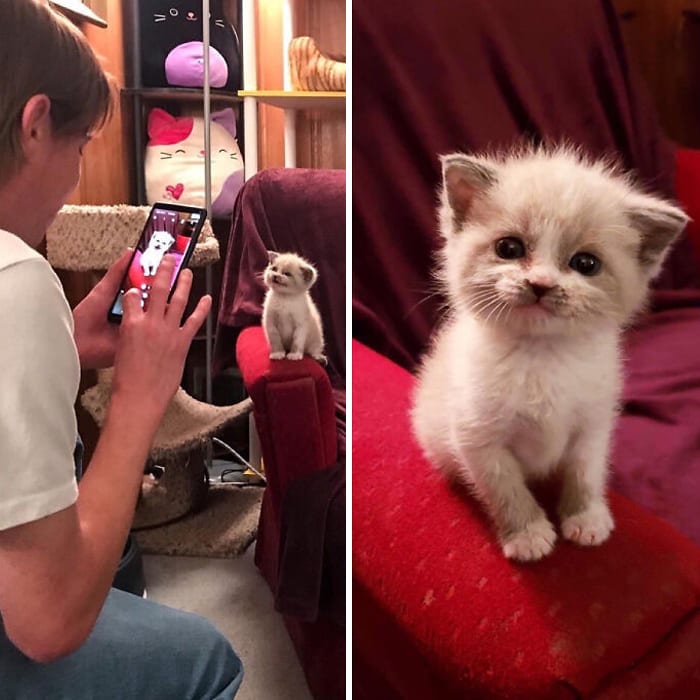 And not only handsome but adorably cute too. Can you spot that subtle little smile this guy is giving the camera? If we didn't see the "behind the scene" photo, we would have thought that this kitty's smile was edited because it's too cute to be true.
Hypnotizing beauty
Although you might have gotten yourself prepared to have your heart melted a couple of times before starting to scroll down this article, we feel the need to warn you that the next picture is full-on gorgeousness in overdrive! More than one can take.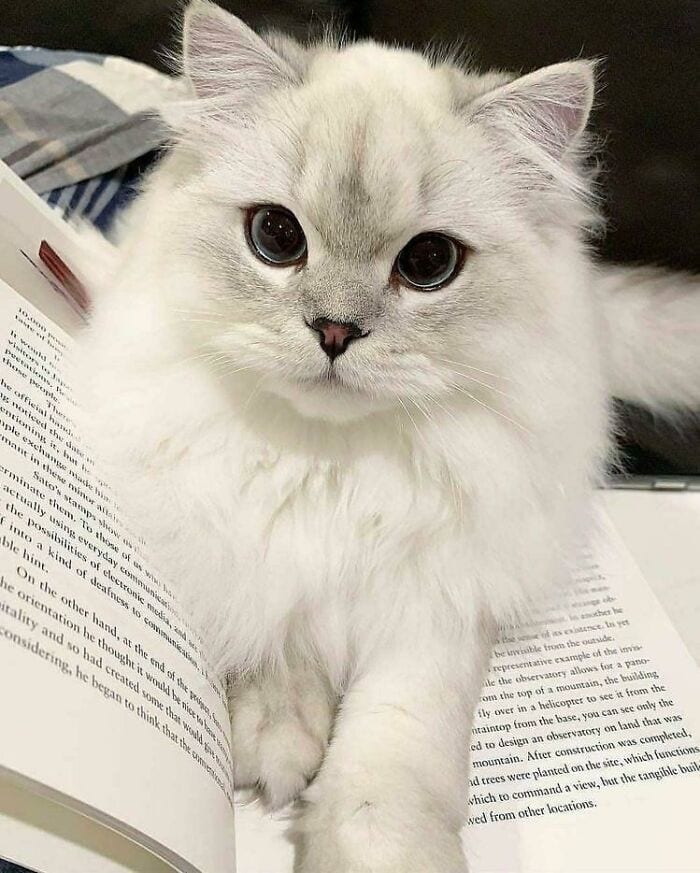 We've warned you! Now it's probably too late, and your heart has been stolen. And on top of this, you're thinking of adopting a cat. Yeah, we know the feeling! That was precisely what we were thinking after seeing the photo of this beauty.
Brutus, the ginger Maine Coon
Meet Brutus! He is a Main Coon kitty, and even if he looks like a grown-up adult cat, he is only a few months old. Can you imagine how big he will be in a few more months if he is already this huge?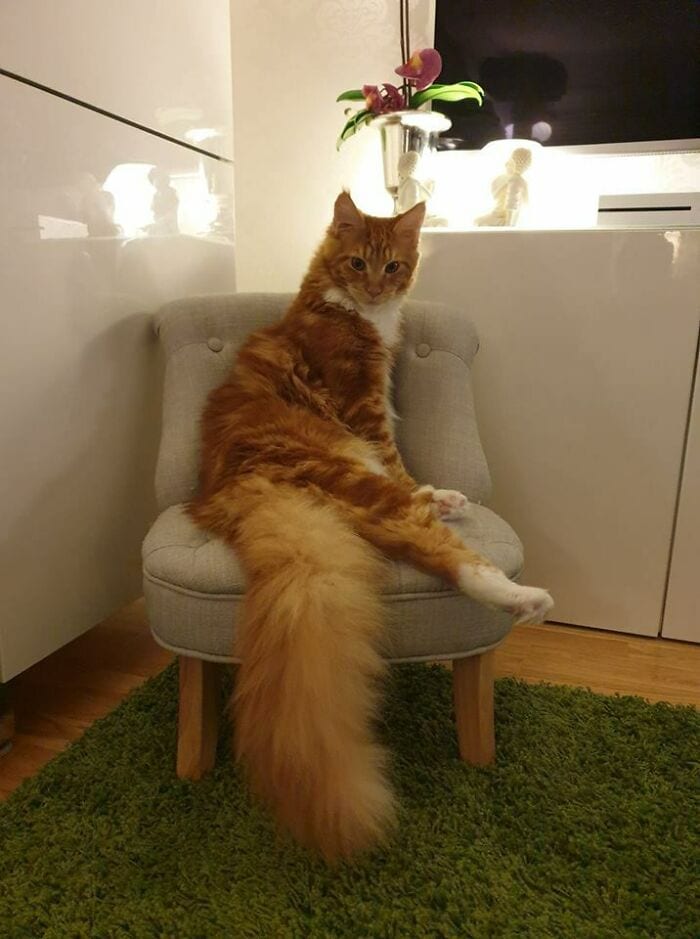 Well, it turns out that Maine Coons can grow to be about 100 cm and weigh up to 10 kg. And now that we know this statistic we can not help but wonder: cats of this breed are lions or domestic cats?
Cheeto the stray cat
His name is Cheeto, and his human proudly posted this darling picture of him. All we can say is that despite the look on his face and that calm smile he is flashing, we can see that this poor guy has been through a lot.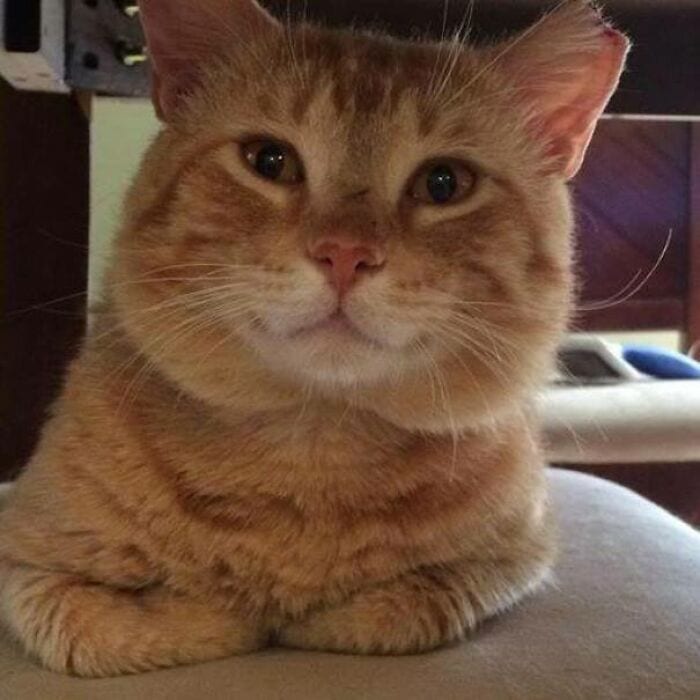 We are so happy to know that he now has a loving human to take care of him and protect him. He might have a scratch here and there, and his ear might not be perfect, but this is what makes him unique and special.
Someone stole someone's look!
We interrupt the regular thread to ask you a question that has been bugging us for a while now. In the picture below, on the right, we have Katie Holmes wearing a beautiful dress by Zac Posen, and on the left, we have Gato and his furry coat.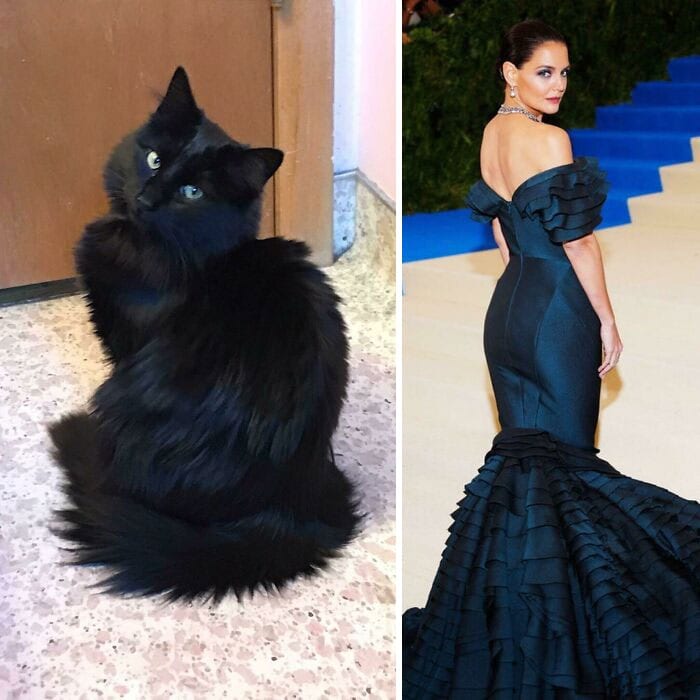 Looking at the two pictures, we can only assume that someone stole someone's look but, we can not really tell who. Could it be the actress, or was it the cat? The resemblance between the two outfits it's striking. Even the pose it's the same.
Stephen
You, too, might be blown away by Stephen's eye color. Indeed that turquoise blue is really, really pretty, even if his eyes do not work, unfortunately. However, he is still one of the most beautiful cats we have seen today.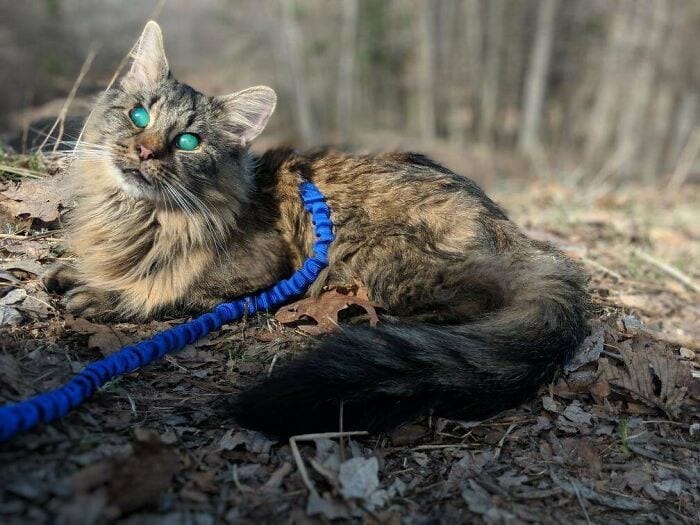 And his human definitely agrees with us when we say that he is simply gorgeous because she proudly shows him off on the internet for people to fall in love with him as well. And it definitely worked for us.
Another lucky cat
Here is another cat whose human is a talented photographer. It must be nice knowing that no matter if you feel like taking pictures or not, your human will always capture the best of you and the best angles. And any aspiring supermodel cat knows that angles are important!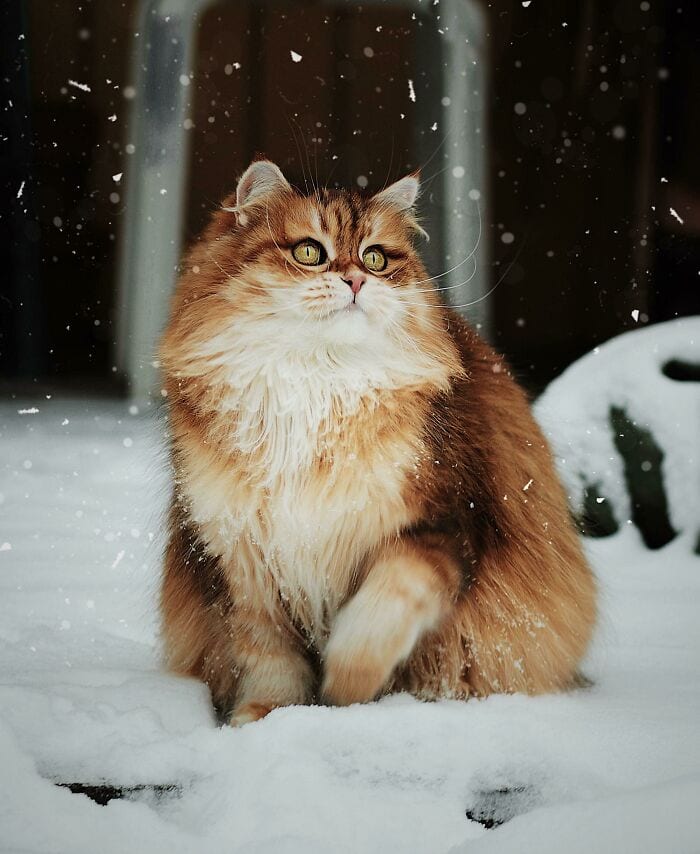 And if by any chance your pictures do not come out how you and your human expect, you human will have to do what he does best, and that is turn to good ole Photoshop. Those perfectly placed snowflakes are far from being real.
Granny's kitten
When we first saw this picture, we automatically thought of those folklore stories about the granny that knits while the kitten plays with the yarn. What a beautiful and calm image to see. We are sure that this kitty does the same when her human knits.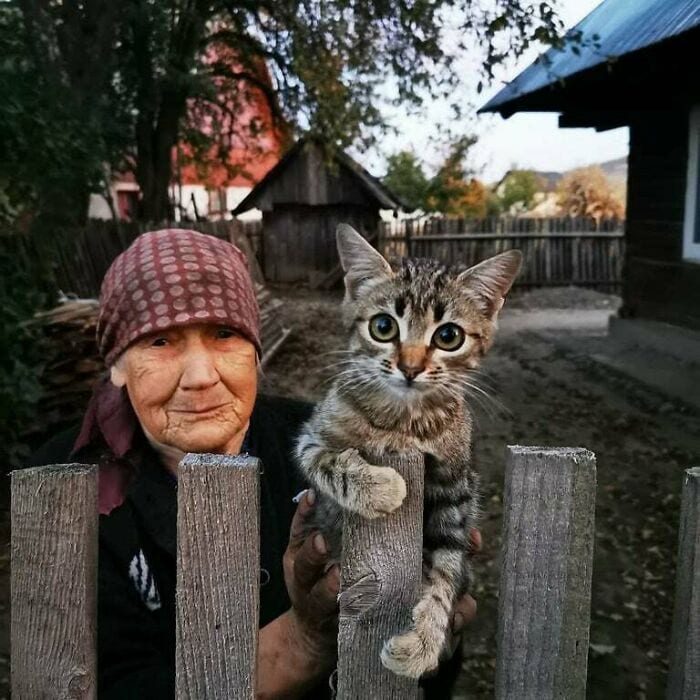 We love everything about this picture and the energy it transmits to those who look at it. The warm and loving eyes of the granny, the curious eyes of a kitten that hasn't experienced the world in its entirety yet and is ready to jump on any adventure.
Diana
There is something about this name that screams "royalty" to us. And no wonder this beauty's name is Diana. She looks just like a queen. A queen of everybody's hearts because we are sure that those eyes captured your heart too.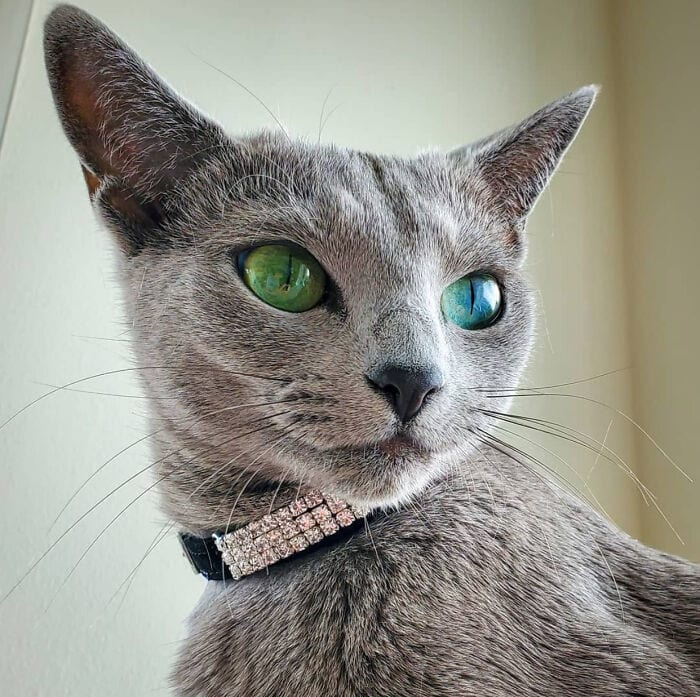 You can tell that she is well aware of her beauty. She posed with such class and so much grace. We probably would pose like this too if we had this beautiful eyes and such a necklace full of diamonds.
Cato
Imagine being so gorgeous that even if your human decides to take a picture from an angle that usually would upset many, you have no problem with it. Now that's what we call a highly self-confident cat. We are taking notes from this feline.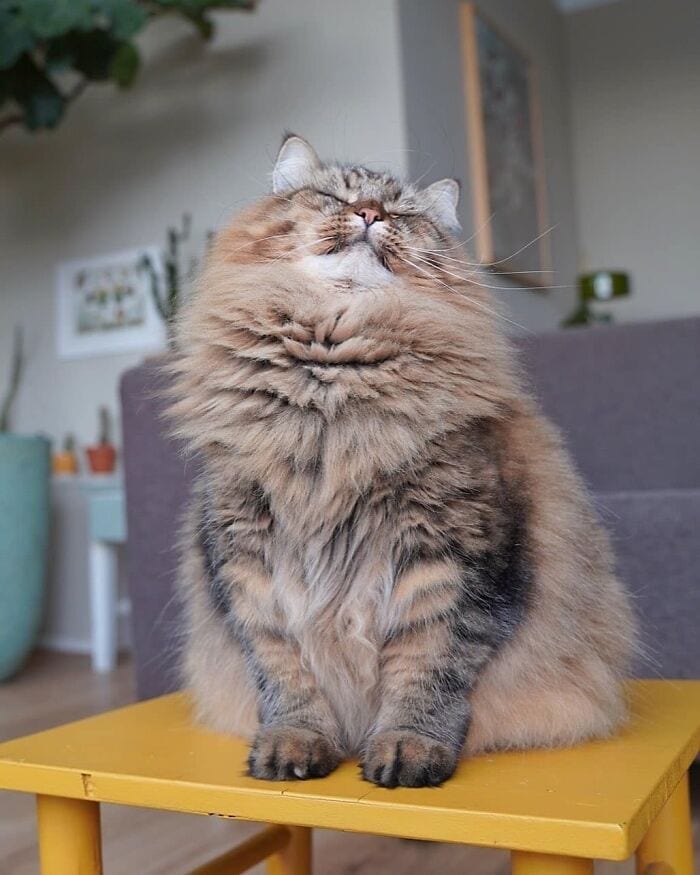 We don't know exactly what breed this kitty is, but we love the color of her fur and how fluffy she is. And if you ask us, we think that she might love her coat too. She looks really proud to be in her… well… fur, and this is the attitude we love.
The eyes
They say that "the eyes never lie," and this kitty's eyes told us that we would fall in love with her. And guess what?! We did. Her eyes are pure perfection and the fact that having eyes of different color is a rare condition make her eyes even more special.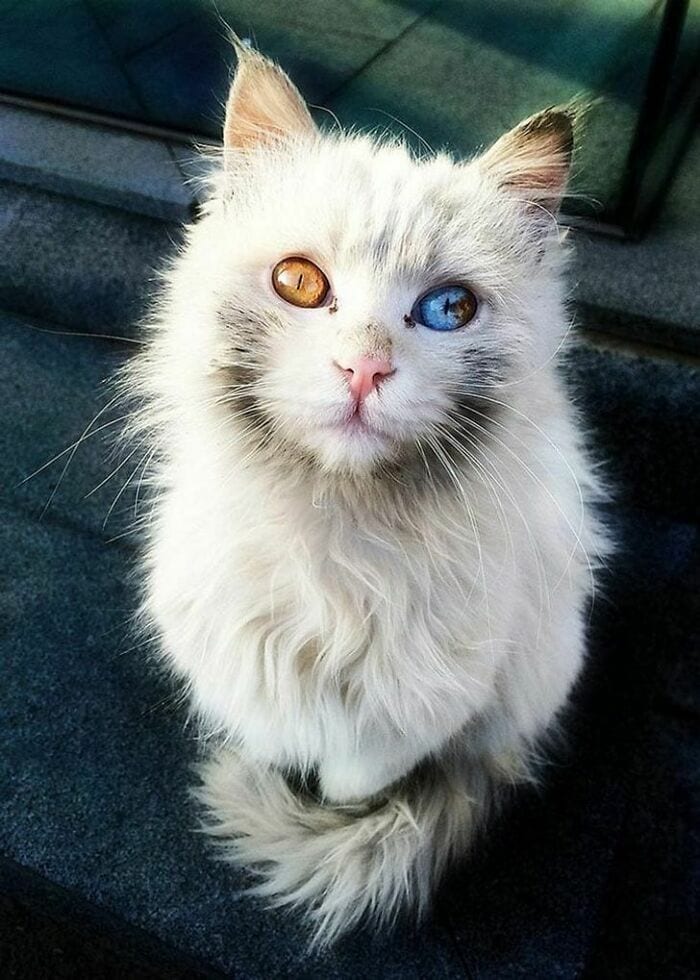 Heterochromia is a condition in which the eyes of a subject (cat, dog, even humans) are two different colors. Usually one is blue and the other one amber or green. In the medical world, the condition is also known as "cat eyes" and is pretty rare (1 in 1000).
Cat and snow
At this point, we might start developing an addiction to seeing beautiful, fluffy balls of fur out in the snow, posing like they don't even know the camera is there to capture the moment like this beautiful picture below.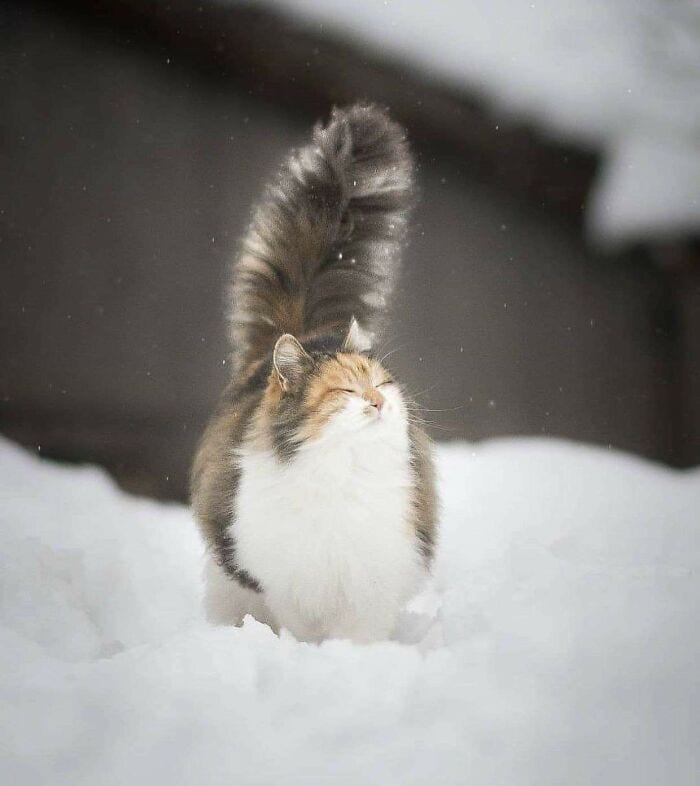 She is so chonky, and fluffy posing with her eyes closed like she was living the moment, enjoying the cold snow under her soft paws. Oh, the number of feels this picture transmits… The moment the photographer shot this picture was just perfect.
Heterochromia kitten
In case you wanted to see more kittens that have Heterochromia, we brought you another cutie. This time we have a teddy bear look-alike who looks a bit upset because of his eyebrows, but his human assures us that he is one happy kitty.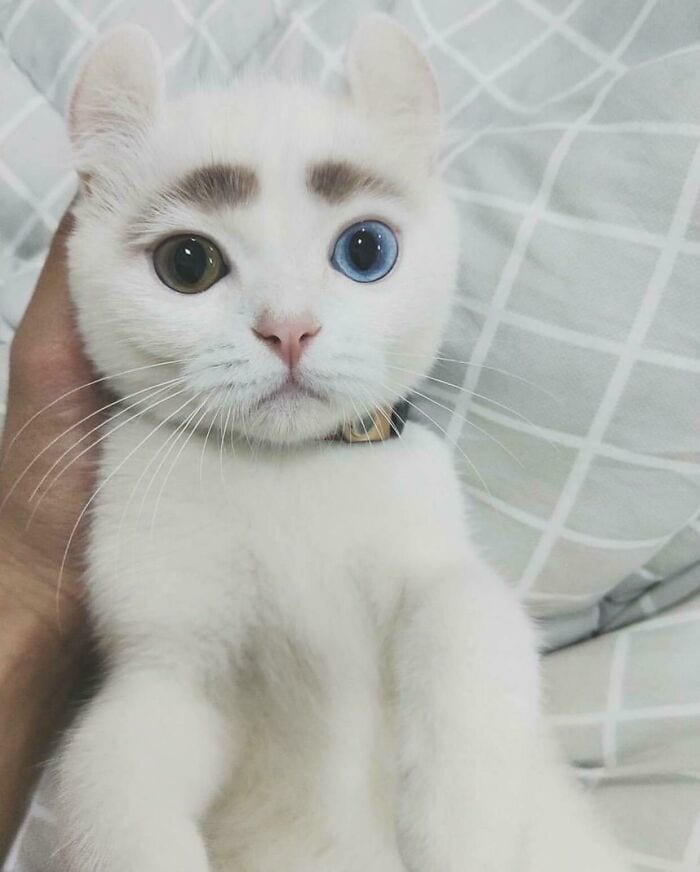 Appearances can be deceiving, right? Lucky for this boy, his eyes are taking all the attention from his eyebrows that he did not ask for. It must be hard to look happy when your eyebrows just do not want to cooperate with you.
Mr. Fluff, the rescue cat
It is incredible what a huge difference a few months full of love and care make. In the first picture, there was Mr. Fluff when he was a stray cat. His now owner used to bring him food on the street every day until she decided to take him home with her forever.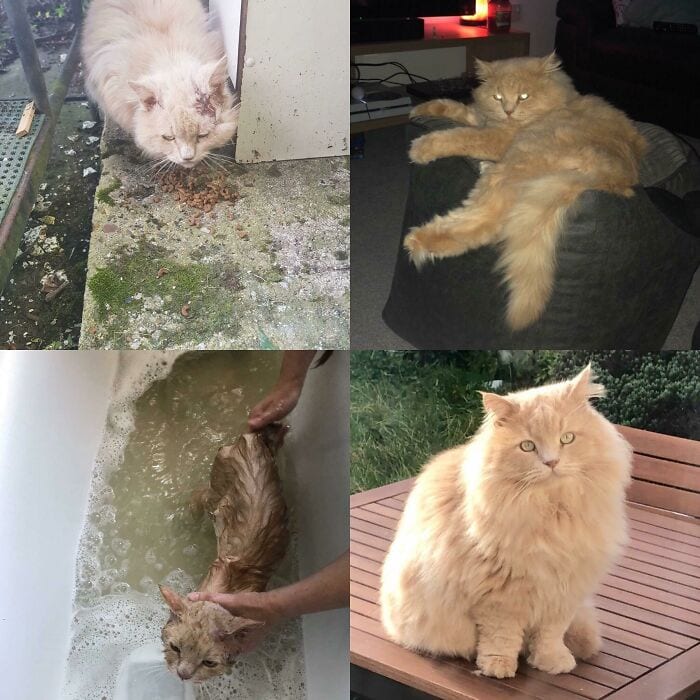 She gave him a good, warm bath. Cleaned his fur properly, and the result is astonishing. This cat is beyond beautiful. We can not help but wonder what happened to him and why he was roaming around on the streets?
Cute but dangerous
This kitty is the epitome of beauty. Her face, her eyes and even her soft coat… she is purrfect! Her human is such a lucky one to have her. And her human knows this too, since she really loves sharing pictures of her sassy cat.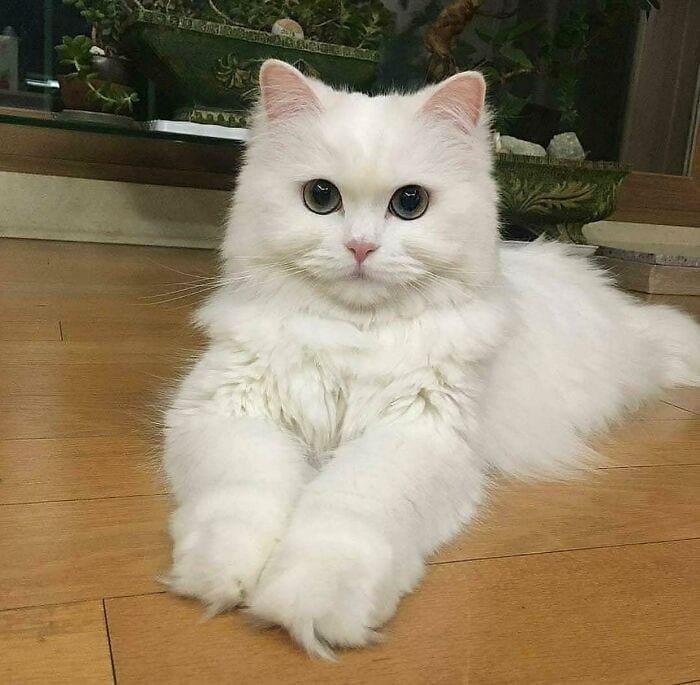 And she is so cute that we can understand why her human does it. We would share pictures of her with the whole world just to make sure her beauty is appreciated and acknowledged. Talk about being a proud pet parent.
Bagheera, the stray
According to this beautiful cat's owner, Bagheera is a rescue cat from the Humane Society association. They only had to pay a total of $5 dollars for her. Little did they know that she was worth so much more to them.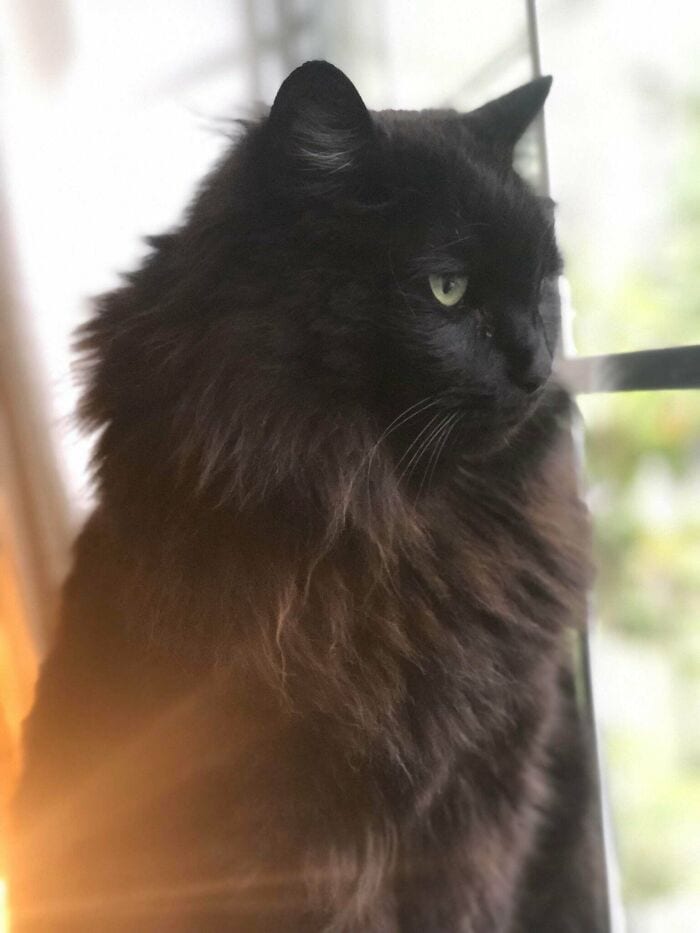 When they first saw her, little Bagheera was shaved, and she looked just like a regular stray cat. After taking her home, in less than a month, her hair grew so much that her human realized Bagheera was not just any cat but a Norwegian Forest breed.
Photoshoot
Wow! Just wow! This picture is awesome. We love the combination of colors, the background, and last but not least, the beautiful and mesmerizing eyes of this gorgeous cat. Her amber eyes have such a depth in them you can easily stare at her for hours.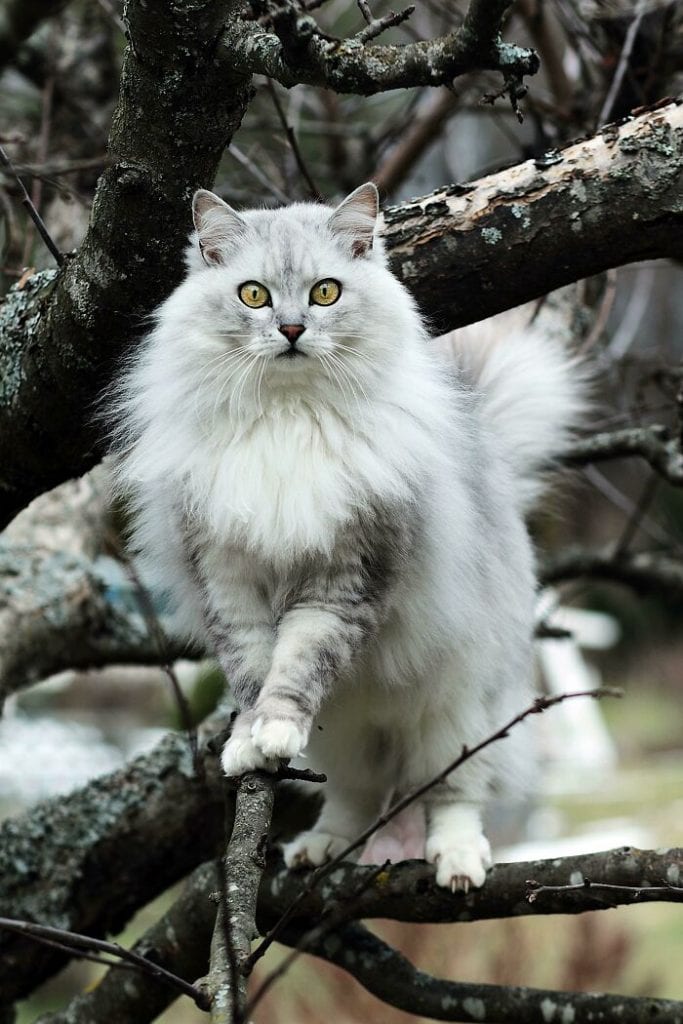 And let's not forget about that beautiful coat. We don't know where she got that from, but it looks like something straight off the set of a movie. She is such a usual-looking kitty; we are sure she would be snapped up by any talent agent looking for the next feline superstar.
What a gentleman
Some really struggle to grow a mustache, to maintain it, to groom it, and to style it. Meanwhile, some, like our little guy pictured below, were fortunate enough just to be born with a perfect mustache. What a lucky guy!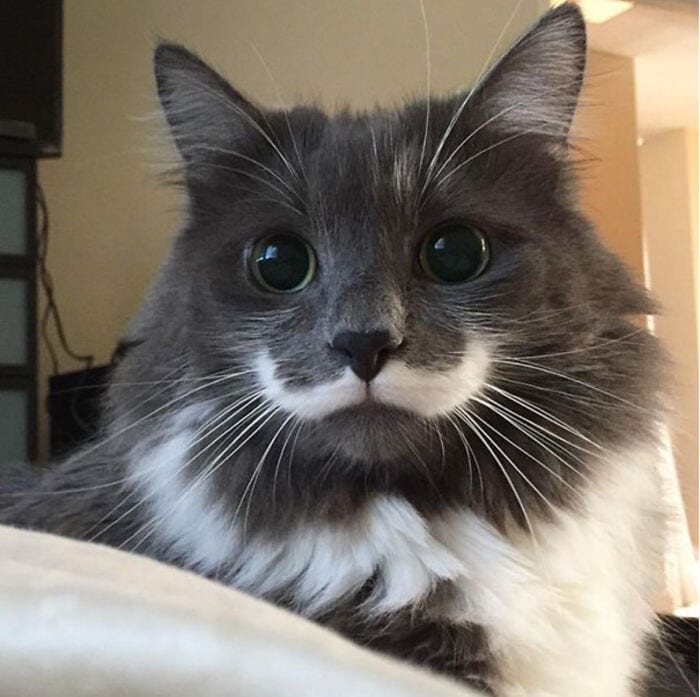 And his mustache couldn't possibly suit him any more than it does already. He looks like a total gentleman. All that this picture is missing is a good, old fashion topper and a monocle. Maybe a nice suit and a cane too, you know, for a total debonaire look.
Dance with me!
Sure, you can be cool and have awesome pictures of yourself while on the dance floor. But you can never be as cool as this little cat who looks like she is having the time of her life, being the belle of the ball.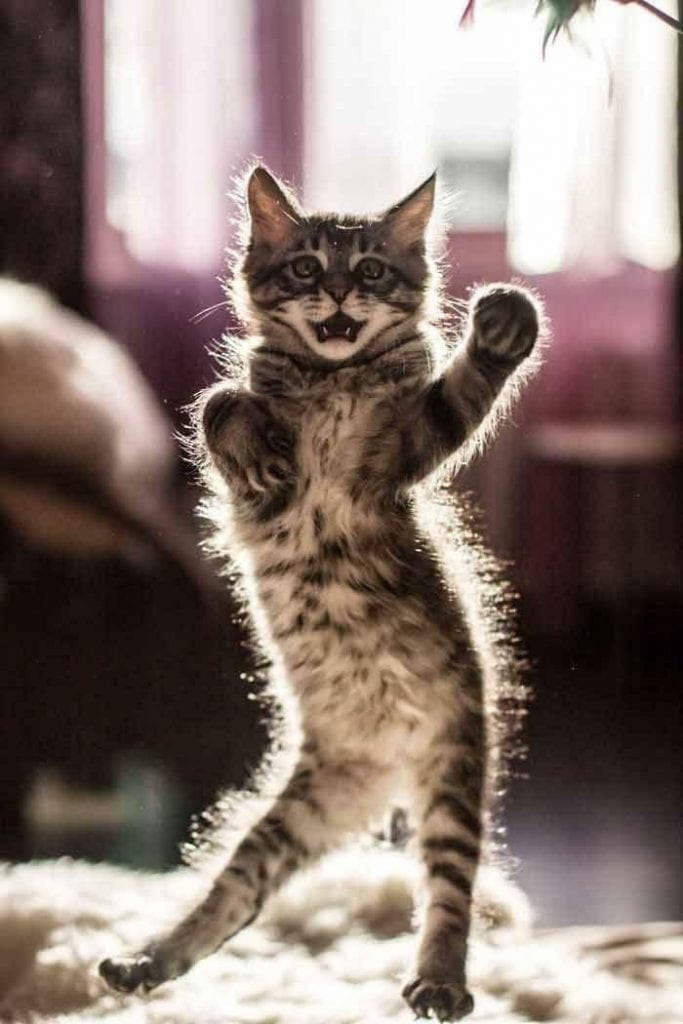 We are really curious where did this party take place. Because we are considering attending the next one because this one looks like it was so much fun, we mean, look at the smile on this cat's face. That party was lit.
Siamese beauty
Just look at this pretty cat pictured below. She is effortlessly beautiful while paying attention to something other than the camera. If you ask us, we think she was not even aware that her human was taking pictures of her.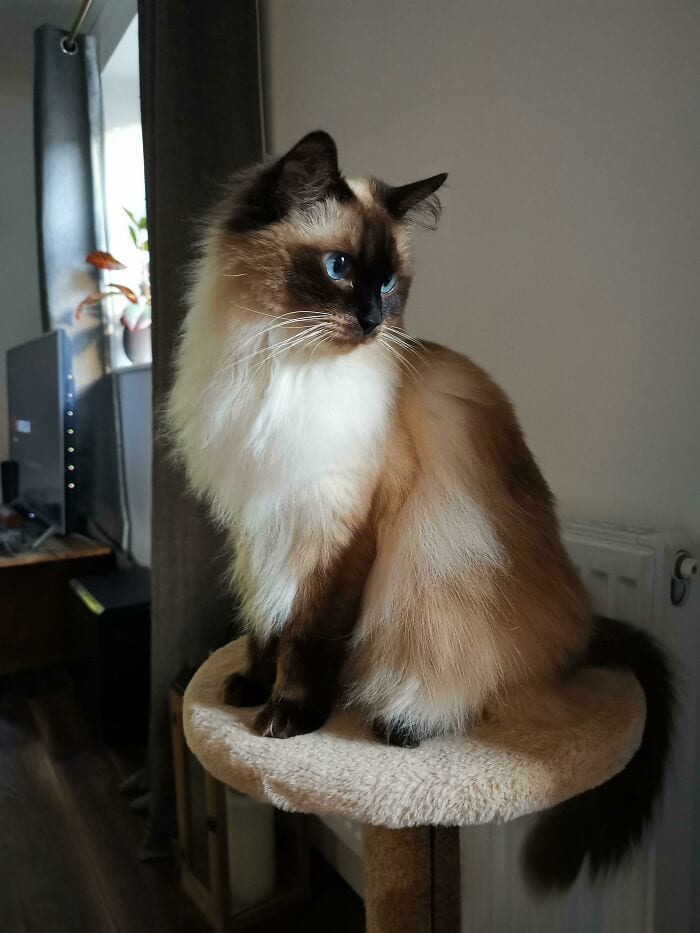 Imagine if she had known, then the photoshoot would have been so good even the Vogue editors would probably consider giving this cat a full double layout in the magazine. Her human needs to start making this kitty's model book. She might need it sooner than we think.
Tipsy the makeup artist
Her name is Tipsy, she is 17 years old, and according to her human, she is one of the best makeup artists that ever existed. No wonder since she has been in the "industry" for such a long amount of time.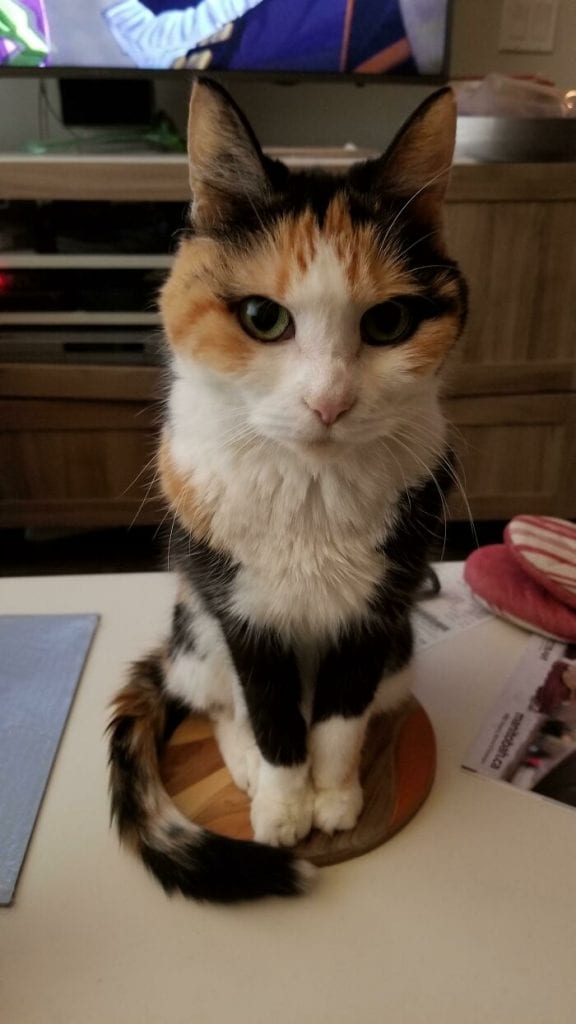 Her strongest point? The winged eyeliner. As you can see, she is a pro of doing the cat eyes eyeliner. Sure, you might remind us that her makeup is not even; the line on the right eye is thinner than the one on the left, but we can assure you it is because she rushed before starting this photoshoot with her human.
Quality time
If any of the high-fashion magazines are looking for some models to portray a good day spent between friends, here is our suggestion. We don't know the names of these two beautiful girls, but we are sure that we will find out sooner or later when they become influencers.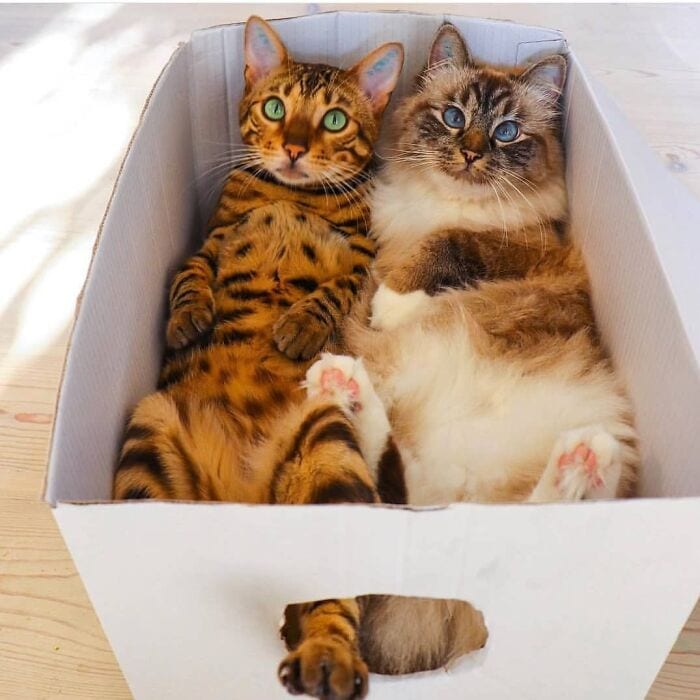 They look like they are going to be in every newspaper and every magazine that we will open from now on. Until then, look at this picture and at these two closely and remember, you first saw them here!
Another shade of beauty
We've seen so many beautiful cats that we have come to the conclusion that beauty comes in all shapes and shades. Long hair, short hair, blue eyes, amber, green, different color eyes. All these kitties are just beyond gorgeous.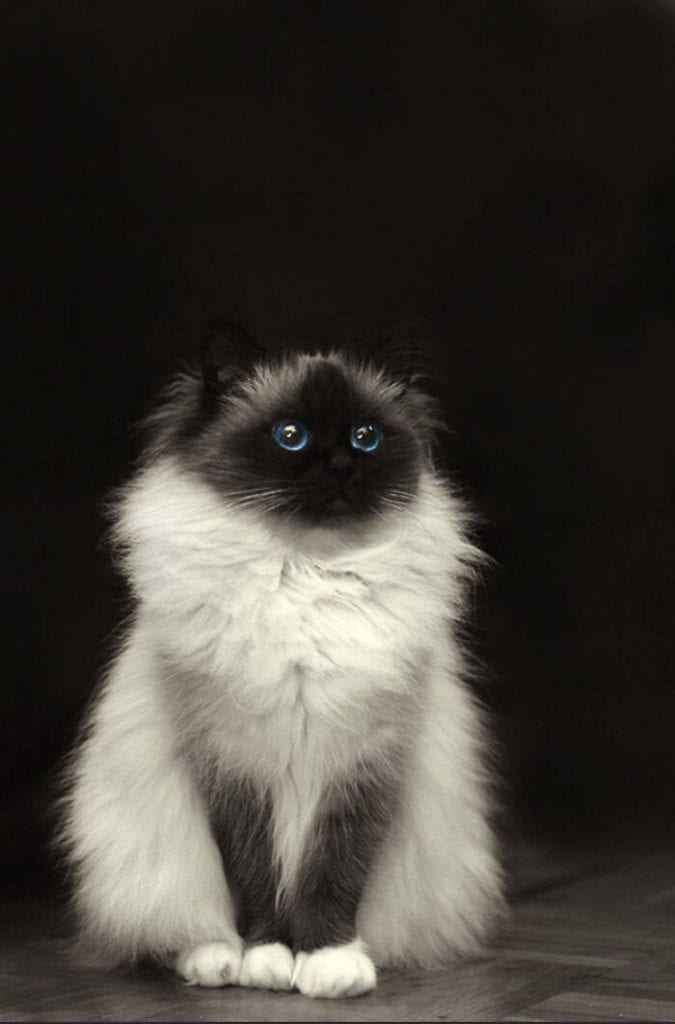 And this one pictured above is no exception. He is literally a ball of fluffiness and softness. That coat looks like it's unreal and the combination of colors is the perfect contrast to her beautiful deep blue eyes. Mother nature sure created a masterpiece when she made him.
The Turkish stray
We do not know what is happening down there in Turkey, but it seems to us that it is the country where all the most beautiful stray cats live. Gorgeous eyes, amazing coats, and very photogenic. Turkish cats are real models.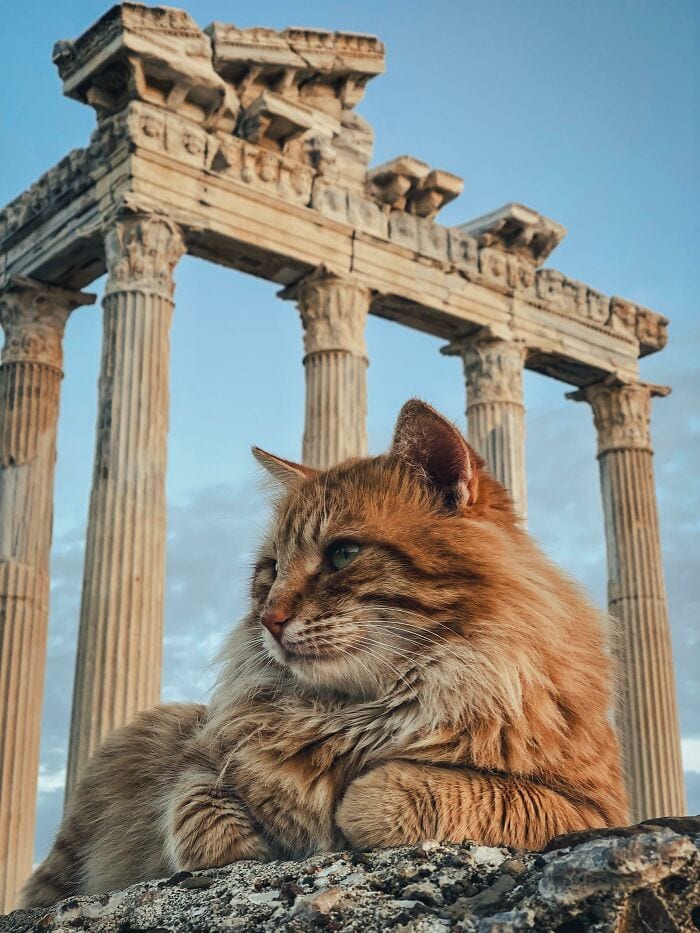 So is this beautiful girl, pictured above, who was photographed at the Apollon Temple ruins. By how she sits there gracious and bossy, you may think that she is the queen of the temple. It's all about the attitude one has.
Lola with the good hair
This is Lola and she is the possessor of one of the most beautiful coats that we have ever seen. She looks like she is well aware of how gorgeous she is, because look how she poses so confidently. You got to love someone with so much self confidence.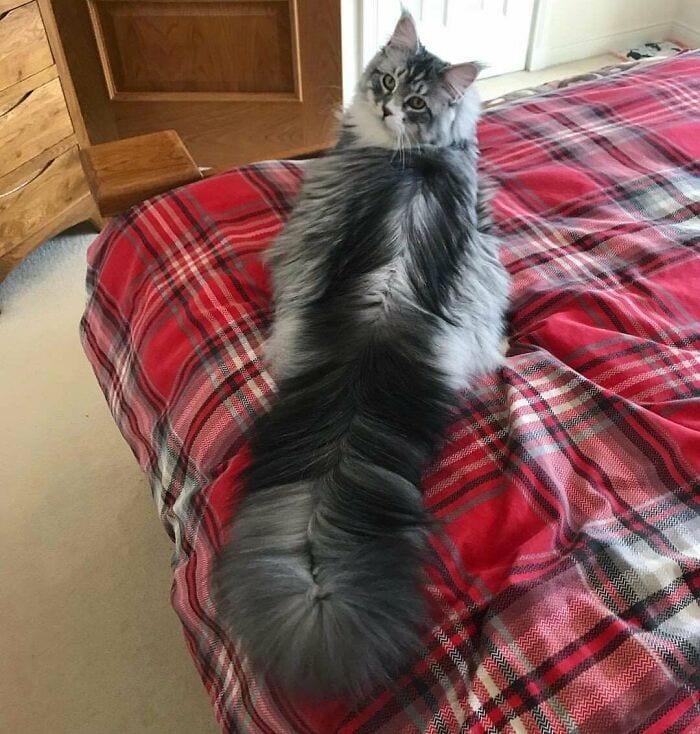 But before we go on admiring and complimenting Lola's fur, can we know what hair masks she uses? Or where she gets her hair trimmed and styled? We need a phone number so we can book an appointment ASAP.
Kiril the Russian model
We don't know exactly what breed Kiril is, but we can only assume, after seeing his name, that he is Russian. Russia does have some good-looking beings there. And Kiril is no exception from this. He is handsome!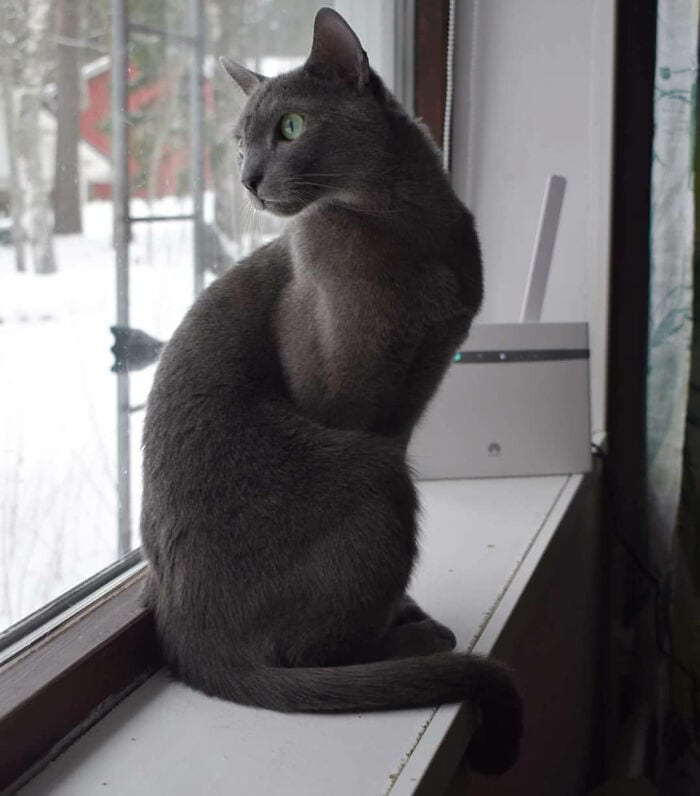 This picture makes us think that the photographer and Kiril agreed on doing a polaroid photoshoot. And it makes sense; the background they choose is such a usual, homey one. In one word, their idea of doing this shot was great.
Couple goals
We've seen quite a few cute couples online, but so far, none of them made us say: this is couple goals! Not till this picture below, which has written "couple goals" written all over it. You can tell how in love these two are.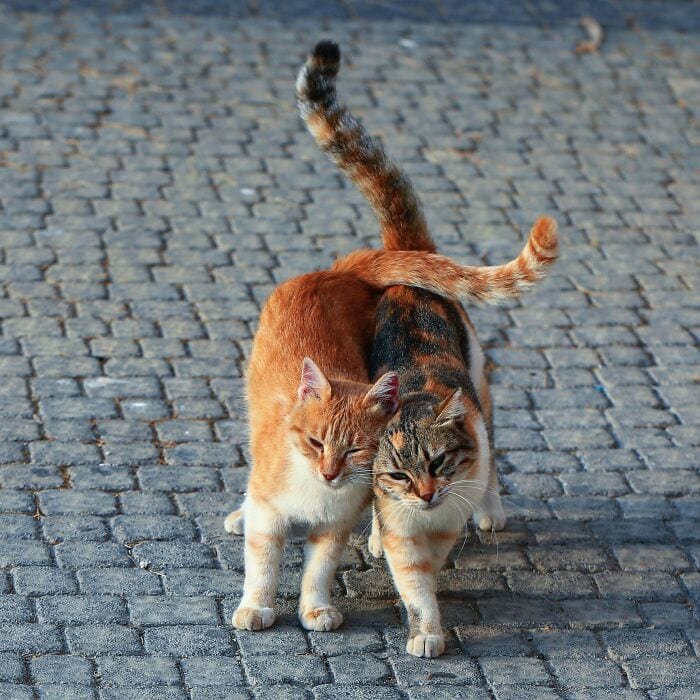 After a bit of quick research on good ol' google, we found out that this is the way cats show affection to their peers and this particular move is the equivalent of a hug for us. Knowing this, this picture has become even more cute.
Kitten time!
An article about cats asks for at least one picture of some kittens, you know just to give the piece an extra pinch of cuteness. It's mandatory! And if you don't agree with us, just look at the picture below before making a final decision.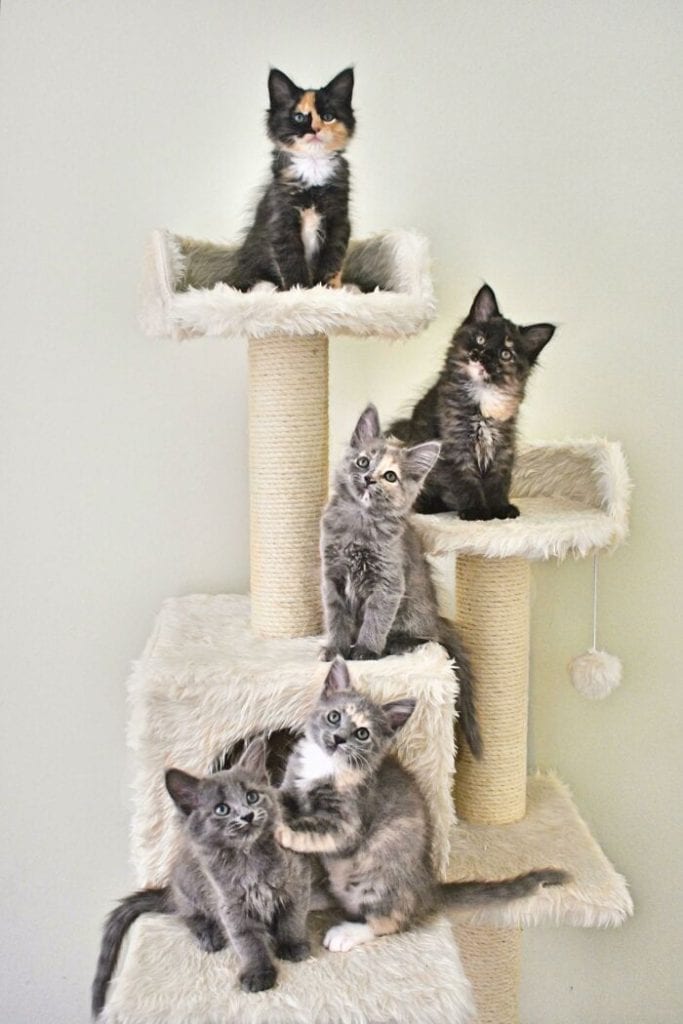 Now that you agree with us, let us tell you more about these cute little kitties. According to their foster human mom, their names are Ember, Hazel, Pumpkin, Fern, and Sparrow, and they are sisters. It's fair to say that they are the most beautiful sisters we've seen today.
Anoter kitten
If your need to see kittens' pics was not totally satisfied with the last picture, here is yet another picture that might be exactly what you need. And with this, you will probably get your dose of "kitten eyes," too.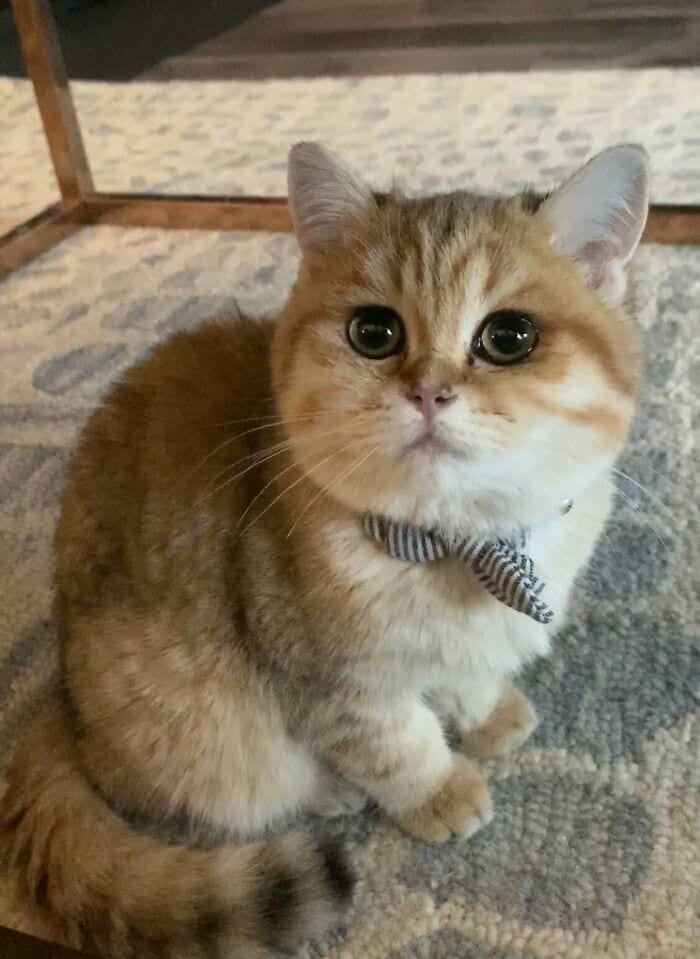 And look how cute these kitten eyes that she has are. The more you look into her eyes, the more you seem to want to do exactly what she wants you to do. Their kitten eyes work like magic on us, humans.
An angel
According to the owner of this beautiful boy who, as you can see, sure knows his good angles, he went up to the cat heaven. While we are sure that this left a great hole in his human mom's heart, we are sure that he is up there working his angles with the angels.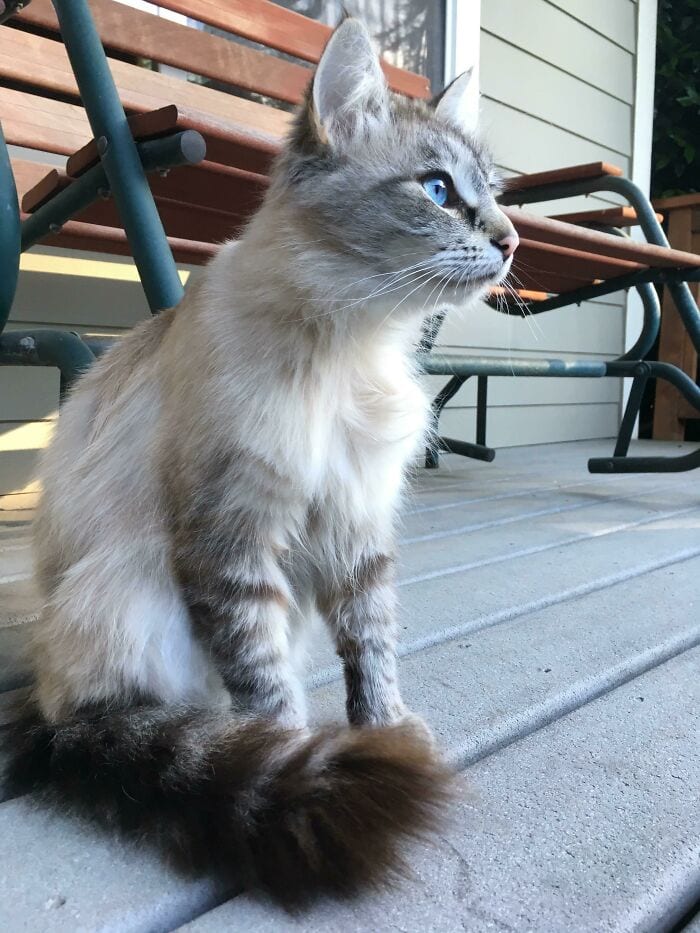 Losing a pet is such a hard thing to go through, but unfortunately, it is inevitable. We humans are so blessed to have cats, dogs, and other pets in our lives because they sure make our lives more fun and more meaningful.
The brown cat
Earlier this week, there was a TikTok video that we saw in which the person that posted it was asking other users if they have ever seen a chocolate brown cat with brown eyes. It was at that moment all the users realized that they might never have such a cat in their lives.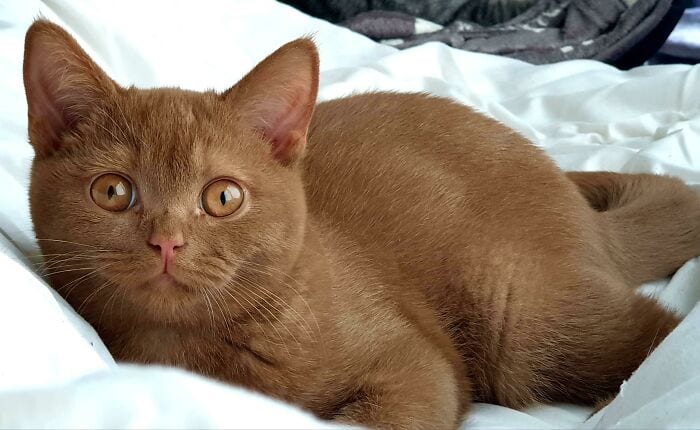 All the users, we included. Apparently, they exist, but they are really rare, considering that the statistics show that one in every 1000 cats can come out chocolate brown. Not only are they this rare, but they are gorgeous too. No wonder their humans are so proud to have them.
The star of the vet office
This is Dylan, and he is an 11-month-old Norwegian Forest cutie. And not only his human mom thinks this but also his vet, who, the moment he saw him, took him around to show him to his colleagues too.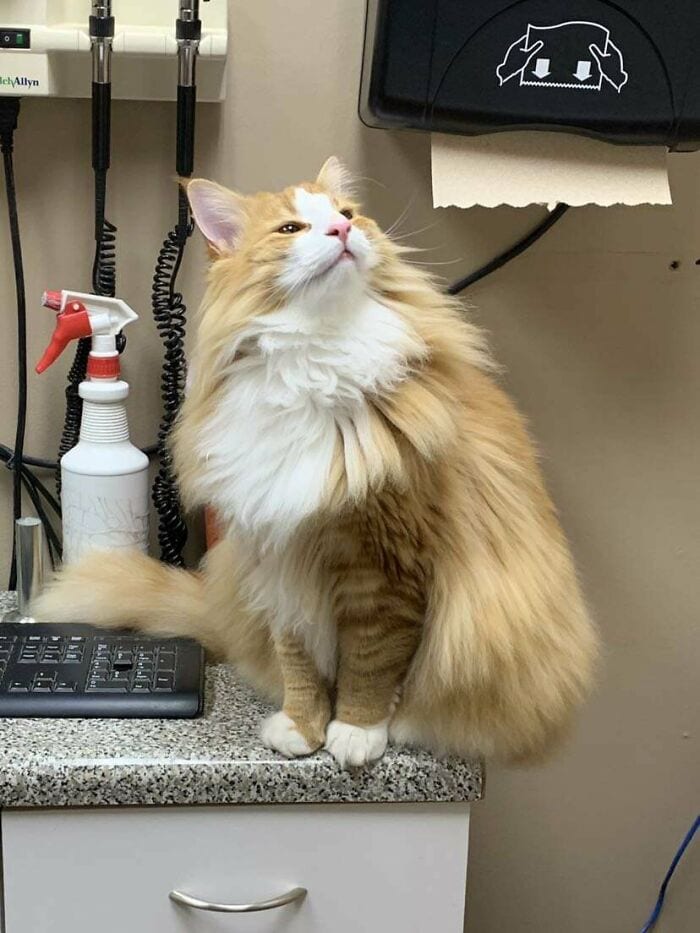 We can only assume that his mom's heart was full of pride when this happened. When it comes to Dylan, he does not look that impressed. It seems to us that he is well aware of his uncommon beauty.
A dilemma
The user that posted this picture of her four-legged ball of fluff had a dilemma: is her cat beautiful just because he is hers or do other people see it too. We will have to respond honestly to this question.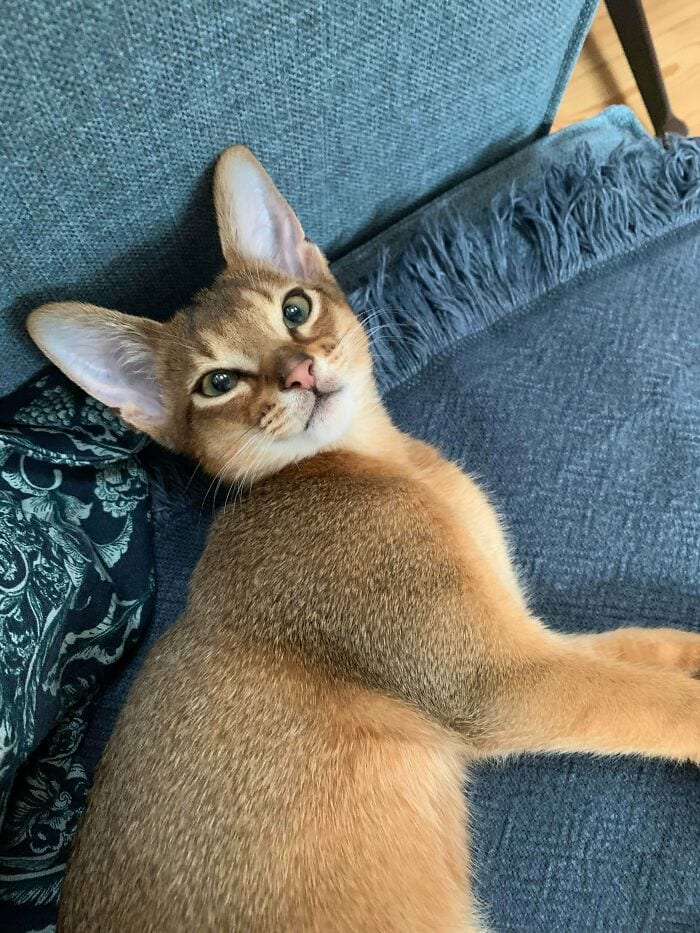 All the beings in this world are beautiful, and this baby boy is no exception from this either. We don't know why his human questions it when it is obvious that even the cat knows how handsome he is.
Tilly- the future model
There it's just another regular day in Tilly's life, chilling on her human's lap while practicing her model poses too. Tilly is smart. She knows that she is one cute kitty, and every time she sits on her humans, there is a photo or a camera involved.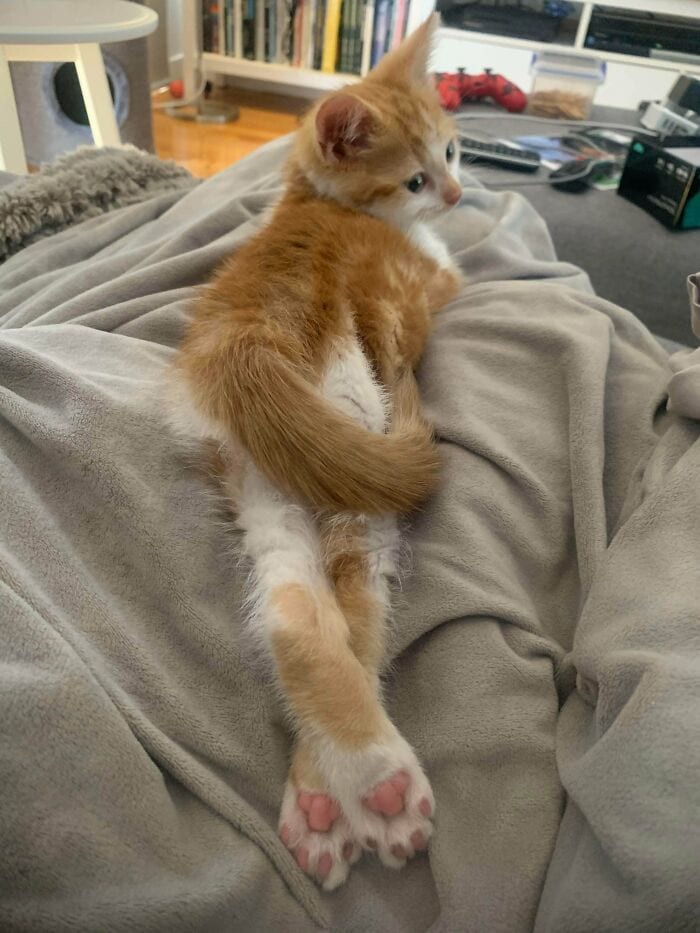 If Tilly keeps on practicing her poses and her angles, we see a very bright future for her. It's just a matter of time a modeling agency will see her and offer her a contract. Until then, Tilly, you have to work and work and work!
A story of success
Bondi's human posted a picture of him on the internet to show him off just like any parent in this world would do. The internet did not wait for a second to compliment Bondi and his beautiful brown coat and amber- green eyes.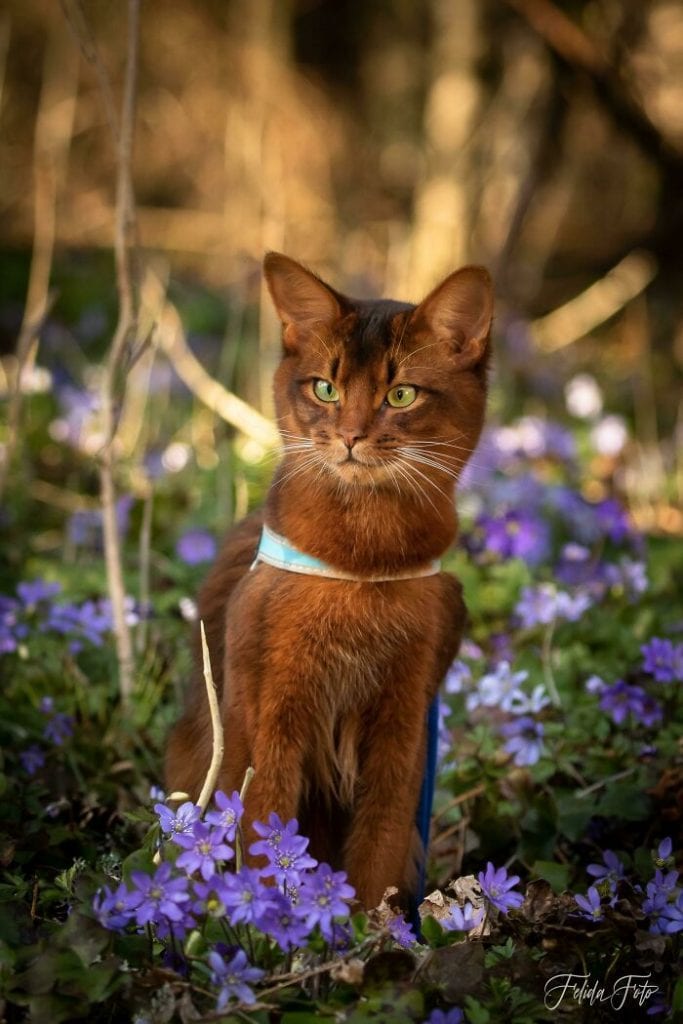 Not long after that picture was posted, a user who happened to be a photographer offered Bondi a photoshoot for his first birthday. It's fair to say that both Bondi and the photographer worked wonders and that the photoshoot was awesome.
Plus size
We agreed that beauty comes in all sizes and shapes, and colors. Slim, chubby, black, white, or gingy, it does not matter as long as the coat is shiny, brushed, and well-groomed and also as long as those poses are fierce.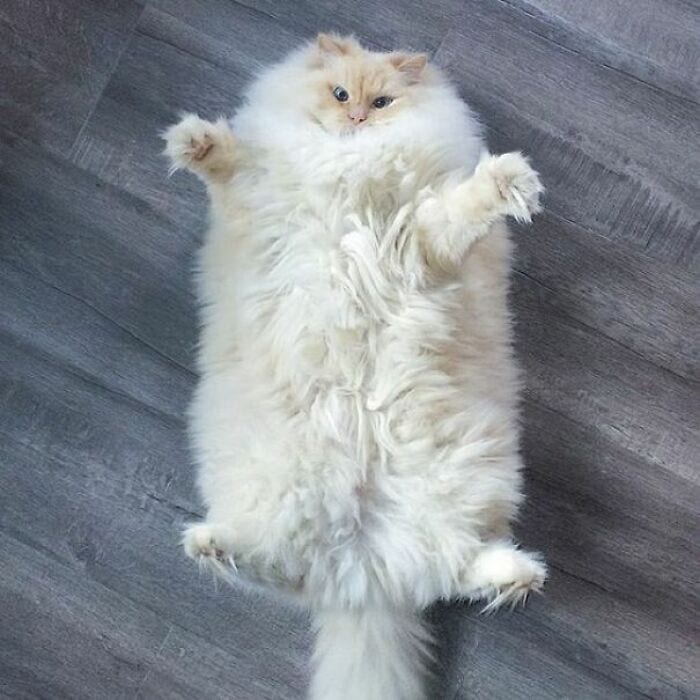 It may take you a while to see this cat's face and to understand that even if she looks exactly like a fluffy carpet, she is just a chonky fluffy cat. She looks so soft that she might not want to sleep next to her human. That is if she doesn't want to get mistaken for a pillow.
Another Heterochromia beauty
We will end in style with a totally stunning and rare model that also has eyes of different colors, Heterochromia-as scientists call it, known simply as : cat eyes. This condition makes the cats look so unique and gorgeous.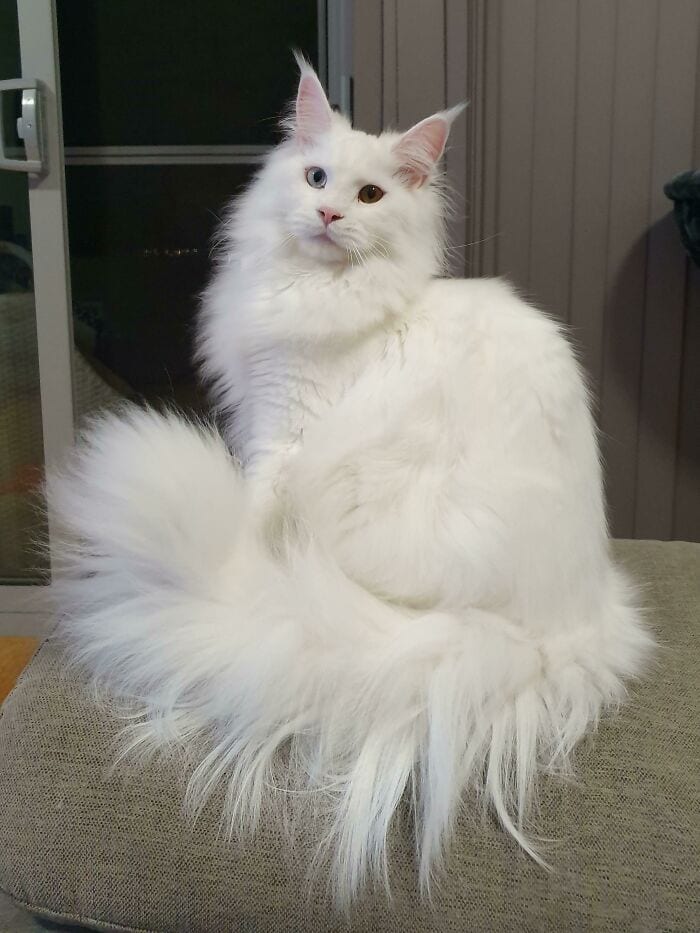 Usually, the eyes are different colors, often blue, amber and green. The color of the eyes is enhanced when the cat's coat is white, just like this beautiful kitty in the picture above. Gorgeous is an understatement when talking about her.