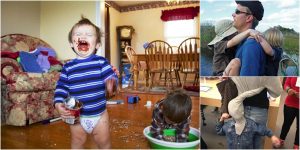 An Honest Look At What It Really Means To Be A Parent
By Luis G
---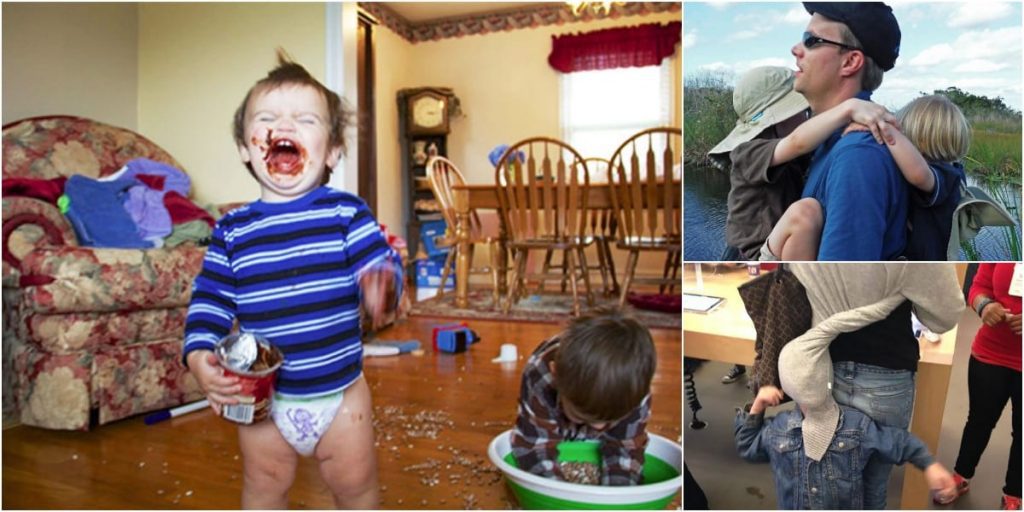 Parents have a hard time at things. Life isn't easy either being green – sorry, Kermit – or if you're a parent. Why? Well, kids, for all their good intentions and all the wonder they are supposed to gift parents with, are a bit of a hand full. Well, that's putting it mildly, they are a 24/7, no holiday, backbreaking job, where the boss pays you with pixie dust and somehow, someway, inspire of all the extra hours parents put in, money always goes out the bank account and never in. It's a thankless and oftentimes bewildering job, one you can't quit and one that will inevitably have you second-guessing all your life choices. But why do they do it? Why do parents submit themselves to it? Why do they take that route when cough in life's fork; one path leading to a Porsche, the other to bed-wetting and always smelling like a toilet? Well, cause' when it inevitably does pay off, when you get that one perfect moment, then it's all worth it. That's why parents do it.
Below is a collection of imperfect and perfect moments. 40+ pics' depicting what it really means to be a parent.
The Charlie Chaplin
Kids, by their very nature, love chocolate. There's something about that sweet that drives them nuts. If there's a kid in your house, there's a fair chance they've gobbled up the treat like there's no tomorrow and made a mess of it.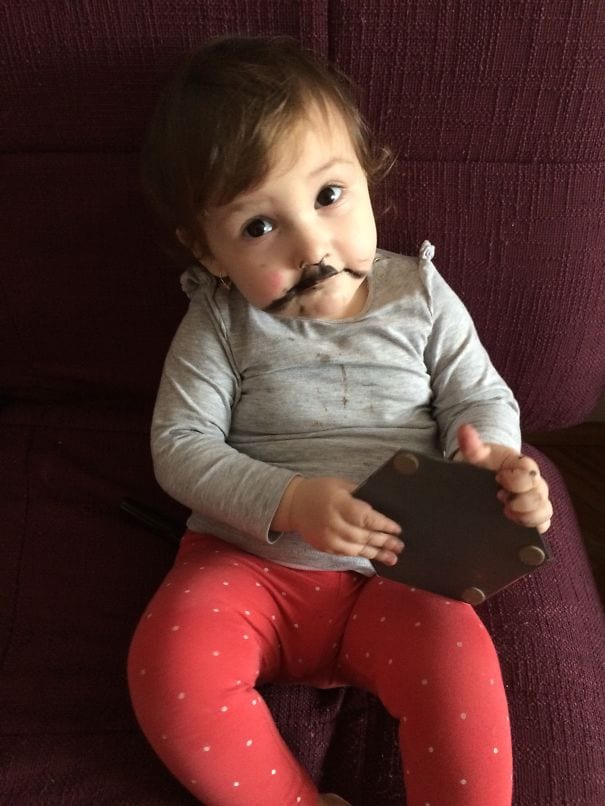 This little tyke not only went bananas for the cacao confectionary, but she also did a Charlie Chaplin. What's that, you might ask? That's when you smear enough chocolate on your lips to get one of his iconic mustaches.
Nail Salon
Dads love their Playstation. The day Sony unleashed that console was the day the sky broke open, and all dads rejoiced at the happy moment. A truly glorious day that will be remembered for the rest of time. Oh, happy day!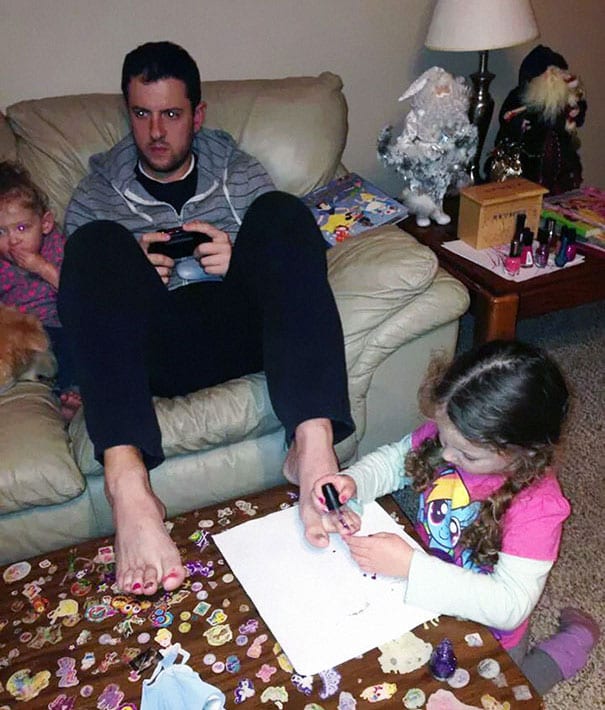 They go into the zone whenever they are on the game console. You boink them over the head, and they'll not notice a single solitary thing. Like this poor fella'… getting his nails done, all pink and red, and utterly oblivious that it is even happening.
Wake Up call
Ever gone to a hotel and rung up to the front desk and asked them for a wake-up call? Told them to simply knock on your door at such and such hour. Well, if you have kids, that's a rather redundant practice.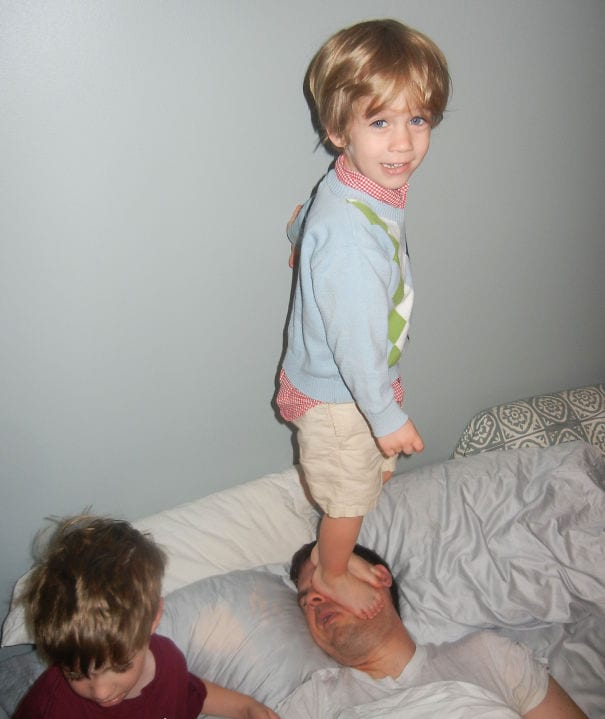 No matter the time of day, kids will always find a way to wake you up and make you see life by its dangly bits. It's two for one deal… You not only get a genetic construct of you and your wife but a little alarm clock.
Not A Princess
One of the many, many sacrifices you have to make as a parent whenever fate decides to gift you with a kid is the knowledge that you'll never again look your absolute best. It's a cold hard fact, period.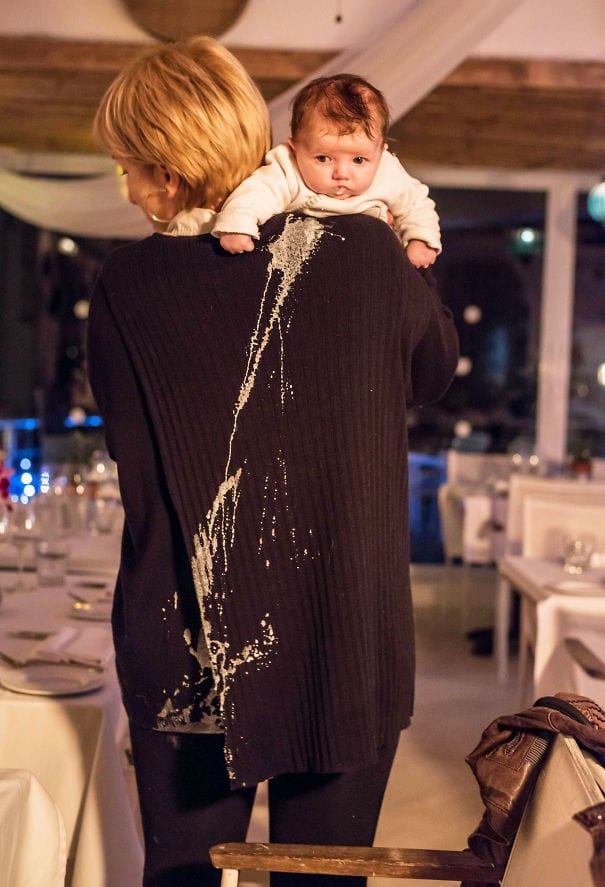 Elegance, hygiene, smelling like your former self, out the door. No matter what you do, things like this are bound to happen, and when they don't, you'll always have something that instantly brandishes you as a parent… Like the Scarlett letter only in tan.
The Sharpie
Rule number one of being a parent to a small babe… Never, ever, not even if you're in a hostage situation and have a gun to your forehead, give your kid a Sharpee. No good can ever come from it.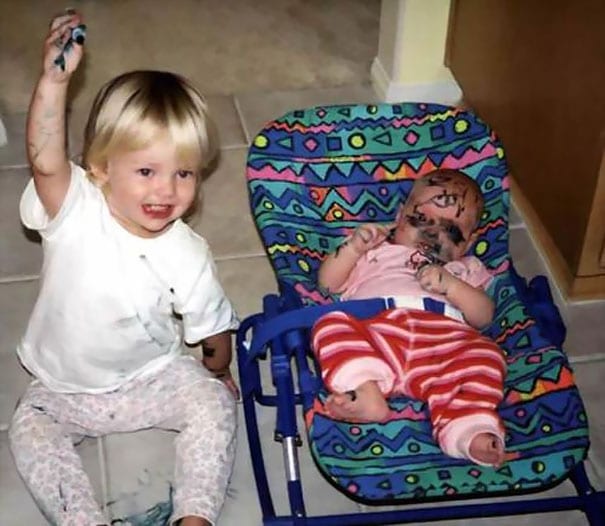 Why? You ask. Because it's like a bomb goes off in their heads and suddenly the world is there canvass, and Picasso's ghost is giving them bad advice. Things like that above, and that's just an appetizer to the madness that can ensue.
It's On
Kids are a rowdy bunch. 24/7, it's like taking care of wild animals on speed. They are all over the place and will get into incredibly mad situations. If you have a kid, you´ll be amped up at the way they defy logic and even the laws of physics.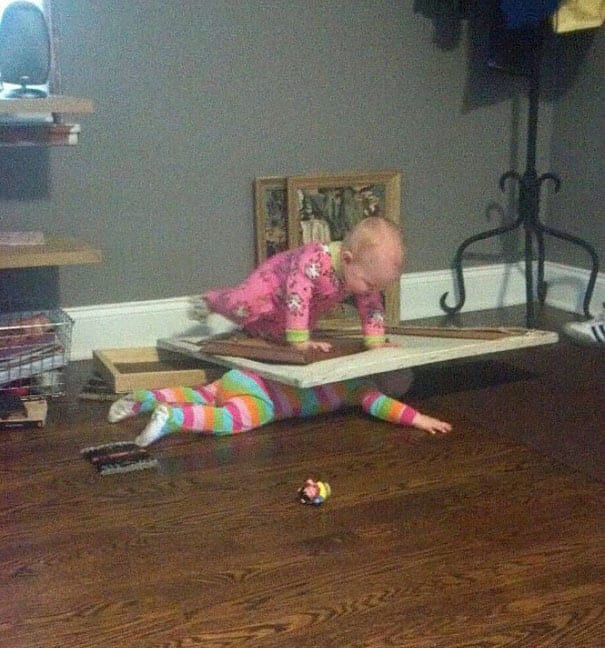 The above is a clear example of what we¡re trying to wrap you about. You have to keep a close eye on them; otherwise, it's a repeat of Highlander with one of them screaming in their best Sean Connery…. "There can only be one."
Just Being Mean
There was a time, it's happened to all of us, when a dog or a cat, just to make it known that they are mad, will come up to you, look you straight in the eye, and then relieve themselves right in front of you, onto of your favorite rug… while staring you down.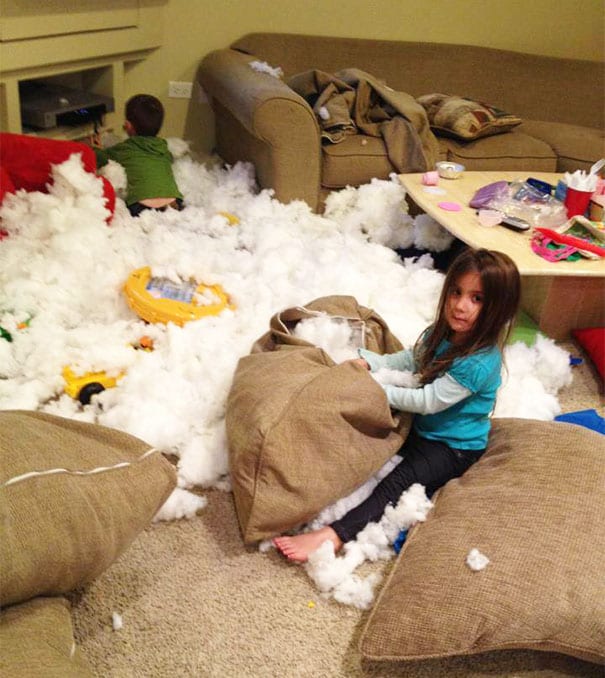 Well, kids are like that. They'll get back at you and make you regret not getting them that candy they so wanted. Don't believe us? Just look at that photo. Look at the little girl playing chicken with her dad, staring straight at him, not even blinking.
Rembrandt 2.0
Water paints are a means for friendly artistic expression when you're a small kid. They are soothing, colorful, and, more importantly, for parents, they are water-soluble. You can clean them off without even breaking a sweat. Parents love them.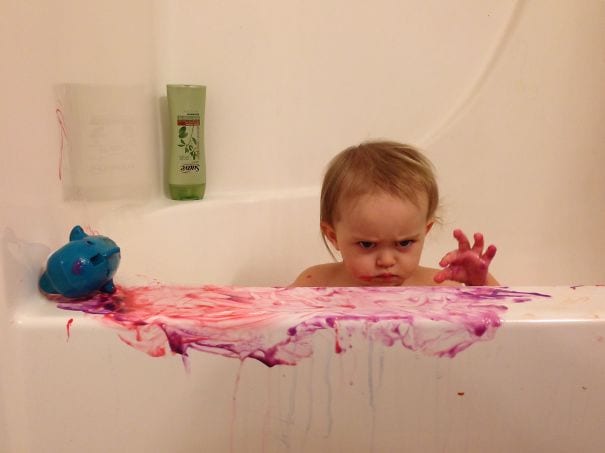 Still, it's a rather odd sight when something like that above takes place. Not only the location, the bathtub, but the almost manic expression in the little boy's eye. It's bizarre; it's intense, and, frankly, it's more than a little bit scary.
Spiderman
There's so much to unpack in the photo below. So, so much. You just know that other parents were looking at the kid and his dad buying him that web shooter, each and everyone thinking: "no good will ever come from that."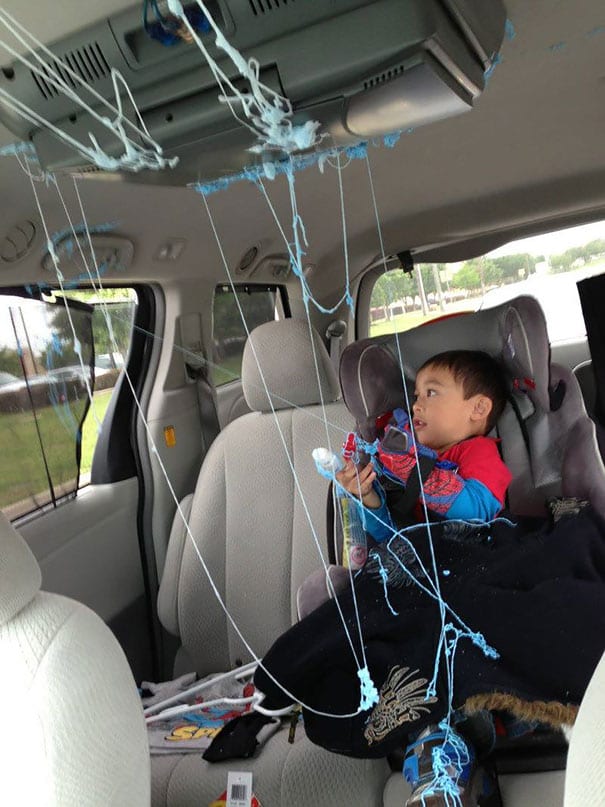 Of all the heroes Marvel has produced, Spidey seems to be most kids' favorite. The little teenage web-slinger created by Stan "the man" Lee grabbing hold of their imaginations and driving them on to the nearest toy store for swag.
Why? Oh Why?
Having kids is a blessing… It really is… Until it's not. Until there's a moment like this when every parent out there starts to sing Tom Waits medleys, and their mind starts drawing pictures of sailboats, bikinis, and coconut drinks.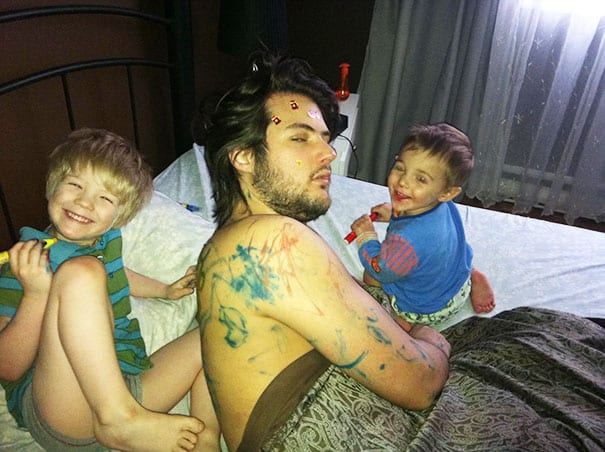 It's a flash. Just a flash. But it has happened to every parent. They wake up like that poor sap upstairs, and suddenly they start to think: "maybe I can fake my death. Cash in all the insurance and start a new life. Wouldn't that be neat?"
Baking
Isn't that photo from below cute? It's so cute… Unless you're the parent witnessing that madcap escapade. If you're the unfortunate parent coming home to that, you're probably debating with yourself, an inner monologue that's simply a shouting match with no winner.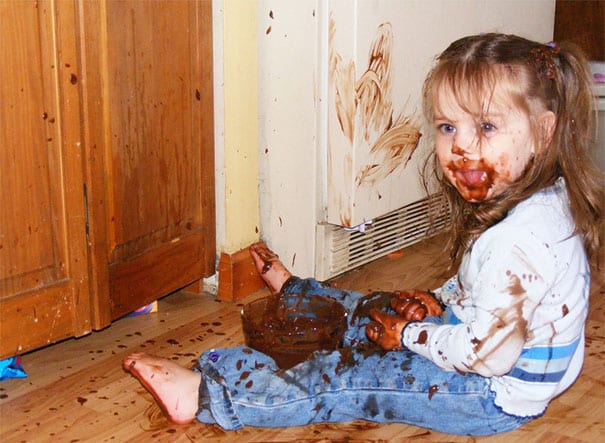 And inner dialogue that goes something like this: "ahh, isn't that cute." And then another voice chimes in the obvious, "yeah, but guess who's cleaning it up?" And from then on, it's a free-for-all that would make Ultimate Fighters cringe.
The Dorito Malfunction
Doritos are basically smack for kids and adults. That's a fact. Chocolate is great, but that nacho chip is the devil's food, and it's so, so, so, so, sinfully delicious. It's hardwired into us. We come out of the womb with our fingers pinched and, in some cases, already orange with food coloring.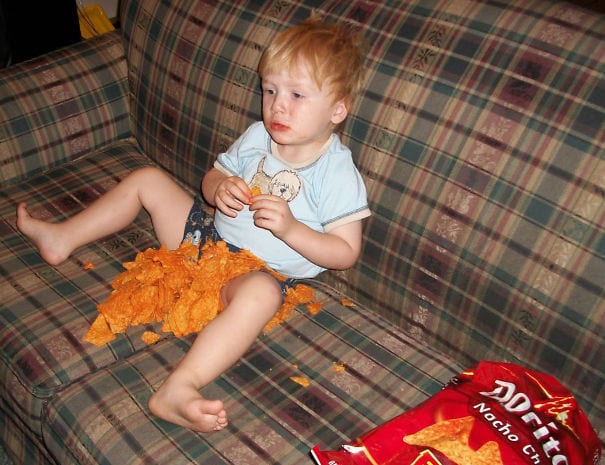 Can we really blame this little monster for the madness that he has wrought? It's evolution, baby! We might as well ask him to stop breathing altogether. It's nigh impossible. He's just a couple of years old; how many reading this blog have found themselves in their teens under the same circumstances?
The Interior Designer
Is there a doubt in anyone's mind what that little beauty will grow up to be? What her preferred profession is going to be? None. It's written in the stars and all over the furniture… written in blue Crayola wax crayon.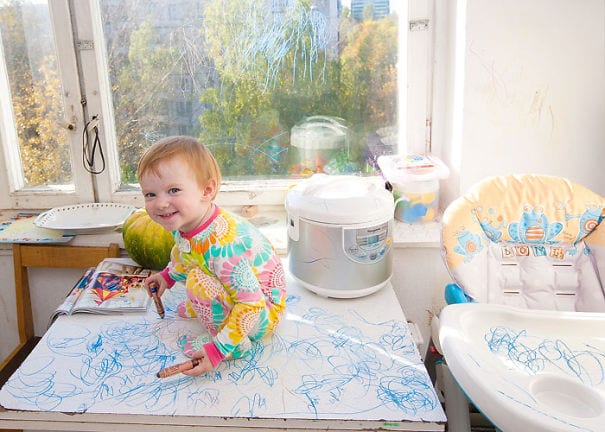 It takes a very focused individual to really pinpoint that whirlwind that happened in the room. Look closely… Notice that it's not just the table that's been decorated, but the walls, the chair, and even, gasp, the windows.
The Tsunami
"Patience, young Padawan. Patience." That's the mantra most parents hear in their heads when dealing with their kids. Yoda's voice shouting over the shrill of the Emperor's taunts, "Good, Good, give in to your anger." Every parent reciting Yoda's cred less they give in to the Dark Side of the Force.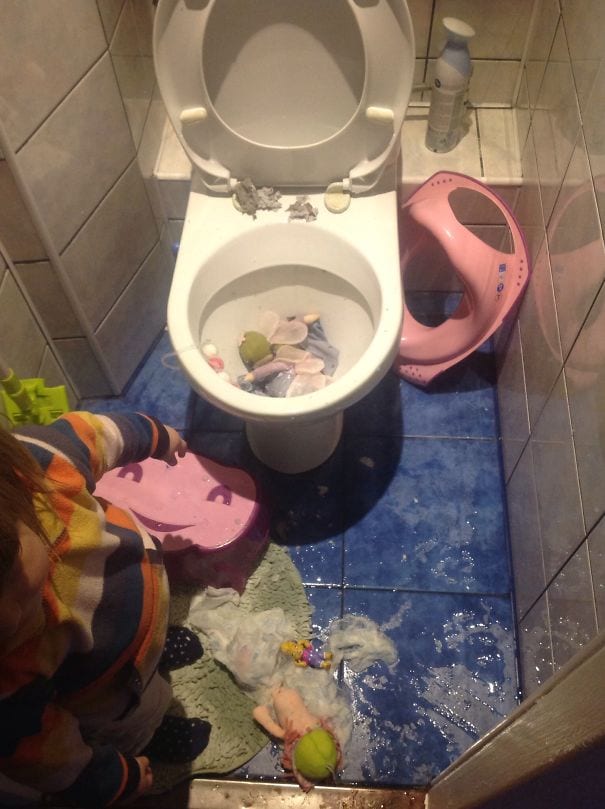 Things like that above happen on an hourly basis. Parents take their eyes off their precious darlings, their little angels, only to blink back in a pivot and marvel at how fast their home insurance policy went throw the roof.
Climbing Up The Walls
Having kids is a balancing act. It's trying to domesticate wild animals and while also trying to wrap your head around what passes off as logic for them. It's living in Wonderland and expecting the Mad Hatter to act civil.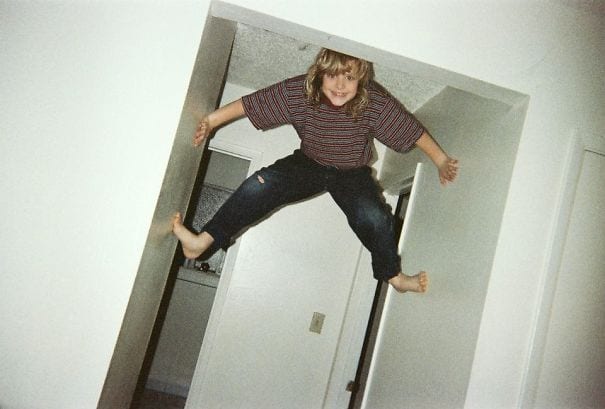 Parent's finding themselves climbing the walls and pretending they are not cooped up in an insane asylum—things like the one above, pics' like that, nothing more than another Tuesday for them. It makes no sense, but they've learned to co-exist with it.
The Mishap
One of the rules of being a parent is: "if it's organized, in perfect order, quite possibly pristine, your kid will make a pig's breakfast out of it." Why? Because they are little sociopaths that, like the Joker, "just want to see the world burn."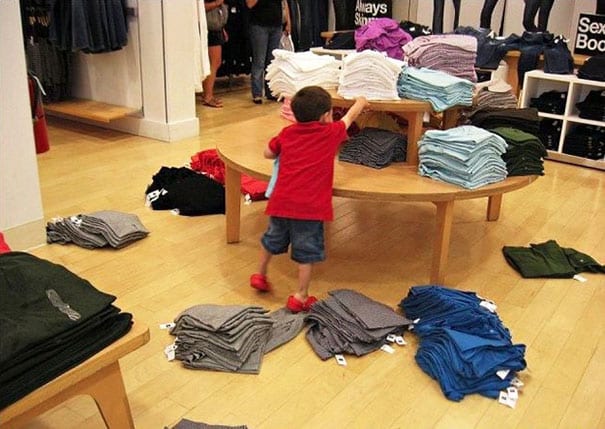 Don't believe us? Leave your kid, mid temper tantrum or with too much sugar in their blood, near a stack of clothes in a store. Leave them unsupervised for 3 minutes… and that above is the natural reaction. If they don't do that, then last night aliens abducted your kid and left you a clone, you can thank them later.
Gators Nearby
There's a story behind this pic', the story of what it really and truly means to be a dad, a protector, a guardian, your kids' superhero… When the going gets tough, dads put on their cowboy boots and man-up.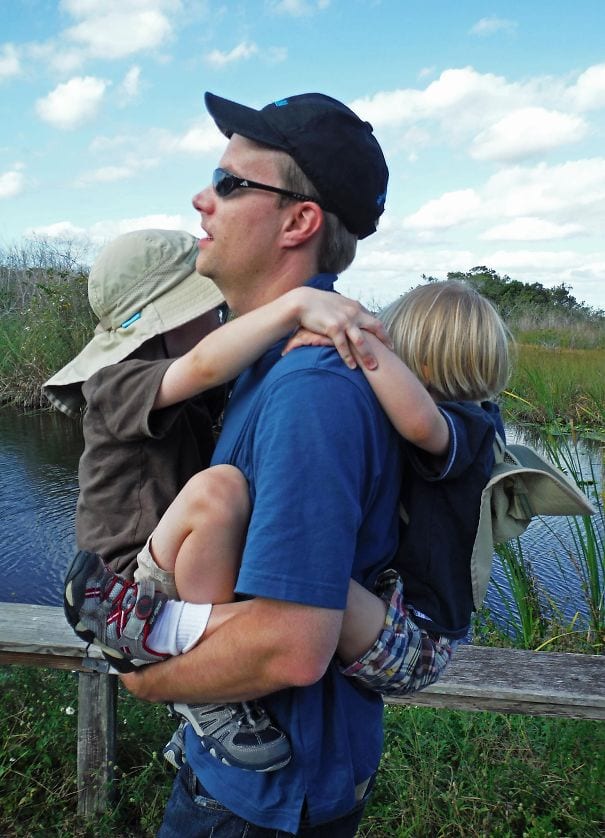 Those two ankle munchers were in the middle of a little hike in the Everglades with their old man. From the water, a snout emerges, a huge gator. They freeze up, cold on the spot. Dad picks them both up and starts to carry them a mile or two towards their car.
Be Our Guest
Fathers and their little princesses, there's something charming about them. They have something that draws the eye and captures the shared love in every photo. It doesn't matter what type of man he is; he'll act as goofy as possible if it makes his kid happy.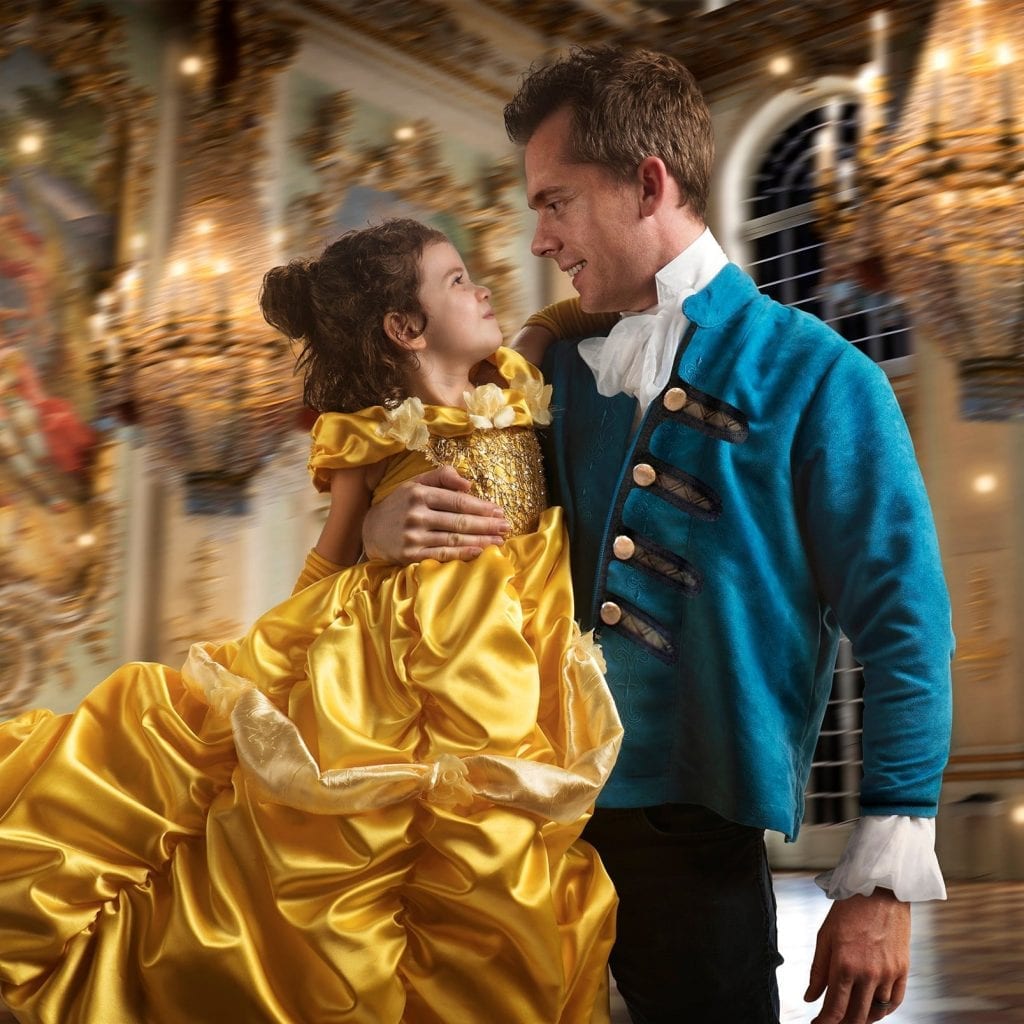 Belle and The Beast up above are sharing a moment… Moments that make all the insanity worth it. Moments that capture why parents do what they do. Why they sacrifice so much for so little. Moments of sheer unadulterated magic.
Brave
Disney and now Pixar has the market cornered on Princesses and on ways to inspire dads to go above the call of duty. There are thousands of pics' on the net of fathers, all burly and macho, letting go of their ego just to make their daughters happy.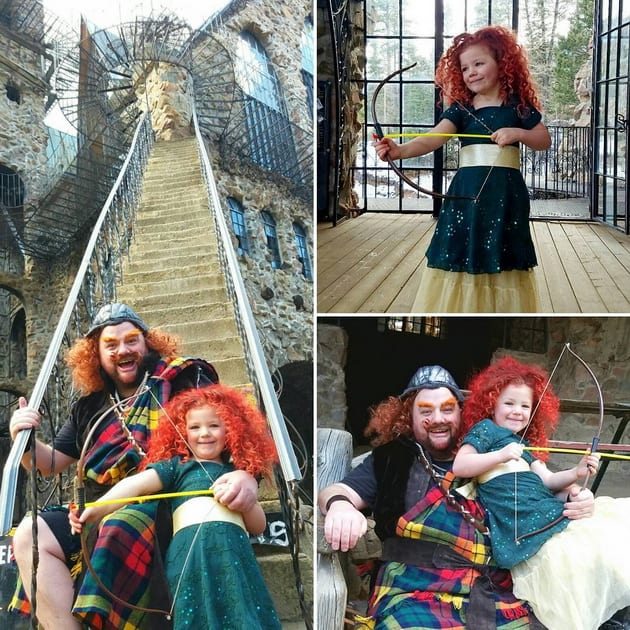 Bikers, soldiers, tycoons, athletes, acting like goofs and loons so that they can put a smile on their daughter's face. We've talked about the lunacy of parenting, but sometimes that lunacy isn't all bad. There are clad tidings to it.
The Mighty Parent
Look closely, does that parent remind you of someone? Chiseled jaw, jaw-droppingly gorgeous, chilled out of marvel… Get it, Marvel? Yes, right on the nose, that's none other than THOR. The mighty Thor lifting something far more precious to him than his hammer.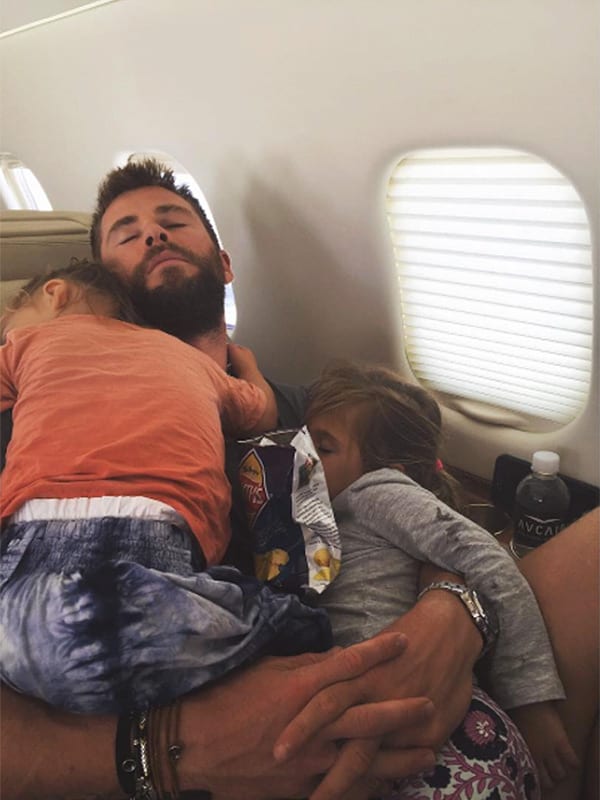 Chris Hemsworth is one of the net's most celebrated dads. The man constantly showcasing his pics' with his kids and acting like a true, real-life superhero. As one female user put it: "my ovaries were not prepared for that."
License Infraction
Yes, another photo of Chris Hemsworth with his two little hellions. Why? Cause it's Chris Hemsworth with two little adorable kids, it's impossible not to droll. Some celebrities go all out when playing with their kids. Just imagine you're a tyke, and your dad is none other than Thor.
Point of order, is there a contract infraction in this pic'? A mean that is Chris using a Superman cape instead of his usual Thor regalia. Something to really think about while staring at this photo and wondering how much fun those three must be having.
The Tenth Anniversary
A decade of married life, a decade sharing the love, a decade playing house… It's worth a celebration of two. Uncork the bubbly, put on some Sinatra, maybe swing by Victoria's Secret. Make a night to remember and go hog-wild.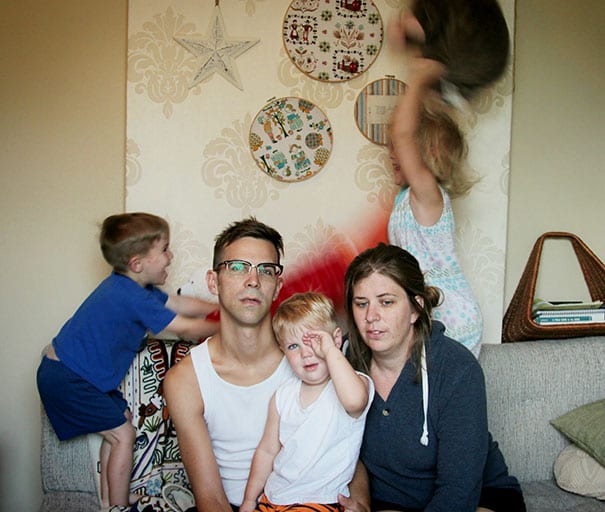 Unless you have kids, if you have kids, like this couple, anniversaries are shared events. Less Victoria's Secret and more sweat pants. Less candlelight dinner, more hot-dog on a bun. Less Sinatra, more the soundtrack of Moana. The things parents do for their kids.
A Ten Hour Flight
Kids in a confined space are a recipe for disaster. They are nightmare fodder just waiting to feed the hell-scape. The second a parent boards a plane with a small child, they are bargaining with Pagan Gods for a comfy flight and playing Russian Roulette with the other passengers' sanity.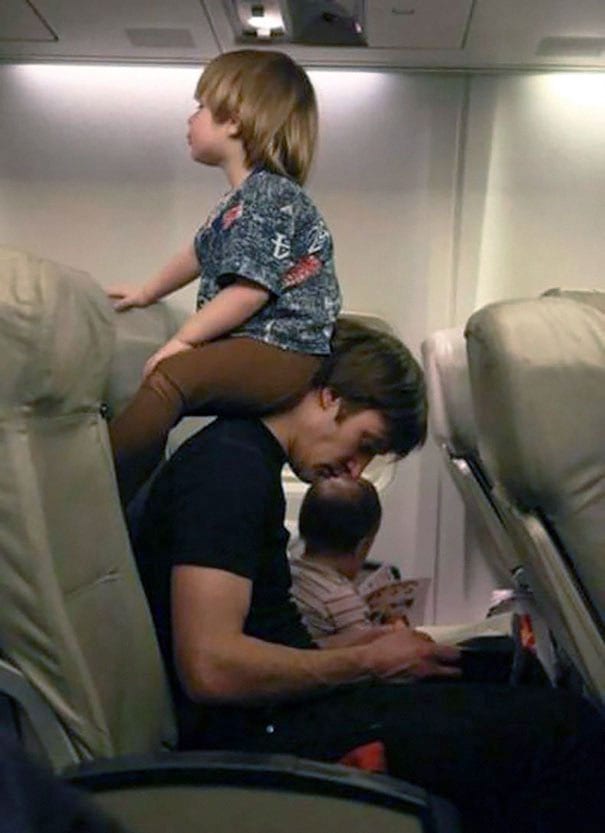 That's why most parents will go out of their way just to keep their kids happy and calm. Why? Because they know that they are all playing fast and loose with FAA rules. An Air Marshall may swaddle up to them any minute and give them the stink eye, hence this pic'.
Potty Training
Most kids show signs of being up to the task of doing their own "thing" between the ages of 19-24 months. Most kids at that time are ready to down their trousers and show the potty who's the big girl (or boy) boss.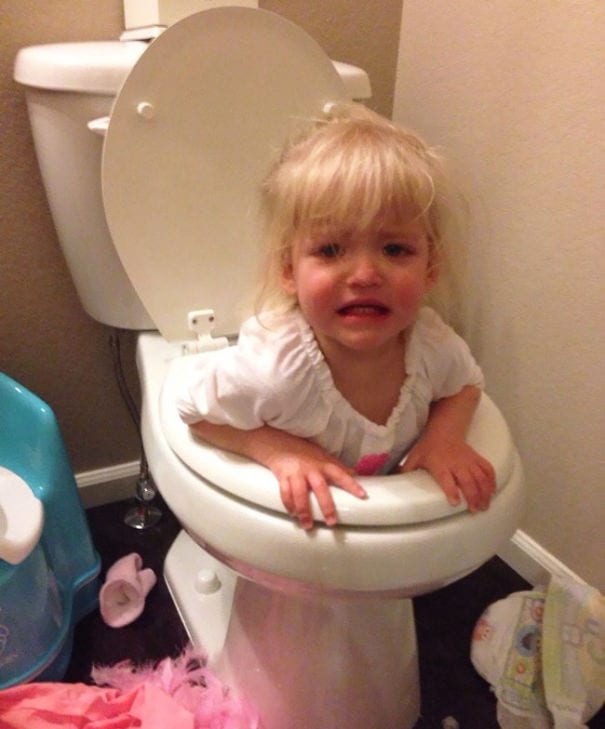 Most kids, that is. Like the one above, others might take a bit longer… and they might need spelunking equipment for each attempt. They'll show signs that they want to be potty trained, but every child is an adventure.
The Sauce
Wonder how much actual food that tyke below ate? Kids are a mess. When new parents are handed their kids over, and they started to give them solid foods, everything they thought they knew about the world and Newtonian Laws goes out the window.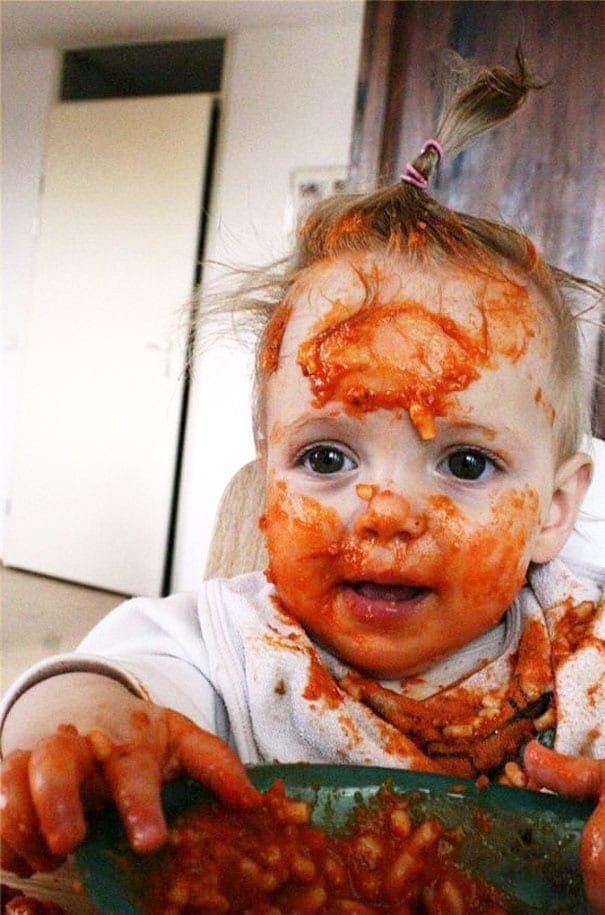 It's a cavalcade of disaster each time a relatively new kid starts to experiment with solid foods. Anything could happen, and almost everything does. They'll find bizarre and crazy ways to scarf down their meal… Pasta going into every conceivable hole except the mouth.
The Great Escape 
Sometimes you just want to hurl everything off the deep end and make a break for it. Off to better, bigger and brighter wonders. Bound by nothing but your ingenuity, your wit, and your need to take a solo hike.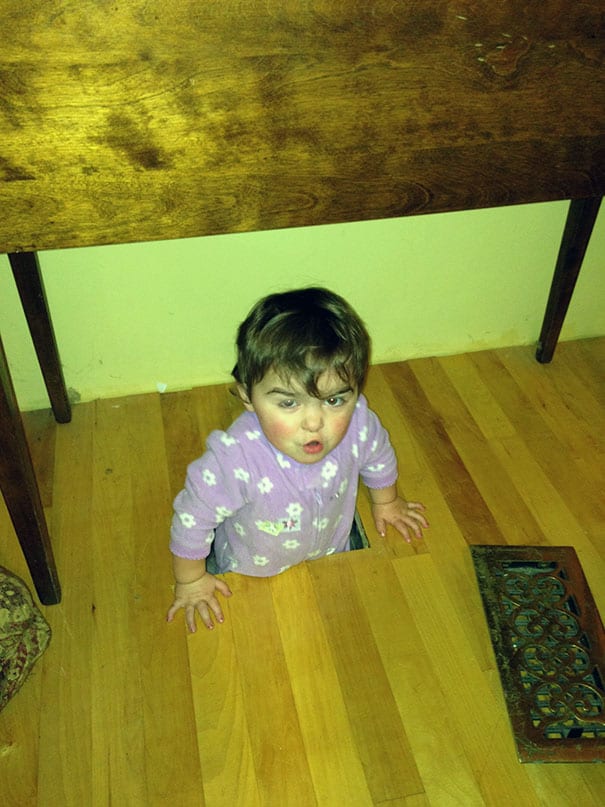 We all feel like that little kid from up above every-so-often, wanting to throw caution to the wind and hoping the corrections officers won't catch us. Into the vent, like a fake Bruce Willis, trying to evade the parent units.
The Flour Incident
Did a bomb just go off? It certainly looks like it, right? Well, in this pic' something happened. God only knows, but it sure amounted to one fine mess. Flour is by far one of the cruelest contraptions for little kids to play with.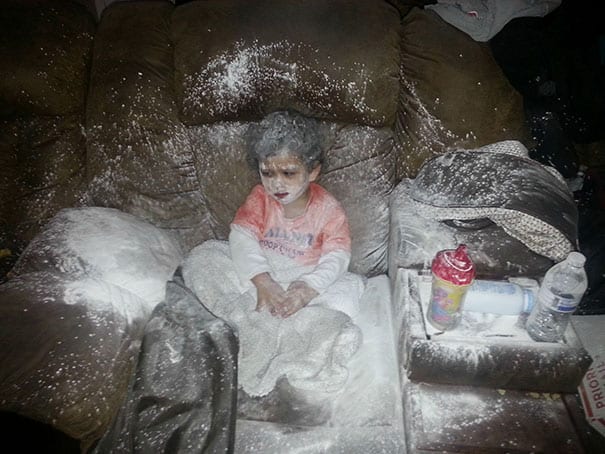 Can you just imagine the amount of heartache and spite the parents of this hooligan had to deal with when they finally came home and stumbled onto that halcyon scene? We can only imagine they want to strangle the faux Bart Simpsons.
I didn't do it… No one saw me do it
That below is what the Defense would call exhibit A in a murder trial. Proof that there really was nothing to be done and that it was a completely natural response given the circumstances. And the jury would instantly deliberate.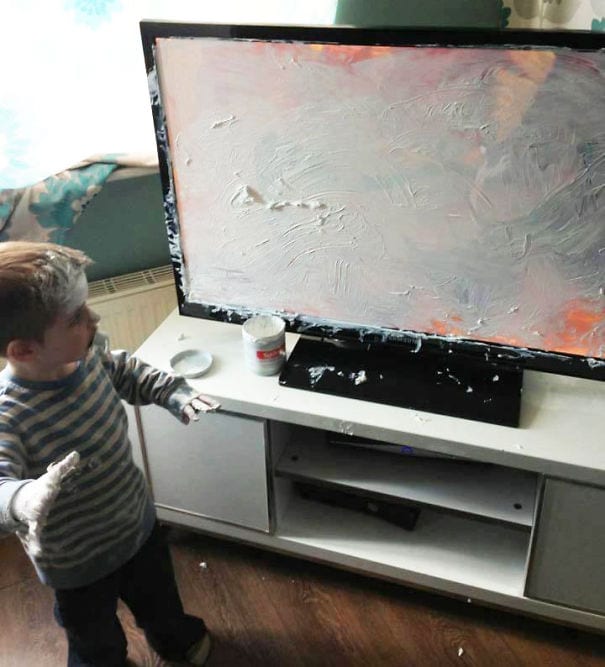 Some things really press a parent's buttons. Things that make them reevaluate their decision and ask the hard questions. It really is hard being a parent, and sometimes your little bundles of joy knock it out the park with their annoying tactics.
Wrapped up
Being a parent is a tight rope act, a 24/7 mid-air balancing and juggling combo act. It's juggling between doing your own things and having your own identity while also being the rock on which your kid's life revolves around.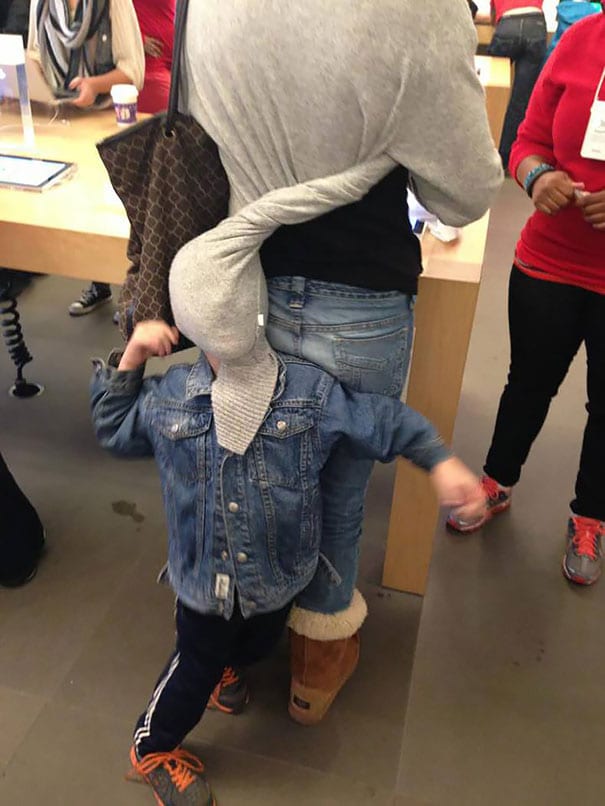 And, you know the biggest problem parents have to deal with? The attention span of their spawn. They can flip at any moment and go off in a bender. Things like that above, in the middle of an Apple Store, are common.
Smores
Then there's the other issue most parents, well, let's be honest, most wives have to deal with… that fact that even before their firstborn appears, they are already dealing with a maniac preadolescent with a penchant for mischief and bad behavior… Their husbands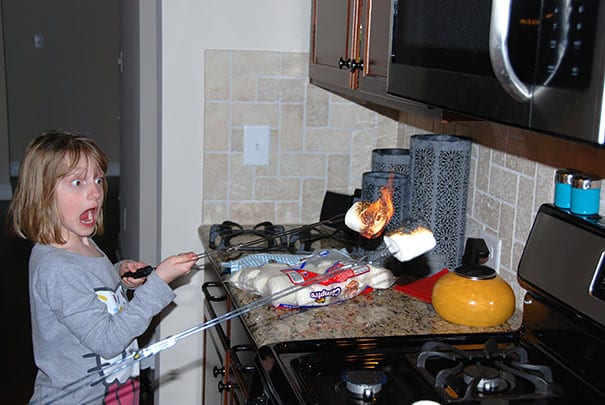 This pic' is a clear example of what happens when you leave your daddy at home alone with his daughter. It's two crafty minds, prone to fantasy and mayhem, hatching plots blacker than any kettle. No good can come from it.
The Avalanche 
Kids have an on switch… and just that, an on button. As they grow older, they start to develop that much-needed off switch, and when they finally mature, their software gets an update, and suddenly they have a dimmer.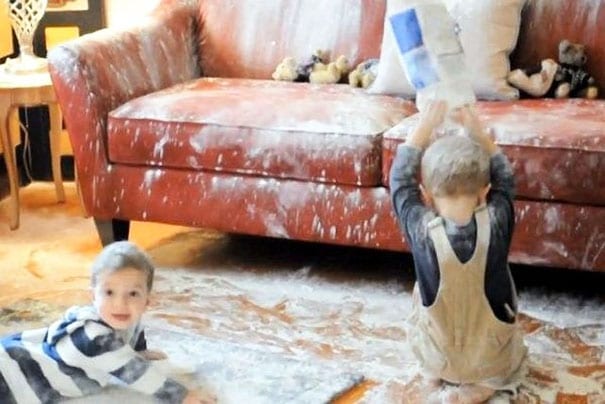 But, at the very beginning, it's ON and like everything new with zest, gusto, and too much-unbridled energy. That picture above is a great example of what happens when these new models, with a need for speed, are hauled up in a small apartment with nothing to play with but their imagination and what the cupboard has in its stores. 
In The Dog House
Kids and their dogs, there's a link at an emotional level that few, if any, can really understand. Kids and their puppies are two peas in a pod, like-minded, full of wonder, and always on the lookout for some fun. For any excuse to wag their tails and have some fun.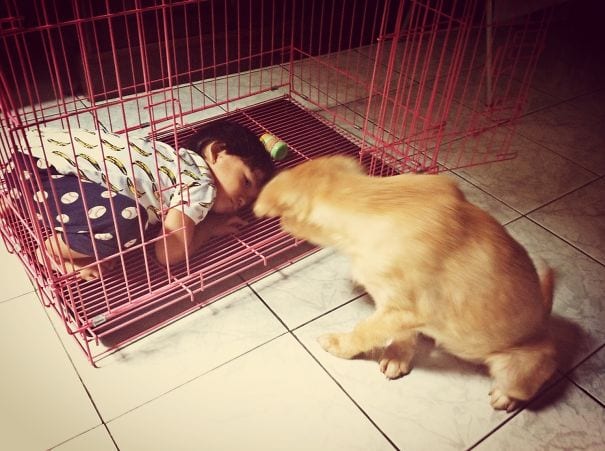 Wonder what happened before that picture was taken? What kind of shenanigans must have endured and prospered for everything to have ended in that position? It really makes us ponder and, more importantly, has us asking the hard questions, like: Is this a permanent sleeping arrangement?
Stuck
This little tyke's name is Aleena, and apparently, she has a predilection for finding hard to reach spaces and getting stuck in them. Her parents, the story goes, found her like this and had no other choice but to pull the toy shopping cart apart just to get her out.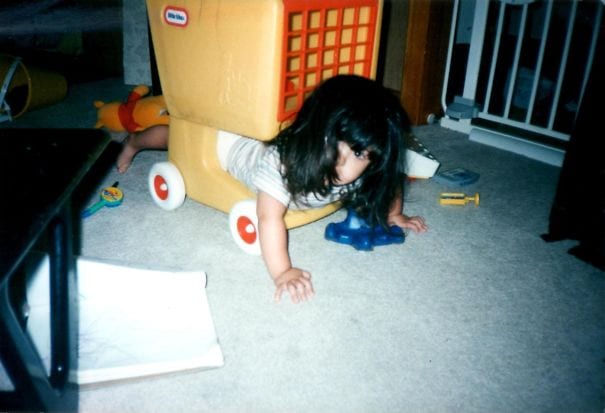 Look at the photo… See the inspiration for Aleena's bizarre fad'? Bingo… Pooh. Never, ever allow your kid to hold Winnie to lofty heights and esteem. That bear is no role-model. Fixated on honey, always getting stuck in some hole or another. 
Ground control 
Ground Control To Major Tom… The cool thing about kids is that it allows parents to relive their glory days. To let their hair down, and start taking over their toy chest, the one they had in the attic and acting out.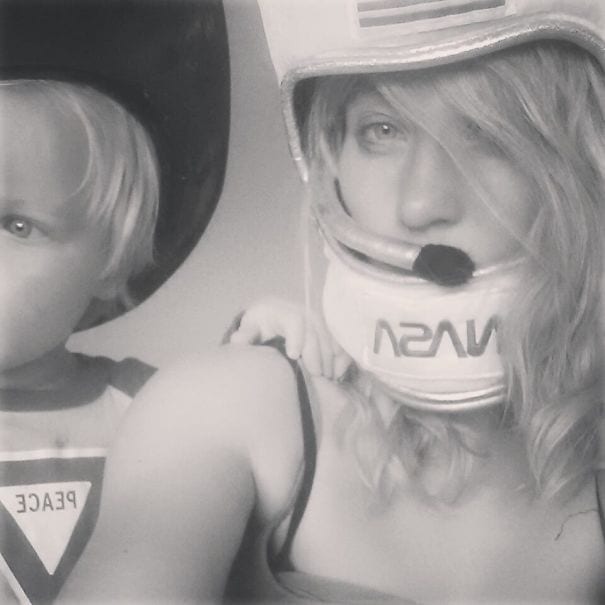 Parents can once more play at being toots and remember their pipe-dreams and fantasies. Remember when they wanted to be cowboys, or astronauts, or rock stars. They can once more themselves be kids. That's one of the benefits of having those hell-spawns around. 
The Toilet Paper
What we have here is a future Halloween hellion. One of those Dennis the Menace type that goes around the neighborhood tossing toilet paper on houses and taking out his psychological baggage on the unsuspecting; he's already practicing.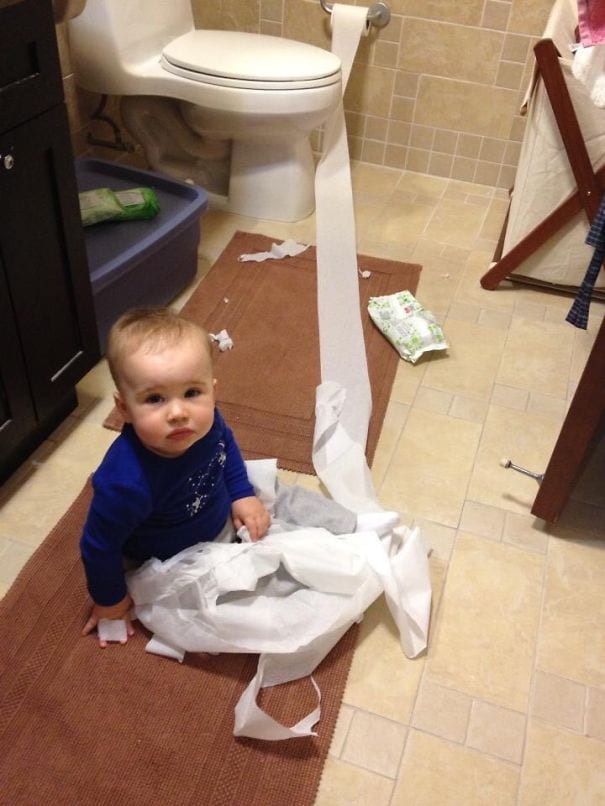 Kids have so many qualities they share with dogs. You simply can't leave them alone with a  roll of toilet paper… or bacon… or chocolate. Why? They have no self-control, and mishaps like these will happen on a regular basis
The Artist
A hazing ritual gone wrong. This little angel, or demon depending on her disposition, is getting educated on the rites of college. She's staring off early, already ahead of the curve regarding what to do with passed out drunk friends.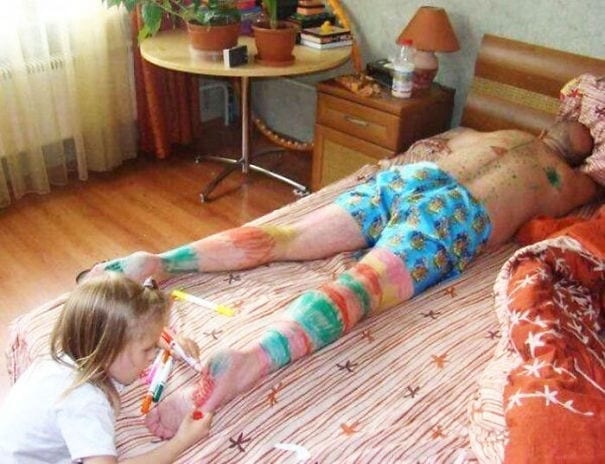 She's either a future frat house alumni or a future celebrity tattoo artist in the making… already practicing her trade and having a blast at it. Poor old dad when he wakes up and discovers the masterpiece he's become.
The Pitstop
Matchbox cars were a big-ticket item for the toy companies back in the days when The PlayStation was still a pie in the sky dream of some Sony executives. Every boy, and even some girls, had one or a dozen of them.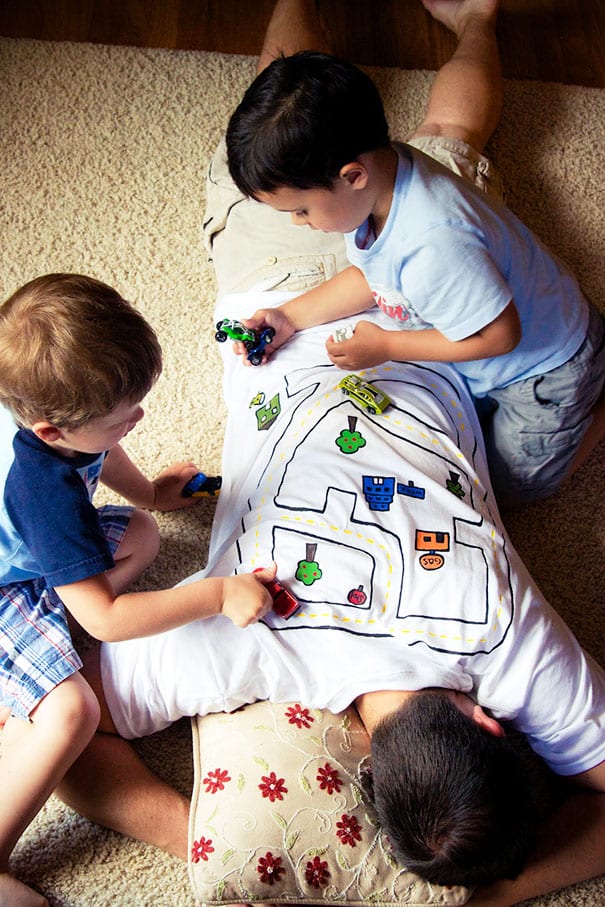 And with the pint-size tin metal cars, there were dozens of gizmos and tracks and other knickknacks. Kids could play for hours with them. They were a joy. Well, these two tykes have found a way to reintroduce their old man to those cool times.
The Magazine Rack
Really, a big shout out to the universe from all parents hurtling through space on this bizarre planet: what is the obsession that their kids have with toilets? Why are they so enraptured by those ceramic, germ-filled, and honestly plain gross contraptions?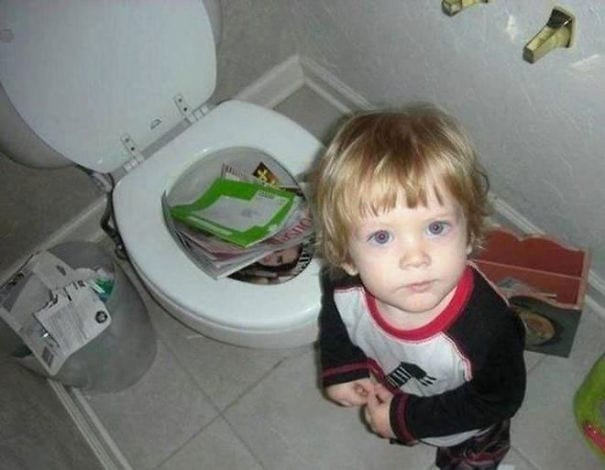 Get a kid near a toilet, and sooner or later, they'll stick something into it that's liable to ruin their parent's day. You name it, it has one time, or another floated on those waters. For example, this babe and their need to make a magazine rack.
The Hitman
La Cosa Nostra, the black glove… there's a reason you don't mess with the mob, why? Cause' they've been training their assets since they were kids. Showing them the intricacies of what happens to rats and those with loose lips.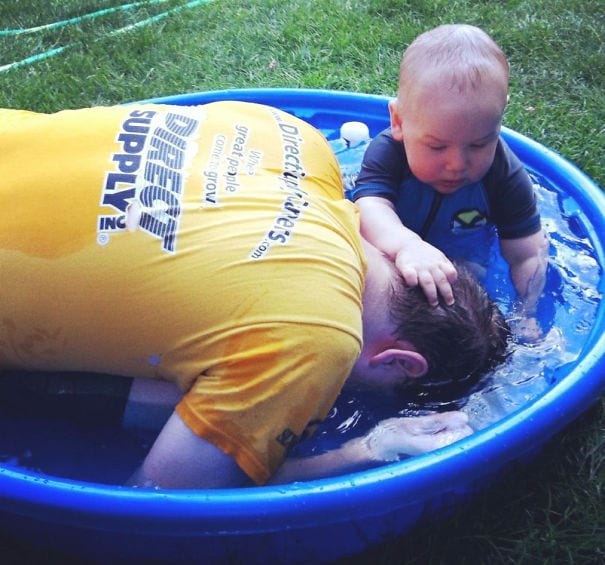 We don't even want to imagine what that parent did you upset the Don. A grave offense that warranted the Capo de Tutti Capo to send his personal hit squad and his best assassin. Unassuming, inconspicuous, and works for lollipops.
Why is it green?
One of the greatest mysteries about parenting is why in God's name is puke green?! It's not like kids are being fed excessive amounts of algae. The first time a new timer sees it, they are stunned. It's not just green… it almost glows in the dark.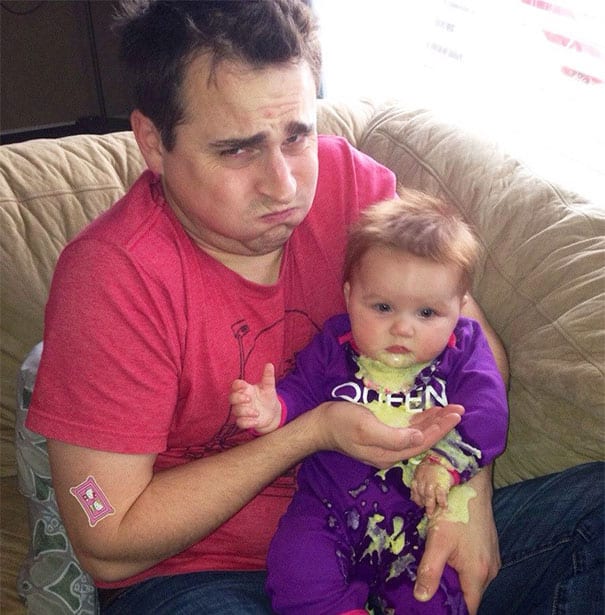 Well, the day it happens, and junior goes all mystic and starts vomiting grass, on that fine day, and not before is when a parent gets their chops. It's a make or break moment… many have fled in horror; those that stick around are champions.
The eggs
You really can't make an omelet without breaking a few eggs. It's nigh impossible. Well, it seems this blond blue-eyed cutie decided to skip the omelet part of the breakfast ritual and go directly to the breaking of "huevos" part instead.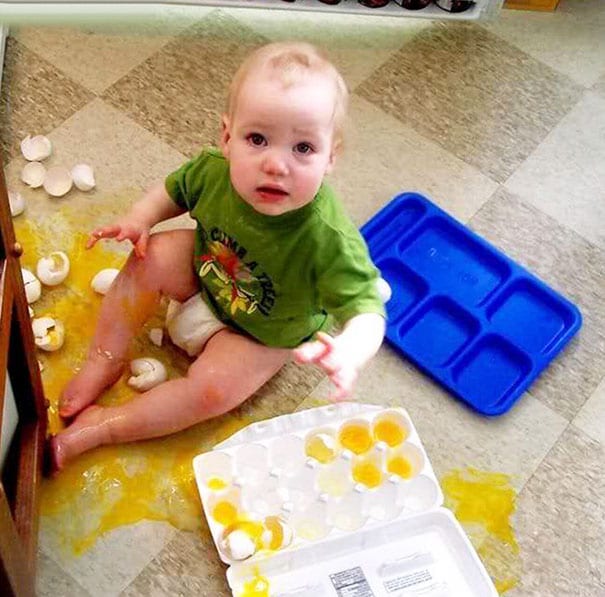 This culinary cutie had an idea, it seems, but like they say: "man makes plans, God laughs." Well, we don't know about God, but it's certain the parents of this kid aren't chuckling at the mess she's made all over the kitchen floor.
Sneaks
With kids, you always have to be on your toes, ready for anything. It's like living at the edge of no man's land, in the middle of WWI… long moments of silence and calm, followed by fleeting spurs of madness and mayhem.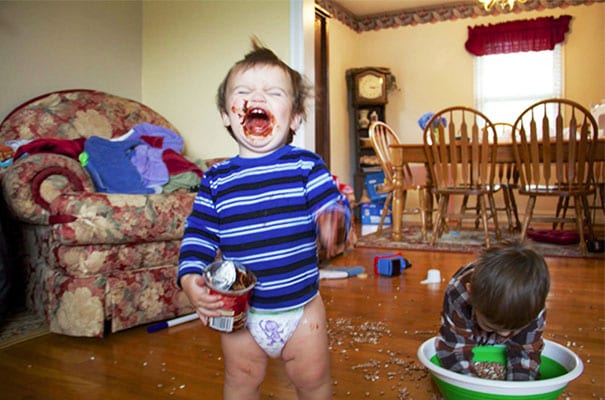 You always have to be on alert. One minute everything is fine, the next you turn around, and BOOM, something like this happens. All hell breaks loose, and, as a parent, you're left holding your head, marveling at how it could have gone so wrong.
Toilet Paper Redux
Some mornings, as a parent, are dreadfully tough. It's one calamity after another, followed by a series of tasks, all the while a voice in your head double guessing whatever it is your doing. It's tough being a parent.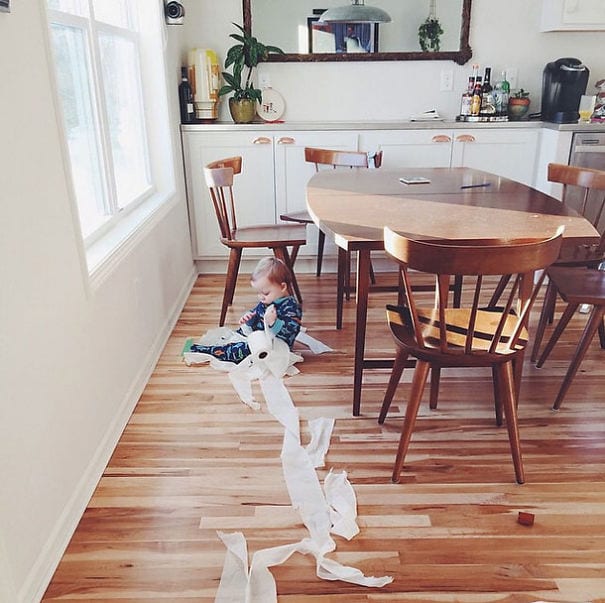 So, when Junior grabs the toilet paper and decides to simply throw caution to the wind. When that happens, every-so-often, some parents will just shrug and turn a blind-eye, pretending to not even notice ; too tired, too exhausted to even care. 
Painting
There's painting outside the lines, and then there's this. This is just too much. This is painting so outside the lines that you're 3 states away, looking at the lines with a telescope and pondering about their existence in an alternative dimension.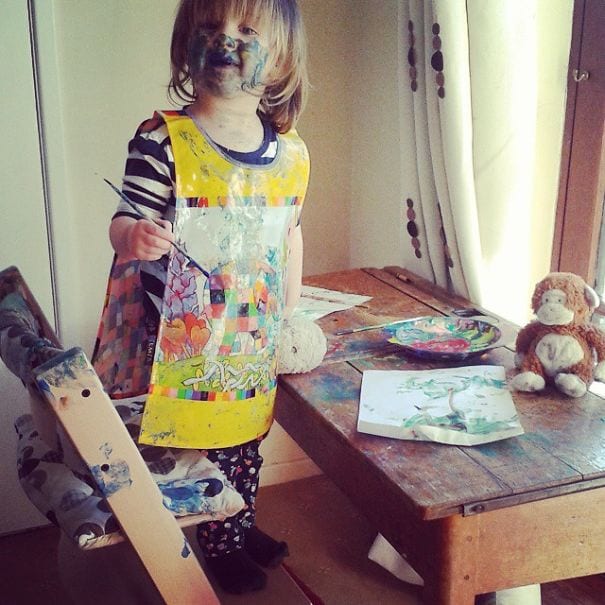 When you're a kid, there's nothing more thrilling or fun than going bonkers with your paints. What a kid produces with those tools is hardly artistic or for that matter good, but it's less about the product and more about the methodology, and the fun.
Too Fast, Too Furious
Notice the t-shirt? Notice the franchise this little troublemaker looks up to? Notice the glint in his eye, the fact that he's made Vin Diesel proud? Is it any wonder something like this happened? Could it have been prevented?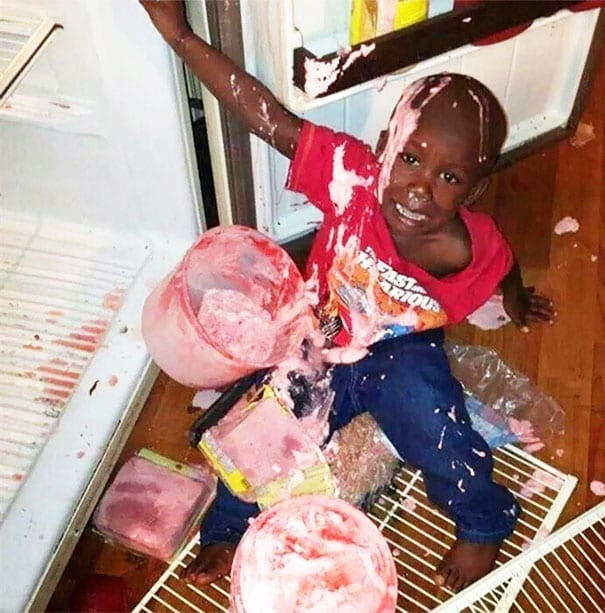 Vin would have gone straight for the ice cream… no funny business, no second-guessing, NOTHING. He would have floored it and simply taken it all in. Sniffed it like a madman and gobbled it up. This kid did his role model proud.