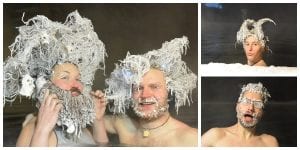 Frozen: The Hair Freezing Competition That Is Actually More Than a Little Cool
By Luisa K
---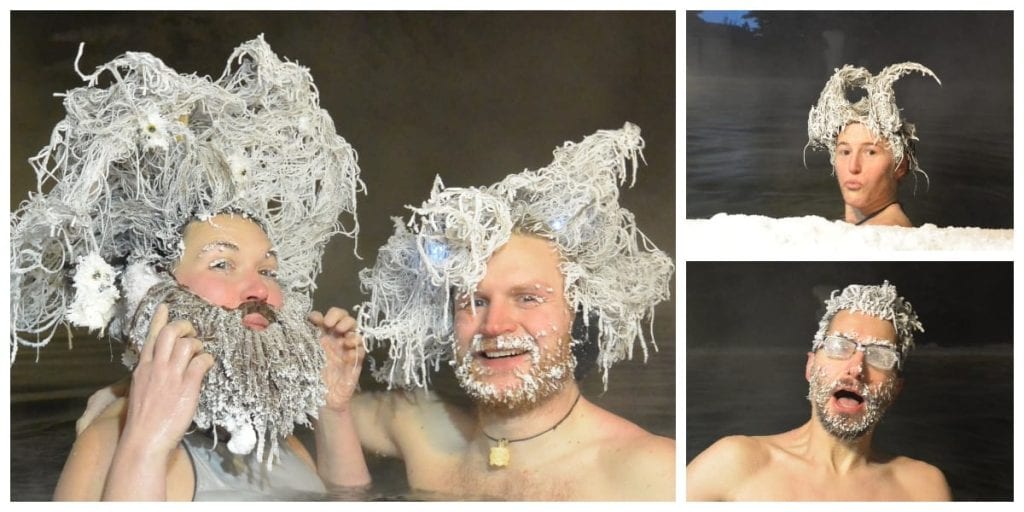 Since the days when social media first started, we've seen a rise in people posting pictures "for the 'gram." It seems that we will do just about anything to get the most interesting photo and increase our following by doing crazy things. One of the wonderfully crazy new trends is hair freezing, which is basically just as it sounds. The hair freezing contest is a competition where participants are challenged to freeze their own hair. Although the contest has served as inspiration for creative social media challenges, the official website of the contest is www.hairfreezingcontest.com. The winners, which we will reveal at the end of this post, are split into categories, including: best female, best male, best group picture, most creative picture, and People's Choice Award. But before we reveal the official winners of the hair freezing contest, we thought we'd share the winners from our own unofficial, albeit creative, categories!
About the Competition
The official hair freezing competition is an annual contest held every year at the Takhini Hot Springs in Whitehorse, Yukon in Canada. Participants can only enter if they visit Takhini Springs in person. The competition requires participants to attend the hot springs during the period when the contest is running.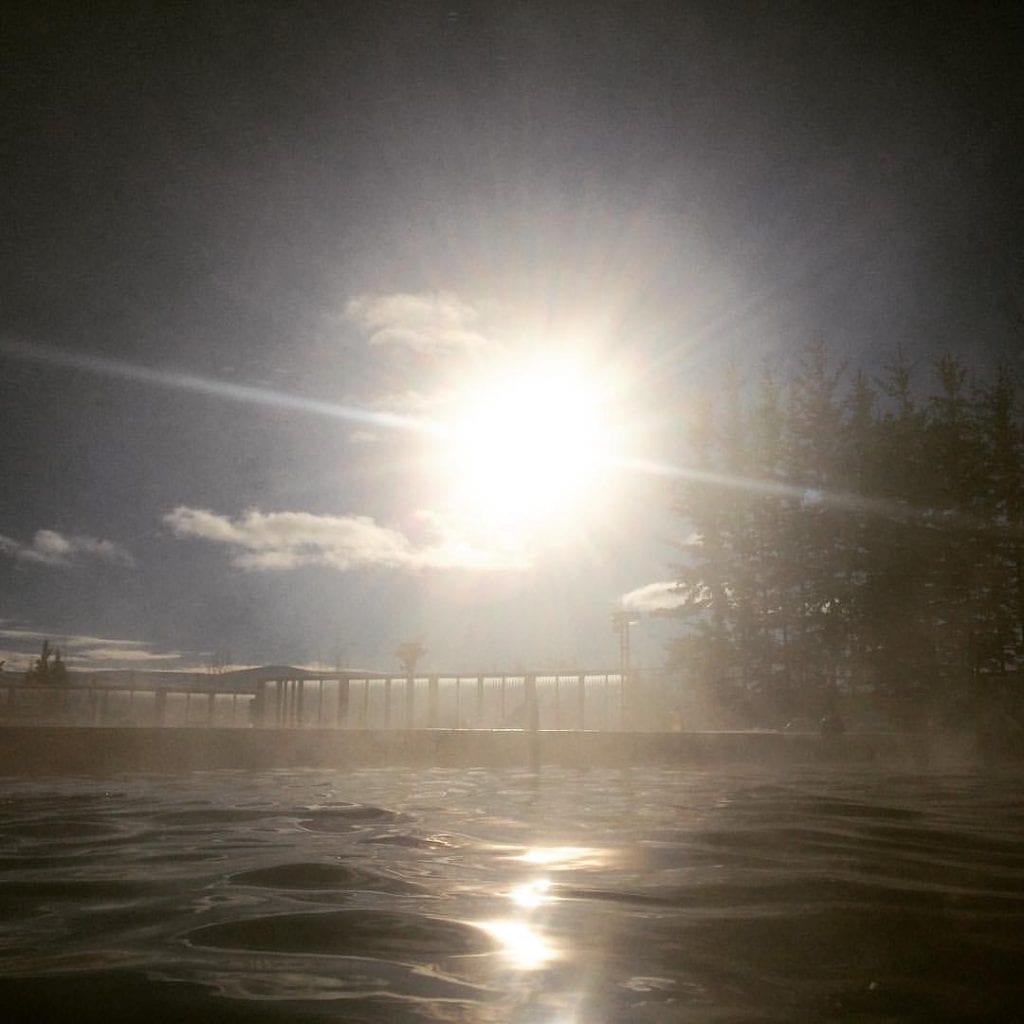 The winners will win one of three prize packages. The prizes are listed as follows: $2000, unlimited free soaks in Takhini Springs until the facility is closed, or a 12 free punch pass to the new hot springs facility, which is due to open at the end of 2020.
For a Good Cause
This is a sponsored event. Each sponsor supports their own contest category and pledges to donate either funds of resources to various charities and organizations. The sponsor of this year's "People's Choice" category is Nongshim, a Korean instant noodle company.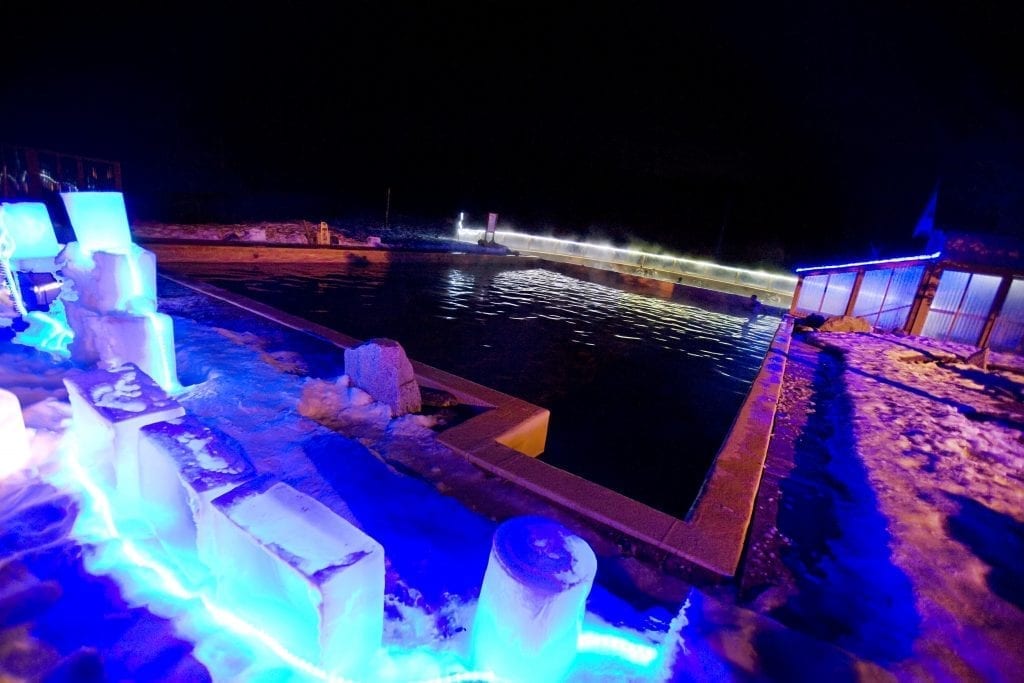 Nongshim will donate five packs of instant noodles to the Whitehorse Food Banks for every entry in the contest, and every participant will also receive a free bowl of noodles upon completing the competition. Tim Hortons is also sponsoring the event. They are sponsoring the "Most Creative" category and will donate a fixed amount to the Outreach Van for every competition entry.
How to Freeze Your Hair
So how do you actually freeze your hair, and more importantly, do you think you would be brave enough to attempt this challenge? First things first, participants must dip their heads in the hot springs and wet their hair completely. The best time to do this is when the temperature outdoors is -20 degrees. Don't worry; this doesn't damage your hair!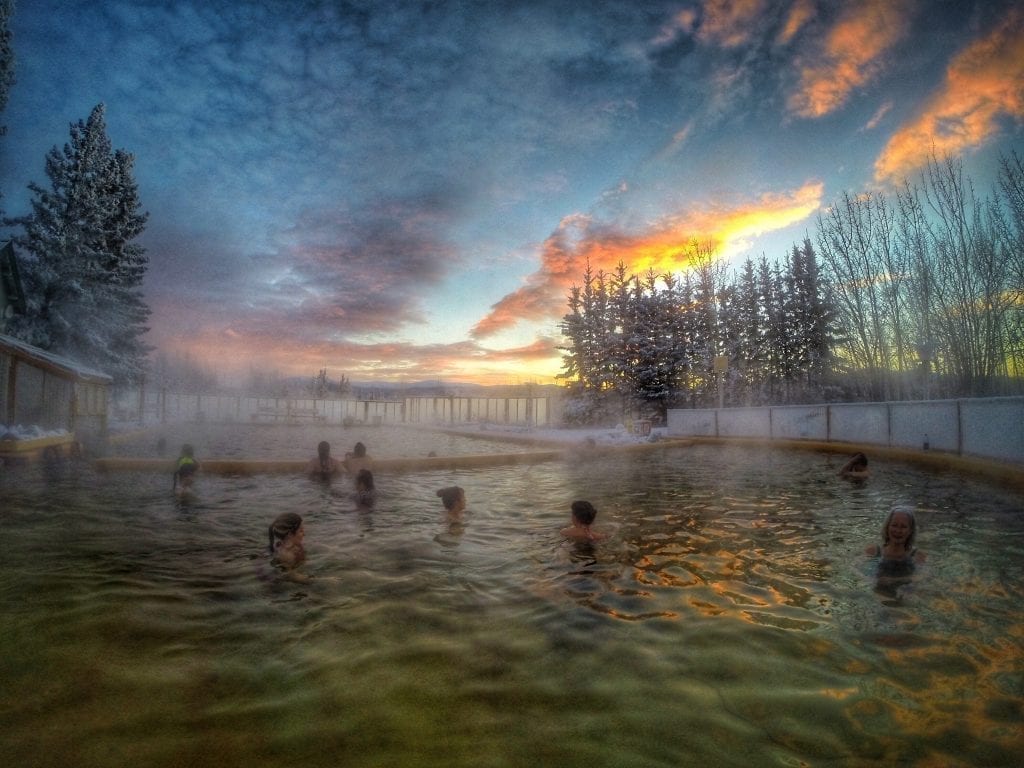 Wait for the cold air temperatures to slowly freeze your hair. As a safety precaution, you must regularly dip your ears in the hot springs to keep your ears warm and to prevent you from catching a cold. If you wait long enough, all wet hair will eventually freeze – your hair, eyebrows, and even eyelashes!
How to Enter
Entrants must visit the site in person, complete the challenge of freezing their hair in the hot springs, and having their photo taken. When your hair has completely frozen and become white and full of ice, you must ring the bell near the pool entrance, and a member of staff will come to take your photo.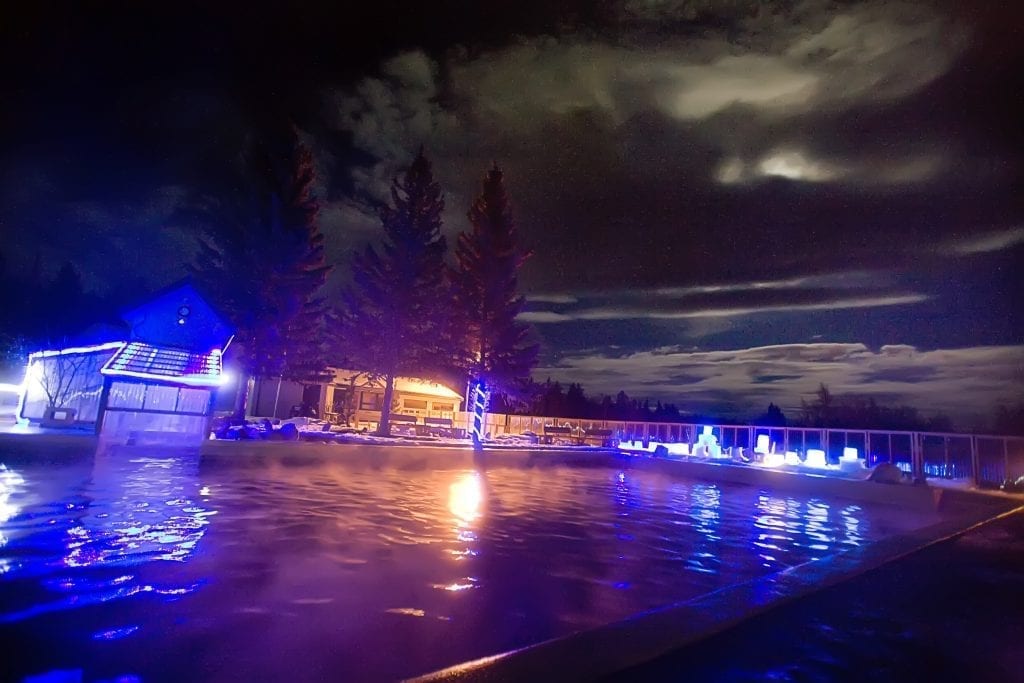 Entry for the contest is typically open between the months of December through March. You must register either online or by visiting the front desk at Takhini Hot Springs in person. Participants cannot enter this particular Hair Freezing Contest if they have completed the challenge of freezing their hair at a different location. Once the participant has been photographed with frozen hair, they can submit their photo into the contest via the online form.
Takhini Springs
Takhini Hot Pools are located in Yukon, Canada. The Takhini Hot Pools are one of the most popular and most visited locations in Yukon. The hot springs, which are filled with natural water and rich in minerals, have been functioning for the last 100 years or more.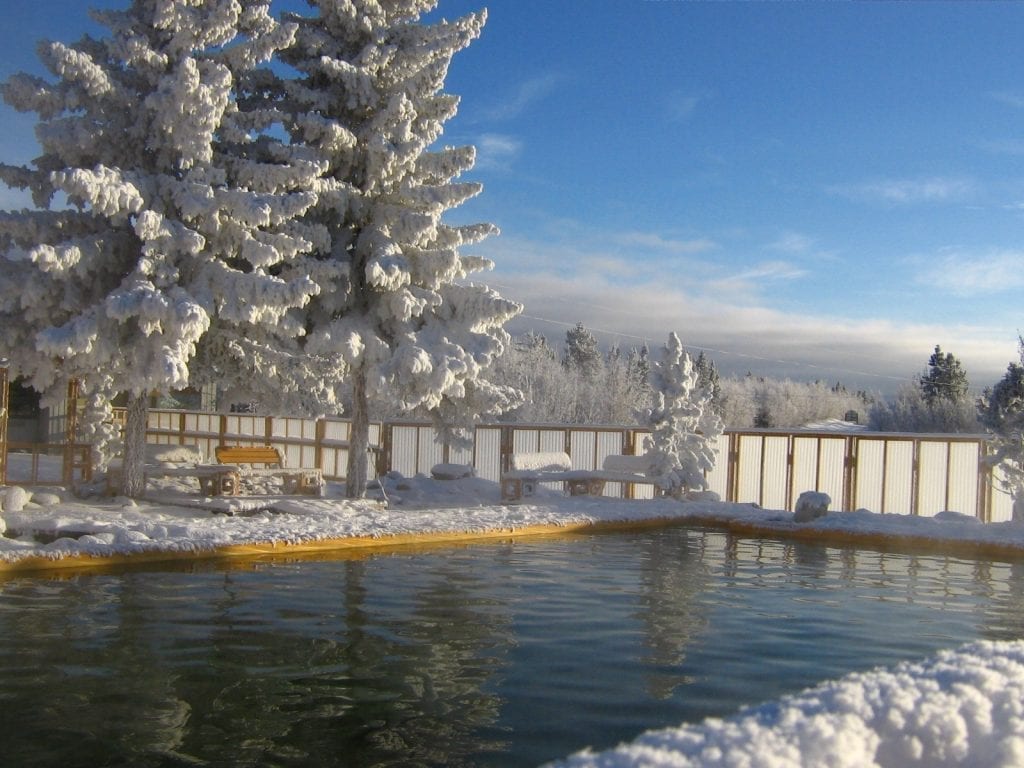 The water enters the hot pools at around 42 degrees Celsius. Typically, the hot springs' average temperature for those bathing in it is between 36 and 42 degrees Celsius on average. The hot springs are a calm and soothing experience and a unique way to enjoy the freezing cold outdoors and its surrounding beauty during the winter months!
Best #MOTD
We will be revealing the official winners of the contest at the end of this post, but before that, here are some of our own unofficial nominations. To start with, this picture wins our unofficial category of "Best #MOTD" (makeup of the day).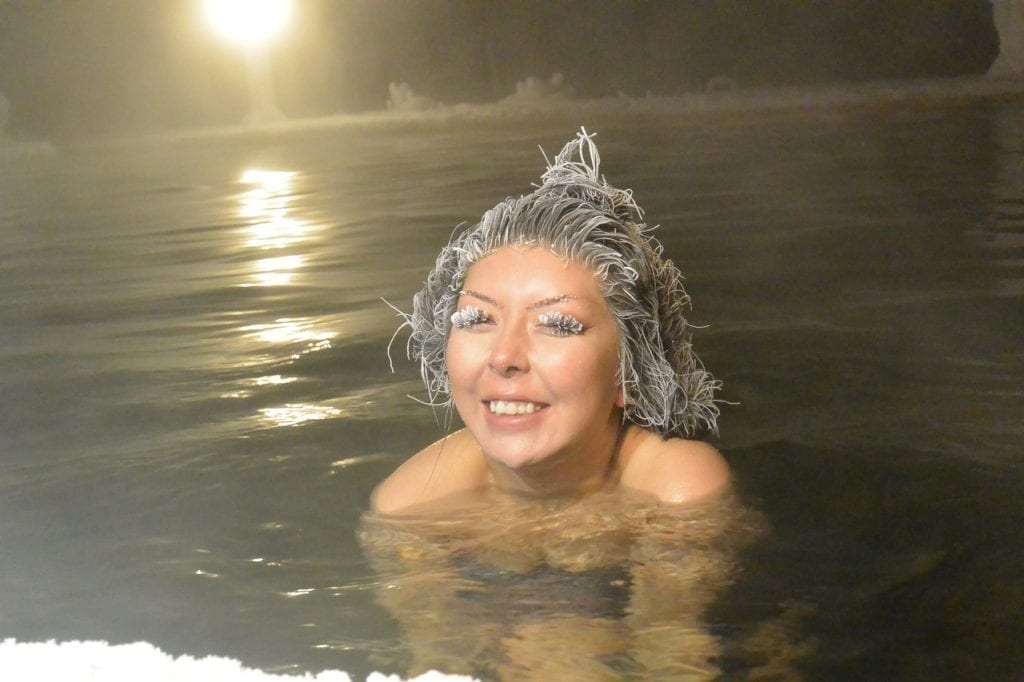 We've seen some very impressive entries from participants who've done crazy things with their hair, but this one looks so beautifully styled! It almost looks as if the girl is wearing makeup and has styled her hair perfectly! And those frosty white lashes almost look like fake lashes!
Best Beard
Check out this man's frozen beard! That is also a very impressive beard right there. The great thing about the Hair Freezing Contest is that you don't even need to have long hair to participate, as you can freeze your beard, eyebrows, and even your eyelashes.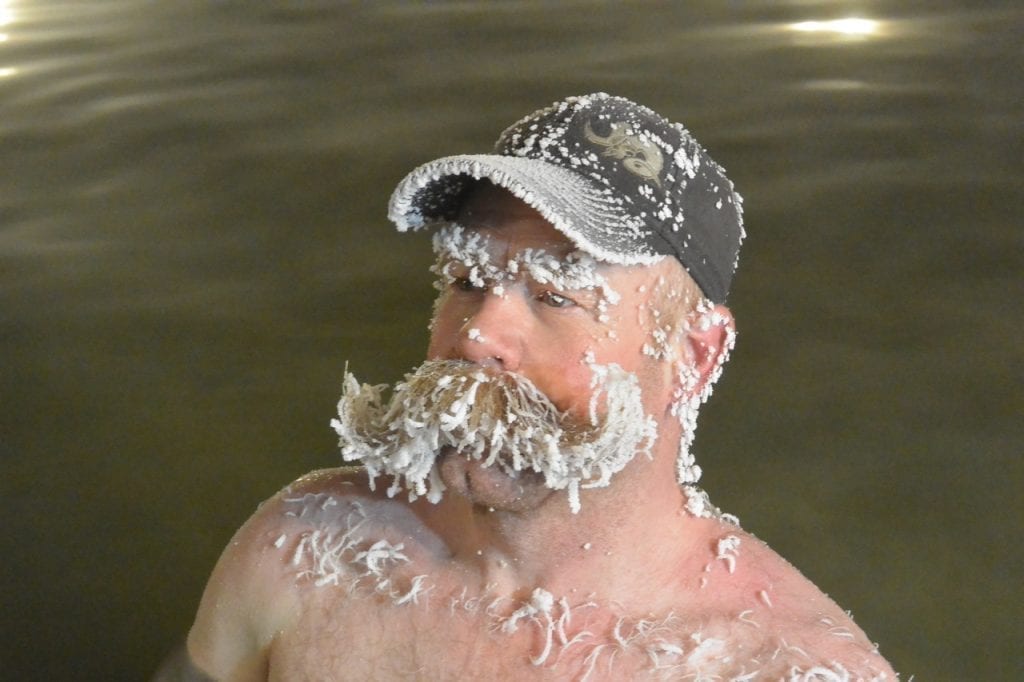 This guy has a seriously frozen beard, as well as eyebrows, eyelashes, chest hair, and even a frozen baseball cap peak! One thing you will notice about this contest is that participants get really creative when styling their frozen hair!
Best Comic Photo
The winner of our unofficial "Best Comic Photo" category is this lady, who has used a comical hairband as part of her entry photo. The eyes are positioned to look down, which makes them appear a little shocked or surprised.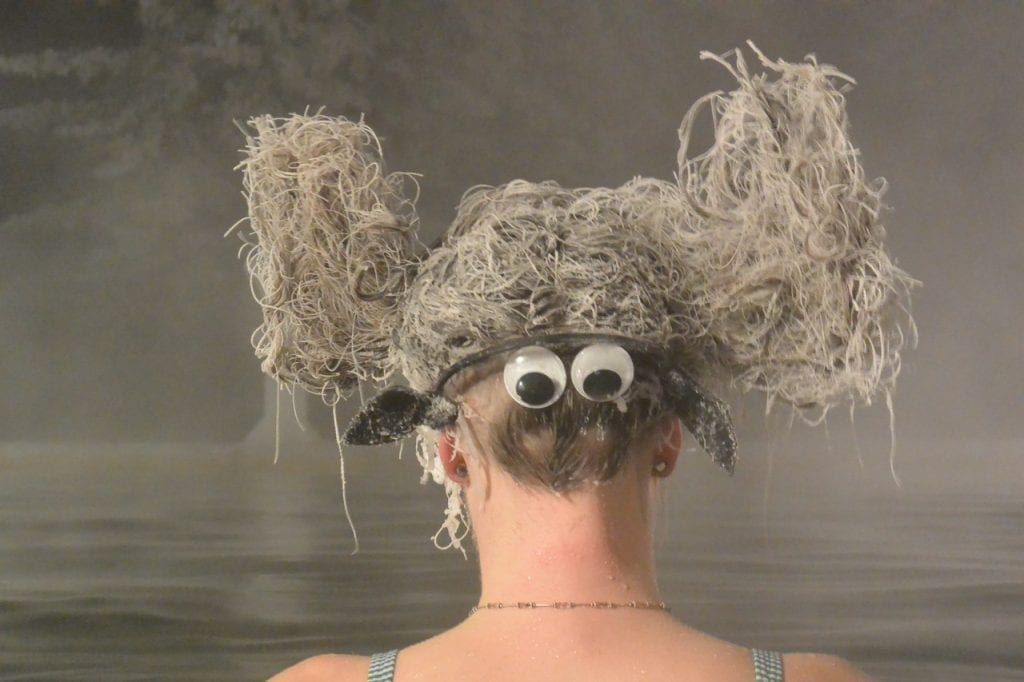 This woman is also rocking seriously cool pigtails too, which expose her undercut! We can't be sure whether her hair was already in pigtails or how they managed to freeze in relatively neat pigtails, but they definitely look cool – excuse the pun!
Best Costume
In case you didn't know, you can also enter this competition wearing a costume too. This lady here wins our very own "Best Costume" category because this is a great and very suitable costume for this competition!
Not all of us are brave enough to enter this competition and wait for our hair to freeze in -20 degrees Celsius temperatures, so wearing a Super Woman costume is very appropriate in this case! We also love how she has frozen her hair in midair on the same side as her cape too. Nice touch!
Best Couple's Photo
We imagine that the Hair Freezing Contest must be easier if you enter as a couple or group rather than alone because surely your friends, family, or partner can help to style your frozen hair into a really unique look?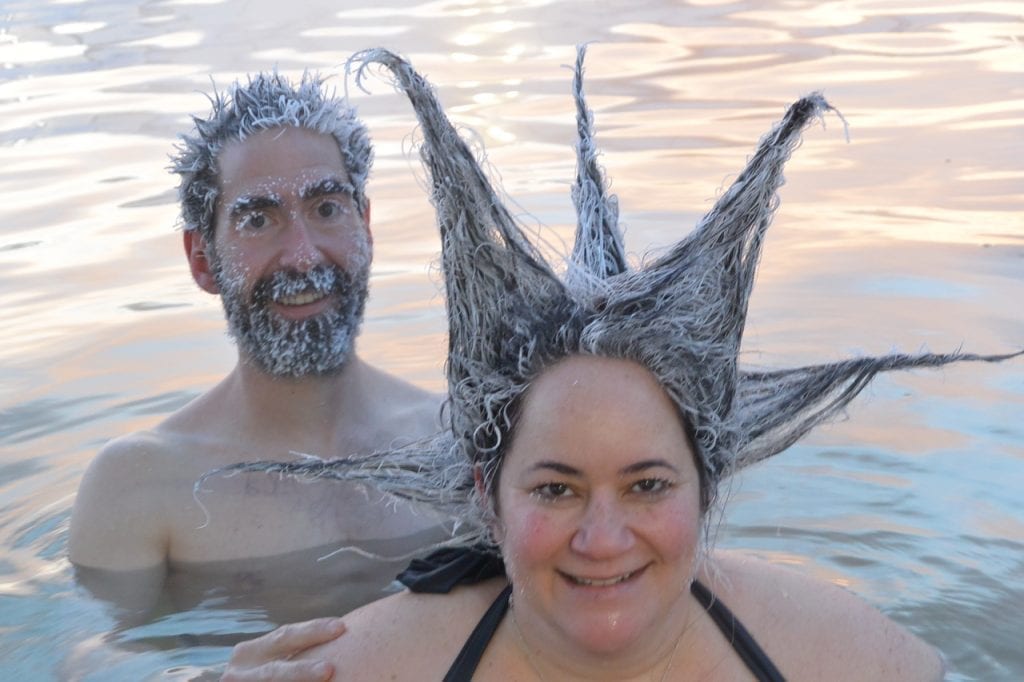 This couple's photo is so neat! The woman has frozen her hair into five very perfectly formed spikes, and her hair resembles the shape of a star. We can see that the man has also gone for the spiky look when freezing his hair too!
Best 'Edward Scissorhands' Impersonation
One thing's for sure; this frozen hair competition is not a contest for those who like to maintain a neat and tidy appearance at all times! We all know how unmanageable your hair can be when wet, especially if it's long, but freezing your hair seems to make it look crazy!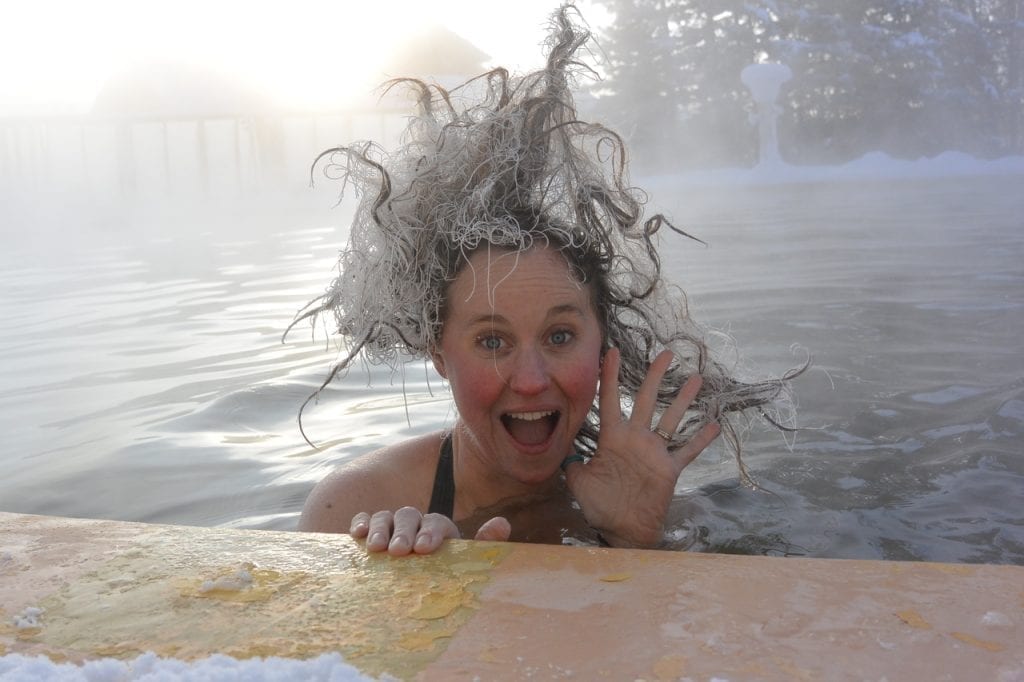 We can't help but think of the character Edward Scissorhands, from the movie of the same name, when we see this woman's hair! It's curly and crazy, and we just love it! Personally, we think that when it comes to freezing your hair, the crazier, the better!
Best Frozen Brows, Lash and Tache
Many participants in this contest have frozen hair, mustaches, eyelashes, eyebrows, and even chest and arm hair. However, the fact that these two guys have gone for matching looks makes it look twice as good! Double the fun so they say.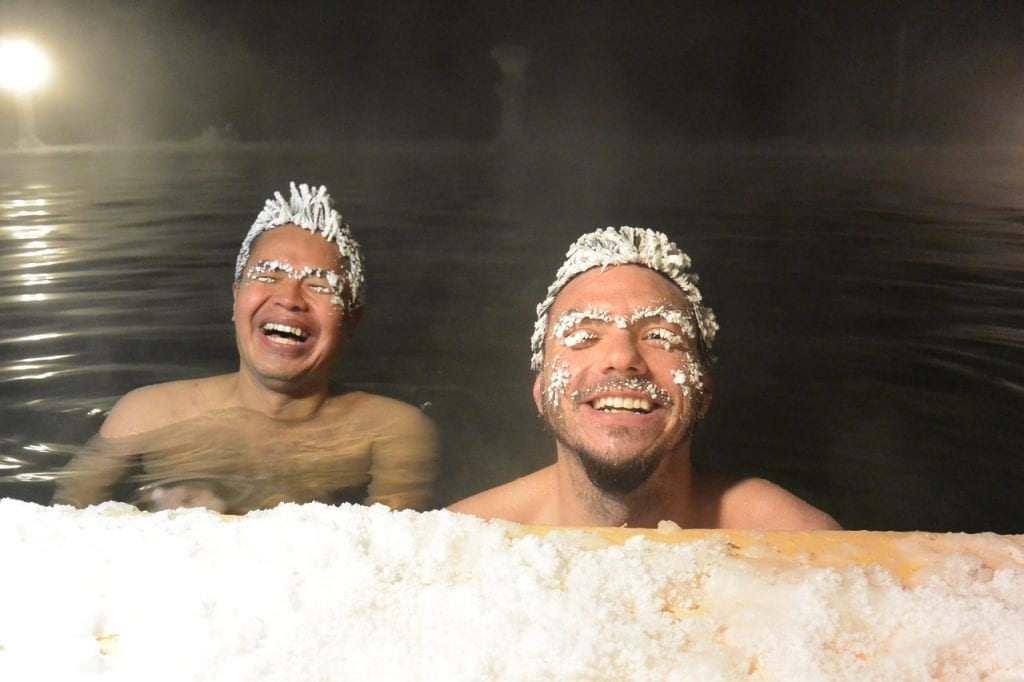 This is why we've chosen them for our unofficial category, "Best Frozen Brows, Lash and Tache." This means the best-frozen brows, eyelashes, and mustaches. Their frozen hair is also really white too. They look as if they have colored their hair or dipped their heads in the snow!
Best Frozen Family
It's great to get all the family involved in these special occasions. This photo is definitely one for the mantelpiece! You can tell in this photo that it's earlier in the day than many of the other pictures taken, which enables you to see the location better.
Although Canada's temperatures are typically freezing during the winter months, they are always lower at night time. This photo is a great picture of this adventurous family, plus it shows off the process of the hair gradually freezing.
"Best Close Up"
This is the winner of our own category: "Best Close Up," and if there was a competition for the best-frozen eyelashes, then we'd probably have to grant this entrant as the winner of that category too! This is such a great photo from the official Hair Freezing Contest.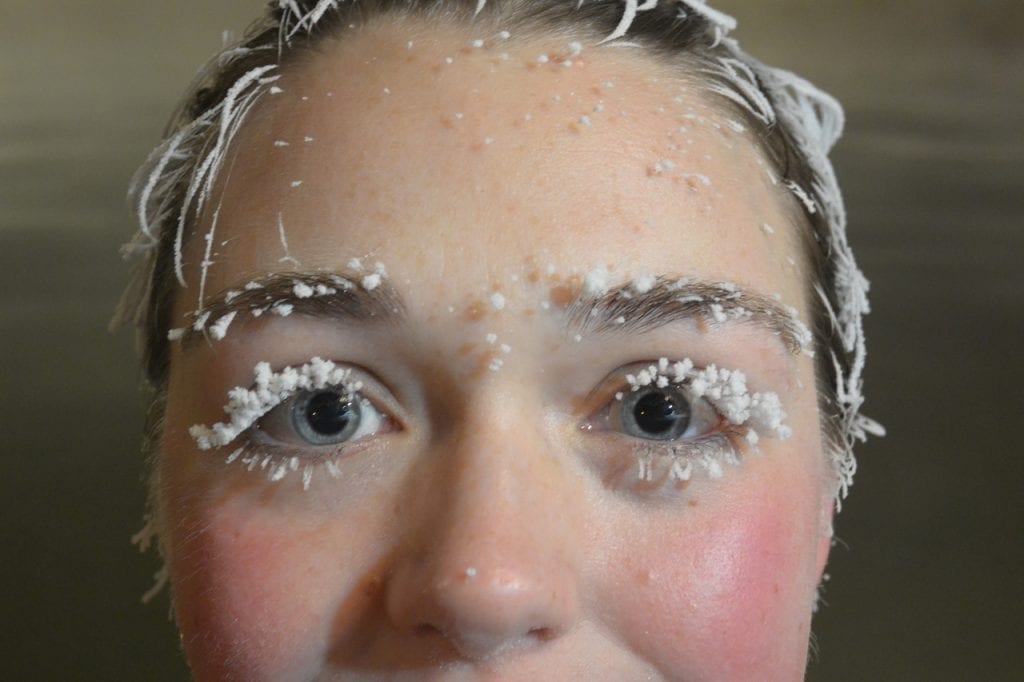 Those eyelashes look so white, frosty, and fluffy! Pictures like these bring up so many more questions that we'd like answering, such as: is it uncomfortable to blink when your lashes are so frozen? And how does it actually feel to have frozen lashes?
Best Frozen Man
Some of the entrants in this contest look as if they've actually frozen solid. The key to making your hair go white and frosty when it's frozen is to wet your hair and then leave it to freeze by keeping your head out of the water.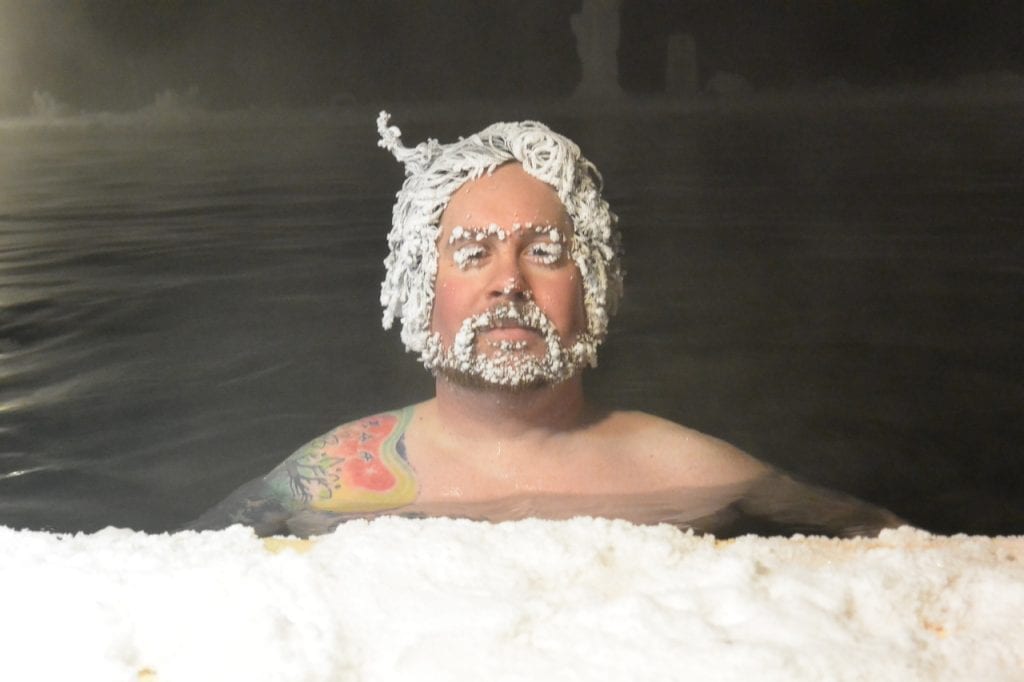 The longer you leave your hair out of the water to freeze, the more solid and white it will become. We have no idea how long this guy waited for his hair, beard, eyelashes, and eyebrows to become so white, but the end result is amazing!
Best Frozen Trio
What a fantastic photo! This trio looks pretty much identical. We love how they have managed to freeze their hair in the same way so that they all look the same. Two of the entrants have frozen their hair on top of their heads to resemble a heart shape.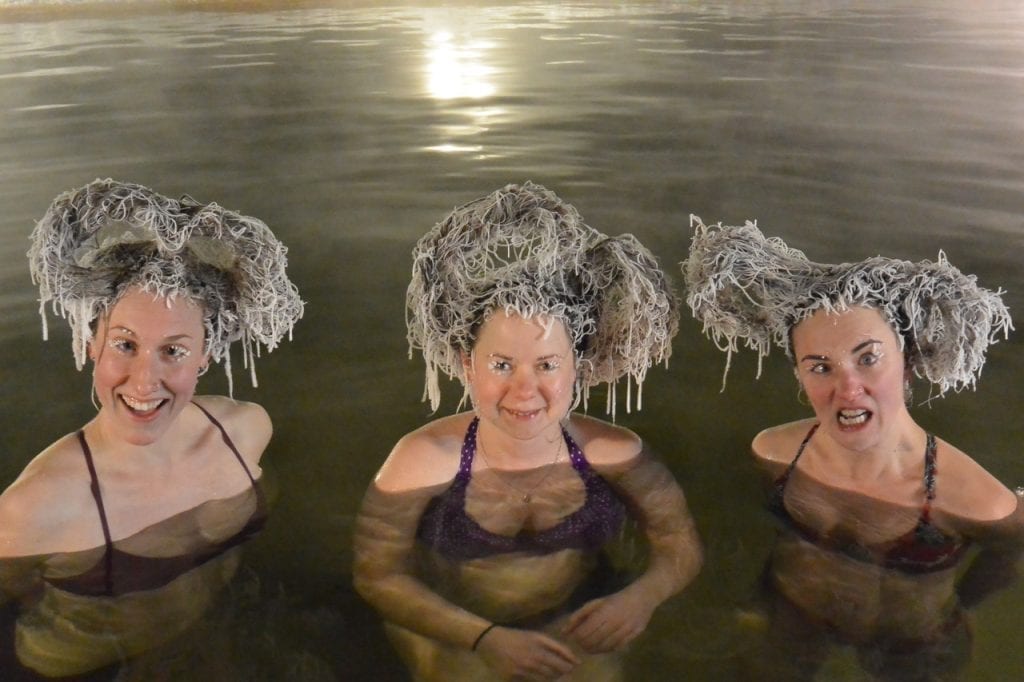 But can you get sick from having wet or frozen hair? Experts say that you can't catch a cold from having wet hair when outdoors. You catch colds from germs in the air, not from the temperature of your body. That said, the facility recommends that entrants regularly dip their ears in the pools' hot water during the hair freezing process to stay safe.
Best Kid's Group Photo
First of all, hats off to this group right here! These are four courageous kids. As you can see, the Hair Freezing Contest is open to people of all ages. You will also see later on in this post that some of the participants are ever younger than these little dudes here.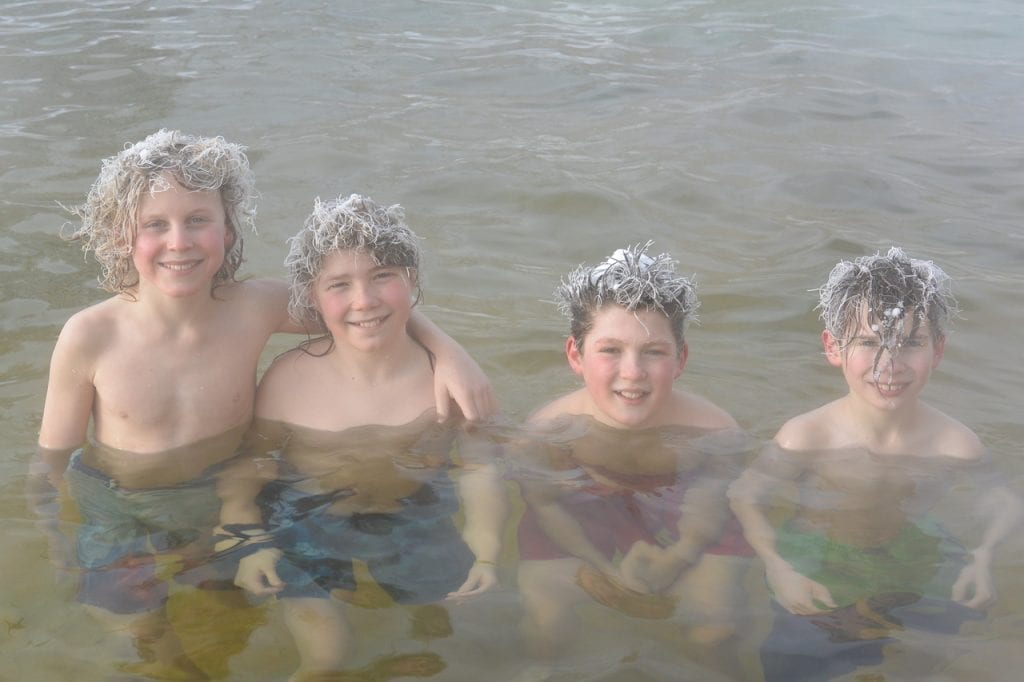 These kids win our "Best Kid's Group Photo." They certainly look as though they are having a lot of fun! And not just that, we think they deserve a big applause for doing such a good job of freezing their hair and for having the patience to wait for their hair to turn solid too!
Best "How am I going to get this out of my hair?" Picture
We have another question: how long does it take for the ice to melt and for the hair to return to normal after freezing it so thoroughly? Well this depends on a number of factors, such as how much hair you have and the air temperature of where you go to defrost your hair.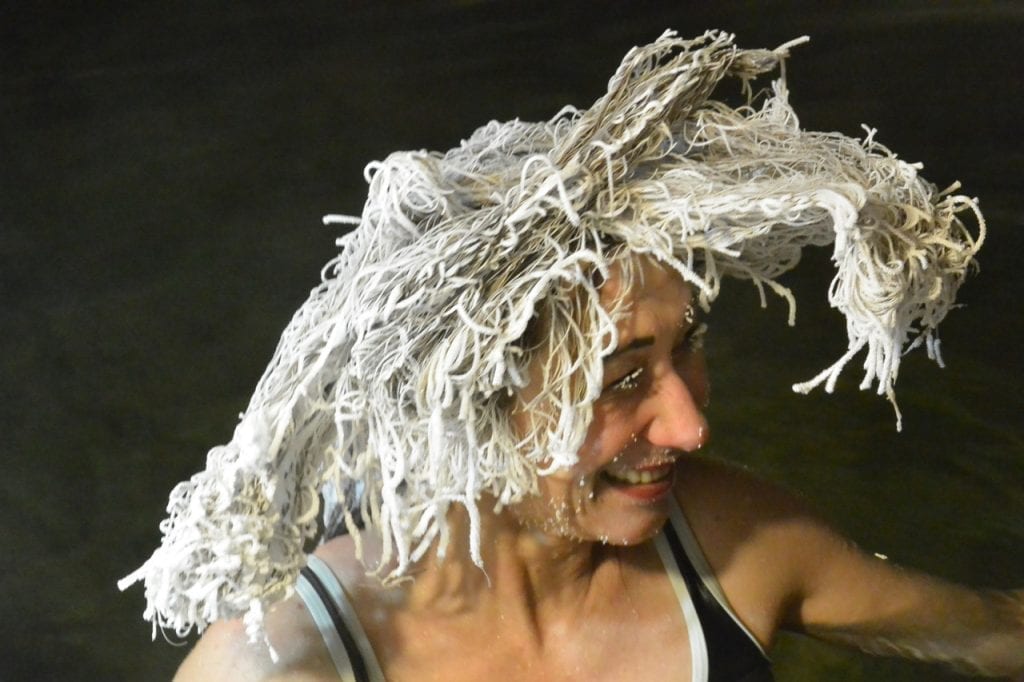 For long, thick hair like this, the hair could defrost in as little as 30 minutes to an hour if the environment was a sauna, steam room, or any other hot place. If the temperature was slightly cooler, such as average room temperature, then it could take a couple of hours for hair to defrost and dry properly.
Best "Snow-hawk" / Mohawk
Ok, so maybe this isn't exactly what a real Mohawk looks like, but in our category of "Best Snow-hawk," we think it's well suited as a winning entry! This woman has frozen her long hair into a front ponytail and allowed it to freeze over her head in midair!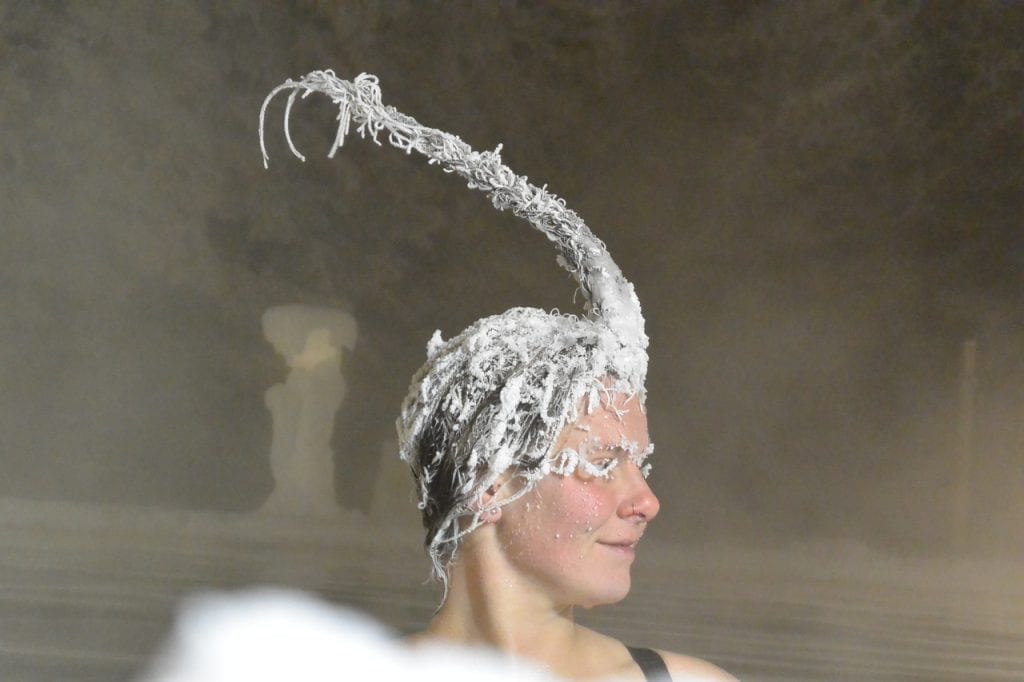 Although this looks cool, is it damaging to your hair? Any extreme change in temperature is slightly damaging to your hair. Although you're unlikely to see any lasting damage from freezing your hair once or twice in this dramatic way, hair becomes more pliable when frozen and is more prone to damage. That's why you should be careful when drying your hair after freezing it.
Best Frozen Curls
After seeing these photos, it is difficult to imagine what the participants of this contest look like without the white hair, brows, and lashes! This is our chosen winner of our "Best Frozen Curls" category because doesn't she just have the best curly, frozen hair?!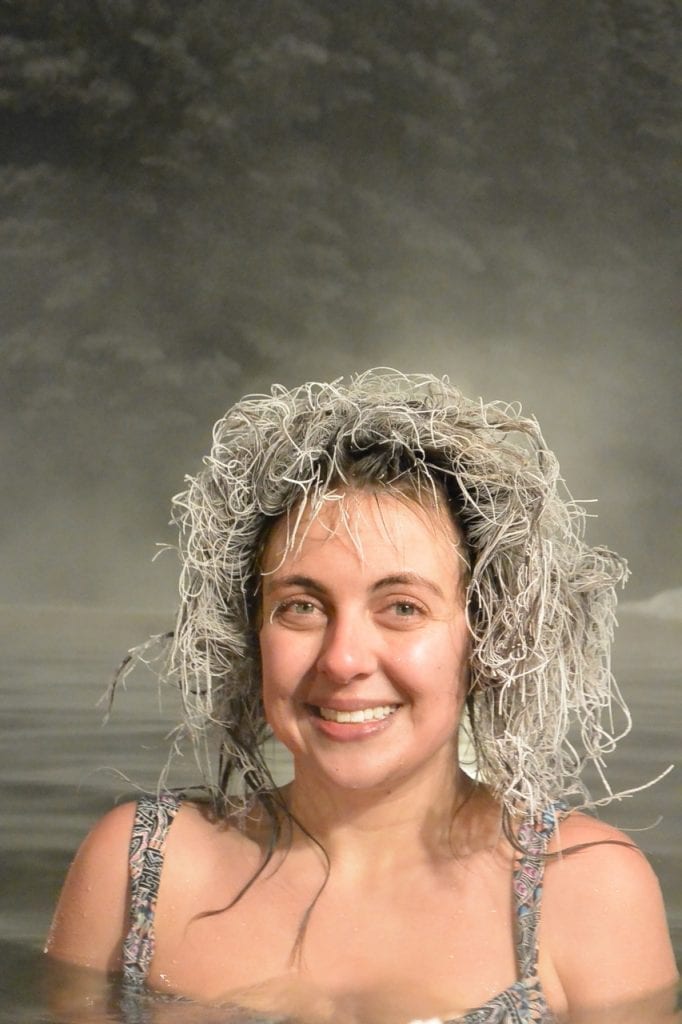 It's interesting to see how frozen hair looks different on each of the entrants in the contest, and thanks to their own creativity, everybody looks completely individual! This lady looks as though she has opted for an icy-white hair transformation!
Best Pose: Boy's Category
It's not clear whether the look on this boy's face is the look of discomfort due to his hair being frozen solid, or perhaps it's just a cheeky pose for the camera. Anyway, it's a great photo and is a fantastic demonstration of how kids are getting creative in this contest too!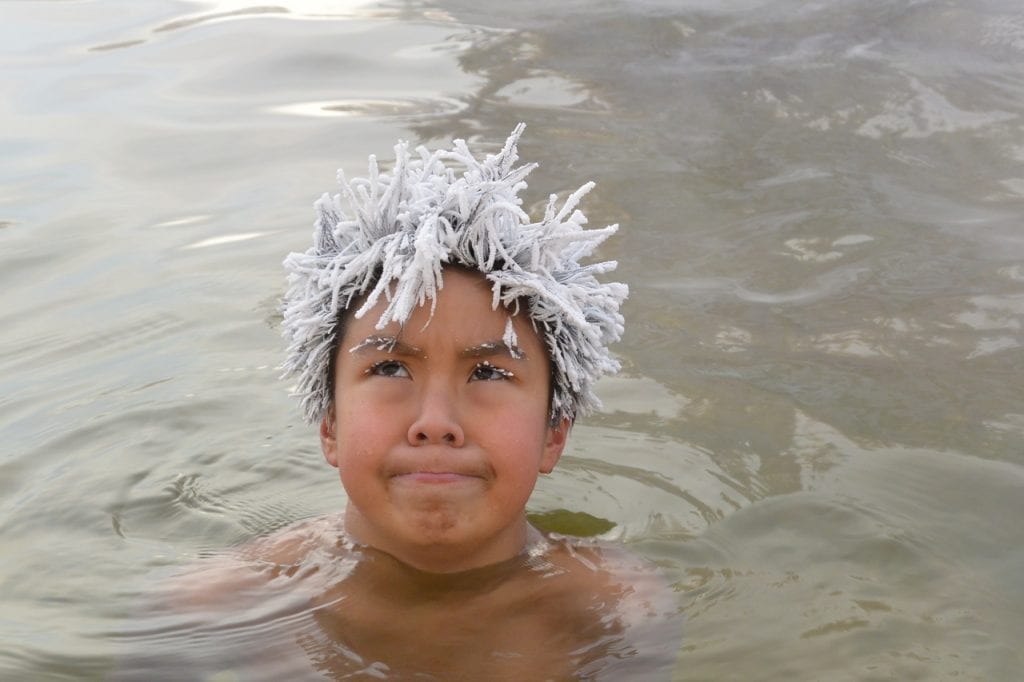 Entrants in the official Hair Freezing Contest in Yukon can freeze their hair into any style they choose. Once they've dipped their hair in the water of the hot pools, they can shape their hair into any design they like, which then freezes almost instantly when they expose their heads to the -20 degree air temperatures.
Best Pose: Girl's Category
And this is the winner of our unofficial "Best Pose: Girl's Category." This little girl looks like she is having a lot of fun, and she has done a great job of freezing her hair and eyelashes too! By the looks of things, she has wet her hair and piled it all on top of her hair so that it freezes into a chic up-do.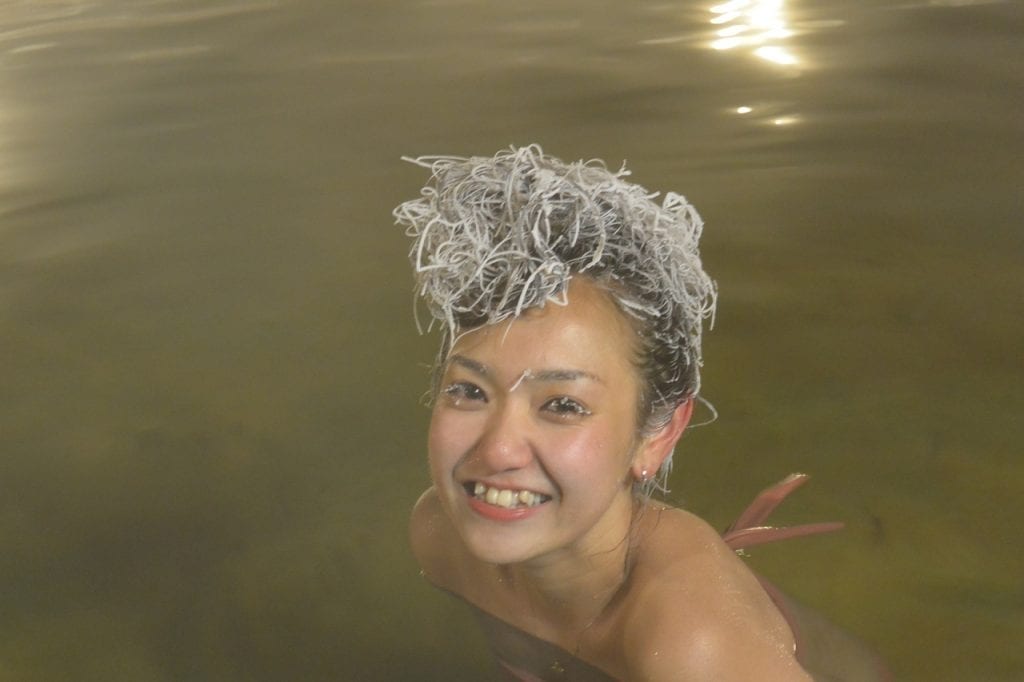 Although the annual Hair Freezing Contest is relatively new, the hot springs in Canada, where the festival is held, have always attracted high volumes of national and international tourists each year. The hot pools are rich in minerals, making for a relaxing soak, especially when it's freezing outside.
Best Pose: Women's Category
Is that an expression of excitement or panic? We're not sure, but we are certain that it is a great photo. This is another great example of how entrants in the competition mold their hair into weird and wonderful styles to grab attention and create an entirely unique end result!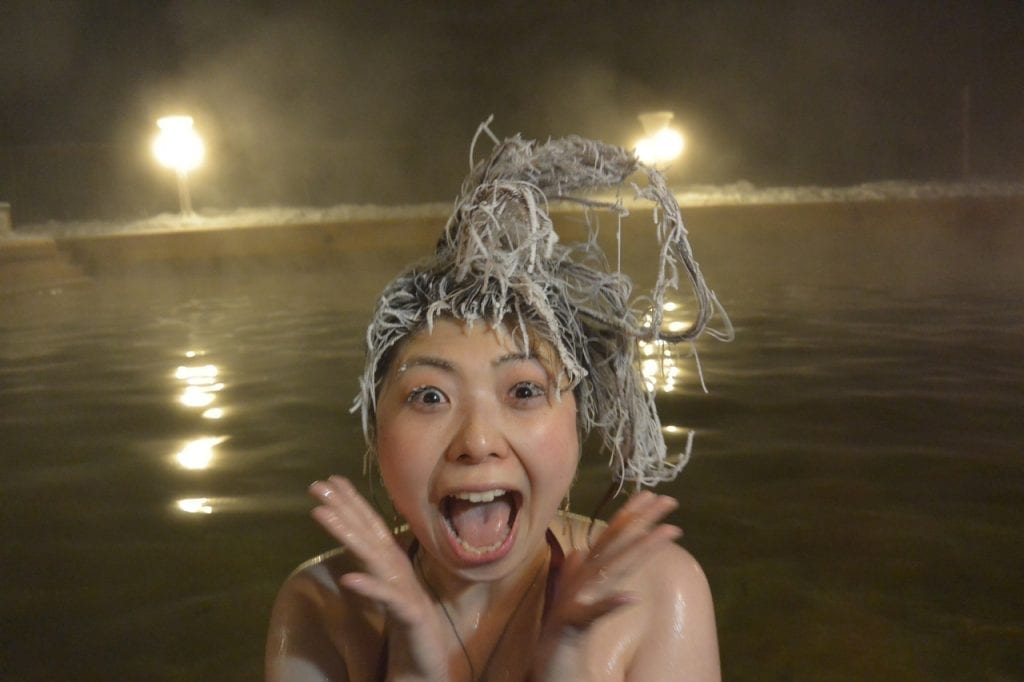 There was once a time when it was fashionable to dye the tips of your hair an icy shade of white – to have frosted tips. So it's fun to see people replicating this look unknowingly when they freeze their hair, although this is far more temporary.
Best Pose: Men's Category
This picture is not just a terrific photograph of this male participant; it is also a great picture of the hot pools, giving us a better glimpse at what they look like. After freezing their hair, entrants must make their way over to the edge of the pool to have their photo taken.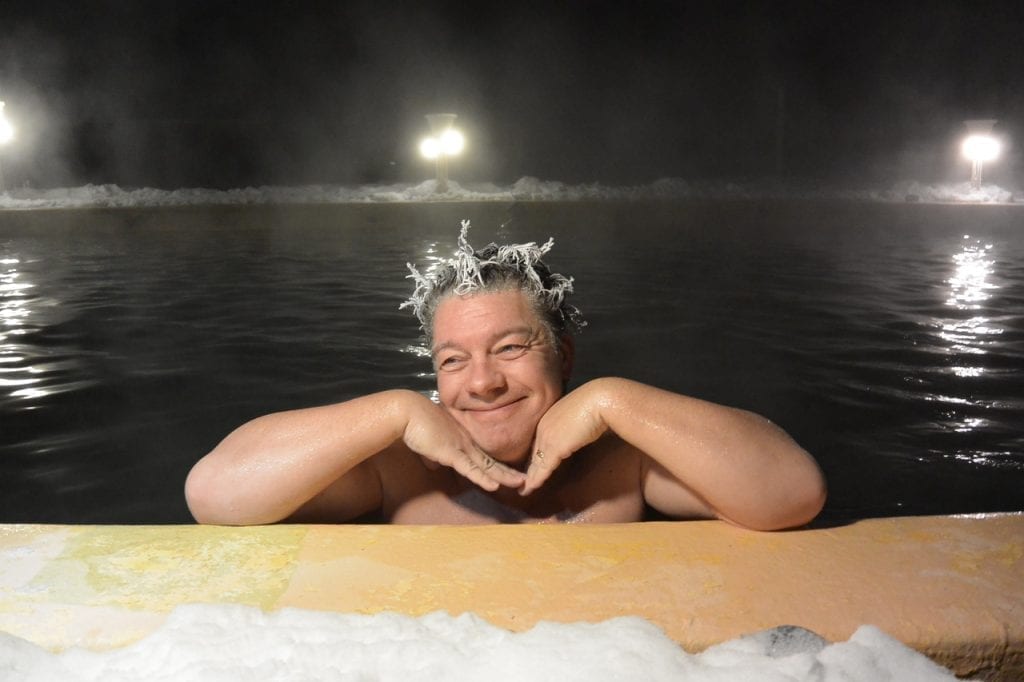 Before the hot pools were used as a tourist attraction for this frozen hair competition, they were mainly used for their health benefits. The hot springs were first marketed commercially in 1907 for their therapeutic benefits. The first hot tub was built in the 1940s, using wood and canvas.
Best Reindeer
When entering the Hair Freezing Contest, there is no end to how creative you can be in order to achieve the perfect shot! This guy has taken his frozen hair entry one further by wearing a reindeer headband over his frozen hair, as well as freezing his brows and lashes.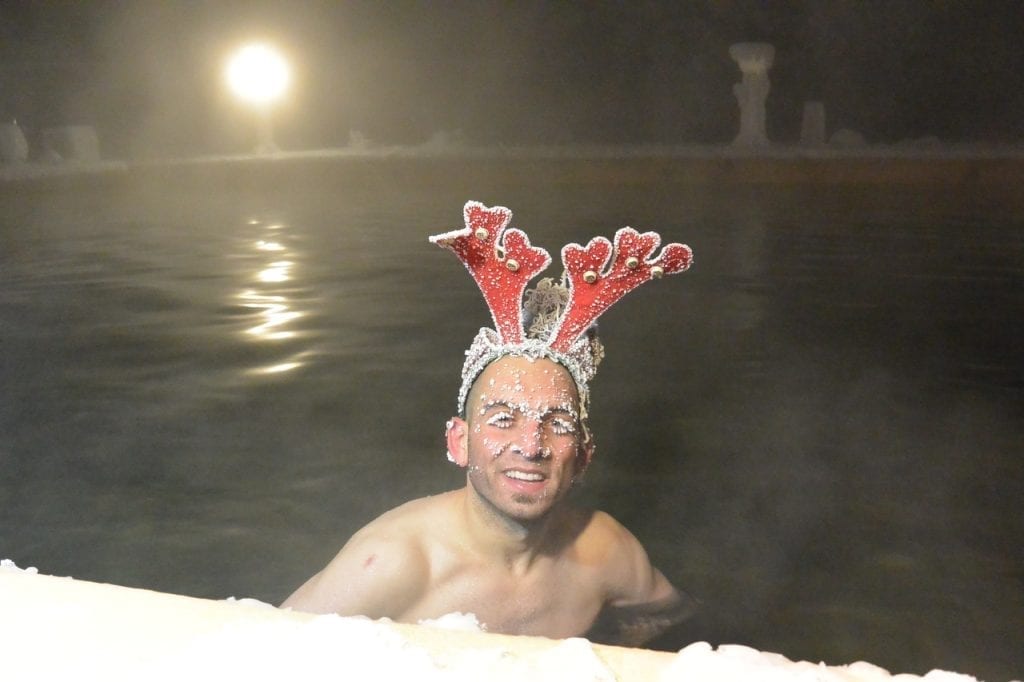 The hot pools are a great place to enter this competition, as well as to enjoy a relaxing bath in the calming, mineral waters. While chilling out in the Takhini hot pools, it is possible to see the Northern Lights from here, as the location offers excellent views!
Best "Snorror" Snowy Horror Picture
We love this shot! With his frozen eyelashes, brows, beard, glasses lenses, and of course, hair, it's hard to decipher the man's true facial expression. Everybody knows what it's like for your glasses' lenses to steam up but to freeze up is another matter! Maybe it's time to dig out the ice scraper.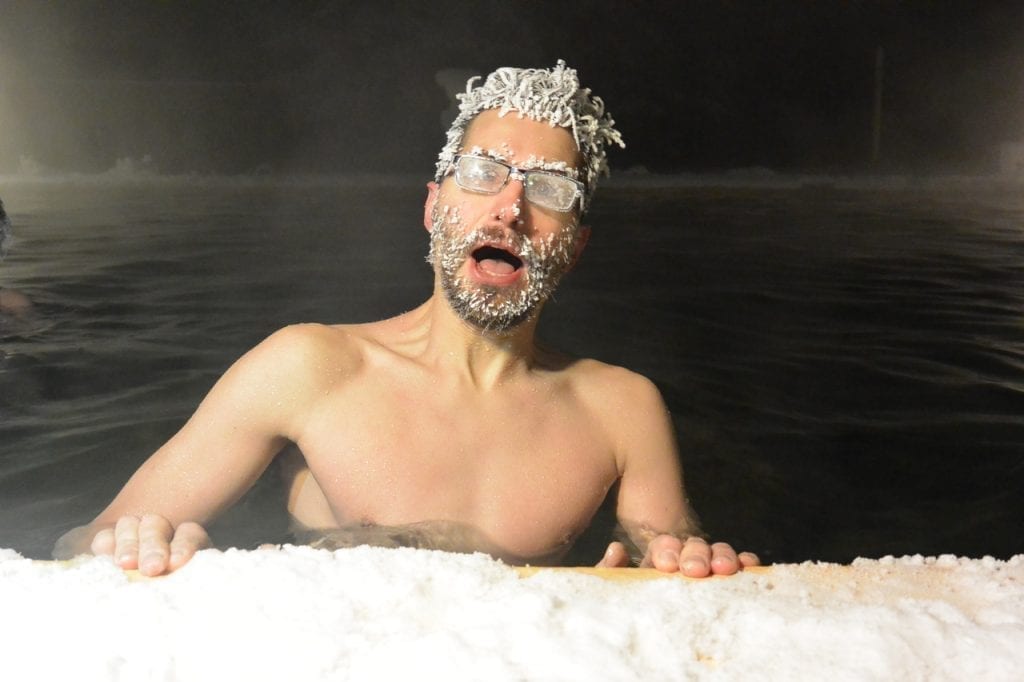 People come from near and far to enjoy the Takhini hot springs. Although the Hair Freezing Contest has really helped put the area on the map in recent years, visitors descend on this scenic part of Canada to enjoy the surrounding beauty and outdoor winter activities, too, such as hiking.
Best Frozen Hair Mask
This picture reminds us of wearing a hair mask. You can tell by looking at this photo that this lady's hair must be frozen hard and very frosty. Imagine how it must feel to touch your hair when it is frozen. Instead of running your fingers through your soft, smooth tresses, you feel rock hard ice beneath your hands.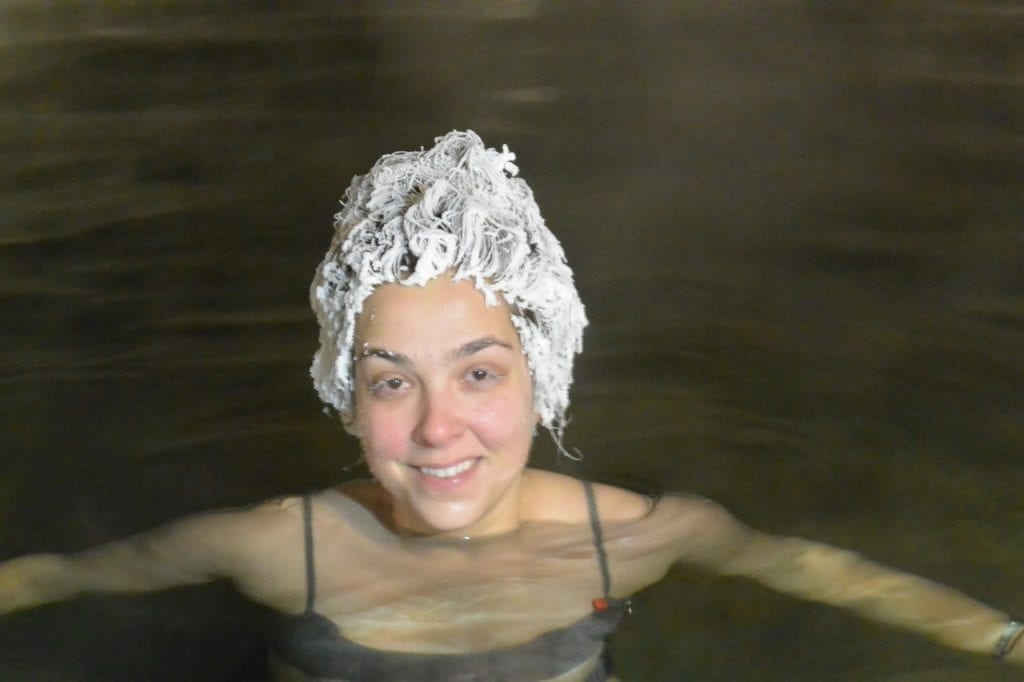 If you were to freeze your hair on a regular basis then you may risk losing the elasticity in your hair. However, freezing your hair for the sake of this competition as a one-off will not cause any lasting damage to your hair.
Best Snow King
Is that a star on the top of that man's head? Is it a crown? No, it's his hair! This man's expression is fantastic! His frozen beard looks full of snow and ice, and the way he has molded his hair into three vertical points is very artistic!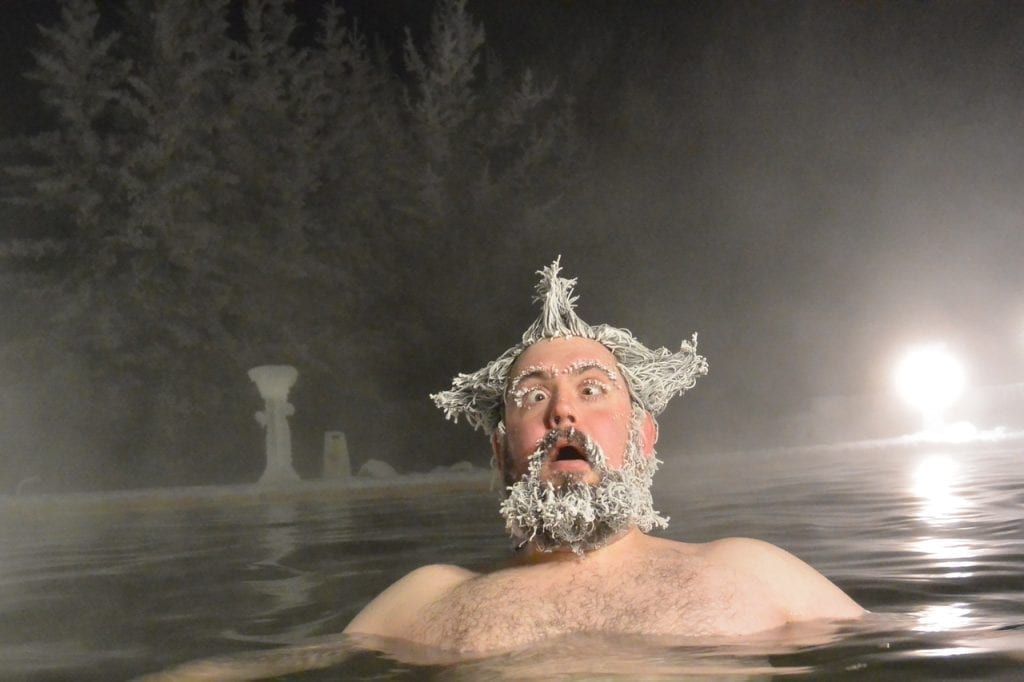 In order to create these unique frozen hairstyles, you must wet your hair in the hot springs first and then sculpt your hair into whatever shape or form you choose. Once your hair is out of the hot water, and your hair is exposed to the freezing cold air temperatures, your hair will start to freeze after about a minute.
Best Snow Princess
Isn't this a beautiful photo of this little girl? We've added in our own winner categories in this, our unofficial frozen hair competition, because we love seeing what each person brings to this contest. People of all ages and genders enter this competition, and it's amazing to see them exercise their creativity for this fun challenge!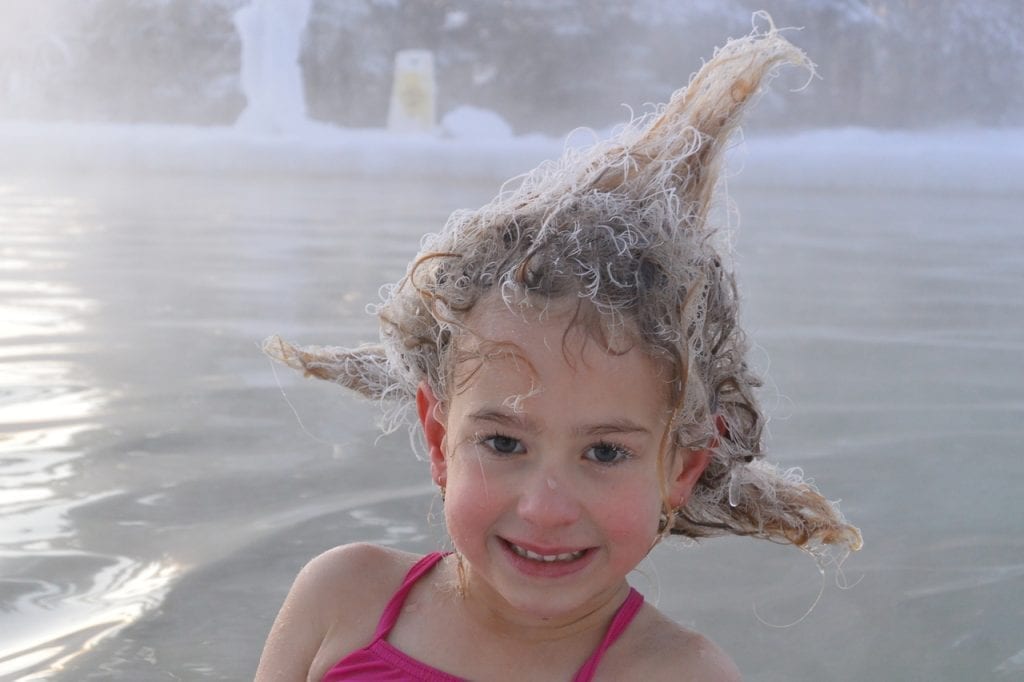 Although you can visit the hot springs to freeze your hair at any time between the months of December and March, the official hair freezing contest is usually held in February of each year. The first contest was back in 2011, and it has been extremely popular ever since!
Best Snow Queen
How impressive is this picture?! To get your hair to freeze like this, you would need to wet your hair in the hot pool water and then separate your hair into five sections as this woman has done here. You will then need to twist each section and sculpt it into five vertical spikes as it begins to freeze. The ice will set it in place.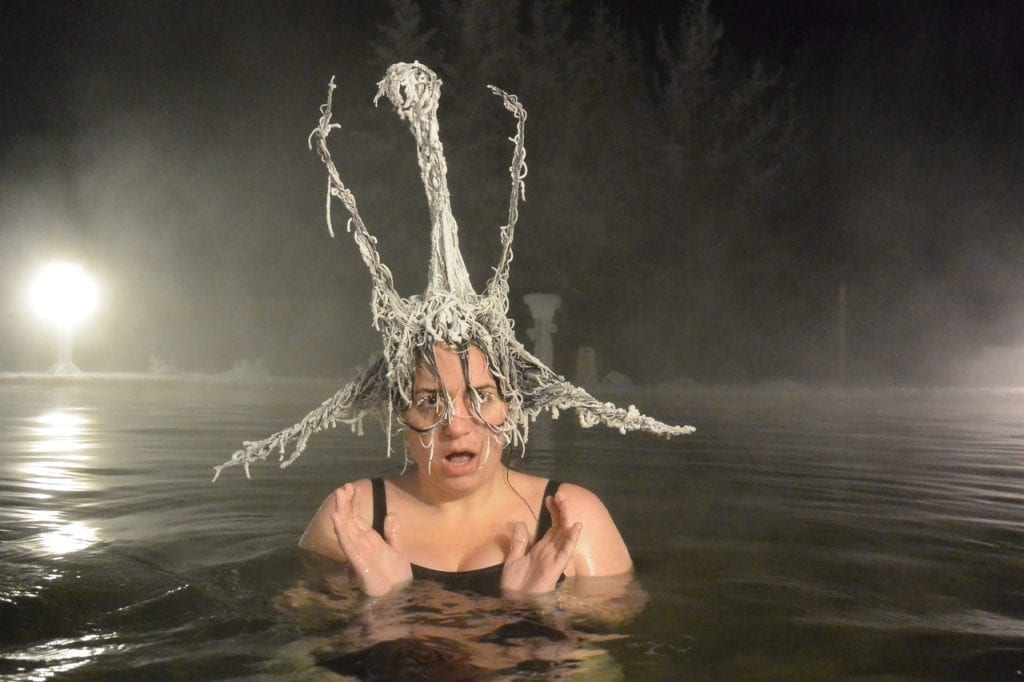 Attendees at the hot springs who participate in the hair freezing challenge may choose to freeze their hair and then leave the pool with their hair still frozen. However, frozen hair will take far longer to melt and return to normal this way. The best way to defrost your hair instantly is by dipping your head into the hot pool.
Best Snow Sisters
It's interesting to see how everybody's hair can look so different when frozen and how in some cases, like here, it's easy to create matching looks with other people in your group. Some of the contest photos show how hair of any length can be frozen into one solid block, whereas here, it looks like each strand has frozen.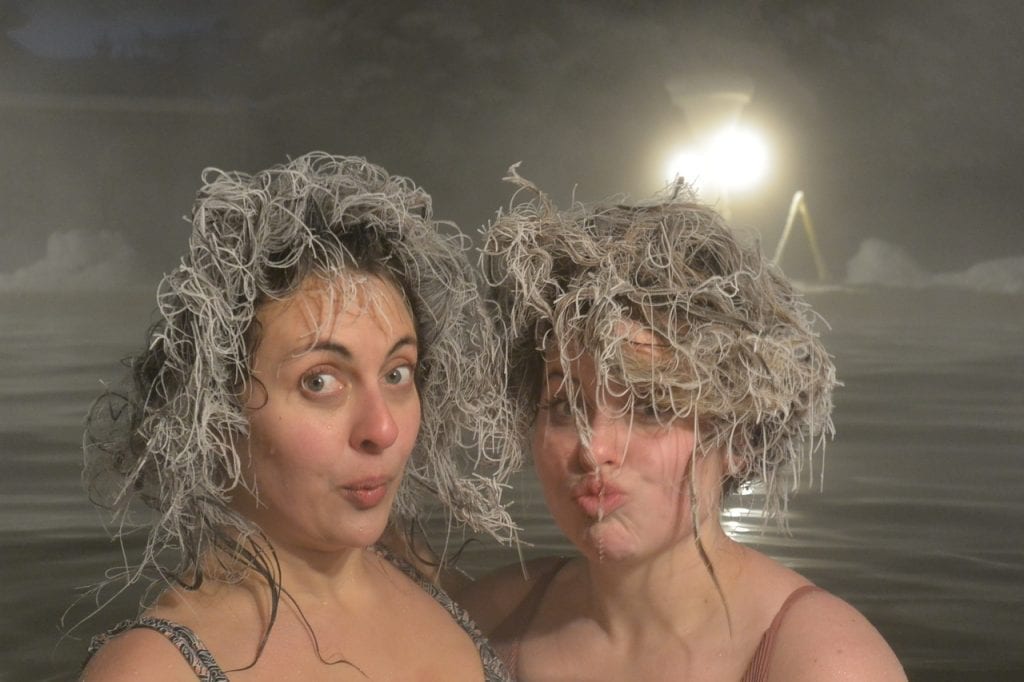 Although visitors to the hot pools don't have to enter the contest, they can freeze, defrost and re-sculpt their hair as many times as they like while in the pool. When the participant is happy with their frozen hair design, they make their way over to the edge where they can have their photo taken for the contest.
Coolest Trick
When you first look at this picture, it looks like it's been photoshopped or edited in some way. However, the hand in this man's hair is not an illusion. If you look closely at this image, you will see that there is somebody behind him, and they have poked their "thumbs up" through the man's frozen hair.
This is another creative idea! Each of these hair designs is so unique and different. Although a large part of what makes these hair designs so fantastic is the people who've styled them, your hair is also much easier to mold and work with as it begins to freeze.
Biggest Hair Award
We've seen a lot of impressive and creative images so far, but this one is simply phenomenal! This has got to be the biggest hair and most eye-catching photo we have seen so far from the pictures submitted by the contestants!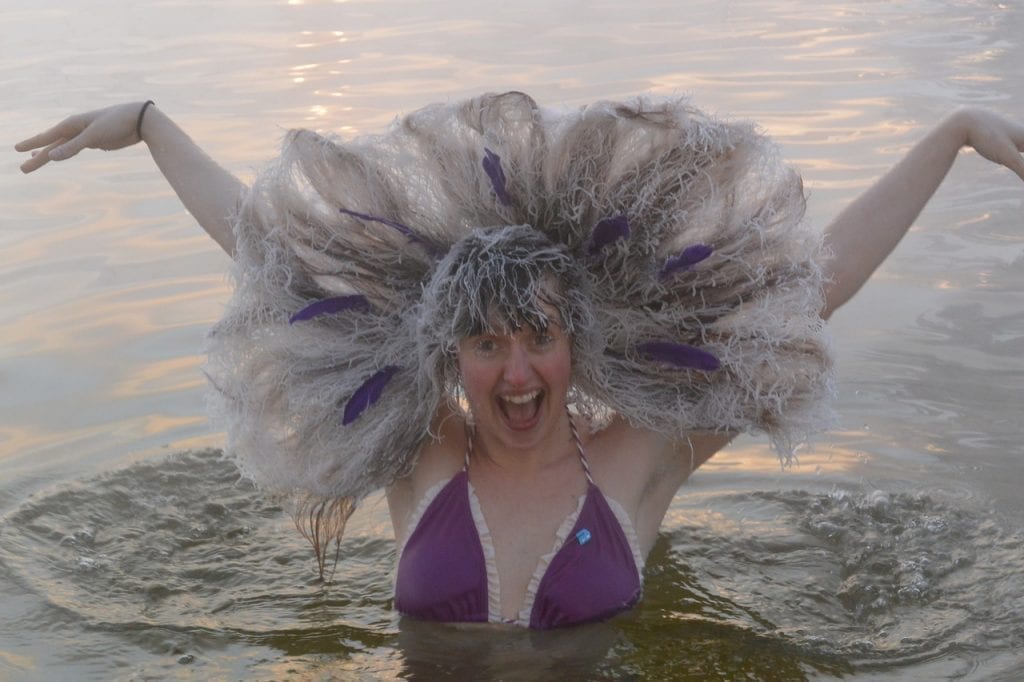 The Hair Freezing Contest first began back in February 2011. It originally began as an add-on event to the local Yukon Sourdough Rendezvous. Athletes who participated in winter sports all day, as part of the rendezvous festival, could head to Takhini Springs to take a well-deserved bathe in the hot springs.
Coolest Pose
The manager, at that time, of the hot spring pools, decided to turn the relaxation session into an additional competition by asking the attendees to wet and sculpt their hair into a unique piece of frozen artwork. The participants would take their own selfies, and the best photo won.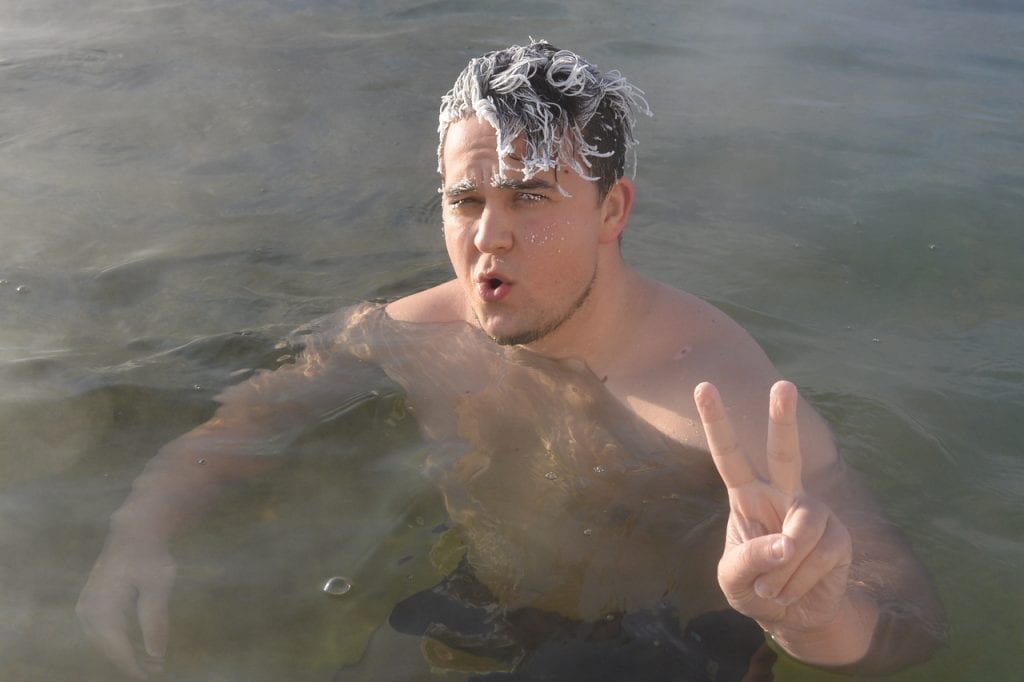 The activity began as just a bit of fun for athletes who had attended the Yukon Sourdough Rendezvous. Yet, what started out as just a bit of spontaneous fun among a small group of people has turned into a major competition that attracts visitors from all over the world!
Bravest Participant
Now, this activity has earned its own proper name and has been turned into an official competition: The Hair Freezing Contest. Although the Takhini hot springs attract visitors who want to enjoy the mineral baths' therapeutic properties, the hair freezing contest draws in tourists on an international scale.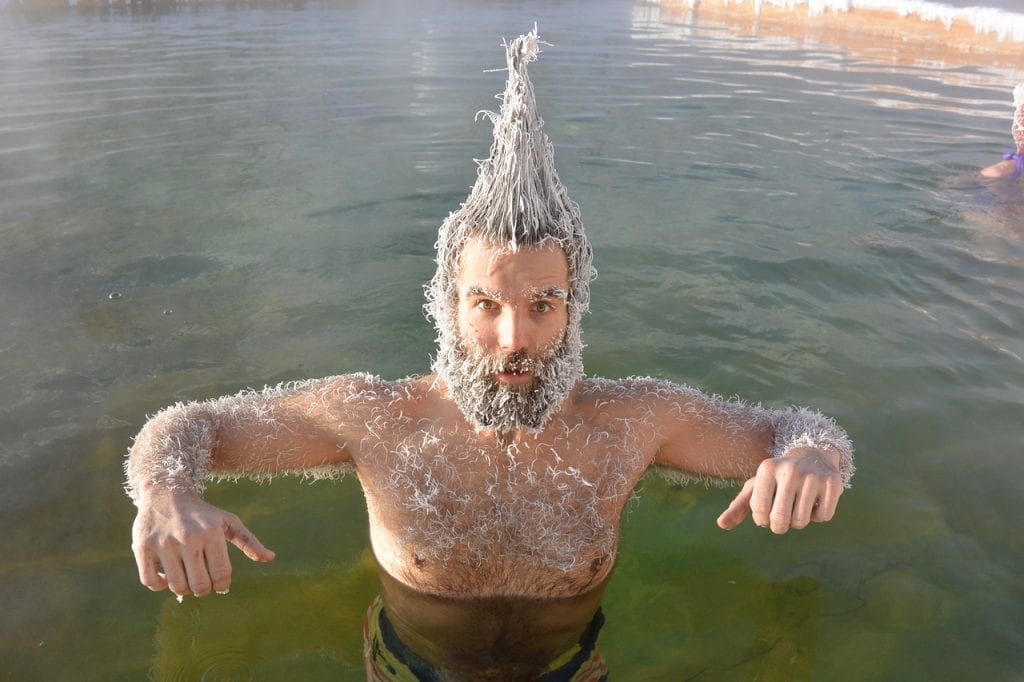 Unlike other festivals and competitions, the Hair Freezing Contest at Takhini Springs is not restricted to a specific date. While it is stated that the contest is held during February of each year, participants can enter at any time during the winter months, provided that the weather is cold enough for your hair to freeze.
Most Creative Hairstyle
To commemorate the month in which the competition was first founded, back in February 2011, the official month of the contest if February. However, attendees can enter the contest at any time, as long as the temperatures are cold enough to achieve the desired result.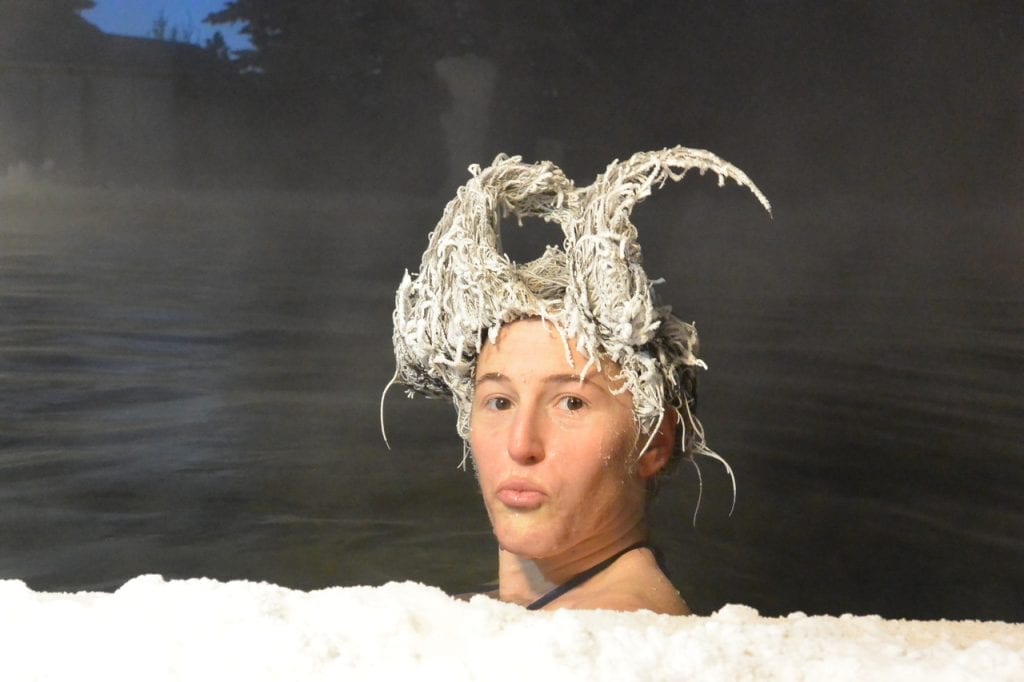 The temperature of the hot pools at Takhini Hot Springs varies. The water is approximately 42 degrees Celsius where the water from the hot springs enters the pool, and towards the far end of the pool, the water cools down to about 36 degrees Celsius. The water from the hot springs flows through into the pools throughout the day.
Most Dramatic Picture
Although summers in Yukon are pleasant, winter temperatures are cold, and it is expected for the area to experience heavy snowfall. Daylight hours may be short, it may be snowy and cold outdoors, but don't let that spoil your fun!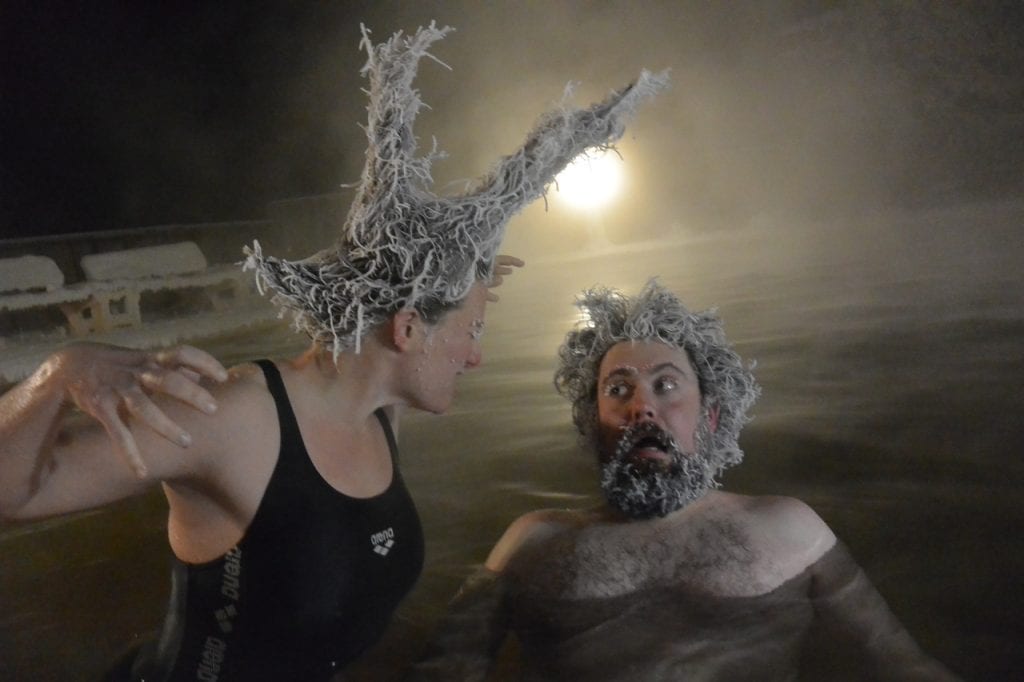 Yukon is an excellent place to visit during winter. As well as Takhini Hot Springs, visitors can enjoy winter sports, hiking, and a scenic, snowy break. But brace yourself; daytime temperatures during the winter months typically reach -13 degrees Celsius on average and can drop to as low as -40 degrees Celsius at night time.
Best Snow-hican Mohican
Whereas it would usually take a substantial amount of hair gel or wax to achieve such a striking Mohican, nothing seems to be as effective as freezing your hair. This is one of the best Mohicans we have ever seen!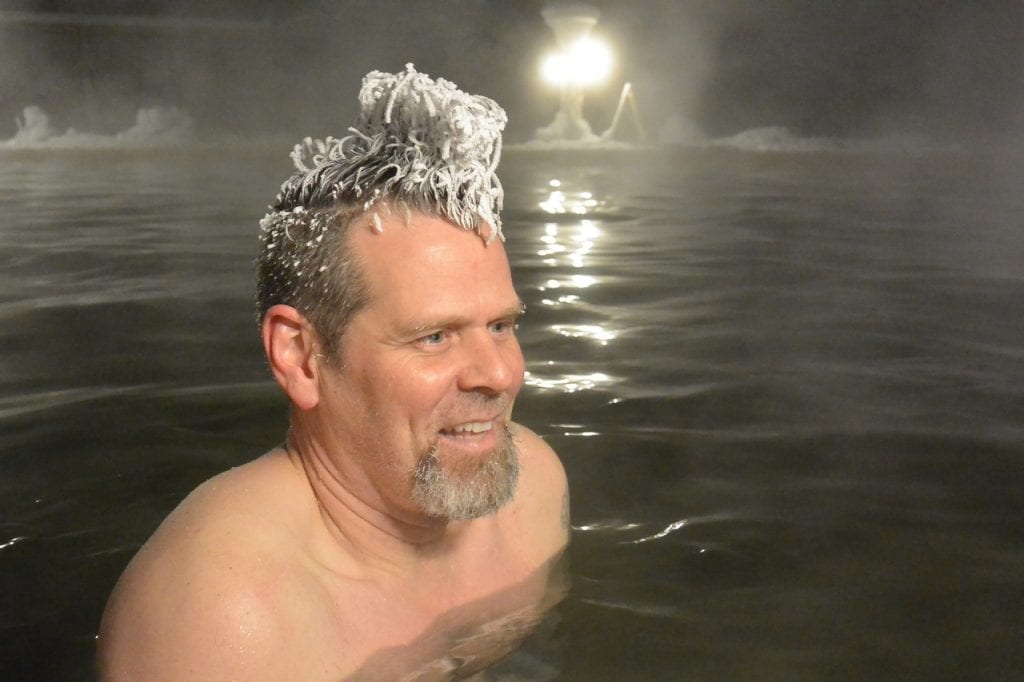 There was once a hairstyle trend where men would wear Mohicans and use different colored gel or pomade to differentiate their hairstyle. The way that this Mohican is super white and snowy on the tips reminds us of this trend from the early 00s.
The Official "Most Creative" Winner
Now for the official winners of the annual Hair Freezing Contest! The official winner of the "Most Creative" category is this participant here. We can understand why this creative lady made it on to the winners' list because we also chose her picture earlier on for our own unofficial list!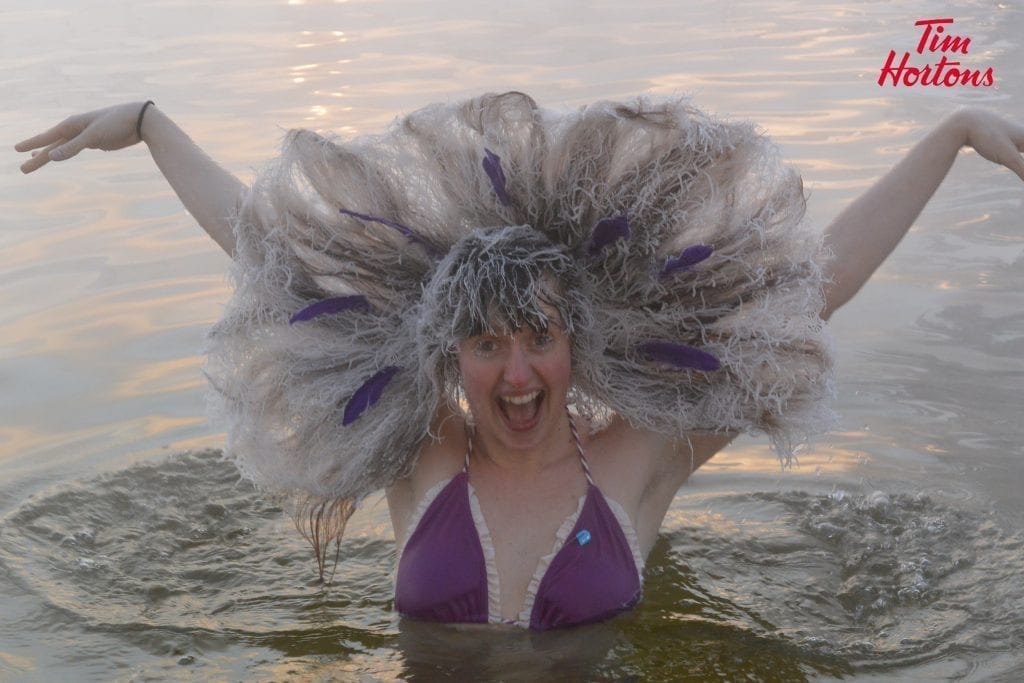 The "Most Creative" category is currently sponsored by Tim Hortons, which is a well known and iconic brand in Canada, as well as in many other parts of the world. Tim Hortons supports the contest by donating a set amount of money, for every entry into the competition, to the Outreach Van, which is managed by Blood Ties.
The Official "People's Choice Award"
This creative couple was the official winners of the "People's Choice Award." This is a fantastic picture, and therefore we can definitely see why they won! Their hair looks frozen solid, and super icy! It would be interesting to know how long this took to melt…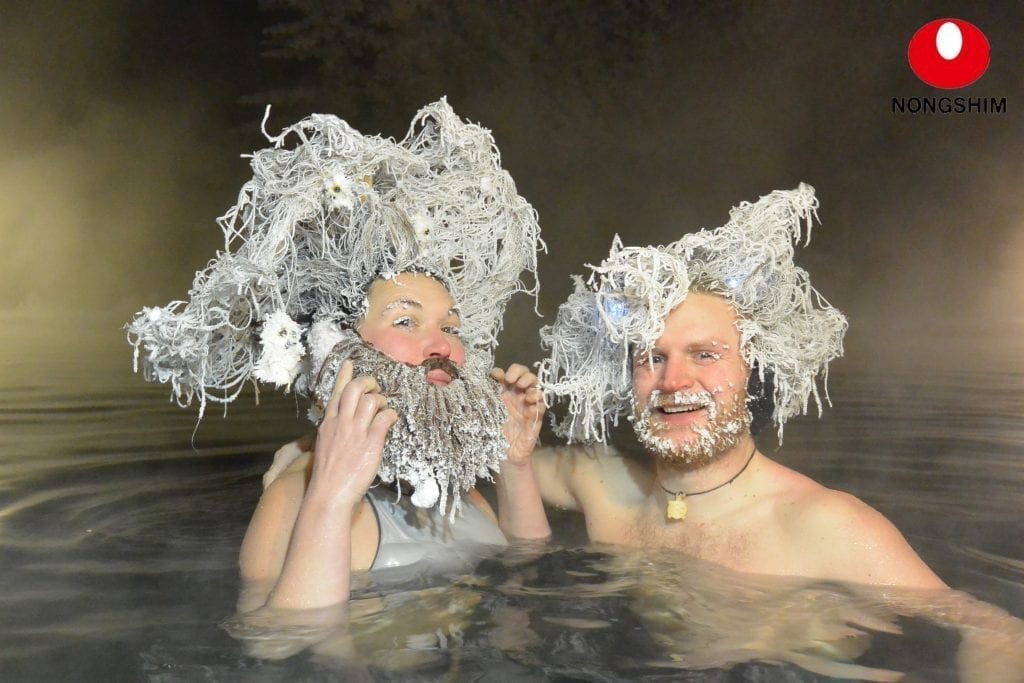 This is a category which is sponsored by Nongshim, an instant noodle company. Nongshim will donate five packs of instant noodles to the Whitehorse Food Banks for every entry in the contest, and every participant will also receive a free bowl of noodles upon completing the competition.
The Official "Best Group" Award
Now, this is a very interesting picture! This group of three participants are the official winners of the "Best Group" category. We have loved observing how creative people get with freezing their hair! This group has frozen hair, eyelashes, and brows!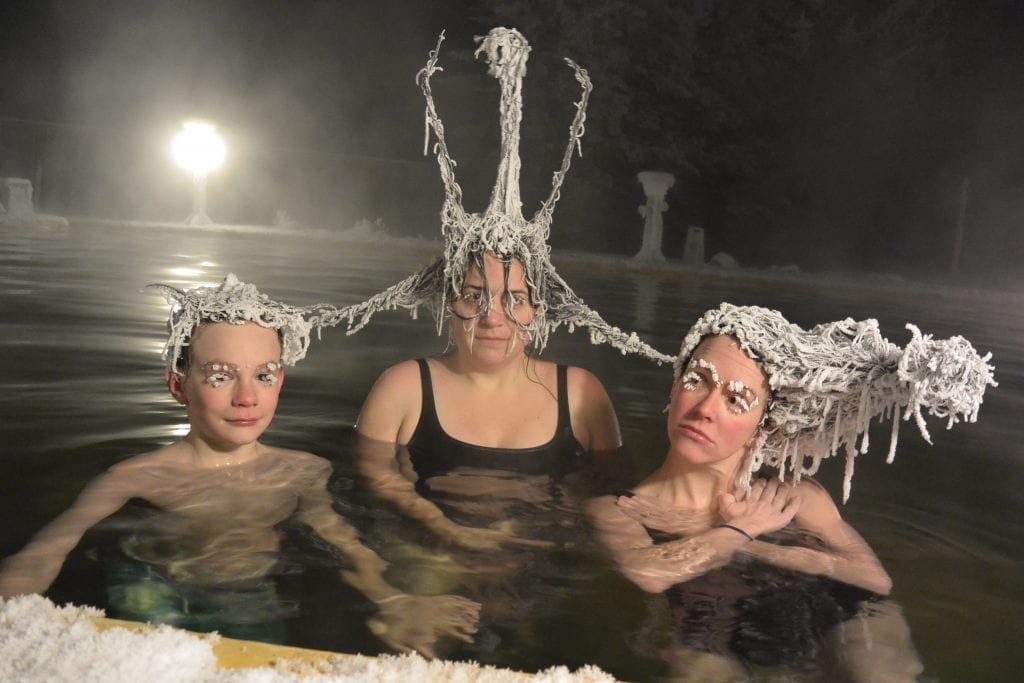 Here you have three participants who have frozen their hair in very unusual and unique ways. The woman in the center has frozen her hair to look as though it is standing up and the woman on the right looks as if her hair is leaning towards one side!
The Official "Best Male" Award
If you remember a little earlier on, we also picked this guy as one of our unofficial winners too! What impressed us about this man is his unique frozen hairstyle, as well as the fact that he has pretty much frozen all of the hair on his body too!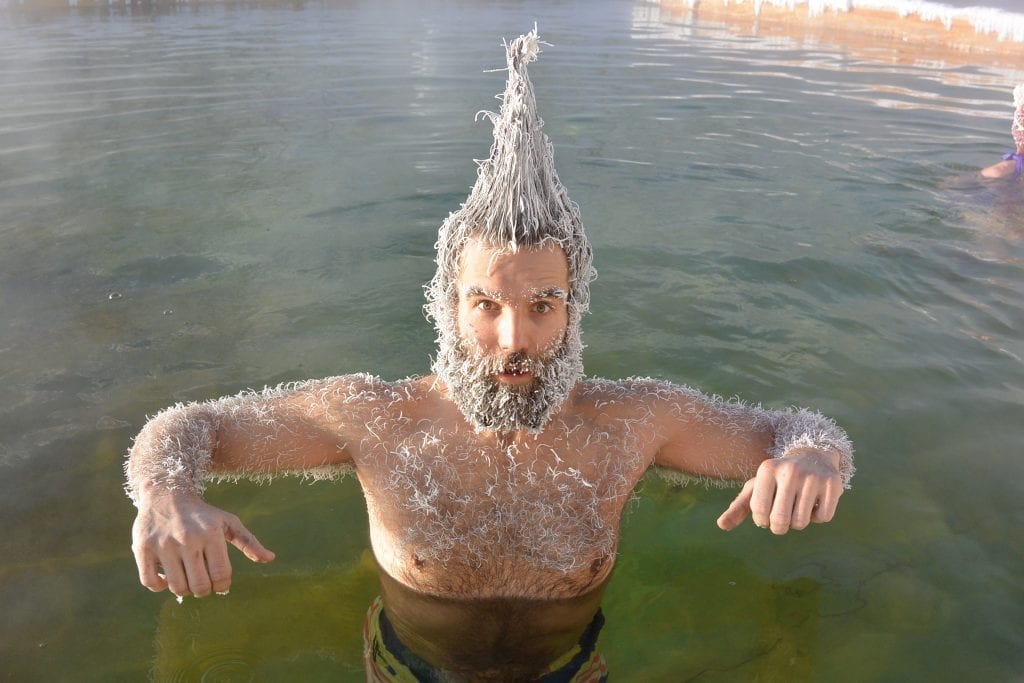 His hair, eyebrows, eyelashes, mustache, beard, arm hair, and chest hair are frozen! Admittedly, staring too long at this picture can make you shiver. He must have felt the cold for sure. Either way, it was worth it, as he won the "Best Male" category of the contest!
The Official "Best Female" Award
And finally, this is the winner of the "Best Female" category of the Hair Freezing Contest. At first glance, the picture is very amusing. Her facial expression is dramatic, as is her hair, which has frozen into a crazy mess.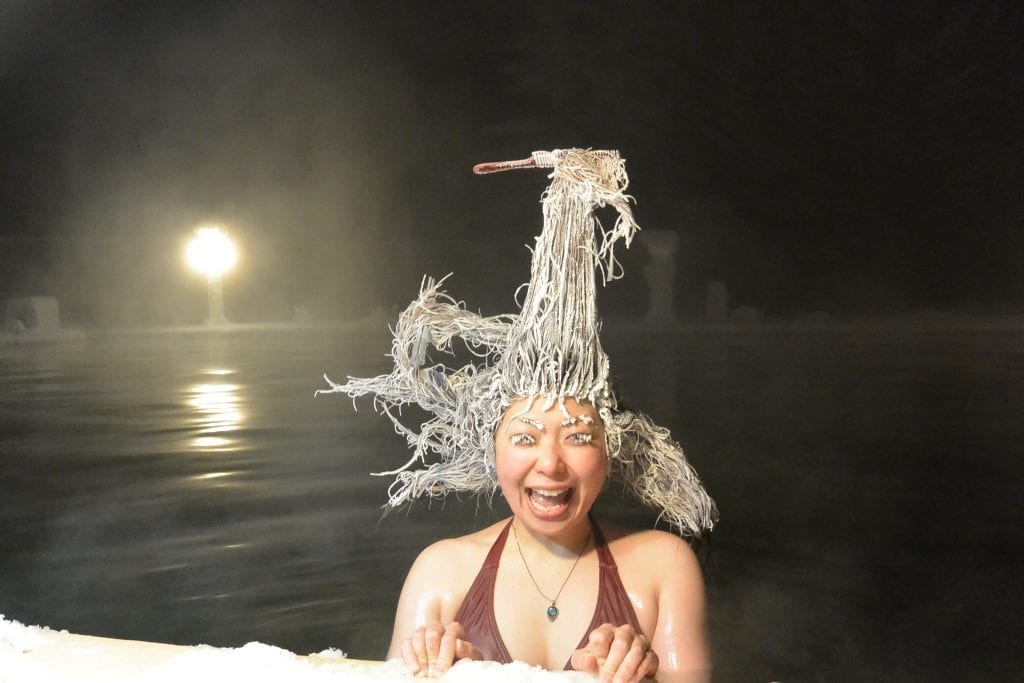 However, if you look closer, you will see that the lady has frozen what appears to be a hairbrush into her hair at the top. Not only is this impressive, we can't help but wonder how she managed to freeze the brush in that position?