40 Speedy Hacks To Get Things Done Fast
By Nikita D February 10, 2021
---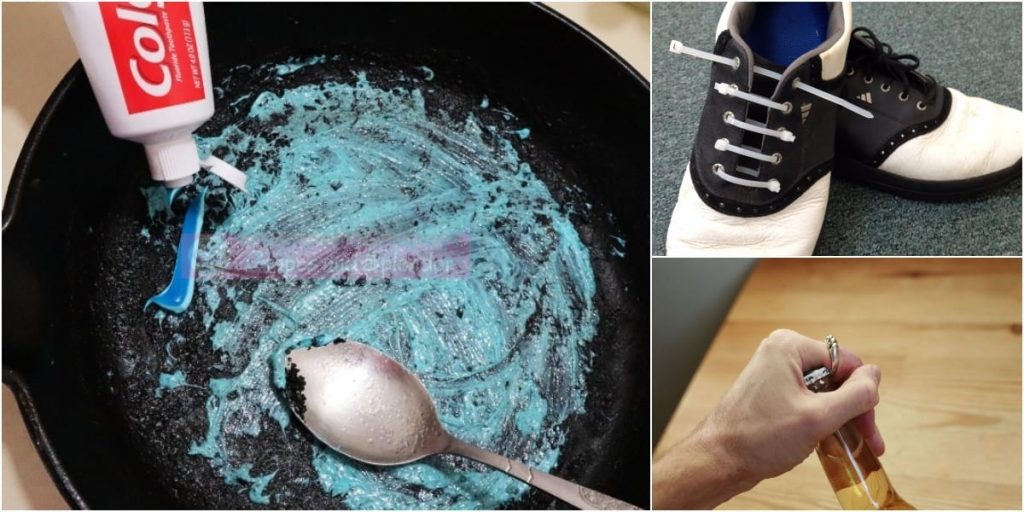 Life has become more fast-paced and can often be frustrating and just full of mundane, tedious chores that are waiting to be attended to. We will do anything to make these tasks seem quicker and easier. Whether it is sharpening blunt razors, cutting vegetables, or just getting drinks to cool faster – these new ways of doing things can often be time-saving. Also referred to as "life hacks," this article is full of these nuggets of wisdom. You can use these hacks in your life and let others know about it too. These life hacks make our usual chores super easy. So, read on, apply these hacks to your life. They might come in handy more than you know! Happy reading. 
1.Sharpening Blunt Razors
Razors are probably one of the best inventions for getting rid of hair. They are handy and cost relatively little. But, they can get blunt after a short while of using them. Is your razor not working as it used to?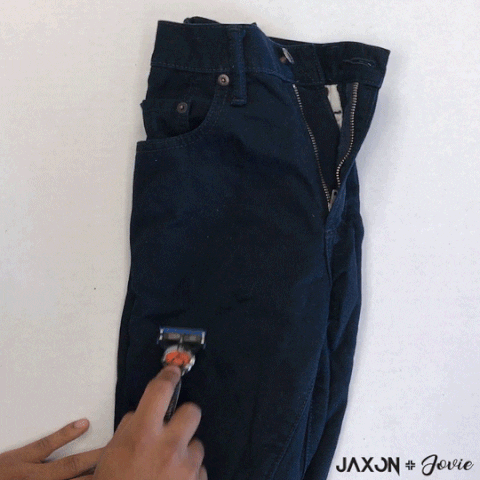 If you are not keen on buying new blades immediately, then you can try this neat trick. Take a pair of jeans, run the blades up and down the fabric a few times to make them sharper. This will sharpen the razor a little so that you can use it a few more times. 
2. Using a thread to trim the hair
While shaving and waxing do the job, sometimes one tends to have a long single hair on the face that needs trimming. For this, you can try using a thread to remove those one or two hairs. Twist around the thread, so both the ends of the thread get attached to each other.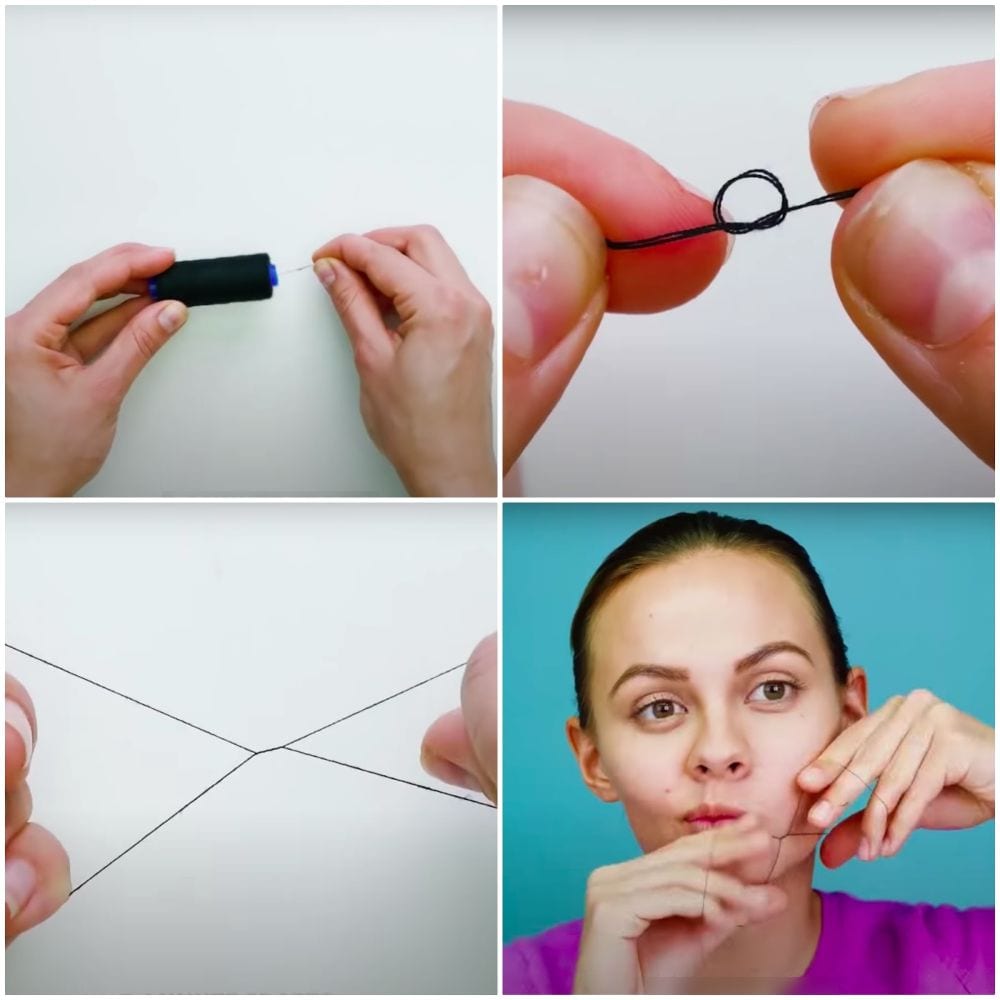 After that, you will have to twist the thread around itself a couple of times. So that the cotton acts like a razor, with swift motions, you can remove the hair on your face. For a more detailed technique, you can look at Youtube for tutorials. 
3. The Right Side of the USB
Ever been to an important meeting, and you just cannot for the life of God put the USB in the USB port? Avoid such embarrassing situations in the office by marking the USB's right side with a permanent marker.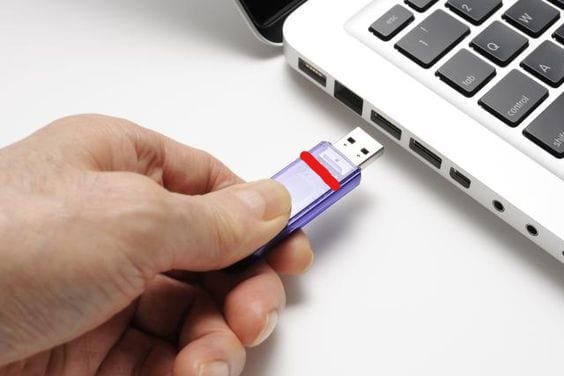 This is a simple solution to a problem that haunts us all at one time or the other. You can also mark the computer USB port, if you want to make the process even faster, but, this is probably uneccessary for most people.
4. Deshelling a Boiled Egg Without Any Hassle
Want to deshell a boiled egg easily? Deshelling an egg can be mighty stressful. There is a life hack which we will tell you, which will help you to deshell a boiled egg without any hassle. First, peel off the tip of the shell.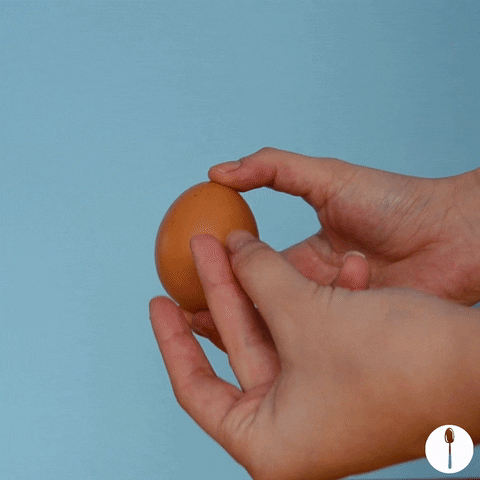 Then, lift the egg to your mouth and blow as hard as you can. If you can do this technique to perfection, you can blow the white part of the egg right off the shell. Obviously, we would not recommend you doing this if you are deshelling an egg that someone else is going to have. 
5. Cool drinks Easily
When the weather is hot is the perfect time to enjoy some cool drinks. They help to cool you down and taste great too. Sometimes though, the soda cans are too warm to drink. If you want them to cool down fast, here is a handy tip.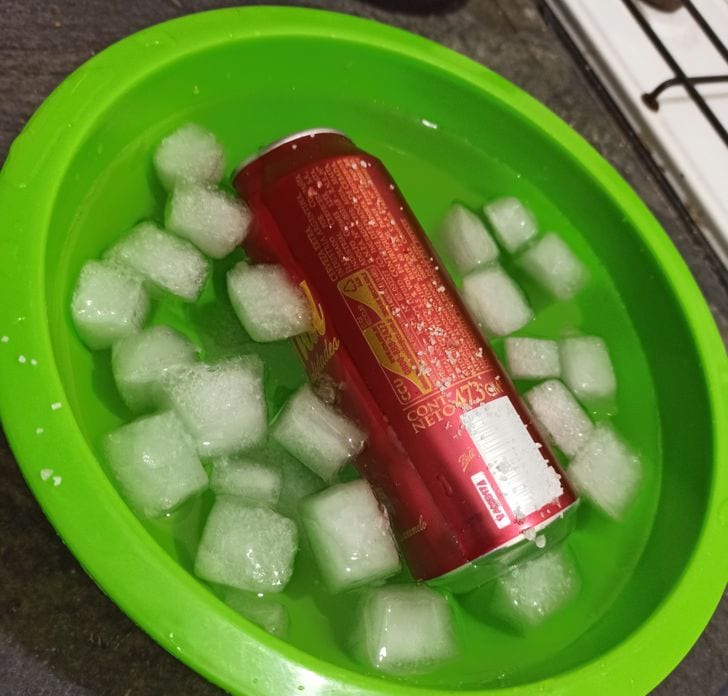 Grab a bowl of water, put some ice in it, sprinkle a spoonful of salt, and stir thoroughly. Next, you can dip your desired can of soda in the bowl. You will notice that the soda cools down faster than usual. 
6. Prevent a Computer from Overheating
Laptops have a tendency to overheat when it is resting on one particular surface for too long. Not only does the computer start making all kinds of noises, but this overheating can prove to be harmful to the laptop in the long run.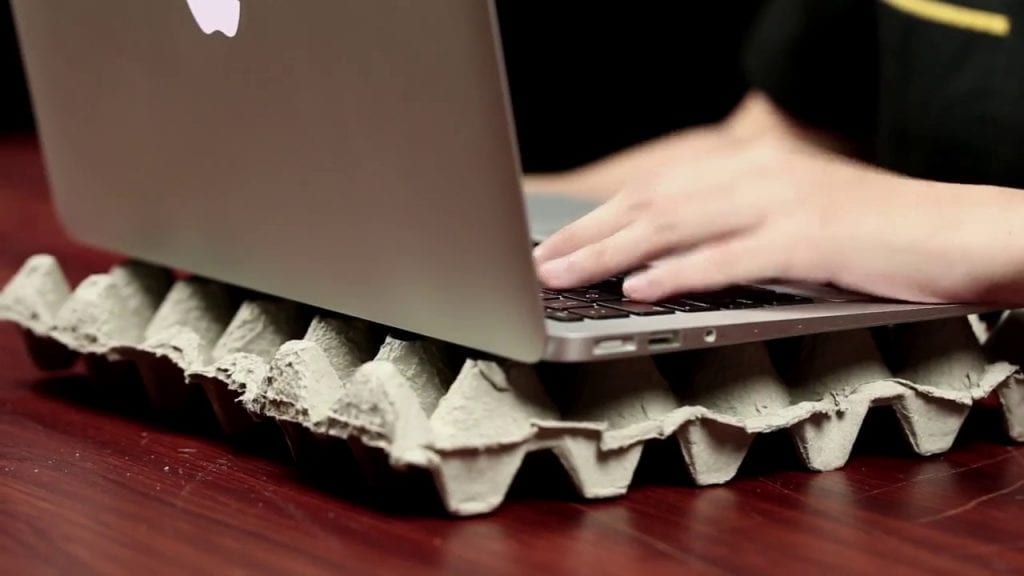 There is an easy way out of this. Grab an empty egg carton, tear away the top half and flip the carton upside down. The carton can now be used as a laptop cooling pad if it is placed under the laptop. 
7. Removing paint from your skin
If you are going to do any painting around the house, then this tip is for you. Wearing appropriate clothes is well and good. But, paint is also challenging to remove from the skin. It tends to dry on skin fast.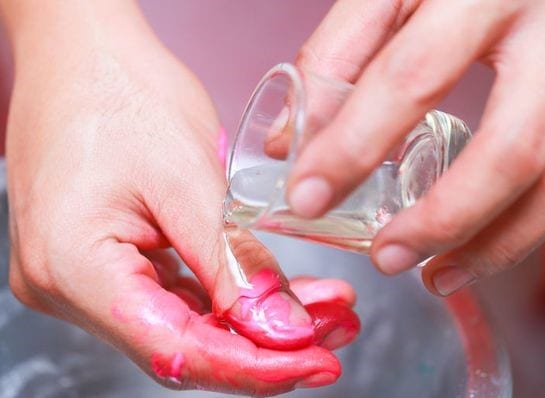 In order to remove paint more easily, all you need to do is simply use vegetable oil. Dip a cloth in vegetable oil to scrub off the grimy paint stains. They will come off in no time. Thank us later!
8. Moving text from paper to digital
Want to copy your notes from a notebook to the laptop? While it is a lot of manual labor, this nifty hack might make things easy for you. Grab one of those pants hangers with clippers on both ends.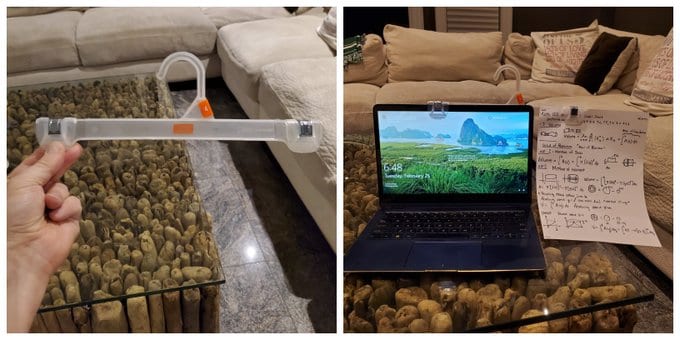 Clip one end on the laptop, and the other end can be used to hang the notebook from which you are copying notes. After implementing this, you will not have to always look down from the computer to your diary. 
9. Cleaning rusty tools
After being in use for a long period of time, tools tend to get rusty. We tend to stop using the tools after they turn rusty. No need to throw them away either, just clean them using this handy technique.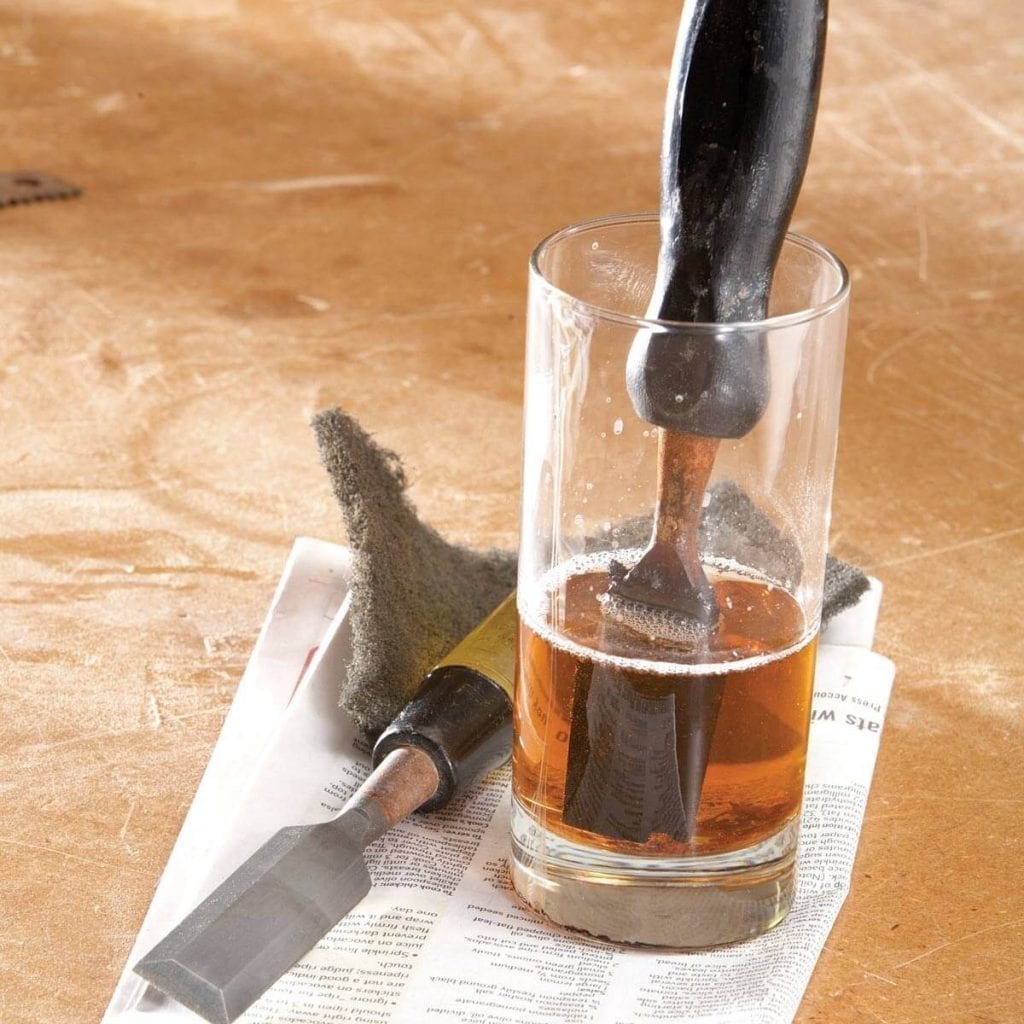 All you need is some vinegar and a box large enough to soak these tools in. Simply put the tools in the vinegar long enough so that the rust can be dissolved off. Take the tools out after some time, and you will find that the tools are as good as new. 
10. Plastic Shoelaces
Shoes are an inevitable part of everyday life. But laces tend to get really dirty or even get lost after you have washed the shoes. If you loathe the concept of tying your laces all the time and would want to get rid of them, this is the hack for you.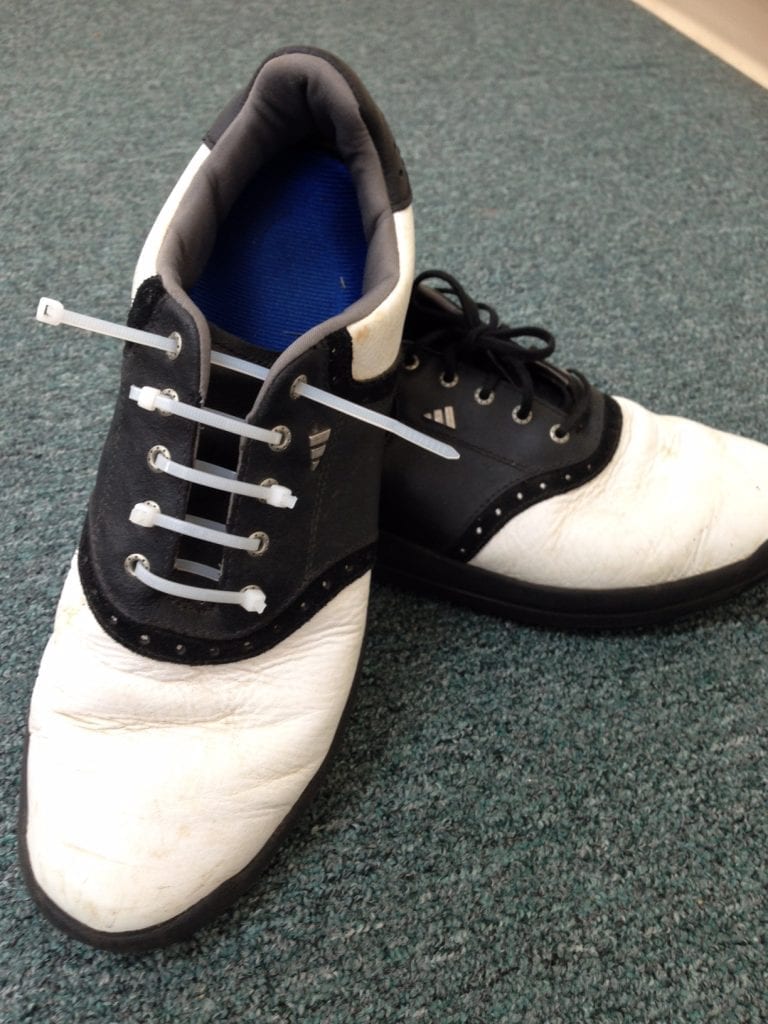 Buy a couple of zip ties from the hardware store to replace them instead of the laces. It may sound strange, but the zip ties make fantastic replacements for laces. You just need to adjust them to the right spot so that they sit comfortably on your feet.
11. Fitting Large Jeans
Jeans or pants do not make the best gift as the sizing differs for every body type. However, if someone has gifted you jeans or trousers that are too large, you can make them work instead of throwing them away.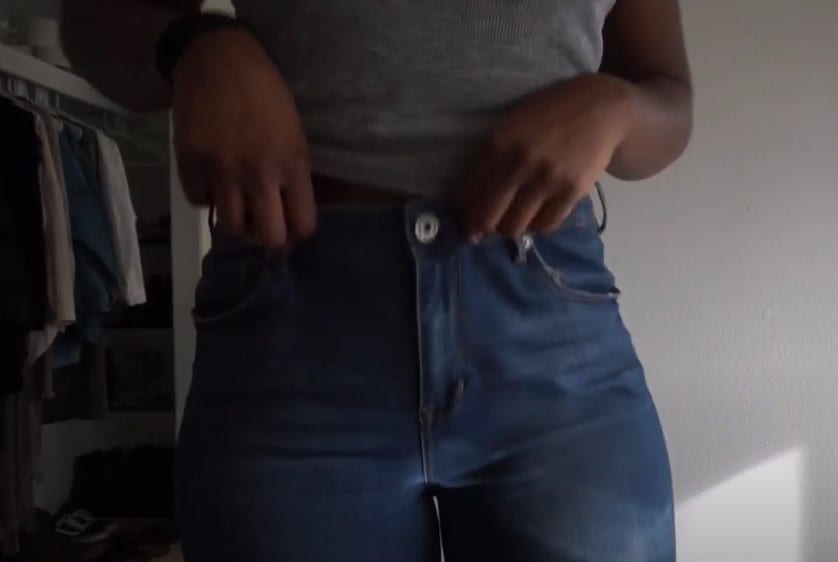 Take a cloth and tie a knot between the two belt loops to pull the loops together. Pull the ends until the jeans fit you, and you can tuck the extra fabric in your pocket. Wear a long enough shirt so that no one can see the pocket. 
12. Reducing the effect of scratches
Phones tend to get scratches over time, which makes the phone look old. While you cannot get rid of the scratches on the phone screen completely, you can reduce them. This can be done by rubbing toothpaste on the screen.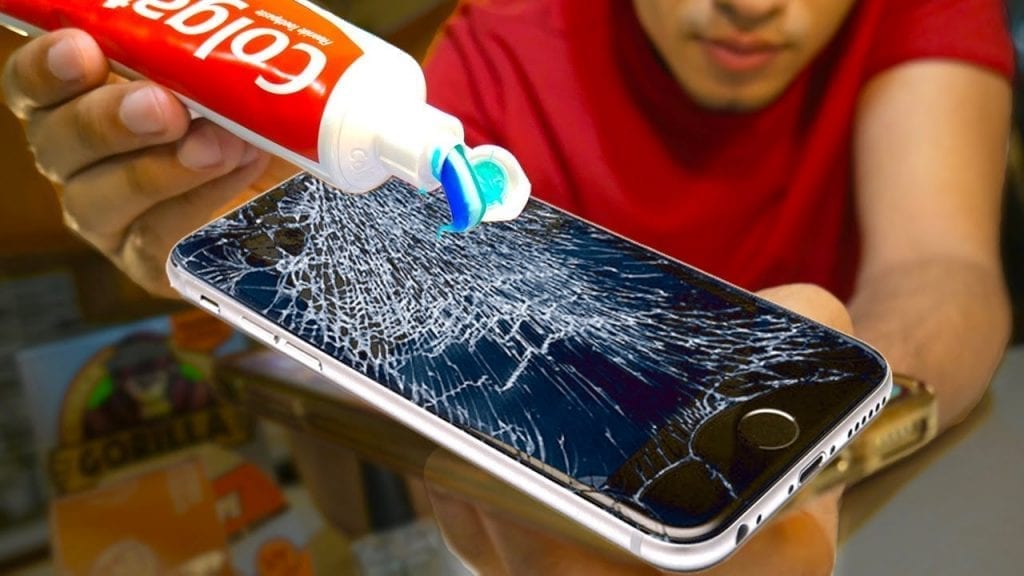 After rubbing toothpaste on the screen, you just need to wipe it down. The scratches will not be magically erased, but the effect will be less. This hack will probably make your phone look almost as good as new. 
13. Carrying Bags Efficiently
When we go grocery shopping, every shopkeeper gives different bags to hold things. After a while, you get way too many bags to hold in one hand, which creates pressure on your fingers. There is a hack to make shopping easier.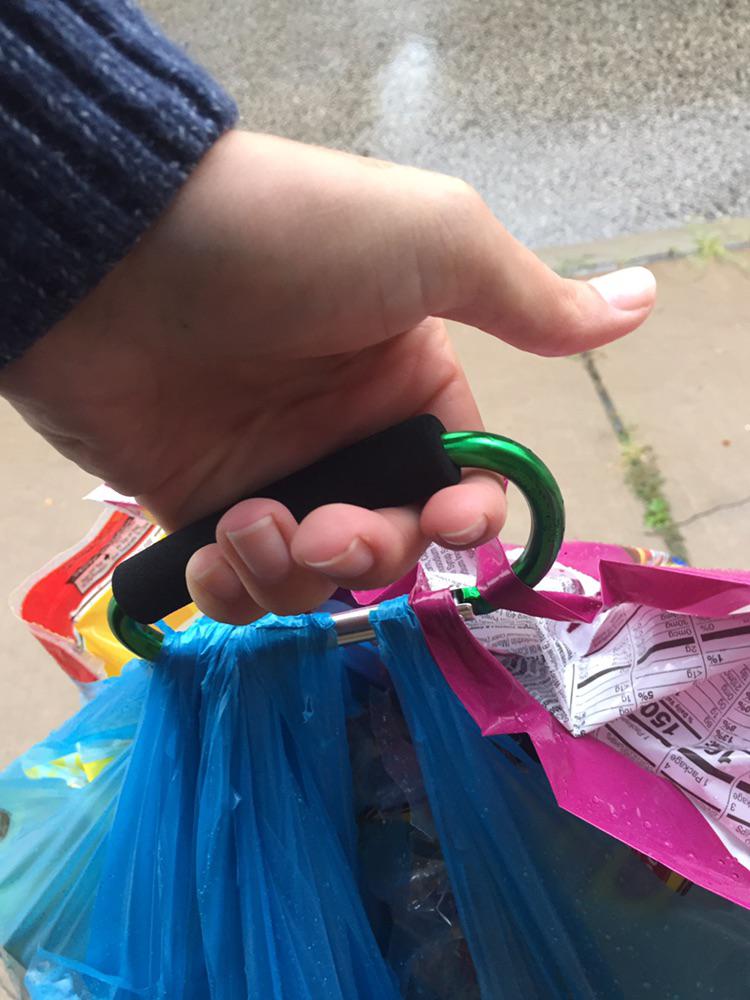 Try to get one of those rappelling clips from the store. This clip can be used for holding multiple bags together. This way, it will cause less pressure on your fingers, which will make shopping easy. The weight of the bags will be the same, but you will feel less pressure.
14. Save a Broken Egg
Eggs can easily get broken. Because they are so fragile, sometimes just the trip home from the store is enough for one or two of the eggs in the carton to break. If you don't want to waste them, you can quickly poach them as a snack.
Heat a pot of water and add one teaspoon of vinegar in it. Pour the broken egg inside the water and let it cook. Stir the water a little to transform the yolks and egg whites into a delicious breakfast meal. 
15. Keeping all the wires neat and straight
Wires and cords are tough to store. They often find a way to get tangled up and twisted. This leads to irreparable wear and tear of the wires. If not kept properly, they can get completely damaged. This life hack will help you store wires safely.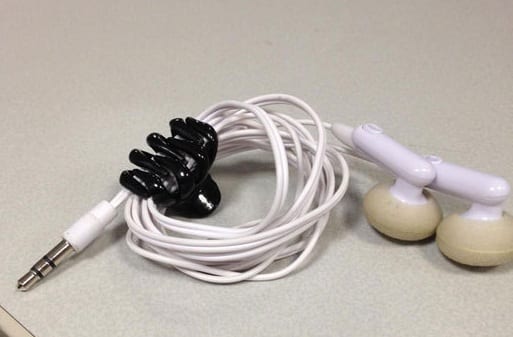 All you need for this are small hair clips. Just roll the wires as neatly as you can and put a hair clip to secure it all together. This will help to keep them safe from tangling, plus you can keep them in your drawers in a neat way. 
16. Opening Bottles Easily
Bottles with metal caps often need a sturdy bottle opener. Bottle openers are not always available, though, and one needs to think on their feet at this time. Instead of struggling to open it, this hack will totally help you.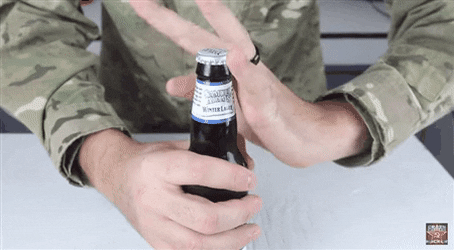 If you are wearing a ring of any sort, then you can use the ring for some leverage to open the bottle cap. It is a simple hack, but it is very useful when one struggles to open a drink on a hot summer's day. 
17. Drying Nail polish Faster
Everyone likes pretty manicured nails. Picking your favorite nail color and applying nail polish can be almost therapeutic. The annoying part of the whole experience is waiting for the nails to dry. They tend to take ages to dry.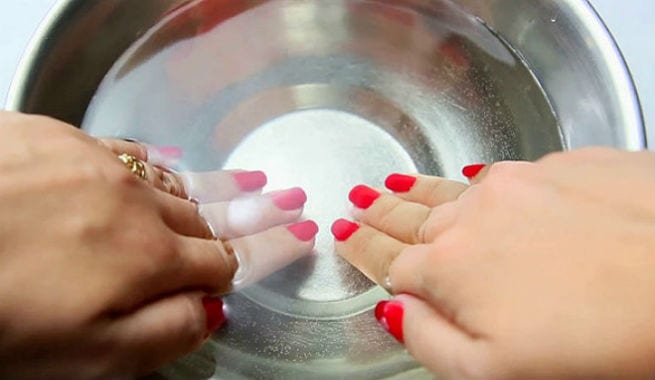 To speed up the process of drying, just take a bowl of cold water and immediately dip your nails into it after applying nail polish.Soak them in the bowl for a while. You will notice that the nail polish dries faster than usual.
18. Heating Potatoes Evenly In A Microwave
Have you ever tried heating a potato in the microwave? Chances are you have not been entirely successful in it. Often, the bottom part of the microwave tends to stay cold and does not heat up properly. This hack will totally help you in this situation.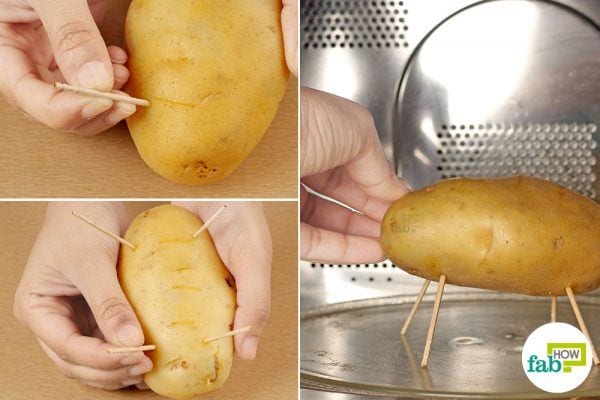 Take a few toothpicks and make little legs out of the potato. This will make the potato stand on the plate for more even heating in the microwave. This means that you will enjoy a yummy potato the next time around.
19. Keeping Your Rugs In Place
A rug has the ability to add a nice touch of personality to any room. It brings the room together and also adds some color. Rugs also have a tendency to slip from their place if someone walks on them.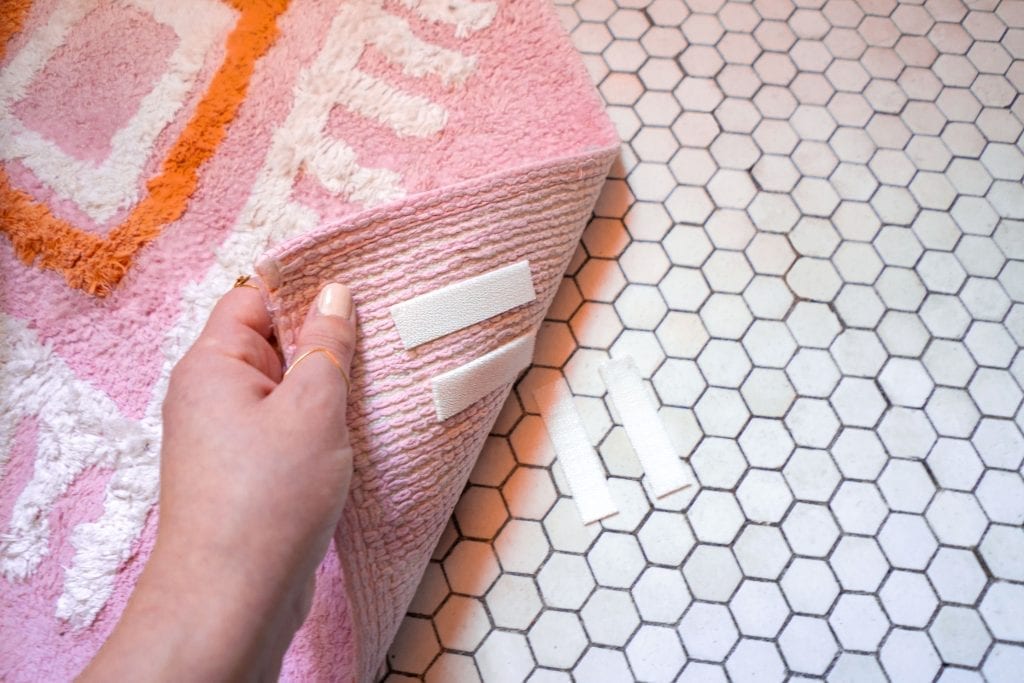 Avoid this annoying incident from occurring by placing double-sided tape and Velcro on all four sides of the rug. This way, you can secure the edges of the rug and also move it whenever you want without any hassle. 
20. A DIY Drink Holder
Long hours of work at a computer can be challenging. A refreshing drink can keep you hydrated. If you need your own DIY drink-holder, then this lifehack is for you. Though, we recommend you do this at your own risk.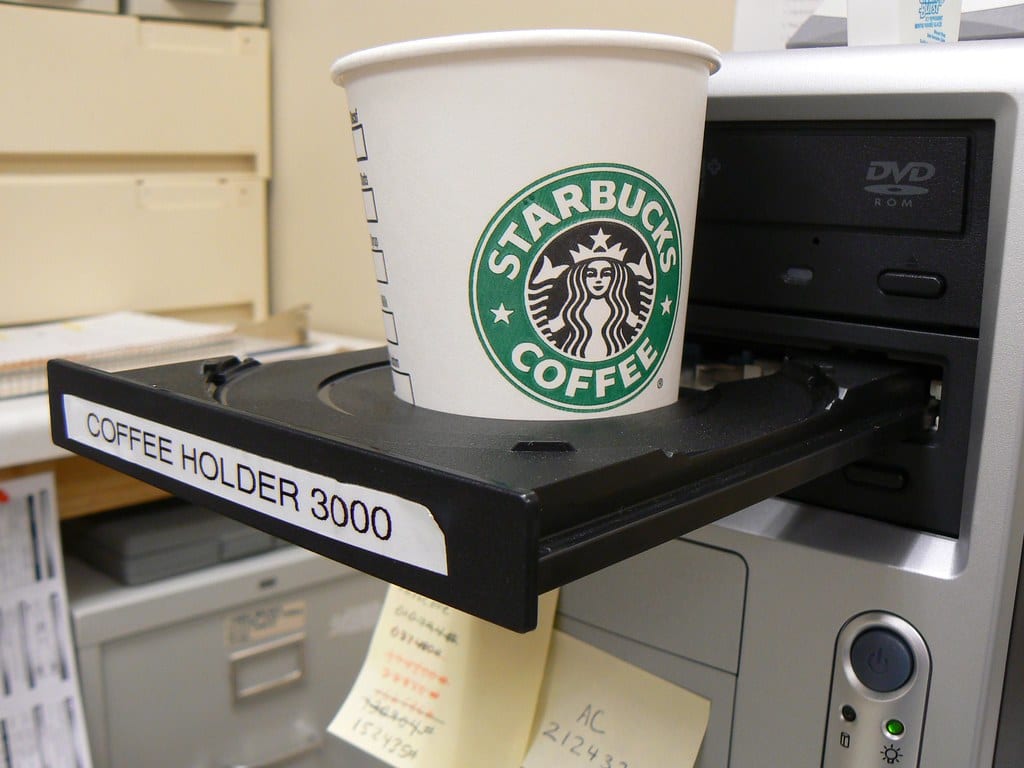 Open your computer's CD drive and balance your drink there. We are aware of how risky it can be, but this hack can prove to be very handy. Be careful, and do not keep a very heavy drink on the CD drive. 
21. Popcorn Holder
Popcorn is easily the best snack out there. It is healthy and munching it while watching a movie or working is the best experience ever. If you are alone and lack a popcorn holder for some reason, then read on.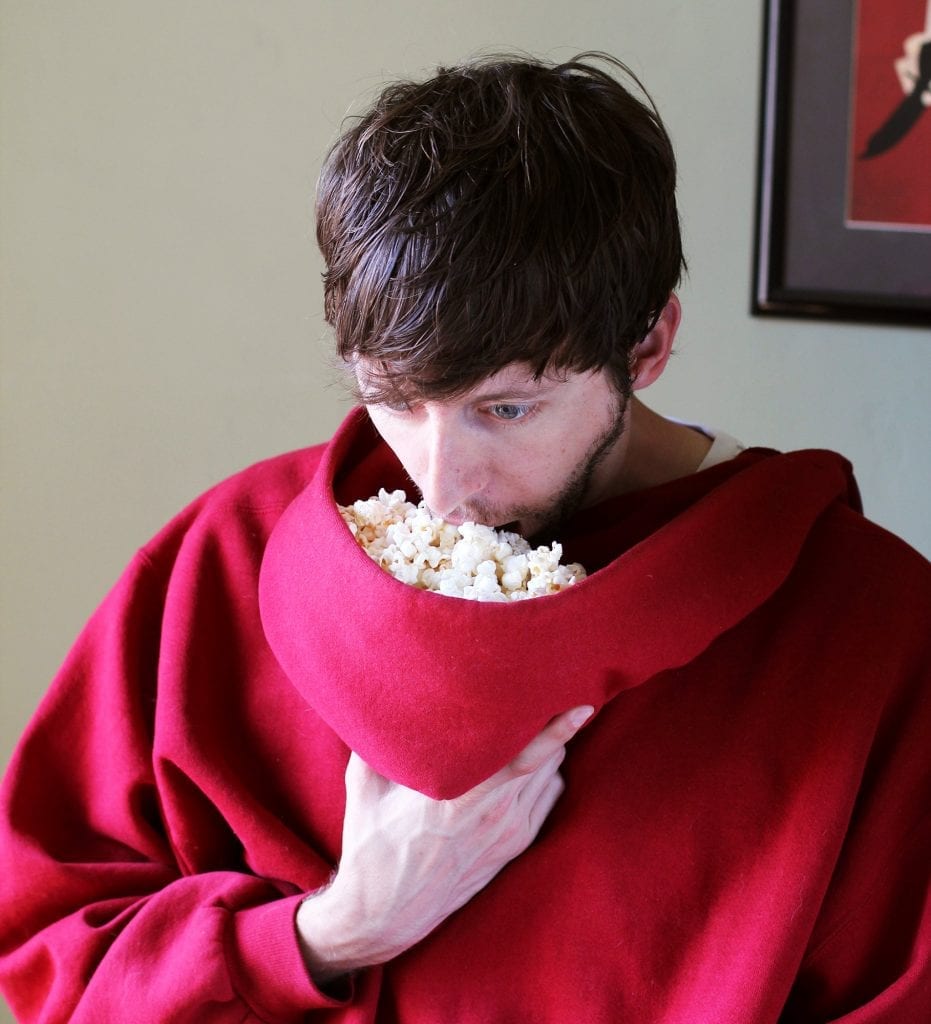 Just wear your hoodie backward so that the hood is on the front. This can now be used to store popcorns. It provides easy access, plus you do not need a container either. You can munch away as you work. 
22. Handling Duct Tape Easily
Duct tape is one of the most useful stationery items that can be used around the house. But, the annoying part of using duct tape is to find the edge of the tape. It can be a bit difficult to find, which can lead to wastage of time.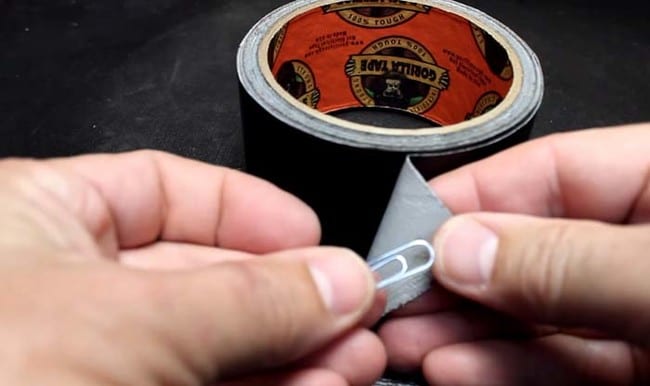 Next time you finish using duct tape, consider putting a paper clip where the tape's edge ends. This will help you save time the next time, and it can be a handy life hack to keep in mind.
23. Securing Extension Cords
Usage of extension cords is almost necessary these days. Short wires do us no good and leave us with no choice either. So, instead of always connecting the extension wires, again and again, loop the cords together.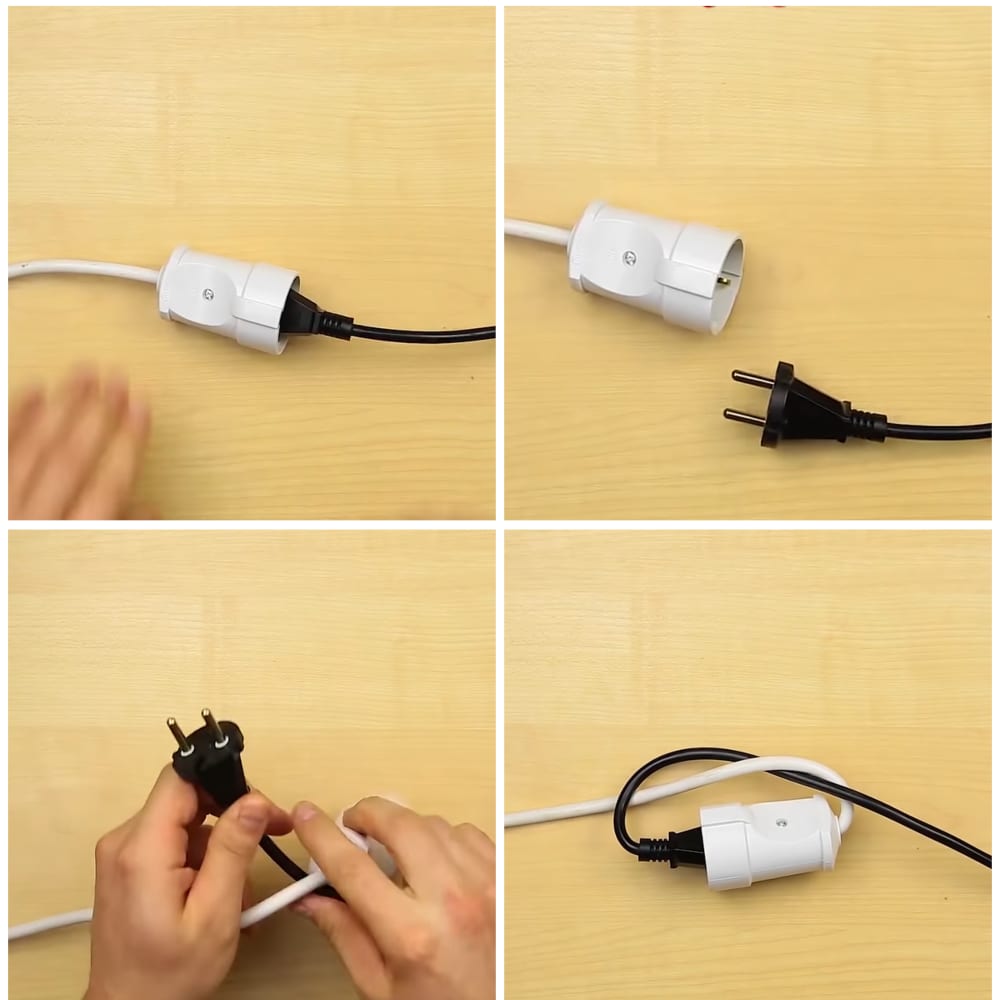 This is a neat trick if your extension cord keeps coming loose. Of course, this will reduce the length of the extension wire, but it is worth it. At least, this will prevent plugging the cord again and again. 
24. Drilling A Hole Properly
Drilling a hole in the wall can be pretty stressful. One is always anxious that the hole does not damage the wall. In order to drill a perfect hole in the wall, we have a useful hack for you that you can use.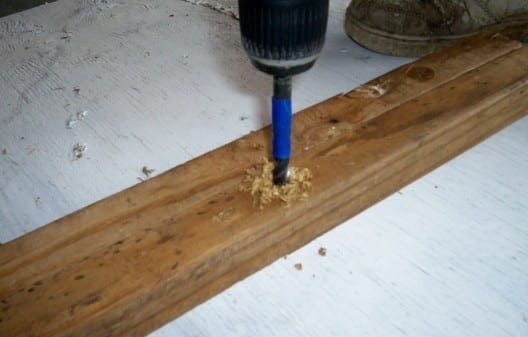 First, you will need to measure the depth of the nail in the wall. After measuring, put a tape wherever you want to hole to be. This will be incredibly helpful in making the perfect hole in the wall without any hassle. 
25. Scooping Eggshells
A piece of an eggshell falling in the egg can be such a mood killer. Sinking your hands in the egg to take the piece out is not the only way. Just take one half of the egg and try to scoop the fallen eggshell.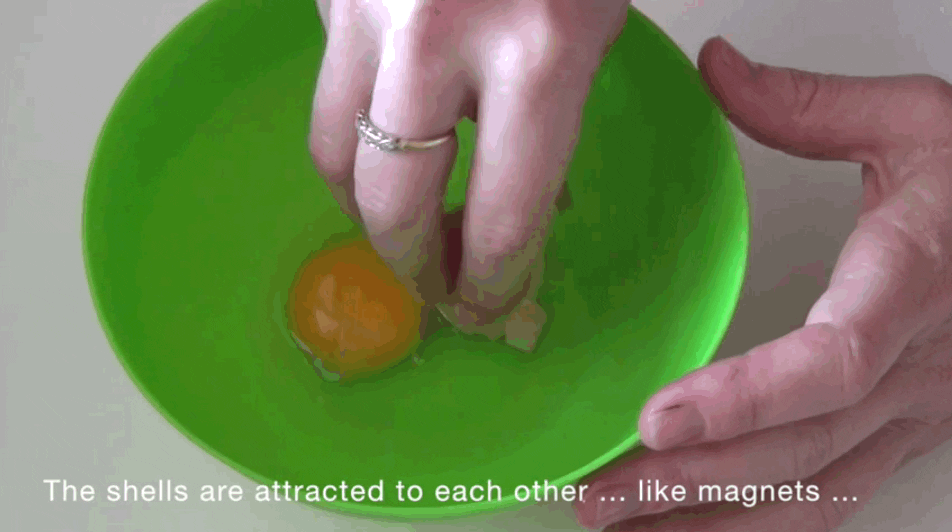 This is a totally mess-free method and will prevent your hands from stinking too. Even after repeated hand washing often can't get that eggy smell out of your hands. To avoid that, try this trick the next time instead.
26. Pick Up Broken Glass
Glasses tend to break around the house at one time or the other. It gets incredibly dangerous to pick those little shards of glass by hand. Instead, you can use plasticine. Plasticine is a great way to protect your hands from the tiny bits of glass.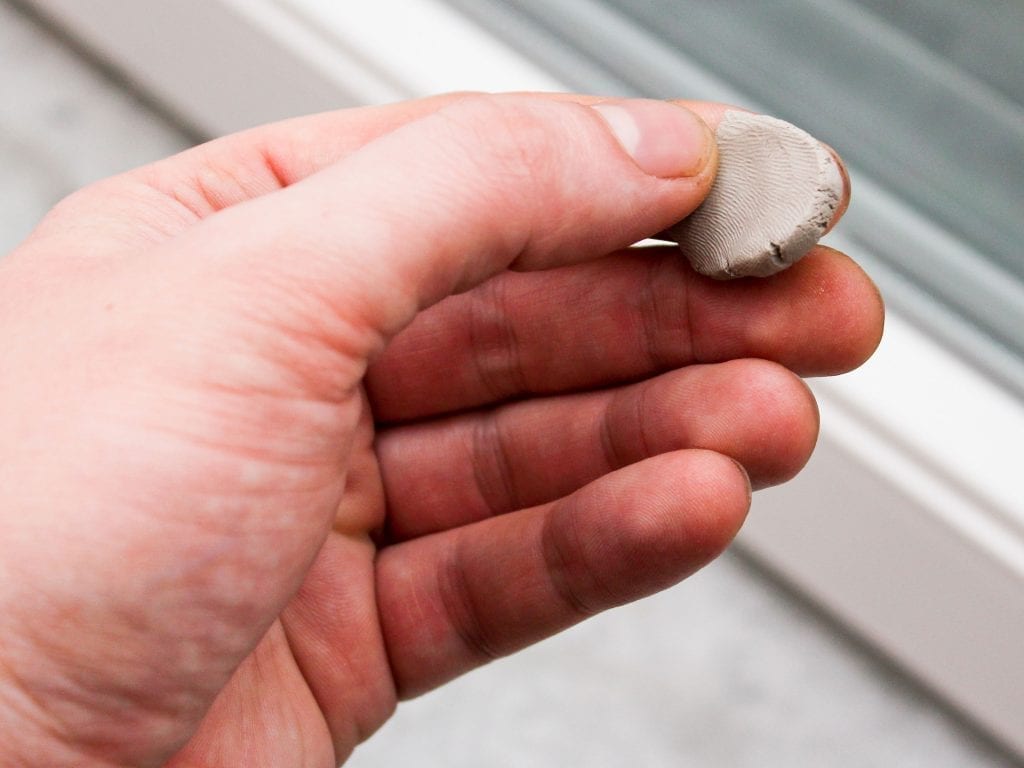 This will help to keep you and everyone in your home safe from touching the glass. Plus, using this hack, even your kids will help pick up glass shards from the floor. Next time your glass break, do try this handy hack. 
27. Inserting Keys to Keychains
Keyrings can be tough to open with your fingers when you want to insert keys in them. It is easy to break your nails manoeuvering the key inside the keyring. You can use a staple remover to create some space.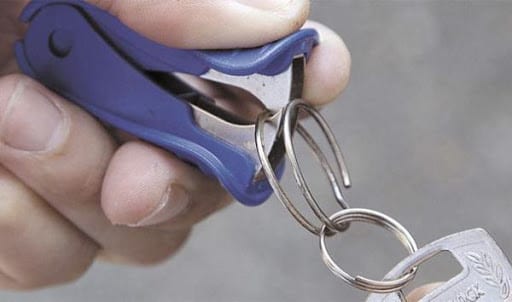 The thin edges of the staple remover can help create some space easily. Try this handy life hack the next time you want to insert a key in the keyring. Of course, you will require a staple remover for this to work.
28. Connecting a Bracelet
Accessories really add a lot of style to an outfit. If you own jewelry, you also understand how arduous it is to connect a bracelet. This hack will come in handy the next time you're in a hurry and trying to get your bracelet closed.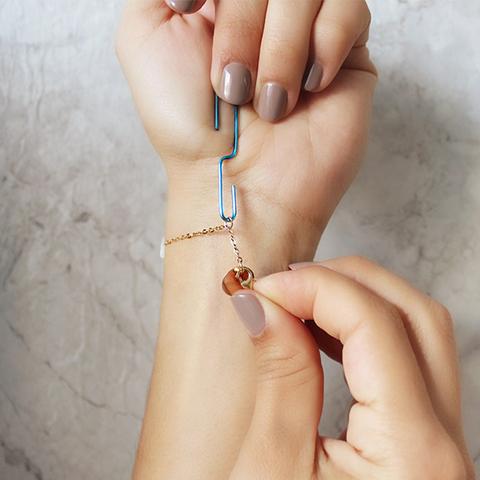 Take a paperclip, make an S out of it so that you can use one end of the loop to connect it to the bracelet. This simple little hack will help you to connect bracelets quicker, so you will also be able to get ready faster!
29. Save Time on Doing Dishes
Working professionals have a tough time managing household chores. A simple way of reducing the number of dishes to wash is to use plastic wrap over the plates. It might sound like a strange thing to do, but it will save time washing dishes.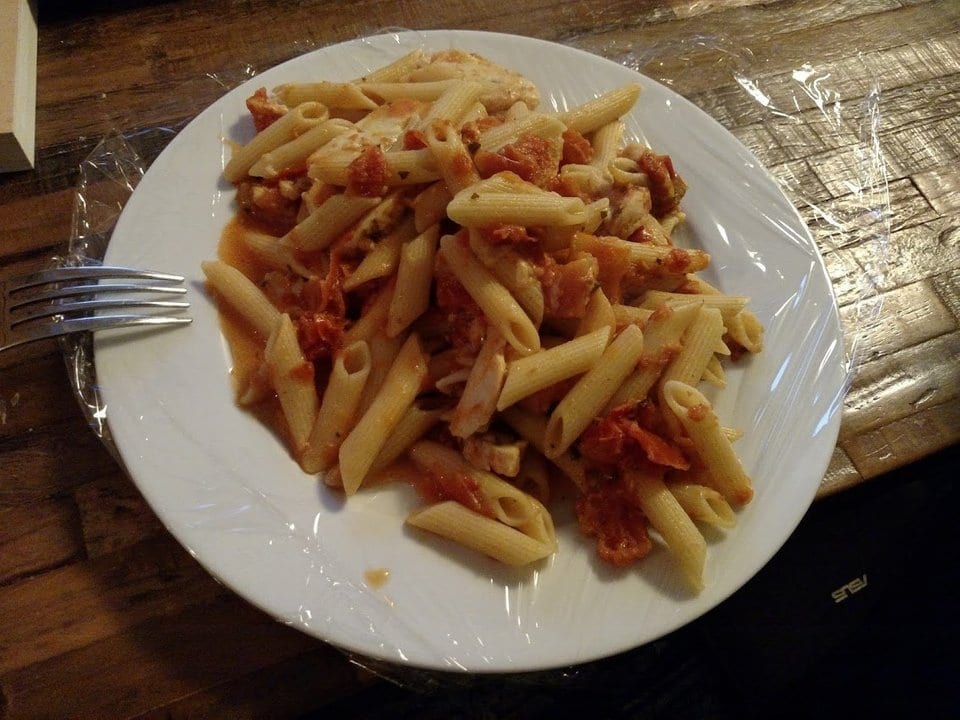 Next time you are having a meal, cover the plate with a plastic wrap before putting food on it. This way, there will be nothing to clean up. The mess that you will create will be on the wrap and not the plate. 
30. Don't Let Paint Stain Your Containers
Painting a wall yourself can be a lot of fun. But, no one likes the mess that paints create all over the tables and containers. If you want to pour some paint in a container and do not want to stain it, read on.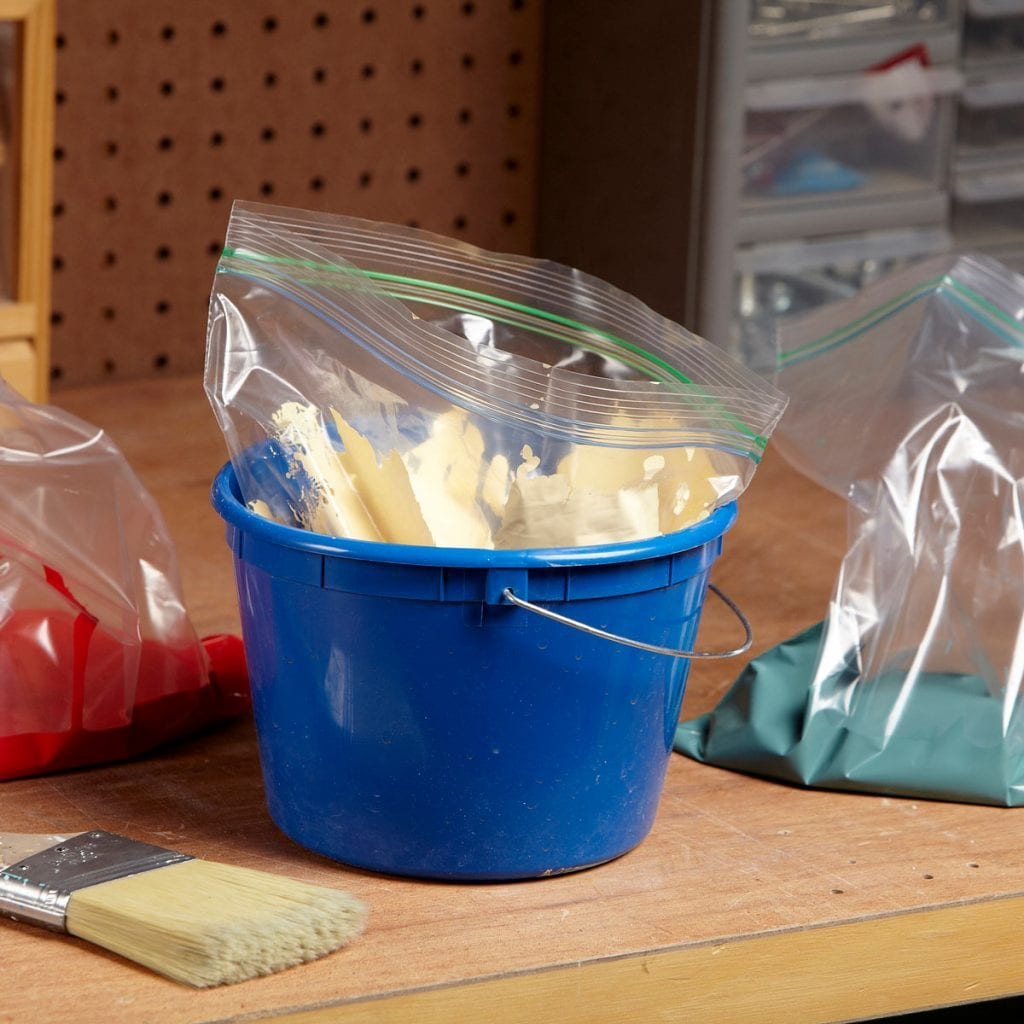 To prevent the paint from dirtying the pail , put a plastic bag in the container and secure it with a rubber band. This will help keep the container clean. When you are done painting, just throw away the plastic bag in the bin. 
31. SOS for Treating Burns
A burn can happen at any time- whether it is from a gas, an outdoor fire, or even a hair straightener. No matter where you got it from, it hurts quite a bit. If you do not have an ointment handy, that burn can turn ugly.
Toothpaste can be a life-saver in such situations. Apply a little toothpaste to the burn as soon as possible. The soothing properties of the toothpaste will help to reduce the pain that you might feel. 
32. Removing a Broken Key
There are situations when a key snaps when you are trying to unlock a lock. The key breaks off in the lock, and you are left holding only a piece of the key. Before you reach for the phone to call a locksmith, you can try this hack.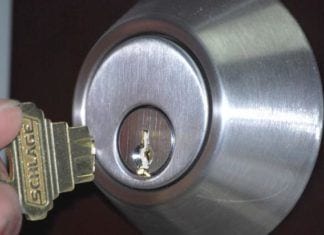 If you have super glue or hot glue, then you can try fixing both the parts of the key once. After it is glued together, try to gently remove it from the lock. Most likely, this method should work. You save both time and money. 
33. Remembering Cords and Respective Wires
It can be tough for someone who has a ton of cords and respective wires to keep track of what goes where. Especially if you need to unplug the wires from time to time. To keep track, use a marker and colored tape.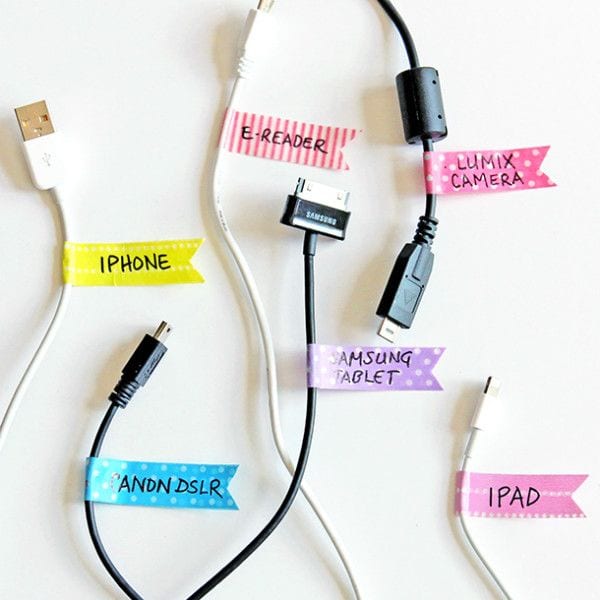 This way, you will always know what goes where. This is a time saver when trying to figure out which cord belongs to which electronic device. You will be able to identify the correct one easily. No more pulling out the wrong one. Try this trick and see how it works for you.
34. Hiding Your Drink
Day drinking can be frowned upon in almost all scenarios. In order to avert those judgy eyes from your drink, try disguising your alcohol. Simply cut the outside of a less suspicious can for this first, this will create a cover.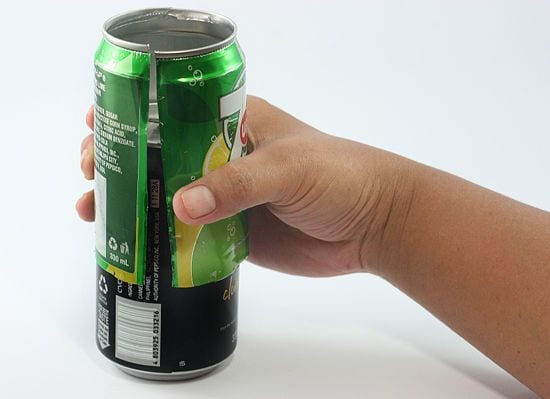 Next, you can insert this "can cover" and slide it onto another can. Of course, we are not encouraging anyone to drink where it's not allowed, and to do anything dangerous such as drinking while driving But, you can use this trick the next time you need to cover a can. 
35. A DIY Foot Rest
A footrest might be the most underrated piece of furniture. The amount of relaxation it gives your feet and body is amazing. A lot of us want to rest our feet at our desks. But, not every desk comes with a footrest included.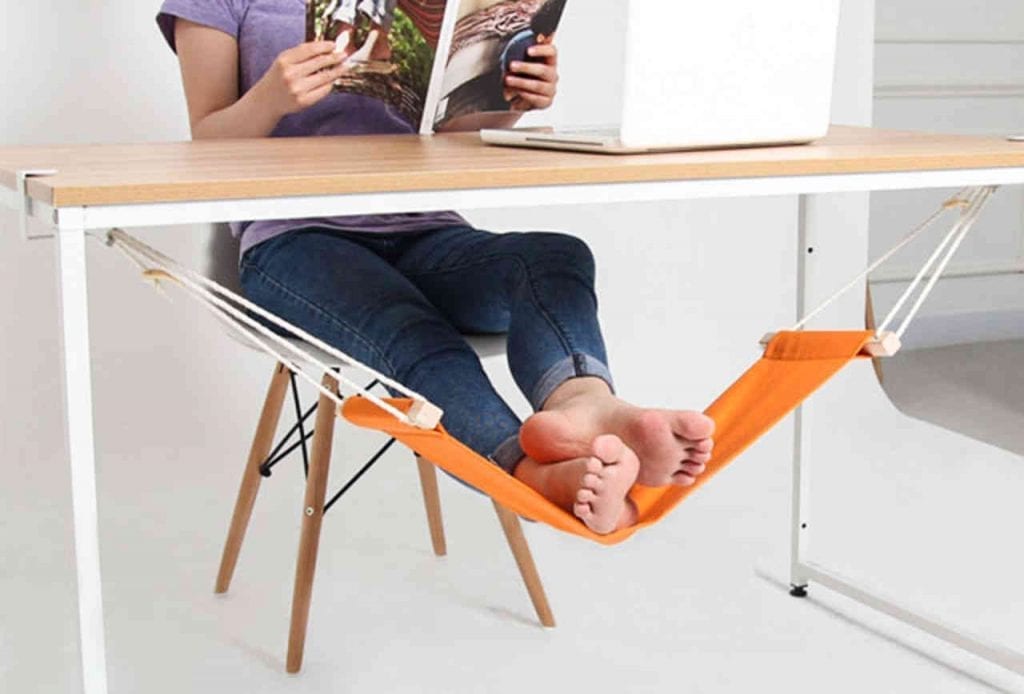 You can make your own DIY footrest. All you need is a cloth, wooden sticks, and a rope. You can design the footrest based on your personal taste and chose a color that compliments your room. There are many online tutorials for ideas and help for this project.
36. Creating Extra Fridge Space
Sorting out your food in the fridge can be quite a task, especially when there is less space in the fridge than you need. If you have a lot of bottles but no space to keep them, then magnets should be your best friend.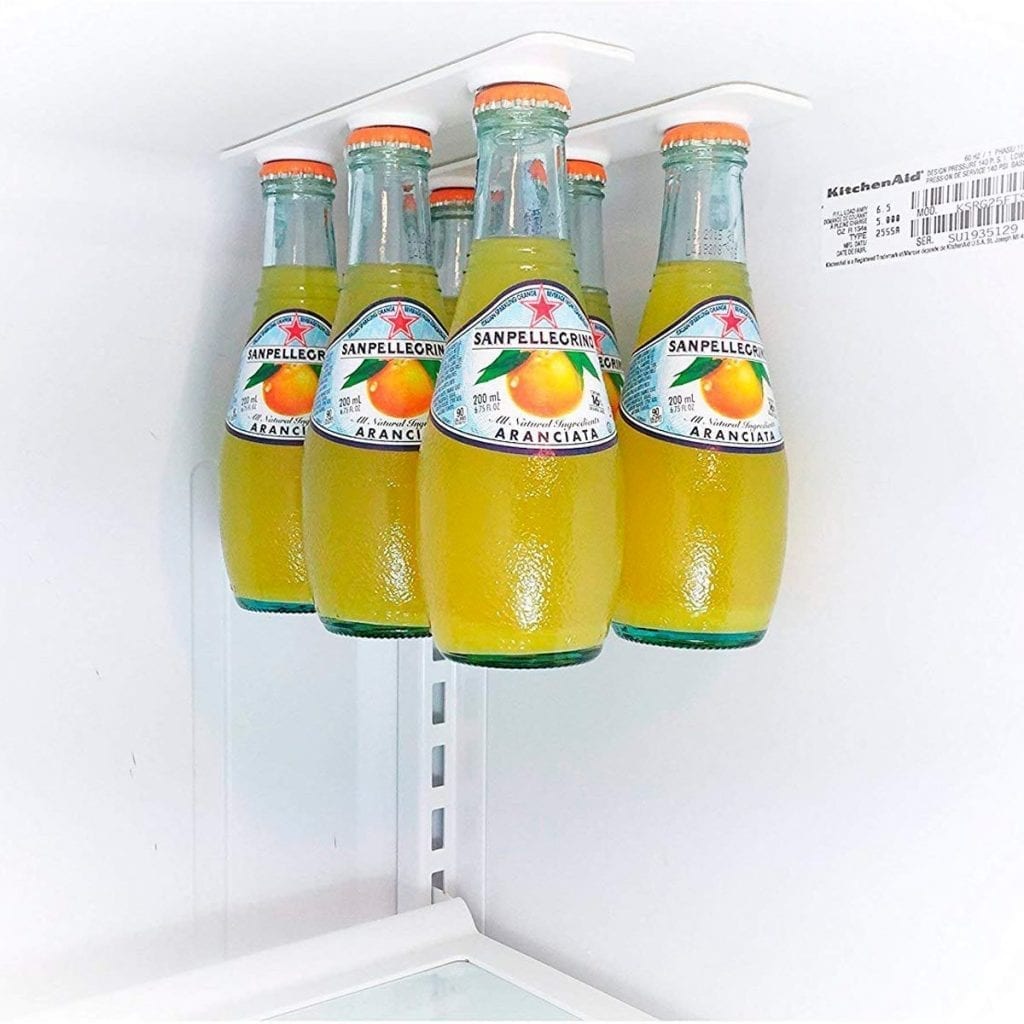 Just stick a couple of magnets on the roof of the fridge and hang a few bottles over there. This will help create a whole lot of space in the fridge so that you can keep your fridge neat and tidy. 
37. Cleaning stubborn pots
Are you scrubbing away your pots and pans, but to no avail? Those stubborn stains just do not seem to budge. There is a way to clean those stains in a much easier way. All you need is some toothpaste.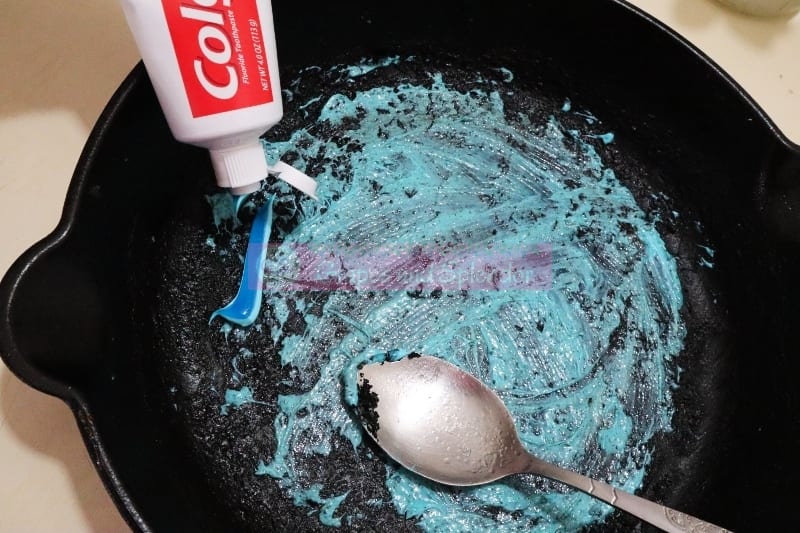 Just add some toothpaste to the dirty pot or pan and scrub a little. You will be surprised to see how more comfortable it becomes to clean the pot. You can also add some warm water to it, and you can see how easy it becomes.
38. A Portable Mirror
Most of us have mirrors at home, but searching for a mirror in public spaces can be difficult. If you want to look in the mirror before going to work, then just use your mobile phone camera. Just flip it towards yourself and check your face.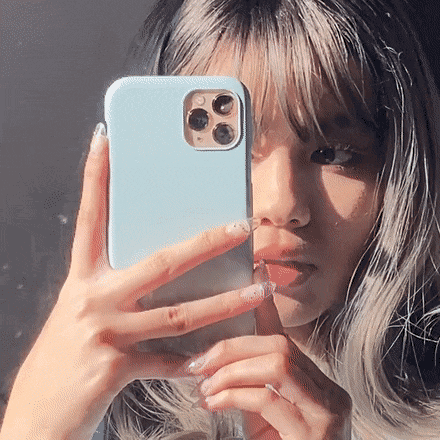 Phone, tablet, or even a computer- any device will do as all the devices have inbuilt cameras these days. It is a convenient way of checking if you are looking okay before an important meeting. Try this the next time.
39. Dry Clothes Quickly
What can you do when your clothes do not dry quickly? Even after they have been in the dryer for a few hours. If you have an emergency and need to wear certain clothes, we have a hack for you.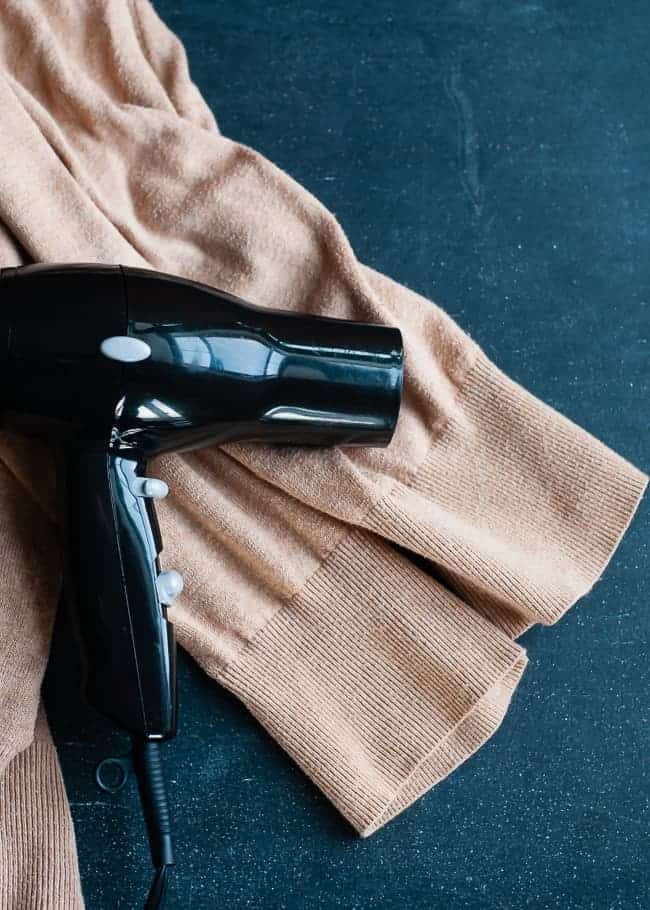 All you need to fix this is a plastic bag and a hairdryer. Put the wet clothing inside the plastic bag, and turn on the hairdryer to inflate the bag and fill it with hot air. Let the clothes sit in there as long as possible to help them dry fast.
40. Jar Opening Hack
If you are making a homemade burger, then a pickle can be the perfect addition to it. Sometimes though, you just get stuck trying to open the jar of pickles. No matter how much you try, it wont budge!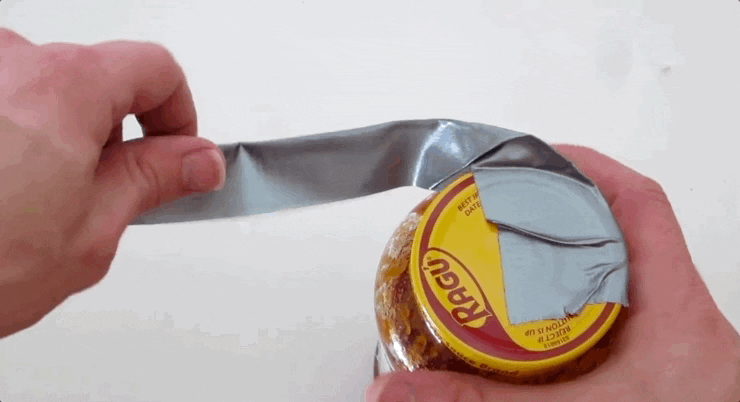 An easy way to open it is using duct tape. Just wrap some duct tape around the jar and pull on one end. This should help loosen the jar can and make your life easier. It will save your time and energy.