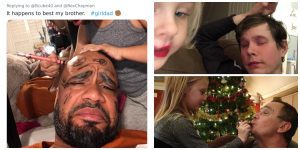 45 Dads Playing Dress Up And Planning Tea Parties For Their Darling Daughters
By Iulia P
---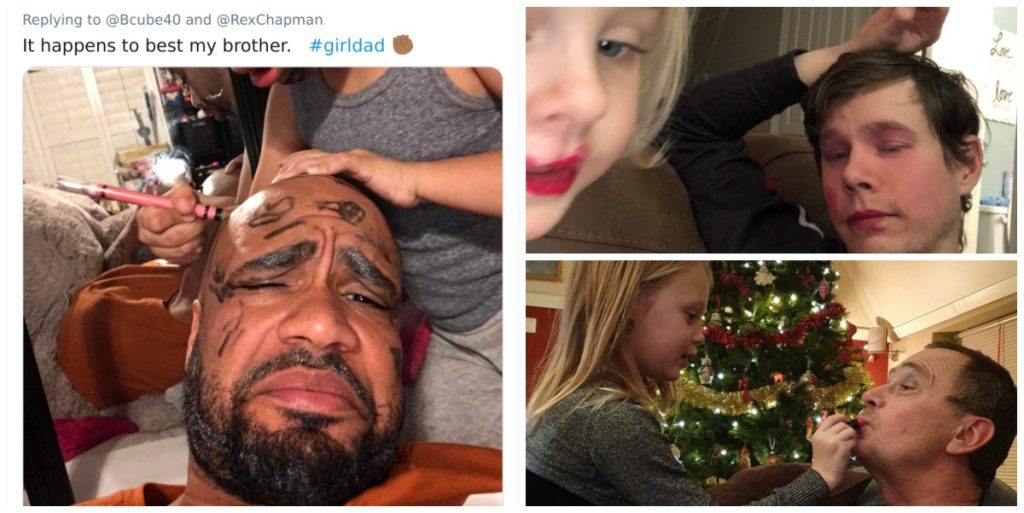 We agree that being a dad to a boy can be all fun and games. You get to relive your childhood while playing boy games with your little prince, driving toy cars, or playing with action figures. Last but not least, the thought of someone carrying down your family name can make a man's heart explode with pride. But let us tell you something. As cool as having a son may be, having a daughter really changes the game. Especially if you're a man, sure, being the main example and model that your daughter will look for later in her life can be a dream come true. But there is nothing better than getting to spend your time playing dress-up with your little princess, playing with dolls, and not getting judged for it. Here are some cool dads that went above and beyond to entertain their little princesses.
It's a 10 from us!
No matter how old you or your daughter are, when she asks you to be her makeup model, you have to leave your male ego at the door and please your little princess. You may not like it, but the joy it will bring your daughter is priceless.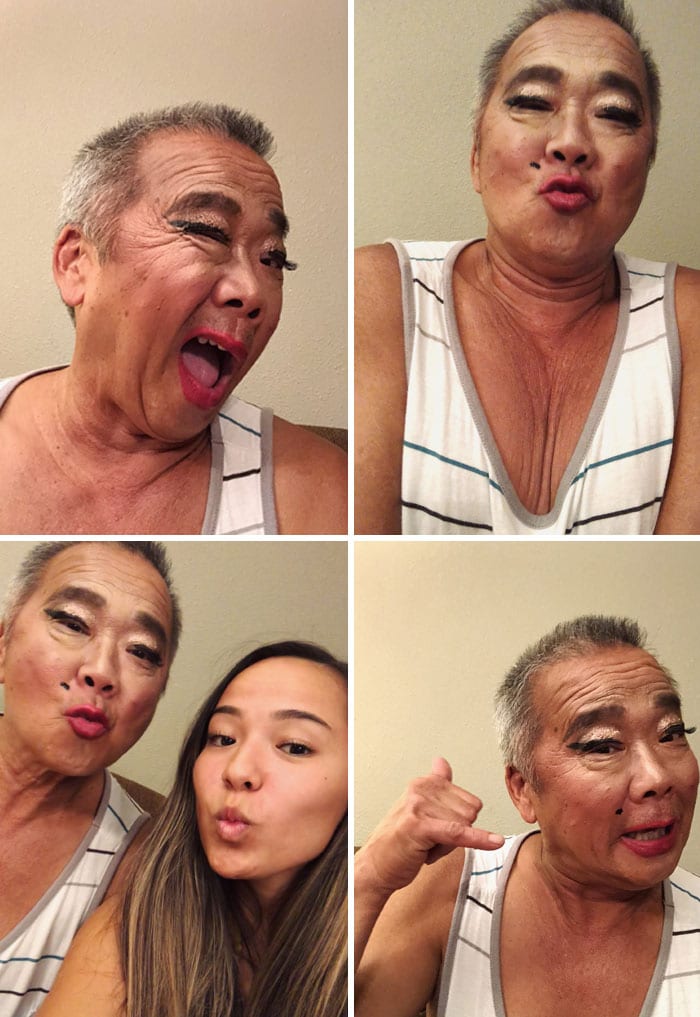 This was the dad's case pictured above, whose daughter needed to practice the makeup techniques she had learned at the beauty course she was doing. And look at it! Dad looks phenomenal, and his princess seems beyond happy with her efforts.
What a talent
Judging by this dad's face, we can only assume his daughter is no older than 10, maybe 15 max. But by the quality of the makeup she managed to do on her dad, we might have to say that a child did not do this.
Can we take a moment to appreciate the perfect make up this girl did on her dad? With the clean neat eye makeup, the combination of colors and the contouring, everything is just on point. I think we might be dealing with a future makeup expert right here.
Celebs have to do it too
Or did you think that if a dad is a celebrity, that will give him a free pass of not having to sit through a spa day offered by his daughter? Well no! No matter your job, when daddy's little girl asks him to be a makeup model, he has to do it.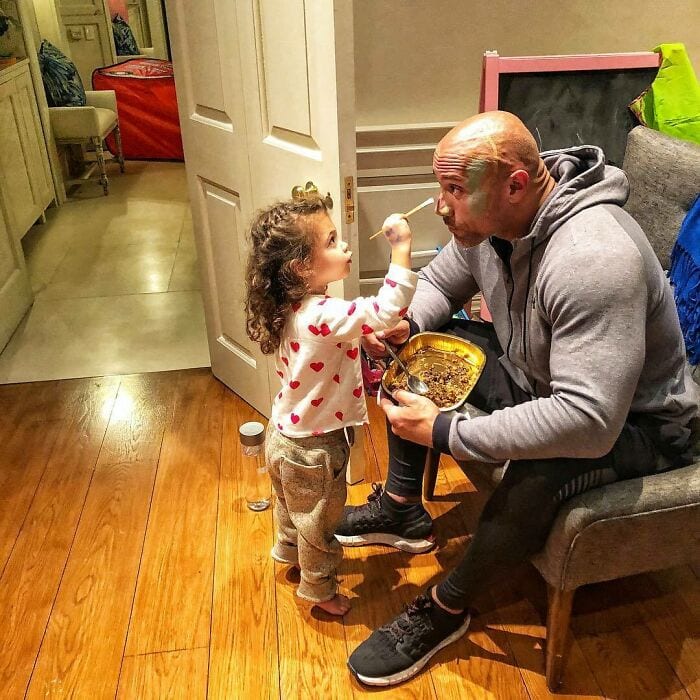 No matter what! Yeah, we understand, your tough guy reputation might be affected, but it's all worth it. Just have a look at the picture above. The focus and concentration on the face of The Rock's daughter while doing pink makeup on her strong and tough dad, it's just everything.
Act like you love it
Another dad who gave up his tough-guy reputation just to entertain his beautiful little mini-me. You got to love a man that does everything he can in order to make his daughter happy. And look at this little lady, she's ecstatic.

One thing that might have to change is probably the color of the makeup. We agree this little makeup artist did an amazing job, but the color chosen does not do her dad's complexion any justice. No problem, we're sure that if she keeps on practicing, she will choose differently by the time she grows up.
Dad regretted getting it
By looking at the picture below, we can only see that this father regretted getting his daughter the manicure set she had wanted for Xmas. We're sure the intentions behind this gift were to make his little princess happy and also to keep her busy.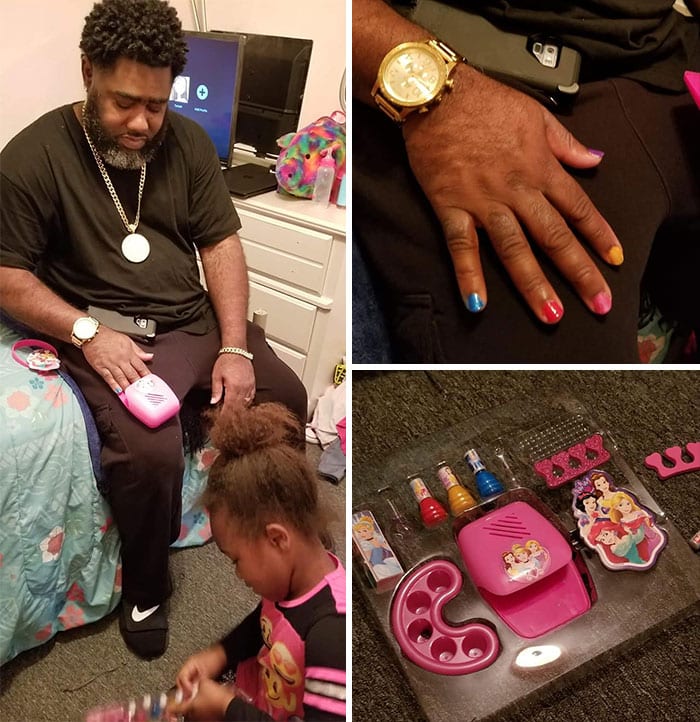 We're also sure he did not see this coming at all. The dad might look a bit annoyed that he had to be the model and not the mother, but we appreciated that he did it anyway. After all, look at the final result. His nails look like he just came straight from the nail salon. On point!
Like daughter, like daddy
What else is better than to matchy-match with your best friend? We can tell you- nothing, especially when your best friend is none other than your daddy, who's willing to do everything and anything to make you happy—this including makeup.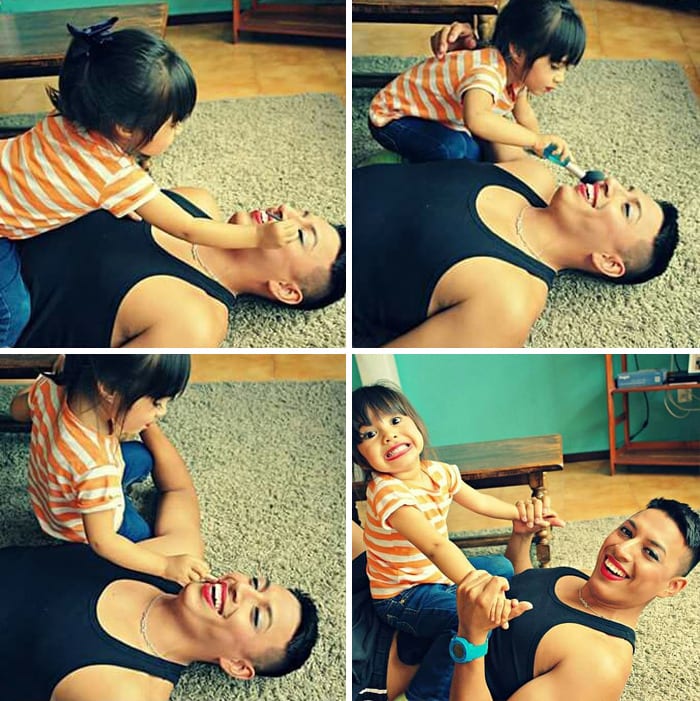 This little girl knew what she was doing when she asked her daddy to let her do his makeup. She might be a little toddler, but she sure knows she is her dad's weakest point. Seriously now, only a daddy's daughter can make her dad wear red lipstick. No one else on earth could get away with this.
The eyebrow queen
Have a look at this little girl's makeup that she did on her dad's face. We love it! The cat- eyeliner is on point, and very 2020, the eye shadow is popping, and the lipstick is nothing but the cherry on top of the cake.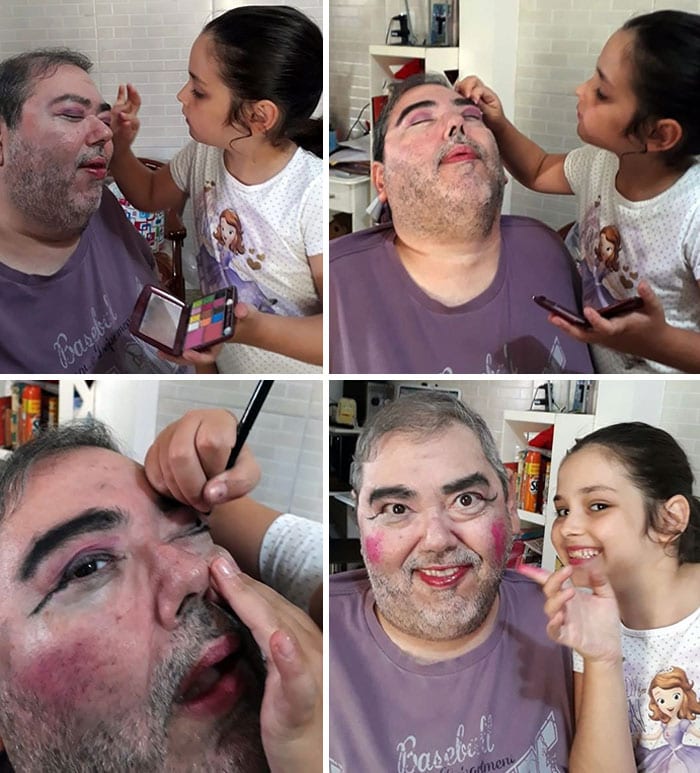 We might not be makeup professionals, but we do know a bit about it, and if you ask us, we think she did a great job. The color combinations and the fuchsia eyeshadow work perfectly with the pink blush, red lipstick, and dad's completion. Also, let's not omit those eyebrows. Anastasia Beverly Hills, this little one is coming for you!
Matchy-match
Daddy-daughter time is precious. Especially when they become teenagers because they tend not to want to spend as much time with you as they used to. So daddy, if your teen daughter comes up to you and asks you to do your makeup, just go with it!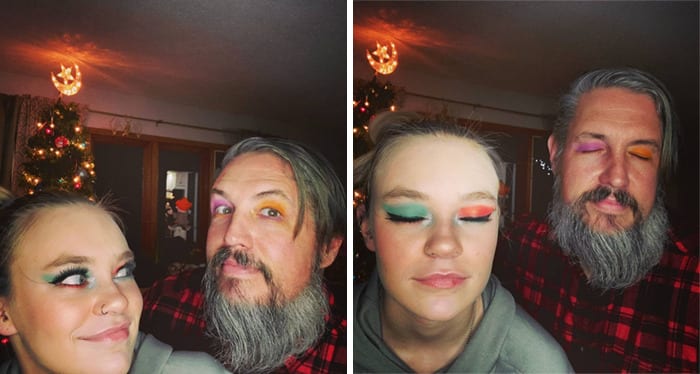 The dad pictured above wasted no time when his teen daughter came and offered to give him matchy-matchy makeup. There no need to say that the colorful makeup looks good on both of them. We bet they had a lot of fun.
Two types of dads
Some dads hate having to be models for their little nails or make-up connoisseurs, and some dads just love being pampered by their little princesses. No matter the type, we have to give props to them for allowing their little girls to do their thing.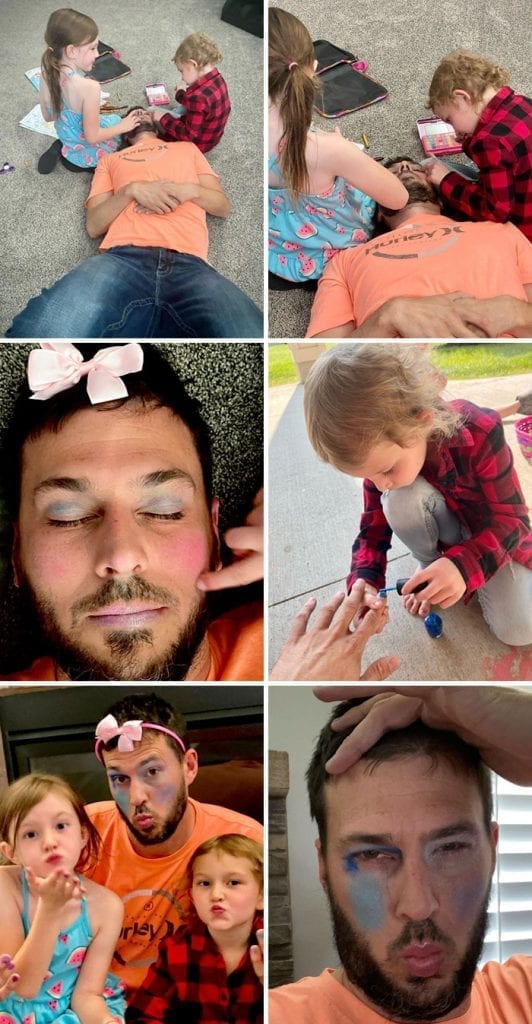 It's fair to say that the dad pictured above is a part of the second category. You can tell he loved being pampered by his two little spa ladies. The result is nothing less than awesome. As Drake would say, "hair done, nails done, everything did" perfectly. Good job, ladies!
Appointment, please!
Does anybody have this little beauty expert's number? We are asking because we would like to make an appointment. We mean, look at that weave she perfectly fitted on her daddy. This little girl is here to change people's lives with her talent.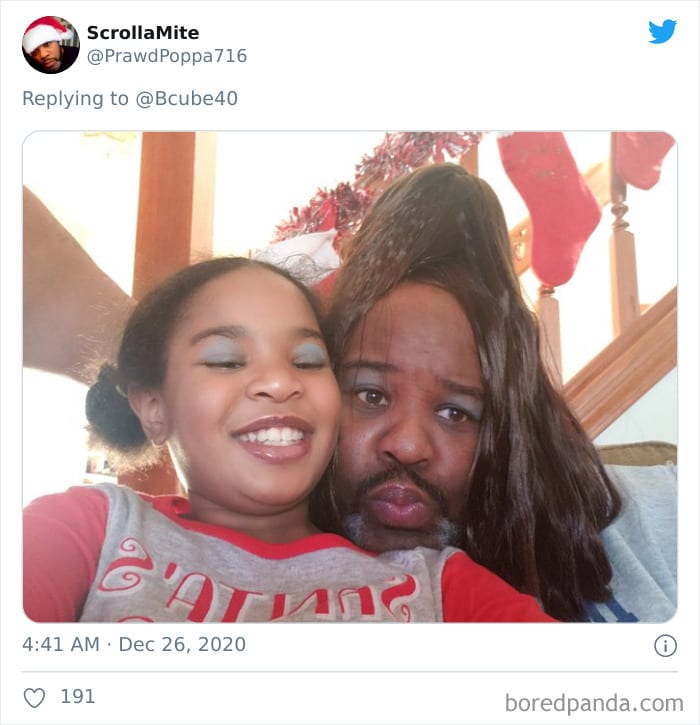 And then, there is the perfect makeup she did on both of them too. We love everything about their looks! She really is talented and we can see her owning her own beauty salon in the not too distant future. You go, girl!
Genuine smile
Looking at the picture below, you can tell the smile on this dad's face is nothing but genuine. He had a great time letting his little princess transform him into a real princess, and his energy tells it all.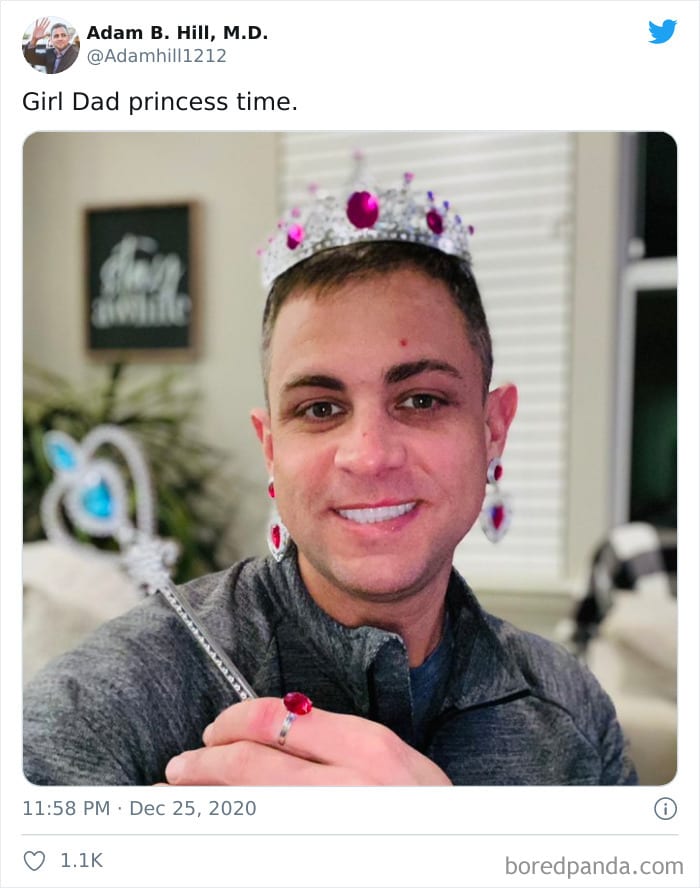 We got to love a dad that lets his daughter transform him into a queen or princess. It's cute how they put aside all their man pride and masculinity just to please and put a smile on their little princesses' faces.
Nail art
Some little princesses might be into doing hair, some might be into doing makeup, but some are definitely more interested in doing nail art like the beautiful nail little expert pictured below. Yeah, you read that right; we said "expert"!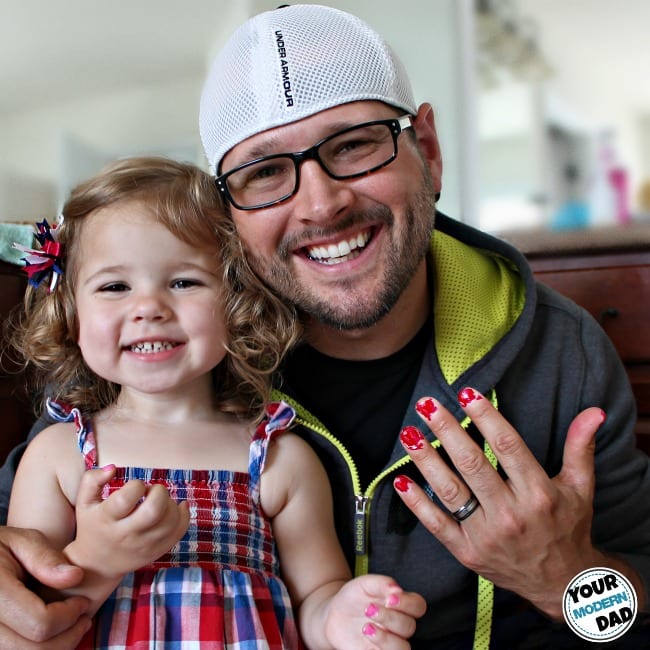 And it's only fair to say that her "client" loves the work she did on his nails. She went for all classy, chose the right nail color, and she did a fairly good job of not getting the nail polish all over her "client's" fingers. She is definitely on her way to being an expert.
When dads watch the children
We all know that the way a mother watches her children is way different from how a dad watches his children. Mothers are more careful and also more strict, while dads are really more relaxed. No wonder kids love spending time with their dads.
A good example of a very easy-going dad is the guy pictured above. Yes, he might be on daddy duty, but it's obvious he could not give up playing his play station game. And if playing his game means letting his girls painting his toenails, then so be it. So much dedication, right?
This might become a trend
Up until now, we have seen amazing makeups, cool nail art, amazing hairstyles, all of these done by little budding professionals. One thing that we haven't seen yet is definitely the beard style this little girl has given to her dad.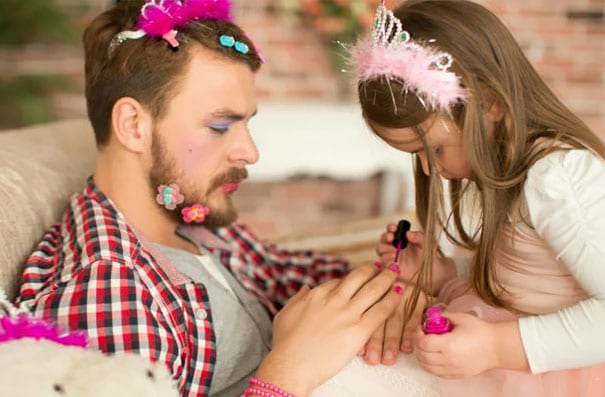 Seriously now, she did not miss a spot. Make-up is popping, hair is on 100%, beard looks like a trend straight out of Vogue magazine, and his nails in fuchsia are exactly what they should be. This little lady took the word "pamper" to a whole new level.
Jimmy Kimmel too
Earlier, we saw the muscular and strong actor that bears a somehow scary and intimidating nickname, The Rock aka Dwayne Johnson, letting his masculinity go when he let his little princess give him a very colorful and playful makeup sesh.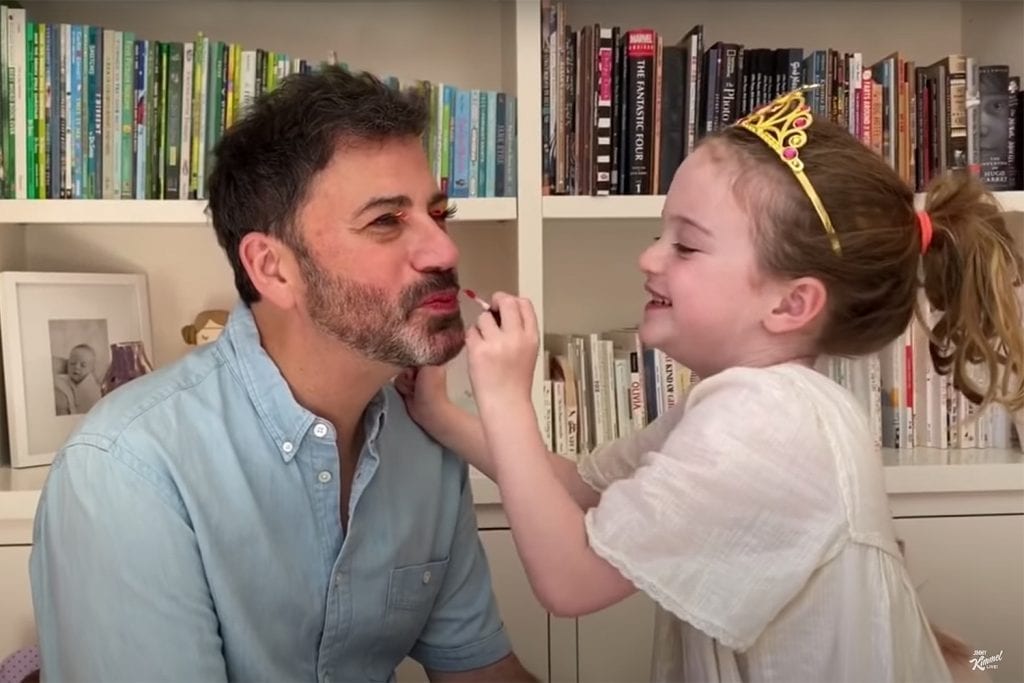 Well, he is not the only one that gave in to his daughter's power of persuasion. Turns out Jimmy Kimmel let himself be his daughter's makeup model too. And it's fair to say his little mini-me did an awesome job. Seriously now, look at those fake lashes. Some adults can not glue those fake lashes the way she did.
Another one
So far, we have seen The Rock and Jimmy Kimmel getting all pampered during their "spa" day offered by their sweet daughters. We have another one, people! Actor Mark Wahlberg caved when his daughter asked the same question too.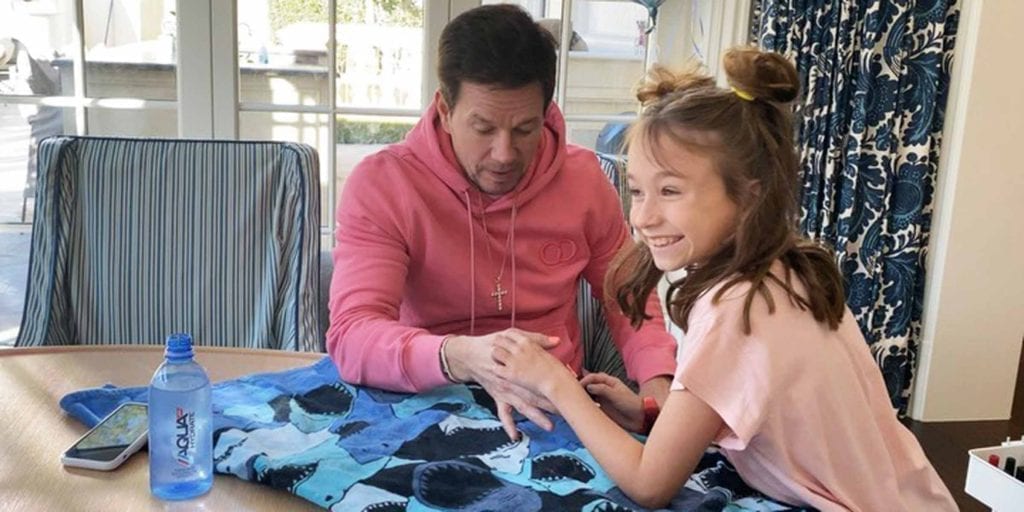 Lucky for him, his daughter only wanted to give him a very colorful manicure and not an entire makeup, hair, beard look accessorized with very girly bling. He surely doesn't look that excited about it, but hey, he should be grateful she did not go all out on the works.
The artistic makeup
All the makeup looks we've seen so far were casual day and night makeups. What we have not seen yet is the artistic makeup. But worry no more, we have got exactly what you need if you were looking for some inspiration.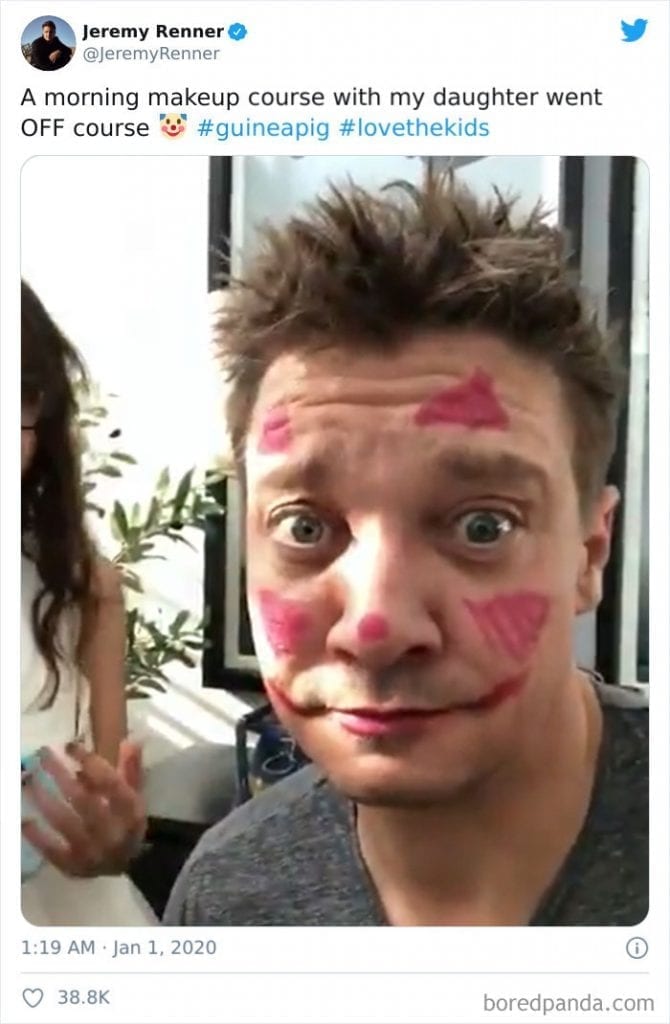 Not us, more exactly the American actor Jeremy Renner who started off his morning with a very artistic makeup done by his one and only little makeup artist daughter. The little one is talented; you have to admit it. The IT production should hire her as a make-up artist for their next movie.
Ugh, what a struggle
And by this, we aren't referring to the dad who looks like he is really struggling. We refer to the poor hairstylist who clearly looks very stressed and full of concentration while trying to do something nice with her dad's very short hair.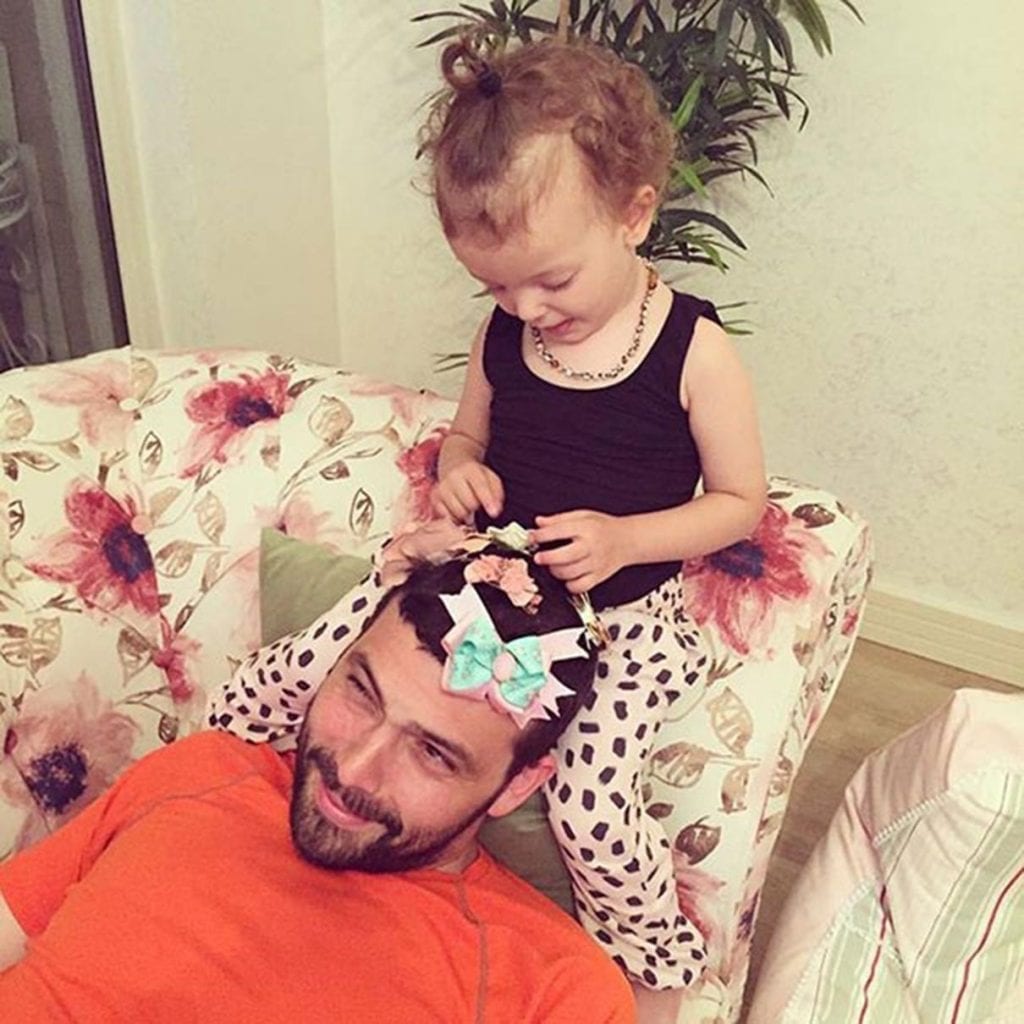 Girl, we can only hope you charged him double because that short hair not only gives you headaches, but it takes longer to get done. All in all, even though her daddy's hair was not very co-operative, we have to admit it looks adorable.
Wow
People, we are dealing with an expert right here. Seriously now, look at this little manicurist's perfect station. It's packed with everything you could think of. And the colors selection, her "customers" have so many options. Wow, just wow!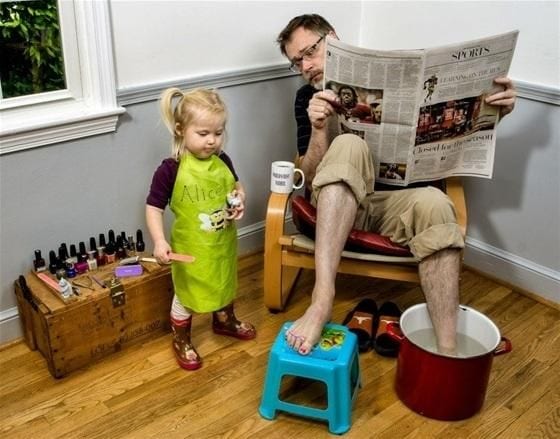 And just look at her. She looks so professional wearing her cute green apron while getting ready, to begin on her dad's pedicure. This little lady had him soaking his feet, she has the file in her right hand. She looks like she is ready to give her daddy the best pedicure he has ever had.
The amount of focus
Out of all the makeup artists we saw up until now, you have to agree with us, this little one is by far the most focused out of all. You can tell that she is a little perfectionist just by looking at the whole makeup she did on her dad.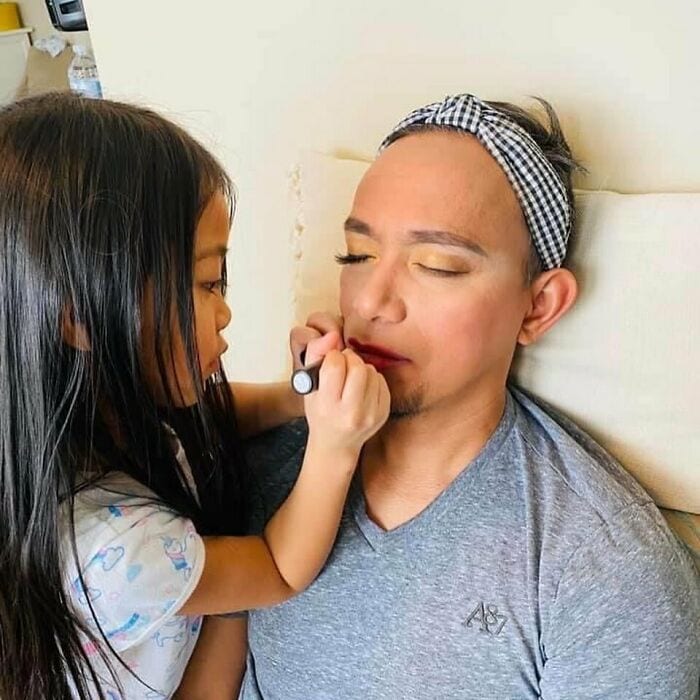 His lipstick does not go over his lips' contour, the eyeshadow is millimetrically perfect, the fake eyelashes don't even look fake, and the headband is meant to keep the hair away from the face. She literally thought of everything and did a great job.
Mommy joined the game
The is no best way of spending a rainy day inside than doing family activities such as makeup. This time mommy joined the game too, and it looks like the little girl is on cloud 9 and above. Her cute face says it all.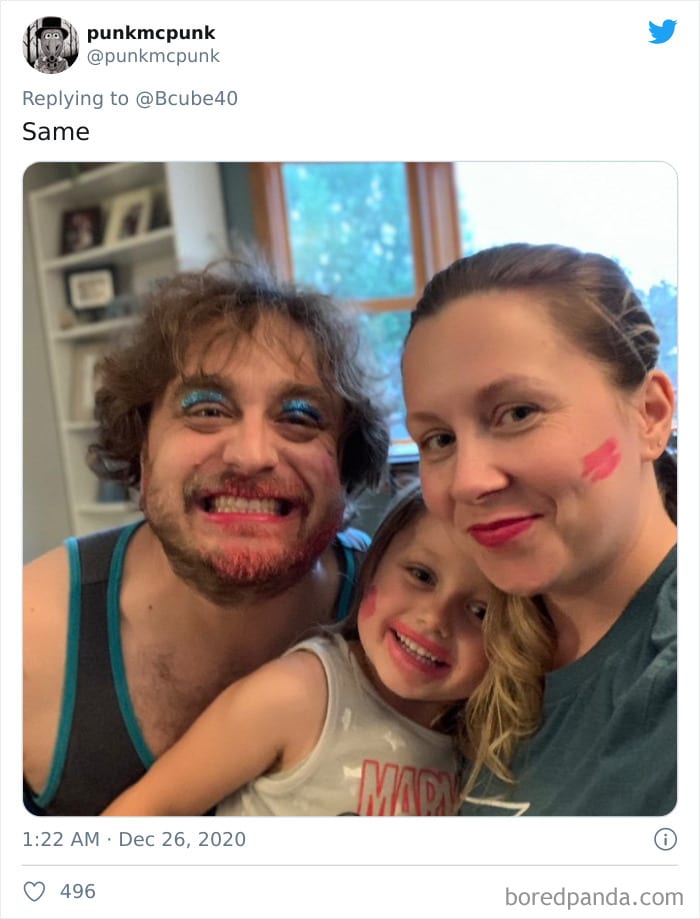 This little makeup guru decided to go for a matching look with her mommy for today's makeup and opted for a more extravagant nighttime look for her daddy. Blue glittery eye shadow matched with the red lipstick, it's only fair to say she nailed her daddy's look.
A good dad. A good grandpa
You probably will agree with us that a good dad will most likely be a good grandpa one day. The guy pictured below is a good example to prove this affirmation is right. We can tell that these two ladies had to insist a lot in order to make grandpa give up.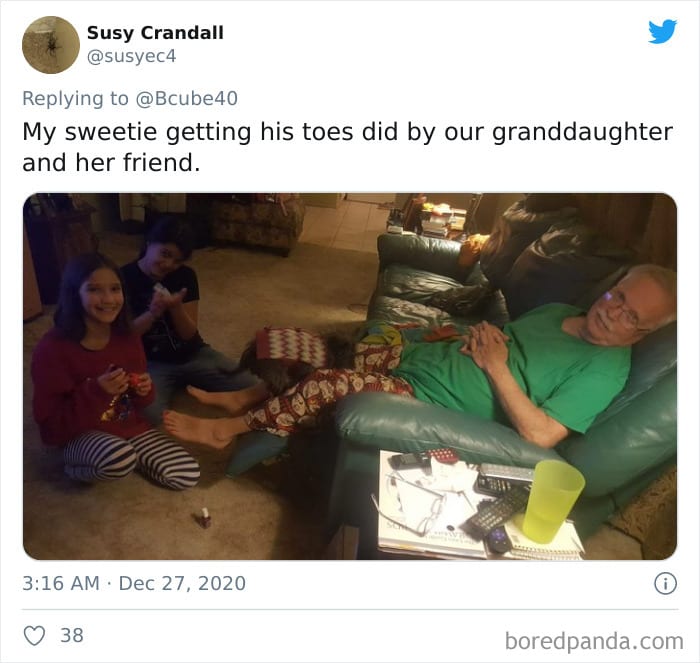 He surely doesn't look like he enjoys having his pedicure done in such crazy colors, but you can tell by the smile on his granddaughter's face that it fills her heart with joy. Good job, grandpa! We hope grandma came to the rescue with some acetone and cotton pads after the girls had left.
Mug shot
When we first saw this picture, we werent very sure what had happened to him. Was he the star of a bad pantomime? or had someone played a prank on him? And can you really blame us? This guys looks far from happy. Poor guy.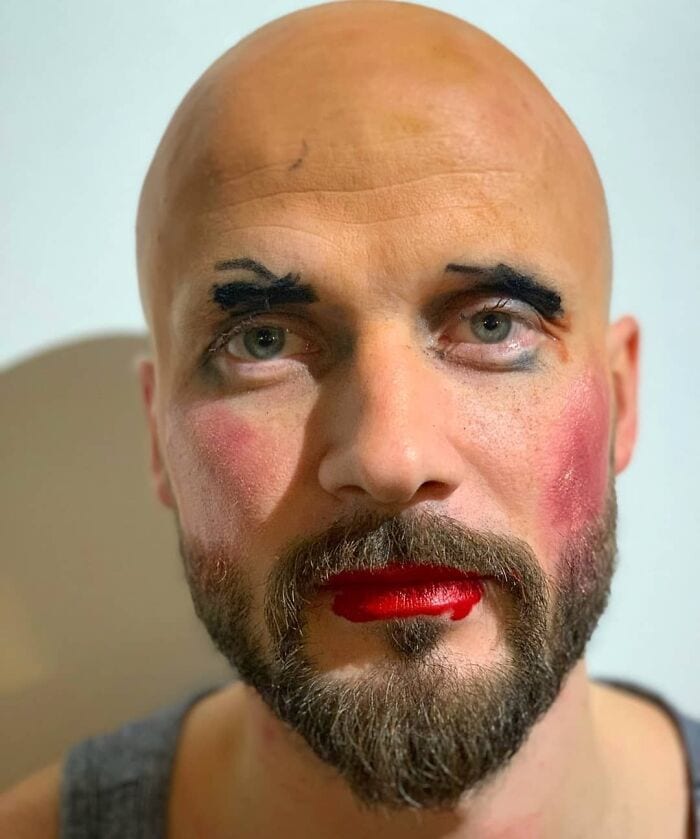 In fact, this dad was just playing a model for his little girl to practice her applying techniques on. What will dads not do for their little angels, right? This meaning letting her apply blush on his beard and red lipstick all over his face.
Daughter pleaser
This dad surely knows the drill and props to him to set the bar high for his little girl. It is good she already knows that a man is meant to make a woman happy, and she will most likely not settle for less in the future.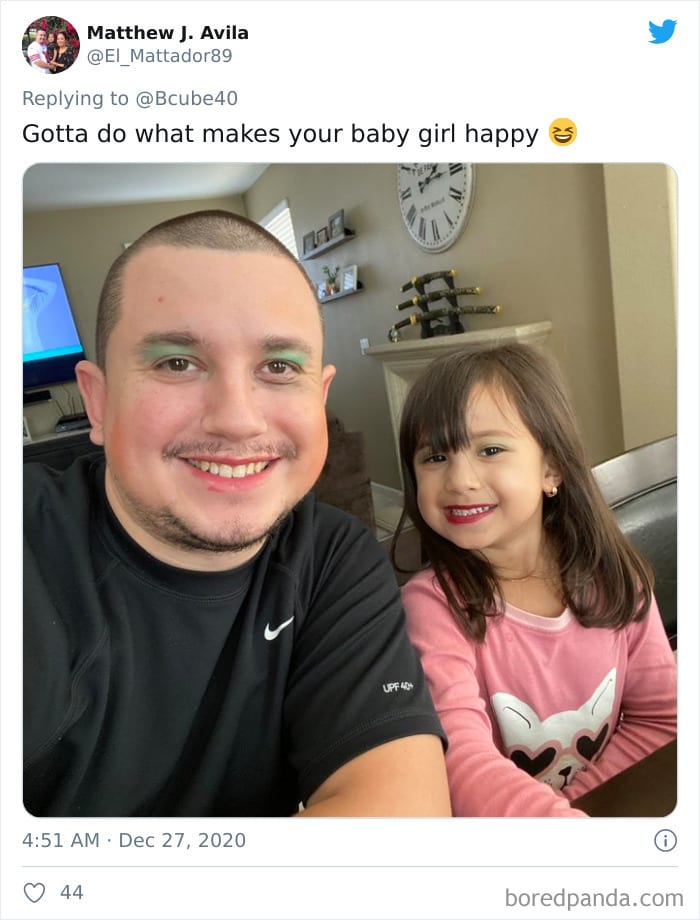 When it comes to the makeup, this little makeup artist went for a very vintage look for both her and her dad's makeup. Green eyeshadow and red lipstick, what perfect colors to wear during the festive winter holidays, right?
The artist and her art
Just have a look at the picture below. Can you see the happiness and the pride of this little makeup artist while posing next to her model? Her dad's who's wearing her creation, looks just as proud as she is.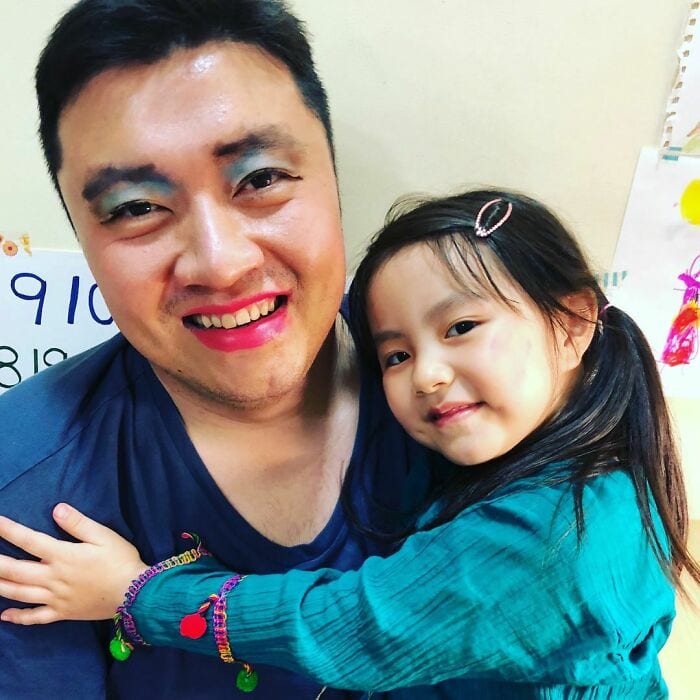 We love everything about this picture. The makeup is just phenomenal, the grin on the dad's face is contagious, the little girl's smile is adorable too. You can tell that the two of them had a blast while spending their daddy-daughter bonding time doing this.
Artistic makeup part II
We have another celebrity dad right here. The actor, Paul Bettany, not only gave in when his daughter wanted to make him up, but he also had a request to look like Newman. The result left him impressed.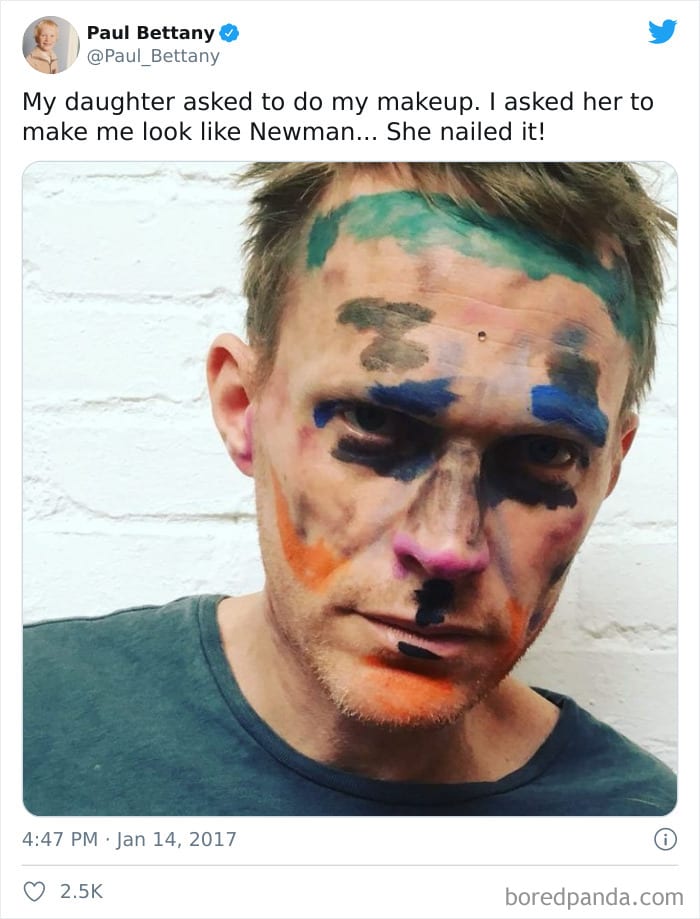 His personal makeup artist nailed every bit of his request. At least that's what her dad says, and to be honest, we can not agree with him more. She went all in and did not fear using risky combinations of colors. Way to go, miss future makeup artist!
Act like you love it
No matter how bad it may look, you better act like you love everything about it, dad! At the end of the day, nobody is born knowing how to do everything, so they have to learn and practice. Your little makeup artist included.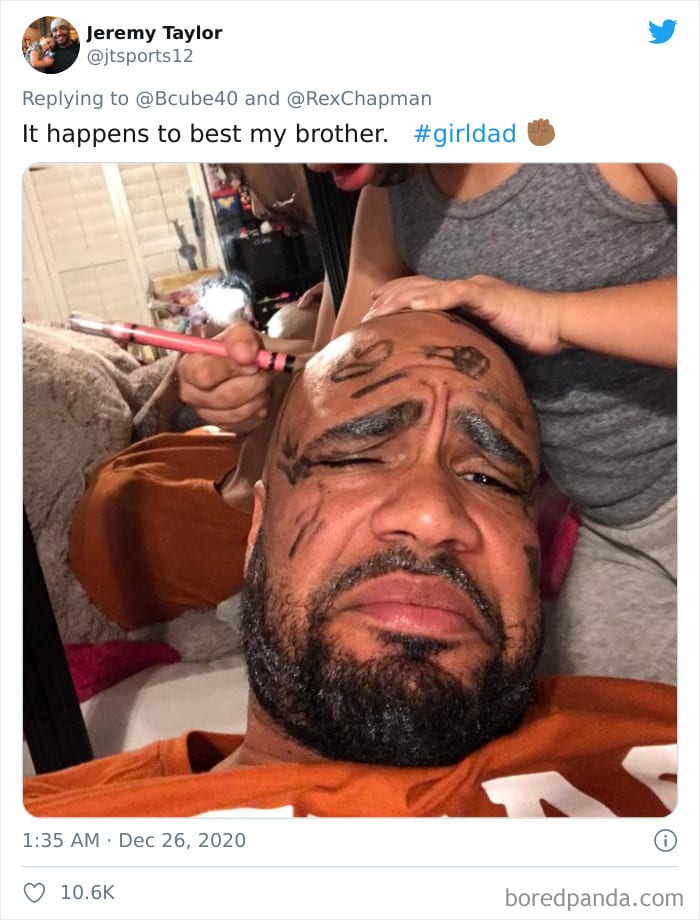 It is said that practice makes perfect, so we are sure if this dad lets his princess practice on him, she will become one skilled expert in no time. You can tell she has the talent and the determination; she just needs to put in some extra work.
Future make up guru
And we dare you to contradict us! Seriously now, what 4 years old have you seen putting on foundation and using a sponge to spread the product all over the face. There are girls out there that don't even do that. We are seriously impressed.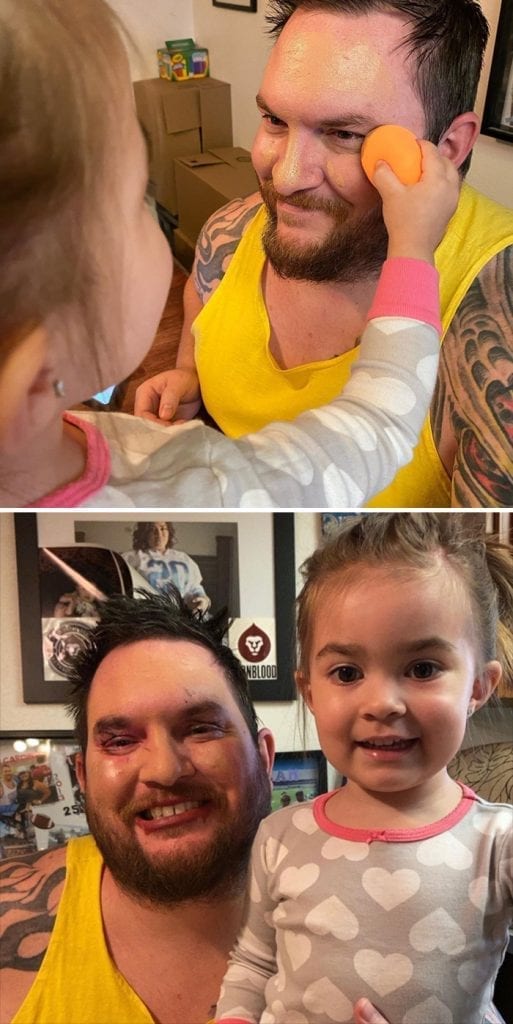 The final look came out amazing. Way to go, girl! The blending technique is on point. On top of this, your "client" looks like he is pleased with his look, at least that's what his big smile tells us. She surely did a great job with this one!
Hide your wife's makeup
If you think that not buying your little girl toy makeup will save you from an unwanted makeup session, you're mistaken. Why? Because you may have forgotten that your beautiful wife has a ton of makeup products in your bathroom.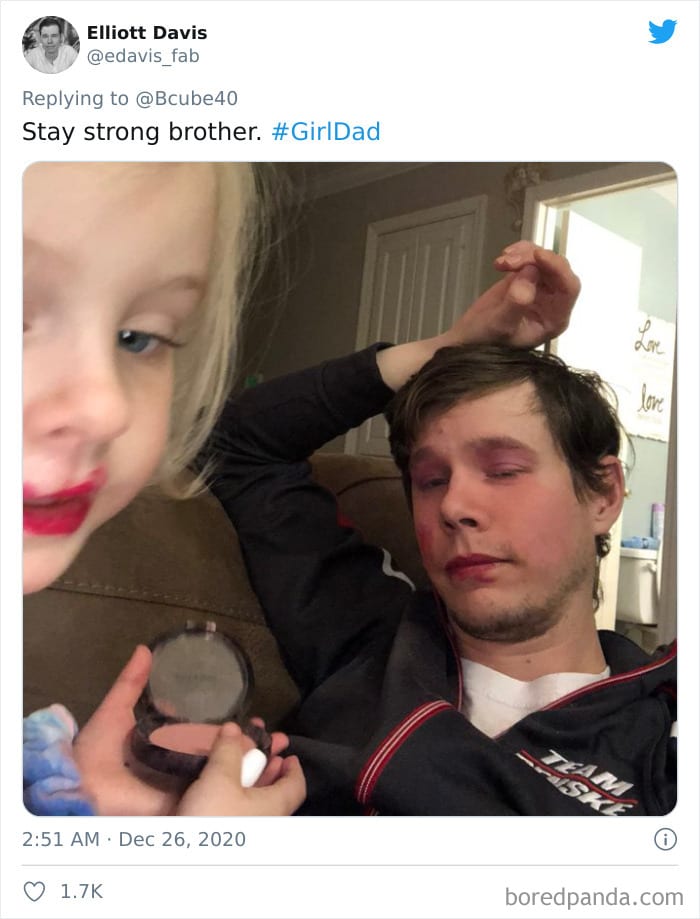 And also, you may have forgotten that your little princess is aware of it, and more than this, now she can reach the makeup drawers. This dad had to learn the hard way, and his very prettily made-up face says it all.
Abstract makeup
There are different types of makeup: from casual to glam, to natural, artistic, and abstract too. We can categorize the makeup done by this little cutie on herself and her daddy as a one-color abstract makeup with a touch of theatrics.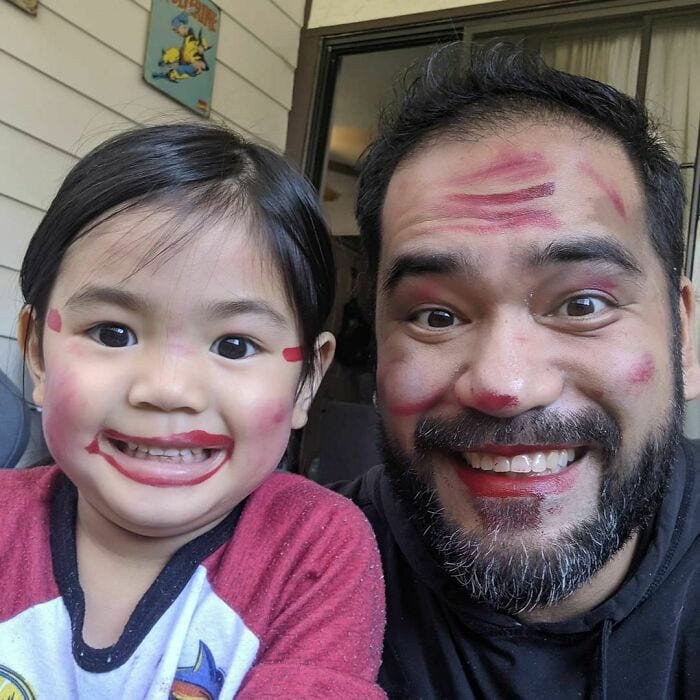 Obviously, the theatrical touch is given by the very glam lipstick that's on her daddy's lips and also on his teeth. But there is nothing more dramatic than overpassing the contour of your lips to give your lips a more enhanced look.
Makeup done, nails done…
Hair was done too, and this dad's pose is making our entire day. You can tell he's rocking the final look his little princess gave him. And seriously now, who wouldn't. It looks like his daughter worked hard on this one.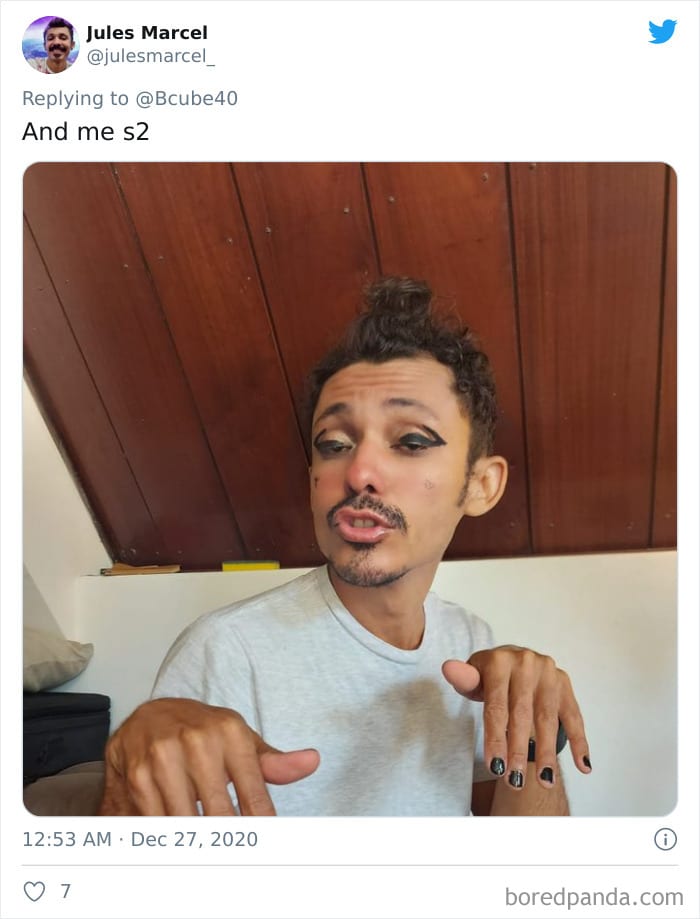 And nothing screams hard work louder than that perfectly executed cat eye, Egyptian style. We are really impressed with how cool the eyeliner make up came out. Why? Because it would take us an eternity to achieve this look. Using the eyeliner is not an easy job, and this little girl nailed it.
Mani-pedi day
From the two photos below, you can tell that this one right here was a Win-Win situation. Daddy gets pampered while keeping his mini-me busy, and his mini-me entertains herself while doing her daddy's manicure and pedicure.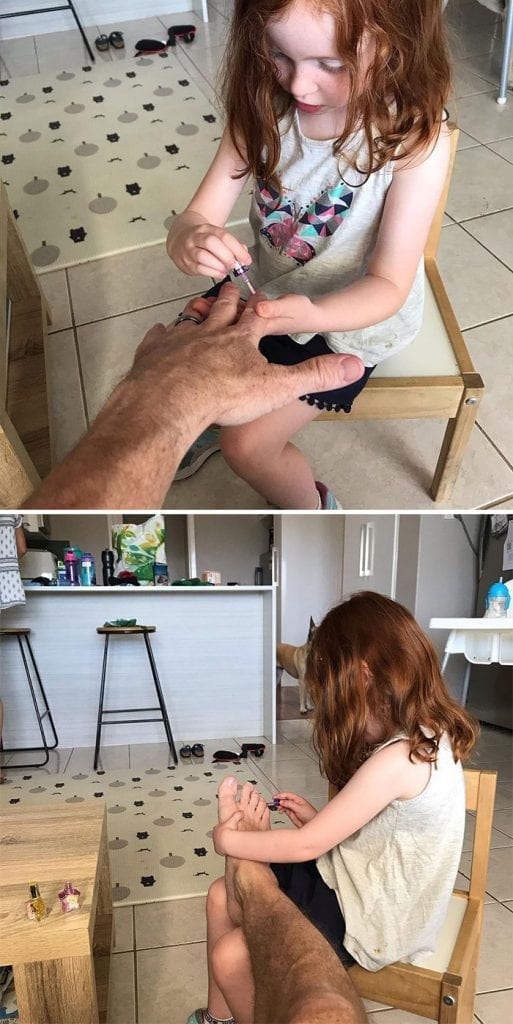 Unfortunately, we have not seen any picture of the final result. Still, we can only assume the result was very glittery seeing those two nail polish bottles—pink glittery nail polish for the fingernails and golden glittery polish for the toes. We just love this little manicurist vision.
Makeup and nails on fleek
Just another dad (or should we say client?) that is feeling his final look. His daughter really put in some effort to pamper her dad and make him look and feel so good. Look at that pedicure she did; it is popping.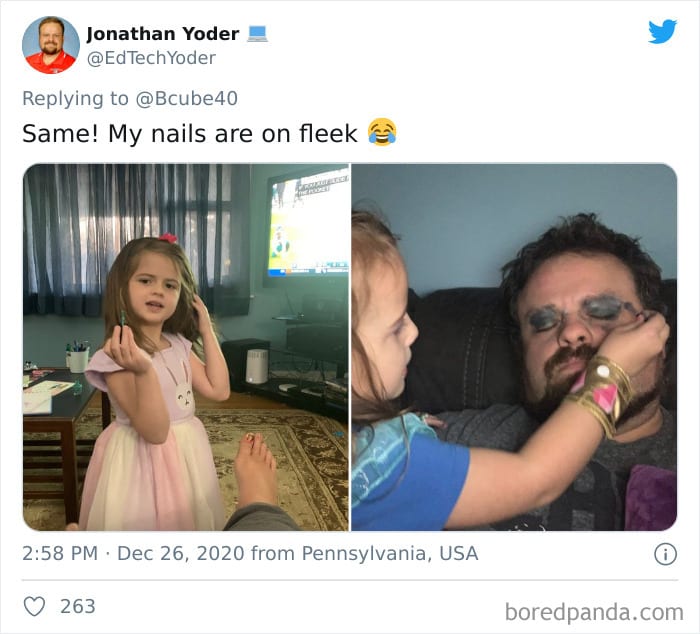 And that smoky eye, we have no words. Do you even know how hard the smoky eye technique is? It takes time to learn it, and only a master can do it without making it look messy. It's a 10 out of 10 from us!
Makeup school?
So does this dad mean that all the artists and their art we've seen so far were formed at a kid makeup school? Well, that's a good plot twist. All jokes aside now, this dad's make up looks very mermaid-ish.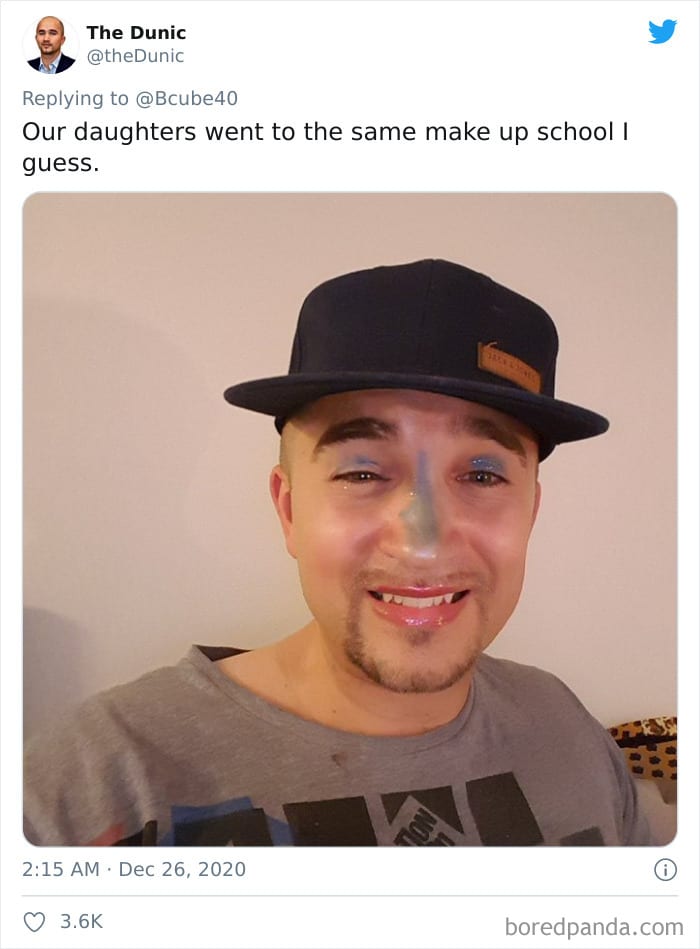 So it's only fair to categorize this makeup as being an artistic makeup. This little "certified" makeup artist managed to turn her dad into a real-life Avatar. We love it, and we really hope the production of Avatar will hire her for their second movie.
Proud dad alert
This dad's daughter may not have graduated from beauty school just yet. And it doesn't even matter because her dad is beyond proud of her and her makeup talent. And look how proudly he is rocking the make up she gave him.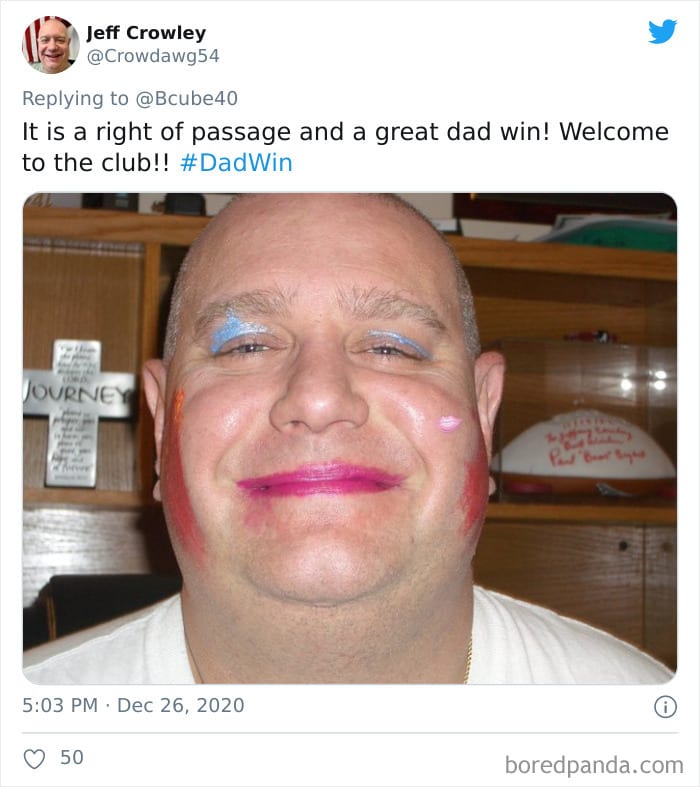 We just love a supportive father that is there to cheer for his daughter no matter the situation and no matter how badly the result is. The make-up daddy's daughter applied might need a bit of improvement, but the choice of colors is right on-trend.
Cheer up, dad!
This dad pictured below looks a bit, let's say, traumatized if that's not too much. We mean, that's exactly what his face tells us. And we don't understand why? Could it be the makeup artist's choice of colors? Could it be the finals result?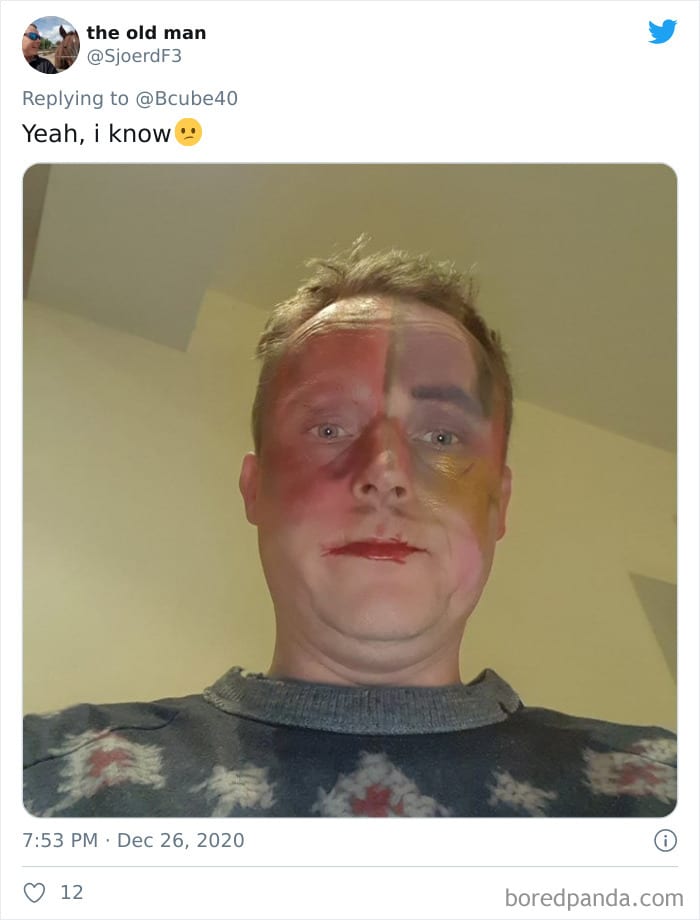 No matter the reason, all we can say is that his daughter did an amazing job and the colors she used compliment her dad's eyes and his skin complexion. This girl is a natural! Even though the father did not like the final result, we still have to give props to him for letting his daughter do her thing.
Another future makeup guru alert!
So far, we've seen quite a few makeup attempts. Some of them were really good, some of them still needed a bit of improvement, but they were all beautiful. Now the makeup this girl did on her dad's it's seriously on another level.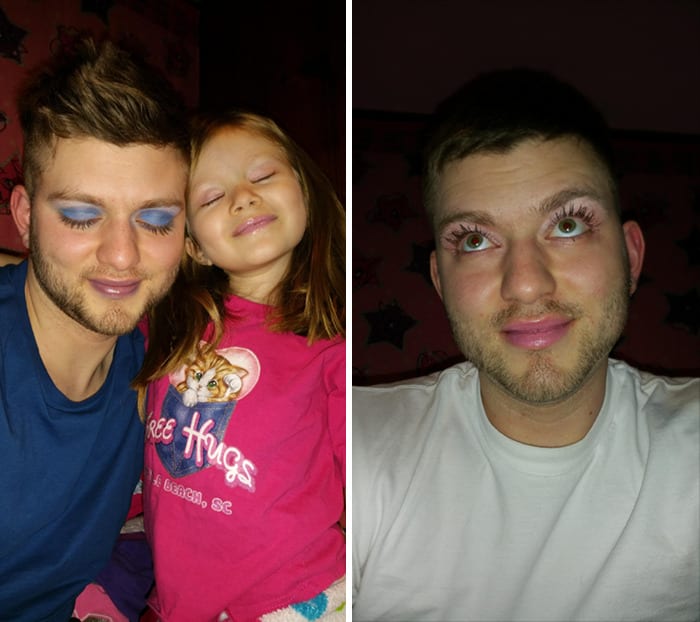 Only five years old, and she is already a pro at doing makeup. We are impressed! Her dad's make up looks beautiful, and so does hers. And it's not only us that loves it, but you can also tell the dad loves it too.
Another beard stylist
If you have read the article up till this point, you may have noticed that beard stylists are not as common as makeup artists or nail technicians. It may be because it's a difficult job, or it may be because some of the dads did not have beards long enough to work with.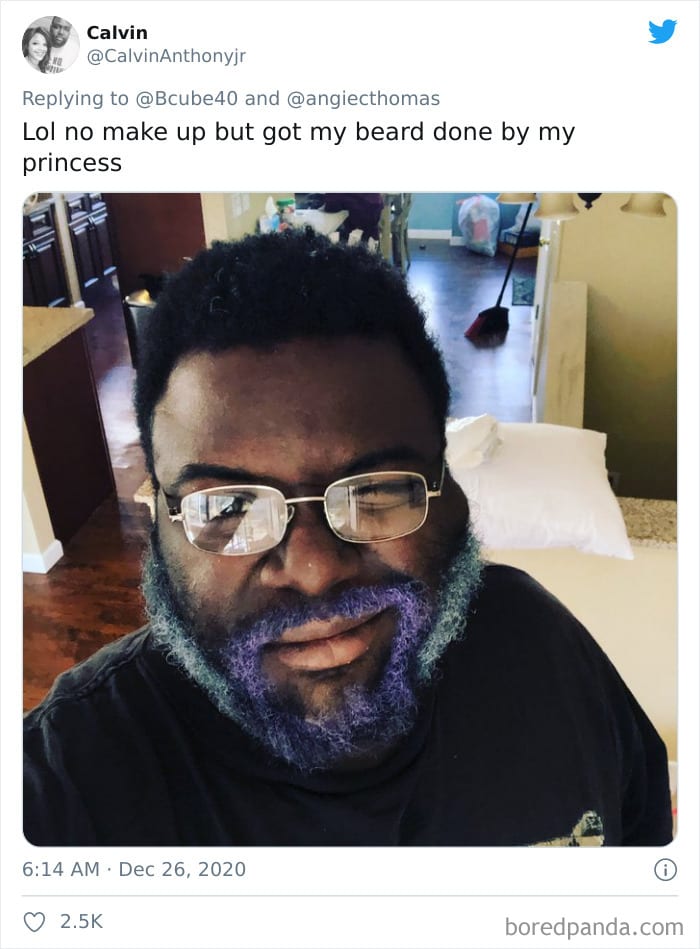 Nonetheless, some of the little stylists out there were lucky enough to have a daddy with a beard and not just that. But also a dad who is willing to accept and allow his daughter to dye his beard in very eccentric colors, like the dad pictured above.
Good grandpa part II
As we said earlier, a good father will likely be a good grandparent when he becomes one. The guy pictured below is another example supporting this theory—he will do literally anything and everything for his little granddaughter princess to be happy and entertained.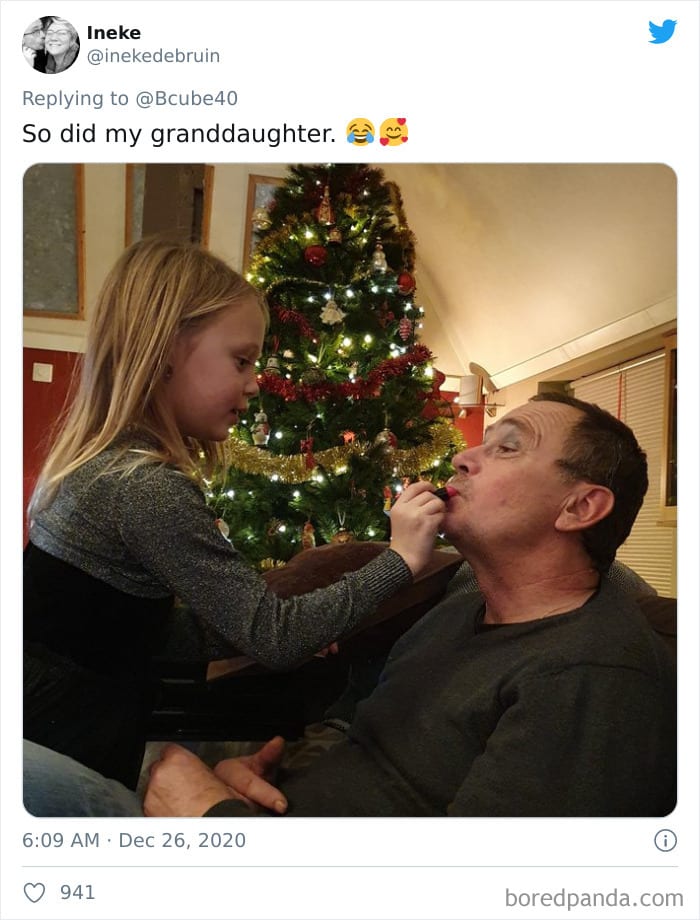 We just love the special bond that grandparents have with their grandkids! The makeup artist kept it all classy when it comes to the makeup he was given, giving him a faded smoky eye with some matchy red velvet lips.
The hairstylist
Here we have another hairstylist and her extravagant piece of art that she created for her stepdad. We should take a moment to appreciate this girl's hard work and that she was able to do this style on such short hair.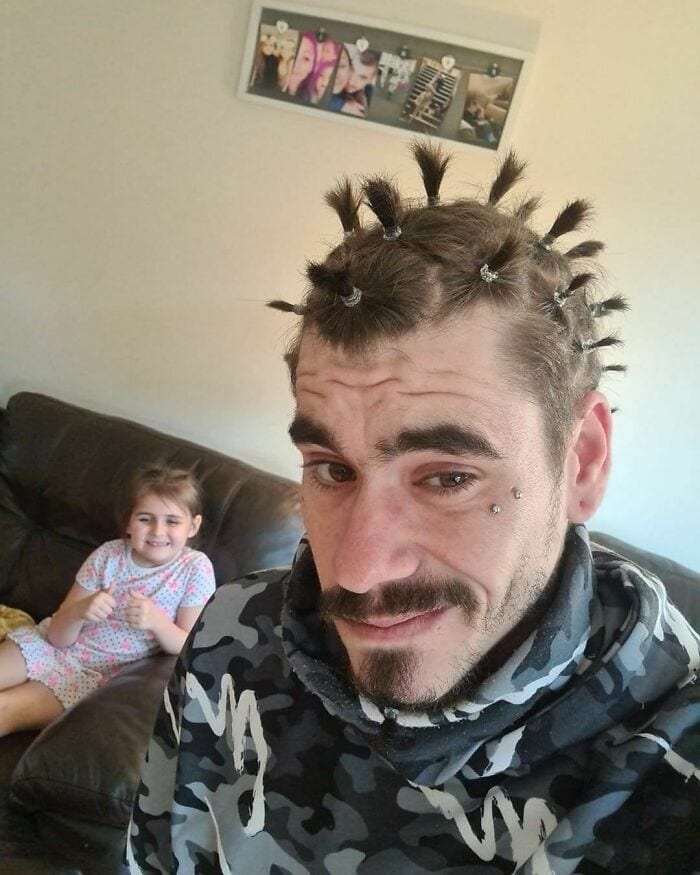 We should also take a moment to appreciate this guy's patience and love for his stepdaughter. A connection like this between a stepdaughter and a stepdad is really rare, and this guy is doing an amazing job! Good job, step- dad!
It was not his idea
By the look this dad pictured below has on his face, we are sure the idea of buying his daughter's makeup for Christmas was definitely not his. Does he hate the makeup? His facial expression could not give a more clear answer than this!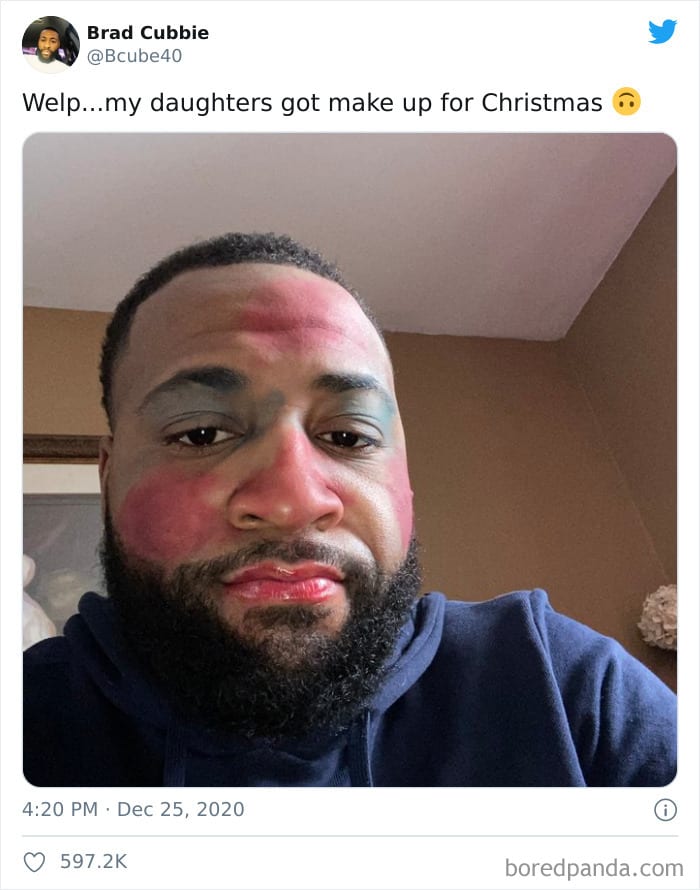 But did he shush his mouth and let his girls do whatever they wanted with the makeup they received? Yes, he did, and for that, we can only give him props and tell him we appreciate him for being such a good dad.
Bonding with a teenager
It is known that once they hit puberty, our kids become more distant towards us. As hurtful as it is, it's normal, and that's the way of life. But it looks like the dad pictured below found a way to still bond with his daughter.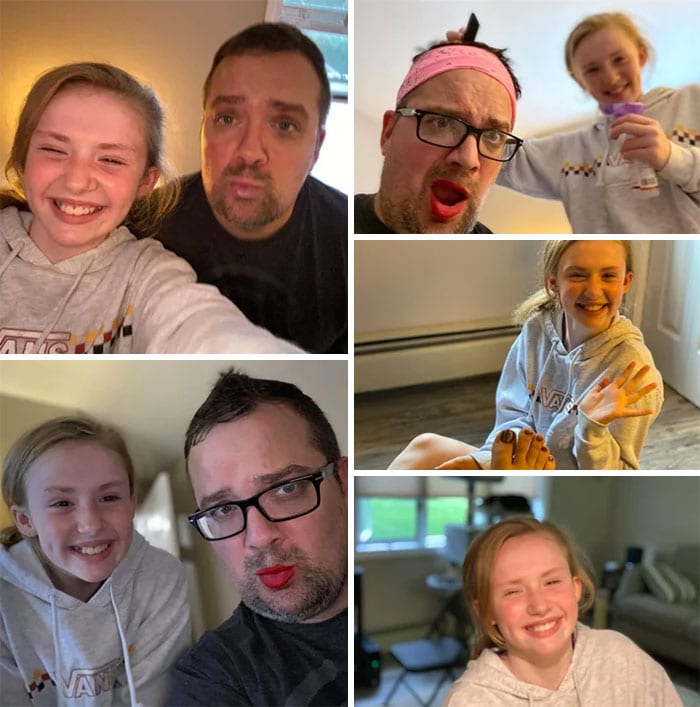 And this is letting her do his makeup, his nails, and also his hair. For some, this might be a sacrifice, but for this dad, it's nothing more than having fun, bonding with his princess while getting pampered. What else can someone ask for?
Girl dad means…
Being a girl dad doesn't only mean having a daughter. Being a girl dad means getting involved, being there to cheer for her, to lift her up when she's down, and all in all, giving her an example of how should the future man of her dreams treat her one day.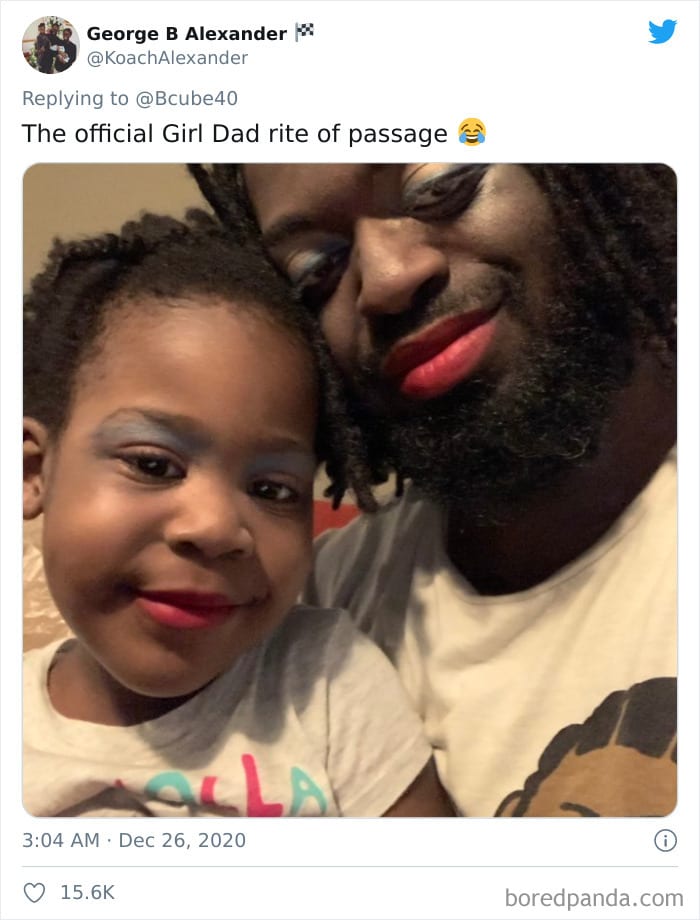 What did this beauty pictured above learn when her father accepted and allowed her to do his makeup? She learned that a man who loves her deeply would do whatever it takes to make her happy and to put a smile on her face.
Classy is the trend right now
We have witnessed some cool trends when it comes to the makeup done by these cute little ladies. It seems like what will be really trending in 2021 is the classy blue eyeshadows with red lipstick look. We have seen it on different complexions and different face shapes.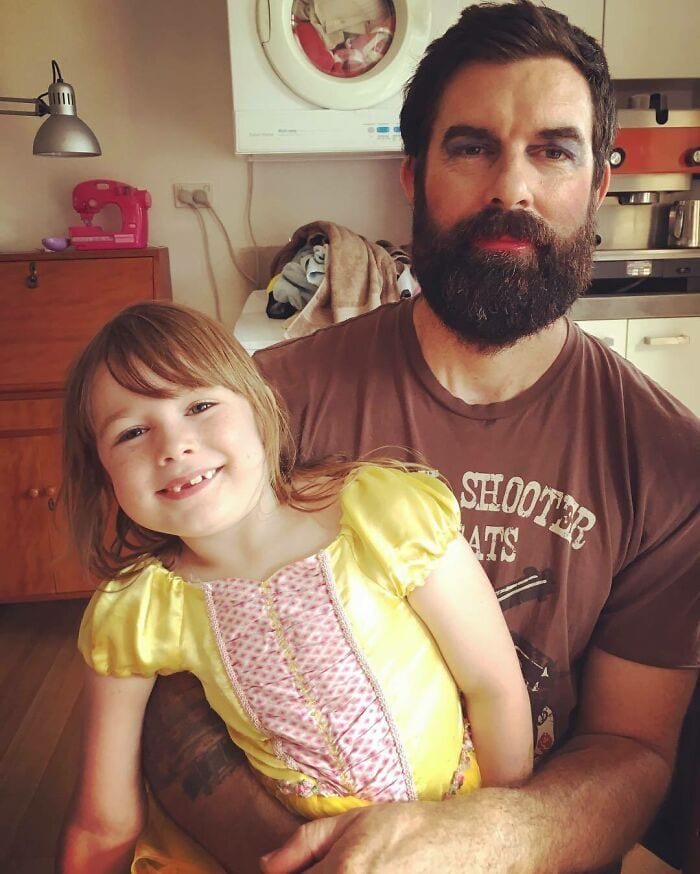 And it's fair to say that it matches every face shape, every skin tone, and every hairstyle. And let's not forget the beard too. It surely makes the beard stand out. If you don't believe it, check out the picture above!
Uhm, was it for likes?
We get it, we get it! You really love your princess, and you may be ready to do anything and everything for her. But, letting her cut your hair with your clippers… this might be a little too extreme even for us.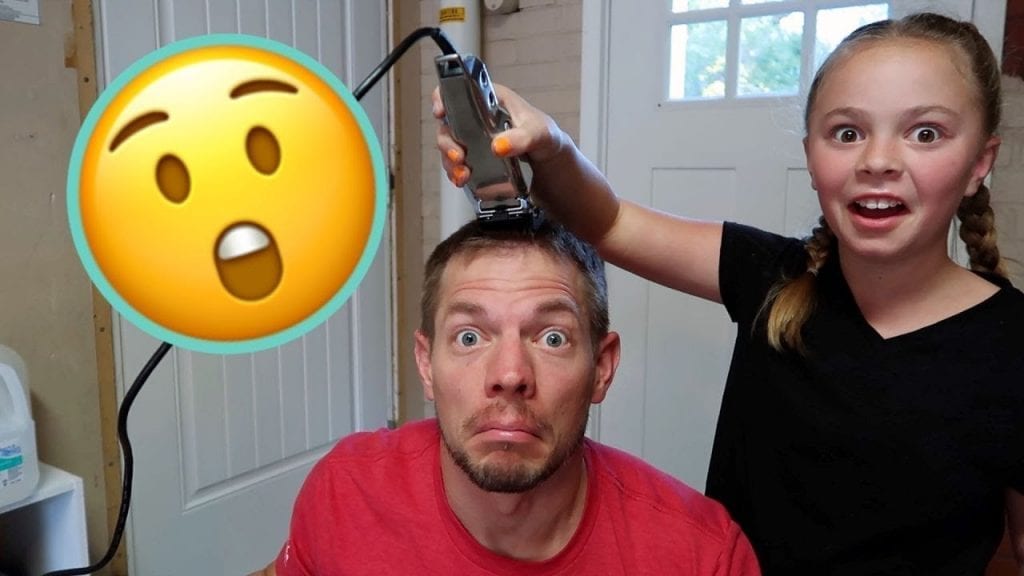 The dad and daughter duo pictured above decided to film themselves while the daughter gave her dad a haircut. We were scared while watching the whole process but guess what? It turns out the daughter was a pro, and she made her dad look good with his new haircut. Way to go, girl!