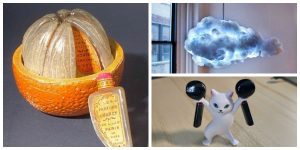 45 Times Designers Stepped Up Their Game When Creating Everyday Items
By Arvyn B
---
Product design is certainly an art. Some of the best examples are the simplest. You might think that these are pretty easy to think up, but the reality is that it is far more difficult to create an innovative product the masses will love. Companies put down large amounts of money into making their designs unique, recognizable, and effective. With the rise of the internet and social media, businesses have had to go one step further to make their products stand out through design. Here is a list of just some of the top designs that we have found. Every single one of these is extremely clever, and we applaud the designers behind their creations. It is certainly not something that we could do!
Pack of Dogs
Somehow, we always end up with a dozen packs of cards lying around the house. They are great if you want to play a quick Go Fish game with your friends. But these cards are utterly adorable on their own!
Just look at the way that they made the dog's pawprints into the cards' suits! This is such a clever idea, and it makes these cards seem so much more adorable than we ever thought possible. We do not want to give these up!
Selfless Plug
No matter which country you are in, plugs can be a real nuisance. Sometimes, plugs are so big and bulky that they block the socket, preventing you from putting anything else in. Not with this plug – these creators were smart!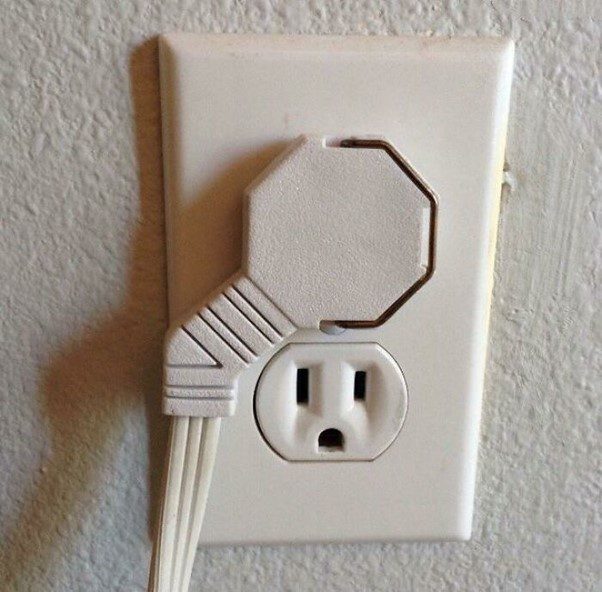 They made their plugs in a way that does not block anything else on the socket. This way, you can have a few things plugged in without any trouble. We wish that every company would be smart enough to make them this way!
Folding Lounge Chair
Anyone with a deck or outside area will love the design of this product! Sometimes, you want to bring a chair outside, but it can be difficult to find one that works. So, why not try one that's built-in?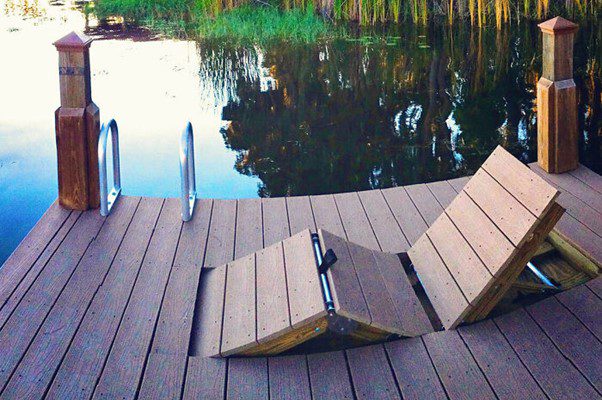 There would be no more stress or hassle of having to lug this thing around. Just pull the strap up, and you have an immediate seat! This clever design also saves the chair from being damaged in severe weather.
Tucked away BBQ
If you have space for a BBQ, then you will know that these things can be quite big and unattractive. They take up a lot of space, and it is difficult to find the perfect place to put them sometimes.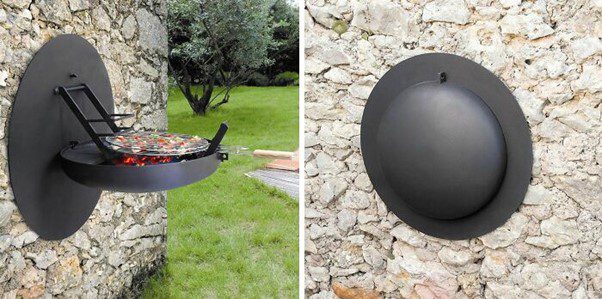 So why not try using this small BBQ instead? You can cook all of the food that you need! To clean it up, you just have to press it back to the wall. It's great for those warm summer days.
Dragon Lamp
Look at how cool this lamp is! You might think that dragons are only for little kids, but you would be wrong. This lamp is perfect for people of all ages, and we certainly want to buy it for our rooms!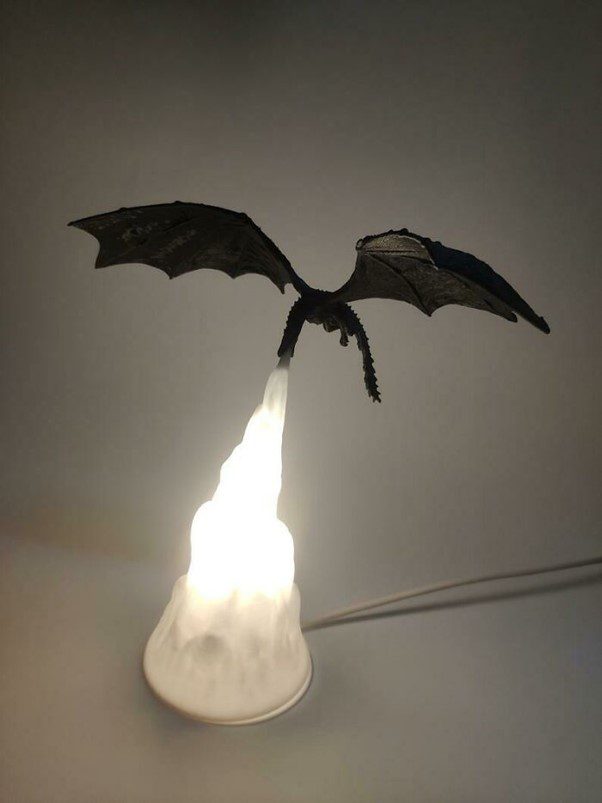 It would be perfect for any Game of Thrones fan or anyone looking to spice up their room with some interesting décor. The flames look very impressive, and they are certainly enough to fool anyone into thinking they're real!
Cellphone Christmas Lights
If you are getting ready for the festive season, we strongly suggest buying some of these holiday lights. We can definitely say that gone are the tiring days when you have to change the bulbs to change the color of the lights.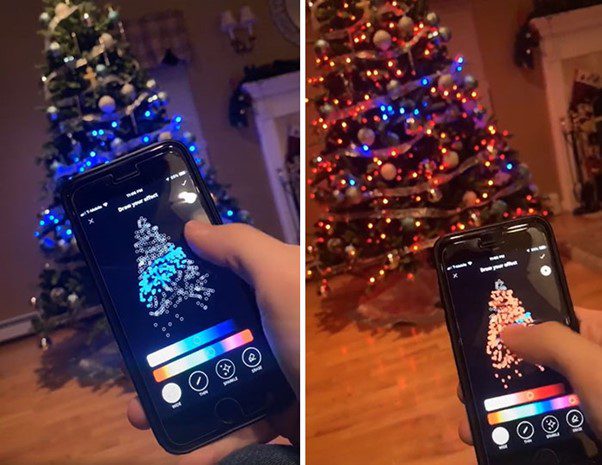 Instead, you can just tap the color that you desire on your phone. You can adjust everything about these lights, including the position on the tree, the hue, and much more. These would be great for around the house, even if it's not Christmas!
Hippo Table
This one is rather creative! On paper, a 'hippo table' seems like quite a strange piece of furniture to have around your house. But this designer clearly knew what they were doing when they created this beautiful and popular table.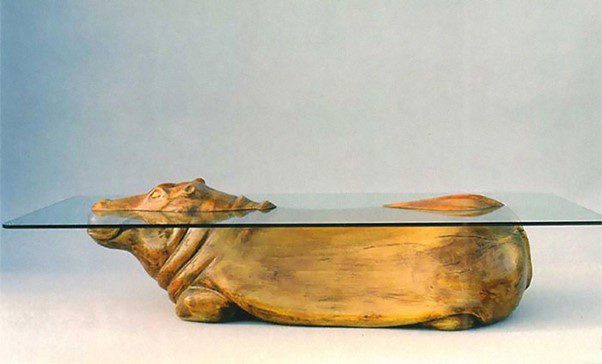 The way the glass and hippo are positioned makes it seem like the hippo is poking out of the water! We love how creative this is, and we reckon it would look good in any home, no matter the style.
Omoshiro Block
If you find yourself making a lot of notes or using memo pads quite often, then you have to buy this invention! As you use the memo pad more and more, it will reveal a hidden object made of paper.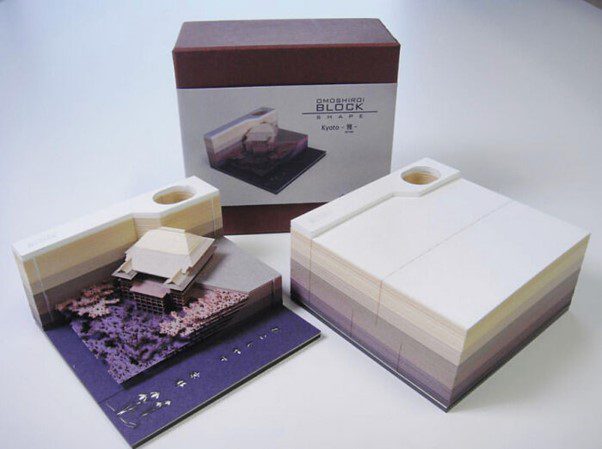 Just look at how beautiful this design is! The only bad thing is that it's hard to resist using up all of the paper just to see this design. Unfortunately, it's only available to buy in Osaka for now.
Tom & Jerry Carpet
Almost everyone around the world has seen at least one of the Tom and Jerry cartoons. This fighting kitty and mouse duo are known for their crazy stunts! One of these stunts includes Tom being flattened on the stairs.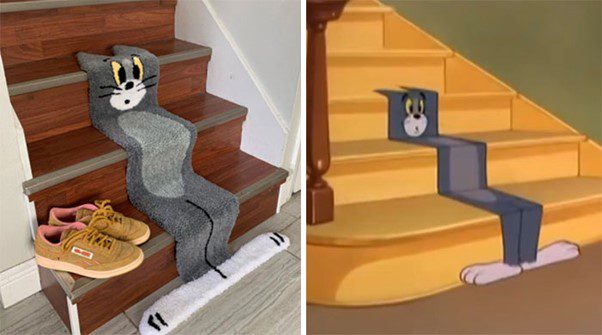 With this cool carpet, you can bring this iconic scene right into your home! We're not sure how well it works as a carpet since you might slip on this and fall. Even so, it's a very clever piece of design!
Dry it out!
If you live in a snowy or rainy area, then you will really love this machine. It is from Norway, and it can be used to dry out your shoes when they are wet. No more soaked socks or moist shoes!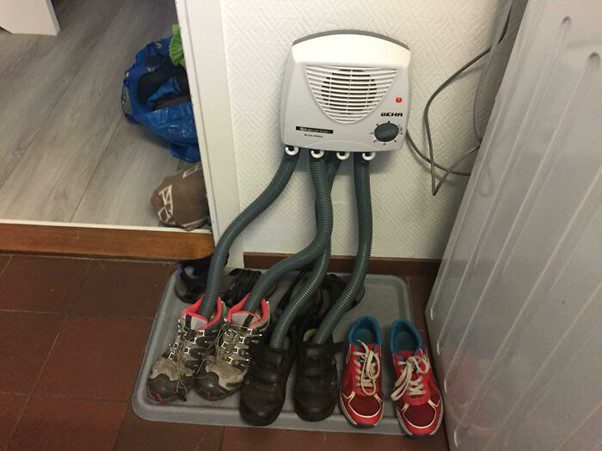 It saves a lot of time and effort. Although, the only downside is the smell. We can imagine that it stinks! You might want to keep this invention away from the kitchen unless you like the stench of wet shoes.
Playing Pixels
If you fancy picking up some more cool playing cards, we strongly recommend looking at this deck. They might look like a piece of embroidery, but they really are playing cards with a pixelated effect. How cool is that?!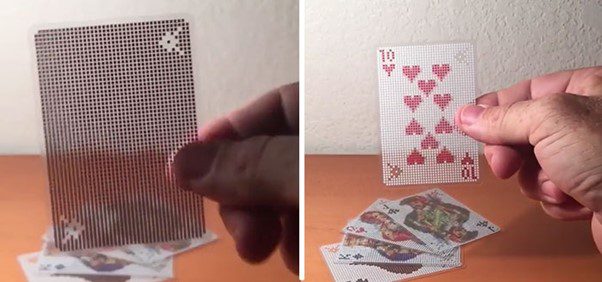 Through the power of design magic, you can only see one side of the card at a time, which stops anyone from cheating and seeing your card numbers. This is perfect for any big group who likes to play cards!
Fan/Clock
Moving away from the wintry weather now, you might want to pick up this clever product if you live somewhere that reaches high temperatures. Not only is this fan a cool neon color, but it also works as a very smart clock!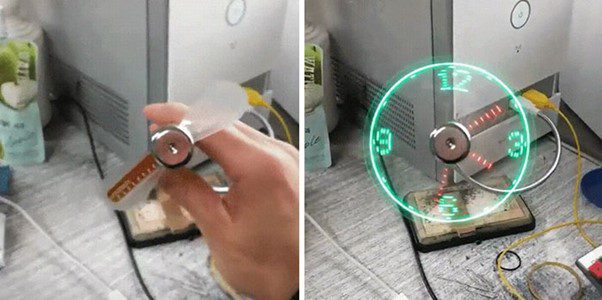 There are even some other versions of this fan that display other things, like the current temperature. We have no idea how this works – it seems like it must be magic! In reality, it is just a very clever invention.
New Etch-a-Sketch
Etch-a-Sketch is a very famous toy all over the world. All you have to do is twist the dials to draw a picture on the screen. It sounds easy, but it's really not! The makers recently added a new feature…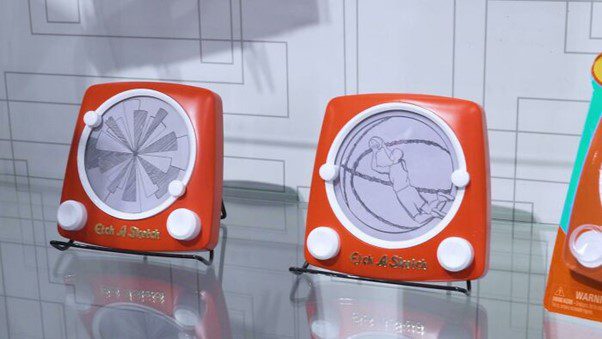 …being able to draw circles, too! This opens up a whole new dimension for using it, and we can imagine lots of new creative designs being made on here. Any budding artists will want to try this out, for sure!
Orange Perfume
Some of the best smelling perfumes in the world have a gorgeous fruity smell to them – that includes orange smells. Way back in 1925, Parfums de Marcy was ahead of the game with their designs for perfume bottles.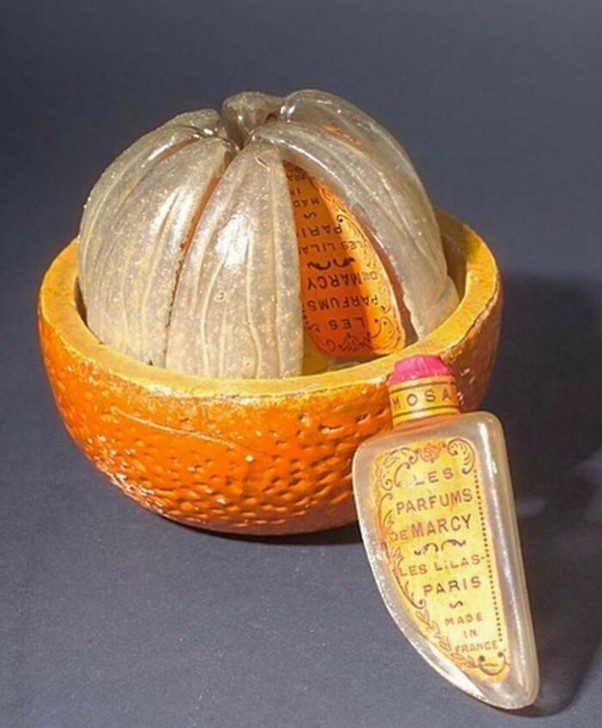 They made their L'Orange perfume into an actual orange, complete with slices of orange to spray on yourself! At any time, this would be impressive, but this is particularly amazing given the time it was created – almost 100 years ago!
Air, what air?
We are pretty impressed with this invention. Instead of repeatedly pumping air into them, the designers of this tire decided to change things up completely. They made them airless! Okay, so they're not really airless, but they're close enough.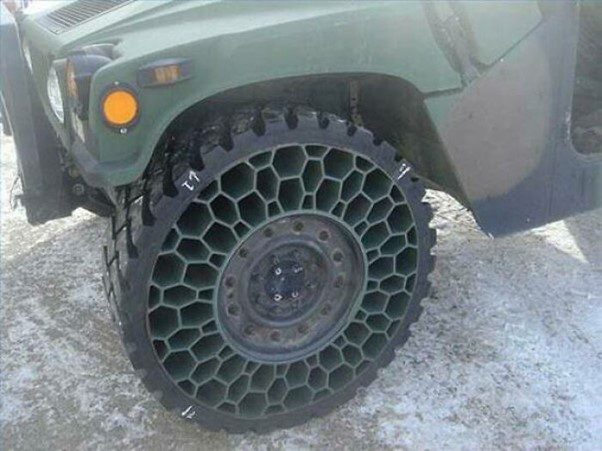 You will not have to keep pumping this baby up at the gas station, but instead, you can let the air flow through them easily to keep them inflated. It's pretty strange, but we're not too sure how successful it is.
No more spillage
One of the worst things about having a cup of coffee is when the coffee drips down the side. Sometimes, it can leave a stain on your table or shirt, and it is a real hassle to clean up the mess of coffee.
That is where this neat invention steps in! This cup has a small indent running around the bottom so that any droplets will fall into there instead. Now, you will be able to drink coffee without any annoying spills or hassle.
Creative Crab
Whoever created this needs a bunch of awards. This product has many different tools attached to it, including a spanner, scissors, wrench, bottle opener, and more. Want to know the best part of it? It looks like a cute crab!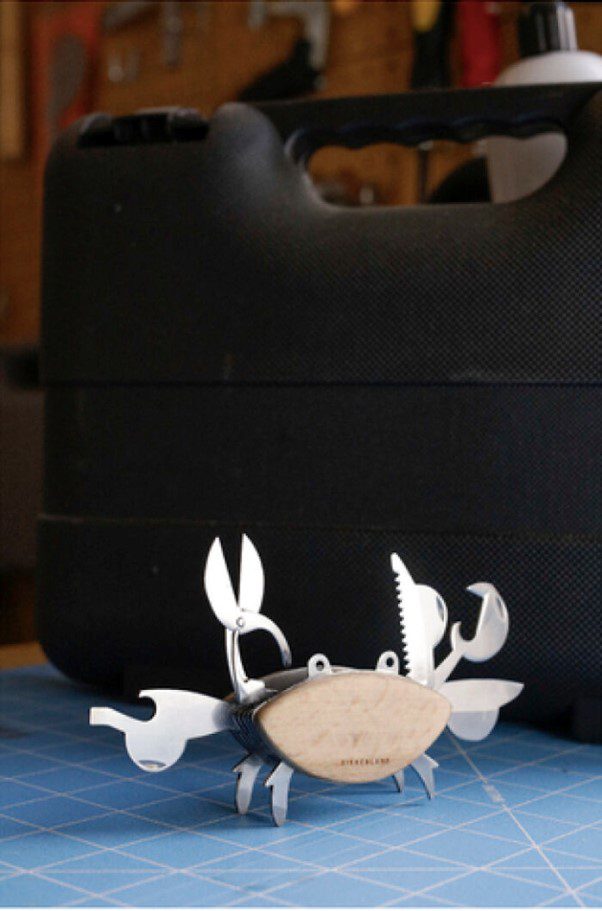 This looks so much nicer than any of the tool belts or multi-tool devices that we have seen before. We bet it is just as useful as these, too! It would make a great stocking filler for Christmas time.
Ring Board
Chess is known for being one of the hardest games to play in the world, as it is about brains and strategy over physical features. But, we reckon that this version of the game has to be the hardest one around.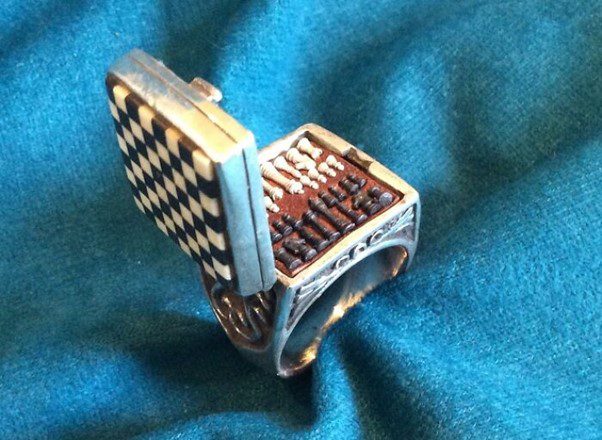 The game is set on top of a ring, making it absolutely tiny! We are not sure if you can actually play this game, but we sure hope you can. It looks so cute, like a chessboard for babies or fairies!
Clean gum
If you chew gum a lot, you will know that it's a little annoying when you have to spit the gum out. Swallowing it can make you feel uncomfortable, and spitting it out on the floor is just plain rude.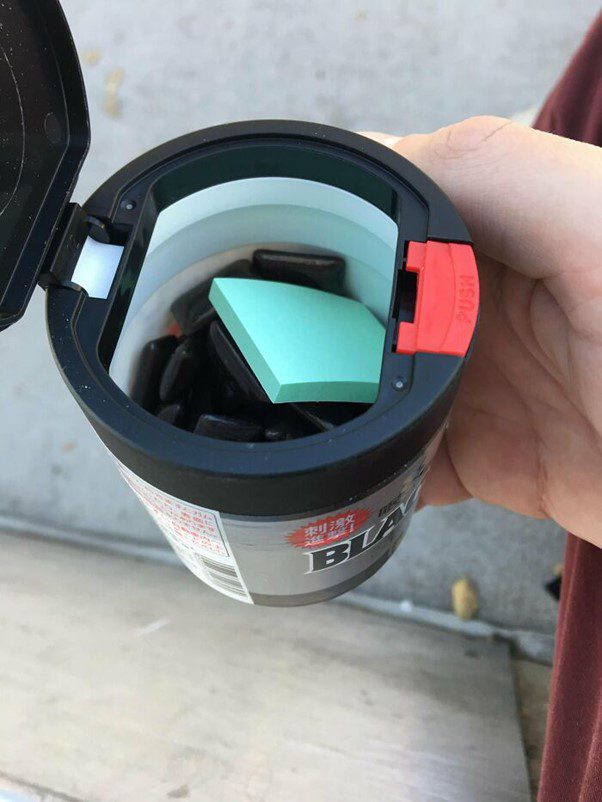 This gum from Japan fixes this problem perfectly! You can spit out your gum in the handy piece of paper inside the package whenever you are finished. It is a great way to keep the streets and tables clean.
Cat Holder
Wireless headphones are such a handy invention, and Apple's Airpods are probably the most famous example of these. So, anyone with them should think about buying this dancing cat headphone holder! This kitty looks absolutely adorable busting a move.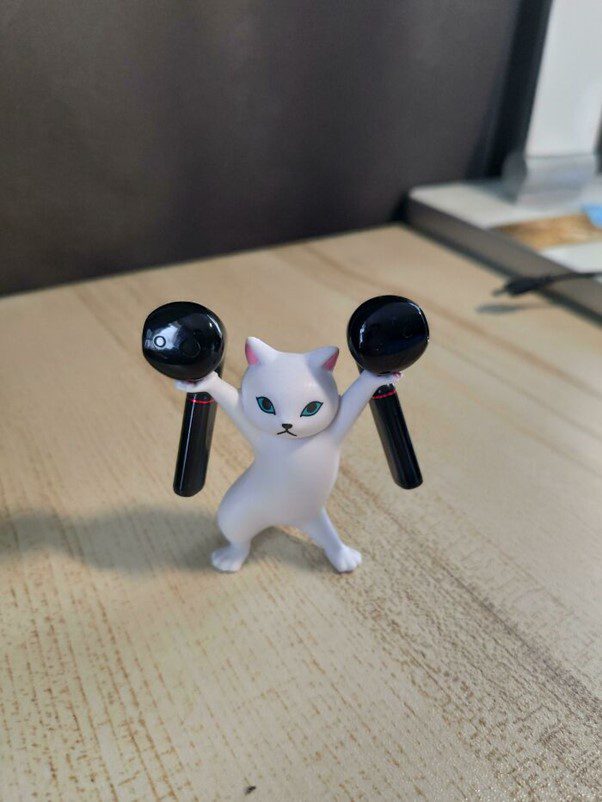 You can get this cute kitty in a bunch of different designs, depending on the one that suits you the best. Whichever one you choose to buy, we can all agree that these dancing cats look so adorable on any tabletop!
Soy Painting
We are seriously considering throwing out all of our plates to get this one. Just take a look at how clever it is! When these plates are empty, they look pretty boring. But as soon as you fill them up…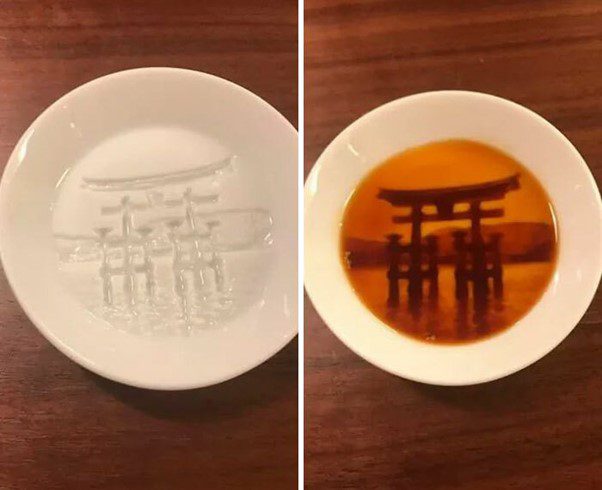 …you see a pretty design in the center of them, like this! These plates would make a great table piece for when you are having a big meal. They look absolutely stunning, and we highly recommend buying them for your home.
Watch out!
This one is a pretty ironic design, but it is a good one. "Wet floor" signs are very important to have, as they warn people to be careful in case they fall down. But, they always look so boring!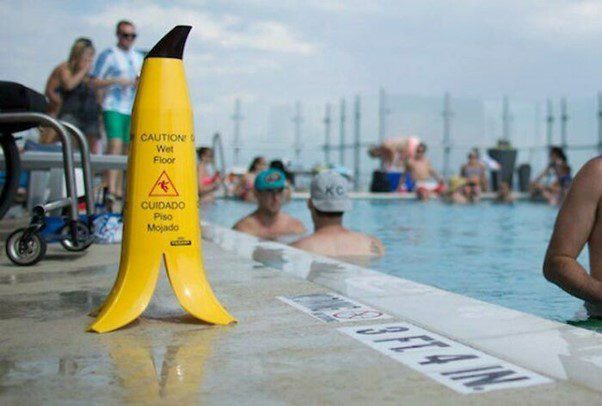 This is where this safety cone changes the game – it looks like a banana peel instead! It is ironic because banana peels can actually make you fall over, but we reckon this is a good way to get people's attention.
Pet Bed
Pet beds are another essential thing to have, but they never look quite right. We really love this invention, though! This little bunk bed would look very cute next to a human bed, and it is perfect for any pet.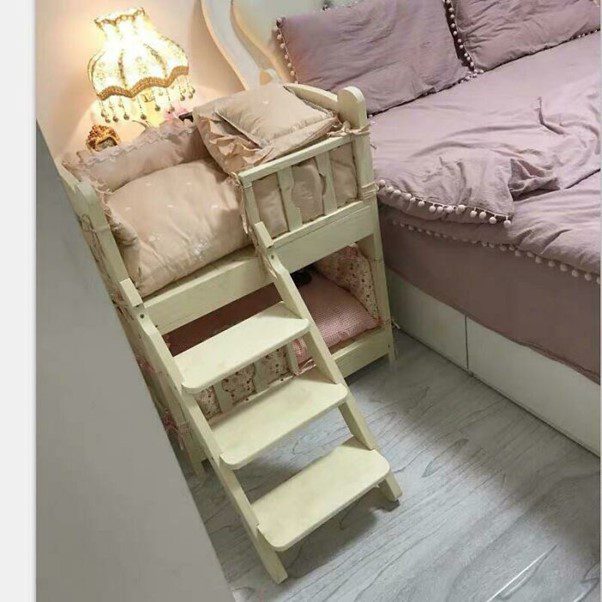 It does not matter if you have a cat or a dog, as either one of them would look very adorable sleeping in this bed. Hopefully, they can be trained to use the steps to climb up and snuggle up.
Changing gears
Anyone who rides their bike often will know the struggle of trying to change gears, as sometimes you just do not know what will work the best. Numbers mean very little sometimes! This is where this invention comes in handy.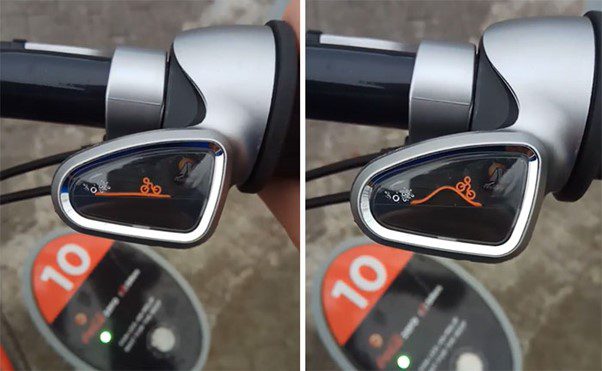 Instead of using numbers, the handlebars have a small picture next to them to show you what the gear is best for. This way, you know exactly which gear to use instead of doing guesswork. It is so much easier!
Clever Card
Creating a business card is a lot harder than you think. You have to consider how to get your name, your business's name, and any other important details onto a tiny piece of paper. It also has to look pretty attractive!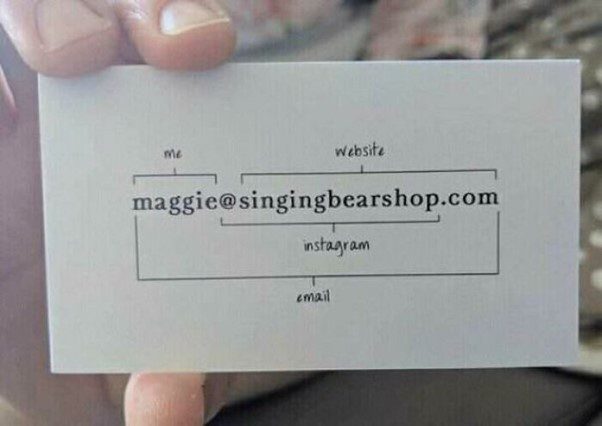 That is one of the many reasons why we love this business card. It is short, clear, and to the point. It keeps the company name consistent and makes things incredibly easy to understand. It is clever but simple!
Music Writer
Have you ever wondered how music sheets are created? Well, here is one of the most creative ways – using a typewriter! Obviously, this is very different from any standard typewriter, but it is still pretty cool to see.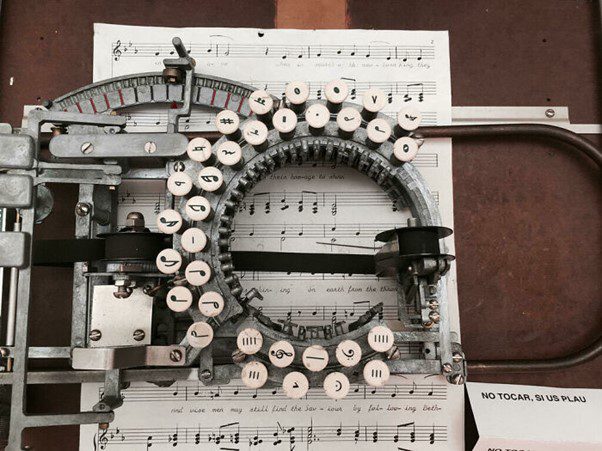 Simply by pressing a button, you can have the same note that you want printed onto the sheet. However, this is quite an antique model, as most musicians prefer to use computers to make their music prints today. Back then, though, this was revolutionary.
Hiding in plain sight
If you are looking for a good practical joke to play on your friends and family, we strongly recommend that you buy this crocodile. It is a great way to freak them out and it looks so awesome too!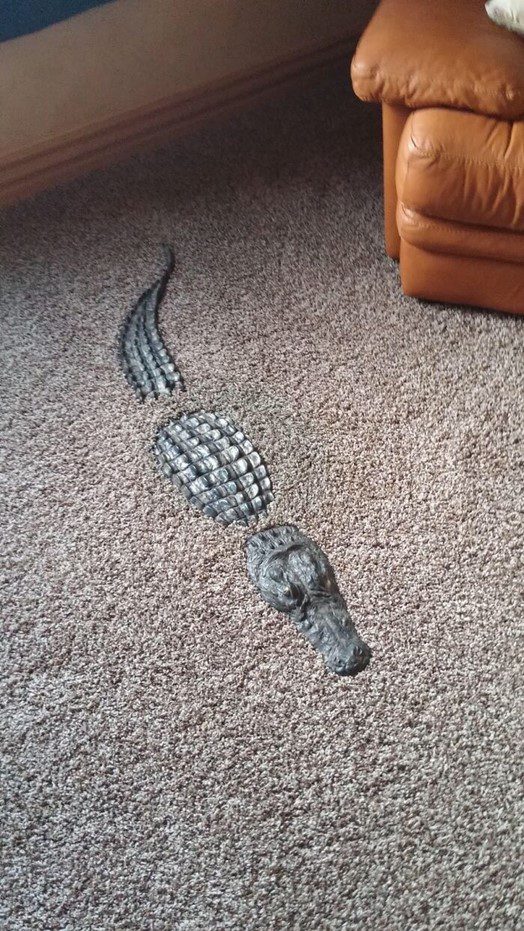 You could try buying this along with the hippo table in order to get a wildlife-themed room. However, we are not sure if it is part of the floor or just a feature to put in or on the carpet.
Cardboard Coffee
If you are looking to buy another coffee cup, we think that this one is pretty neat, even though it might make you feel a little uncomfortable. Why? Because the mug looks like it is made of straight cardboard!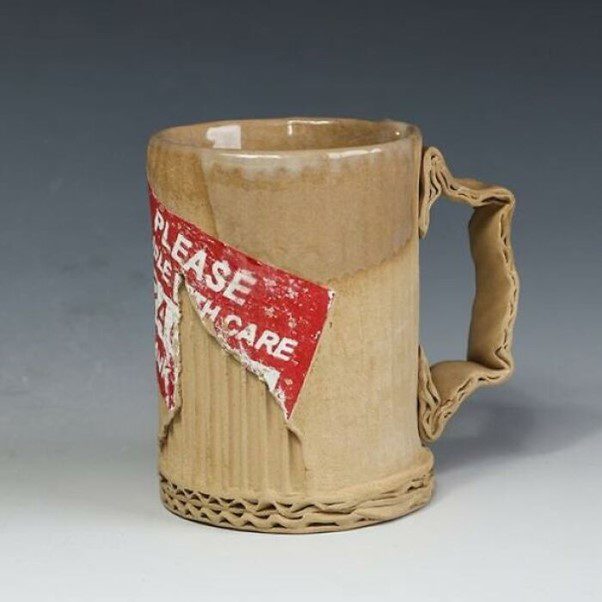 Obviously, it is not made of real cardboard, but the similarities are unreal. These designers deserve a raise for how life-like it looks! It is certainly a good way to get some stares if you use it in public.
The Death Star
We cannot describe how much we love this maternity shirt – it is just so clever! We never would have thought to make a pregnancy belly look like the Death Star from Star Wars, but this design works so well.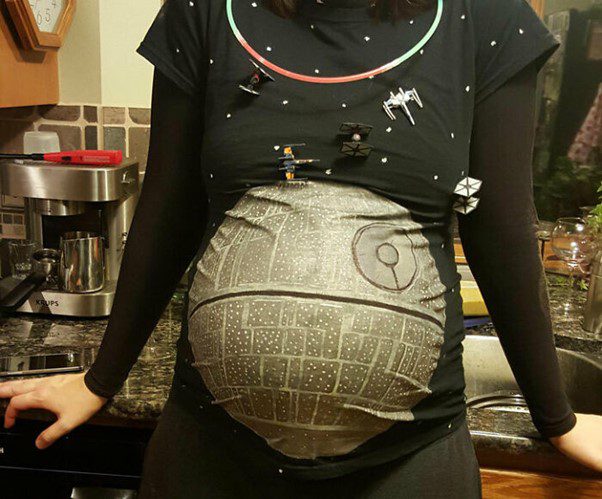 They have even included some X-Wings and other spaceships for extra effect. We guess that another name for this pregnancy belly could be…the mothership! We hope the birth of this baby is not as dramatic as in the movies.
Cloud Lamp
It is official – we are definitely going to buy this lamp. Not only is this lamp interactive, but it can also work as a Bluetooth speaker. It is perfect for sending you off to a good night's sleep.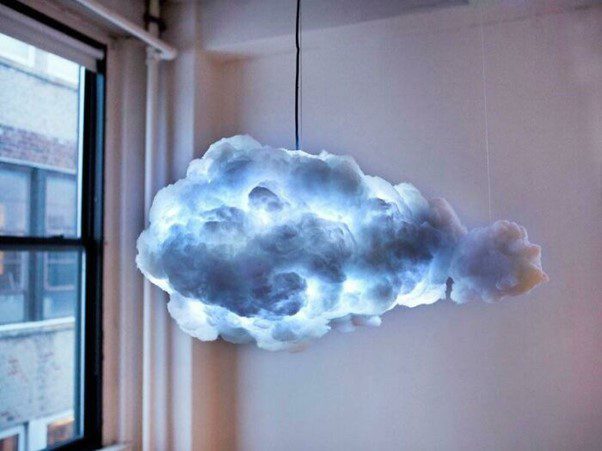 It looks simply amazing! If you had a whole collection of these, you could make your bedroom look like the sky. The only downside is the price, as it costs over $3000 to buy! You could always try making one yourself.
Squirrel Feeder
This product is just so cute! Everyone knows that squirrels like to fill their cheeks with nuts that they find, so it makes sense to use that fact in designing this product. Just look at how adorable this squirrel looks!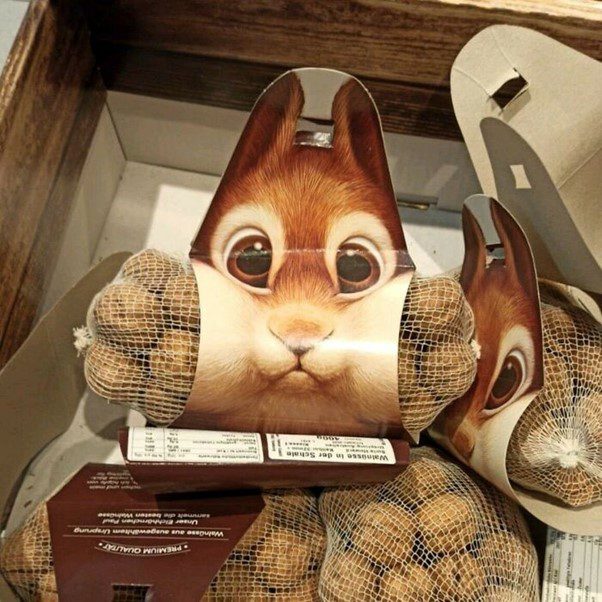 Honestly, we would probably buy these nuts just because of how well-designed the packaging is. It is a very clever marketing technique, and whoever created it should certainly get a raise! The nuts themselves are apparently very delicious, too.
Self-Weighing Suitcase
We cannot count the number of times that we have had trouble weighing our suitcases. No matter what you do, it never seems to fit within the weight limit! This clever invention solves all of those problems and more.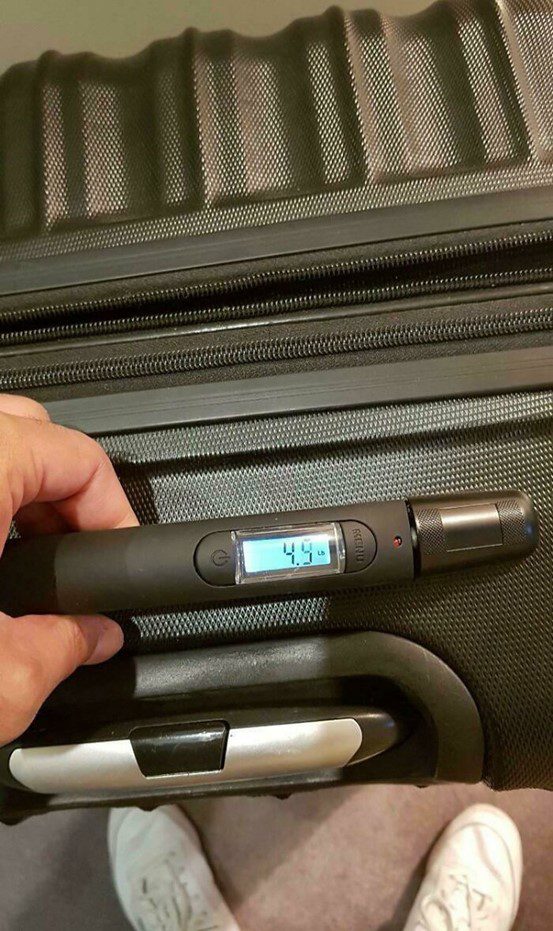 Instead of having to find a scale that fits, this suitcase comes with the scale attached – literally! There are a number of different companies that include this feature, so we recommend that you check them out for a smooth journey.
Chemistry Notebook
If you're a chemistry student, then you should definitely check out this notebook. It has hexagonal paper inside that makes it perfect for drawing the makeup of chemicals. No more strange shapes! You can also use it for designing quilts.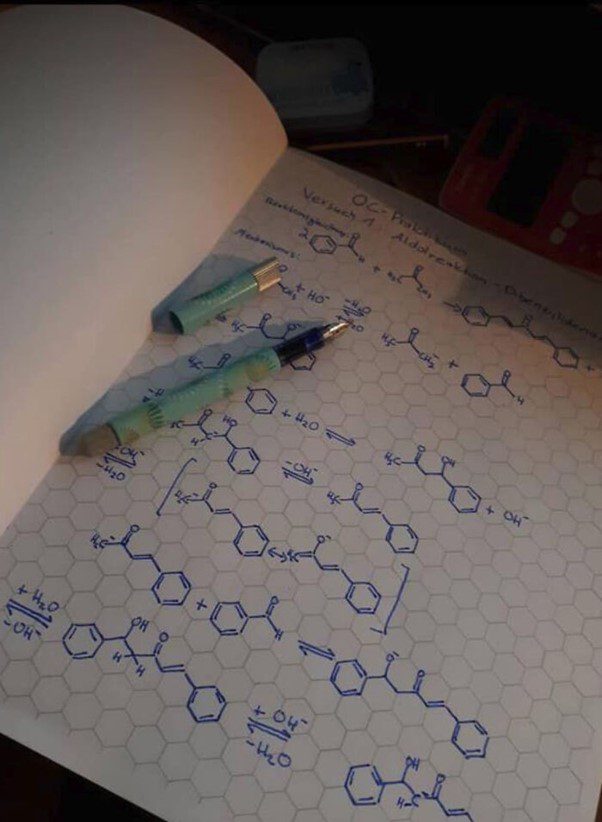 This is not a new invention, as this type of paper has actually been around for a while. Still, it is pretty cool to see that someone thought to use it in a notebook. It makes things a lot easier.
Russian Bowls
No, we have not become confused – these bowls really do work like Russian dolls! You can stack each of them on top of each other to save space with a beautiful design. They can be separated to make many bowls.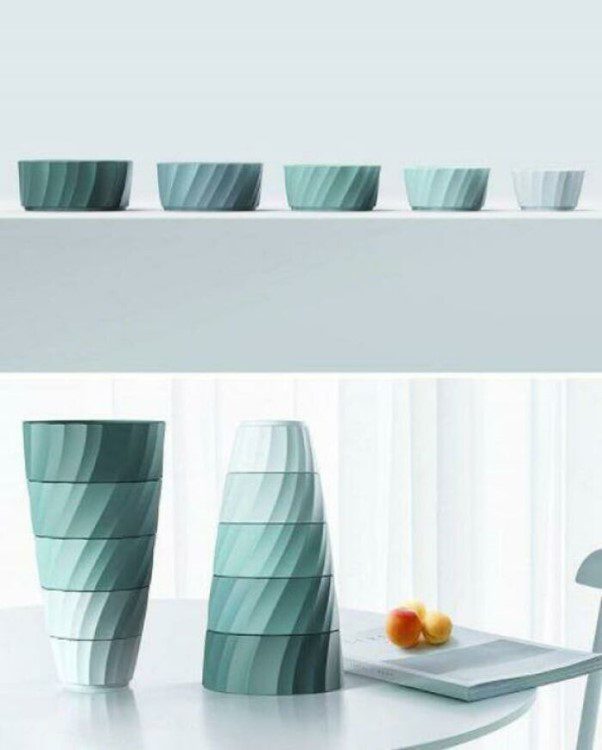 It looks tempting, but we would probably not recommend using them as cups. It is possible that the drinks would spill out! They do look quite stunning, though, and would make a great conversation starter or centerpiece for any dining table.
Wicked Waste Basket
We have already seen a crazy mug that looks like it is made of cardboard. Now, check out this wastepaper basket that looks exactly like it is made of crumpled-up paper. We cannot get over how clever this is!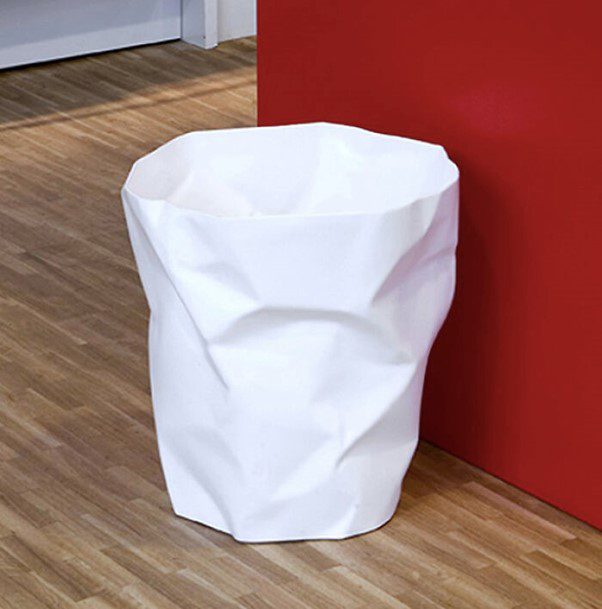 The crumples on the side look almost too realistic, and you would be forgiven for thinking that it has a plastic sheet over it. You can get other items in this design, too, like cups. We'd like to get our hands on one!
Sofa Bed
This sofa bed is so futuristic that it makes every other sofa bed today look ancient. The sofa seats pull out to become a relaxing bed, complete with a lamp and bookshelf on the side. There is even an end table!
At the base of the bed, you have a luxurious footrest and more storage for your things. Honestly, if we bought this bed, we would probably never get out of it. It looks way too comfortable to go elsewhere!
Hidden Walls
Here is another gorgeous light fixture for any room. This time, it is in the shape of a peeling piece of wallpaper, which makes it seem like something amazing is hidden behind it! Of course, there is one problem with this.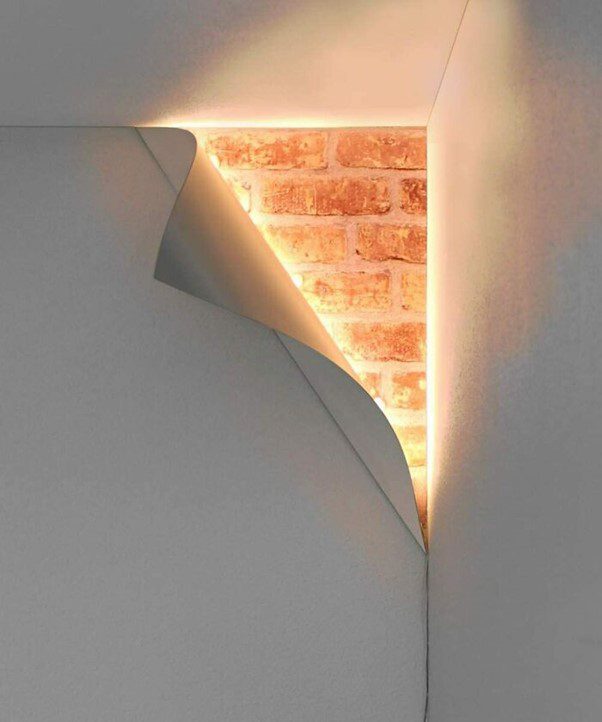 We would constantly feel like peeling all of the wallpaper back! If you do not like the brick option, two other options might match the style of your room. We think one of them will work! But, we have truly never seen a design like this before.
Cute Lamp
If that was not enough light for your room, then why not try purchasing this customizable one instead? You can easily adjust this lamp's legs to fit anywhere in your room, like the edge of a table or desk.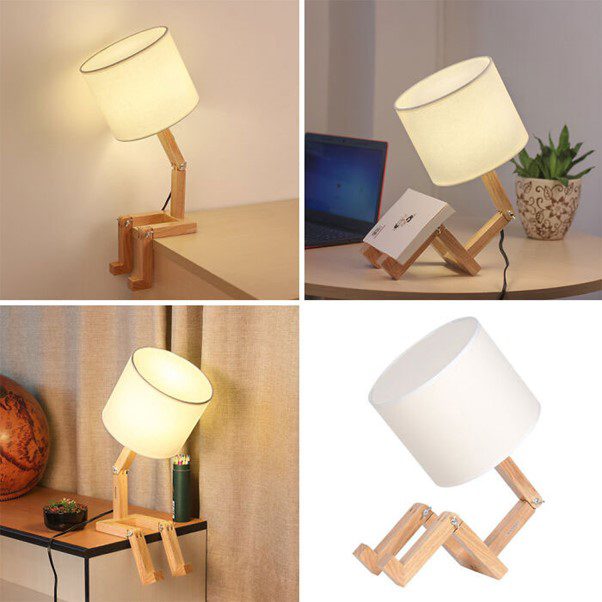 You can even try pushing its 'legs' up to make it work as a holder, too! We cannot get over how adorable this lamp looks, and we reckon that it would make a fine addition to any room or office.
Pet Bowl
We have already seen a gorgeous pet bed – now check out this amazing watering bowl! These are tucked away so neatly underneath the kitchen counter that you probably cannot even see them in real life. But they are there!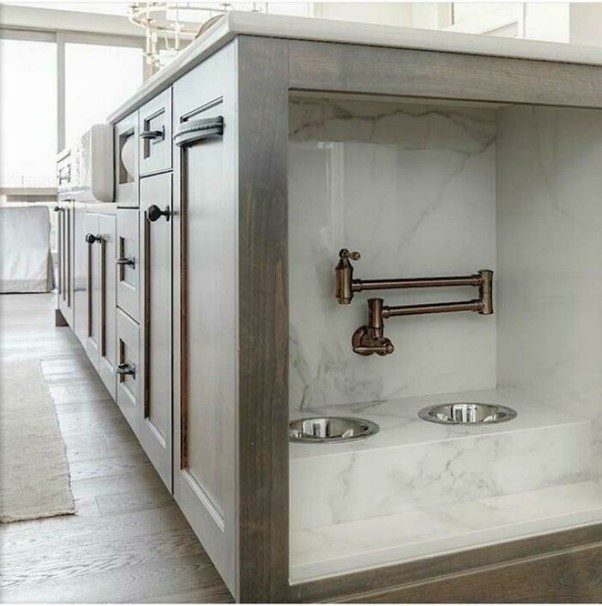 It is not clear if the taps on these actually work for the pet or if they are part of the design. Either way, it is a great design choice! You could even swap one bowl for a food bowl.
Potted Groot
If you are a fan of the Avengers or Guardians of the Galaxy, then you absolutely have to put this Groot-shaped plant pot somewhere in your house. If not, we think you should get it anyway because of how cute it is!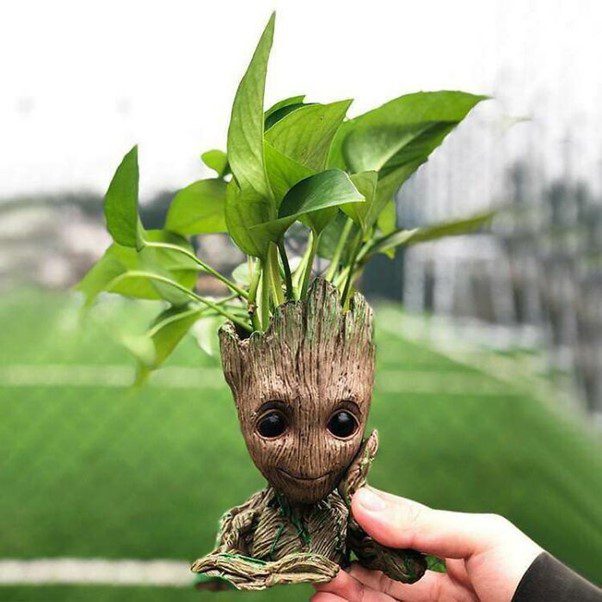 We just love the huge eyes and the wooden effect on the pot itself. It looks so realistic! There is apparently an entire set of these pots, which come in a variety of different sizes. It's perfect for the garden!
Tiny Tetris
Next to Mario, Tetris is possibly one of the most famous video games of all time. There is a reason why – the simple concept is just so addictive! So the creation of "pocket Tetris" comes as no surprise.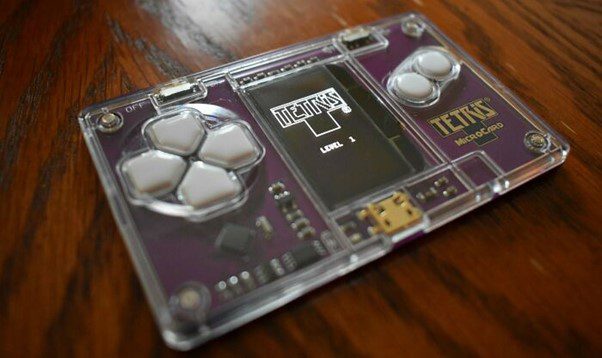 Of course, you could always try playing Tetris on your phone instead, but where is the fun in that? This tiny pack will hit all of the right nostalgia buttons and keep you twiddling away with your thumbs forever.
Miniature Boat
This mini boat quite literally does what it says – it is a mini boat! It is perfect for any small child, but we are not too sure what the purpose is. Perhaps it is just to look nice!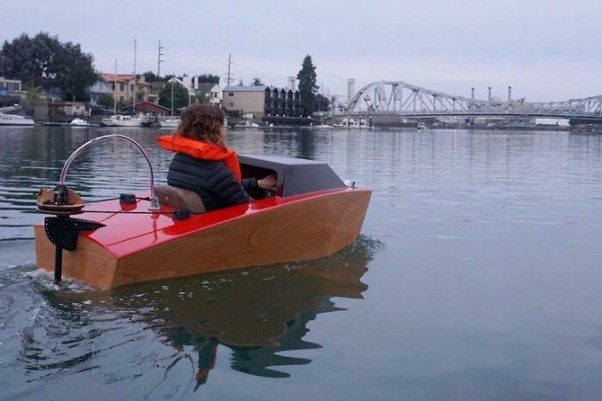 The little girl driving it seems to be having fun, though! You could probably use this if you want to help introduce your children to riding out on the sea. It is a pretty cute little gadget for any kid.
Responsible Refrigerator
When summer hits, and it starts to get really hot out, nothing beats the feeling of drinking a nice, cold cup of fresh water. In order to do that, you need to put a pitcher of it in the fridge.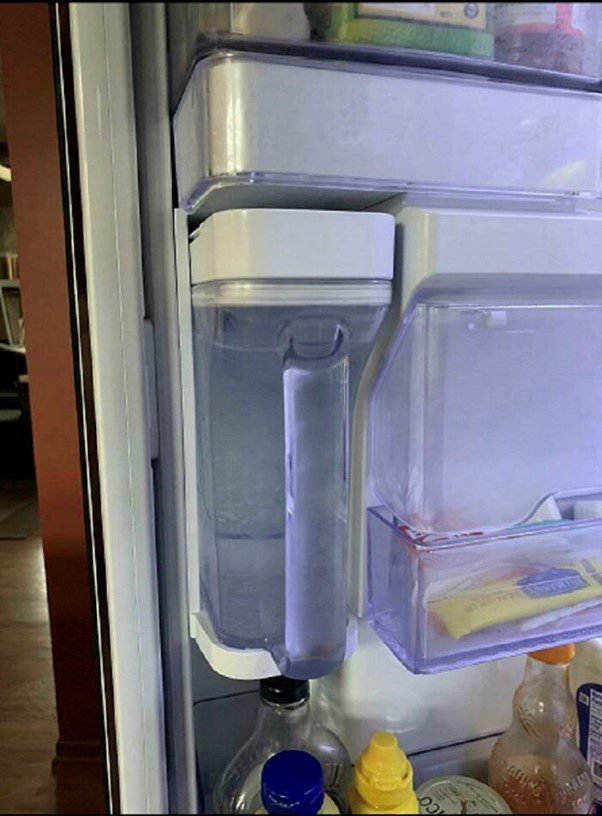 This is exactly where this smart refrigerator comes in handy – it has the pitcher built into the door! Of course, if you break or lose the pitcher, you have quite a big problem to fix. Still, it's a pretty cool idea!
Minimalistic Cards
Minimalism is all the rage at the moment, from iPad designs to organizing houses. And that does not stop with playing cards either, as you can see from this gorgeous collection of minimalistic cards! They look so stunning and sleek.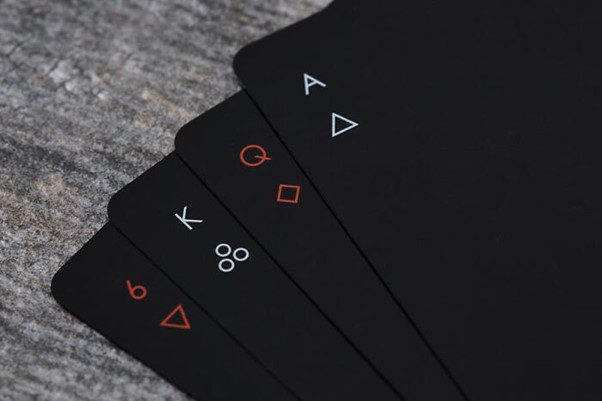 You can try getting them in different colors to fit whatever style that you are going for. However, we have to say that we are not too sure about the spades and club shapes. They look strange as triangles!
Dog bag
Say goodbye to the days of putting your adorable pooch inside of a handbag. Now, you have this wonderful little bag that is perfect for your pet instead! Just look at how cute this doggy looks as it's tucked inside.
We wish that these came in a human-size version – that would be so awesome! Still, any cat or dog that can be carried out like this is extremely lucky. It keeps them snuggly, comfy, and very safe, too!