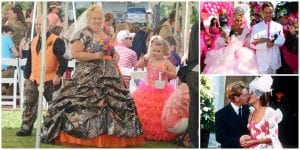 40+ Celebrity Wedding Dress Fails We Couldn't Ignore
By Liezel L
---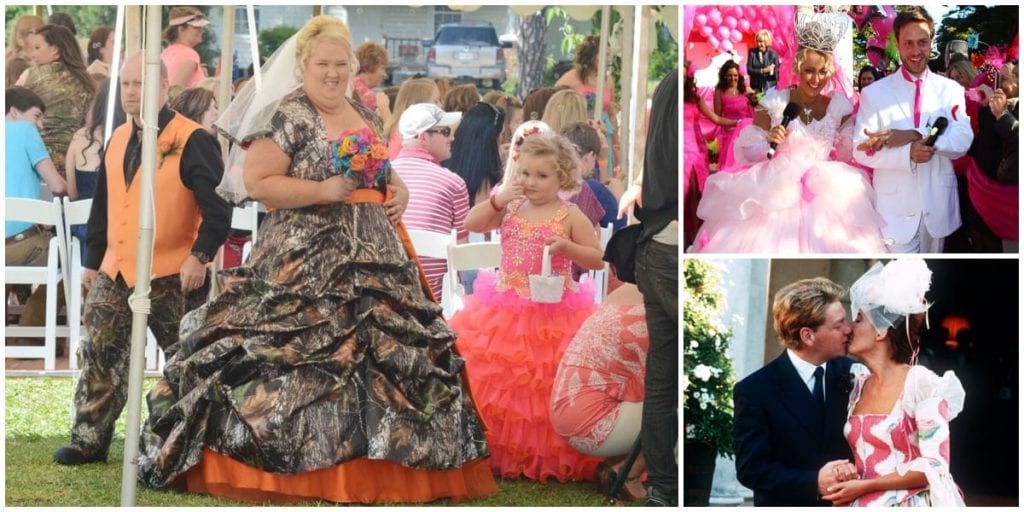 Forget the venue and forget the ceremony, what a lot of people are waiting to see most of the time at weddings is the wedding dress. So when a bride chooses an unflattering wedding dress, believe us, they're going down in their guests' minds as the poor bride who chose the wrong dress. Plenty of celebrity brides have already gone down that path. And for better or for worse, images of their wedding dress fails will always be on the internet to haunt them. They had all the money and the style assistance in the world, and yet, it's simply hard to give these dresses a pass. Take a look at these celebs who we think might've gone a little sideways with their wedding dresses, and judge for yourself if the dress is a go or a no. 
Gwen Stefani
We love Gwen and her fantastic fashion style. But there's just something that we can't quite agree with about the wedding dress she wore to her wedding to Gavin Rossdale. Their marriage was right out of a '90s alt-rock dream. But that dip-dyed hand-painted hot pink bottom just isn't doing it for us.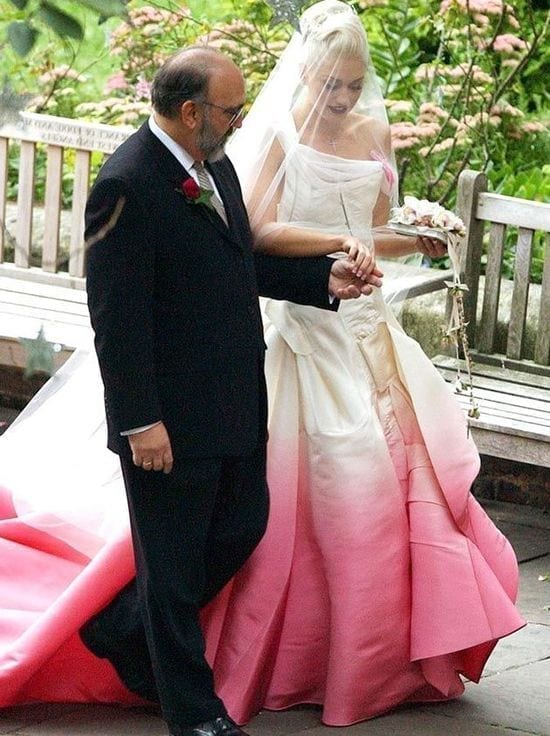 Sure, pink can be great to some degree on a wedding day. But Gwen's dress makes her look like a lost Alice in Wonderland character. Add that color to the unexplainable pattern of her dress, and it makes you wonder, is this really just style, or is it just wrong?
Jada Pinkett Smith
We love Will and Jada Pinkett Smith's relationship. They're the very definition of #couplegoals. Their bond is just so real, and they don't try to paint a perfect picture for all of us. They may have had some hiccups along the way, but every time they talk about each other, you definitely see the admiration in their eyes.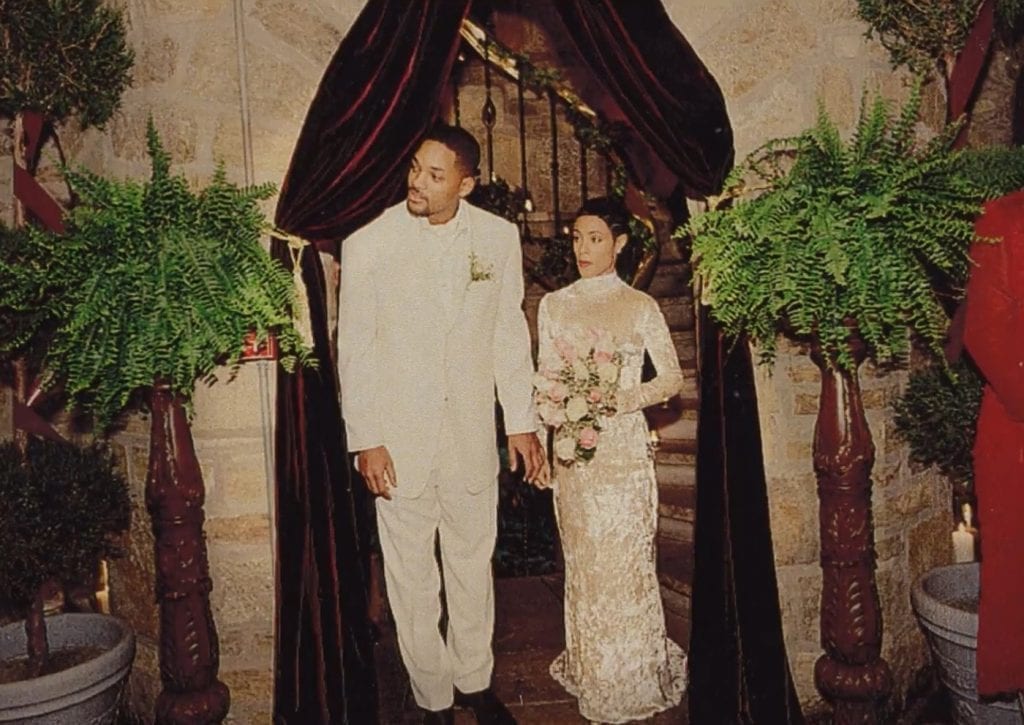 Get a load of the day it all began. Jada was as beautiful as ever, of course, but the dress simply looked uncomfortable. She was pregnant at the time with Jaden, and it was mid-winter, so we understand going with a dress that provides a little more cover. But the long sleeves and the high necked dress made of silk velvet fabric might've been a bit much.
Roseanne Barr
Comedians Roseanne Barr and Tom Arnold seemed like a match made in heaven. For the short time they were together, plenty of people admired them for their no-bull attitude. One thing that really stuck to our minds about their relationship, though, was Roseanne's over the top wedding dress.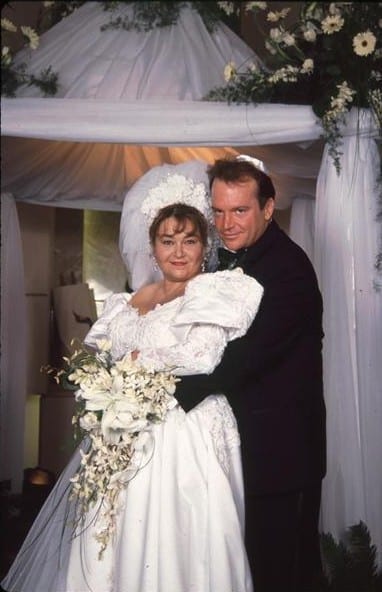 As traditional as it may have been, there was simply too much of everything. There was too much puffed sleeves, too much cleavage, and too much veil. Oh, and did we mention the train? Maybe Tom should have gone for a puffier yarmulke in order to even things out?
Khloé Kardashian
Khloé Kardashian and Lamar Odom's wedding was the talk of the town for quite a time because of their whirlwind romance. The pair only dated for four weeks before they got married. And looking back at their nuptials, we're pretty sure Khloé might have chosen another gown had she had more time to plan.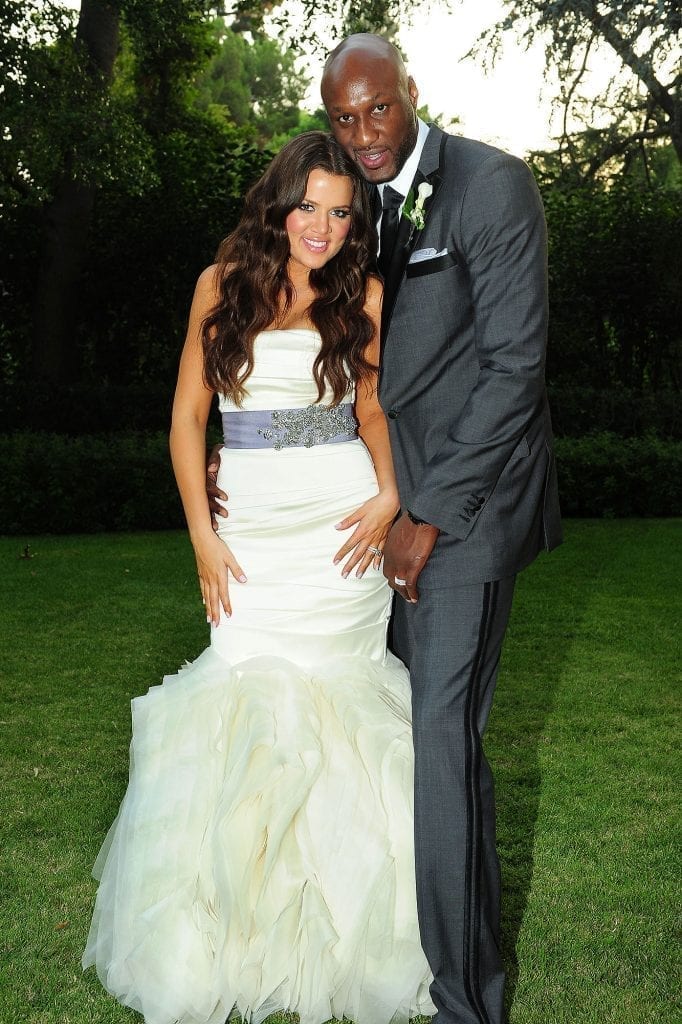 The custom Vera Wang silk gown honestly did look okay, until you get to the voluminous, layered tulle mermaid skirt. It looked too blocky to complement the entire silhouette of the dress. But nonetheless, Khloé's confidence and happiness on the day itself did help her rock it throughout the day. 
Madonna
We all know weddings are some of the most expensive events in a person's life, but Madonna's marriage to Guy Ritchie really takes the cake, with a price tag of $2 million. One of the things that probably helped bump up the entire cost of the event was Madonna's wedding dress.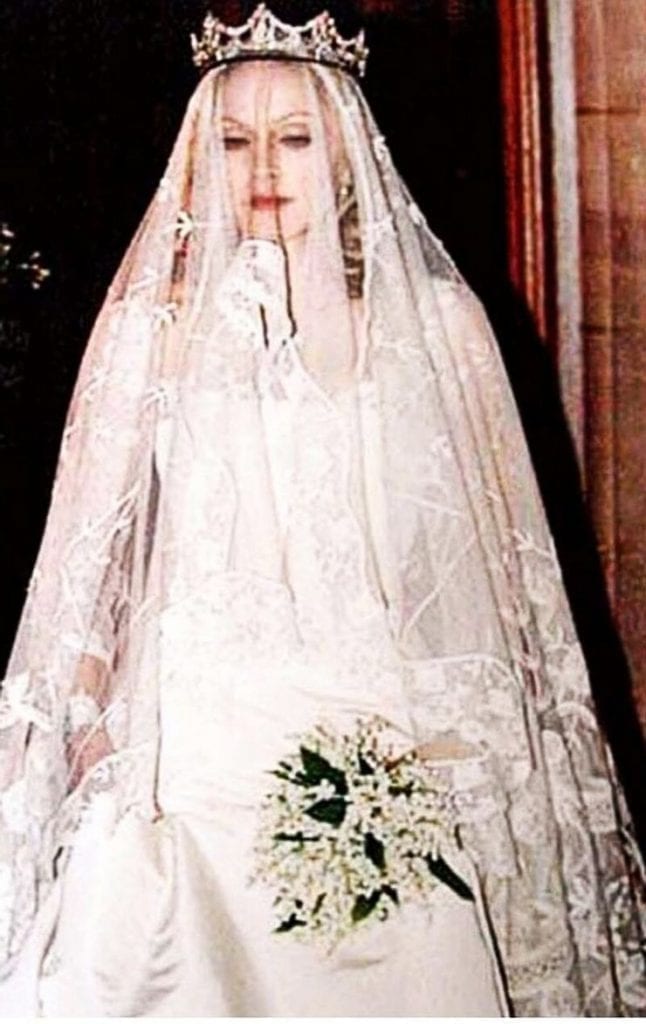 It could've been beautiful. She could've looked like a regal queen with the old-fashioned style crown on her head, but the veil just turns regal into downright morbid. The pattern in itself is beautiful, but something about it just gives us a little bit of the creeps. 
Rita Wilson
Tom Hanks and Rita Wilson are really lucky to have found each other. They were college sweethearts, and they've called each other their soulmates. They're also one of the lucky couples in Hollywood who have lasted a long time. Their loving relationship makes us jealous — except for one thing.
Rita, we're sorry, but we're not jealous of that dress, which combines shiny tights with her short fitted number and tons of ruffly peplums. Surely, if she wanted bubbly and fun, there must have been better options. Anyhow, you keep doing you, Rita. 
Jackie O Henderson
When it comes to donning the pink, Gwen Stefani's dress earns more points from us more than Jackie O's. Hold on a second, we need to sit down, because we're getting a bit dizzy. That explosion of hot pink is a lot to take in.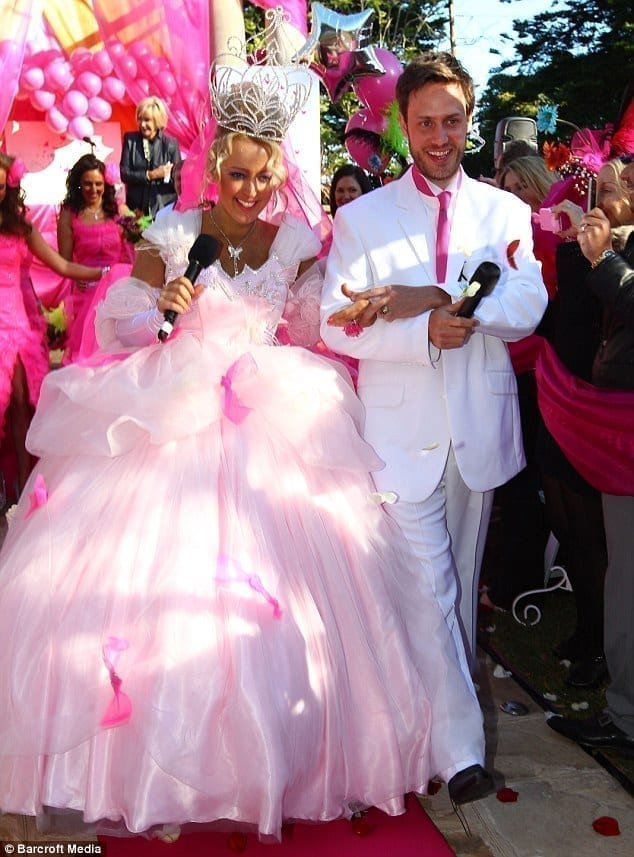 Though it wasn't technically a wedding, the dress Jackie wore when she and her then-husband Lee Henderson renewed their vows was simply unforgettable. The flood of hot pink did its job. And the colossal crown and the bows on her dress finished it all off. After that dress, we think we'd have seen all the pink we'd need in a lifetime. 
Kim Zolciak
Most brides dream of only wearing the perfect one and only wedding dress on their big day. But Kim Zolciak took it a step further, wearing not one but three wedding dresses on her wedding day. The most expensive of the three was a Southern belle-style gown — but we have to say we feel she would've better spent that money somewhere else.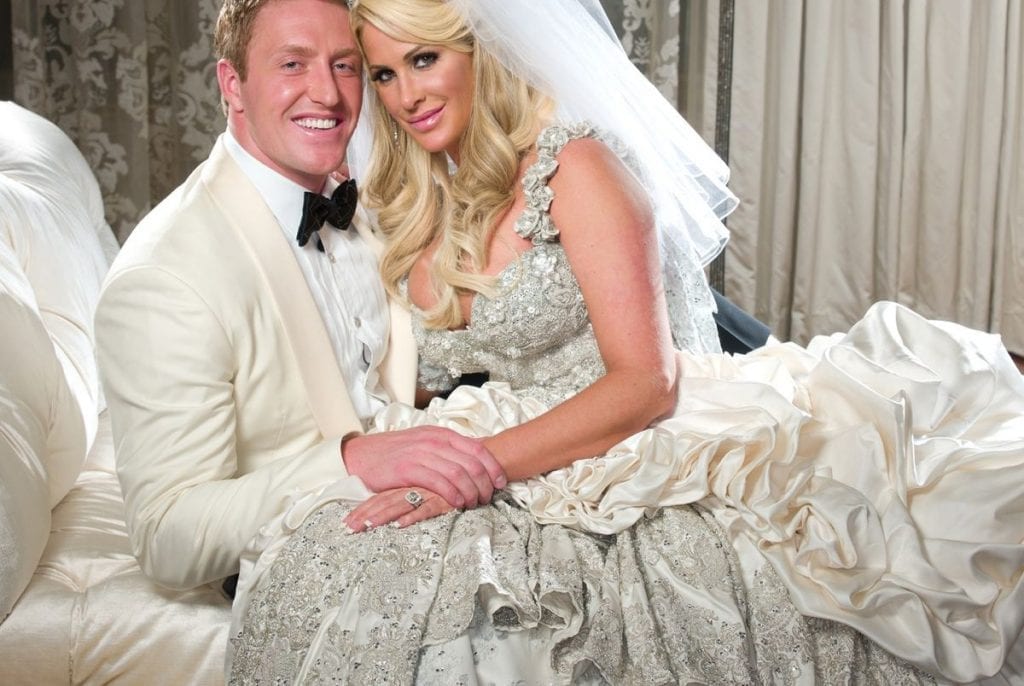 The gown looked like an Elizabethan era dress disaster. Why is there so much fabric around her hips? No wonder it weighed 32 freaking pounds. Her next two outfits were a lot better, though. Our favorite wedding dress of hers would probably the one she wore when she renewed her vows with her husband. Now that's what you call a dream dress!
Emma Thompson
Sorry, Emma, we love you dearly, but that wedding dress is leaving us with more than a few questions. The short little folksy number with the feather-accented hat and veil might be very fun — but it's just hard not to look at her and see Little Bo Beep.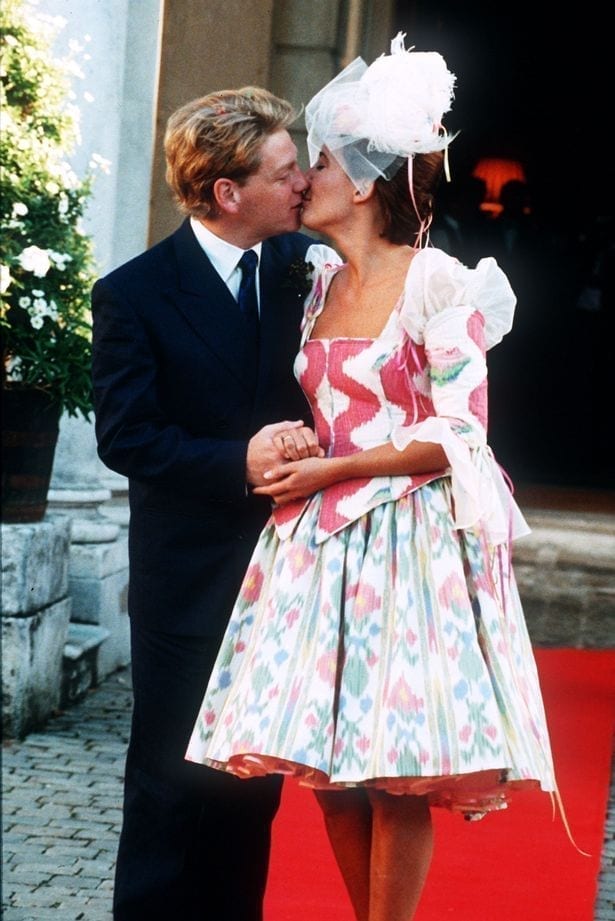 Even by 1989 standards, Emma's dress was pretty weird. Sure, we're not saying all brides have to stick to the traditional white getup, but this faded floral pattern and that bodice are downright perplexing. She looked like she loved it, though, and well, we can't say anything to that.
Kat Von D
We don't know whether to applaud or revile Kat Von D's wedding dress. You can't deny that it's a pretty ballsy move, what with all the red and the horns and all. She basically channeled Satan at her very own wedding. And there's something to admire in that boldness.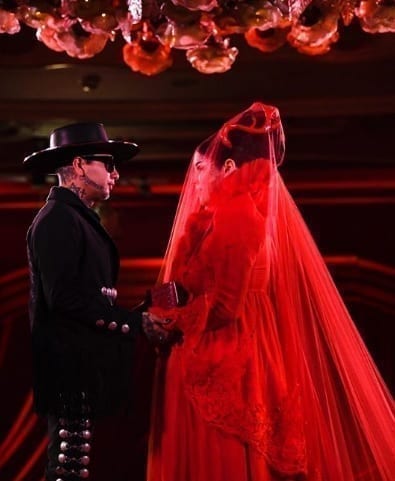 Kat definitely knows how to stand out. But then again, the dress looks like it belongs more to a theater play rather than a wedding. As much as we admire the uniqueness, Kat looks like she's going to burst into a villainous musical number at any moment. 
Katie Price
You can say that Katie Price isn't so lucky in love. But she just might be a little bit unluckier with her wedding gowns. She might've been aiming for a lovely princess look at her wedding to Peter Andre, but that pink meringue number didn't go down in the history of bridal wear for the best reasons.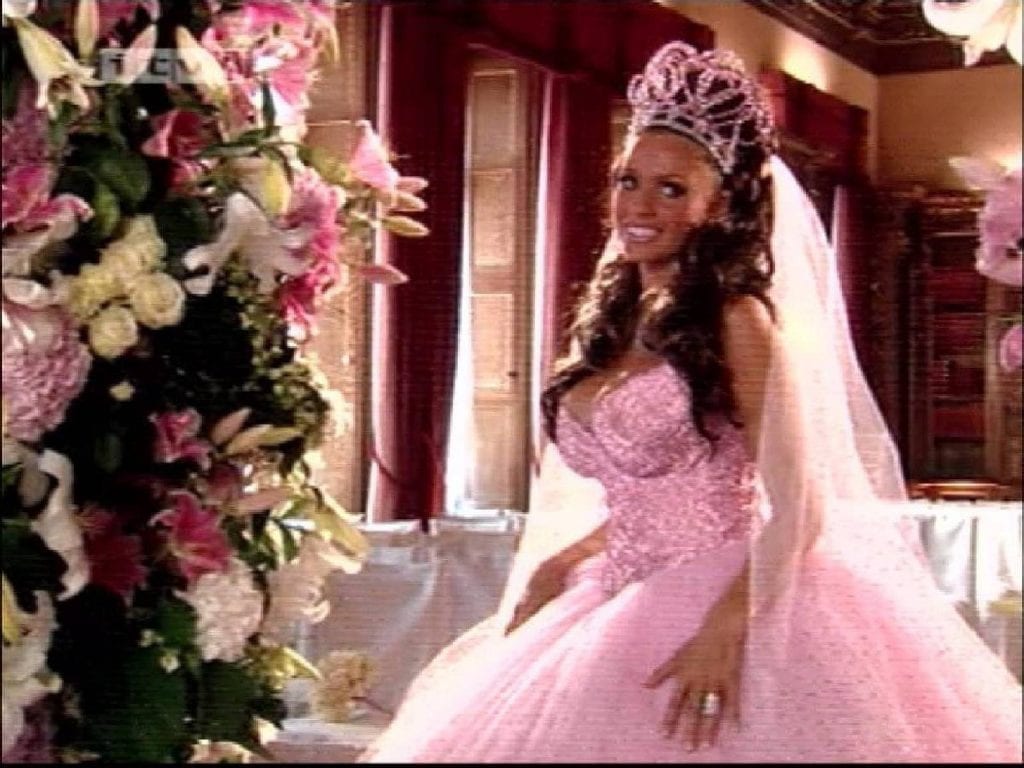 Her wedding gown in her marriage to Kieran Hayler was a bit of an improvement, but it all went downhill again for her marriage to Alex Reid. No matter what people think about her wedding dresses, though, Katie does love them and finds it hard to part with them. She once said she'd like to pass them on to her kids if they're up for it. 
Luisana Lopilato
Luisana's smile was absolutely radiant at her wedding to Michael Bublé. And she was one lucky bride as well to have had not one, not two, but three weddings to the love of her life. The couple was first married in a civil wedding ceremony. And since it wasn't too formal an event, we can understand Luisana's lilac dress.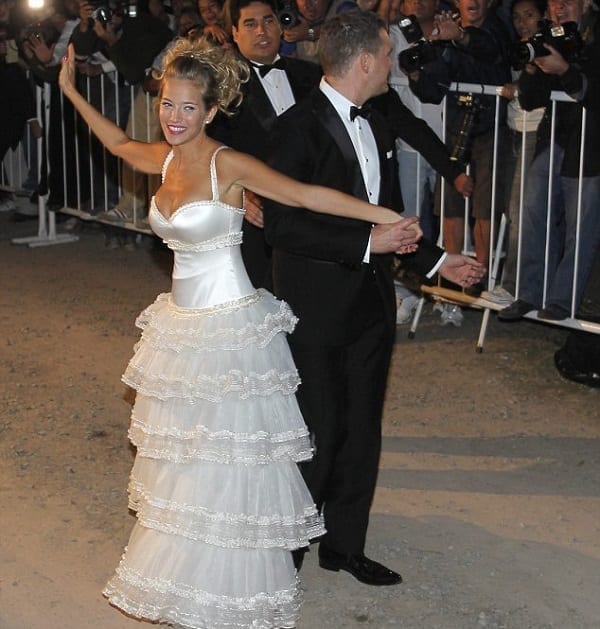 What we don't understand is her second wedding dress, a dramatic ensemble with a fitted bodice and a tiered skirt. At least she did have a remarkable comeback from that with her third wedding gown, which was beautifully simple and elegant. 
Jennifer Lopez
Jennifer Lopez is a style icon. Remember that deep, deep, deep green dress that was said to have birthed Google Images? For the most part, J. Lo's wedding dresses were gorgeous. But this second one she wore to her marriage to Cris Judd is giving us pause.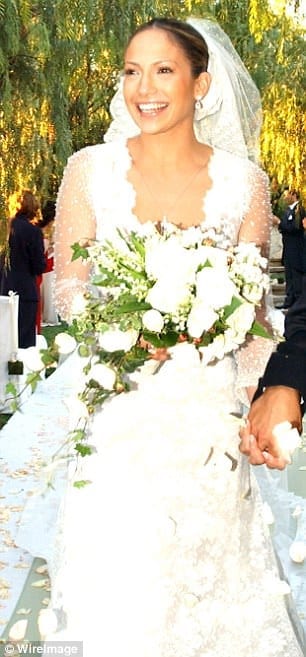 The concept might've been sweet, but the lace doily wedding dress just didn't fit J. Lo at all. It made her seem a little out of place in the lavish and formal wedding setting. Sadly, the talk about the dress might've lasted just about as long as her marriage to Judd, as they divorced a year later. 
Céline Dion
Céline Dion was nothing but stunning and elegant on her wedding with René Angélil. In fact, her portraits from her wedding day look like art. She simply looks like royalty. There's just one, shall we say, adjustment, we wish she would have made.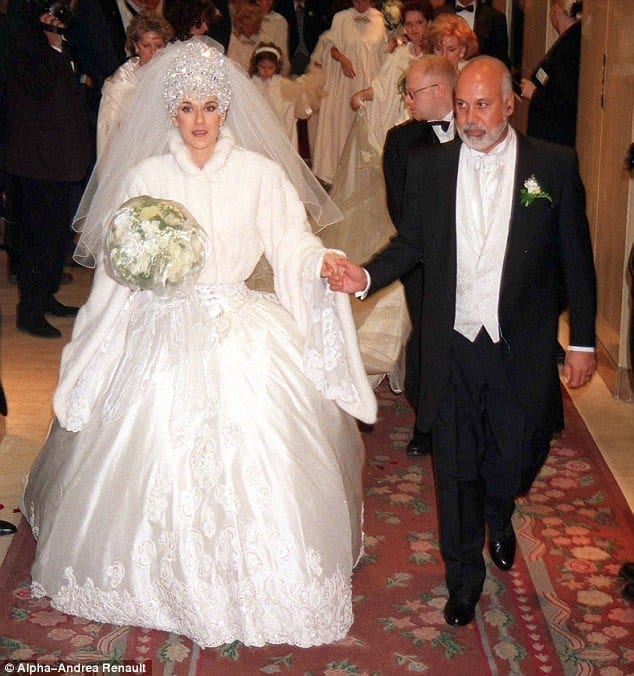 Sorry girl, but this headdress is reminding us of the white witch from The Chronicles of Narnia. We love a little dramatic flair on a wedding dress, but that enormous headdress just drew all the attention, and you can almost forget about looking at Céline's face. 
Helen Worth
Helen Worth's character on Coronation Street, Gail Platt, has had so many ups and downs in marriage. It just seems that she's run out of all the luck in the world when it comes to the men she marries. Helen did prove, however, that that's not the case for her in real life.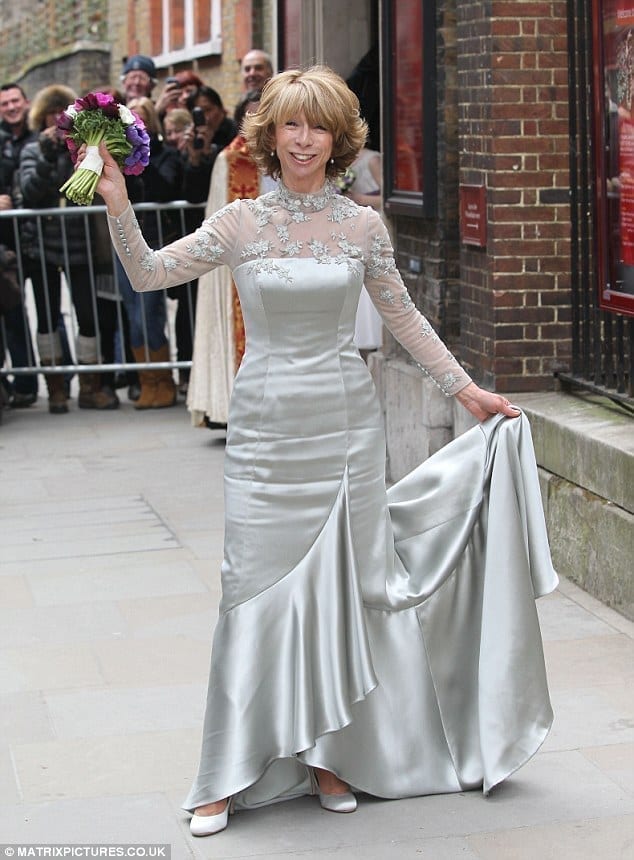 In 2013, she married her music teacher Trevor Dawson while wearing an unusual silver satin wedding dress with high lace neck and long sleeves. We love that she went for a unique color choice, but the cut of the dress just isn't doing the very best for her. 
Mama June
We just have to say it. Mama June's wedding dress is probably one of the most outlandish of its kind we've ever seen. The camo and orange combination is just painful to look at. And rainbow roses have been ruined for us forever.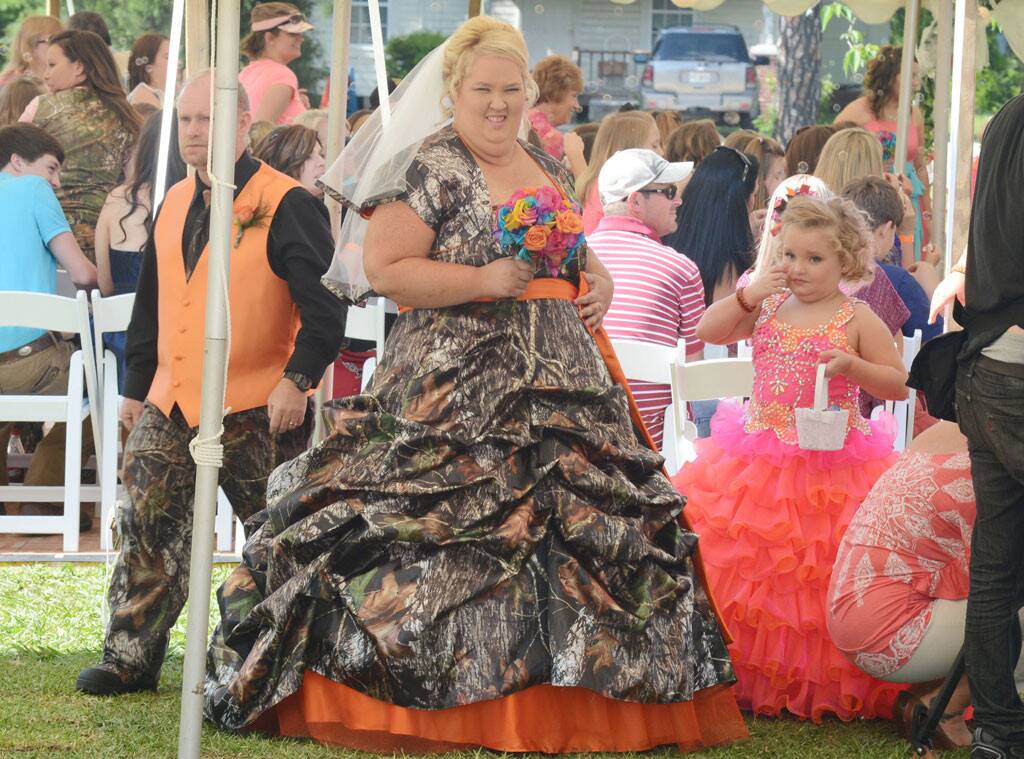 Mama June isn't known for seeking to be elegant, however, and we could slightly understand it on account of her character. A few years later, though, Mama June did try another wedding dress on her show Mama June: From Not to Hot, a simpler and more traditional one, and she looked fantastic. It kind of helps us forget that camo-orange fiasco a bit. 
Nicky Hilton
Nicky Hilton's dress almost didn't make it to this list. But that formal, conservative style gown just doesn't seem to be working for her. From a distance, it looks fantastic. The silhouette, the train, the bouquet, and her hair all looked amazing.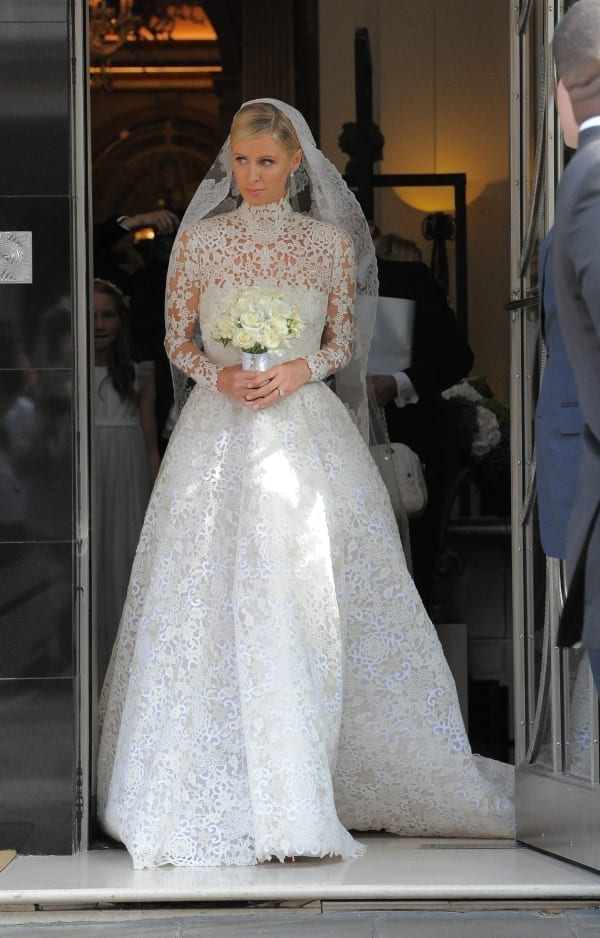 When you look closer, though, you might just feel a little like you are being strangled. The extremely high lace neck seems so tight and not to mention very itchy. Just looking at it makes us want to scratch our necks. 
Tina Turner
Tina Turner looked ready to hop on the stage of Wicked. The green taffeta and black silk tulle she wore on her wedding to German music producer Erwin Bach, leggings and all, just looked like it was meant for the theater stage more than a wedding ceremony.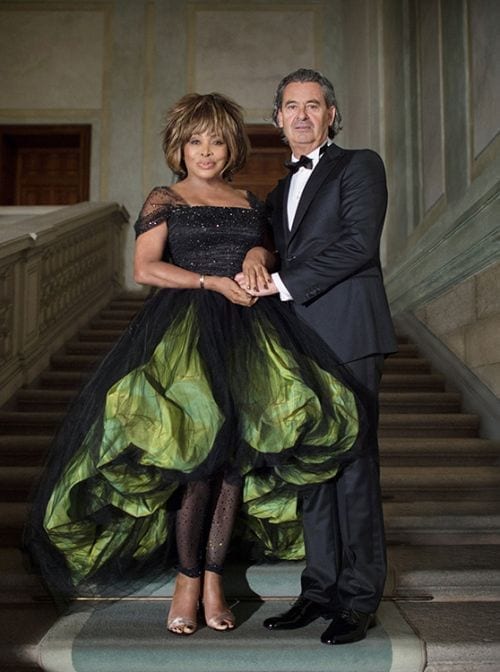 In an interview with Hello!, Tina explained that she saw the dress on a catwalk in Beijing. She absolutely loved it and bought it even without knowing what event she would put it on for. When her wedding day came, she knew it was the perfect time to wear it. At least she loves it?
Britney Spears
Britney's main wedding gown that she wore during her wedding to Kevin Federline wasn't bad. The strapless Monique Lhuillier silk gown was actually lovely. Some might even call it demure. And then, Britney went and changed outfits for the reception.
The new Mrs. Federline swapped out her long gown to a mini, no, micro-mini body-hugging lace dress. It looked too tight to breathe in and downright uncomfortable. Of course, it was even more uncomfortable to watch Kevin pull-down Britney's garter with his teeth. At least he didn't have to fight through layers of tulle to get to it. 
Sofia Vergara
Sofia Vergara can honestly make any dress look amazing. Her sheer confidence and undeniable natural beauty could even make a potato sack look somewhat like a high fashion dress. However, we have some things to say about her wedding dress.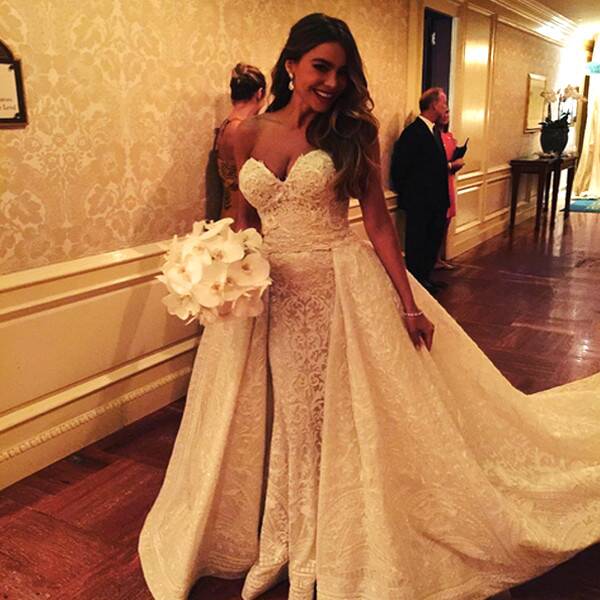 An intricate work, it reportedly took 32 people and 1,657 hours to make. There's just too much material on the sides. Why did they have to give her only three-quarters of the full skirt and leave the front open like that if they were planning on giving her a fuller skirt in the first place?
Julianne Moore
For her wedding to director Bart Freundlich, Julianne Moore strayed from the traditional white dress. And though we commend her unique lilac Prada slip with its deep V neckline, we can definitely imagine her in many different things tht would have looked more suited to her.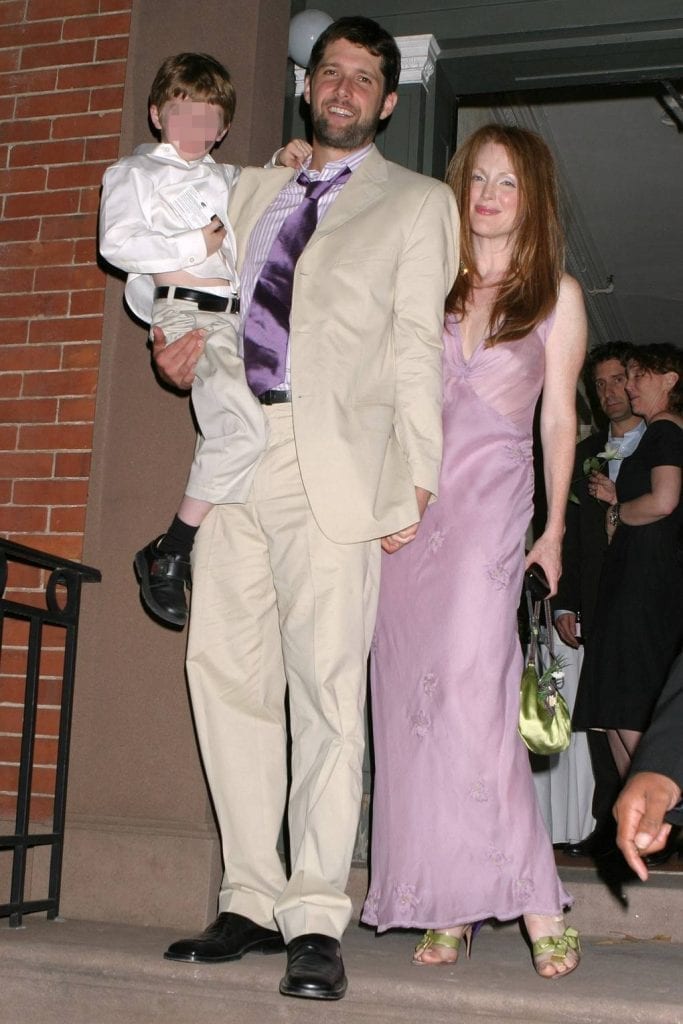 The dress accentuated Julianne's pale skin, and she basically disappears when the camera flashes. There was also this weird embroidery all around the dress that looked out of place and made it look a lot lumpier. And despite the bride's radiant smile, the couple looked like they came from someone else's reception rather than being the celebrants of said reception. 
Anne Hathaway
Anne Hathaway's wedding looked like it was just a dream. Just imagine having a beautiful sunset behind you as you say "I do" to the love of your life. Now, that can bring out the inner romantic in all of us. That being said, we still have a few remarks about the dress.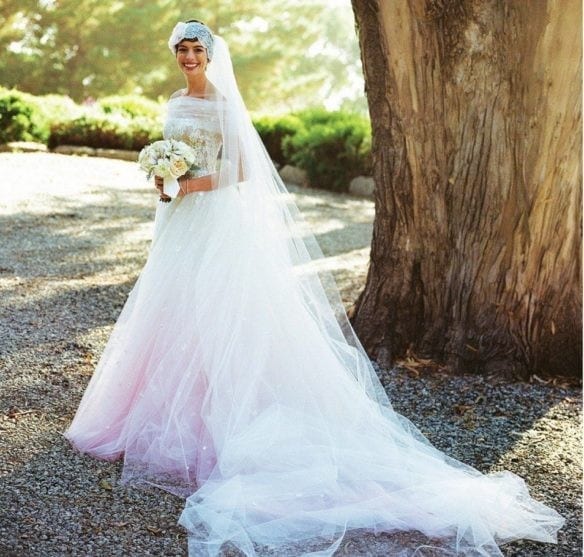 The pink underlining of the enormous train is one thing, but the headdress is a whole other situation. It almost devours her entire head, and it doesn't match the overall feel of the gown. Just remove that headdress, and the look would've been acceptably cute. 
Jessica Biel
We don't have a vendetta against pink — it's just really hard to find a good wedding dress in the shade. And oh, dear Jessica, why did you have to follow the trend? As much as we want to love it, it's hard to look past the skirt tiers and the splotchy-looking design of the gown.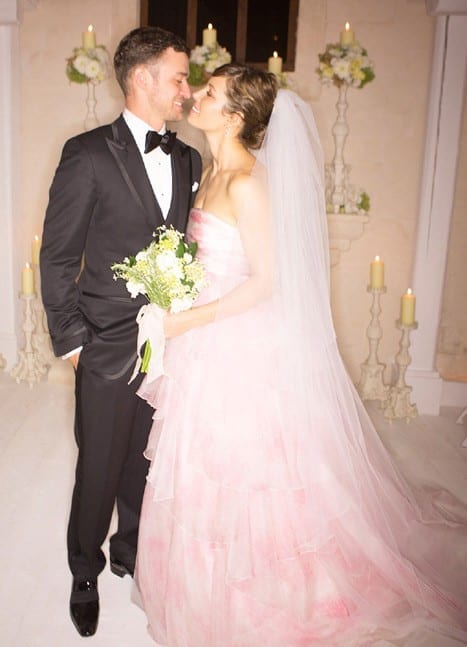 As Jessica told Hello!, she wanted her dress to be all about romance. She wanted it to play between dramatic and whimsical, and though she did achieve both of those, the dress ended up looking more whimsical like something from a children's storybook rather than the pages of a bride's magazine. 
Danielle Spencer
It's such a shame that Danielle Spencer and Russell Crowe separated after spending 15 years together. With such a long-lasting marriage, we were rooting for them. Here at the beginning of it all, they look absolutely glowing with joy. But if we may, Danielle, a word about this dress, please.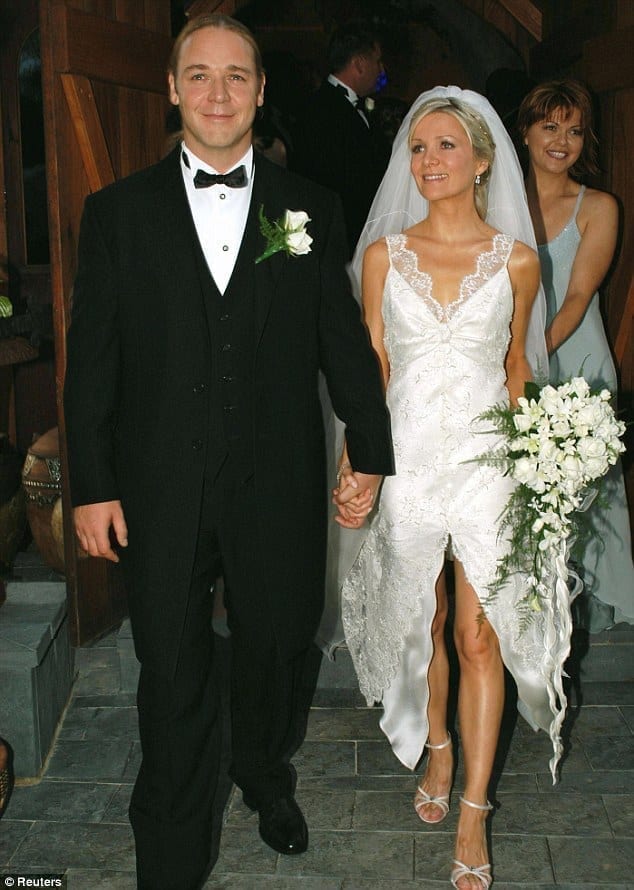 The doily-like straps and the slit in the front of Danielle's wedding dress are certainly choices we would have rather she'd avoided. It all just said 'tacky.' Add that to Russell's ponytail, and well, you've got quite a memorable wedding picture. 
Mariah Carey
You can never take the diva out of Mariah Carey. The pop star went full-on fairytale princess for her first wedding to her mentor Tommy Mottola. It was reportedly based on Princess Diana and Prince Charles' wedding, with Mariah wearing a similar gown complete with the poofy sleeves, 27-foot train, and 10-foot veil. Even the bouquet looked identical.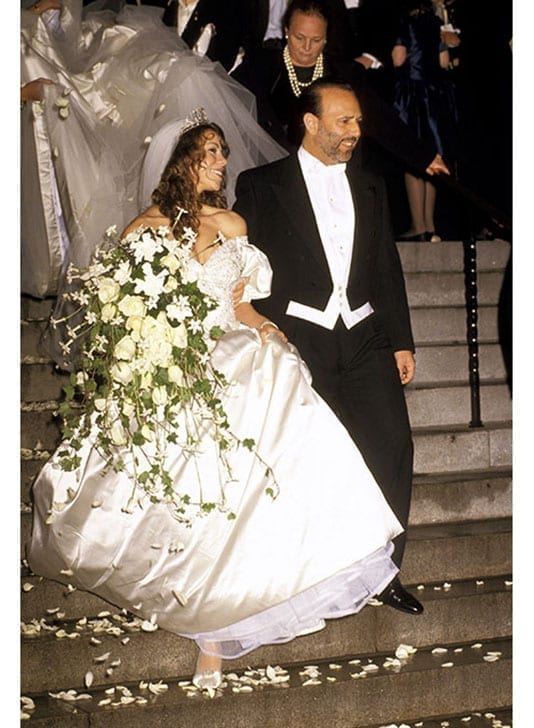 It might've looked wonderful and really princess-like at one point, but she just kept piling on more and more extravagant items on top of each other, and we think that's what threw off the look. Thankfully, she did take a note for her next wedding and dialed it all down. 
Nicole Kidman
If Nicole Kidman announced to the world that she was going Victorian style for her wedding gown for her wedding with Keith Urban, we would've thought, "Okay, that's an interesting choice but sure!" After all, Nicole Kidman has that classical kind of beauty that wonderfully goes well with vintage styles. We didn't expect this, though.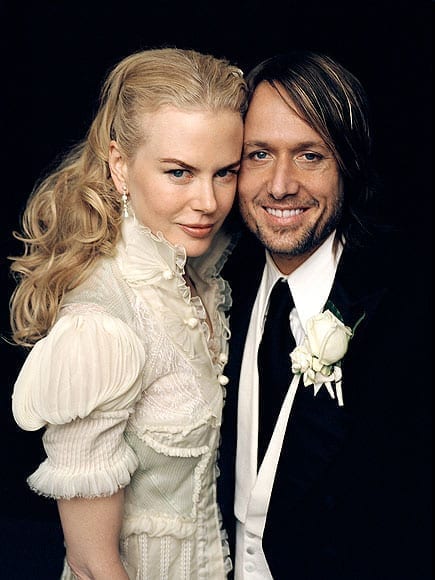 All we can see is lace, lace, lace, and veil. She nailed the style, yes, but maybe a little too much. Funnily enough, if you just turn their photos black and white and give them both wigs, they really could pass off as old English aristocrats. We still love you though, Nicole.
Dita Von Teese
Why go bold when you can really go beyond bold, right? That was most likely the thought process running through Dita's mind when she picked out this purplish number for her gothic-style wedding to heavy metal legend, shock rocker Marilyn Manson.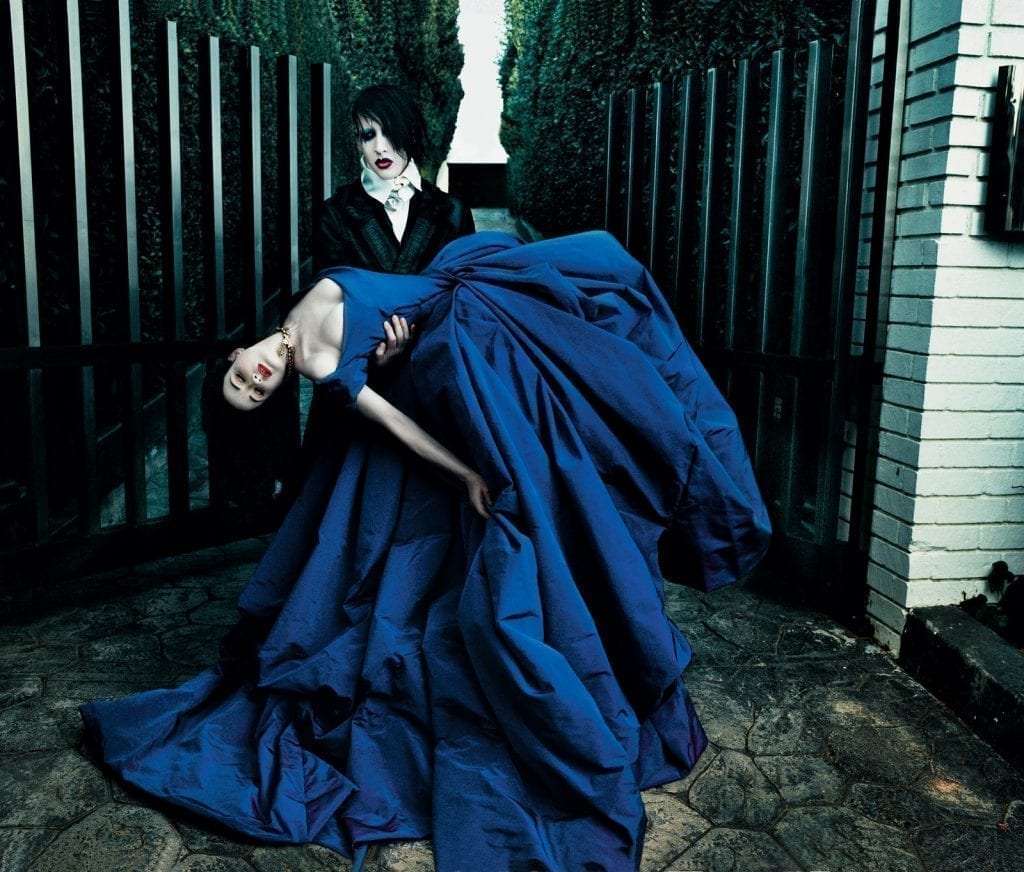 When it comes to boldness, it's definitely right up there with Kat Von D's scarlet gown. She wanted to make a statement, and she made a big one. That doesn't mean we're a fan of all that purple poofiness, though. The hat also seems like too much overkill. 
Angelina Jolie
The intent is super duper sweet, and kudos to Angelina for finding a way for her kids to be much more involved in the wedding. Okay, we're going to go there: maybe letting the kids draw on her veil wasn't the best idea.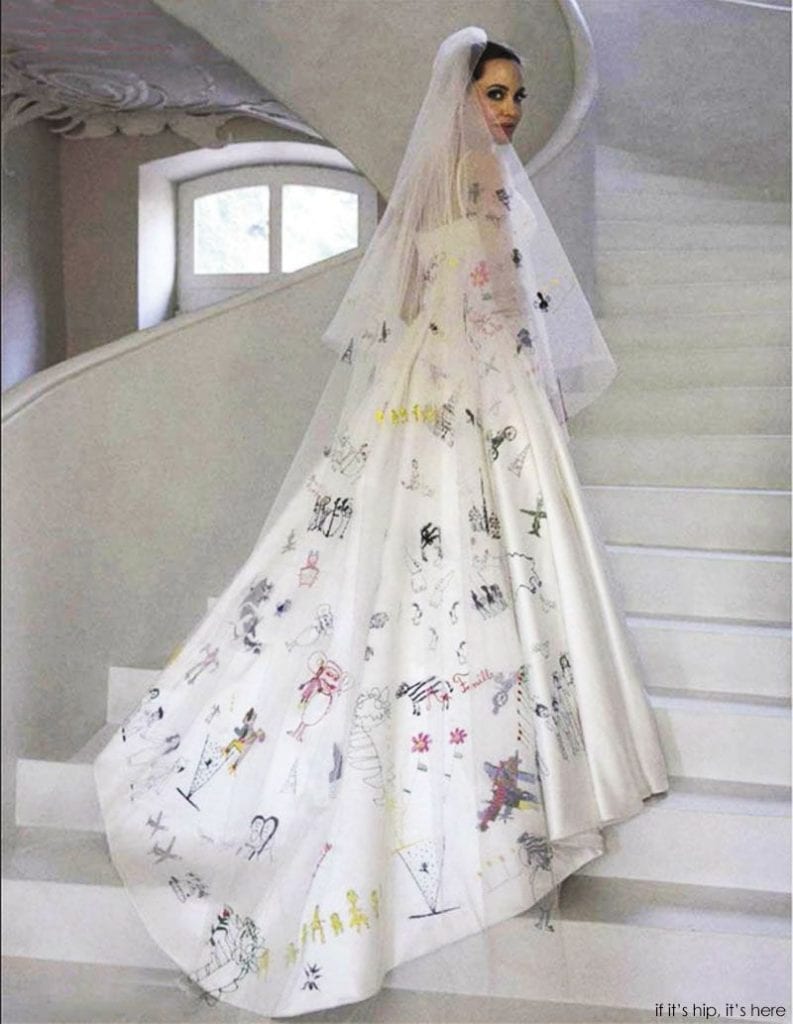 It makes the veil a lot more meaningful, yes. But the drawings just really give the veil a grit that we're not sure we like — not to mention it's looking like a placemat at a restaurant. Without it, Angie is the picture of grace and elegance.
Victoria Beckham
If there's one celeb whose fashion evolution could teach us a thing or two, it's Mama Beckham. From Posh Spice, Victoria underwent so many changes to get to her chic, modern, minimalist power woman style. That's why we're not so sure she'd go for the same wedding dress she wore on her wedding day if she had a do-over.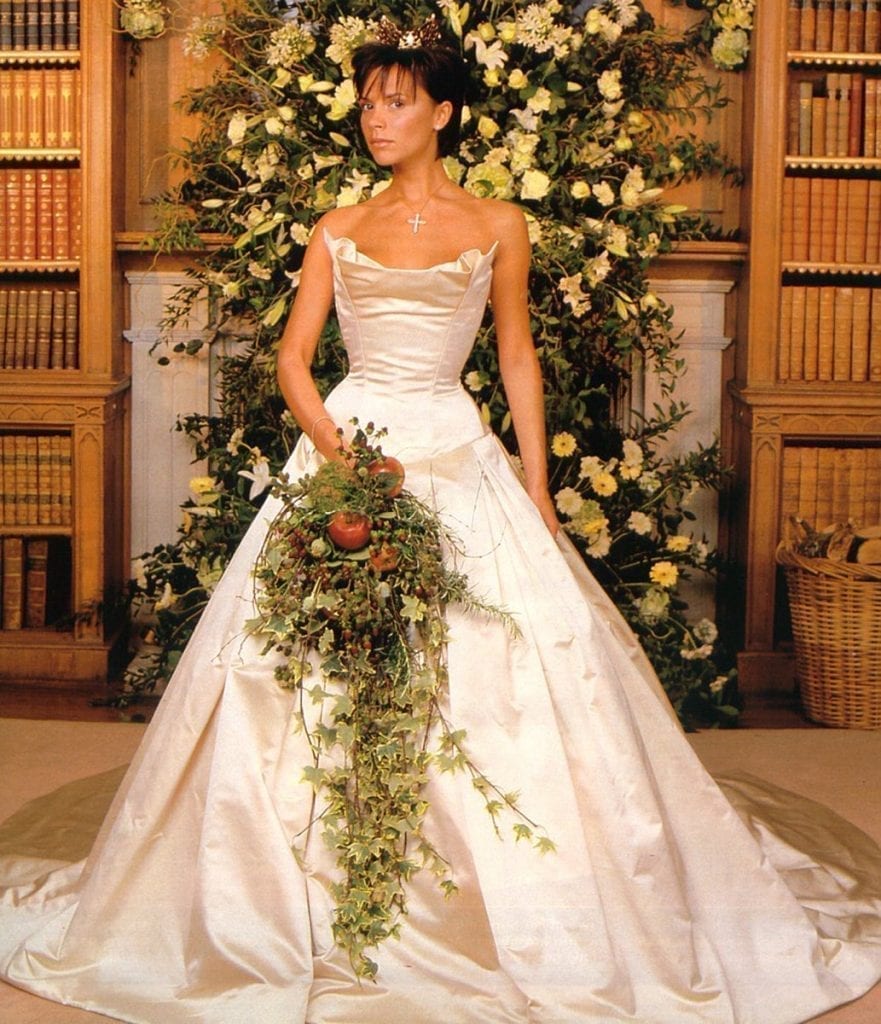 Her waist did look cinched in that wedding dress. But that huge X silhouette and the corset did look a little odd. Thankfully, her bouquet, which sadly looked like a clump of weeds freshly pulled from a garden, covered up a portion of the dress. We're curious what wedding dress she'd even pick now. 
Natalie Wood
Patterns were the in thing in 1969 for sure, but on home decor elements, not wedding dresses. While the late actress Natalie Wood's efforts to break out of the norm with her fun yellow dress are applaudable, it just lingers too near grandma's curtains to be cute.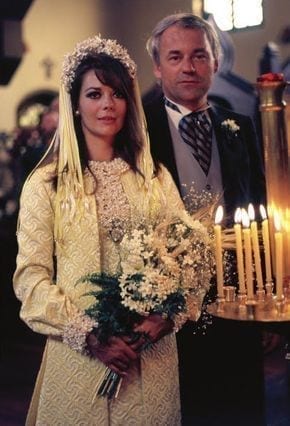 After that grandma curtain pattern, though, there's something else that hits you with Natalie's whole wedding day outfit: the ribbon veil, or is it party streamers? It seems that she took the yellow fun, playful concept a little too far there. 
Kelis
Why? That's the only befitting question to this dress. Kelis' dress could've gone in so many other different directions, and yet she chose the one that seems to be made by leprechauns when they came over from the other side of the rainbow.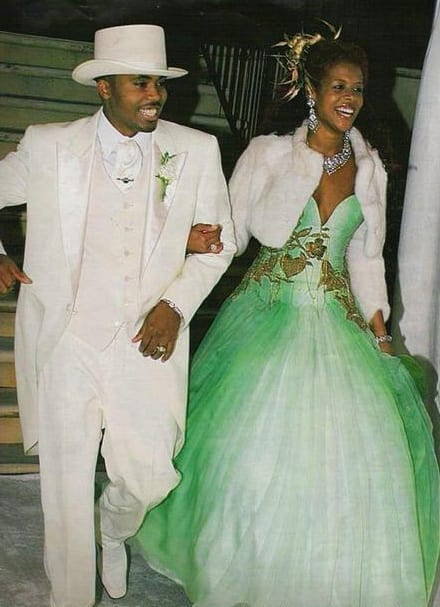 Rather than looking like she's about to get married, she seems like she's headed to prom. And still, even in that setting that dress would have remained questionable. This particular milkshake is not going to be bringing us to the yard, sorry.
Brigitte Bardot
Dorothy from The Wizard of Oz must've made quite the impression on French actress Brigitte Bardot, since she did borrow the titular character's look for her second wedding. It's not that the gingham look isn't cute; it's that it's not cute for a wedding.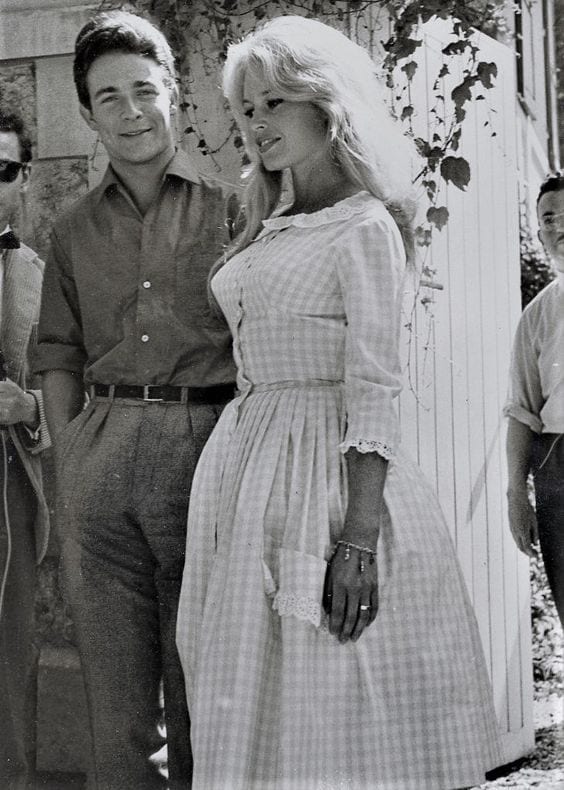 With this look, Brigitte and her husband look like they're simply out for a picnic or a lunch with friends. They just needed a couple of kids, Toto, and a basket in the picture, and they'd look like your American poster family. 
Cynthia Nixon
Is that Cynthia Nixon or Miranda Hobbes from Sex and the City? While looking at her dress, you'd almost expect a bright red head of hair on top of her, but nope, that is actually Cynthia in all her blonde glory getting married to her wife, Christine Marinoni.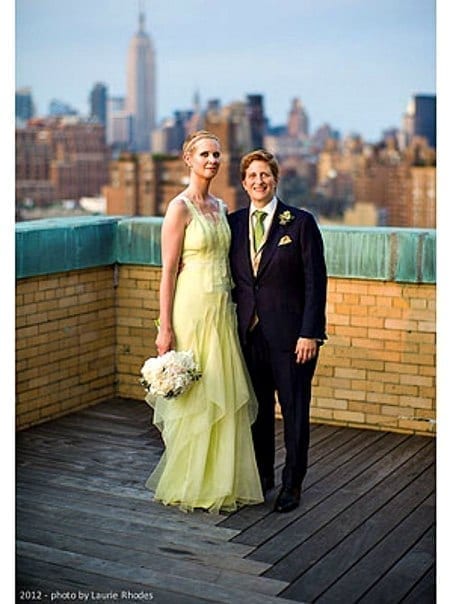 Her dress is far less outrageous than the other green numbers on this list, but that doesn't really do enough to flatter her. Plus, what is that strange pattern running down the front of the dress? That dress would've been better worn by a bridesmaid rather than the bride herself. 
Christina Hendricks
Why couldn't they just have left the back of Christina Hendricks' dress alone? The actress looked absolutely gorgeous from the front in her strapless Carolina Herrera gown, beautifully showing off her curves. So why on Earth did they add all that stuff in the back?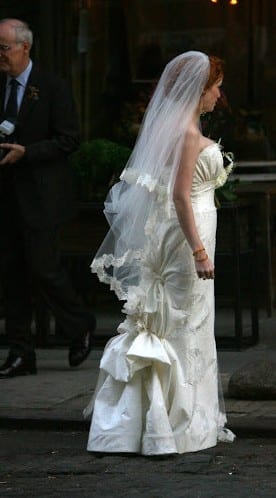 First of all, how did she sit? And second, what aesthetic were they trying to go for with that messy bundle of butt bows? It looked like Christina had too much skirt fabric, and in an effort to clinch it all together, people around her just started tying it up in the back. After all, only the front matters in wedding photos, right?
Nicole Richie
Nicole just seems to love wedding dresses. She didn't pass up the opportunity to wear not just one but three gowns on her wedding. While fashion critics did give her great reviews, the lacy collars and long lace sleeves paired with the fitted bodice look uncomfortable.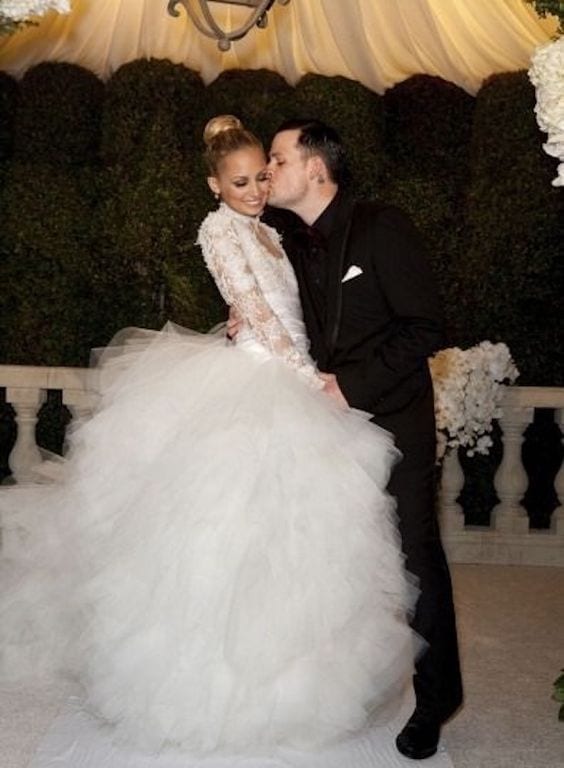 They make us want to itch and stretch out our necklines a bit more. Fascinatingly, the makers of poofy ball gown one managed to fit in 100 yards of hand-draped silk organza and tulle into the skirt. That's a football field-long piece of silk organza and tulle everybody. 
Renée Zellweger
Renée Zellweger's bamboo twill gown looks as eco-friendly as it sounds. But it doesn't look too comfort friendly for Renée herself. Despite its simple and elegant design, it looked ready to rip at any moment. Even Renée looked like she couldn't move much in it.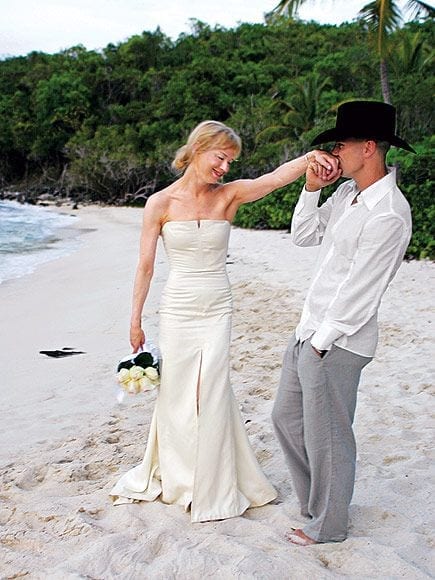 It may not be Renée or anyone's fault though. When Carolina Herrera received the order for the dress, she didn't know it was for Renée's wedding since everything about the day was kept top secret. Given that there was also very little time left before the wedding, Renée also had little time for fittings.
Mandy Smith
Alright, pay attention, because this could get complicated. When 18-year-old Mandy Smith married 52-year-old Rolling Stones bassist Bill Wyman, there was not only one marriage in the family, but two. In the same year, Mandy's mother and Bill's son also got married. But it seems that Mandy got all the veil.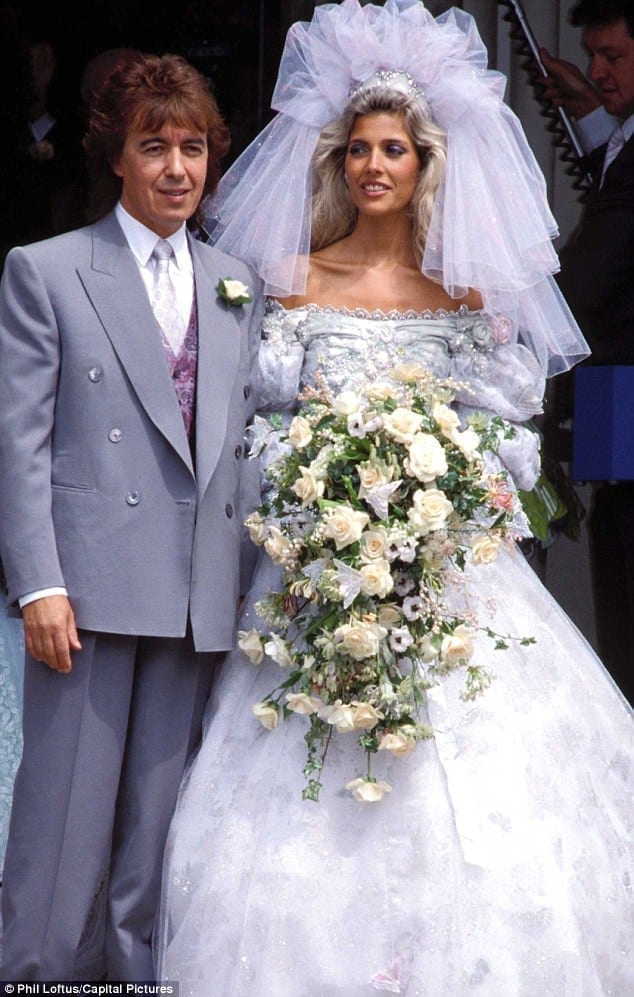 The veil was humongous and looked like a snowy white lion's mane. It's a wonder the bride's face could even be seen clearly with all that netting. As it may, any leftover netting from the veil seems to have been stuffed into Mandy's already puffy sleeves. 
Whitney Houston
Whitney Houston was one incredible woman with a phenomenal voice, and we'd hate to associate any word less than those with her. But her wedding dress to her marriage to Bobby Brown just didn't live up to her known style and elegance.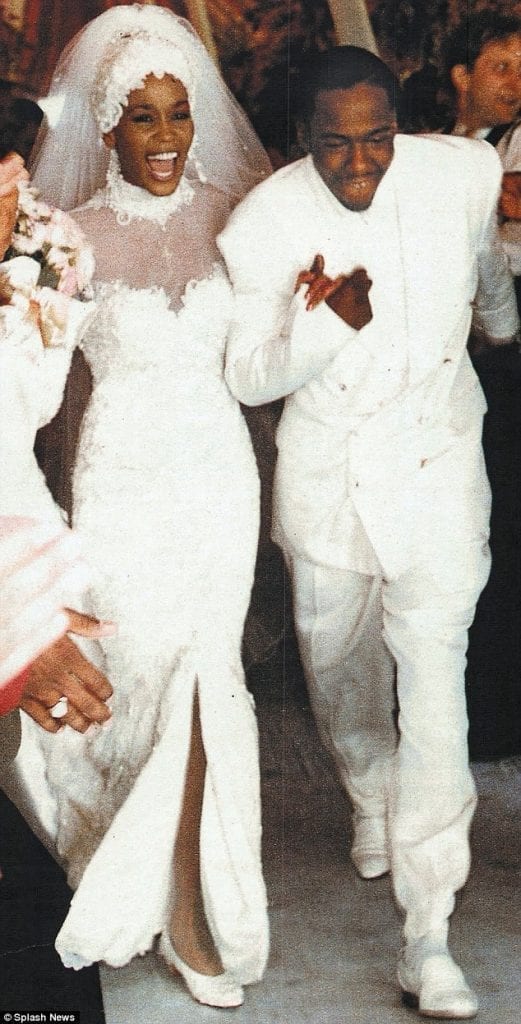 It was just lace, lace, and more lace. Instead of being too revealing, Whitney did just the opposite and smothered herself with lace literally from head to toe. It's hard even to see where the gown ends, and the veil begins. 
Cynthia Bailey
For her marriage to Peter Thomas, Cynthia Bailey dazzled in a sheeny platinum gown steering as far away from the traditional white as she could. According to her, the dress was inspired by the Fernbank Museum of Natural History in Atlanta.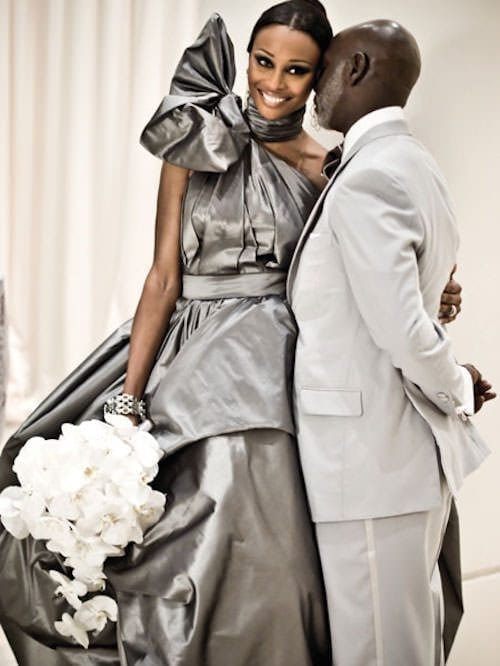 While the dress did have a classy and beautiful platinum shade, its overall form leaves much to be desired. The bunched-up skirt isn't the stylish kind of bunched up. It just looks messy. And what in the world is that huge bow thing doing, looking like a second head?  
Kandi Burruss
Come on, Kandi! You're supposed to step on the rug, not put it on your dress. Her 12-foot ostrich feather train looked more ready to be set up beside the fireplace than be dragged behind her down the aisle to Todd Tucker.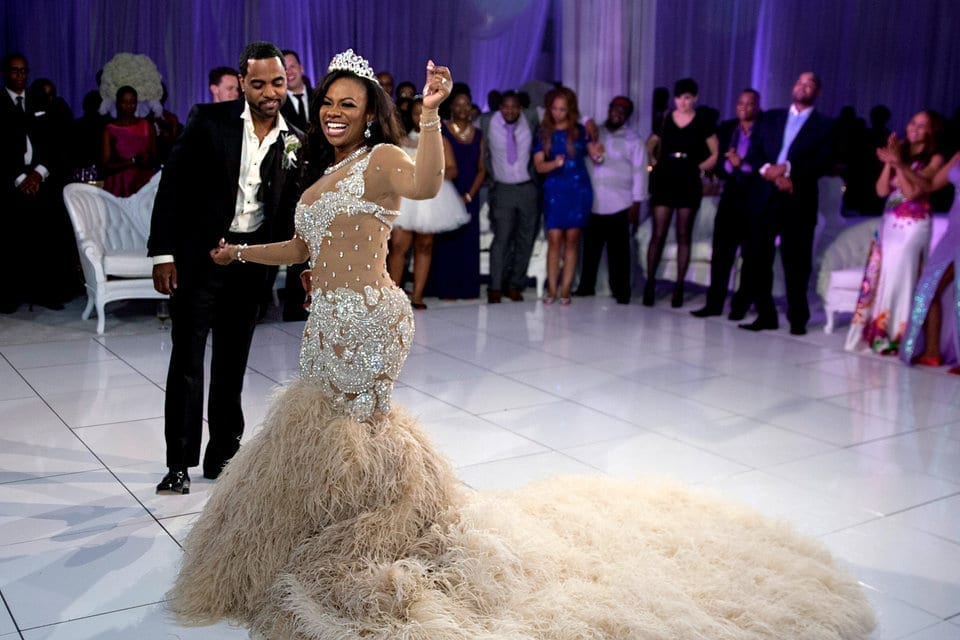 Kandi definitely didn't hold back for her big day. And though there can be something to be said about that sheer, tight, lace upper part of her gown, that feather train steals the spotlight. It's a wonder no one didn't try lying down on that thing. Looks like the comfiest place at the wedding!
Tameka "Tiny" Cottle
When Tiny announced that she was getting married to rapper T.I., everyone expected her to go all out, and oh, she delivered. And when we say she went all out, we mean she went all out with the ruffles. She pretty much looked ready to drown in a sea of them.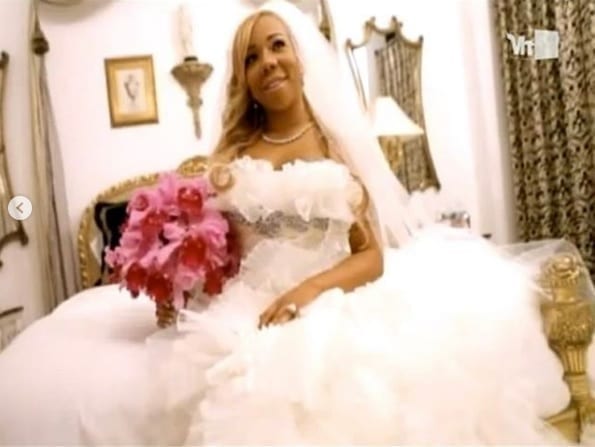 And as if the ruffles on the dress weren't enough, Tiny chose a bouquet that had a striking resemblance to the pattern of her dress. One thing those extra ruffles did do right though, was make up for that low, low neckline.      
Ulrika Jonsson
There's a variance of the puffy sleeves called the "leg of mutton" style sleeves, and that is what Ulrika Jonsson chose for her wedding gown for her first marriage in 1990. It was a while ago, and the look hasn't aged very well.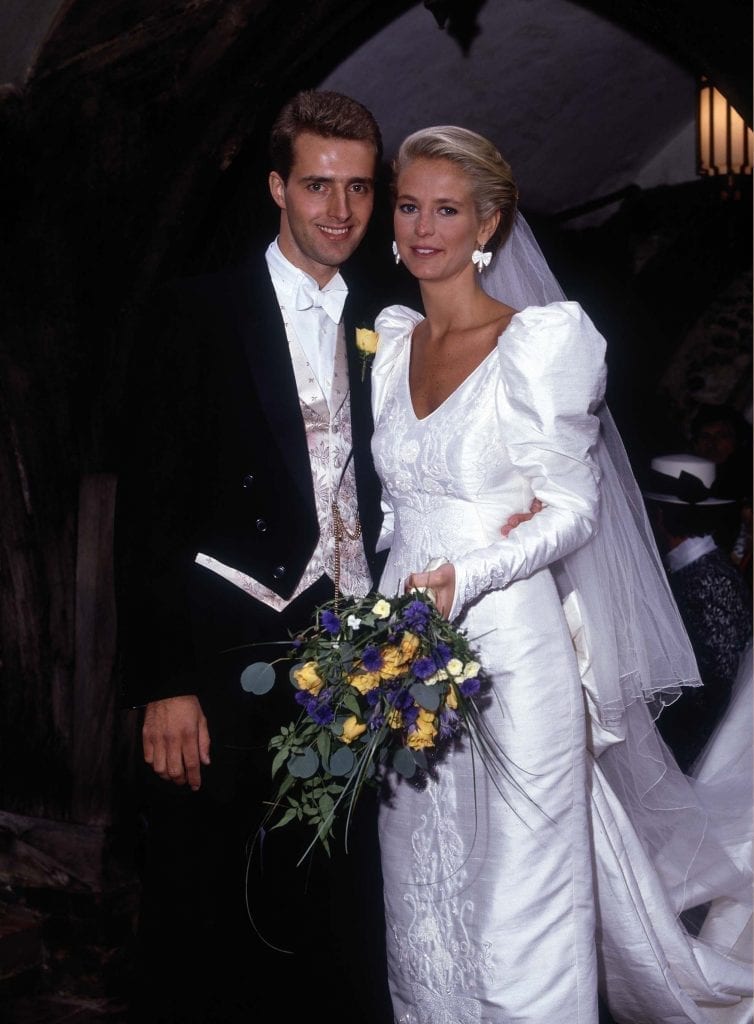 No matter which way you look at it, those sleeves just make the dress look dated. It looks like it's better off resting in a trunk than anywhere else. Even Jonsson herself reportedly regretted the decision. She has since had two more weddings to try and make improvements.
Coco Austin
If Britney's reception dress was too short on the bottom half, Coco Austin's wedding gown was the opposite. The actress's dress when she renewed her vows to rapper Ice-T left very little to the imagination. It's a wonder it even managed to stay up at all.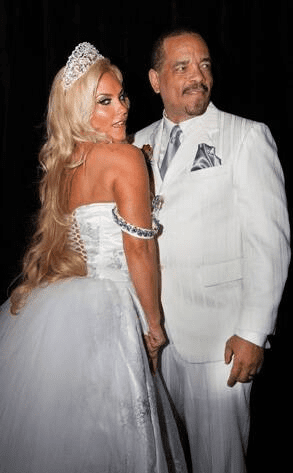 The dress becomes even more uncomfortable when you consider how Coco evened it out in the back. She added this 1880s style bustle to give her behind a little bit more shape, but sadly, it was just an extra to the business happening everywhere else already.