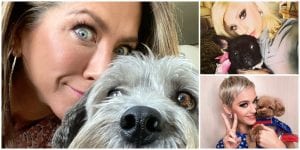 The Loving Bond between Celebs and their Pets
By Luisa K
---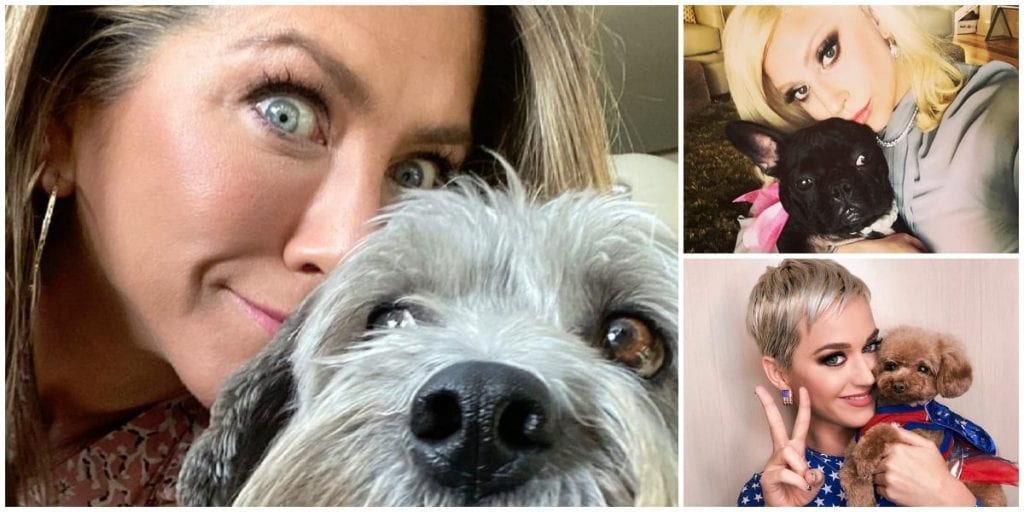 There is nothing like the loving bond between pets and their owners. From the moment you welcome your furry or feathery friend into your home, they immediately become a part of the family. And it seems that for these celebrities, they feel the same! It can be a difficult life as a celebrity and a lonely one too on occasion. While Hollywood marriages are not known for lasting, the loving bond between some stars and their beloved pets is a deep bond that can't be broken. We love seeing pictures of our favorite A-listers but seeing them pictured with their cute furry pals is simply adorable! One thing's for sure; these animals literally hit gold when they found their forever homes with these famous faces! Hmm…maybe in our next life, we should come back as a celebrity pet?!
Nicole Kidman
Nicole Kidman described it as: "been waiting my whole life for this!" The Australian actress was referencing the moment she got her dog – Julian. Apparently, Nicole had always wanted her own dog, and now she has her very own fur baby.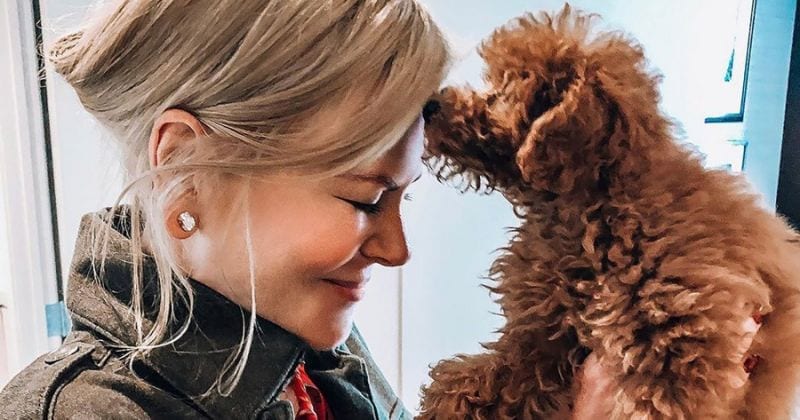 Nicole and Julian make the cutest pair! Kidman has said that it has opened up a new chapter of her life. Also, we love that Kidman chose to adopt rather than shop little Julian. Happy First Dog, Nicole! We hope you'll be very happy together!
Hilary Duff
Not only does Hilary Duff have a collection of pets herself, but she is also a huge advocate for animal rights. As a youth, Hilary was an ambassador for The American Wild Horse Sanctuary, a position that enabled her to exercise her passion for horses.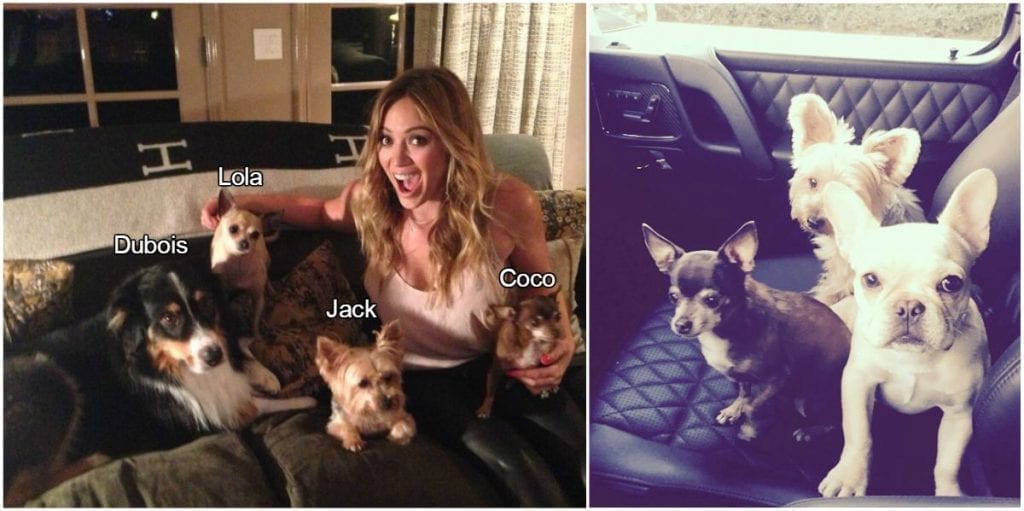 While married to Mike Comrie, Duff adopted an older dog named Lucy, along with three others. In a recent social media post, she shared the newest addition to her animal family – a hen. In her first ever Instagram story, the actress shared a picture of her holding Patsy with the caption "I've really lost it."
Lucy Hale
It's clear to see from her pictures that The Pretty Little Liars star absolutely adores her pooch. The Maltipoo, named Elvis, was adopted by Lucy in 2016. Lucy introduced her followers to him on Instagram, showing a picture of them both in matching dungarees.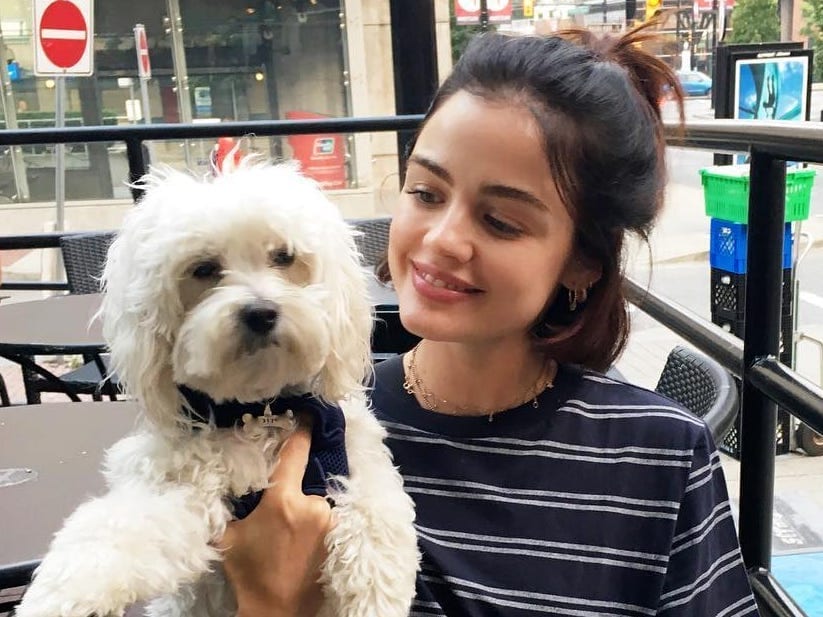 In fact, little Elvis is a king in his own right – a king of Instagram. He has his own Instagram account, @ElvisTheKingHale, which he updates regularly with gorgeous pictures of himself. The little dog's Insta account really is one to follow. It's the cutest compilation of his daily life!
Nick Jonas
Nick Jonas and his wife, Priyanka Chopra, are a family of four. The couple has two dogs together, one of which they recently introduced to their family. The pair showed off their newest pup on Instagram – a Husky-Australian Shepherd mix named Panda.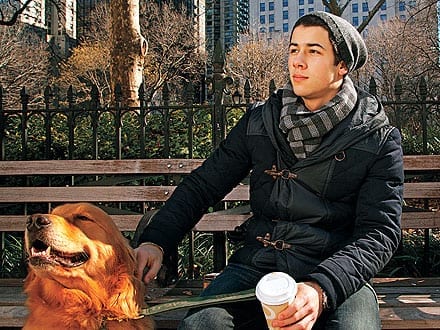 The proud puppy parents captioned the picture of them with their dogs: "Our new family portrait." Nick and Priyanka resued the puppy a couple of weeks before the pic was shared. Apparently, their older dog had to be photoshopped into the picture because she didn't want to be in the photo when it was being taken. Kids, eh!?
Jennifer Aniston
Jennifer Aniston is well known to be a huge dog lover. She is often papped out and about walking her pooches on the beach. So it's no surprise that when Jen launched her new Instagram account recently, her beloved dog Clyde appeared on her grid pretty quickly.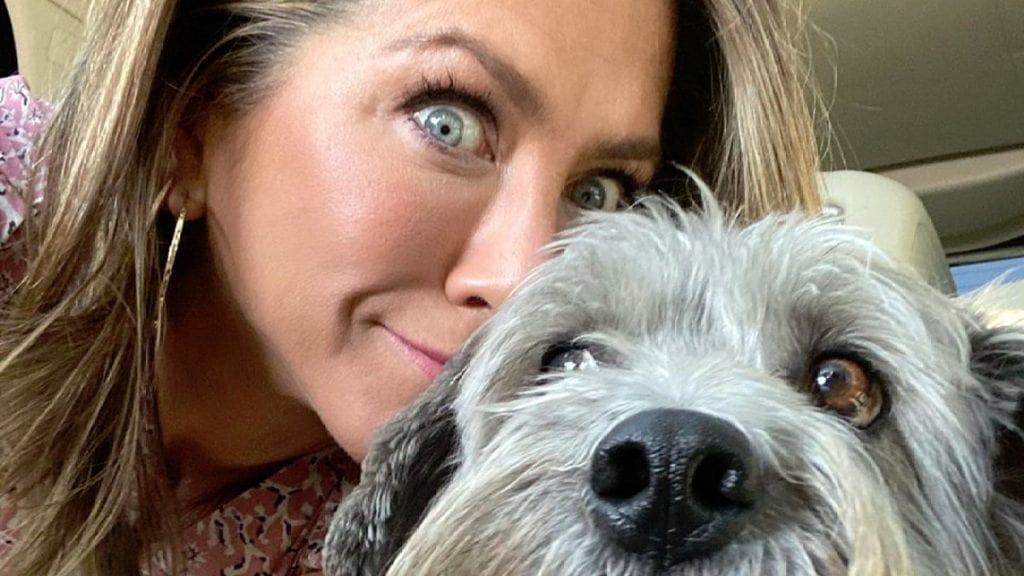 The former Friends star currently has two dogs. A Schnauzer mix called Clyde and a black and white pitbull called Sophie. Jen regularly posts photos of her dogs on her Instagram account, accompanied by funny captions. Don't miss the cute videos she posts in her stories, either!
Miley Cyrus
It's clear to us by now that Miley Cyrus's version of everything is always a little different, but that's why we love her. The singer regularly shares adorable pictures of her pets on her social media. She even once added that her pet pigs are the best for hugs! How sweet?!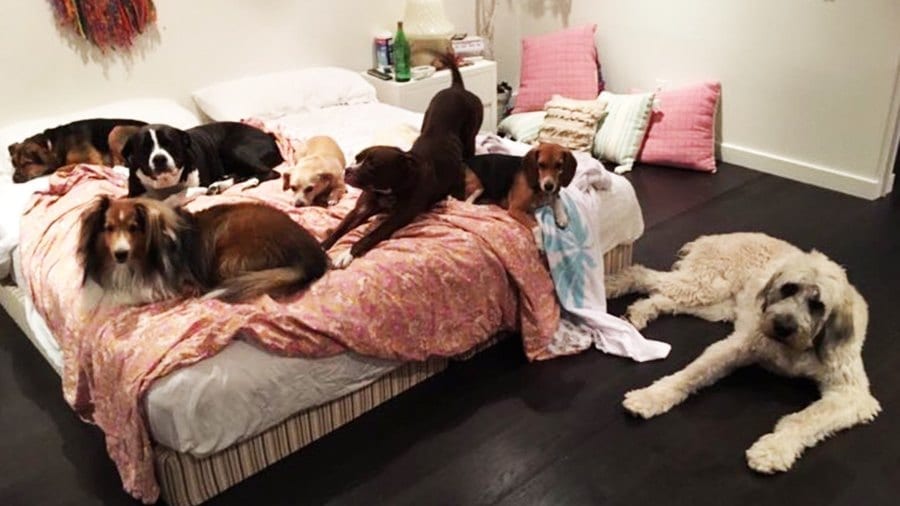 Miley has seven dogs: Barbie, Bean, Dora, Emu, Tani, Happy and Mary Jean; three cats: Lilo, Harlem, and Kiki; two horses: Pumpkin and Dumplin; and two pigs: Pig Pig and Puddles! We can only imagine how chaotic life must be at Miley's pad but wow, what a fun place it would be to visit?!
Selena Gomez
If you follow Selena Gomez on social media, you will be aware that she is besotted with her dog Winnie, but recently she welcomed a new pup to her household – little Daisy. Gomez decided to foster Daisy to give her a loving home.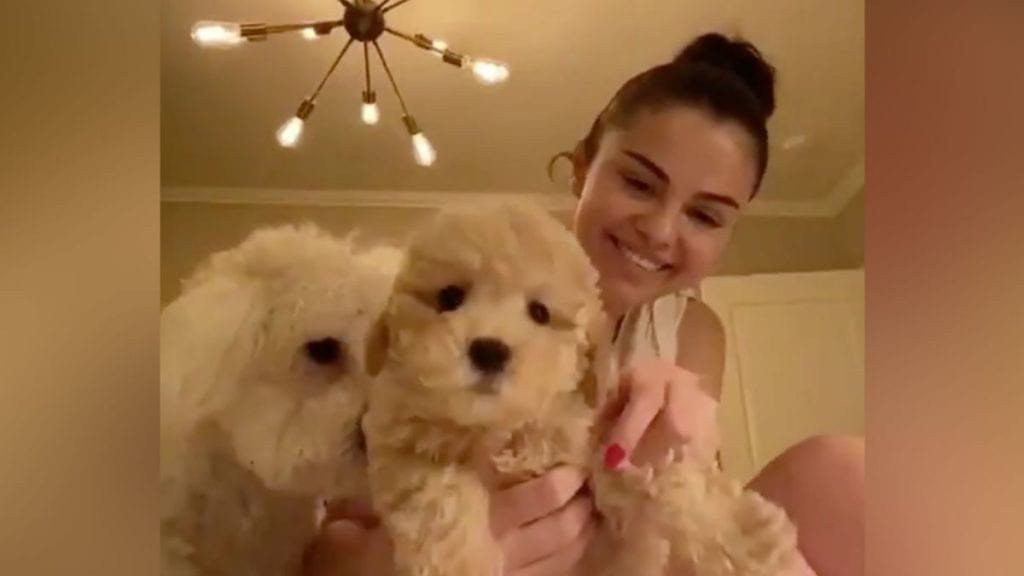 Selena says that the two dogs get along well. She often shares clips on Instagram of the two playing together. Although the singer is currently only fostering little Daisy, she plans to make her a permanent fixture of her home in the future.
Megan Thee Stallion
They say that dogs take after their owners, and this seems to be the case with Megan Thee Stallion and her two pooches! According to Megan's Instagram feed, her two dogs certainly take after her when it comes to enjoying a high-class lifestyle.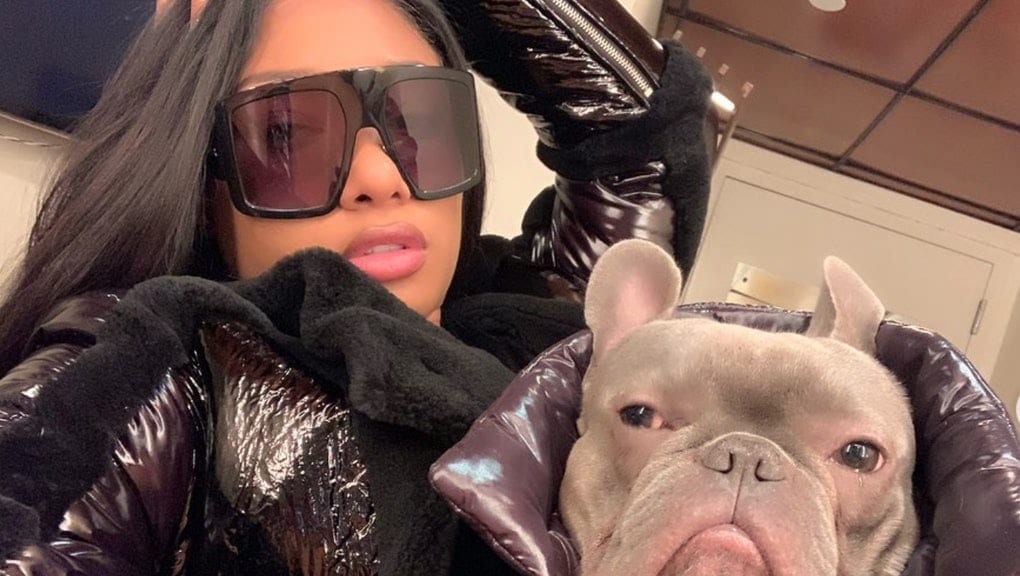 The two dogs, 4oe and Dos, are full of attitude. Megan's elder dog, 4oe, even has his own Instagram account, which is very popular. The grey French Bulldog features in comical clips of him refusing to eat vegetables and enjoying a luxurious lifestyle.
Kaia Gerber
How do you navigate your way through self-isolation as a result of the pandemic? Dye your hair and foster a puppy, as Kaia Gerber has done. Kaia started quarantine by dying her hair blonde and fostering two adorable puppies.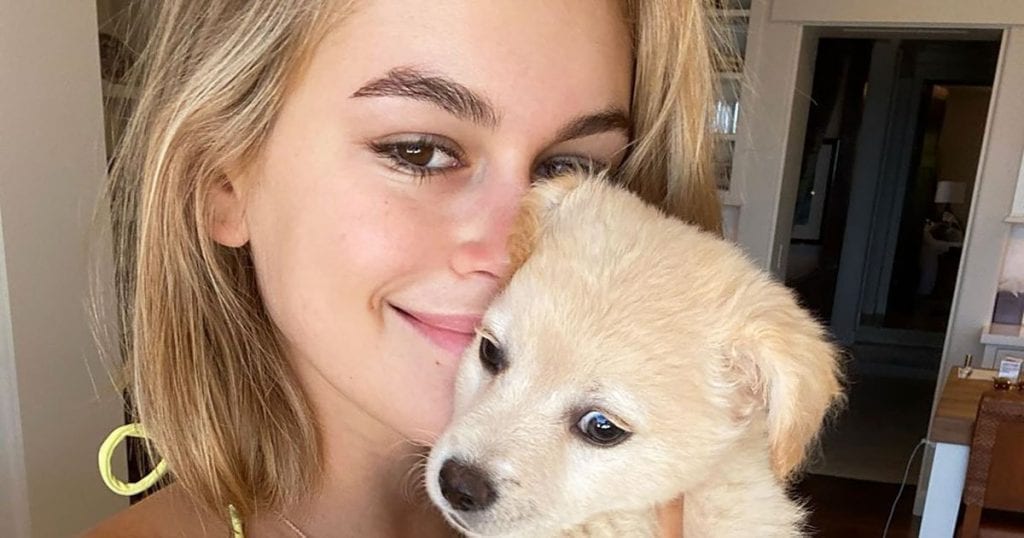 It's great to see celebrities like Kaia adopting and fostering pets that need a loving home. According to sources, Gerber fostered her two pups from The Labelle Foundation, an organization that helps rescue and find new homes for stray and abused animals.
Justin Theroux
When it comes to pets, it appears that celebrities are just like us! Is there a better companion to share a candlelit dinner with than your beloved furry friend? That's how Justin Theroux rolls. He recently shared a picture on Instagram of him and his dog having a candlelit meal together. How lovely!?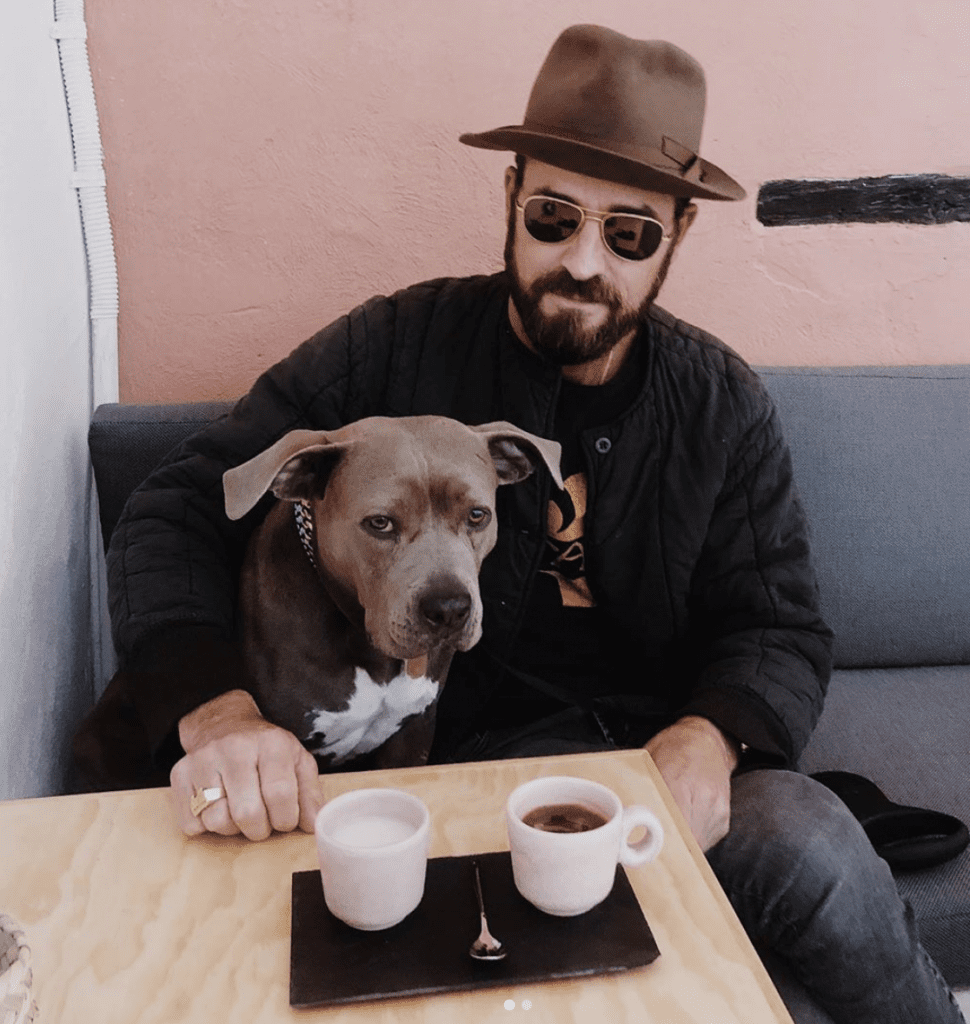 Justin's pet dog is a rescue dog. He adopted the pitbull cross back in 2018. Following Hurricane Harvey's aftermath, Theroux decided to adopt Kuma to provide her with a safe and loving home. She definitely seems happy and at home with her new owner!
Nicole Richie
If you watched The Simple Life or followed Nicole Richie in her younger years, you will know that she loves animals and had a couple of dogs as canine companions. Now married and settled down with two children, Nicole couldn't be further away from her wild party girl image she once portrayed.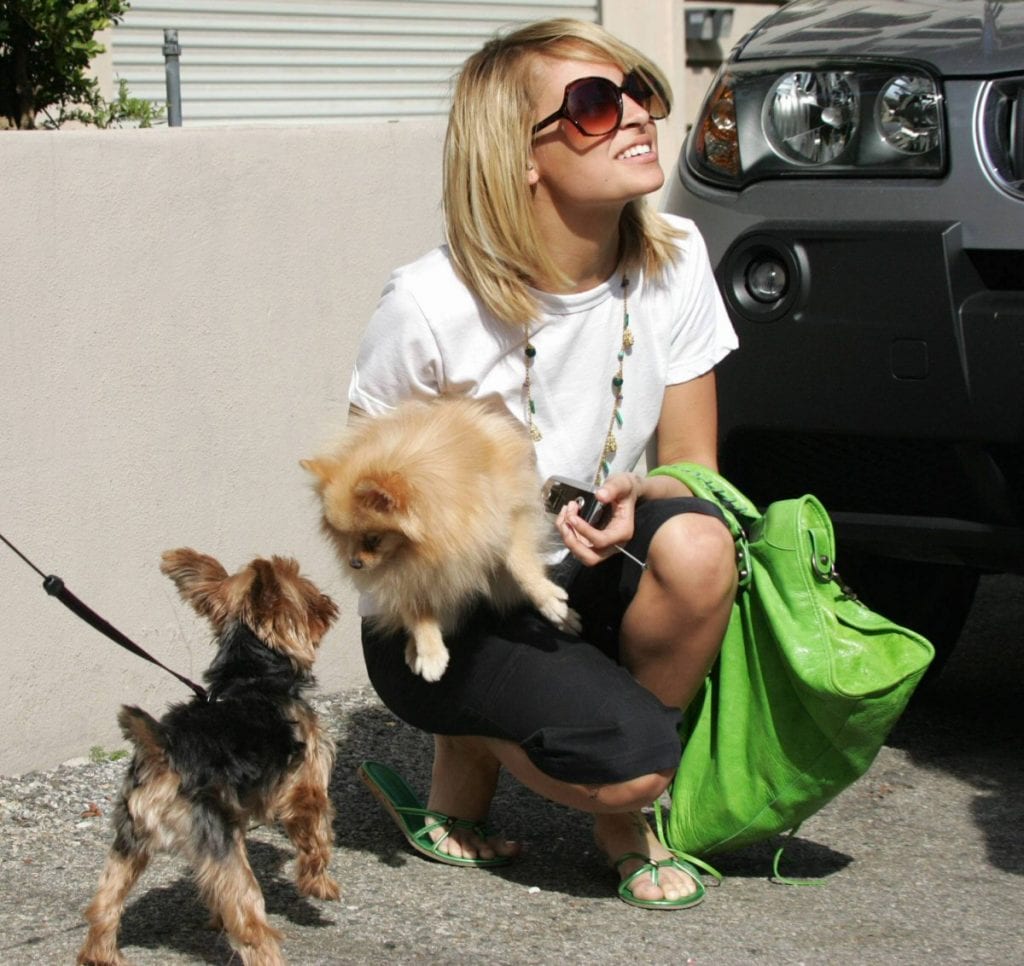 But one thing hasn't changed, and that's her love for animals. Richie now lives in the country and has embraced growing vegetables and raising chickens. She currently owns several chickens, dogs and even has a pet bearded dragon too! Together, they're all one big happy family.
Lena Dunham
Lena Dunham has experienced much scrutiny over recent years regarding her treatment of her pets. A few years ago, she adopted a rescue dog from an L.A. rehabilitation center, but sadly Lamby had to be rehomed once again because it was found that he had behavioral issues due to ill-treatment by previous owners.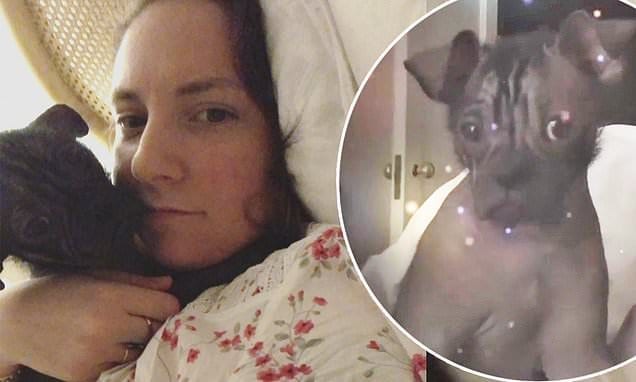 Shortly after giving Lamby up, Lena's pet sphinx cat died mysteriously. Critics were first to come forward, judging her treatment of animals. However, she was backed up by the animal adoption agency who defended her. Dunham now has a new dog, Ingrid, and the pair are really happy together.
Emily Ratajkowski
There's no doubt that Emily Ratajkowski is a true style icon. So it's no surprise that she even makes her daily dog walk look uber cool too! Whereas most of us go out wearing casual wear and a roll of poop bags, Emily looks effortlessly chic and glamorous.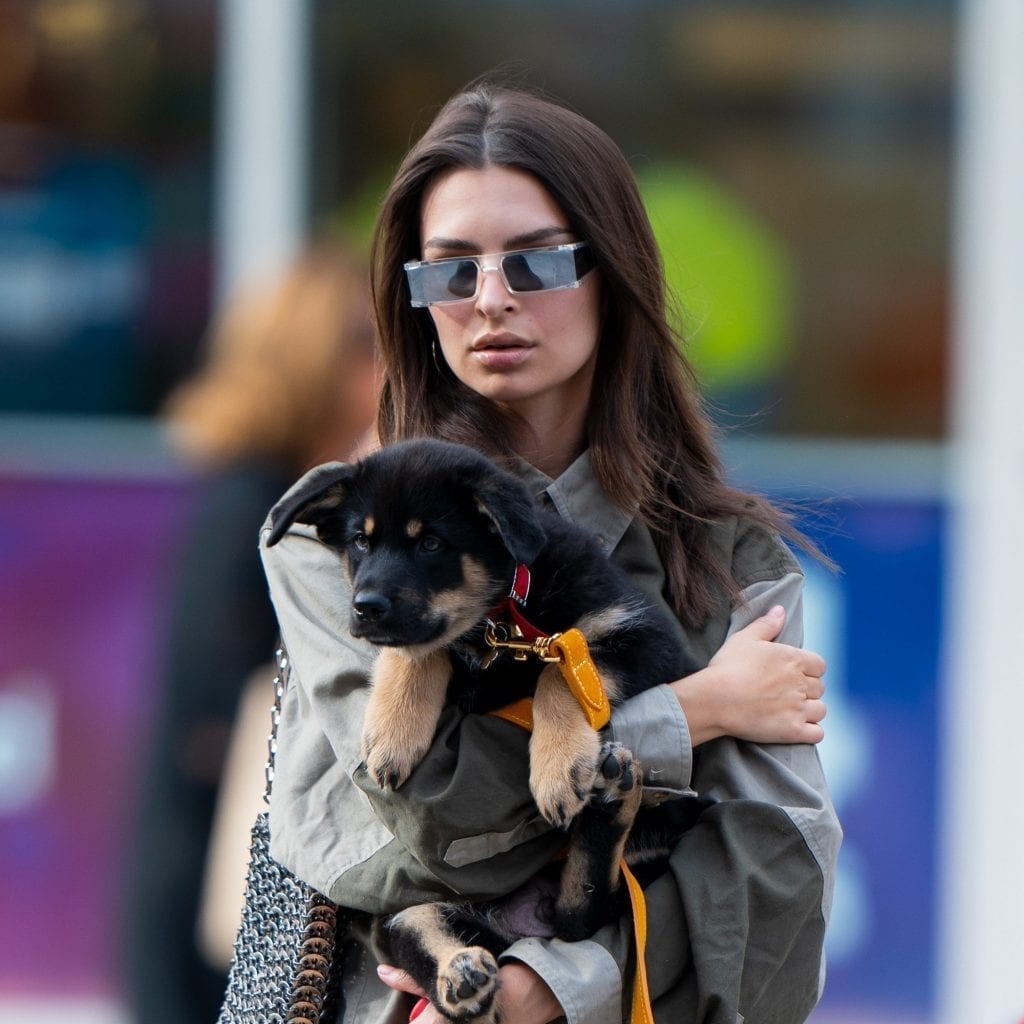 Her furry companion in question is Colombo. He's a Husky-German Shepherd cross, and he is just the cutest thing ever. Emily and Colombo make such a cute and stylish pair. Since Colombo appeared on the scene, we think we're more obsessed with their pictures together than Emily's selfies. No offence, Em!
Justin Bieber
Over the years, we've watched Justin Bieber evolve from being a young star to a rebellious teen to the now settled husband to Hailey Baldwin. However, one thing that a lot of people don't know is that Justin has always been crazy about animals.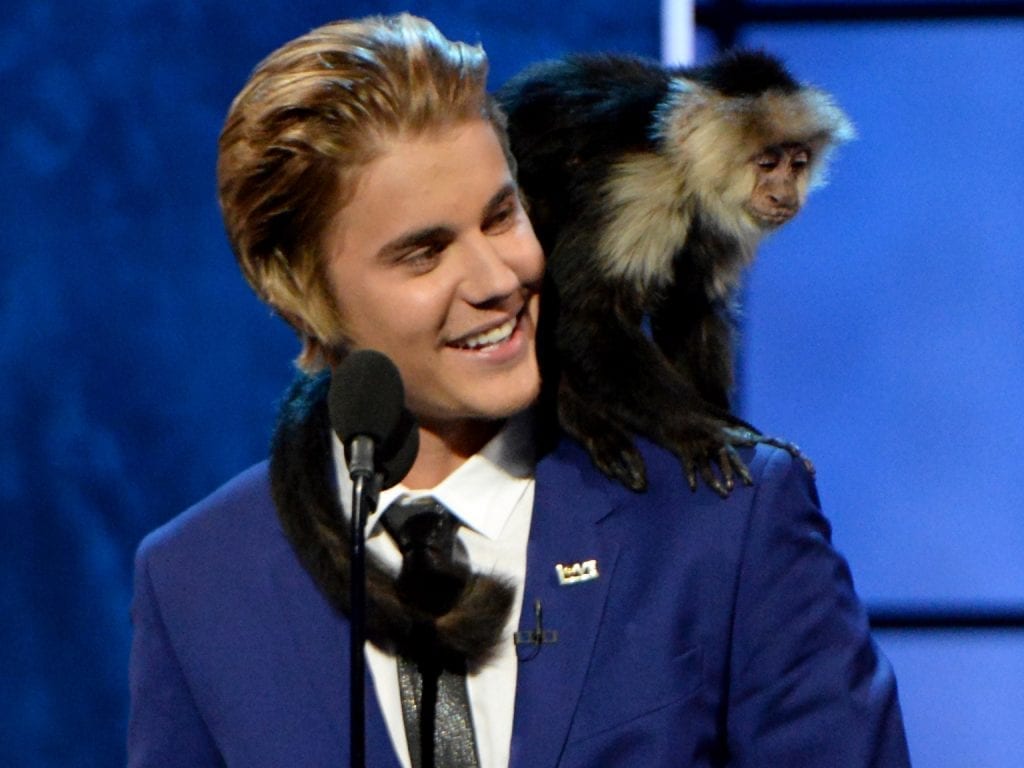 Bieber has had many pets over the years. He even once adopted a pet snake and monkey! The pop star has adopted at least three dogs so far throughout his life. Now he and his wife, Hailey, have an adopted Yorkshire Terrier, Esther, and a Persian cat – Tuts.
Sophie Turner
Sophie Turner and Joe Jonas used to have an Alaskan Klee Kai together, named Waldo Picasso. Sadly, their pride and joy was killed in a hit and run in New York City, and the couple was devastated. To commemorate Waldo, the couple got matching tattoos of their pooch just days after he was killed.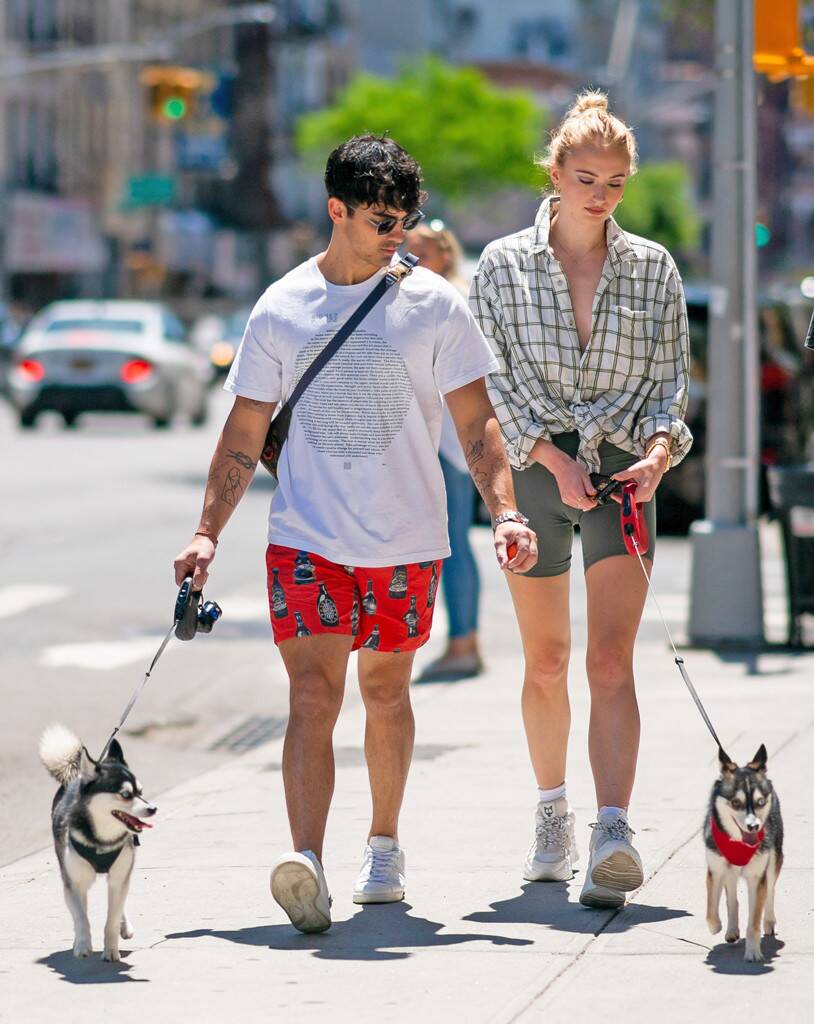 Sophie's other dog that she owned while living with her parents was Zunni. Zunni and Sophie were inseparable! The pair now has three purebred dogs together, and they all live happily together in their $14 million 10-bedroom mansion.
Chrissy Teigen
Well, we don't quite know how Chrissy Teigen does it!? With one husband, two children, two French bulldogs, two pet birds, one English bulldog, one poodle, one bearded dragon, and one hamster! Wow, that really is quite the houseful!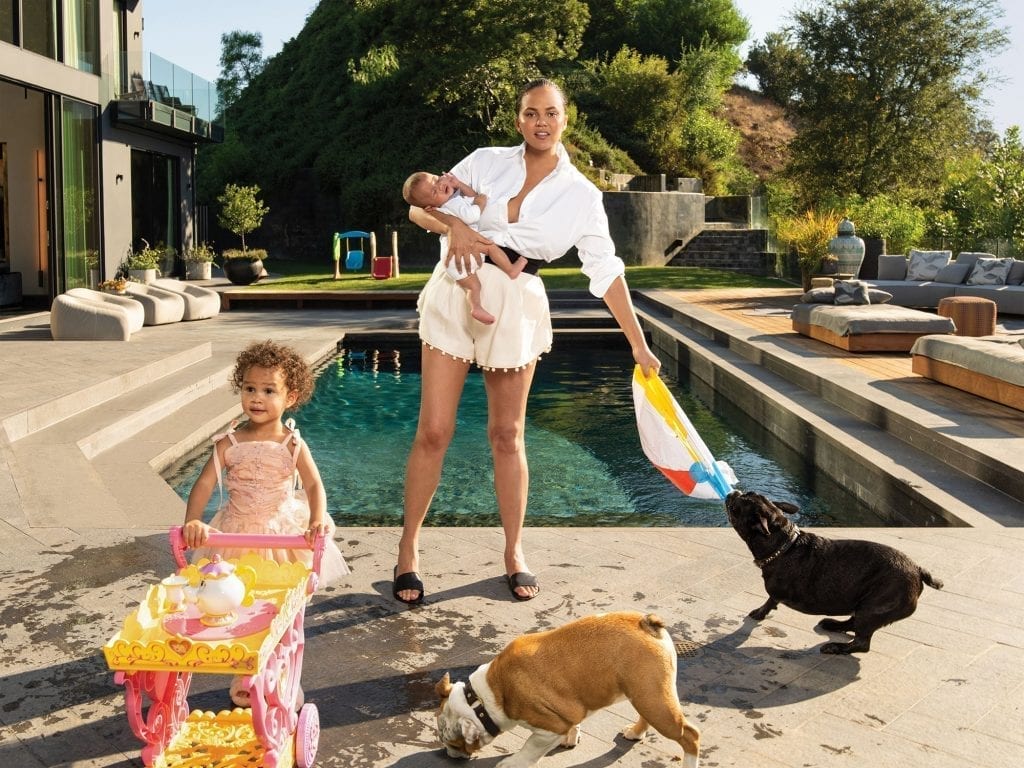 The two pet birds – Jasmine and Aladdin, are the newest additions to the family. They have a smaller cage for downstairs and a bigger cage where they have more room to play. Chrissy's home must be very noisy with all that lot!
Kendall Jenner
Throughout the years, the animal loving Kardashian/Jenner clan have had a variety of different pets. Kendall currently has two dogs and one snake. The model adores her pets and has even referred to her pet snake as "my son."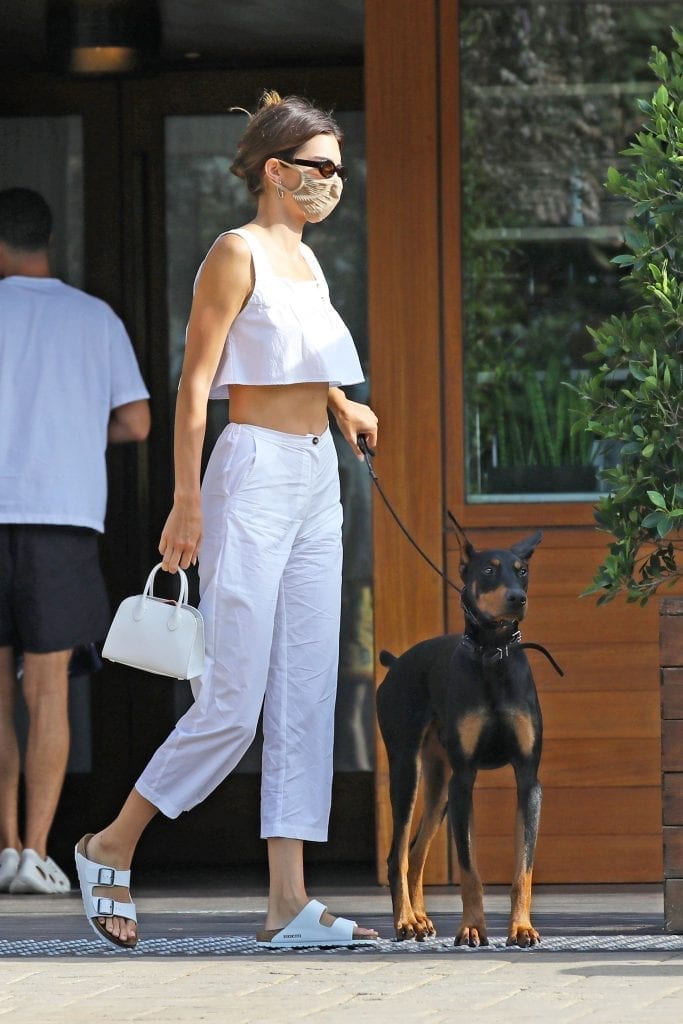 Kendall is known to often shares pictures of her pet dogs – Mew, a greyhound, and her Doberman Pinscher on Instagram. When the model isn't working or travelling, she loves nothing more than spending time at home with her furry family.
Paris Hilton
Paris Hilton has long been known for her obsession with tiny dogs. Perhaps the most famous of the bunch was Tinkerbell – Hilton's Chihuahua, who barely left her owner's side. We were all saddened over the news that Tinkerbell had died earlier this year, aged 14.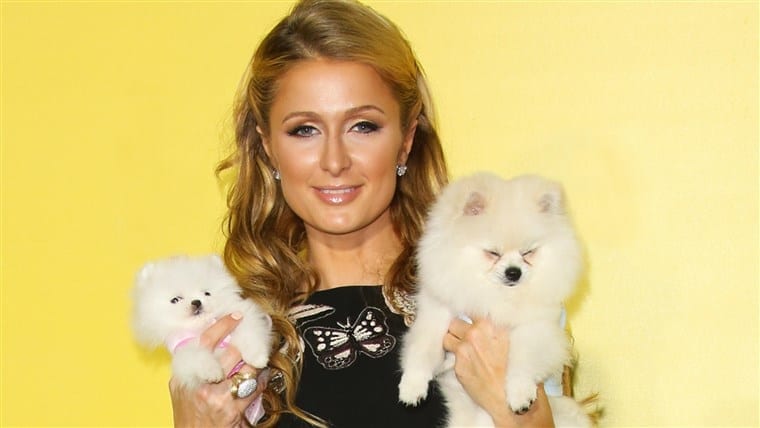 It turns out that Hilton is a big animal lover and has a growing entourage of cats and dogs at her home. Paris Hilton is thought to have about 8 cats at present, and they all live in a luxury L.A. home. Not their dog mom's home, though. Paris had a mini dog mansion built in her garden for all her dogs. It's a two-floor dog mansion that's fully heated and kitted out with luxury furniture.
Kylie Jenner
As the youngest member of the Kardashian-Jenner family, Kylie Jenner has the most pets. The beauty entrepreneur has six dogs, one chicken, and one rabbit. Her most famous pooches are Bambi and Norman, her two greyhounds. These two most frequently appear on the star's social media accounts.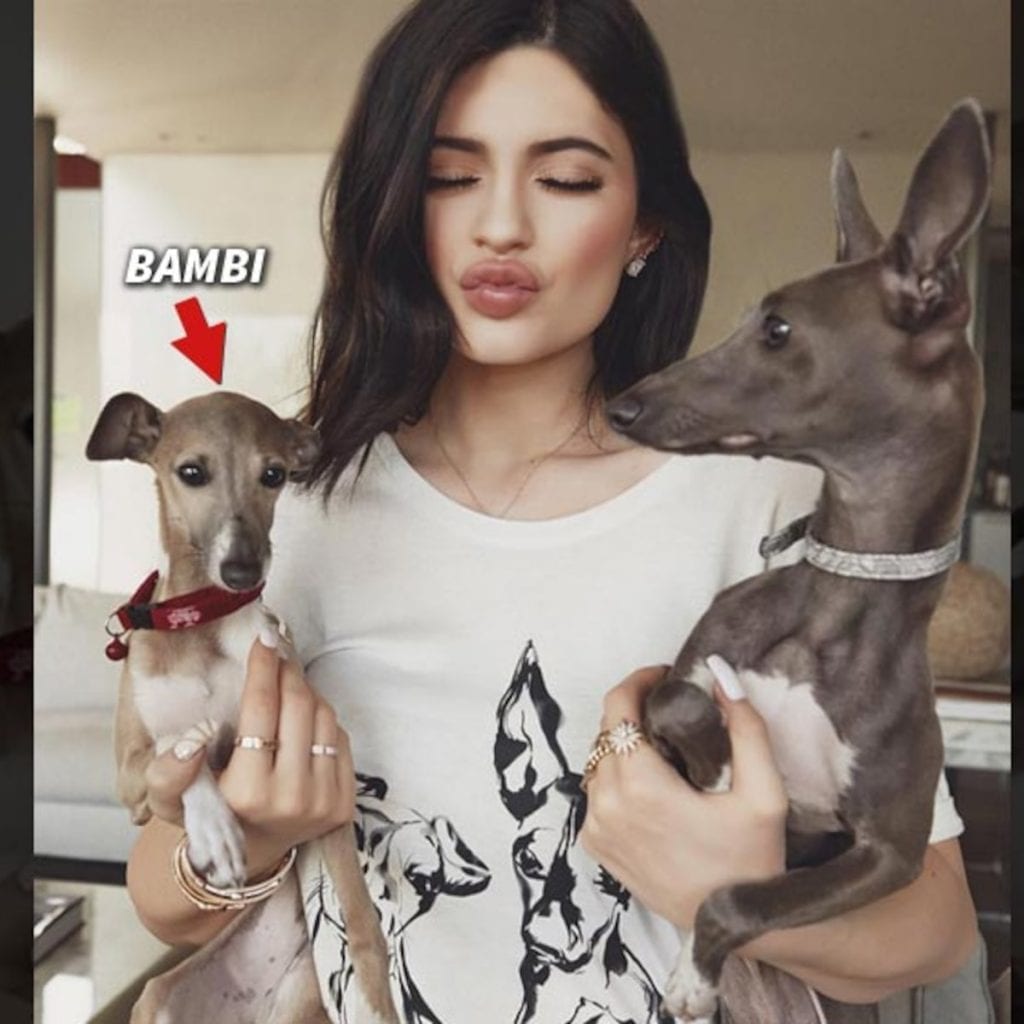 Kylie's chicken, Eddie, and her rabbit, Bruce, don't appear so much on her Instagram feed, but she still has them. She also a puppy called Penny, another greyhound called Sophia, a Dachshund named Ernie, and another puppy called Wesley.
Kim Kardashian
It's often thought that Kim Kardashian isn't a huge animal lover. She has been criticized for wearing real fur and was not happy when sister Khloe took North to get a hamster on Keeping Up with the Kardashians! But Kim is actually a big dog lover!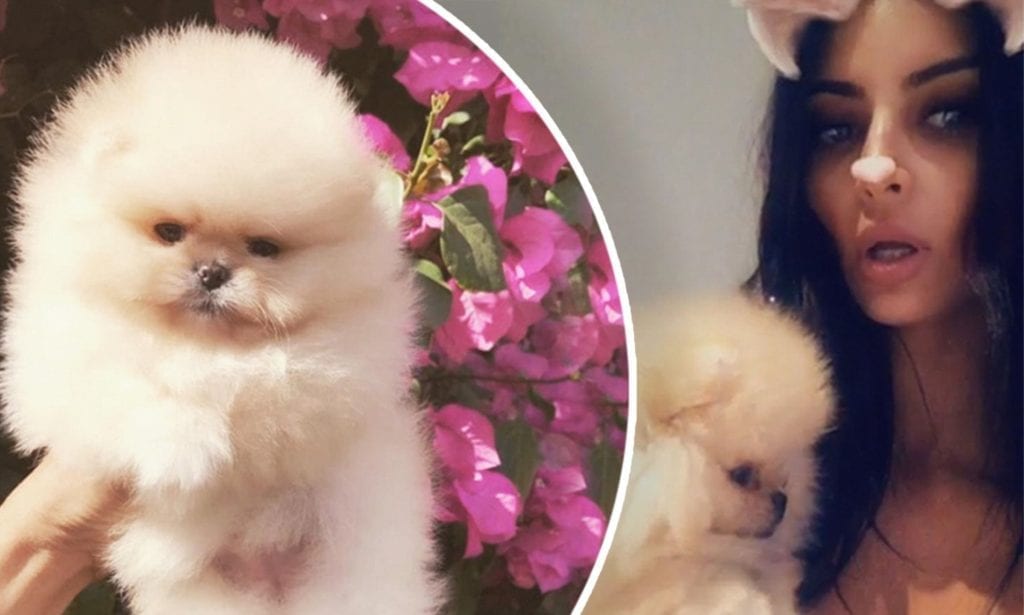 The reality start adopted Sushi, her Pomeranian, in 2017, and then in 2019 she got two more little cuties. Kim K took to Instagram to ask for name recommendations for the two pups. Apparently, North suggested Saké, Soba, or Soy Sauce. How does North even know what Sake is at her age?!
Paula Abdul
Paula Abdul is a humanitarian and full-on dog lover! She loves her pooches so much that she refers to them as her kids. Bessie Moo, Tinkerbell, Tulip, and Thumbelina frequently appear with their famous mom on the star's Instagram account.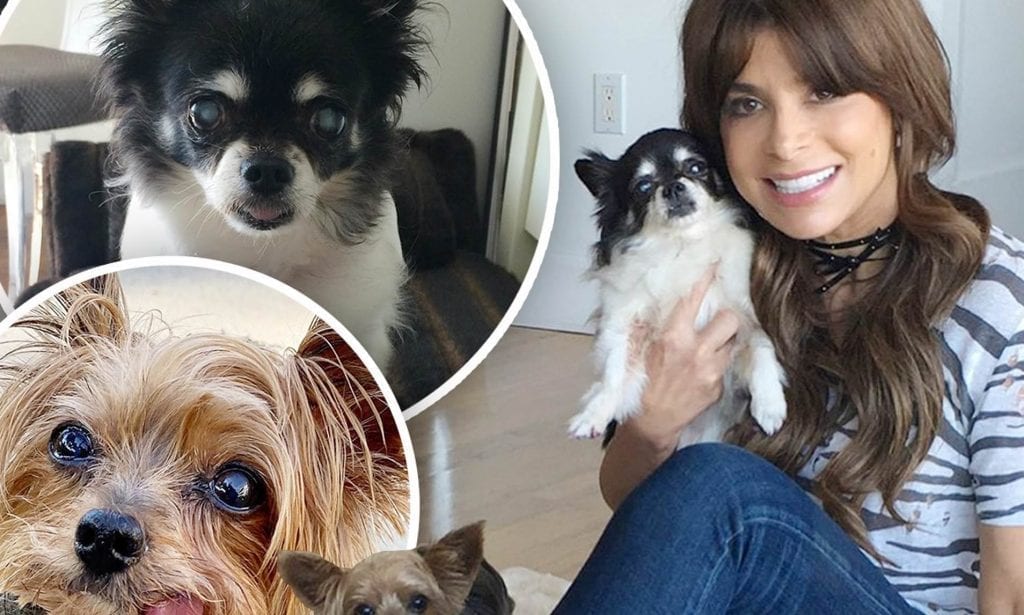 But Paula isn't your average dog mom. When one of her dogs got cancer, their life expectancy was dramatically cut short. So Paula took it upon herself to put the dog on an alkaline diet, which acted as an anti-inflammatory diet, and the pooch has long outlived the vet's prognosis!
Ashley Benson
Sometimes when we talk about our pets, we can get a little emotional, and Ashley Benson is no different. The Pretty Little Liars star has two pet dogs that she absolutely loves! They often accompany her on set when she is filming.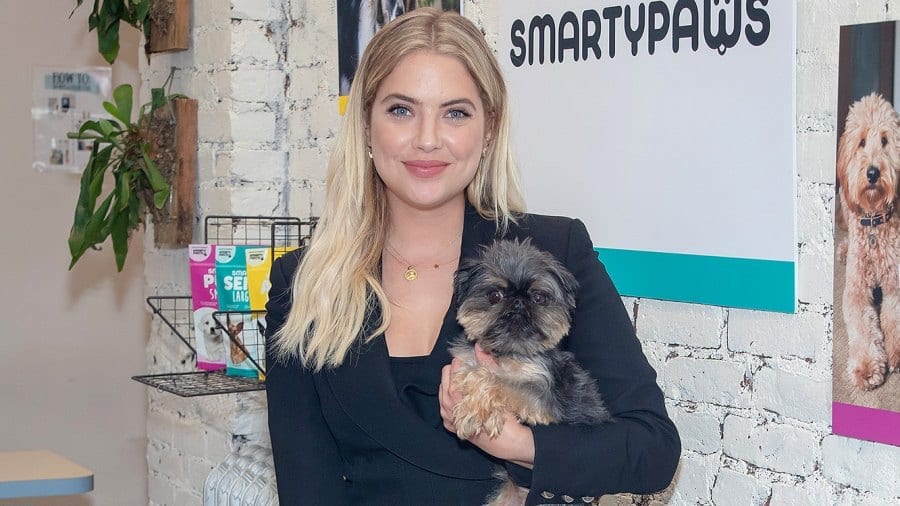 When talking about her dogs, she once said: "I like to think they know everything I am telling them," Benson says. "I tell them stories all the time. If I am by myself, I talk to my dogs and act like they are talking back to me."
Taylor Swift
In addition to music being a huge part of Taylor Swift's life, the country singer absolutely loves cats to the point of obsession. She has tonnes of cat merchandise plus her own pet cats. The Egyptians considered cats to be gods, and if we didn't know better, we'd be sure they were referring to Taylor Swift's cats.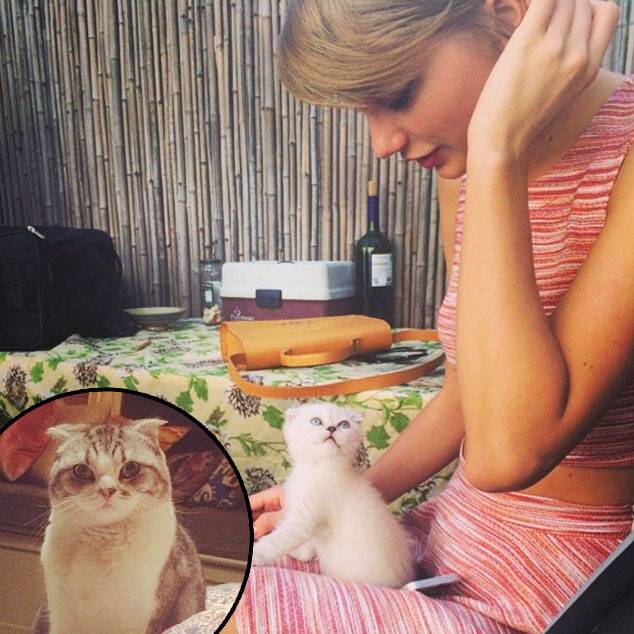 Taylor has two female cats and recently welcomed a male cat into her home. Her two female cats are said to be two of the world's richest felines and even made it on to the Pet Rich List. We're sure Benjamin Button, her new tomcat, will enjoy the same privileged lifestyle.
Nina Dobrev
Sadly for Nina Dobrev, she recently lost her pet cat, Lynx, to a fatal illness. Naturally, the actress was devastated, as we all would be. Nina said that she felt so lost after the death of her feline companion.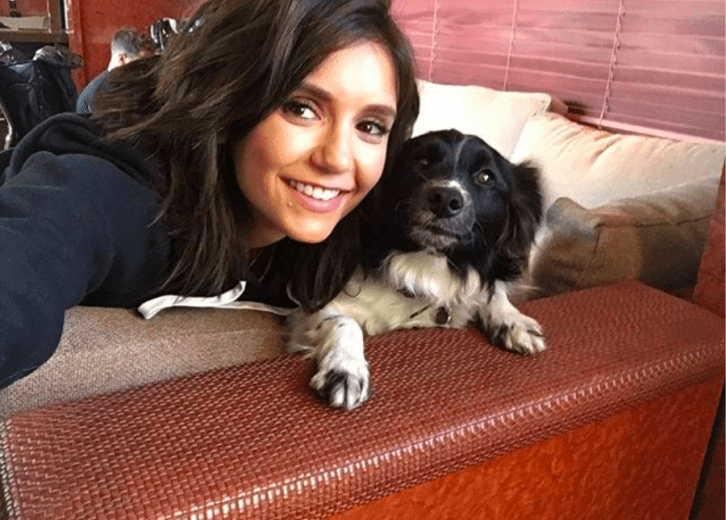 Subsequently, she decided to adopt a rescue dog from a shelter and named him Maverick, after Tom Cruise's character in Top Gun. Dobrev explained that bringing Maverick into her life saved him as much as he saved her. He has made her feel happy again after the loss of her cat, Lynx. How sweet!
Liam Hemsworth
You can really understand a lot about a person by the way they treat animals. That's why we're sure that Liam Hemsworth must be a good human being because of his love and compassion when it comes to animals.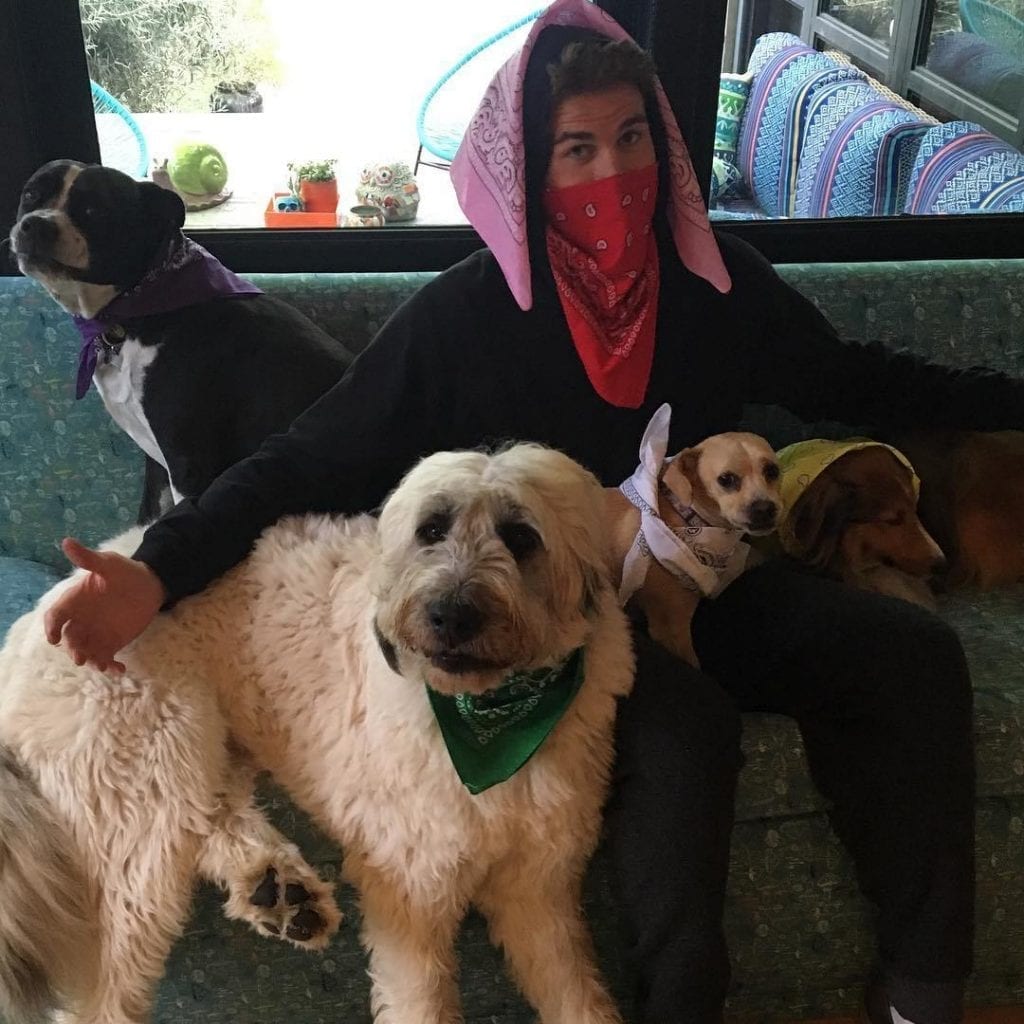 Liam has more than seven dogs, which he's often seen pictured on social media accounts. But it's not just dogs that he keeps as pets; he also keeps pet bulls and pigs too. We love seeing Liam's pictures of him and his animal companions!
Mandy Moore
The #AdoptDontShop campaign is a huge deal worldwide, and many celebrities are backing the movement too. Whereas A-listers once got a bad name for having pets as accessories or just to look good, they're now rescuing animals that really need a loving, safe home.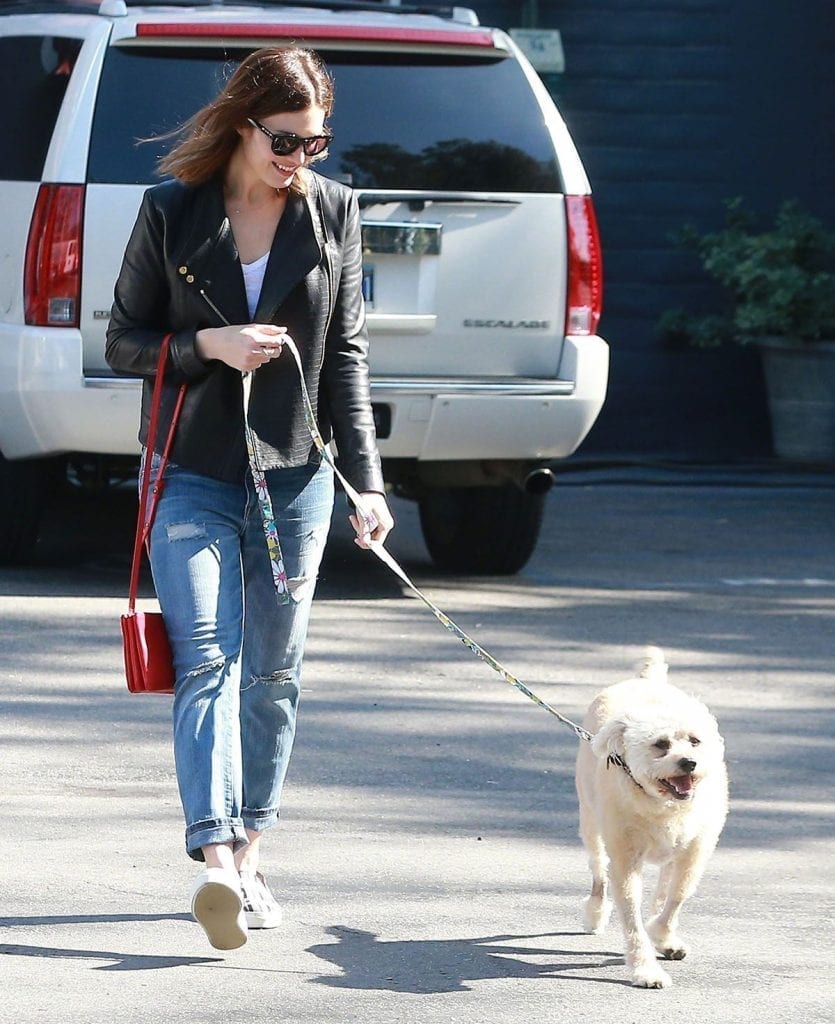 Mandy Moore is one of the latter with one of the biggest amounts of adopted pets in the world of celebrity. She currently has four cats: Maddie, Addison, Theo, and Vincent, as well as two dogs: Jackson and Joni.
Ashley Tisdale
As Ashley Tisdale knows, you can never replace a pet you've lost but giving your love and care to a new animal helps both them and you. Ashley sadly lost her fur baby, Maui, recently, and the loss devastated her.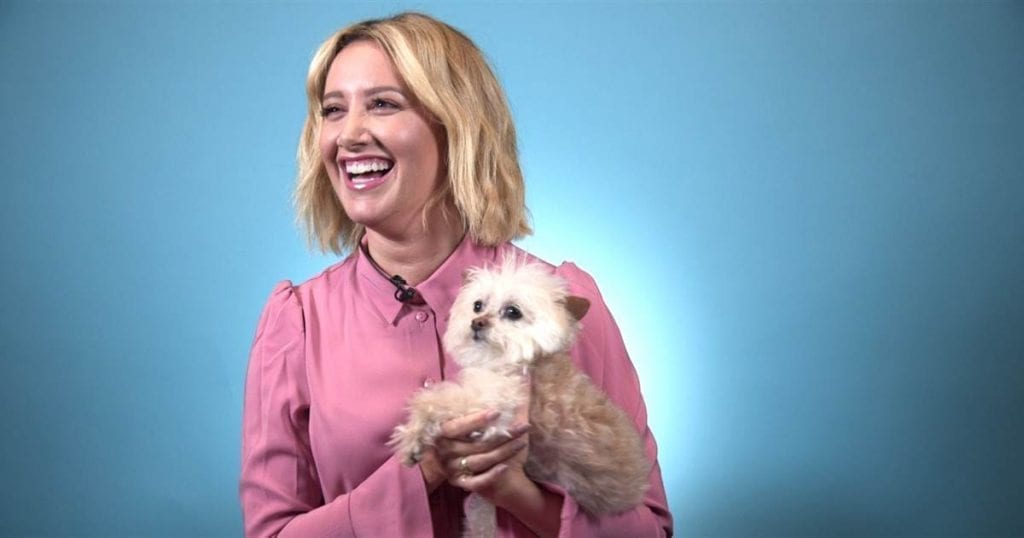 She has since adopted a new dog, Ziggy, and the pair make such a sweet duo. Ashley says: "There will never be another Maui, but I'm glad my heart was open enough to give some love to a new dog because every dog needs a home."
Scott Eastwood
Back in September 2015, Scott Eastwood adopted little Freddy. Freddy is a white Labrador who loves hanging out with his doggy daddy and doing fun activities such as paddle boarding and long walks in the park, although he leaves the paddling to his owner.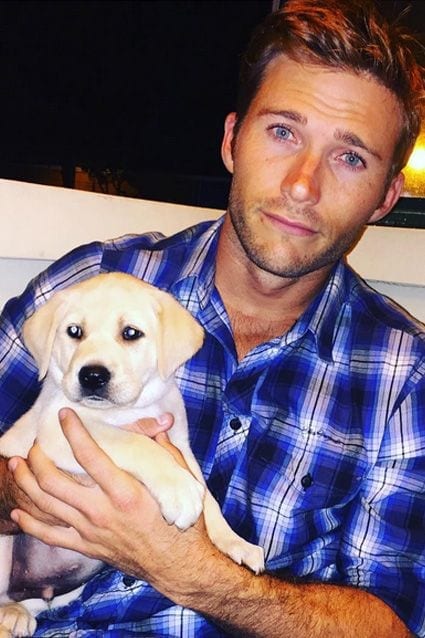 Scott and Freddy make such a sweet pair, and the Labrador is certainly a well looked after dog too! He has even made the Pet Rich List and is said to be worth an impressive $54 800! Now that's not a bad day's work at all!
Demi Lovato
Another celeb who loves sharing her life with fury freinds is Demi Lovato, who is a two-dog woman. She has two tiny guard dogs, Cinderella and Batman. She got Cinderella in March 2017 and has had Batman since August 2015.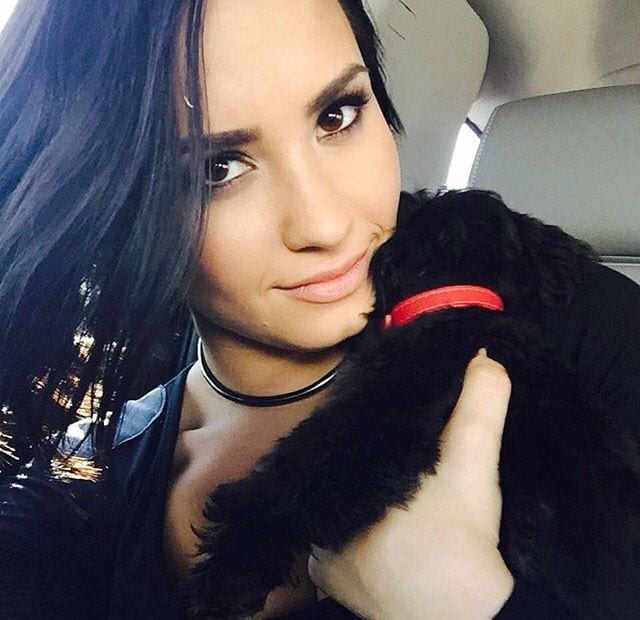 After the tragic death of her lovely Maltipoo Buddy, she adopted Cinderella and Batman. Buddy was attacked and killed by coyotes and Demi got a tattoo to commemorate her much loved pup!
Gigi Hadid
Gigi Hadid may be one of the world's busiest and most sought-after supermodels, but she ensures that she always finds time for her adored cat, Cleo. Gigi adopted Cleo in June 2015, and the duo has made the sweetest pairing ever since.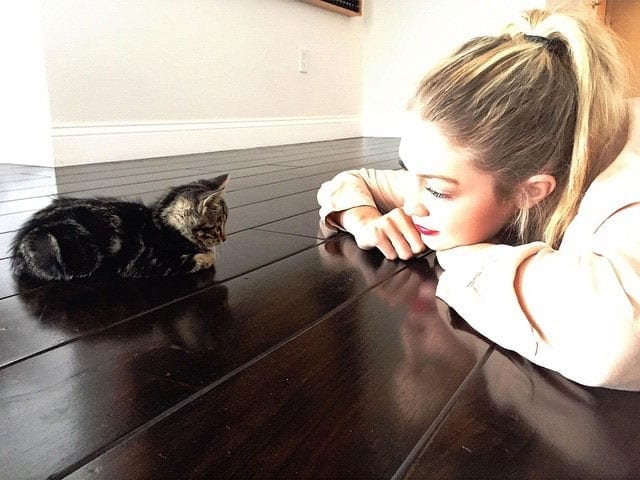 Cleo used to be a street cat, but then Gigi took him in, and now his future looks bright. Little Cleo is estimated to be worth a cool $603, 200, which makes him one wealthy feline! It's a real rags to riches story!
Olivia Palermo
Pet owners everywhere began to question how well they really know their pets after they tuned in to watch The Secret Life of Pets. If you were to ask Olivia Palermo this exact question, she would not hesitate to tell you that her Maltese, Mr. Butler, knows her very well.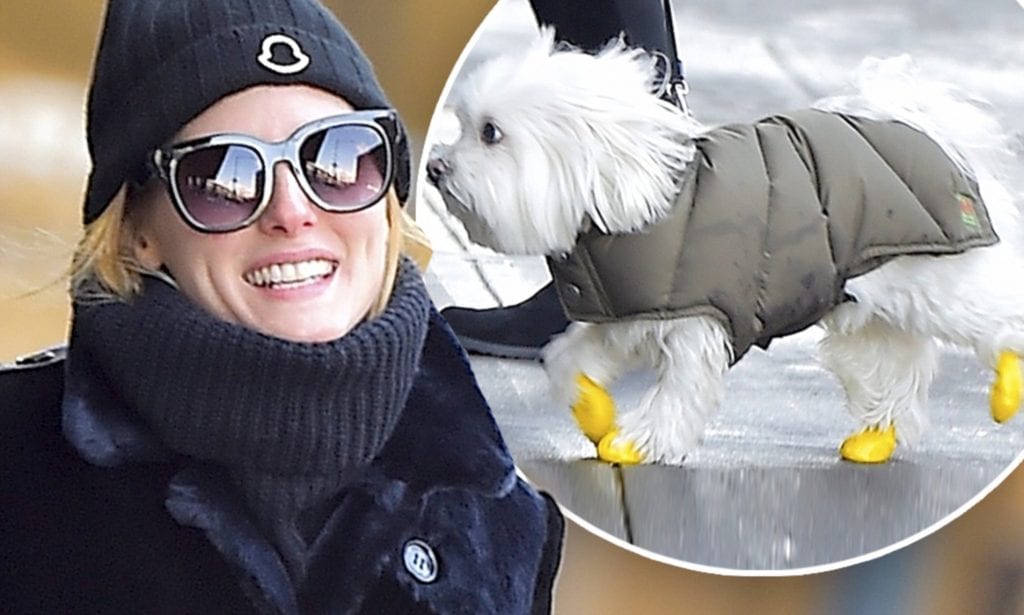 They say that a dog is man's best friend. Mr. Butler is a woman's best friend. He is always by his dog momma's side and clearly makes her very happy. They even appeared in an Amazon fashion video together, and Mr. Butler made the cutest co-host!
Bella Hadid
The Hadid clan was raised on a ranch, so they've always been around animals. Bella is known for being a huge animal lover. She has one dog, a Yorkshire Terrier, gifted to her on her 19th birthday from her ex-boyfriend, The Weeknd, AKA Abel Tesfaye.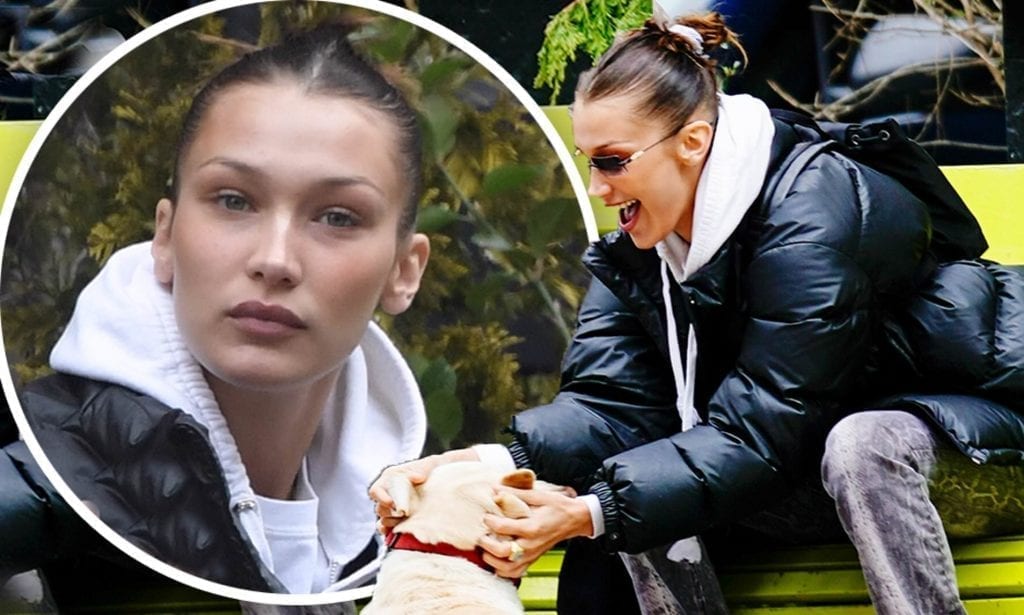 Bella also loves horses. She has ridden horses since she was a little girl, and it's still one of her favorite pastimes now. The model appeared in an episode of Vogue's 73 Questions, which was shot at her family's horse stables.
Kaley Cuoco
One look at Kaley Cuoco's Instagram account, and you will see she's an animal lover! Kaley has owned a variety of pets over the years. In fact, her Instagram handle used to be @NormanCook – the name of one of her dogs, rather than using her own name as her handle.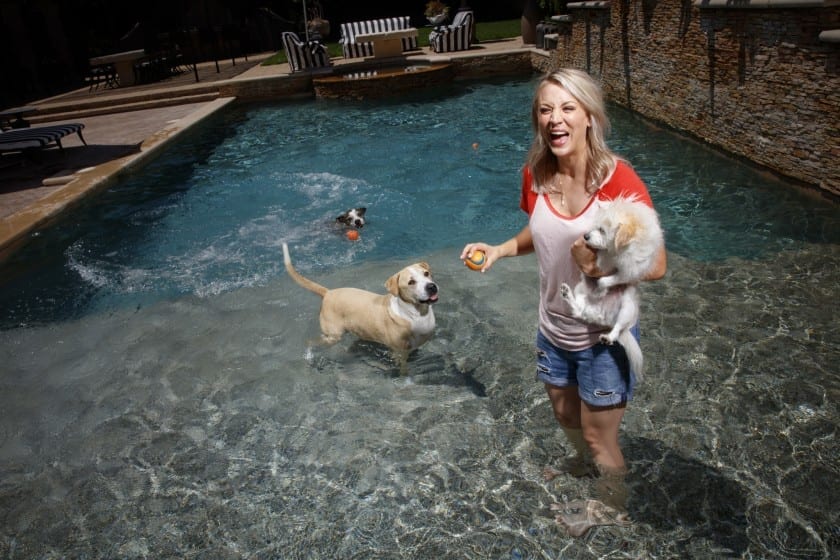 Kaley has three dogs – Norman, Dumpy, and Luz. She also has a miniature pony called Shmooshy, and recently she adopted two miniature piglets as well. Luckily, all the animals seem to get along well. Her Instagram is full of cute pet pics.
Reese Witherspoon
Reese Witherspoon is one busy lady. She is a working actress, owner of an interior design brand, mom of three children, and dog mom to three pups. Her dogs – Lou, Hank, and Pepper often make appearances on her Insta grid.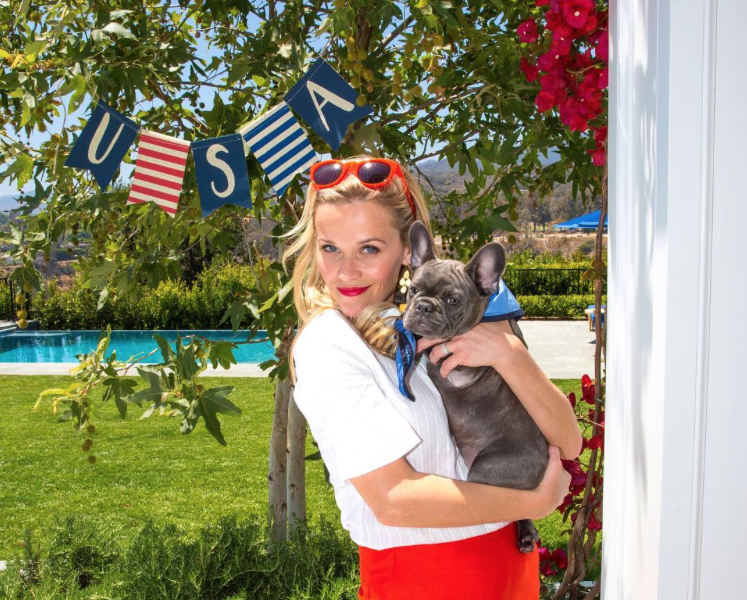 To commemorate International Dog Day, the actress took to Instagram to share a compilation of her three dogs' cute pet photos. They're adorable! Lou loves his dog mom, and you could see from the look on Reese's face that the feeling is mutual.
Katy Perry
Despite having owned a cat in the past, Katy Perry is a self-confessed dog person. She has two dogs and both are A-listers in their own right. One of her dogs is named Butters, the other is called Nugget.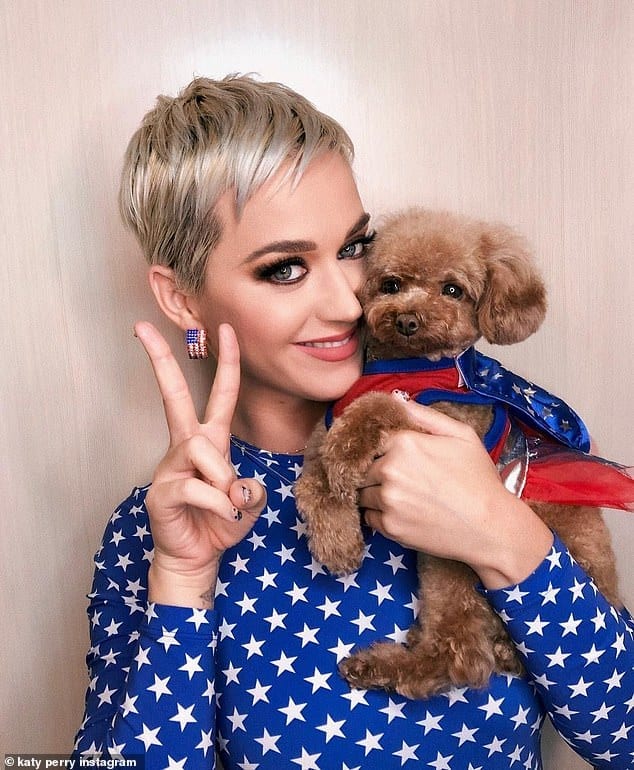 Katy sadly had to say goodbye to her pet cat, Kitty Purry, having owned her for fifteen years. Kitty featured on the Pets Rich List and was a famous feline! Perry shared a moving tribute to her on her social media. She will be dearly missed!
Olivia Munn
When Olivia Munn adopted her two dogs, she not only found two loving pets in Chance and Frankie but a passion for animal adoption as well. Olivia has spoken openly about why she supports animal adoption over buying pets and is a keen supporter of the campaign.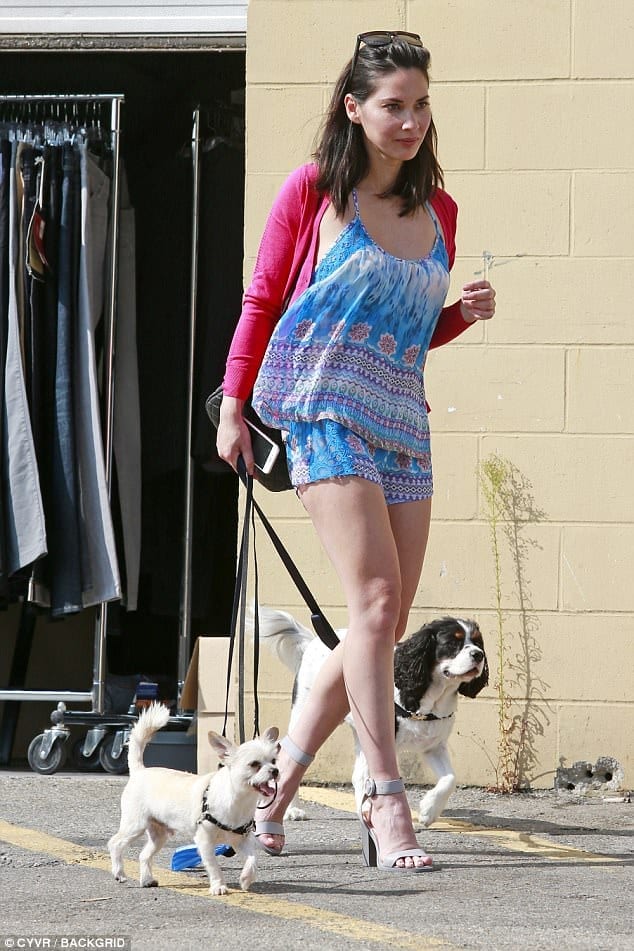 Chance and Frankie are adorable together, and it is clear that the trio has a lot of fun together. Apparently, Olivia says that her pets listen to her problems, help her choose her outfits, and are the perfect companions for just about every activity!
Chelsea Handler
For years Chelsea Handler has supported animal adoption and urged people to adopt rather than buying puppies from puppy farms. Her last two dogs, Chunk and Tammy, were sheltered dogs given a chance for a better life by being adopted by Handler.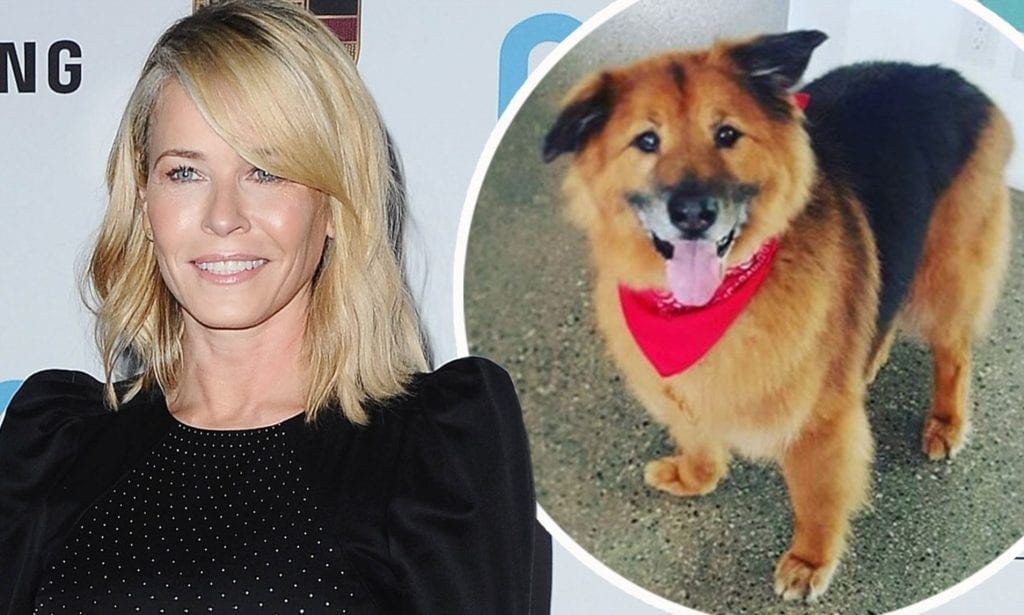 Sadly, Chunk and Tammy passed away. Chelsea has since adopted two more dogs, Bert and Bernice, which look very similar to the two pooches that she lost. Handler has used her Instagram to share her message about animal adoption, saying: "Every dog needs a home. #cleartheshelters." Well done, Chelsea!
Allison Williams
Allison Williams' dog Moxie is a seriously cute Golden Retrieve-mix. Allison has had Moxie since she was a small puppy when the mischievous pup would often get snapped, causing chaos while out on her walks around New York City.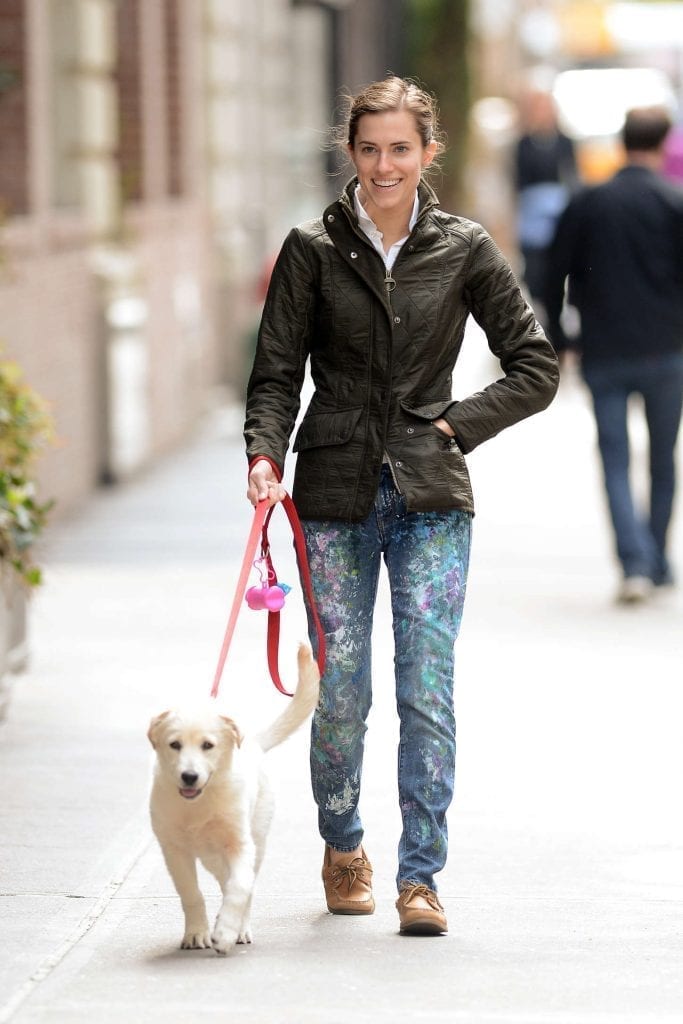 The rescue pup is one of Allison's closest companions. Now older and erm…better trained, Moxie is said to have developed quite an attitude. Apparently, she is fussy over what she watches on TV, especially if it involves politics.
Ruby Rose
Ruby Rose is often portrayed as tough and feisty, but underneath that mean girl exterior, there is a softer side to the actress, brought out by her adorable dogs. Ruby often posts pictures of her and her pups on her Instagram for her fans to admire.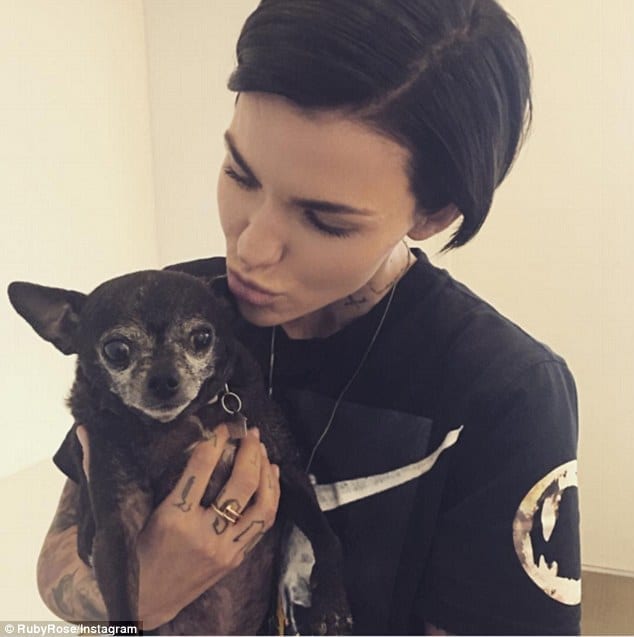 One of Ruby's most recognized pups is Ru. Ru was rescued from a hoarder's puppy breeding farm back in 2012, and the actress gave him a loving forever home. He dropped in lucky with Ruby Rose, who is happy to transport her dogs to her filming locations wherever in the world that might be.
Shay Mitchell
In 2017, Shay Mitchell decided to adopt a rescue pup, which she named Angel. Angel quickly became a huge part of Shay's life, and the Pretty Little Liars star has since opened up about the process of adopting a rescue dog, which we are sure, was beneficial for people looking to do the same.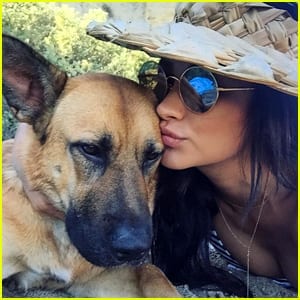 Of the adoption process, she said: "I probably looked at 4,000 dogs. I went and saw Angel, and she was so chill, just laying there and I was like, 'You're it! She's coming home with me'. She's definitely been there for a lot of highs and lows, and it's nice. There's no judgment, and there's just something soothing about having her presence there."
Lady Gaga
Lady Gaga has a lot of titles under her belt, including Grammy Award Winner, but did you know that she has a love for French Bulldogs? The singer actually has four of her own French Bulldogs whom she dotes on.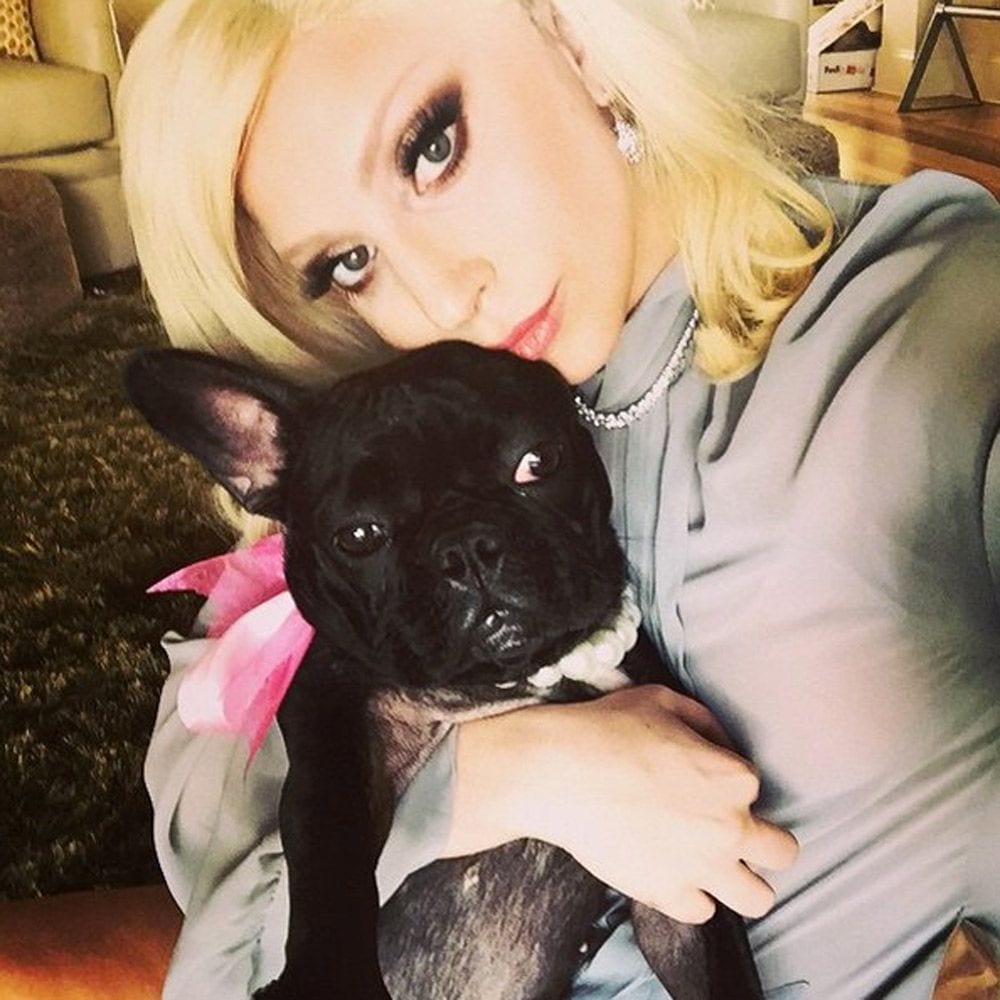 After getting her first dog, Asia Kinney, she quickly adopted three other bulldogs afterward. However, the newest three must be camera shy because they don't often appear on the star's social media, whereas Asia Kinney is quite the little diva who loves the spotlight. Perhaps like her famous dog momma?
Vanessa Hudgens
With a net worth of a whopping $492 800, Vanessa Hudgens' dog is quite the pampered pooch. Vanessa adopted Darla in 2016. Little Darla goes everywhere with Vanessa and has been spotted in a variety of locations, from New York to Beverly Hills.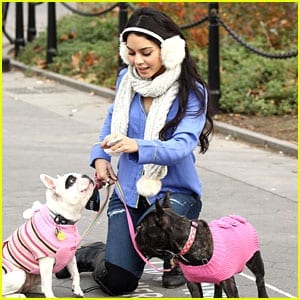 While promoting her 2018 movie, Dog Days, Vanessa opened up about how she came to adopt Darla. Neither Vanessa nor Austin Butler chose to purposely look for Darla. What happened was that they found the little pup alone in the cold without food or water. They took her in and with them, found her forever home! What a heart-warming story!
Ed Sheeran
It turns out that British singer Ed Sheeran is a bit of a cat man. He loves cats and has two of his own – Dorito and Calippo. His two pet cats even have their own Instagram account now too!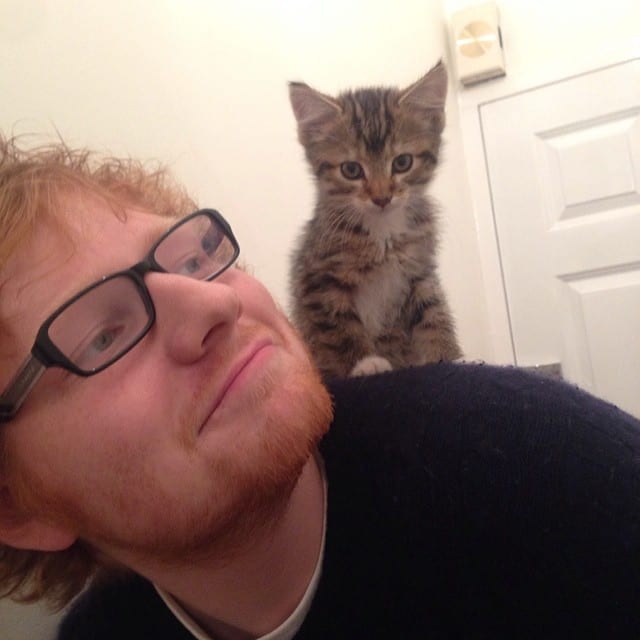 Since they launched their new Instagram account, Dorito and Calippo have joined the rest of the celebrity pet posse who also have Insta pages. Within just a few hours of joining, Sheeran's cats had over 200 000 followers! They're right up there with Marc Jacob's dog, Miley Cyrus's cat's account, and the late Karl Lagerfield's cat.
Lauren Conrad
We can all sympathize with the loss of a pet, which is, unfortunately, what Lauren Conrad went through not so long back as well. Up until recently, Lauren Conrad had three rescue dogs. Sadly, the eldest of the three passed away last year, and she had been mourning the loss ever since.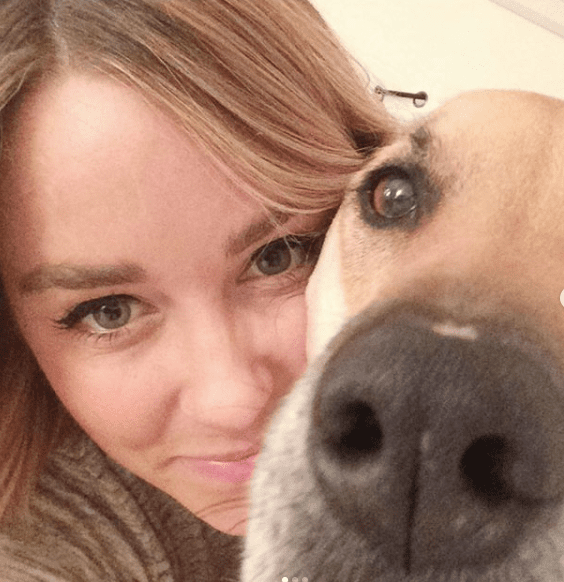 Luckily, the other two are keeping her spirits high. Lauren's dogs are very special to her, and she often shares photos of them on her social media. They get into bed with her and her husband. They're also snapped in cute costumes and funny poses. Awww, so sweet!
Zooey Deschanel
Zoey Deschanel adopted two rescue puppies not so long ago and they are simply cuteness goals! The first photo she shared of the adorable pair were the two of them huddled together with their eyes closed. They were such tiny puppies at the time!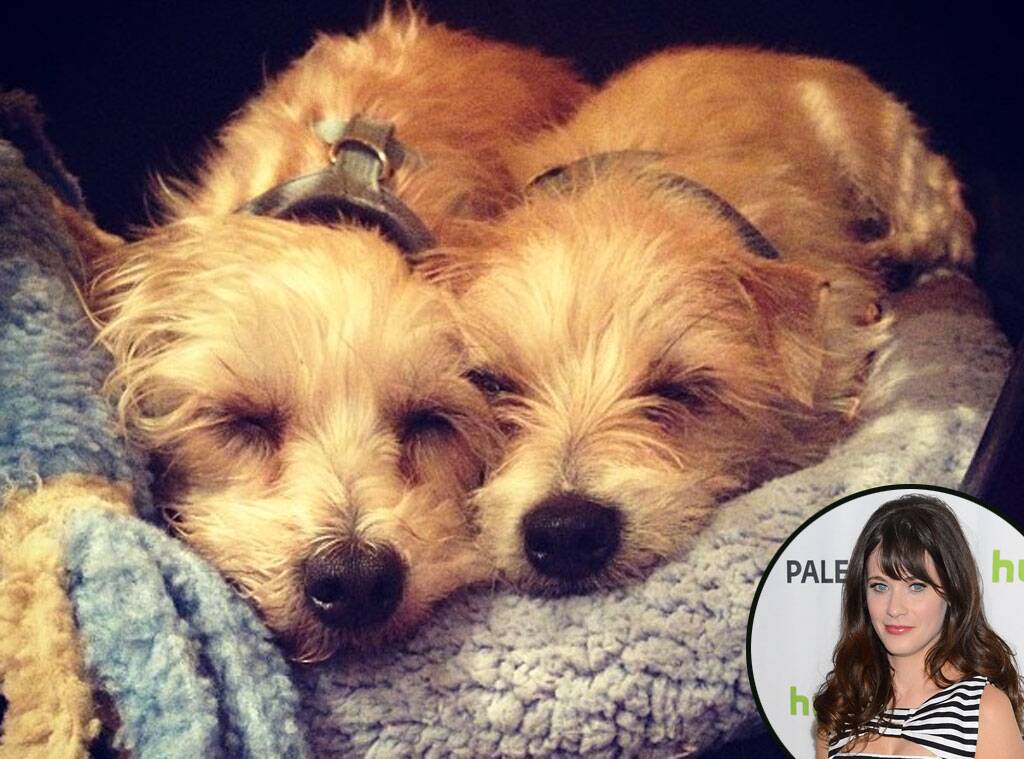 The two dogs look like twins! Zoey loves them and they are clearly happy and calm in their new home. Zoey calls them "the apples of her eyes." Now we know what's better than one adorable puppy – two adorable puppies!